(Last Updated On: February 8, 2021)
Headed to Atlanta for a family vacation or solo adventure? Be sure to add these Free Things to Do in Atlanta to your must see and visit list. You will see that traveling to Atlanta can be affordable!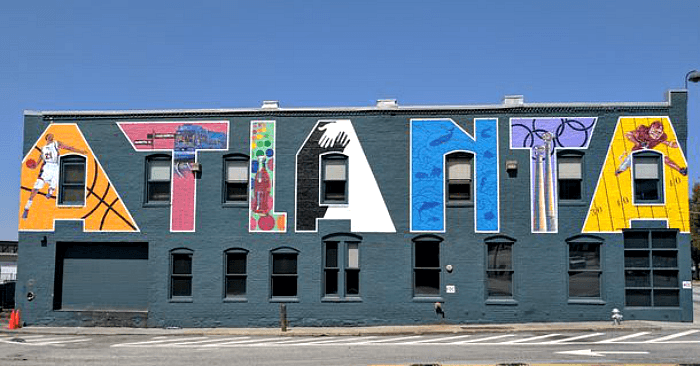 10 Free Things to Do in Atlanta
If you've ever considered taking a trip to the Southeast, add Atlanta to your list of must-see cities! Atlanta is about a 6 hour drive for us here in Tampa, Florida and it's a really short, and cheap flight so we love to visit! While Atlanta is the capital and most populous city in Georgia, it is also a cultural and economic center with absolutely beautiful skyline views. Southern culture thrives in Atlanta, as well as multicultural pockets throughout the city. If you're looking for a Southern American adventure that's also filled with art and nightlife, you've found your next destination!
Any trip is made easier by adding free things to do onto your itinerary. Although Atlanta is the most expensive city in the state of Georgia, there are plenty of free and low-cost activities that will enhance your trip. This list focuses solely on free things to do in Atlanta, since the cost of lodging and nights out can quickly add up. What fun and free things you do on your trip to Atlanta?
Free Things to Do in Atlanta
Every fourth Wednesday, head to East Point Street for Wednesday Wind Down! This monthly event features free musical acts from a variety of genres. Whether you're into jazz, hip-hop, or gospel, you'll find something to enjoy. Guests are encouraged to bring chairs, blankets, and tents to the venue, as well. Socialize with the locals, or try to find other tourists who've discovered this gem!
If you'd like to grab a margarita at Wednesday Wind Down, bring some cash with you. You can also scope out the food trucks and vendors that set up shop at these gatherings. The event ends at 9pm, leaving you with enough time to hit up the bars (or go to bed!)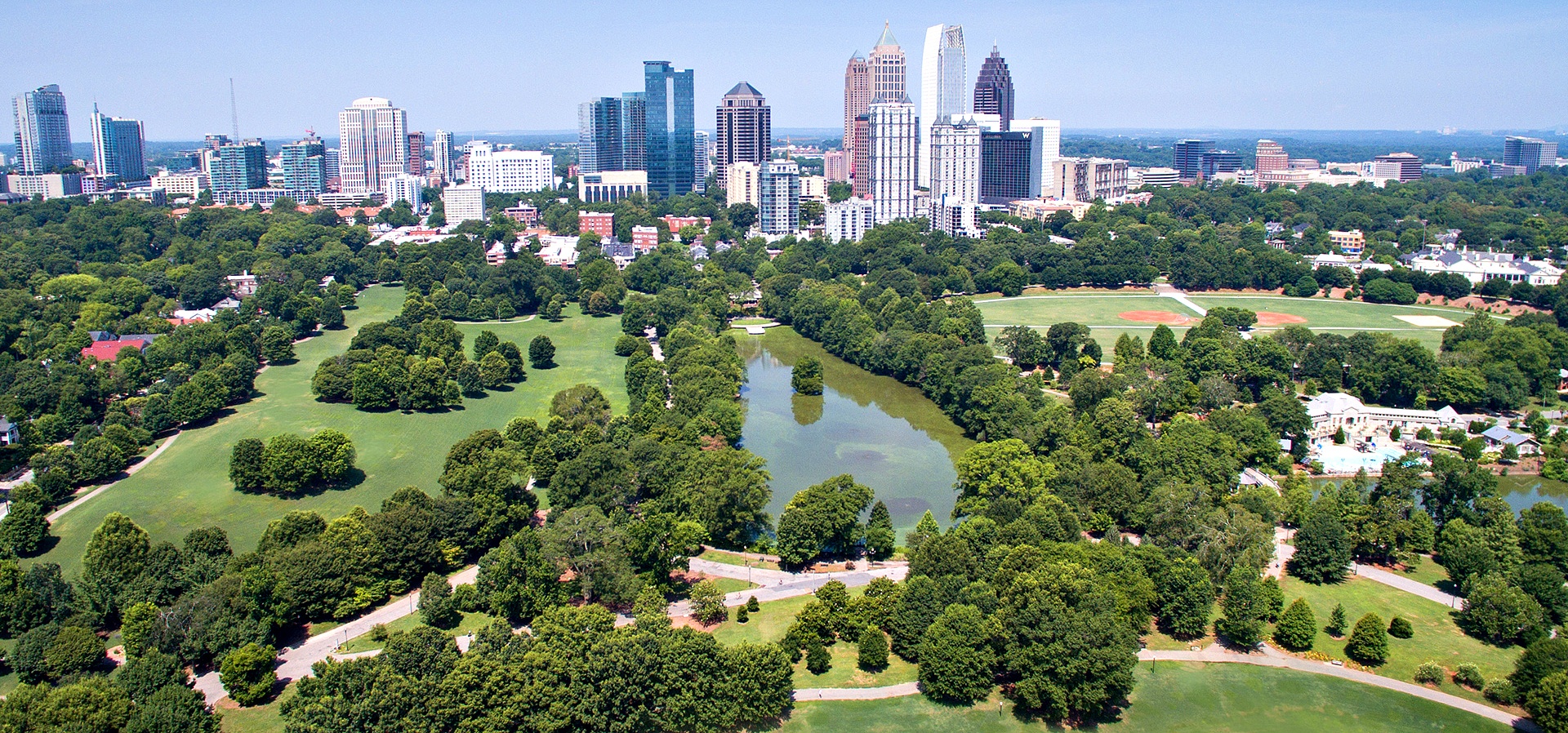 Head to Piedmont Park for loads of free activities! On Fridays, the park allows free play on their sports fields. You'll need to make a reservation, but anyone is permitted to reserve a volleyball court or a soccer field. There's also a spectacular splash pad, which features jets that shoot 30 feet into the air and LED lights. Bring your kids to one of Piedmont Park's two playgrounds for interactive games, scavenger hunts, and fun exercise!
Unlike many other parks, Piedmont Park offers free WiFi. Live stream your Atlanta visit to make your loved ones back home jealous!
Anyone who's interested in Georgia's state history will find the Historic Oakland Cemetery exciting. Here, famous Georgians are laid to rest, surrounded by 48 acres of beautiful greenery. With elaborate architectures, sculptures, and art, it's no wonder Georgians use the cemetery as a wedding venue! Yep, you read that right! Would you get married at a cemetery?
While you're at the cemetery, you can meet former Georgia governors Joseph Emerson Brown and Joseph M. Brown. You can also learn about Atlanta's first African-American mayor and the author of Gone with the Wind, Margaret Mitchell.
Vendors in this shopping center give out free samples on Wednesdays! Who doesn't love a yummy free sample? Regardless of the day, Underground Atlanta is a fun place to hang out and window shop. There are three floors of restaurants, shops, and entertainment venues on this 225,000-square-foot property. If you're in Atlanta for New Year's Eve, watch the 800-pound giant peach drop at midnight!
Woodruff Park has a free reading area that's filled with books! Since it's outdoors, it's not technically a room – it's a seated outdoor section of the park with literature for all reading levels. Once a pop-up display, the Reading Room turned out to be so popular that the installation was made permanent!
If your family doesn't enjoy reading, Woodruff Park is still worth visiting! There's a sculptural playground for kids, a fitness station for adults, and table tennis at the park.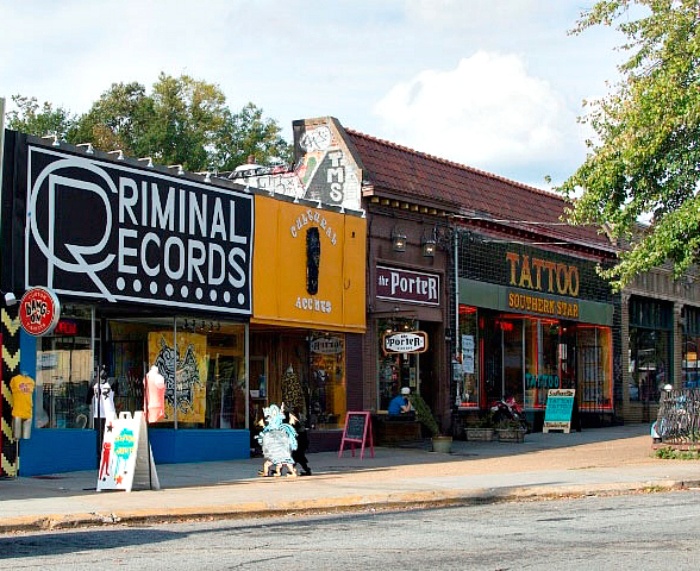 Window shop in this quirky Atlanta neighborhood – if you're able to resist making a purchase, that is! I love unique finds like this! Check out all kinds of oddities at Junkman's Daughter (seriously, there's no theme for this store), but perhaps bring the kids somewhere else, like Criminal Records.
If you want to grab a bite to eat, Vortex Bar and Grill claims to have Atlanta's best burger. Even if you aren't hungry, take a photo next to the cool-looking restaurant!
This museum is all about money, but it doesn't cost you any to get in. At this free museum, you'll learn about the history of financial transactions, currency, and federal financial policies. See rare coins and old American currency on display, and watch money get made right in front of you! Self-guided tours don't need to be scheduled in advance, but you'll need a form of government-issued ID to enter.
Although the museum is very educational, the interactive and visual exhibits can be exciting for kids. One display has one million dollars in one big pile!
The Silver Comet Trail is a fun place to take a leisurely walk, but you're not going to want to walk the entire trail. It's 61.5 miles long! If the Atlanta heat isn't too oppressive, take an afternoon walk down the trail to see Georgia's beautiful countryside. Although it's 13 miles away from Atlanta proper, Silver Comet Trail makes for a peaceful afternoon trip!
Since the water fountains along the trail may not be working, be sure to bring enough water for the entire afternoon. You may also want to bring some food and a picnic blanket to have a nice lunch on your route. Remember, any distance you walk is the same distance you'll have to walk back to your car!
Atlanta is home to a free science museum! Visit the Fernbank Science Center to see a planetarium, live animal exhibits, and other exciting displays. Some of their exhibits aren't commonly found at other science museums – where else can you find a seismology lab?!
One of the science center's cooler exhibits is their live honeybee hive. You can find this habitat in the exhibit hall, along with a meteorite and taxidermy collection.
Float down the Chattahoochee River for free! Located in Atlanta, this water sports rental company also allows visitors to bring their own equipment. If you have your own canoe, kayak, or water tube, bring it to this site for some relaxing summer fun!
If you choose to go in the water, make sure you have a life jacket, you can receive a ticket for not wearing one. If you don't have a life jacket, you can buy one at Shoot the Hooch for $20. There are several rental locations, but the Island Ford station is in Atlanta. The others are just outside of it.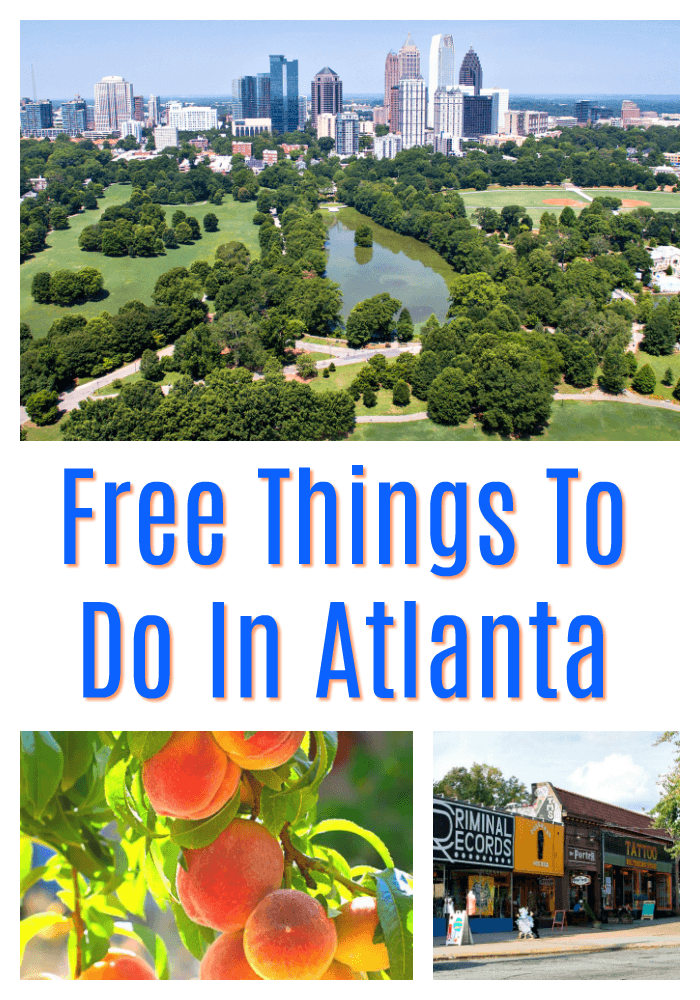 Atlanta, Georgia may be an expensive place to live, but it doesn't have to be an expensive place to visit! There's so much to do in this Southern city, even if you're on a budget. By sticking to free or low-cost activities, your trip to Atlanta will be just peachy 😉 Speaking of peaches, don't forget that Georgia is The Peach State, so be sure to enjoy a few while you are there.
What are some of your favorite free things to do in Atlanta? Be sure to let me know so I can check them out and add them to this list!
Be sure to check out Food Wine Sunshine on Facebook, Twitter, Pinterest, and Instagram for fun things to do, healthy recipes, and more.