(Last Updated On: July 1, 2019)
Learn how you can prep 12 Chicken Freezers Meals in 45 Minutes. These recipes are Our Family Favorites, and I even included the Shopping List!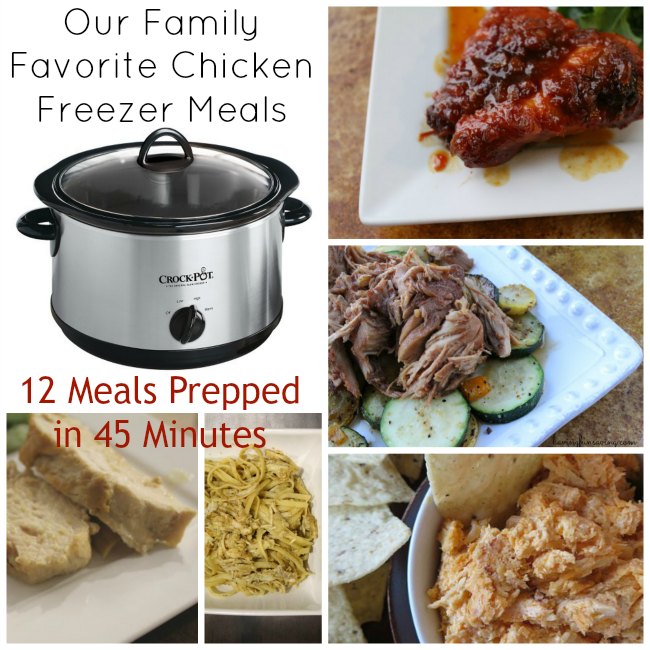 12 Chicken Freezer Meals in 45 Minutes – Our Family Favorites
Shopping List Included
I have been getting Zaycon Chicken for awhile now, that means I place an order for 40 lbs of fresh, amazing chicken and I split it with a friend. That means I get 20 POUNDS of chicken in one day. The wonderful thing about that is that not only is the chicken absolutely amazing, it's also really cheap in comparison to what I pay at the grocery store, and it forces me to make Chicken Freezer Meals and be organized. Since I have been doing this now for awhile, I actually really look forward to stocking up the freezer with our favorite meals! I have made a LOT of Freezer meals over the years and I have shared them all with you, but I thought today I would share the meals that have "made the cut" with my family and were a MUST-HAVE on this round of meals.
This is what I made:
What you need to freezer prep your meals:
CHICKEN – each recipe calls from 1.5 – 2lbs of chicken, use more of less depending on your family size
Gallon size Freezer ziploc bags – and a sharpie for writing on the bags
2 jars Apricot Jam
1 box of French Onion Soup Mix (it has 2 envelopes in it)
1 bottle of Ranch Dressing
1 bottle of Frank's Redhot
1 bag of shredded Cheddar Cheese
3 8oz packages of 1/3 less fat Cream Cheese
1 small Jar of Pesto
1 envelope of Ranch Seasoning and Dressing Mix
1 envelope of Zesty Italian Dressing Mix
1 can of 98% Fat Free Cream of Chicken Soup
1½ tablespoons minced garlic
1/3 cup low sodium soy sauce
2/3 cup ketchup
1/4 cup honey
2 jars of your favorite salsa – divided
1 taco seasoning packet
Juice from 1 lime or 2 tablespoons of lime juice
1/4 cup cilantro
1/2 cup dijon mustard
1/4 cup maple syrup
1 tablespoon rice wine vinegar
Prior to serving (but not for the freezer prep) you will need these ingredients for the Easy Chicken Pot Pie, Chicken Taco Bake, Pesto Ranch Chicken and BBQ Chicken Sliders:
1 can of Chicken Pot Pie Soup (Progresso makes one) – For the Pot Pie
1/2 bag frozen mixed vegetables – For the Pot Pie
1 package of refrigerated pie crust – For the Pot Pie
1 bottle of your favorite BBQ Sauce – for the BBQ Chicken Sliders, you just shred the chicken and add the sauce!
1 roll of crescent rolls – For the Chicken Taco Bake
4 – 8 oz of shredded cheddar cheese – For the Chicken Taco Bake
1 box of linguini – For the Pesto Ranch Chicken
Overall, I prepped 10 meals and 2 appetizers (the Buffalo Chicken Dip) in about 45 minutes!
These are the recipes that my family requests on a regular basis and we all really enjoy, I hope you and your family enjoy these 12 Chicken Freezer Meals as much as we do!
Be sure to follow me on Facebook, Twitter, Pinterest, Google + and Instagram for more helpful tips and delicious recipes!