(Last Updated On: July 1, 2019)
This Chicken Taco Bake recipe is a healthy spin on the recipe that you will normally see with ground beef. This recipe is easy to make and is a family fave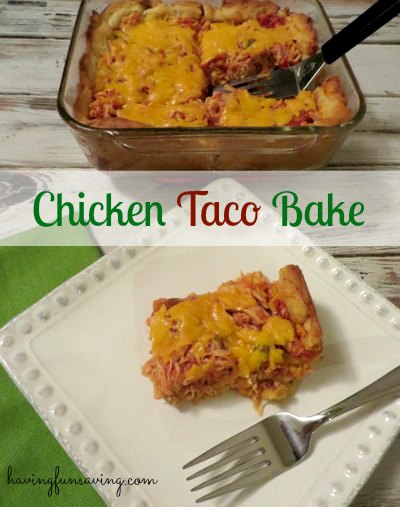 Chicken Taco Bake Recipe
I have been playing in the kitchen with some favorite family recipes and switching them up some, my mom has made a Mexican Taco Bake for as long as I can remember with Lean Ground Beef…I decided to try it with shredded chicken and it turned out great! Plus, chicken is better for us 🙂
This one is soooo easy to make to – you will love it!
Chicken Taco Bake
Author:
Prep time:
Cook time:
Total time:
Ingredients
1 can of low-fat crescent rolls
2 large chicken breasts
1/2 jar of your favorite salsa (approx 8 oz)
1/2 cup shredded cheddar cheese
optional – sour cream
Instructions
Cook the chicken breasts in the crock pot 4-6 hours (or boil)
Mold the crescent rolls to cover the bottom and sides of a 8×8 baking dish
Shred chicken when fully cooked
Mix salsa and chicken in a large bowl
Pour chicken/salsa mixture on top of the crescent rolls in the baking dish
Top with cheese
Bake at 350 degrees for approx. 30 minutes – until crescent rolls are cooked throughout
Optional – top with sour cream
Enjoy!
This Chicken Taco Bake recipe is low-fat and full of flavor! Make sure to let me know if you try it 🙂
And be sure to follow Food Wine Sunshine and Cooking on Facebook, Twitter, Pinterest, Google + and Instagram for more helpful tips and delicious recipes!