(Last Updated On: August 17, 2021)
Make dinner time easier with this delicious Easy Slow Cooker Creamy Chicken Pasta recipe. Made with simple ingredients and prepped in just minutes, this is the perfect weeknight meal. While this post is sponsored by Florida Dairy Farmers, all opinions and my love of dairy are my own.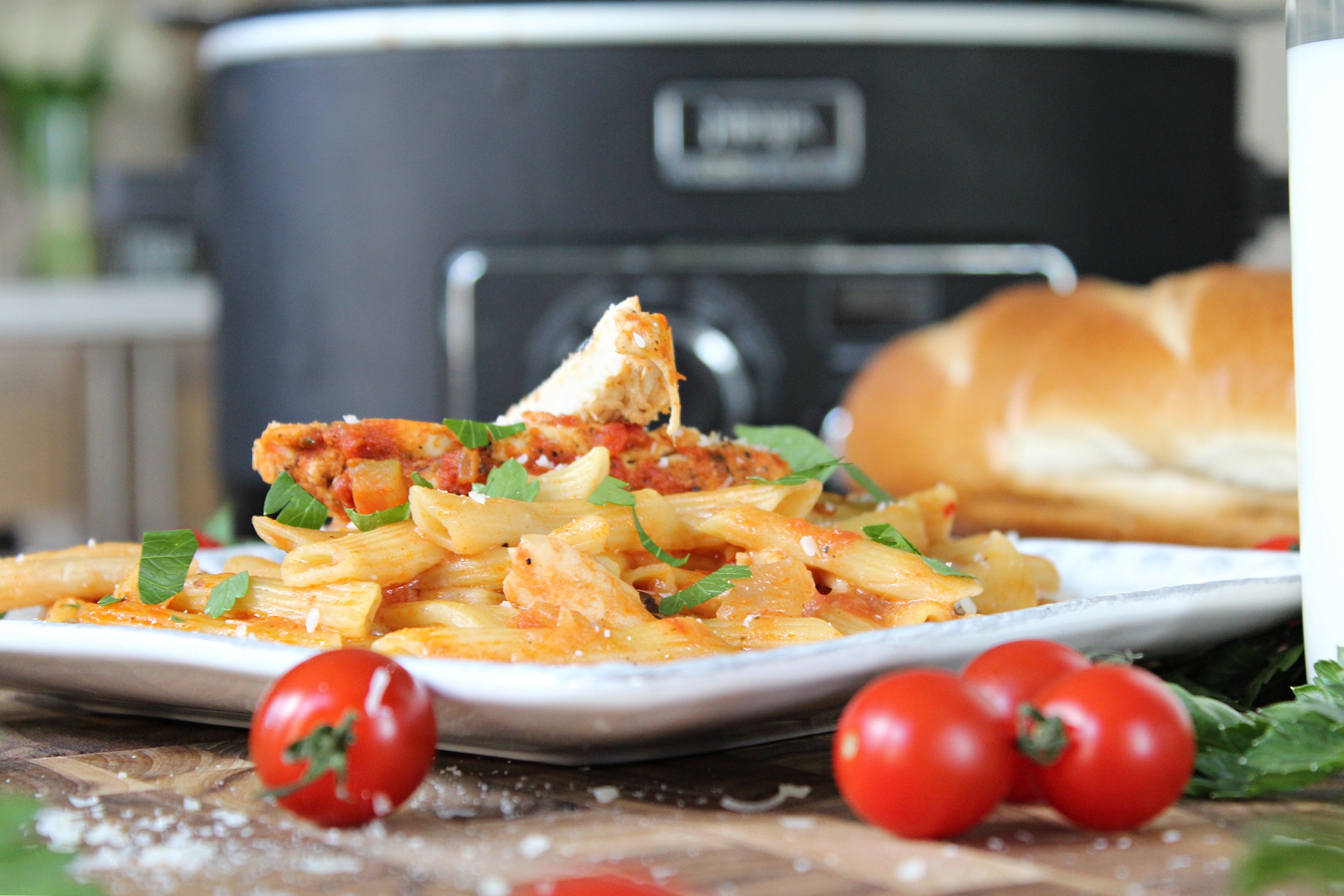 Easy Slow Cooker Creamy Chicken Pasta
Hello busy days and over-scheduled evenings with kids' activities! Yes, it's that time of the year. Back to school time. The last year or so has been…how do we say it…difficult. And while we are trying to ease back into the swing of things, things are in full swing. My kids went back to school last week, Steven made the golf team (WOOHOO) but he practices 4 nights a week and Sadie has karate 4 nights a week. Until track starts, then we will toss that in the mix. Breathe my friends, we got this.
You know that Back-to-school preparations can't start the night before the first day of school. After the long summer months of playing late and sleeping in, we have to not only get the kids ready for early mornings again…but ourselves!
Bring On The Routines
If the kids woke up whenever they wanted to all summer, start waking them up earlier. You may have to do it in stages. I am still waking both of mine about 10 minutes earlier than they have to get up because they are still moving extra slow. They aren't used to the early mornings yet. And, let's be honest, I'm not either!
Prepare The Logistics
Plan out when everyone has to get up. Discuss whether you are packing lunches or if the kids will be eating school lunches. Start meal-planning again. I will admit, over the summer my meal-planning goes out the window. Back to school time and crazy sports schedules calls for easy dinners.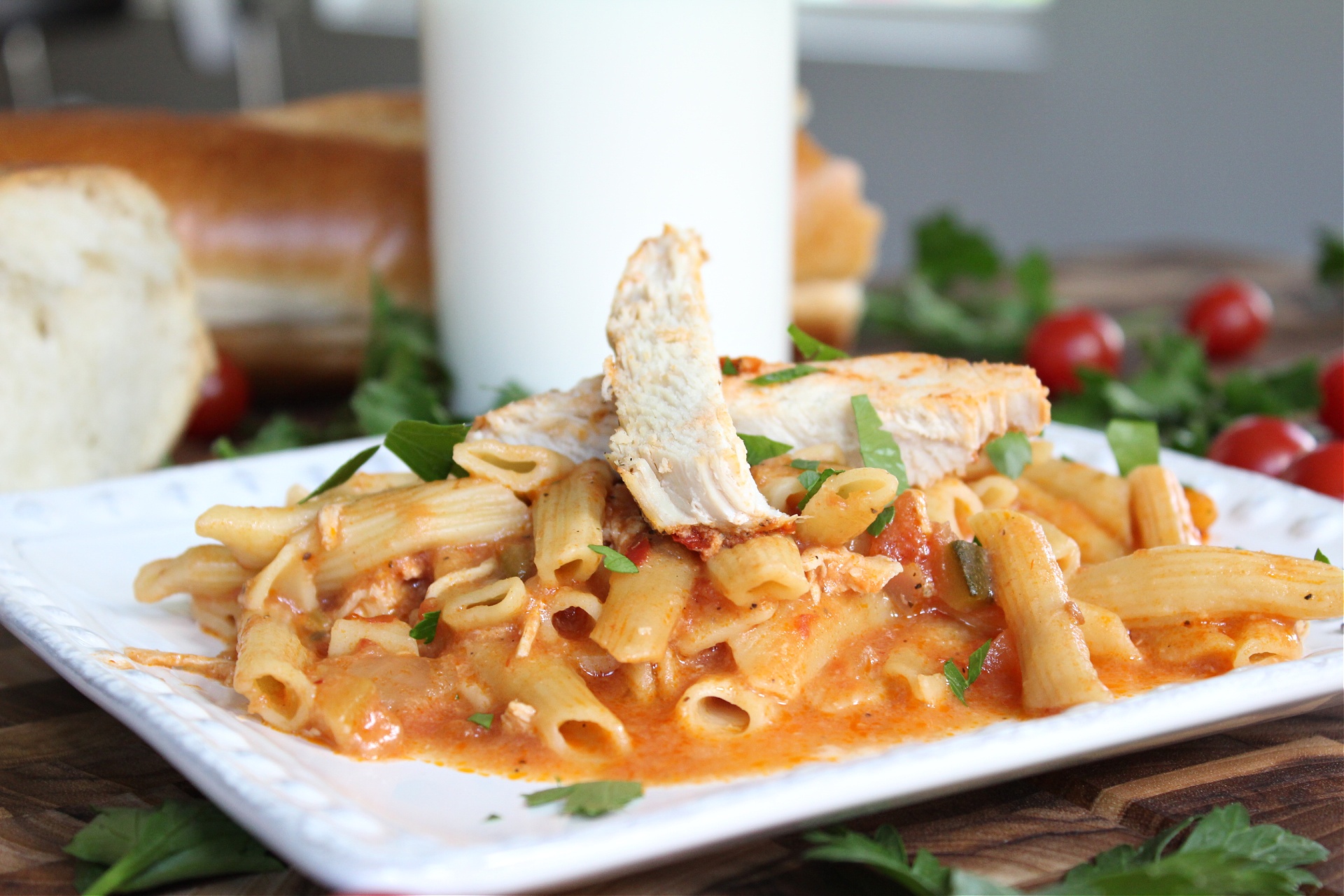 Speaking of easy dinners….
I have a new slow cooker meal for you all today! The last week we have eaten nothing but leftovers and pizza, not that there's anything wrong with that, but the kids were begging me for a "home-cooked" meal and I was begging for more hours in the day. Enter delicious and easy crockpot meal for the win!
This is a pasta slow cooker meal. Now, you may be skeptical that pasta in the slow cooker is possible, but I am here to tell you…it IS! BUT, yes, there's a but…I do not recommend cooking this one for 8 hours like most of my other crockpot recipes. The difference in this slow cooker recipe is that it has pasta.
When cooking pasta in the slow cooker, the pasta can go from crunchy to soft very quickly, so if you leave it in the slow cooker for 8 hours it's possible you will end up with mushy pasta. And no one likes mushy pasta.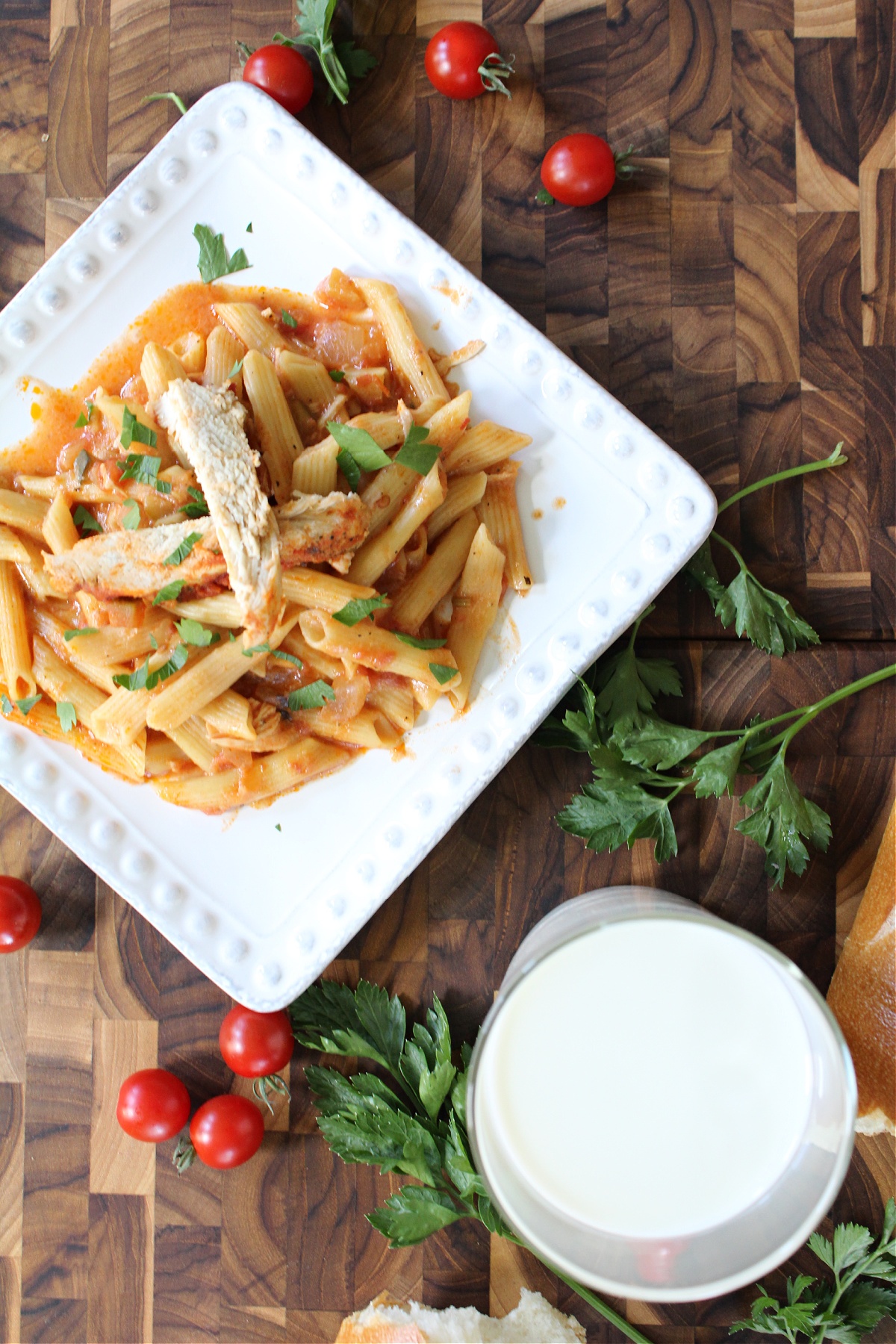 This Slow Cooker Creamy Chicken Pasta is ready in about 4 hours and prep time is less than 10 minutes! So, if you work out of the house, head to the kitchen after lunch and prep this easy meal idea. Or, if your kiddos are old enough to help in the kitchen, have everything prepped and have them get dinner started when they get home from school 😉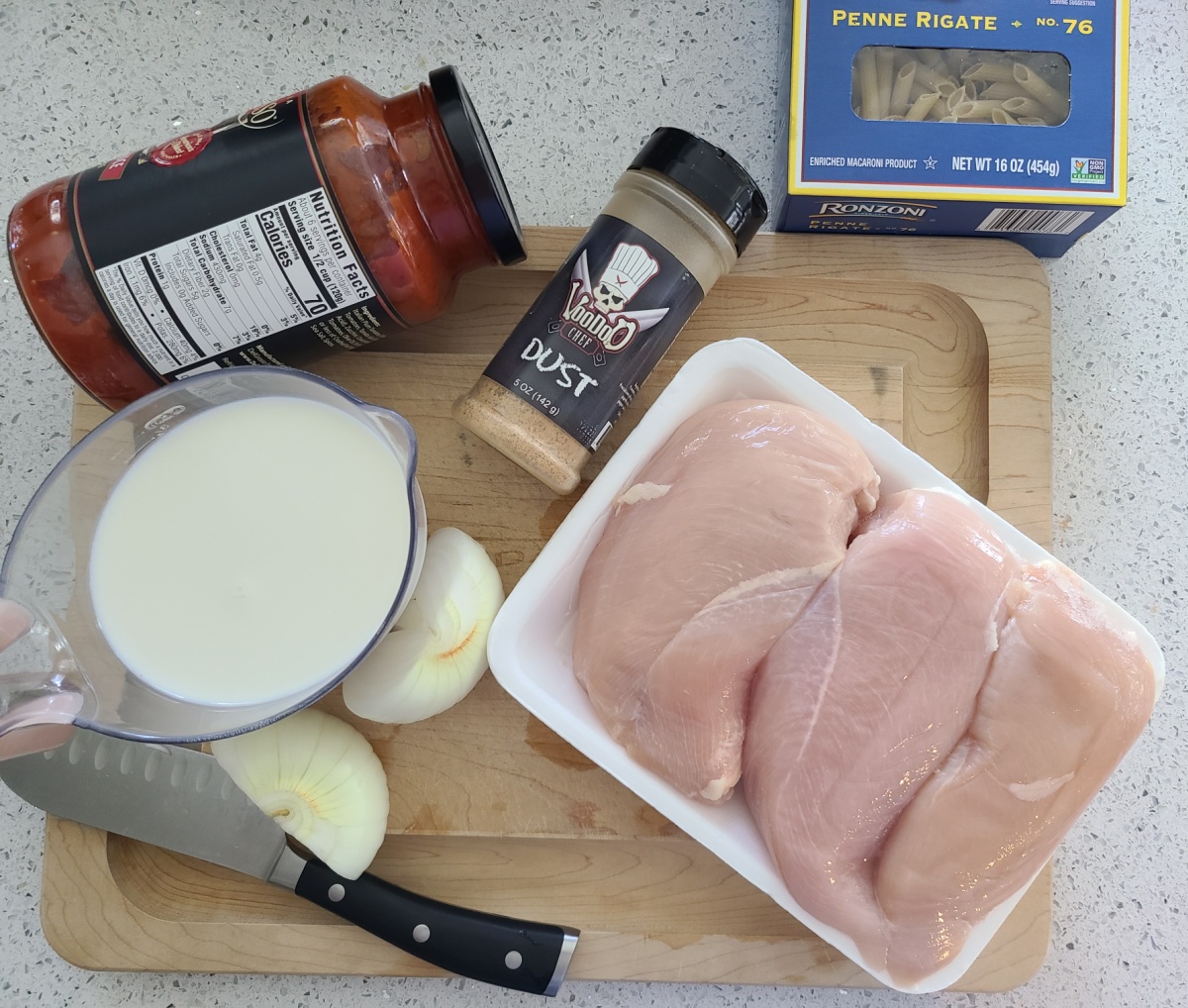 To make this Slow Cooker Creamy Chicken Pasta you will need just 8 simple ingredients:
Chicken
Italian or your favorite all-purpose seasoning – I use DUST by VooDoo Chef
1/4 Teaspoon Red Pepper Flakes
Onion
Marinara Sauce, (jarred or homemade)
Chicken broth
Penne Pasta
My whole family likes our meals with a bit of heat, so I used the DelGrosso Uncle Fred's Fireworks Sauce, which is our absolute favorite jarred pasta sauce. If your family doesn't like "spice" feel free to use your preferred sauce and leave out the red pepper flakes.
Speaking of red pepper flakes, FlatIron makes the best red pepper flakes in the world in my opinion, so if you are looking to upgrade your spice, be sure to check them out.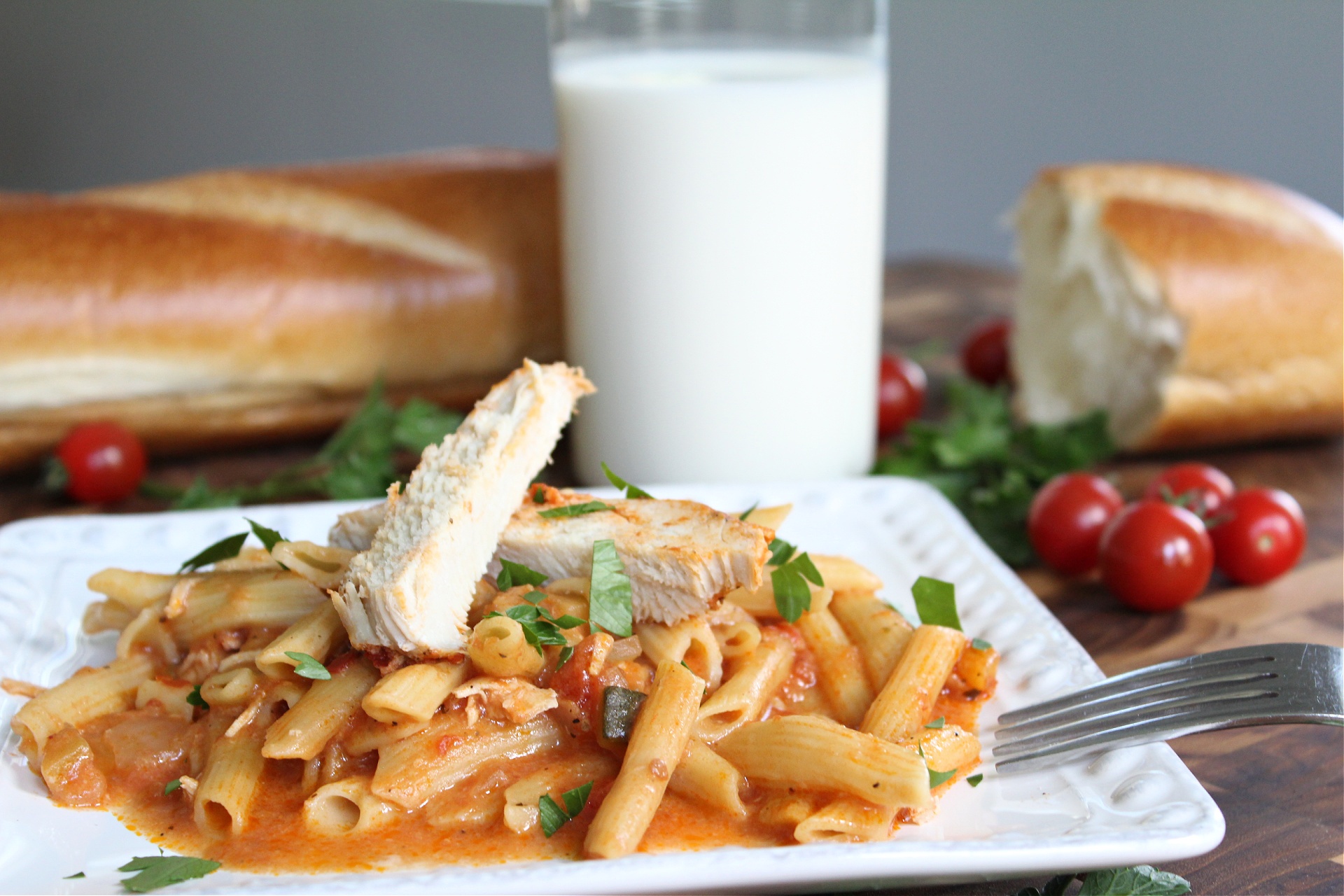 What makes this easy chicken pasta recipe extra delicious and creamy is the milk, I used 2% milk because that's what I had in the house. You could probably try 1% if you have that on hand, but it may not be as creamy. And if you want your pasta to be a little extra creamy, use heavy cream.
And don't forget to serve your creamy chicken pasta with a glass of cold milk…and bread!
My Slow Cooker Creamy Chicken Pasta recipe fed my family of four, plus my parents, plus we had about 1-2 servings leftover. So, depending on the size of your family and how hungry everyone is, you may be able to get 2 meals out of this one. I love leftover night…and my kids don't mind it if it's "home-cooked" leftover night 😉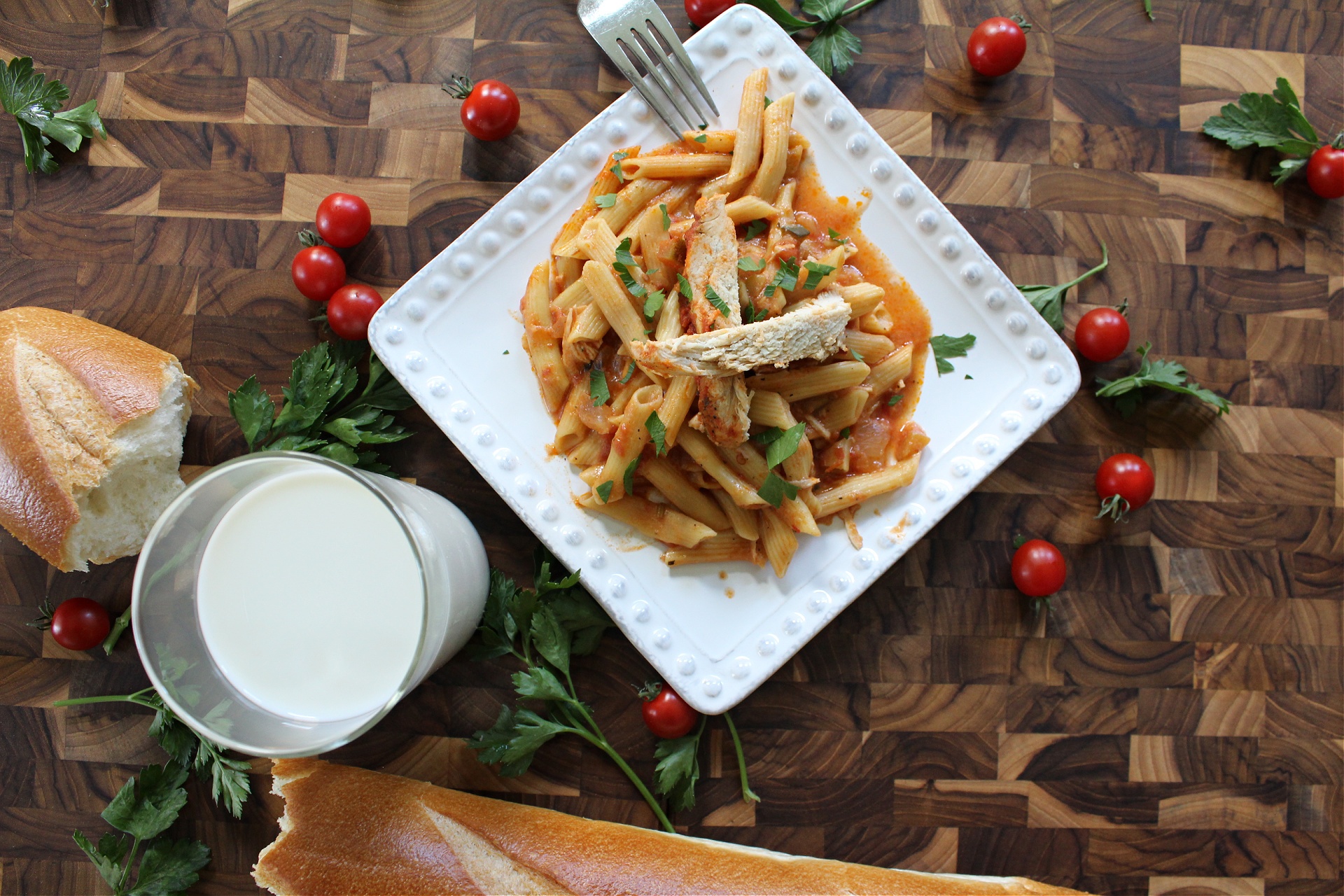 How long are leftovers good for in the refrigerator?
We had ours 3 days later and it tasted just as amazing. You can store your cooked Slow Cooker Creamy Chicken Pasta in the refrigerator for up to 5 days in an air-tight container.
Now, let's get cooking. Here is my Slow Cooker Spicy Chicken Pasta recipe. Be sure to Print It and Pin It so that you can make it again and again.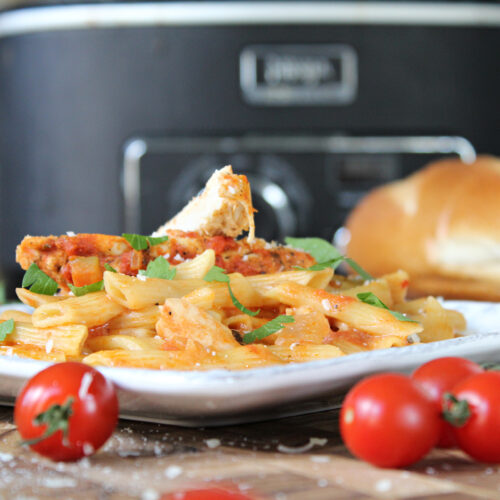 Slow Cooker Creamy Chicken Pasta
Make dinner time easier with this delicious Easy Slow Cooker Creamy Chicken Pasta recipe. Made with simple ingredients and prepped in just minutes, this is the perfect weeknight meal.
Print
Pin
Rate
Ingredients
2

lbs

boneless skinless chicken breast

16

oz

Penne Pasta

or your favorite short noodle pasta

1 ½

cups

2% Milk

1

Vidalia onion

diced

1

tablespoon

DUST by VooDoo Chef

or use Italian Seasoning

¼

teaspoon

Red Pepper Flakes

26

oz

your favorite marinara Sauce

jarred or homemade

26

oz

low sodium chicken broth

fresh parsley and shredded Parmesan for garnish if desired
Instructions
Season the chicken breasts with DUST seasoning red pepper flakes.

Add diced onion to the bottom of the slow cooker.

Place the chicken in an even layer in the bottom of a 6 or 7 quart slow cooker.

Add the lid, and cook on high for 3 hours.

After 3 hours, remove the chicken and either shred it or cut it into slices or cubes.

Return the chicken to the slow cooker.

Fill the empty marinara sauce jar with chicken broth, close the lid, and give it a shake so that you get all the sauce from the jar, then pour the chicken broth into the slow cooker.

Press the noodles down to make sure they are submerged in the sauce.

Put the lid back on, change the temperature to low heat, and cook for an additional 45 minutes. Be sure to stir occasionally to make sure the noodles are evenly cooked.

Serve hot with a side salad and bread.

Sprinkle with fresh parsley and shredded Parmesan cheese if desired.
Notes
The noodles can go from cooked to overcooked very quickly, so check them often.
Nutrition
Calories:
333
kcal
|
Carbohydrates:
33
g
|
Protein:
37
g
|
Fat:
6
g
|
Saturated Fat:
2
g
|
Polyunsaturated Fat:
1
g
|
Monounsaturated Fat:
2
g
|
Trans Fat:
1
g
|
Cholesterol:
87
mg
|
Sodium:
763
mg
|
Potassium:
1076
mg
|
Fiber:
3
g
|
Sugar:
10
g
|
Vitamin A:
568
IU
|
Vitamin C:
11
mg
|
Calcium:
99
mg
|
Iron:
3
mg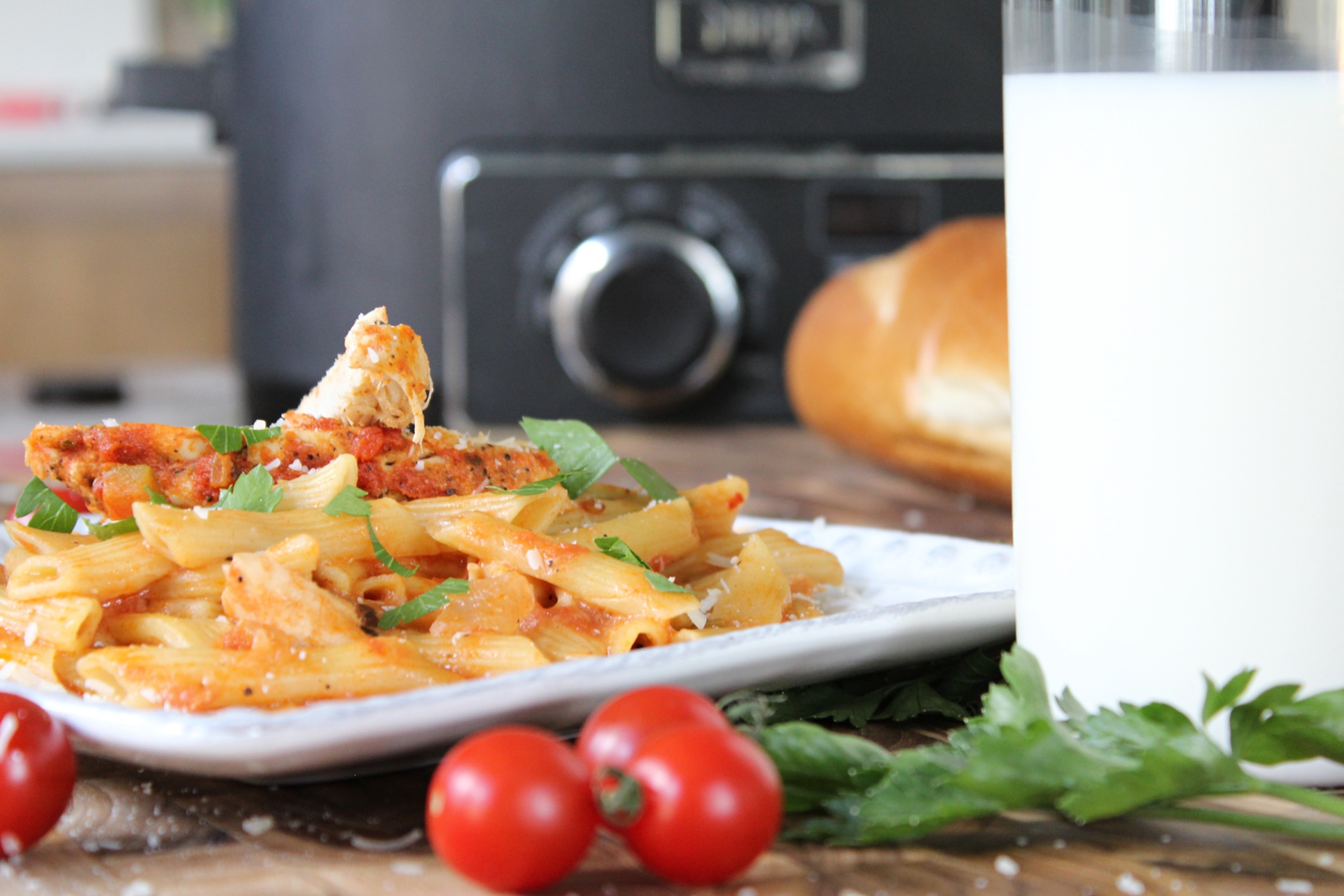 I hope you and your family enjoy this Crockpot Spicy Chicken Pasta as much as we do!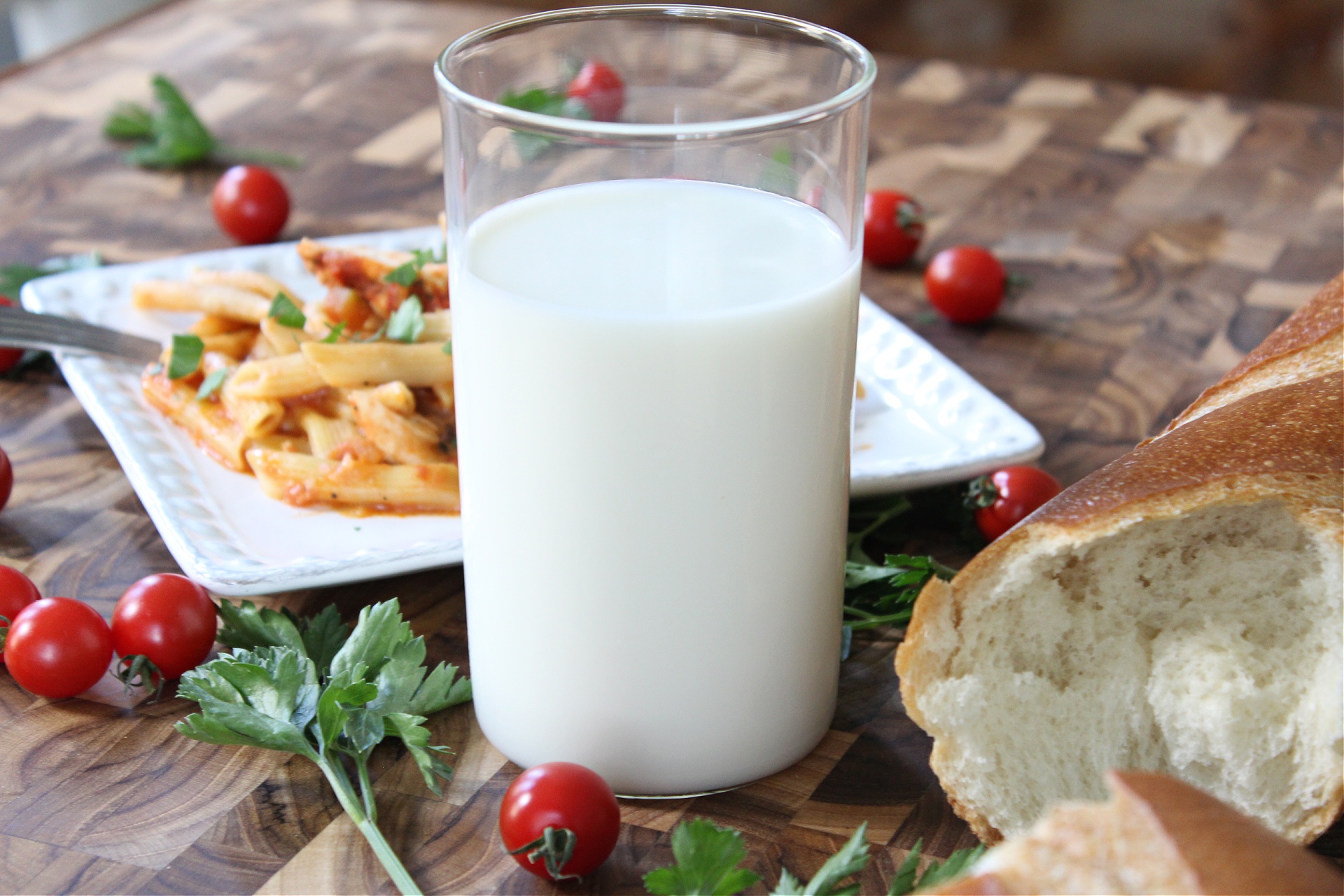 Do you find that slow cooker meals make dinner-time easier too?
Be sure to check out Florida Milk for more dairy-licious recipes and follow on Instagram, Facebook and Pinterest.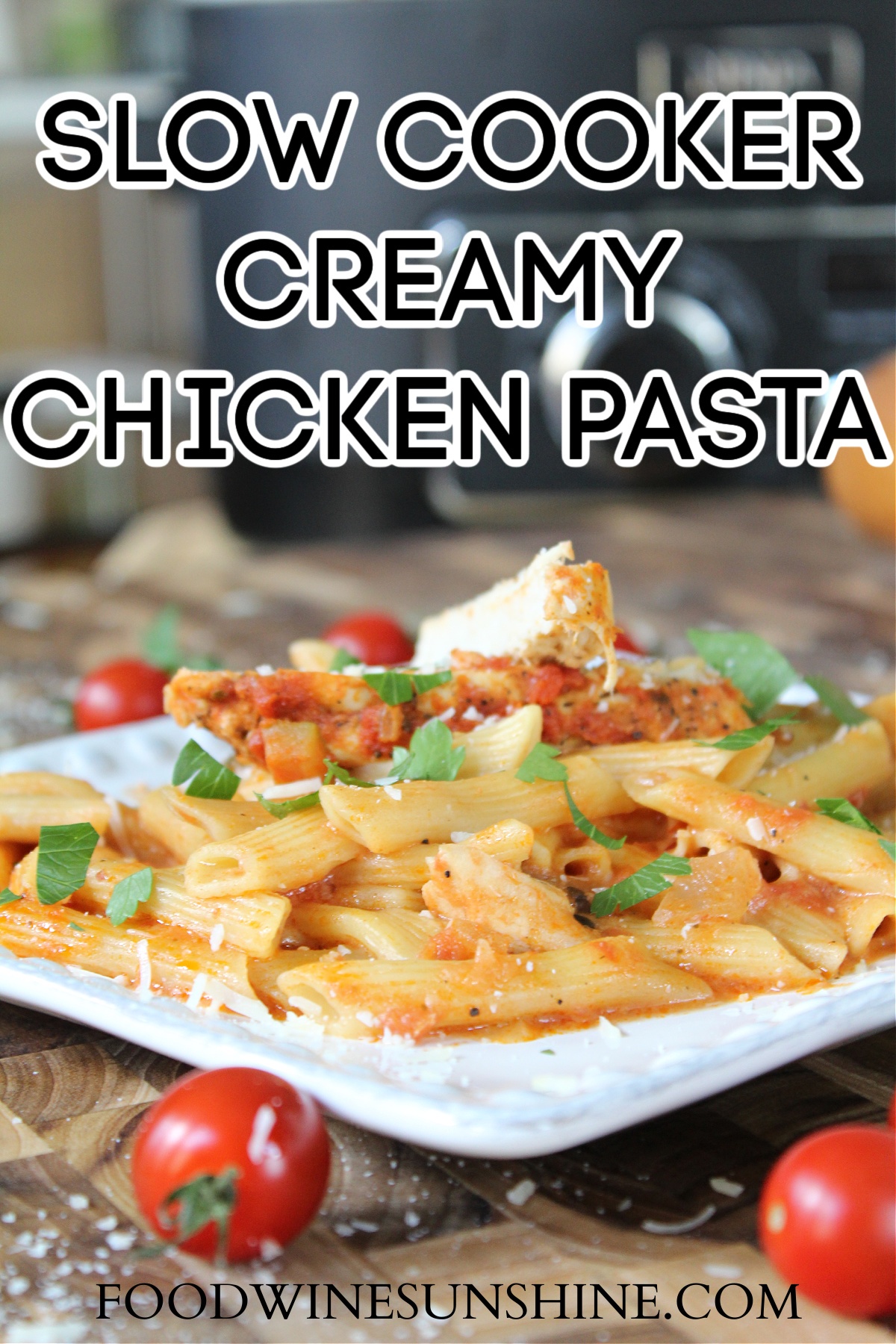 And while you are at it, check out all the recipes on Food Wine Sunshine and follow on me Facebook, Twitter, Pinterest and Instagram for more FOOD WINE AND SUNSHINE.