(Last Updated On: August 10, 2019)
Pumpkin is a naturally low-fat and high in fiber food, add in some cheese, hot peppers and low-calorie bread and you have this deliciously, savory, yet healthy Pumpkin Grilled Cheese Sandwich Recipe.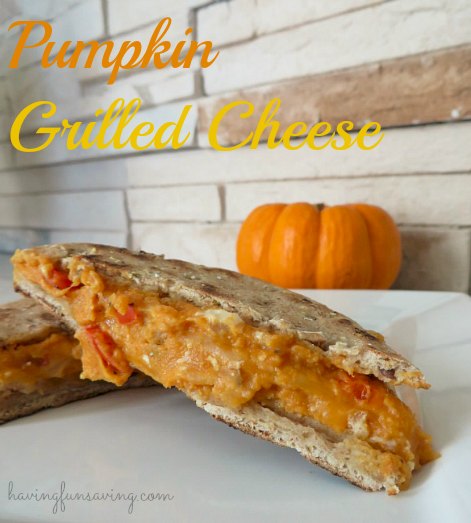 Pumpkin Grilled Cheese Sandwich Recipe
I have another great Pumpkin recipe for you guys today! My mom called me a few days ago and said that I should try making a Pumpkin Grilled Cheese Sandwich. The idea did indeed sound weird at first, but it is low-cal and I thought it would be worth a try to get creative with 🙂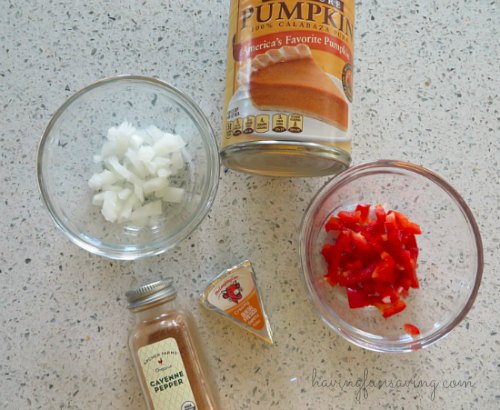 I added sweet peppers for a bit of crunch and cayenne pepper for a bit of heat. Now, I have told several friends about this recipe and they had all said that it sounds a bit "weird," but I definitely recommend it! I was surprised how well all the flavors blended.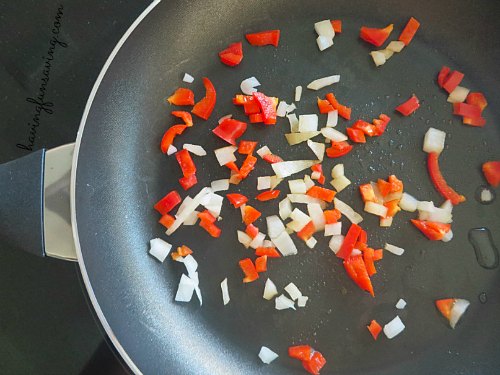 Once the peppers and onions are sauteed, you simply mix them in with the pumpkin and a wedge of Laughing Cow cheese and you will have your sandwich ready in just a few minutes.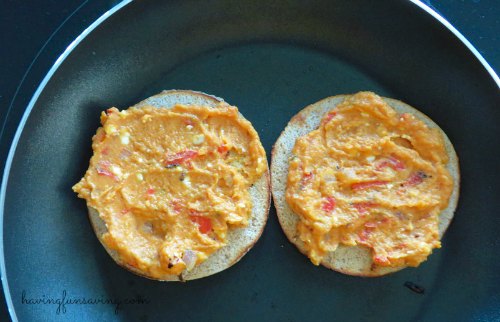 Then you simply spread the pumpkin mixture evenly on your low-fat bread (I used Arnold Thins) and add a slice of low-fat cheese.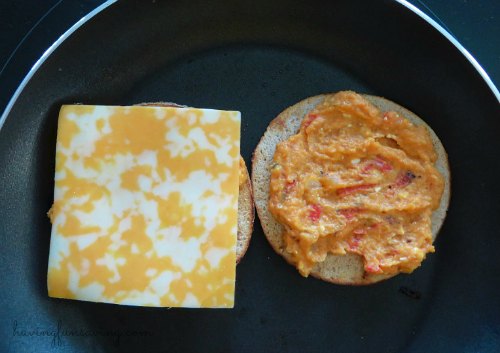 Once you add on the slice of cheese, warm the bread on the stove like you normally would a grilled cheese. I did NOT butter the bread at all, the little bit of oil that was still in the pan worked fine. Make sure you are using a pan that is big enough to fit the 2 slices of bread. I used the Farberware Dishwasher-safe 10-inch skillet with Teflon® nonstick coating.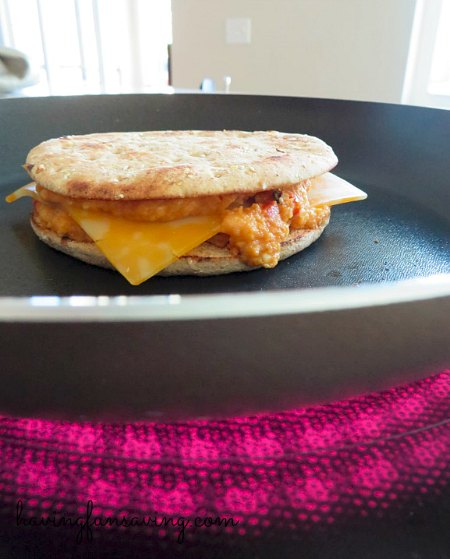 Once the bread is "toasted" and the cheese is melted, it's time to enjoy your sandwich!
Now, here's the recipe…Don't forget to print it or pin it for future reference.
Pumpkin Grilled Cheese Sandwich Recipe
Author:
Prep time:
Cook time:
Total time:
Ingredients
1 teaspoon of Extra Virgin Olive Oil
2 tablespoons of diced onions
2 tablespoons of sweet bell peppers
1/4 cup puree pumpkin
1 wedge of Queso Laughing Cow Cheese
Dash of cayenne pepper
1 slice reduced fat or fat free cheese
2 slices of low-fat bread
Instructions
Warm EVOO in a medium pan
Saute peppers and onion
While veggies are cooking, mix pumpkin and Laughing Cow Cheese in a small bowl
Add the peppers and onions to the pumpkin mixture
Evenly spread the pumpkin mixture on both sides of the bread
Add the bread to the warm pan
Add one slice of cheese to one side of the bread
Make the sandwich and toast each side of the bread
Serve once the bread is warm and the cheese is melted
Enjoy!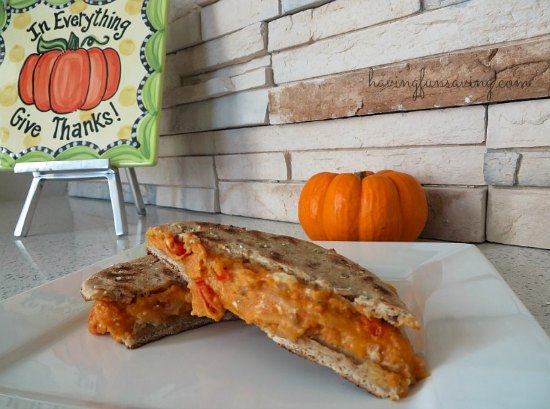 I hope you guys enough this healthy and filling Pumpkin Grilled Cheese sandwich! Make sure to let me know if you try it…I promise, it's worth a try 🙂

Looking for more family-friendly delicious recipes? Make sure to check out all the recipes here on Food Wine Sunshine !
Looking for more delicious pumpkin recipes?