(Last Updated On: July 6, 2019)
Serve this savory Pumpkin and Bacon Dip Appetizer at your next gathering and have your guests begging for more. How to make a Divining Pumpkin and Bacon Dip. While this post is sponsored. All opinions and the recipe are my own.

How To Make A Divining Pumpkin and Bacon Dip Appetizer
I have a delicious appetizer recipe for you all today that is a bit of a twist on the typical Pumpkin Dip recipes that you see everywhere. I'm not saying I don't like sweet, in fact, you will find my Sweet Pumpkin Dip Recipe on the blog too, but sometimes you need to spice it up a bit! I love a bit of heat in my recipes and who doesn't love bacon?!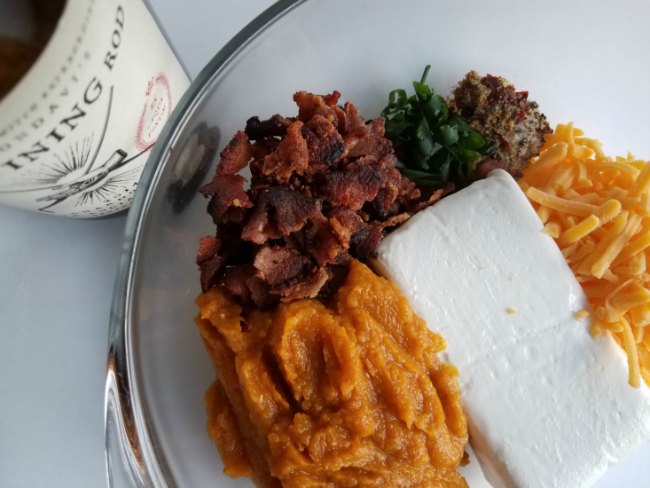 Now that it's Fall and I know most people's entertainment calendar seems to explode this time of year, I wanted to share a delicious appetizer that is not only easy to make, but festive! And, if you look in your pantry, you may already have several of these ingredients on hand already. The pumpkin in this dip gives it that warm Fall color, and the bacon, spices, and The Divining Rod Chardonnay give it a flavor that will leave your guests coming back for more.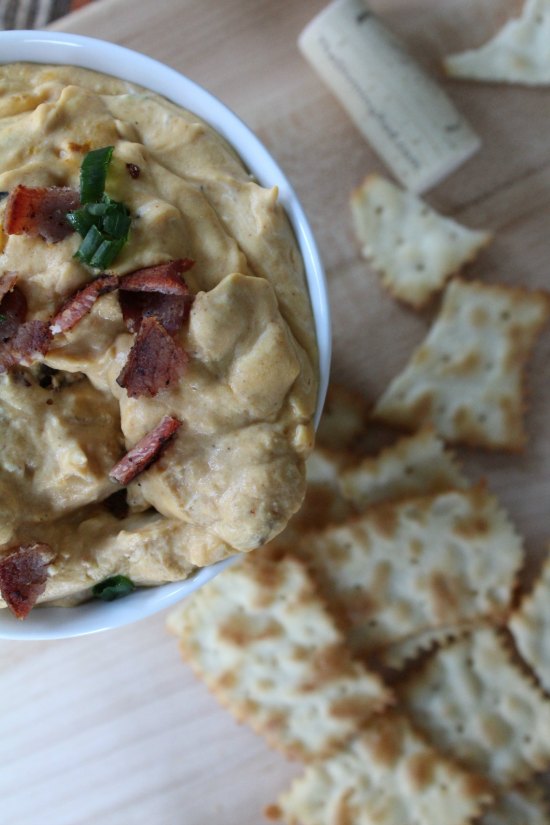 This Pumpkin and Bacon Dip Recipe can be served warm or cold, but I personally prefer it warm. I recommend pairing it with The Divining Rod Chardonnay that is in the recipe.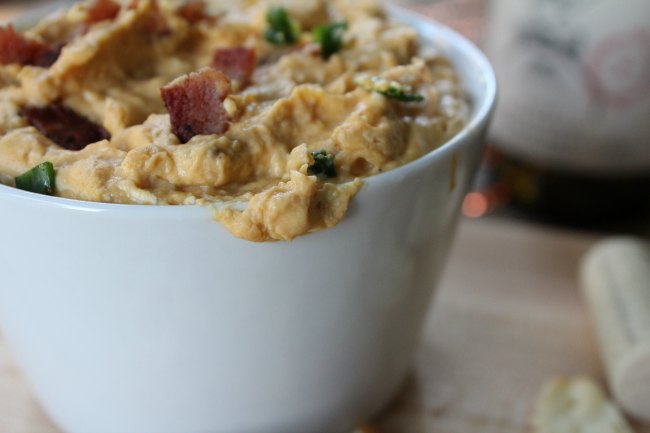 Now, here is my Divining Pumpkin and Bacon Dip Recipe. Be sure to Print It and Pin It so that you can make it again and again.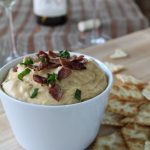 Print Recipe
Divining Pumpkin and Bacon Dip Appetizer
Ingredients
3

tablespoons

The Divining Rod Chardonnay

1

cup

pumpkin puree

1 8

oz

1/3 less fat cream cheese

1/2

cup

sharp cheddar cheese

6

slices

bacon - cooked and crumbled/chopped

1

tablespoon

diced green onions

1/4

teaspoon

salt

1/4

teaspoon

pepper

1/4

teaspoon

few shakes cumin

1/4

teaspoon

few shakes chili power

1/4

teaspoon

few shakes garlic powder

1/2 - 1

teaspoon

red pepper flakes - depending on how spicy you want it
Instructions
Preheat oven to 400 degrees

Add all ingredients to a mixing bowl

Stir to blend well

Adjust seasonings as desired

Place dip in an oven-proof dish

Bake for 10 minutes or until dip is heated through

Serve with baguette or your favorite crackers

Enjoy!
Notes
Pair with The Divining Rod Chardonnay

I hope you and your guests enjoy this Pumpkin and Bacon Dip Appetizer Recipe as much as we do!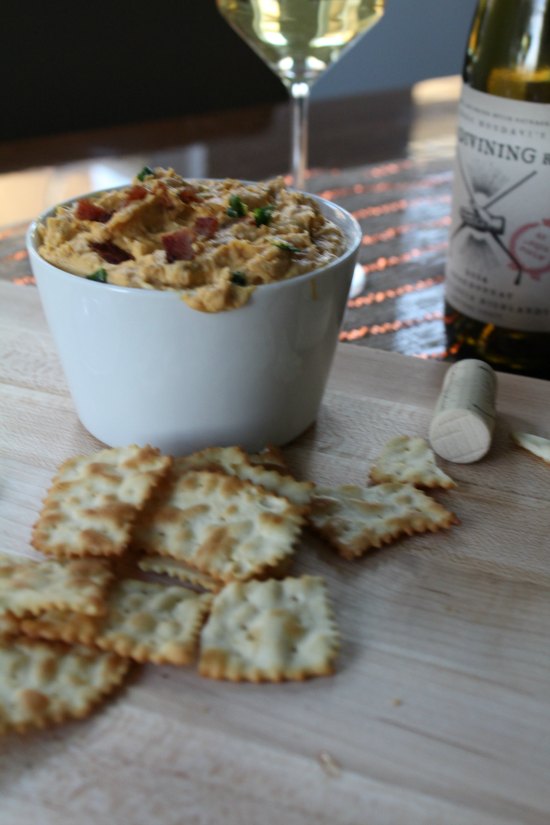 You will notice that I used The Divining Rod Chardonnay in this appetizer recipe, and I did that for two reasons:
I love wine
It gives it an extra punch of flavor
You will find several varieties of The Divining Rod Wine: Chardonnay, Pinot Noir, Cabernet Sauvignon, and the Divine Red. I recommend having several bottles available for your guests at your next gathering, as each one, it's own unique symphony of flavors for you to enjoy.
Where to find The Divining Rod wines
The Divining Rod Wines are made by one of the most interesting men I have met. Marc Mondavi is not only the first and only Water Witch I have ever met, but he is down-to-earth, friendly, and will take the time to talk to you about his family, Napa, and wine. I recently had the opportunity to go to Napa and the time I spent with Marc Mondavi was the most memorable. His kindness, passion, and devotion are contagious, and if that alone doesn't make you want to try his wine, then just have a glass…the supernatural craftsmanship will have coming back for more.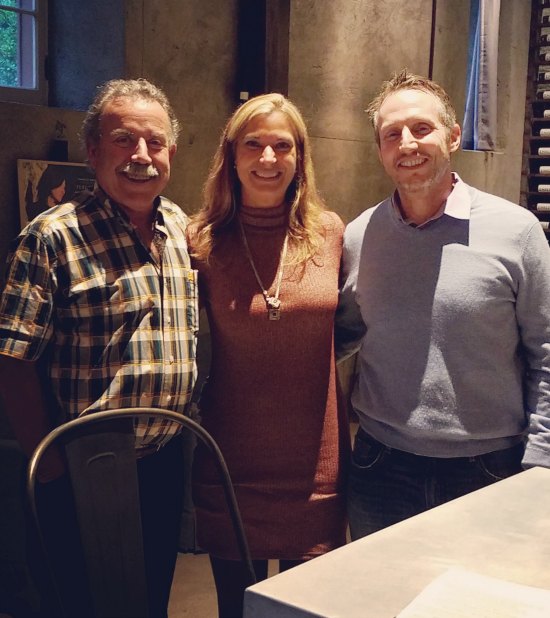 Learn more:
What is a Water Witch
Unique The Divining Rod Wine Pairing Suggestions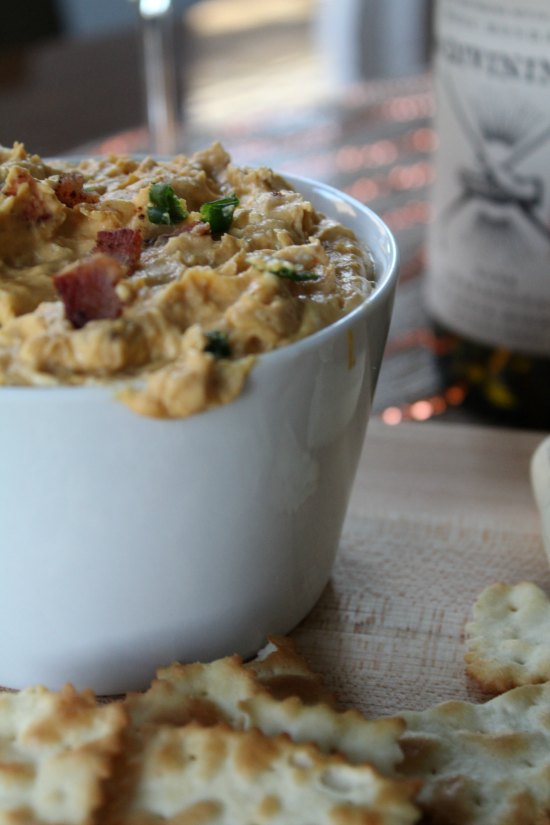 "Trust your instincts and enjoy."
Follow The Divining Rod on Facebook, Twitter, Instagram, and Pinterest, wine is social!
In fact, be sure to check out all the recipes on Food Wine Sunshine and follow me on Facebook, Twitter, Pinterest, Google + and Instagram.
Looking for more delicious pumpkin recipes?