(Last Updated On: April 9, 2020)
The combination of coconut and lemon is the perfect Spring Dessert! See why these coconut lemon bars are "Upside Down" Coconut Lemon Bars and grab the recipe. While this post is sponsored by Voortman Bakery, all opinions and the recipe are my own.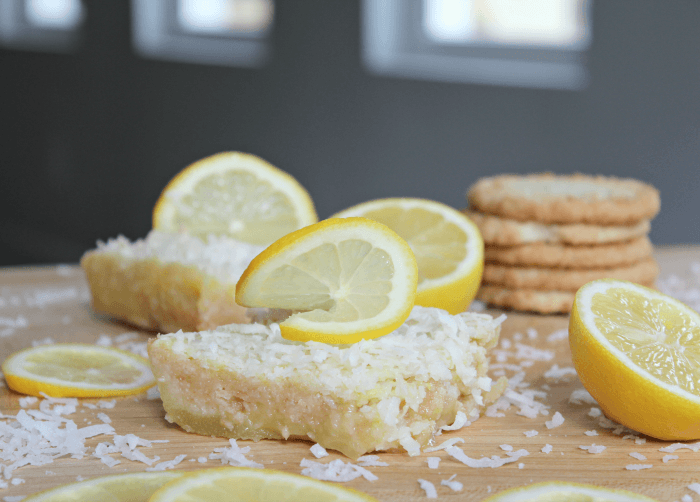 Upside Down Coconut Lemon Bars
Yep, you read that right. Upside Down Coconut Lemon Bars. Are you thinking…"Wow, Upside Down Lemon Bars sounds fun!" or "Why the heck are the Coconut Lemon Bars Upside down?" Well, these lemon coconut bars are fun, and absolutely delicious. Why are they upside down…well, that was my faux pas. But, since the recipe was still a success and I decided that many people out there may do the same, I decided to embrace my "uniqueness" and celebrate my Upside Down Coconut Lemon Bars. Now, if you don't want to be as "unique" as me, I will let ya know how to not make yours upside down:)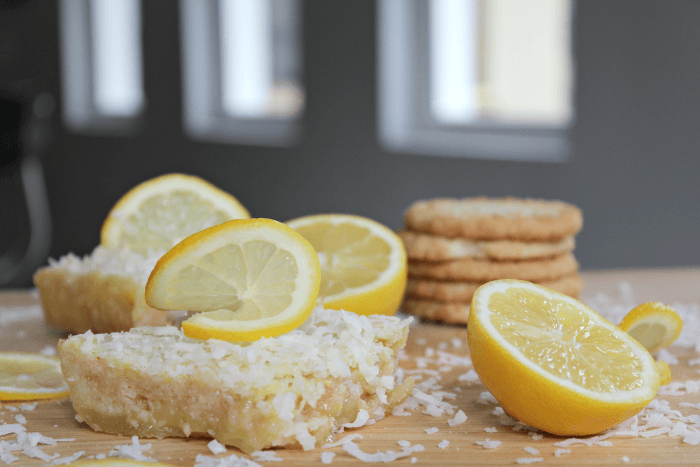 With Spring coming I wanted to make a light and delicious dessert and when Voortman Bakery sent me a package of their Coconut Cookies (baked with REAL coconut and no artificial color or flavors and no high-fructose corn syrup #momwin) I immediately thought of pairing it with lemon. A little bit of citrus, a little bit of sweet and a little bit of coconut all screams Spring dessert to me. And that's what these Lemon Coconut Bars are…even if they are upside down 😉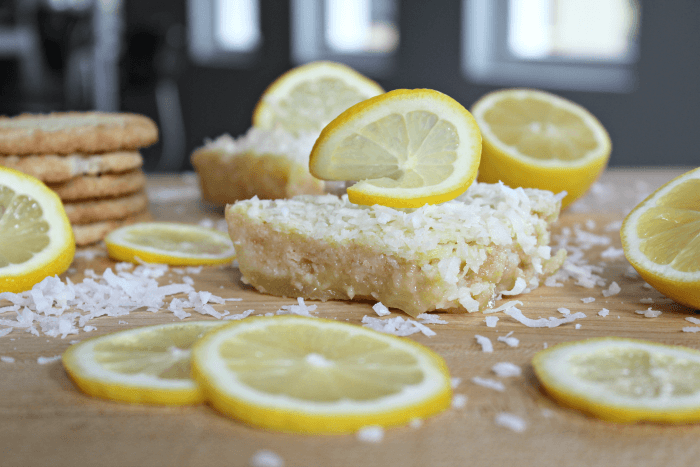 I will confess that these lemon coconut bars are also delightful with a cup of coffee for breakfast. Well, since I am confessing I will say that they are great with a cup of coffee, as a late afternoon snack when you need something sweet and for dessert. So, basically this lemon bars are perfect all Spring long…and beyond!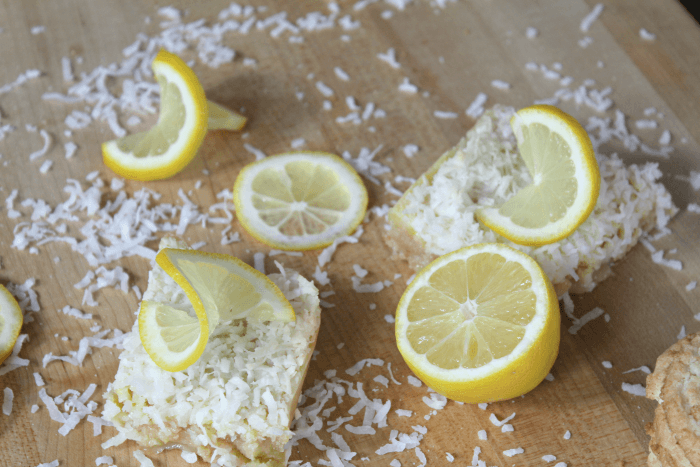 For this simple Spring dessert recipe, you actually only need a few ingredients, many of them you may already have in to pantry and refrigerator. The only ingredients I had to go out to the store for was extra lemons and shredded coconut.
Now, let me address the "upside down" part of this recipe, when you prepare the crust for these coconut lemon bars you have to make sure you do a few things:
Press the crust down FIRMLY into the baking firm, make sure there are no cracks or nooks and crannies.
Bake the crust before adding your filling for 15 minutes at 350 degrees.
Pour the lemon filling on the crust while it's HOT out of the oven, which causes the layer that's in contact with the crust to cook immediately, and this helps prevent the upside down lemon bars.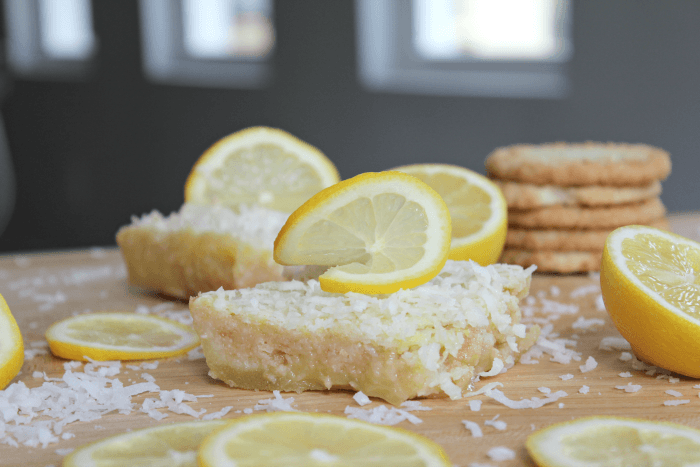 I won't say that my bars are "wrong" because they were AMAZING, but if you prefer to have your cookie crust on the bottom, pay careful attention to those steps. But, don't be sad if your lemon ends up on the bottom…your coconut lemon bars are not ruined! They are extra special!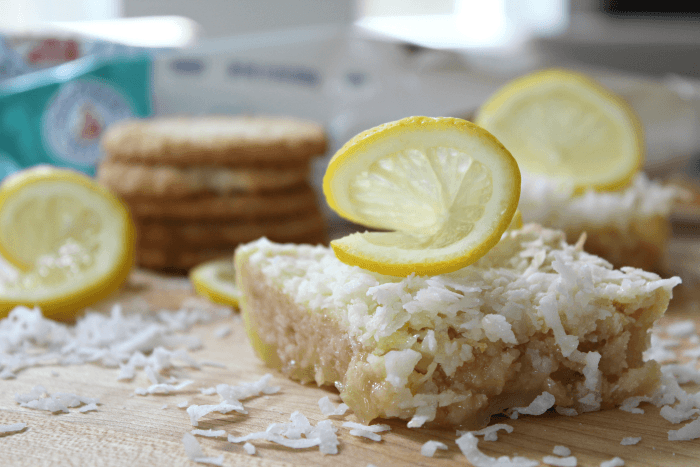 Now, here is my Coconut Lemon Bars Recipe, be sure to Print It and Pin It so that you can make it again and again.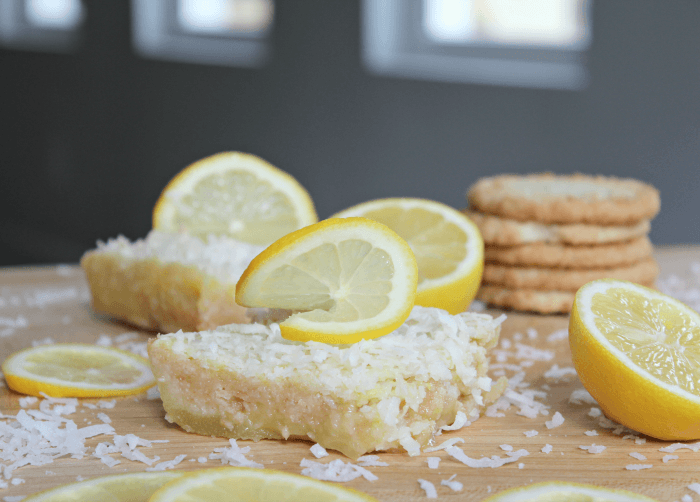 Coconut Lemon Bars
These Coconut Lemon Bars are the perfect Spring Dessert, easy to make, tangy and sweet. I hope you enjoy this Coconut Lemon Bars recipe!
Print
Pin
Rate
Ingredients
Coconut Cookie Crust Ingredients:

12

Voortman Bakery Coconut Cookies

4

tbsps

butter

Lemon Coconut Filling Ingredients!

3

eggs

1 1/2

cups

sugar

1

tbsp

lemon zest

1/2

cup

freshly squeezed lemon juice

approx 4 large lemons

1/2

cup

flour

1

cup

shredded sweetened coconut

Garnish!

Lemon slices if desired
Instructions
Preheat oven to 350 degrees and spray a 9x9 baking pan with cooking spray (or line with non-stick foil, feel free to spray it as well, just in case!).

In a food processor, chop coconut cookies and butter until you have crumbs.

Firmly press coconut cookie crust in an even layer into the bottom of the pan.

Bake for 15 - 20 minutes. The edges will start to brown.

While the crust is baking, mix eggs, sugar, lemon zest, lemon juice, and flour together.

Once combined, pour over HOT crust. Sprinkle with 1/2 cup of coconut (saving the other 1/2 cup).

Turn oven down to 325 degrees.

Bake for 15 minutes.

Sprinkle the top of the bars with the remanding 1/2 cup of coconut, and continue baking for 10 more minutes (25 minutes total) or until the filling has set.

Remove from oven and allow to cool on a wire rack.

Allow bars to cool COMPLETELY before slicing.

Top each bar with a lemon slice if desired.

Enjoy!
Notes
The lemon bars are best eaten within 24 hours, but may be covered and refrigerated for up to 3 days. They taste amazing cold!
If you end up with the lemon on the bottom, IT'S OKAY! It happened to me too! They still taste absolutely delicious, just tell everyone that you made Upside Down Coconut Lemon Bars...that's what I did 😉
I hope you enjoy these Coconut Lemon Bars as much as we do…Upside Down or not!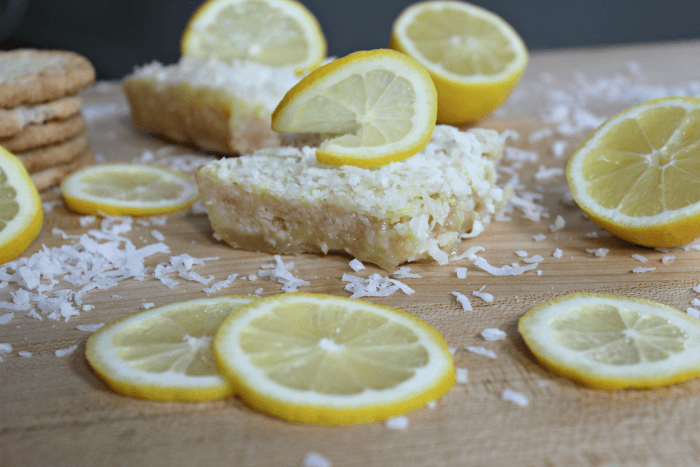 What is one of your favorite Spring desserts?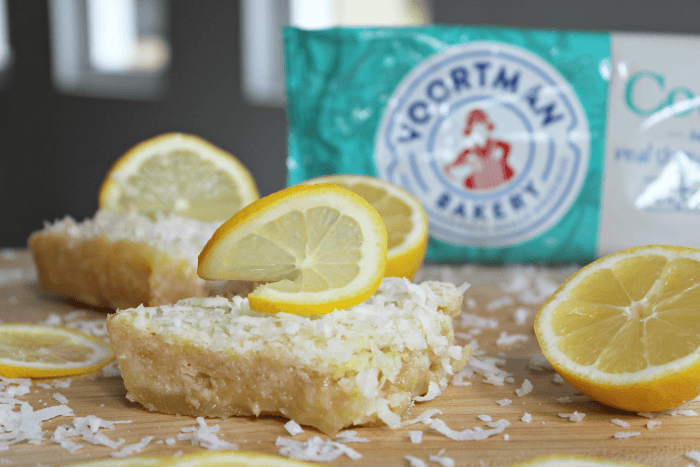 Be sure to stay social with Voortman Bakery by following on Instagram and Facebook. And check them out online for all the delicious bakery-goodness.
While you are at it, follow Food Wine Sunshine on Facebook, Twitter, Pinterest and Instagram for more tips, fabulous recipes and more!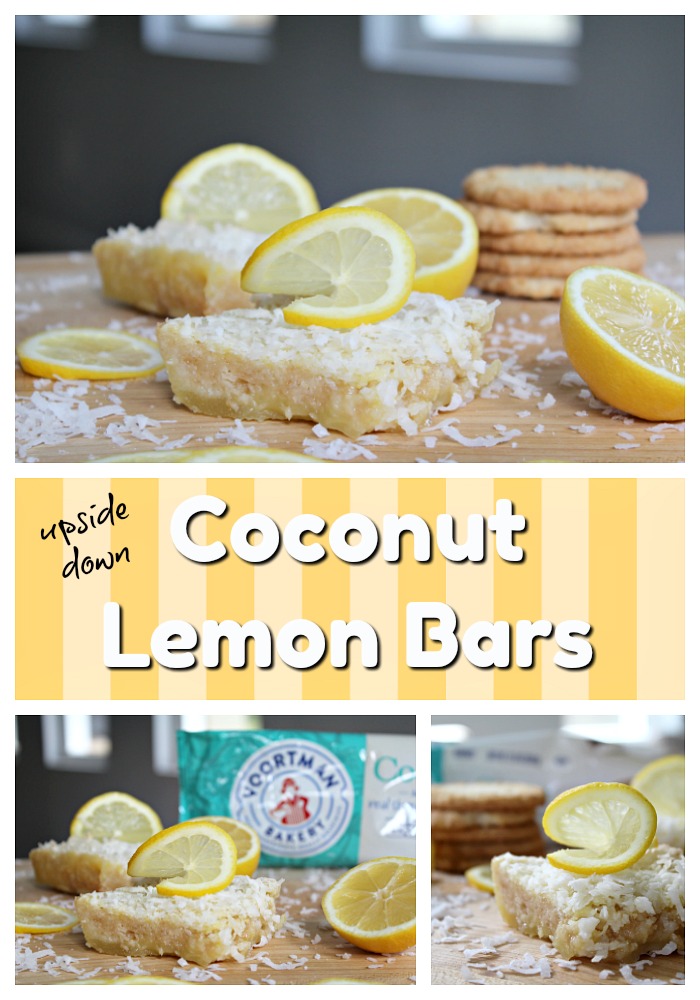 Looking for more sweet treats?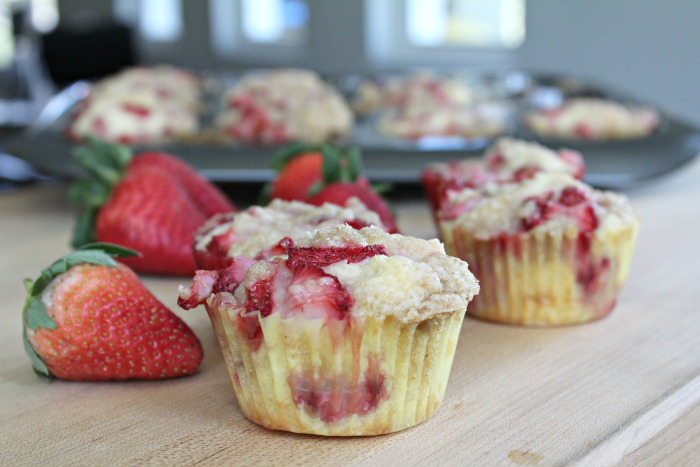 Easy Strawberry Muffins With Streusel Topping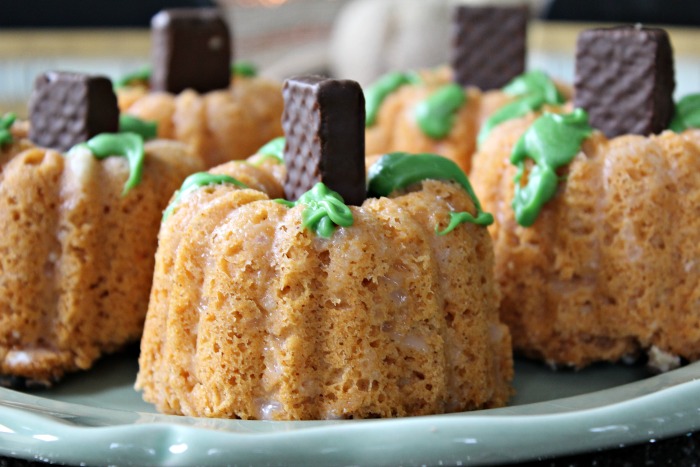 Light Mini Pumpkin Bundt Cakes