(Last Updated On: April 15, 2020)
This post was sponsored by Fresh From Florida as part of an Influencer Activation for Influence Central, however all opinions expressed are my own.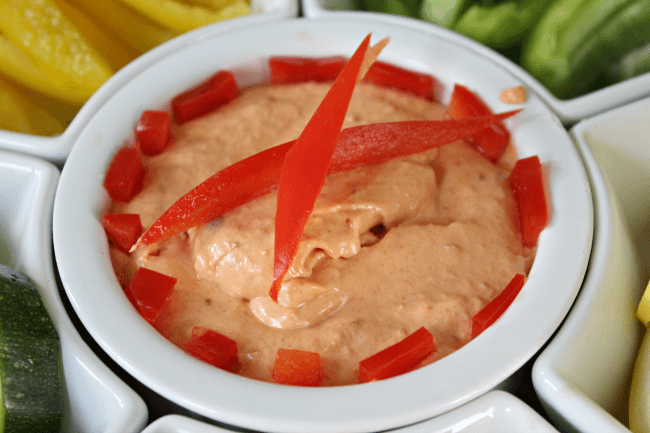 Homemade Roasted Red Pepper Dip
Bell peppers are delicious, aren't they? Bell peppers are good in so many dishes like: pasta, pizza, eggs, salads, stuffed peppers and in this delicious roasted red pepper dip 😉 We always keep bell peppers on hand at home, they are so versatile and since Fresh From Florida bell peppers are in season right now, I always grab a few when I am at the grocery store.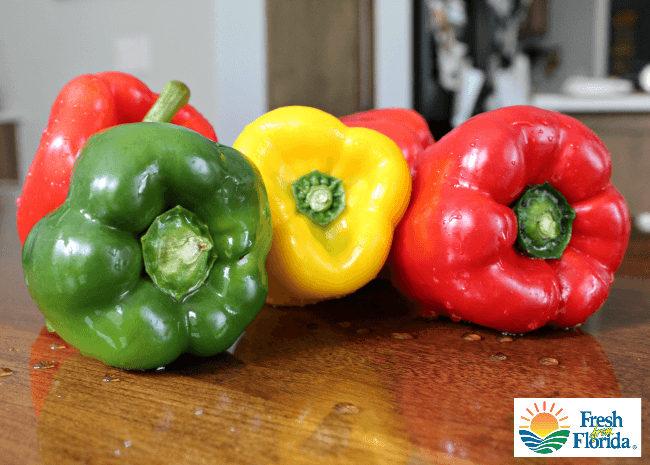 We love to spend time with family and friends and this past weekend was no exception. We had plans with several neighbors for Saturday and it was my turn to bring the appetizers, so I opened up the refrigerator grabbed out some Fresh from Florida bell peppers, an onion, garlic and some cheese and turned the oven on. I wanted to make a simple, yet flavorful dish that the adults and kids would enjoy and when my husband asked me where I bought the roasted red pepper dip, I knew I succeeded.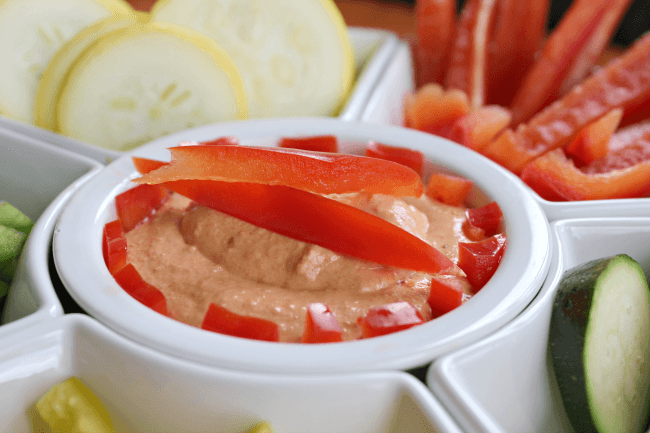 The roasting of the garlic, onions, and red pepper does take a bit of time, but it's totally worth it. A fresh roasted bell pepper is about 100 times better than a jar of roasted red peppers. Roasted garlic, is just amazing…if you haven't had it before, you really need to, something magical happens to garlic when it's roasted, it turns into a soft, almost sweet bite of heaven. Now imagine the roasted garlic and roasted bell pepper together. YES, it's that good. I also roasted my onion, I didn't want raw onion overpowering the roasted magic.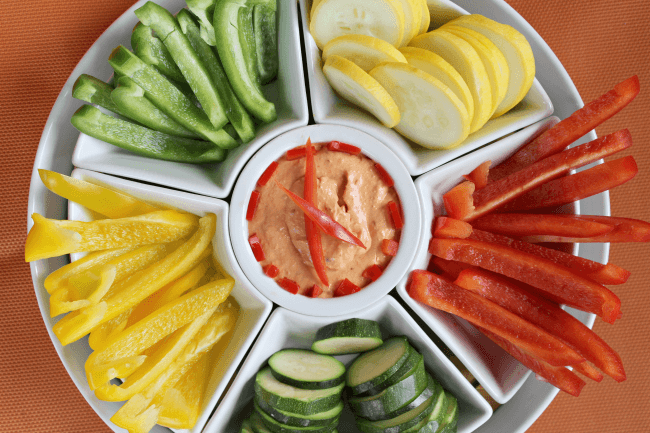 While I roasted my veggies and garlic, I cut up some Fresh from Florida vegetables to serve with my homemade roasted red pepper dip. I served this homemade roasted red pepper dip with green bell peppers, yellow bell peppers, red bell peppers, zucchini and yellow squash. All the colors of the fresh Florida vegetables were absolutely beautiful served with the roasted red pepper dip! Almost too pretty to eat…almost 😉 You really have to appreciate the fact that Florida Farmers work so hard to make sure we can eat all this amazing fresh produce year-round.
Roasting peppers is really easy. All you have to do is cut the bell peppers in half and clean out everything inside and then place them on a foil-lined baking sheet.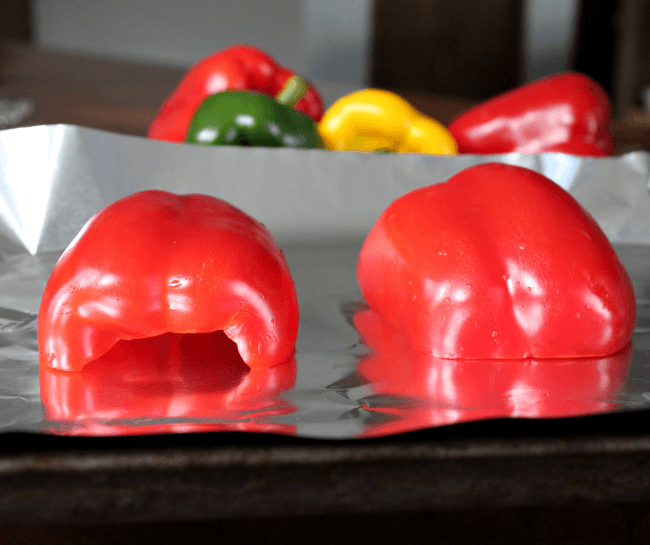 After about 15 – 20 minutes at 450 degrees, you will have perfect roasted peppers.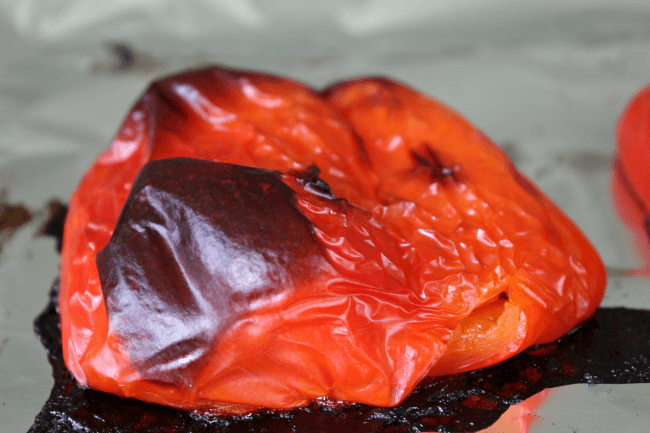 Once they have cooled, you simply peel off the skin and then your roasted red peppers are ready for whatever creation you would like. I recommend this roasted red pepper dip, of course.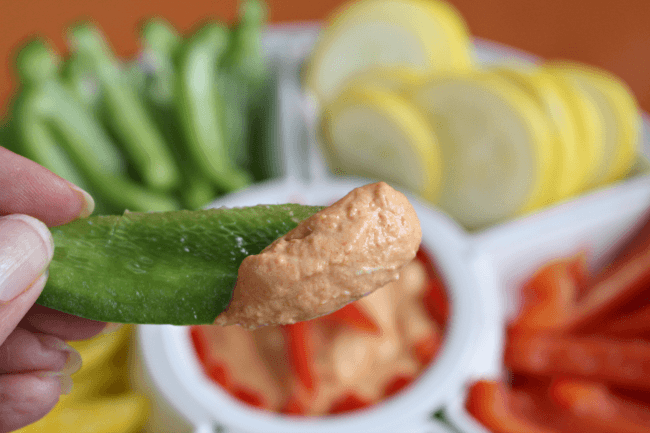 Now that I hopefully have you all nice and hungry, let's get to that homemade red pepper dip recipe! Be sure to Print It and Pin It so that you can make it again and again. Because, trust me, you will definitely be asked to.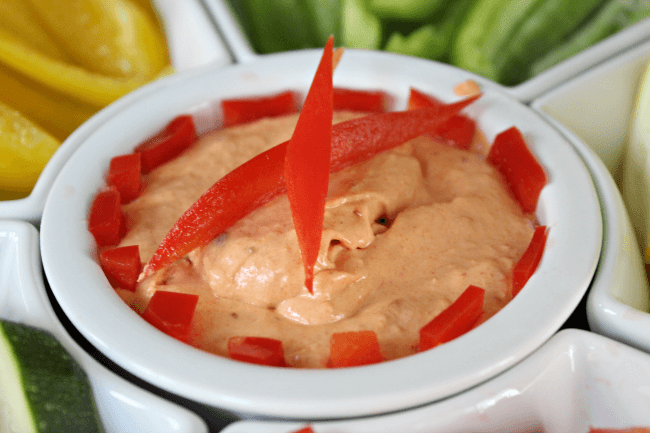 You will see that the recipe only calls for one red pepper, but feel free to roast more than the one pepper, roasted red peppers are delicious in pasta, on top of pizza, folded into scrambled eggs, on salads and more! They are the perfect to have in your refrigerator at all times, because you can basically use them all the time 😉 You can store the roasted red peppers in the refrigerator in an airtight container for up to about a week. If you store the roasted peppers covered in oil in the refrigerator they will keep for at least 2 weeks, if you want them to last even longer, freeze them.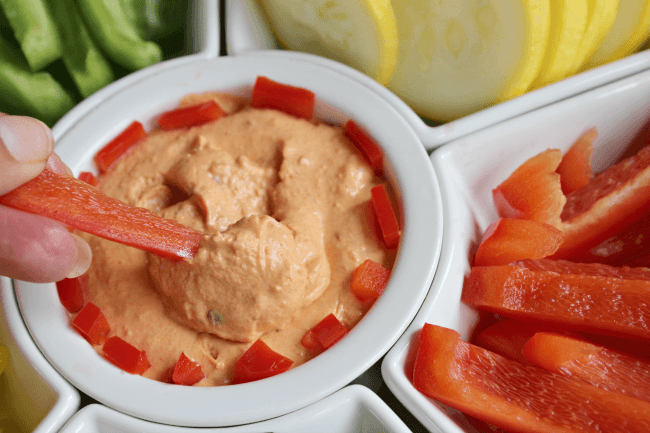 Now, here is my Homemade Roasted Red Pepper Dip recipe: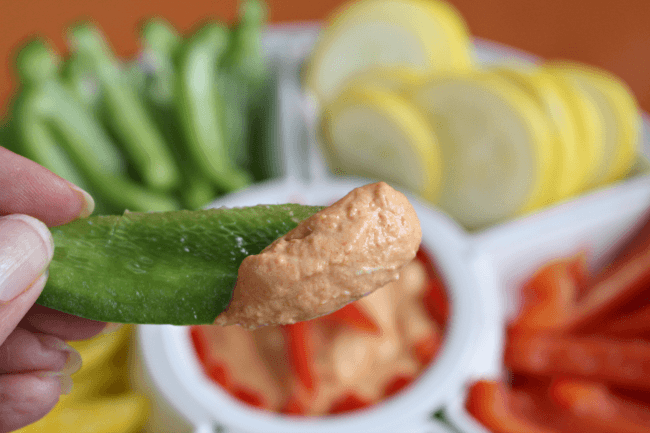 Homemade Roasted Red Pepper Dip
With a few deliciously fresh ingredients you can have this Roasted Red Pepper dip ready to serve in about an hour. This dip is way better than store bought!
Print
Pin
Rate
Ingredients
1

Fresh From Florida Red Pepper

4

cloves

peeled garlic

Half small yellow onion - peeled

2

tablespoons

olive oil

1/2

teaspoon

salt

1/2

teaspoon

fresh black pepper

1

8 oz package cream cheese, softened (I used light cream cheese)

1

teaspoon

red pepper flakes

1/2

shredded sharp cheddar
Instructions
Preheat the oven to 375 degrees.

Put the garlic cloves and onion into a small bowl and mix with olive oil (about 2 tablespoons, add more if you need it, you want it well coated) and salt and pepper.

Foil line baking sheet and place the garlic and onions on it.

Toss it in oven at 375 for 30 min. The garlic and onion will be a little brown and soft.

Preheat oven to 450 degrees.

Cut the peppers in half and remove the stems, seeds and membranes.

Lay the peppers on a foil-lined baking sheet, cut side down.

Roast the red peppers for 15-20 minutes or until the skins are very dark and the peppers have collapsed.

Remove the peppers from the oven.

Allow the peppers cool for a few minutes until they are cool enough for you to handle, then peel the skins off and discard them.

You may have to place your peppers on a piece of paper towel to dry them off, I did.

Place garlic, onion, red bell pepper and next 4 ingredients in processor and blend well.

Place all ingredients (roasted pepper, onion, garlic, cream cheese, cheddar cheese and red pepper flakes) in your food processor or blender.

Blend together until smooth.

Transfer dip to a small bowl. Cover and refrigerate for at least one hour before serving.

Serve with Fresh From Florida Bell Peppers, Squash and other delicious vegetables.

Enjoy!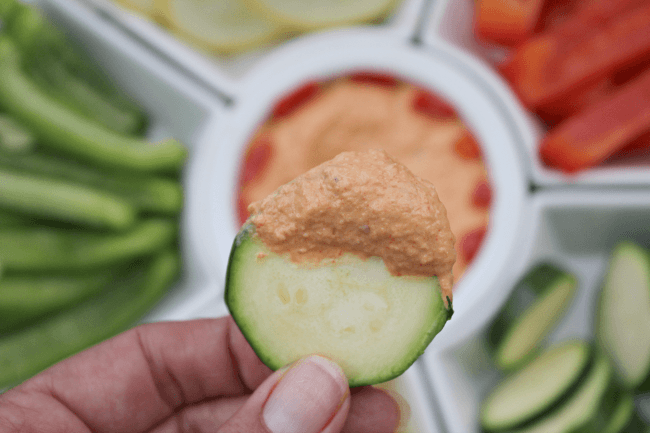 I hope you enjoy this Homemade Roasted Red Pepper Dip as much as we do!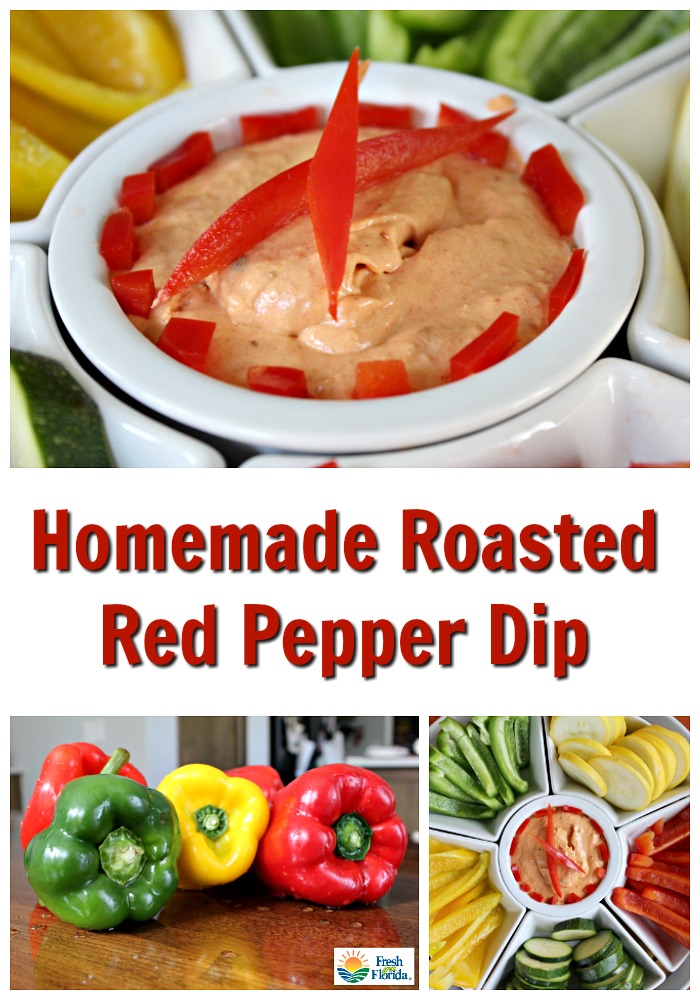 What is one of your favorite ways to enjoy bell peppers?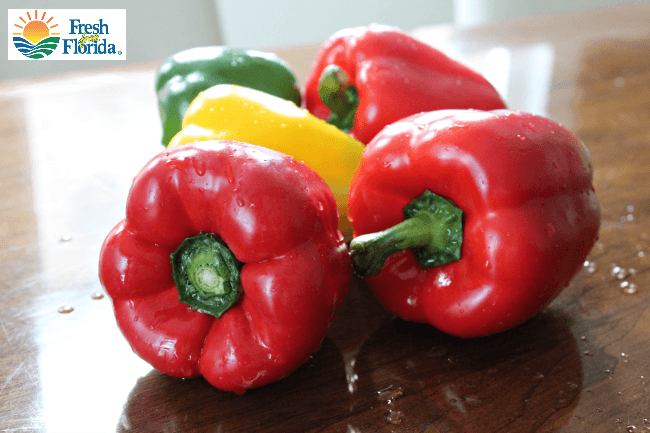 Enjoy these other Fresh From Florida Bell Pepper Recipes.
Be sure to follow Fresh From Florida on Facebook, Twitter and on Instagram for more Fresh from Florida deliciousness.
While you are at it, check out all the recipes on Food Wine Sunshine and follow me on Facebook, Twitter, Pinterest, and Instagram.