(Last Updated On: July 1, 2019)
This Chicken Apple Sausage Pinwheels with Tangy Cranberry Dipping Sauce is a delicious and easy appetizer recipe. Enjoy it this holiday season and all year long! While this post is sponsored, all opinions and the recipe are my own.

Chicken Apple Sausage Pinwheels with Tangy Cranberry Dipping Sauce
Made Easy Thanks To Walmart Grocery
The holiday hustle and bustle are officially here. From decorating, to Christmas pageants at the kids' schools, to shopping for family and friends on our holiday shopping list, to baking cookies for our annual cookie swap, to the last minute holiday party invitations, it seems like I am constantly on the go. So anything that makes my life a bit easier is really exciting…especially during the holidays.
Easier how?
Like having an easy and delicious appetizer to bring to a holiday party that I can make in under 30 minutes.
Or doing my grocery shopping online, then having someone just bring it to me, so I don't even have to get out of the car! Talk about a time saver…
Well, I am here today to actually give you both of these… an easily made appetizer and the perfect way to get the ingredients and anything else you may need in a snap.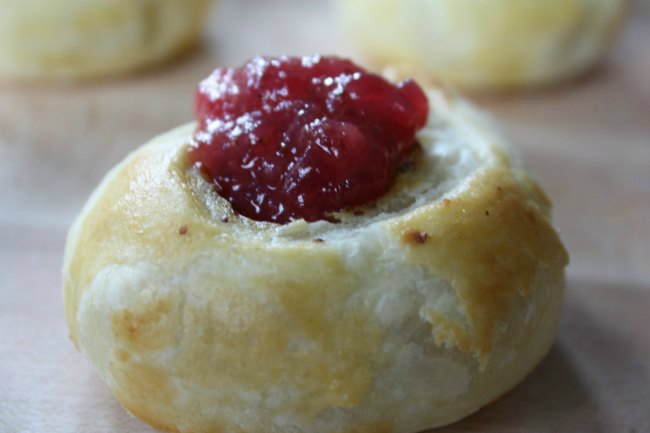 This Chicken Apple Sausage Pinwheels with Tangy Cranberry Dipping Sauce looks impressive but actually takes very little prep time. In fact, you only need a few ingredients for this appetizer recipe, the chicken apple sausage, a puff pastry, mustard, and cranberry sauce. Easy peasy, but oh so yummy.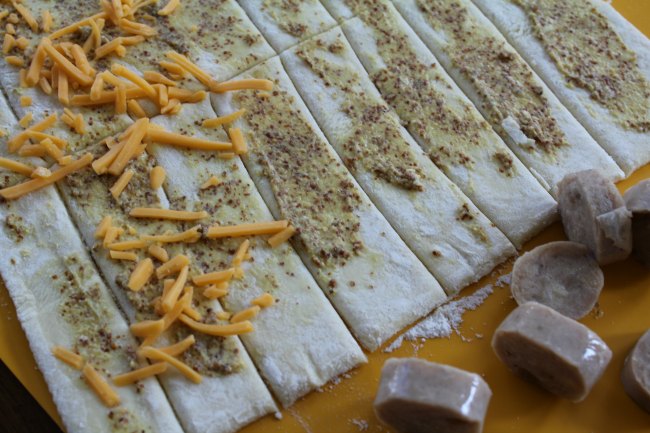 Just cut the puff pastry and sausage.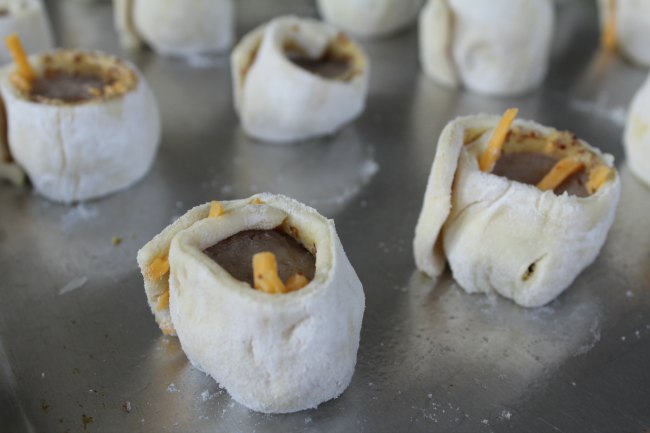 Roll em up and bake for about 20 minutes!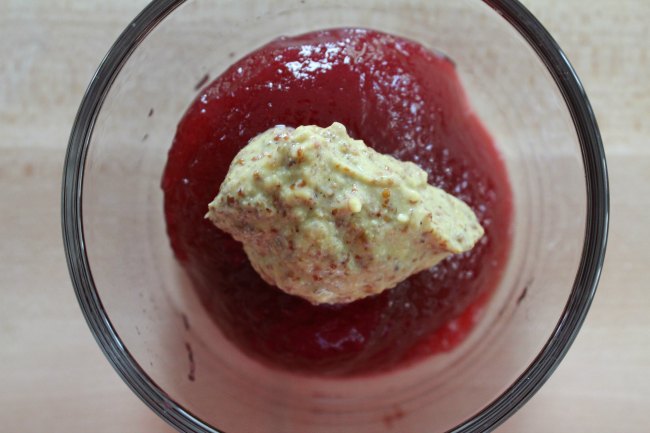 While they are baking, make the easy cranberry sauce.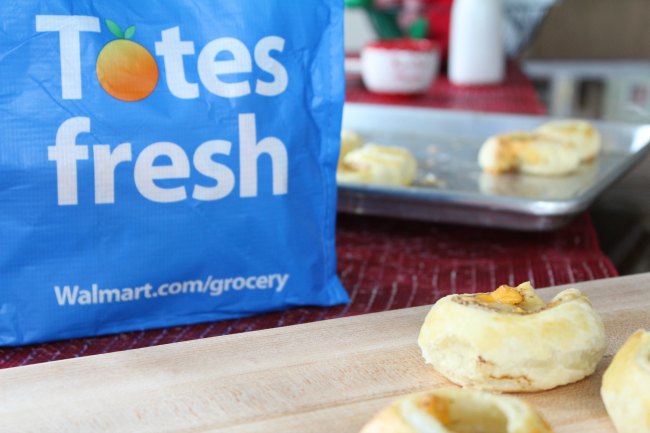 That's it! You're done!
So, if you are getting those last minute invites to holiday parties, this is a perfect dish to bring.
Here is my Chicken Apple Sausage Pinwheels Recipe, be sure to Print It and Pin It so that you can make it again and again.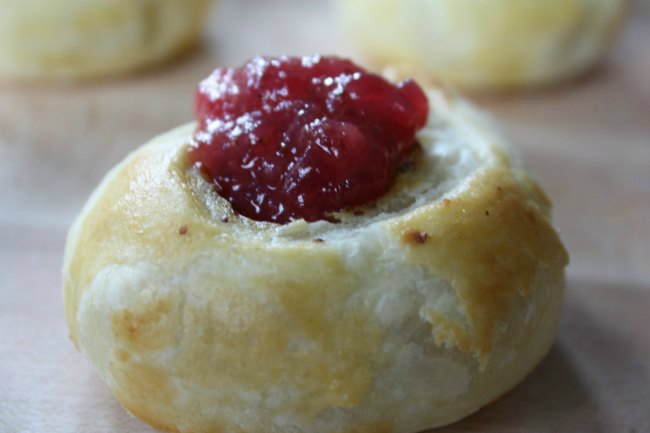 Ingredients
Ingredients for Pinwheels
1

Puff Pastry Sheet

2-3

links of pre-cooked chicken apple sausage

Grainy Dijon mustard

Shredded Cheddar Cheese if desired
Ingredients for Tangy Cranberry Sauce
1/4

cup

Jellied Cranberry Sauce

1

teaspoon

Grainy Dijon mustard or more to taste
Instructions
Preheat oven to 400 degrees

Lightly spray a cooking sheet or line with parchment paper

Allow the puff pastry to thaw at room temperature or in the refrigerator. Make sure it is easily unfolded and easy to work with

Open the puff pastry sheet on a lightly floured space

Using a spoon, brush some of the dijon mustard over the entire puff pastry sheet

Cut into 1/2 inch strips, then again down the middle

Sprinkle with cheddar cheese if desired - my son loves cheese, so I added this for him on some

Cut the chicken apple sausage into 1/4-1/2 inch slices/circles

Roll the sausage into the puff pastry pieces, the ends will slightly overlap

Place on prepared cookie sheet

Brush sausage pinwheels with egg wash for a nice golden brown finish

Bake for 20 minutes or until golden brown

While your pinwheels are baking, mix the ingredients for the sauce and set aside

Top the finished pinwheels with a dollop of the tangy cranberry sauce or serve it on the side for dipping

Enjoy!
I hope you enjoy these Chicken Apple Sausage Pinwheels and Tangy Dipping Sauce as much as we do!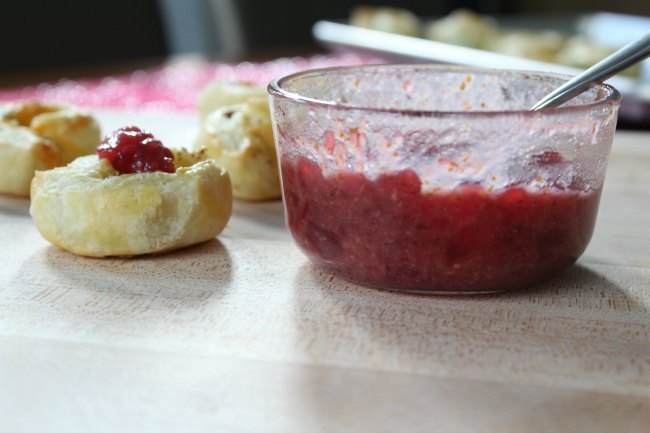 Now that you have the easy and delicious appetizer recipe, how else can I make your holiday season less stressful?
I am going to share with you how you can go grocery shopping without getting out of the car.
WHAT?!
Yep, it can be done and man, oh man, it is a game changer.
Here's how:

Head to Walmart Grocery Online

Search for the items that you need – you can get everything from fresh produce to Christmas trees! Don't forget the ingredients for the Chicken Apple Sausage Pinwheels.

I will be honest, I was surprised that you could get refrigerated items, I figured there was no way that they could keep them cool and know when I was coming. But Walmart has all that figured out 😉
Once you have $30 in your cart, you can start the checkout process.
Put in your zip code and it will automatically pull up the participating stores in your area.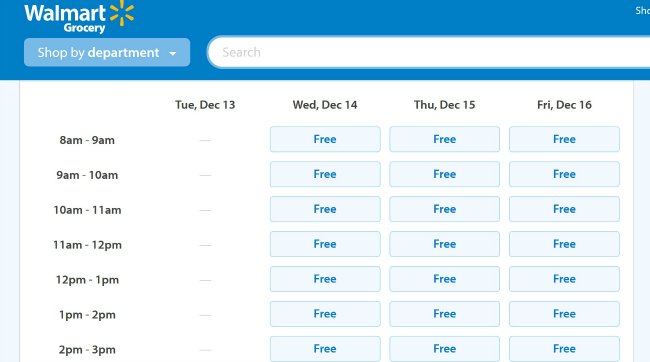 Select your store and the time that you would like to pick up your groceries.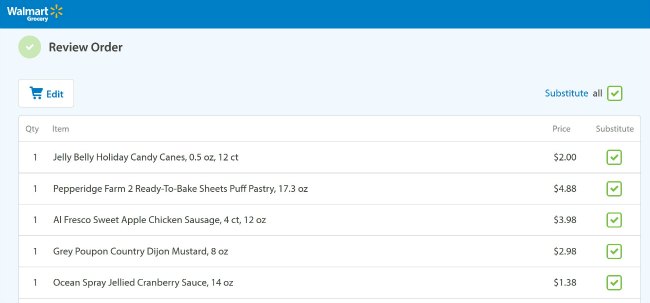 Confirm your order.

Now, you can go about your day doing all the other fun holiday things that keep you busy.
Before you head to pick up your groceries, download the Online Grocery Mobile Check-in app, for iOS users it's called the "Walmart Grocery" app and for my fellow Android users, it's called the "Walmart Grocery Check-in" app. It's a free app. You will need to enable notifications and location services. Don't have a smartphone? That's okay – you can just call when you are on your way.
Wait a minute! Are we showing all of Walmart exactly where we are and what we are doing? Nope. The app will not show the store a customer's exact location but will let them know how many minutes away the customer is.
When your order is ready, head to your selected Walmart, pick up your goodies and head home. There is no need to even get out of your car!
Oh, and did I mention that this is a completely FREE service? So, you are getting Walmart's every day low prices on all your items and you are getting them delivered to your car at no extra cost!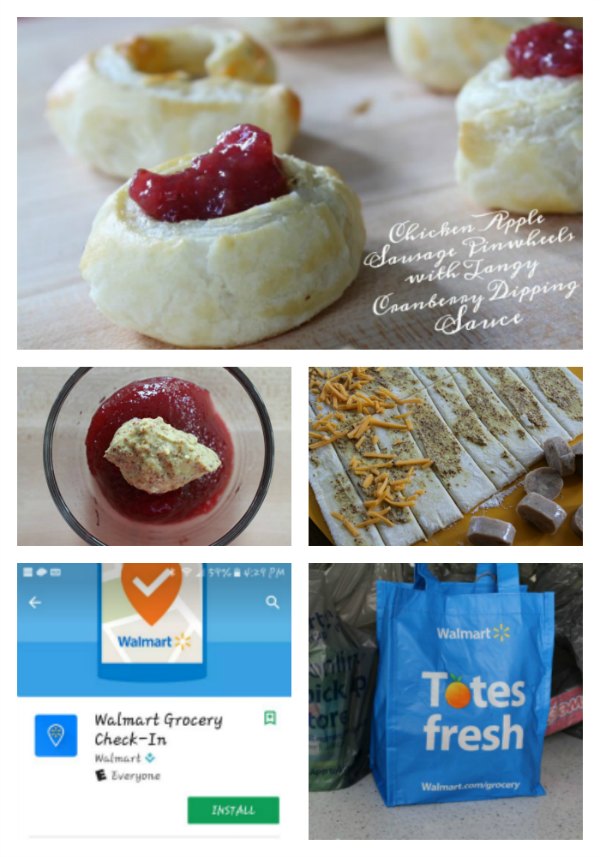 What is your favorite feature of Walmart Grocery? Are You a Grocery Hero too?
on Food Wine Sunshine and follow me on Facebook, Twitter, Pinterest, Google + and Instagram.
Looking for more great recipes?