Blackened Salmon has a lot of spices and the Maple Reduction adds a bit of sweet, Blackened Salmon with Maple Reduction is one of our fave salmon recipes.

Blackened Salmon with Maple Reduction
You guys know that my husband and I love our salmon. Our fall back recipe is usually the Maple Glazed Salmon, but I have been wanting to try something different. I wasn't sure what though. Then last week my husband and I went to our favorite Italian Restaurant to celebrate our wedding anniversary and I ordered Blackened Shrimp with a Maple Glaze. It only took one bite for me to realize that this was how I would be cooking our next salmon dish. Blackened Salmon with a sweet Maple Reduction. Sweet and Spicy.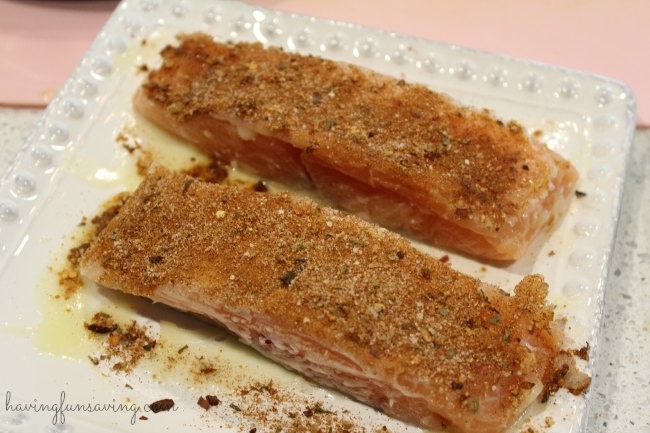 Now remember, the name of this dish is BLACKENED Salmon. So don't be alarmed when your beautiful Salmon looks well, blackened 😉 All those beautiful spices that you rub in get cooked into your salmon for a delicious flavor. If you haven't cook anything to blacken it before, you may get nervous that you just burned it….but don't worry, you didn't! And, to be honest, I think that every time I do it. But like I said, don't worry! This Blackened Salmon dish is absolutely amazing and the Maple Reduction is the perfect compliment to those spices.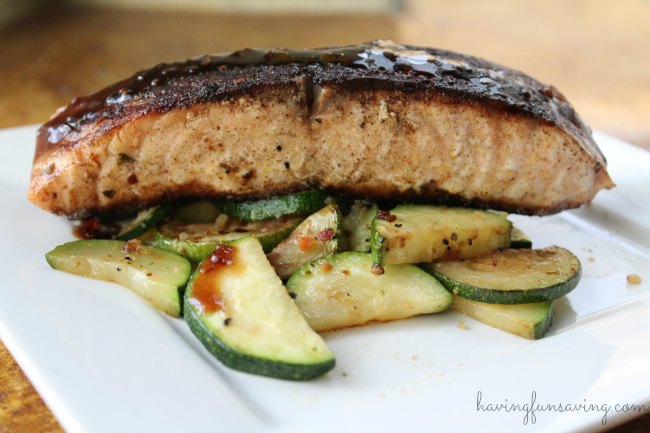 I served mine with a generous helping of pan sauteed zucchini. I season my veggies with Mrs. Dash Original Seasoning and use about a tablespoon or so of olive oil, I swear they turn out perfect every time! I get my salmon from Anderson Seafoods, as you can see, it is a nice thick fillet, if your fillet is thinner be sure to adjust your cooking times. Just make sure the pink center is gone and you can easily flake your salmon with a fork.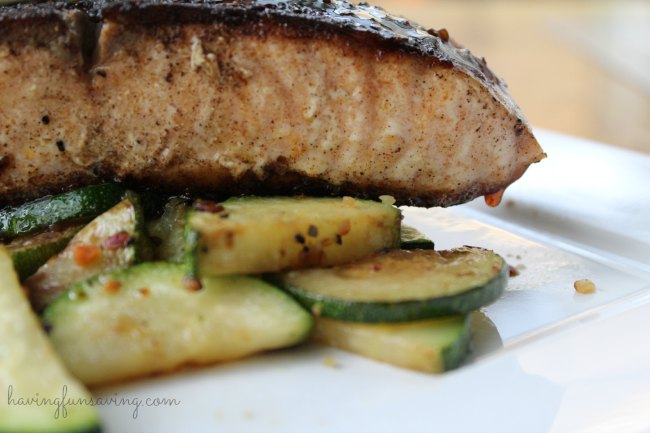 The Maple reduction takes the longest to cook, so be sure to start that first. It is very easy to make, you just have to keep an eye on it, as the liquid boils out, it will get thicker, which is what you want, but you don't want to burn it or reduce it to nothing. If you don't use it right away, it will get really thick as it cools, like stuck on a spoon thick, but don't worry, the moment you place it on the hot, beautifully blackened salmon it will liquify again.
Now, here is my Blackened Salmon with Maple Reduction Recipe, be sure to Print It and Pin It so that you can make it again and again.
Blackened Salmon with Maple Reduction
Author:
Prep time:
Cook time:
Total time:
Blackened Salmon has a lot of spices and the Maple Reduction adds a bit of sweet, Blackened Salmon with Maple Reduction is one of our fave salmon recipes.
Ingredients
2-4 salmon fillets
1/2 cup melted unsalted butter, melted
Reduction Ingredients
1/4 cup maple syrup
1/2 tablespoon minced garlic
1/4 cup balsamic vinegar
Seasoning Ingredients
1 tablespoons ground paprika
1/2 tablespoon ground cayenne pepper
1 teaspoon red pepper flakes
1/2 tablespoon garlic salt
1 teaspoon salt
1/2 teaspoon ground white pepper
1/2 teaspoon ground black pepper
1/4 teaspoon dried basil
1/4 teaspoon dried oregano
Instructions
Maple Reduction Instructions
Place ingredients into a small pot on the stove and bring to a boil while stirring regularly
Let simmer until the mixture is approx half the started amount
*Be sure to keep an eye on it, as it will start to cook fast – be sure not to burn it and stir regularly!
Blackened Salmon Instructions
In a small bowl, mix the seasoning ingredients
Brush salmon fillets on one side with melted butter and generously sprinkle on the seasoning mixture – see image above
Place the salmon into a large, heavy skillet over medium to high heat, butter side down, until blackened, 2 to 6 minutes.
While the one side is cooking, brush the other side with butter and sprinkle on seasonings
*You can flip the fillet multiple times, if pan starts looks dry, drizzle some of the extra butter onto the fillets while cooking
Continue cooking until blackened and fish is easily flaked with a fork
Serve with Maple Reduction
Enjoy!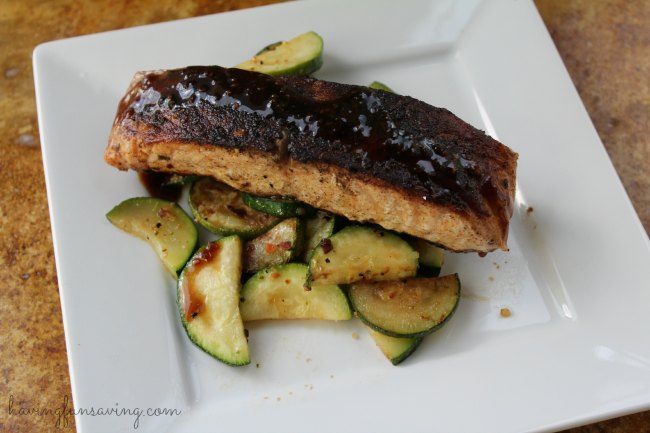 I hope you enjoy this

Blackened Salmon with Maple Reduction Recipe

as much as we did! I will say, it is now our favorite Salmon Recipe.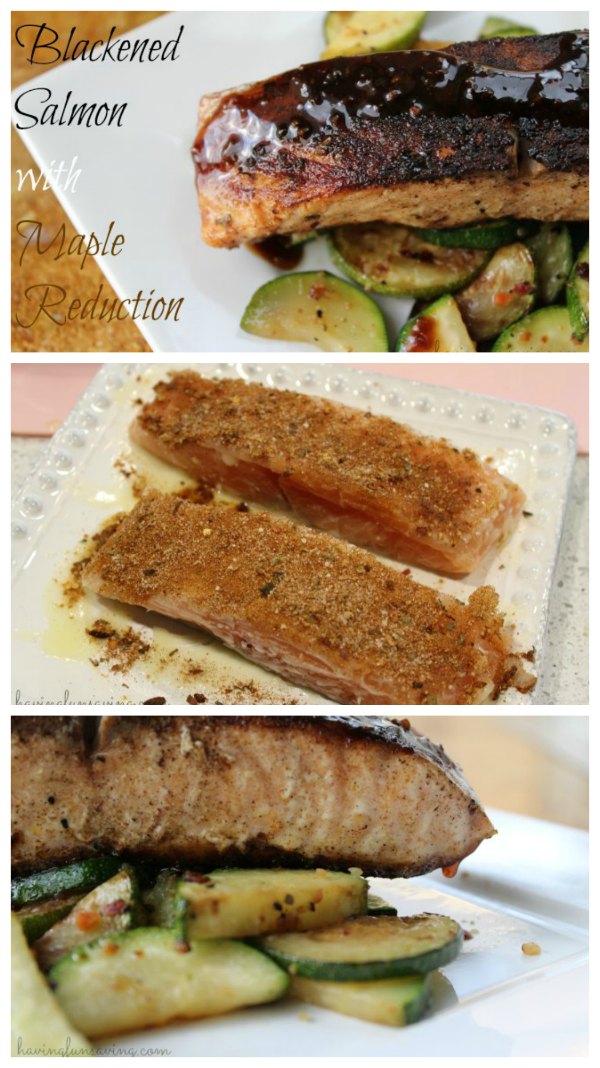 Looking for another delicious Salmon Recipe? Check out this Honey and Lime Baked Salmon Recipe.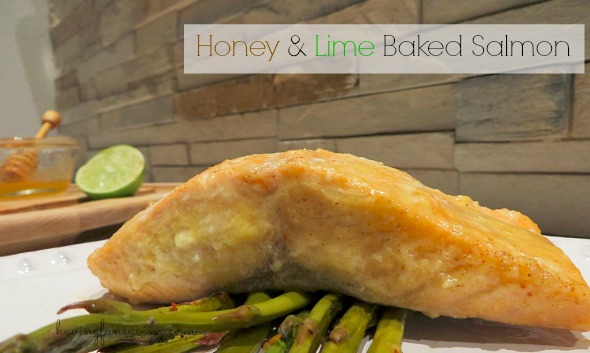 In fact, be sure to check out all the recipes from Food Wine Sunshine! And follow me on Facebook, Twitter, Pinterest, Google + and Instagram for more deliciousness, fun tips and more 🙂