(Last Updated On: January 15, 2021)
This bacon wrapped meatloaf is easy to prep and is filled with rich flavors. Your family will love this delicious spin on a family favorite. This bacon wrapped meatloaf recipe will soon be your family's favorite too. I am a proud CK Mondavi and Family Ambassador, while this post is sponsored, all opinions and the recipe are my own.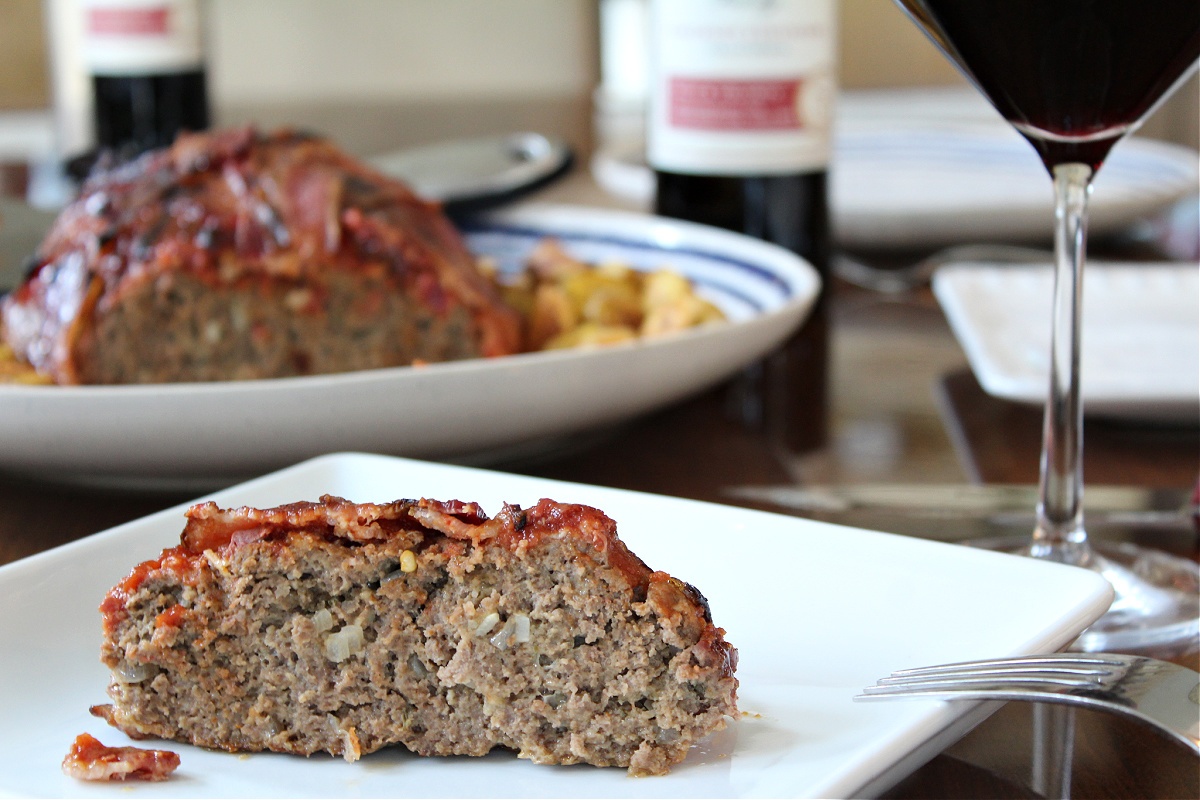 Best Bacon Wrapped Meatloaf
When you think of traditional family meals, meatloaf has to be near the top of the list. My mom makes meatloaf, my grandma made meatloaf. Meatloaf has been a staple on family dinner tables for generations. And this week, when I made meatloaf for my family, I put my own spin on the traditional meatloaf recipe.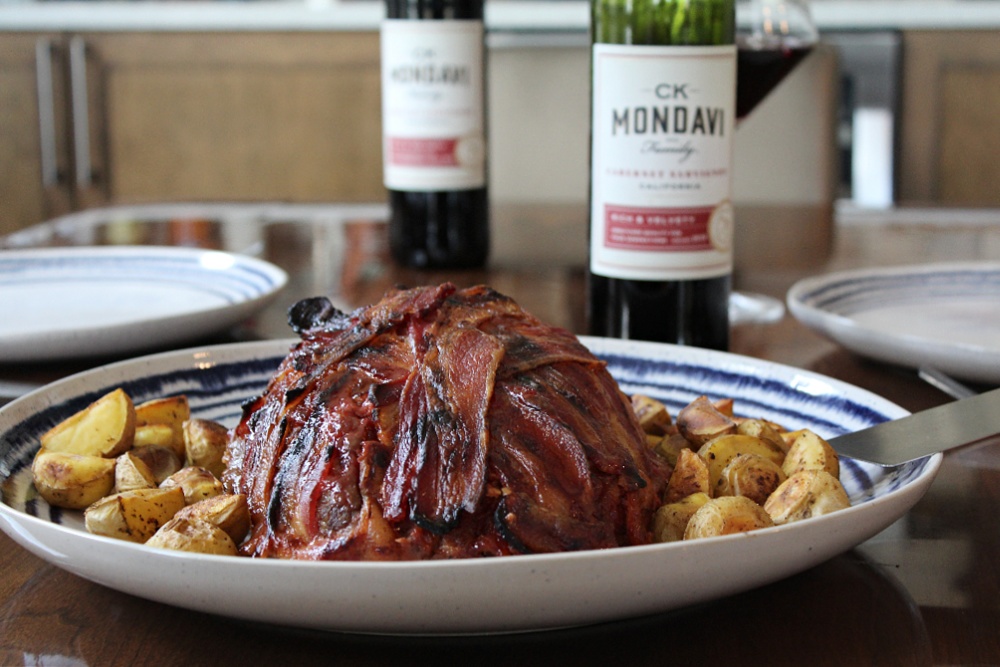 I decided to wrap my meatloaf in bacon…well, because it's BACON and who doesn't love bacon?! I added some simple, yet flavorful spices; red pepper flakes and paprika. By making my own sauce to top the meatloaf, I was able to sample the deliciousness before baking it and I am happy to report I wouldn't change a thing.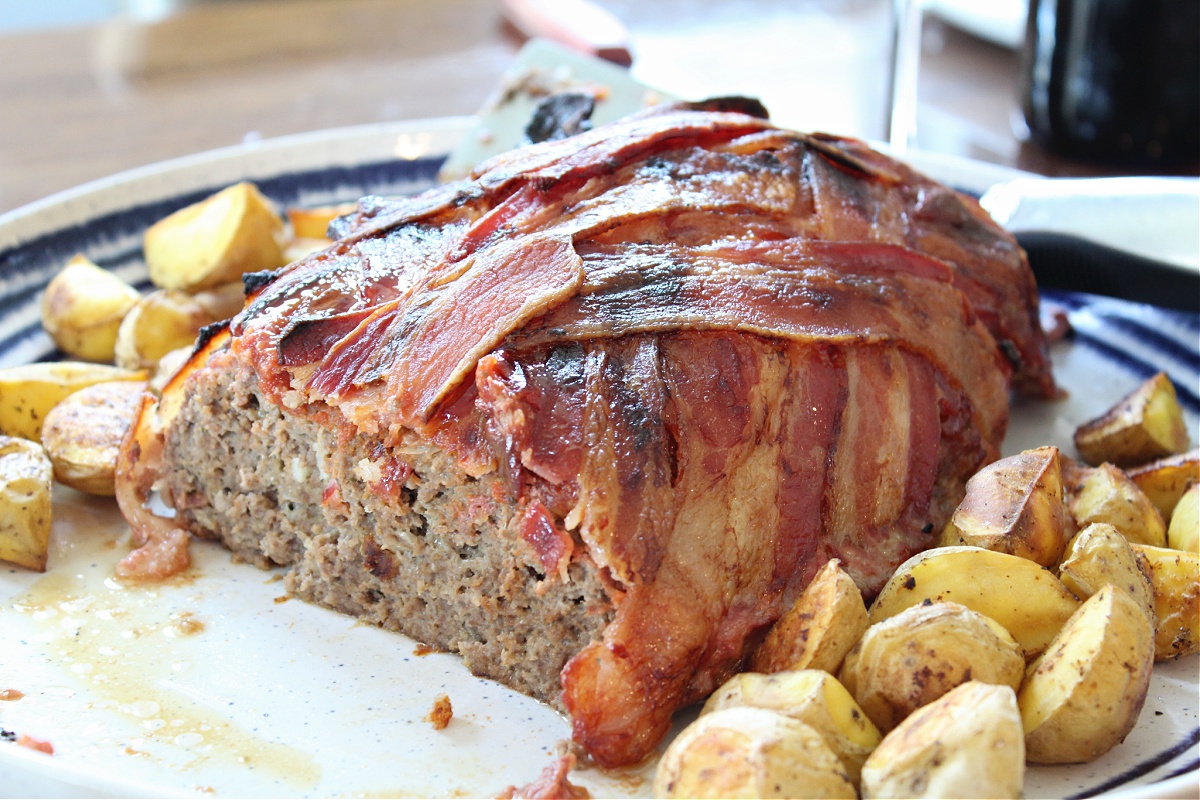 And neither would my family.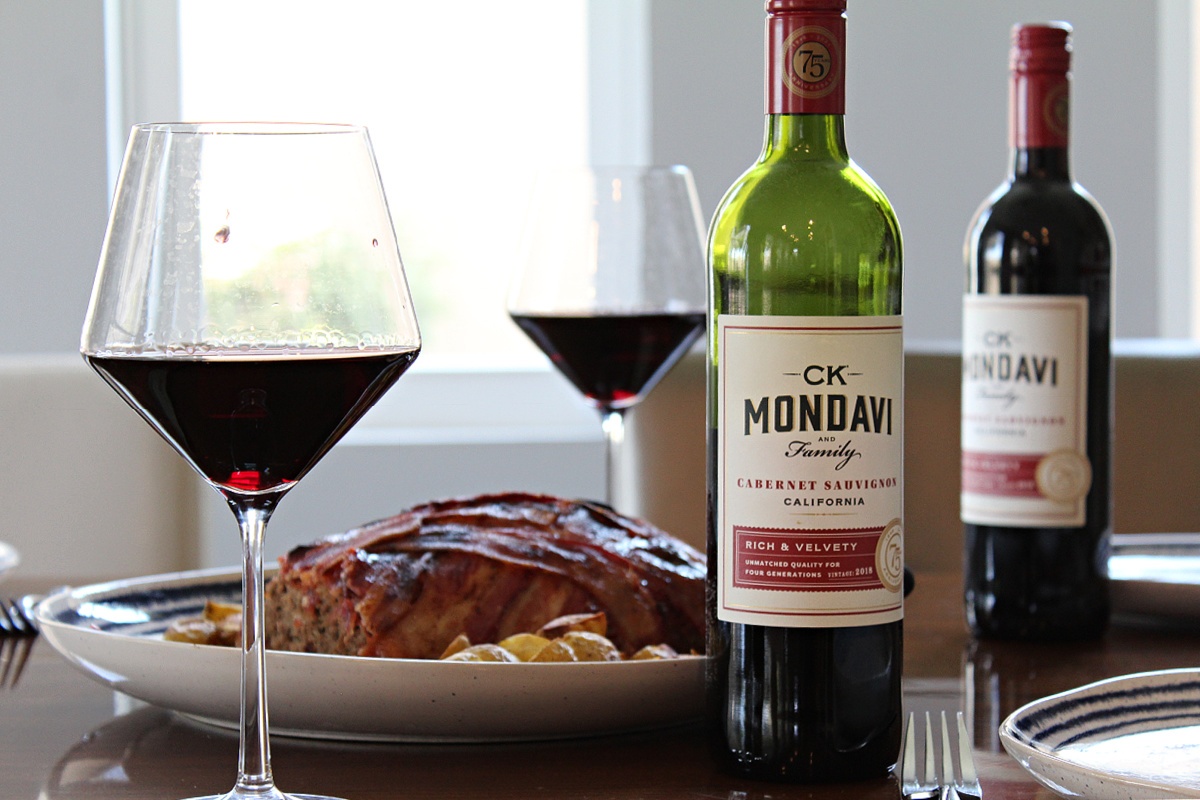 I served this amazing bacon wrapped meatloaf recipe with CK Mondavi and Family Cabernet Sauvignon. An exceptional meal deserves an exceptional wine that is rooted in tradition, family and quality. The tannins are the perfect balance to the beef and spices in the meatloaf sauce.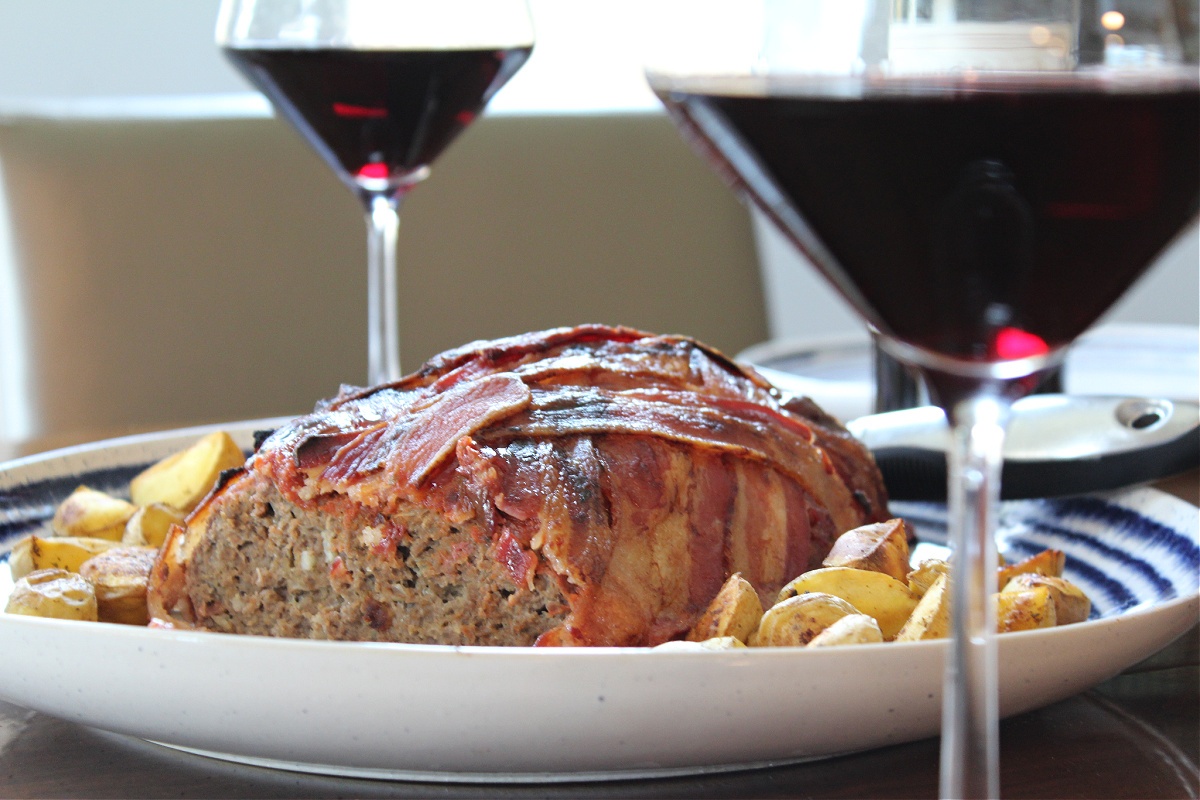 The Mondavi family is celebrating four generations of bringing families together around the table. Their spirit of conviviality has endured for 75 years, as they offer accessible wines at an approachable price point. Family recipes and traditions bring people together around the table. So grab a bottle of CK Mondavi and Family wines and make this bacon wrapped meatloaf…what are you waiting for?!
Now, here is my Bacon Wrapped Meatloaf Recipe, be sure to Print It and Pin It so that you can make it again and again.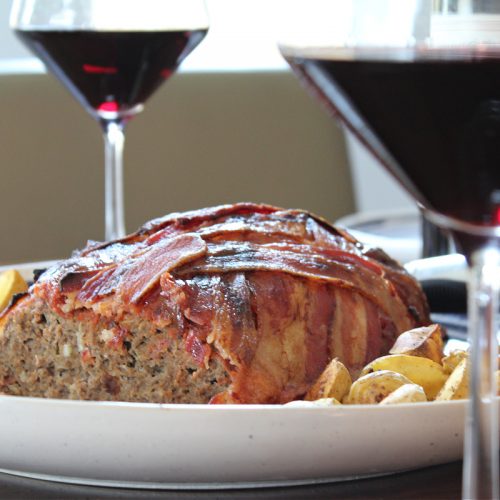 Best Bacon Wrapped Meatloaf
This is the last meatloaf recipe you will ever need! This bacon wrapped meatloaf is prepped in about 20 minutes and is loaded with incredible flavors.
Print
Pin
Rate
Ingredients
2

lbs

lean ground beef

I used 96% lean

1/2

medium yellow onion

finely chopped

2

garlic cloves

finely chopped

¾

cup

ketchup

¼

cup

red wine vinegar

3

tablespoons

light brown sugar

1/2

teaspoon

red pepper flakes

1/4

teaspoon

paprika

¾

cup

low-sodium chicken broth

2

tablespoons

parsley flakes

2

eggs

⅔

cup

breadcrumbs

1/3

cup

finely grated Parmesan

1

teaspoon

salt

¼

teaspoon

freshly ground black pepper

6-8

thin strips bacon
Instructions
Preheat oven to 350°.

Line a rimmed baking sheet with foil, then top with parchment paper.

Spray a small skillet with cooking spray or olive oil spray and warm over medium heat.

Add onion and garlic, cook until fragrant and onions are translucent, approx 4 minutes. Transfer to a large bowl and set aside.

Add ketchup, red wine vinegar, brown sugar, red pepper flakes and paprika to a small saucepan and bring to a boil.

Reduce heat and simmer until slightly reduced, about 5-6 minutes. Remove from heat and set aside.

Take 2 tablespoons of ketchup mixture and add it to a blender or food processor (I used my Ninja Nutri).

Add the chicken broth and parsley flakes to the blender and blend until smooth.

In the large bowl with the onions and garlic, add the broth mixture, eggs, breadcrumbs, Parmesan, salt, and pepper. Mix to combine.

Add the ground beef to the mixture and mix well with your hands.

Transfer meatloaf mixture to prepared lined pan and form into a long "loaf", smoothing the surface.

Pour the reserved ketchup mixture over top.

Lay the bacon in a crisscross pattern over the meatloaf, tucking the ends underneath.

Bake until cooked throughout and meat is at least 165 degrees and bacon is crispy, 70–80 minutes.

Broil for 2-4 mins to crisp up bacon if needed - watch it closely!

Let rest 10 minutes before serving.
Notes
I recommend serving this meatloaf recipe with roasted vegetables, roasted potatoes and/or mashed potatoes.
Nutrition
Calories:
347
kcal
|
Carbohydrates:
19
g
|
Protein:
32
g
|
Fat:
15
g
|
Saturated Fat:
6
g
|
Cholesterol:
126
mg
|
Sodium:
837
mg
|
Potassium:
582
mg
|
Fiber:
1
g
|
Sugar:
10
g
|
Vitamin A:
258
IU
|
Vitamin C:
2
mg
|
Calcium:
95
mg
|
Iron:
4
mg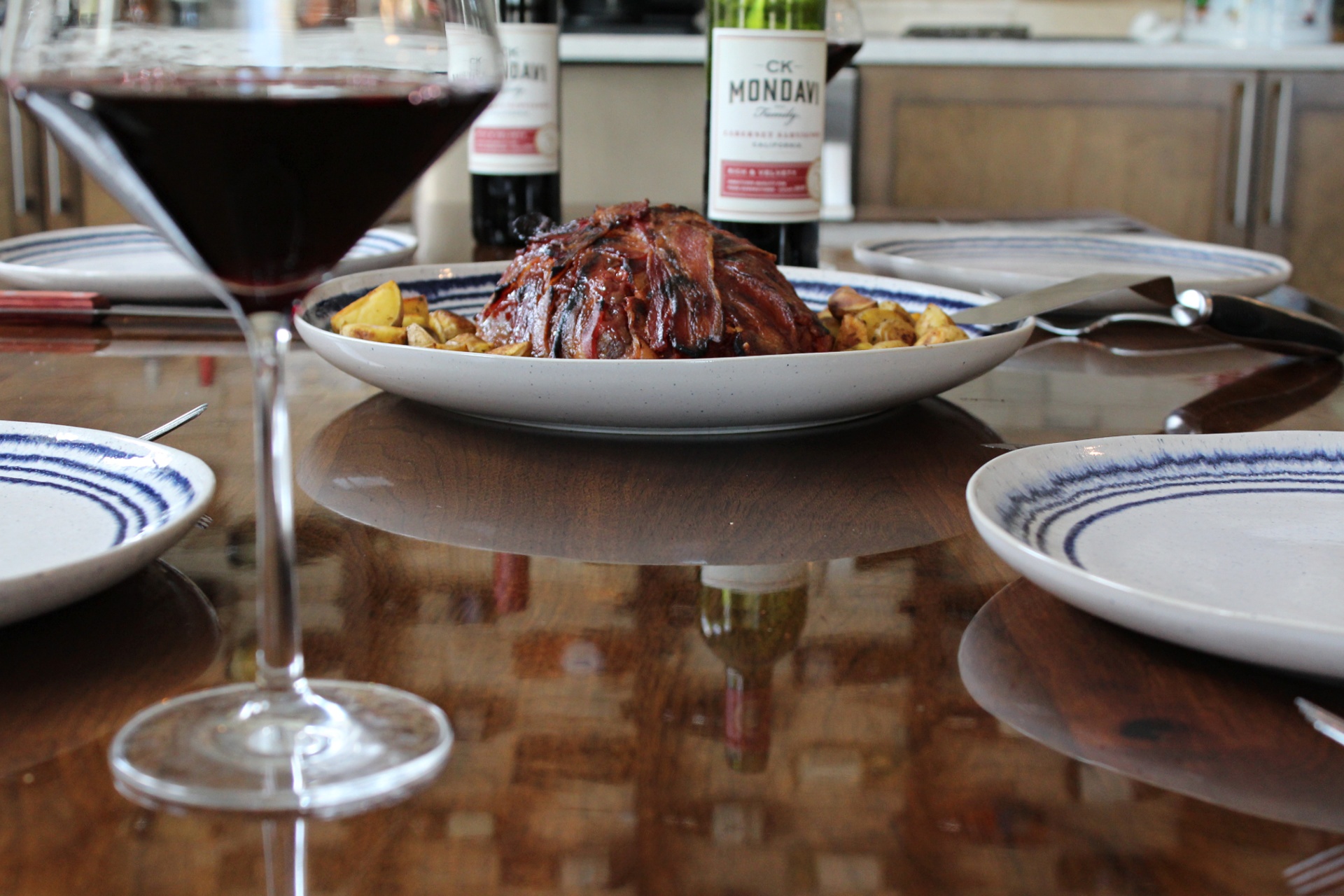 I hope you enjoy this Bacon Wrapped Meatloaf as much as we do!
If you are not a red wine drinker and would rather not have a glass of Cabernet Sauvignon with this delicious meatloaf, I would recommend a Chardonnay.
Remember wines are best when served at the right temperature, and thankfully CK Mondavi and Family is making that easier for all of us as their 75th Anniversary present to us. Keep a look out for the CK Mondavi and Family 75th Anniversary new labels brinted with thermochromic – or temperature-sensitive – ink. What will this fancy new label do? The label transforms from a light cream color at room temperature to a bold full color when properly chilled, at approximately 55 degrees Fahrenheit for white wines, like the Chardonnay I recommend pairing my meatloaf with if you would like to try something different than Cabernet Sauvignon. The 75th Anniversary labels will be on the CK Mondavi and Family Chardonnay, Sauvignon Blanc, Pinot Grigio and Moscato.
Learn more about food and wine pairings.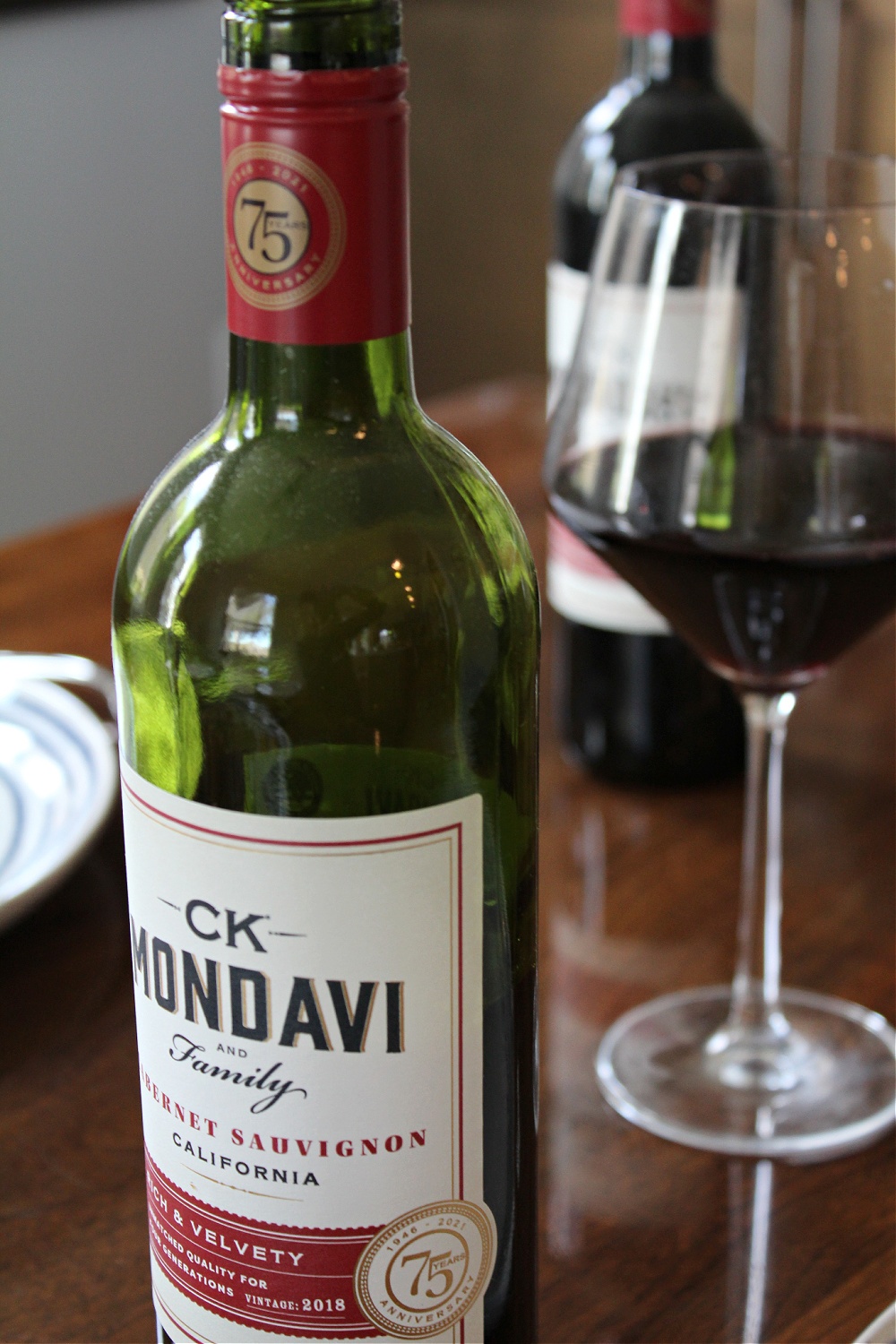 I know I recently shared my WW success with you all, so I wanted to share the WW points in this recipe as well.
Weight Watchers information as well as substitutions to lessen the WW points:
99% FF Ground Turkey = ZERO Points
96% extra lean ground beef = this lean ground beef is 2 pts for 4 oz (this is what I used)
Ketchup = 10 points – Use unsweetened ketchup for ZERO points
Brown Sugar = 6 points
Parmesan Cheese = 10 points for 3 oz
Breadcrumbs = 9 points
Bacon does have points (what?!), it's 3 points for 2 slices, but you won't get a full 2 slices per serving and you can actually pick it off if you choose…so I left it out of the total points below. If you would like to add it back in, add 3 points for every 2 slices you use.
Total WW Points as in recipe above = 42 for the whole dish
Total servings = 8
If you use ground turkey, you will be at about 4 points per serving.
If you use the lean beef that I used…that is 2 WW points for 4oz, so about 6 WW points per serving on the WW Blue Plan.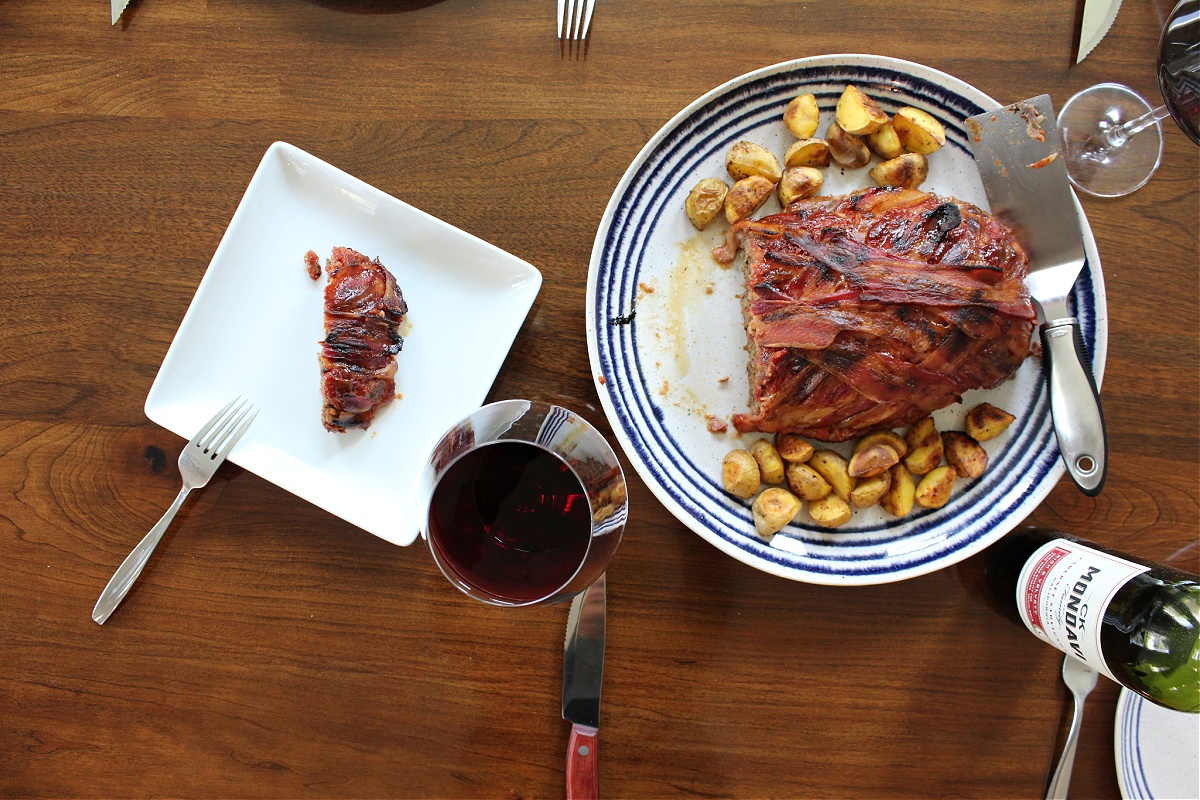 How many WW points are in a glass of wine?
There are 4 WW points in a glass of wine. So, in total, this traditional family meal served with a glass of your favorite CK Mondavi and Family Wine is 10 WW points on the Blue Plan. I do recommend pairing this bacon wrapped meatloaf with the CK Mondavi and Family Cabernet Sauvignon.
Why use breadcrumbs in meatloaf
The breadcrumbs in your meatloaf act as a binding agent for the meat.
Why use eggs in meatloaf
Eggs are an ingredient in almost every meatloaf recipe. Egg contain protein and fat, add flavor, richness, and moisture to your meatloaf. Eggs also help bind the meat together.
Why wrap your meatloaf in bacon
The bacon adds a dimension of flavor to the ground beef by adding a hint of smoky flavor. It also helps to prevent the meat from drying out.
Can you completely wrap the meatloaf in bacon, instead of just the top and sides?
Sure, but it's more work and the bacon on the bottom won't get crispy because it will be sitting in the juices from the meatloaf, so you will probably end up cutting it off. You will get enough flavor from wrapping the meatloaf with bacon on the top and sides, I promise.
Can you use ground chuck or ground sirloin in meatloaf?
Sure can. Personally, I like to save on the fat when I can, and since this homemade meatloaf is wrapped in bacon, I didn't think the extra flavor from the ground chuck was needed and I went a bit leaner than ground sirloin. Both ground chuck and ground sirloin would be delicious in this meatloaf recipe. I like to save my points for wine 😉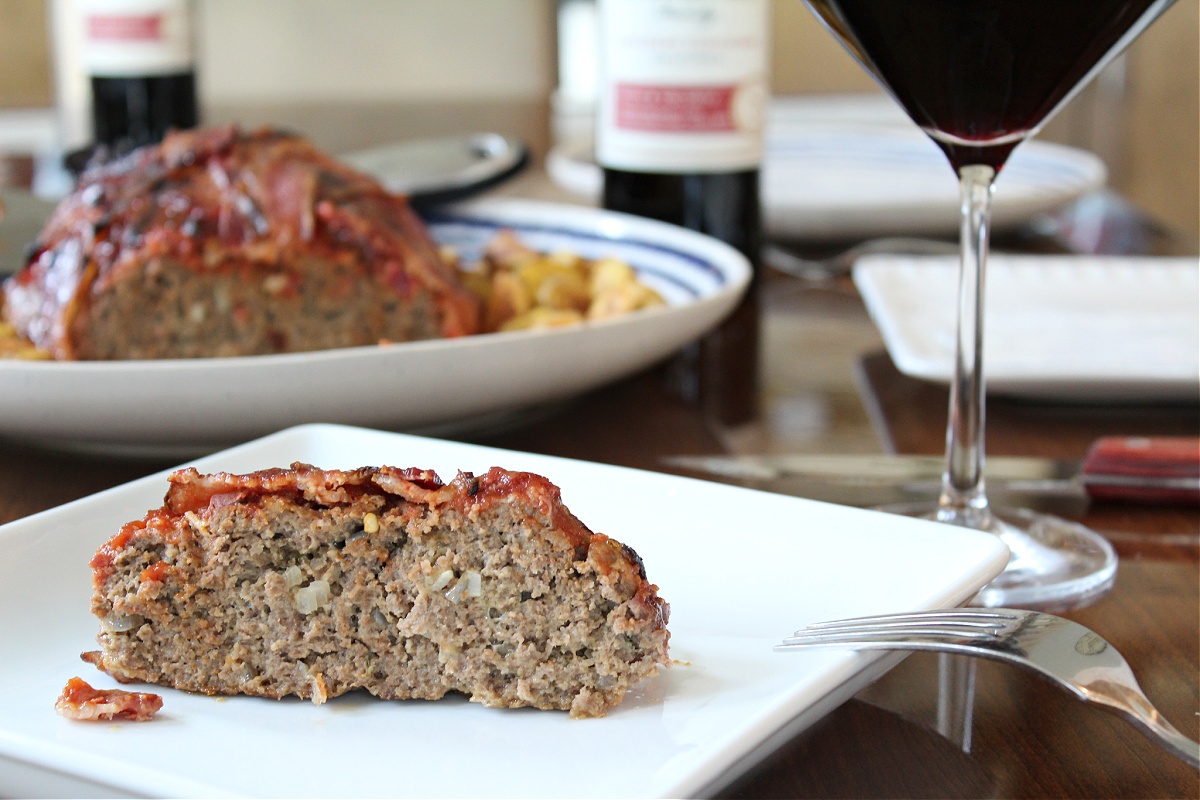 Based in the Napa Valley for 75 years, CK Mondavi and Family wines are produced by the iconic C. Mondavi family, delivering wines that offer exceptional value, they focus on sustainable farming techniques and winemaking practices that are typical of far more expensive selections. The family-owned and operated winery sources all of its grapes from California, including the family's 1,850 acres of estate vineyards, along with growers who have partnered with the family for generations. CK Mondavi and Family wines are the first and only to be 100% "Made in USA Certified®," and are trusted to be consistently reliable from year to year.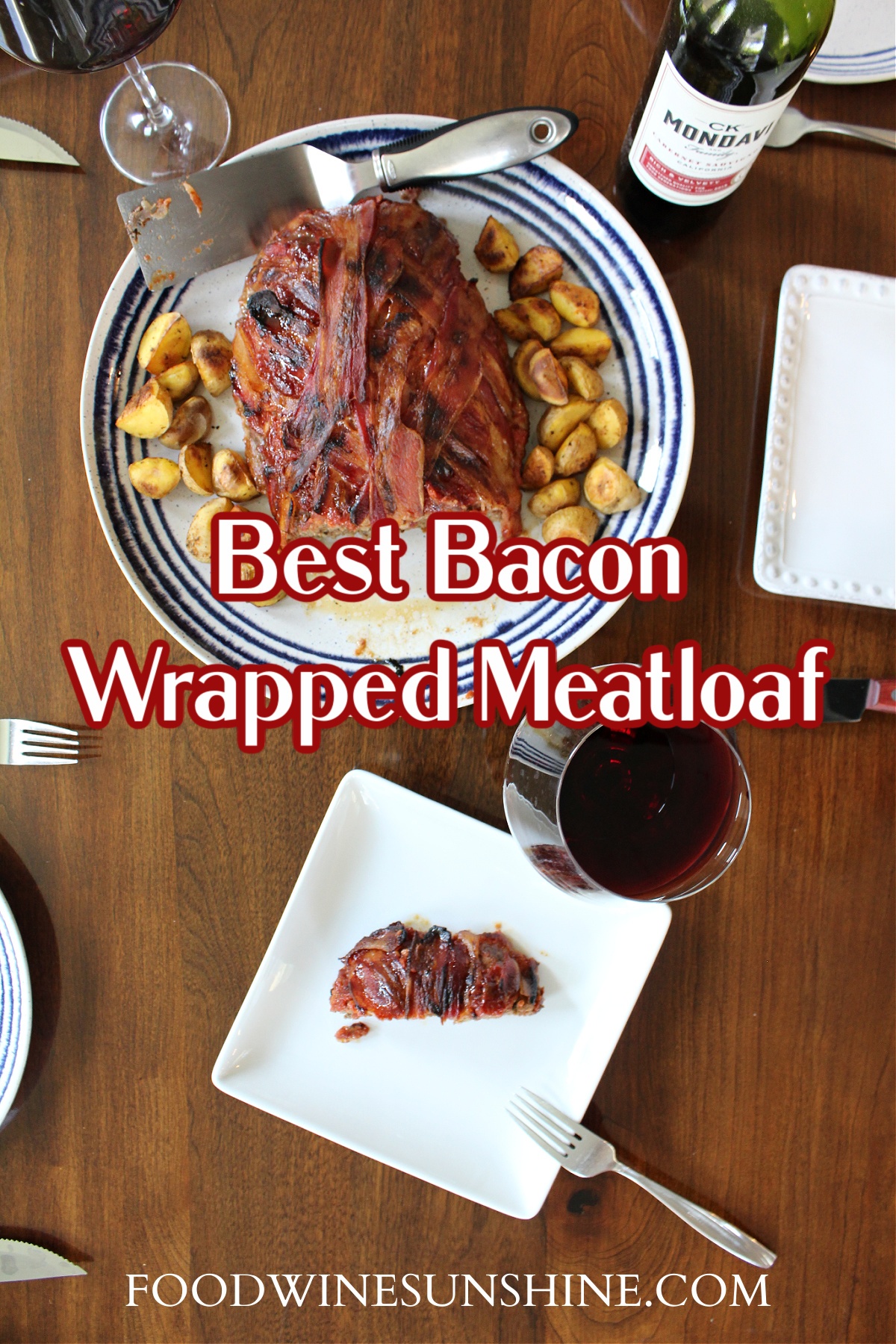 Have you had CK Mondavi and Family wines? Which wine is your favorite?
Learn more about CK Mondavi and Family by checking them out online, and following on Facebook, Twitter, Pinterest, Instagram, and YouTube.
Be sure to check out all my recipes and follow along on Facebook, Twitter, Pinterest and Instagram.