(Last Updated On: February 14, 2020)
If you love BBQ like we do, you will love the BBQ Chicken Pockets Recipe. It's easy to make and full of flavor. This recipe is perfect for summer!
Disclosure: I am a proud Stubb's BAR-B-Q Insider. I received the products for my recipe. No additional compensation was received. All BBQ loving opinions and the recipe are my own!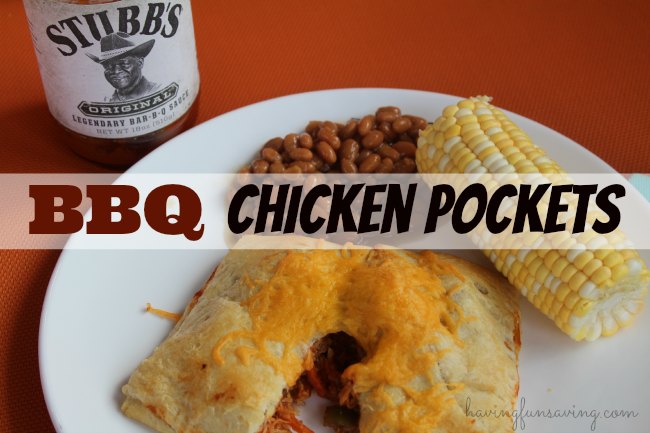 BBQ Chicken Pockets Recipe
Who doesn't love BBQ? With Summer here I am sure you all are itching to get the grill fired up! Or, you could be like me, and have your outdoor kitchen area isn't ready quite yet. We have a smoker and a grill that are just SCREAMING to be used, and they are about 99% ready…but they aren't there just yet 🙁
But that's not going to stop me from enjoying BBQ! No way! That's why I love this BBQ Chicken Pockets Recipe. It has all the BBQ flavor and I prepped everything in the crockpot. So, it's an easy and delicious recipe!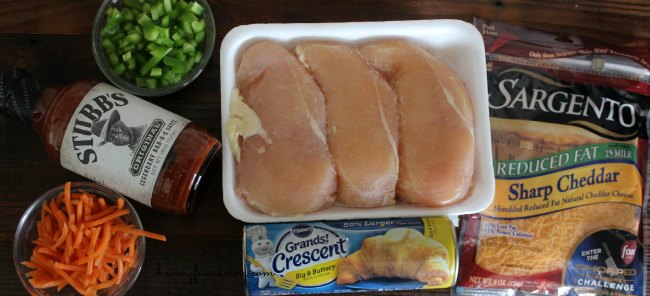 I got together a few ingredients and I was ready to get started. I added in the carrots and green peppers for some hidden veggies and added crunch.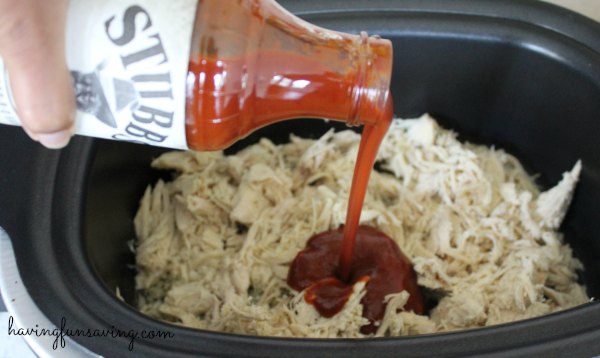 I love using shredded chicken in recipes, it's so easy to make! Just toss your chicken in the crockpot with a little chicken broth and leave it sit until it's nice and tender! Once my chicken was ready, I removed it from the crockpot, used 2 forks to shred it and then added the chicken, Stubb's Original Bar B-Q Sauce, and the veggies back into the crockpot.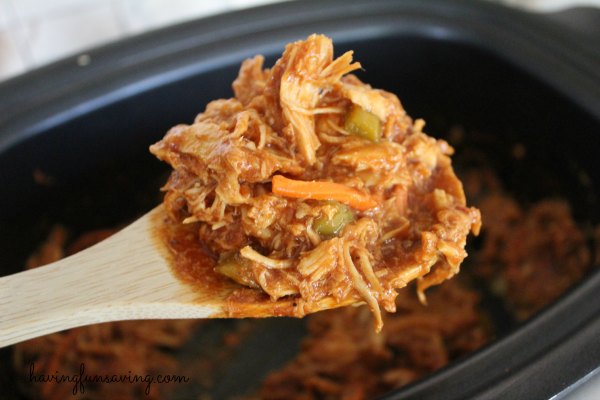 I let everything simmer on low in the crockpot for about an hour. I wanted the veggies tender and the BBQ sauce to be good and soaked into the chicken.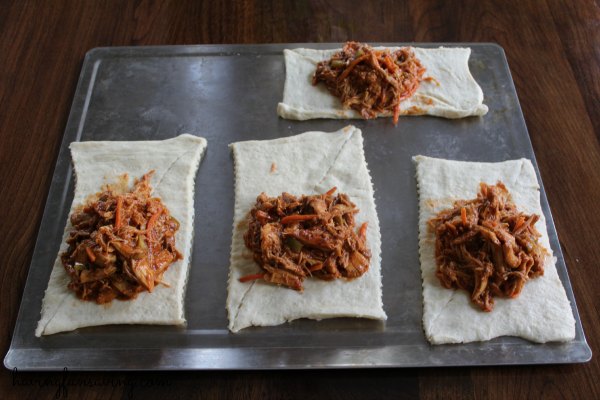 Next up is making the "pockets". When you unroll the crescent rolls, don't separate them into triangles. Leave them as the rectangle shape and do your best to get rid of the perforation, so that the juices stay in 🙂 Just use your fingers to squeeze the sides together.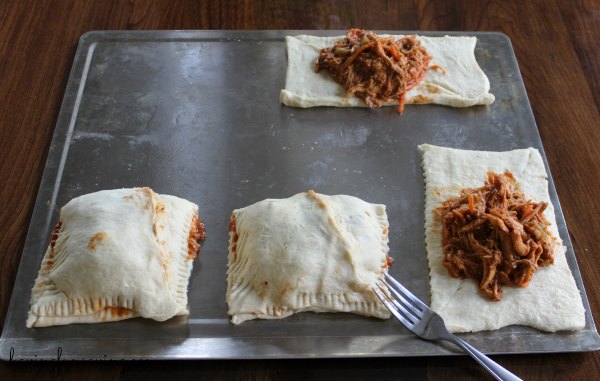 I stuffed mine pretty good. You will fill half of it with the BBQ chicken mixture then fold the top of it. Use the fork to seal the sides closed, and once again – check the perforation along the top. Use your fingers to pinch them closed if needed.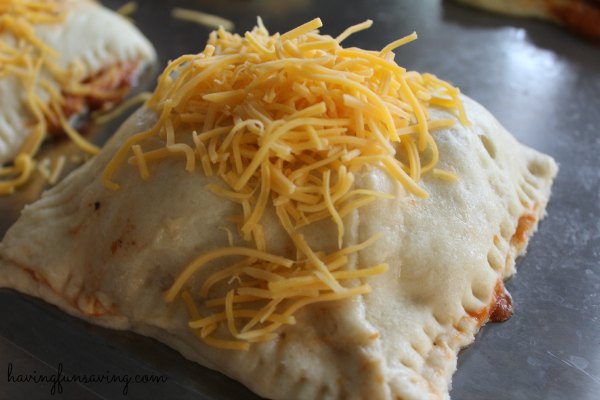 I topped mine with Sharp Cheddar Cheese before tossing them into the oven…who doesn't love some melted cheese?!
Now, here is my BBQ Chicken Pockets Recipe, be sure to Print It and Pin It so that you can make it again and again.
BBQ Chicken Pockets Recipe
Recipe Type
:
Lunch/Dinner
Author:
Prep time:
Cook time:
Total time:
Ingredients
1 can Big & Flaky crescent dinner rolls – if you don't have big and flaky, regular would be fine as well
1.5 lbs of shredded chicken
1 jar of Stubb's Original Bar B-Q Sauce
1/2 cup diced green peppers
1/2 cup matchstick carrots
Shredded Reduced Fat Cheddar cheese to top the pockets
Instructions
Add 1 jar of Stubb's Original Bar B-Q, carrots, and green peppers to the shredded chicken
Cook on low in crockpot for about 1 hour – until veggies are tender
Preheat oven to 350 degrees
Make crescent rolls into a rectangle shape – see images above
Fill half of the rectangle shape generously with the BBQ chicken mixture
Fold close
Use fork to seal edges closed
Make sure seam on the top is sealed as well
Top each "pocket" with shredded cheddar cheese
Bake at 350 degrees for 15 mins or until deep golden brown
Serve warm
Enjoy!
Notes
I had enough leftover BBQ Chicken to easily make 8 pockets! So you can make more if you would like too. I used the leftover BBQ chicken for nachos the next day!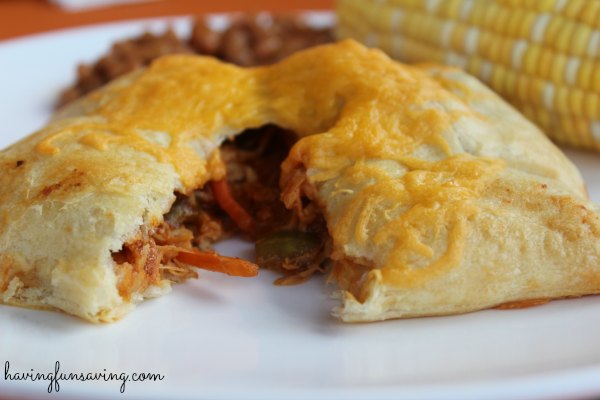 I hope you like these BBQ Chicken Pockets as much as we do!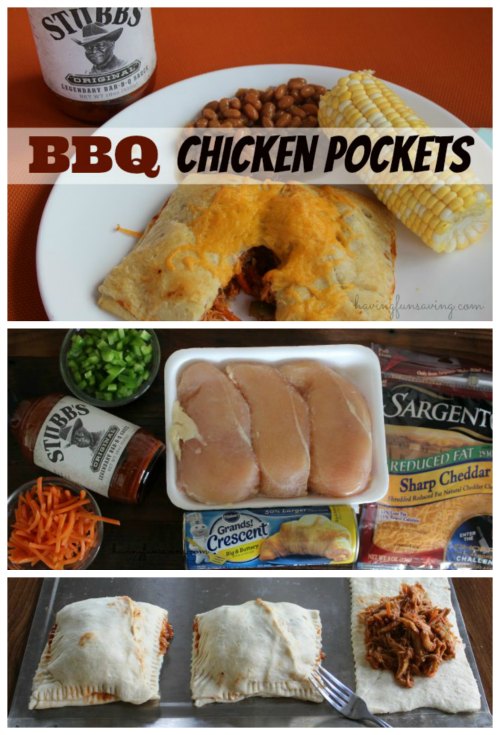 Looking for more delicious BBQ Recipes? Hey, did you know that May was National BBQ Month? Yep! Be sure check out this BBQ Chicken Sliders Recipe too! I even have my Mango Cole Slaw Recipe included…one of our favorites!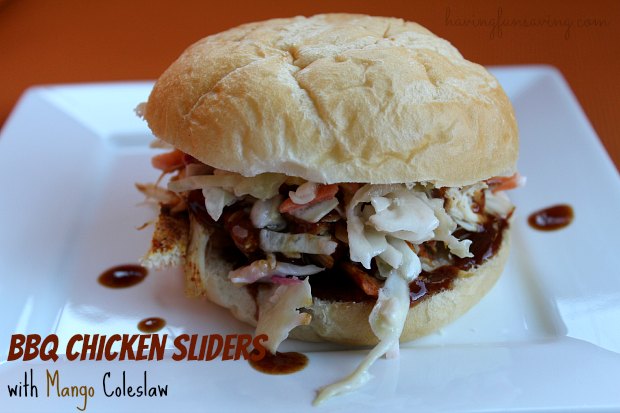 In fact, check out all the delicious recipes on Food Wine Sunshine and follow me on Facebook, Twitter, Pinterest, Google + and Instagram.
While you are at it, check out Stubb's online, and follow all the BAR B-Q Goodness on Facebook, Twitter, and Pinterest.