(Last Updated On: January 19, 2022)
This Beet Blackberry Smoothie Recipe not only has beautiful color, but a delicious taste. Blend together beets and blackberries for a great smoothie combo!
Disclosure: This post is sponsored by the folks at DairyPure Milk. All milk-loving opinions and the yummy smoothie recipe are 100% my own.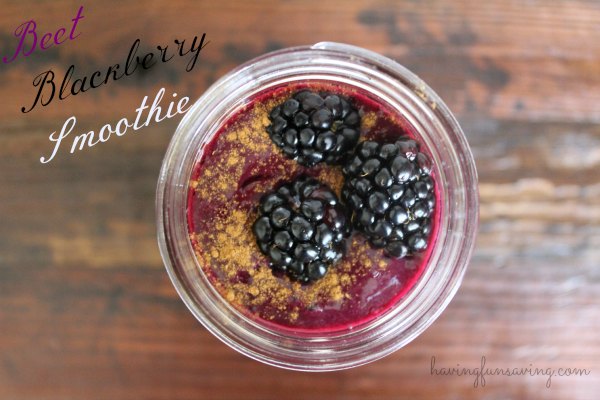 Beet Blackberry Smoothie

Doesn't that smoothie have an absolutely beautiful color? The beet and blackberries blended into a beautiful deep purple and I just love it 🙂 You have heard me say before that I just recently started "eating" beets, I am not daring enough to "cook" with them yet, but I have been doing pretty good with them in my smoothies. Beets are loaded with vitamins!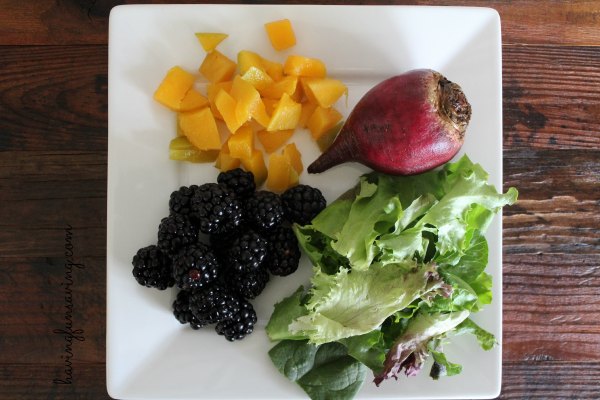 I live in Florida and it's HOT here. We are talking upper 80s by 9 a.m. I have a lot going on today and I really needed to get my exercise in, so I decided I would go for my run after the kids got on the bus. I ran 3.5 miles and I think I sweated out about a million calories 😉 As soon as I walked through the door I opened the refrigerator to grab a coconut water. Of course I didn't have any cold. Then I went to grab the gallon of DairyPure Milk, I didn't have breakfast and my body was craving vitamins and something cold. But I opted for water. Why did I put the milk back? Well, for some reason I view milk as the drink I have at dinner. Like something weird would happen to me if I had it at a different time of the day. Do you ever do that? I'm weird I know. Then as I sat there debating why I put the milk back, I decided I was going to break my mold! I was going to get out the DairyPure and enjoy it.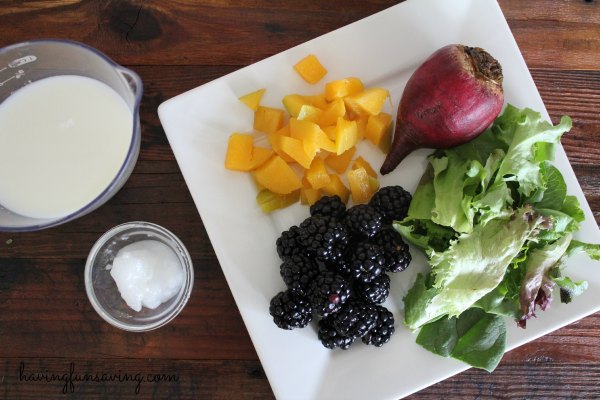 In fact, I used it in my smoothie 🙂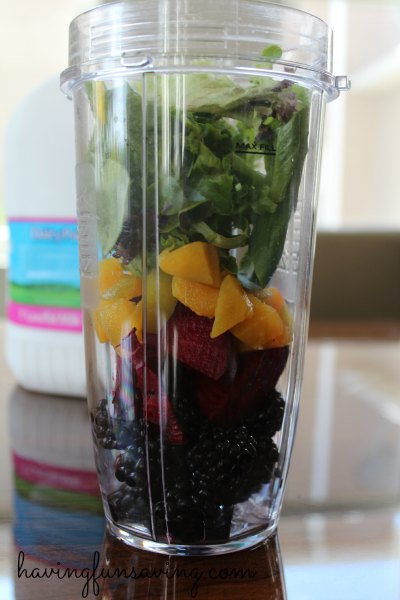 Milk just isn't for cereal and dinner…or to go with cake 😉 ! DairyPure milks and creams, are for delicious recipes, fun milk occasions and more! Even in your smoothies! Speaking of smoothies, let me give you my recipe, you are going to love it!
Here is my Beet Blackberry Smoothie Recipe, as you can see from the pictures above I also added mango, greens, and Coconut Oil. The flavors worked great together and DairyPure Milk made it creamy and delicious.
Here are some of the health benefits to the ingredients in this smoothie recipe:
Beets – They are very high in vitamin C, fiber, potassium, and they also contain vitamin B.
Blackberries – They are high in antioxidants and Vitamin C, not to mention they taste great and make your smoothie a rich beautiful color.
Mango – The antioxidant in mango has been found to help prevent cancer, mangoes are also thought to help lower cholesterol, improve eye health, and improve digestion.
Cinnamon – Has many benefits, one of my favorites is that it helps increase your metabolism.
Be sure to Pin this Beet Blackberry Smoothie Recipe and Print It so that you can make it again and again.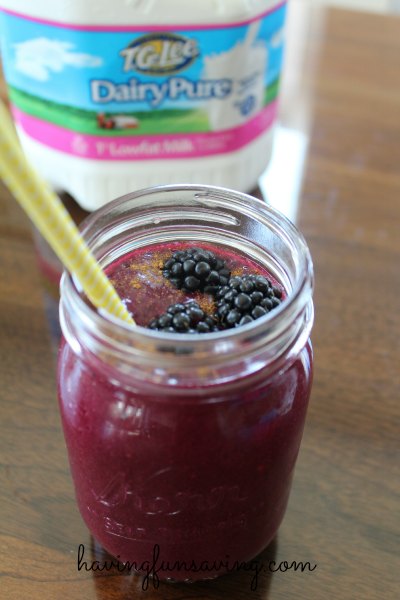 Beet Blackberry Protein Shake
Beets and blackberries made this smoothie an absolutely beautiful color! Plus, it tastes great, it healthy and is so easy to make.
Print
Pin
Rate
Ingredients
12

Blackberries

1

small beet

washed and sliced

¼

cup

mango

diced

1

cup

greens

I used Spring Mix. Just grab a big handful.

½

tbsp

coconut oil

4

ice cubes

½

cup

DairyPure 1% or Skim Milk

1

tsp

cinnamon
Instructions
Place the ingredients as listed above into your blending device

Garnish with additional cinnamon if desired
I hope you enjoy this

Beet

Blackberry

Smoothie with DairyPure Milk as much I as I do!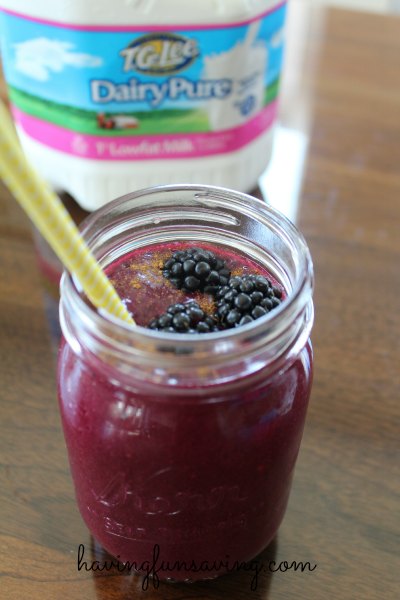 With all this talk about DairyPure Milk, I guess I should ask if you guys heard of DairyPure yet? I just noticed it at Target last week! It is the only milk backed by an exclusive Five-Point Purity Promise, which ensures that DairyPure contains no artificial growth hormones, is tested for antibiotics, is cold shipped fresh from your local dairy, is continually quality tested to ensure purity and only comes from cows fed a healthy diet!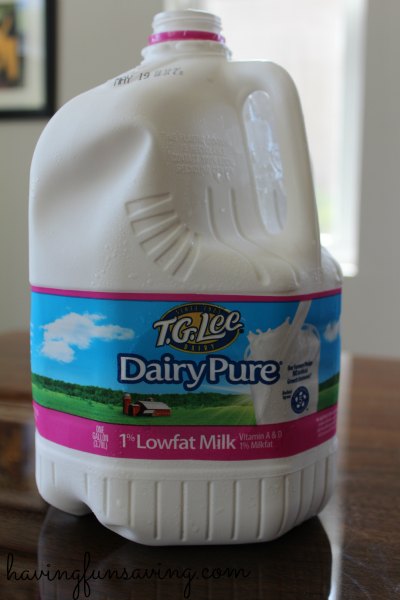 What is the Five-Point Purity Promise?
All DairyPure milk contains no artificial growth hormones*
All DairyPure milk is tested for antibiotics
All DairyPure milk is continually quality tested to ensure purity
All DairyPure milk only comes from cows fed a healthy diet
All DairyPure milk is cold shipped fresh from your local dairy
*No significant difference has been shown between milk derived from cows treated with the artificial growth hormone rbST and non-rbST-treated cows.
Where can you find DairyPure?
Fresh from your local dairy, new DairyPure milks and creams are now available in the dairy case at local grocery stores nationwide. It is available in whole, 2% reduced fat, 1% low fat and skim/fat free milks, as well as creams.
When do you enjoy milk?
According to a new survey by Wakefield Research:
71% frequently worry about the purity or quality of the milk they serve their children
65% drink milk most often at breakfast
82% would make a separate trip to the store if they ran out of milk
43% say milk and cereal reminds them most of childhood
91% say milk goes best with something sweet, such as cake
It's time to enjoy milk all day – at any time – and don't forget to use it in your favorite recipes!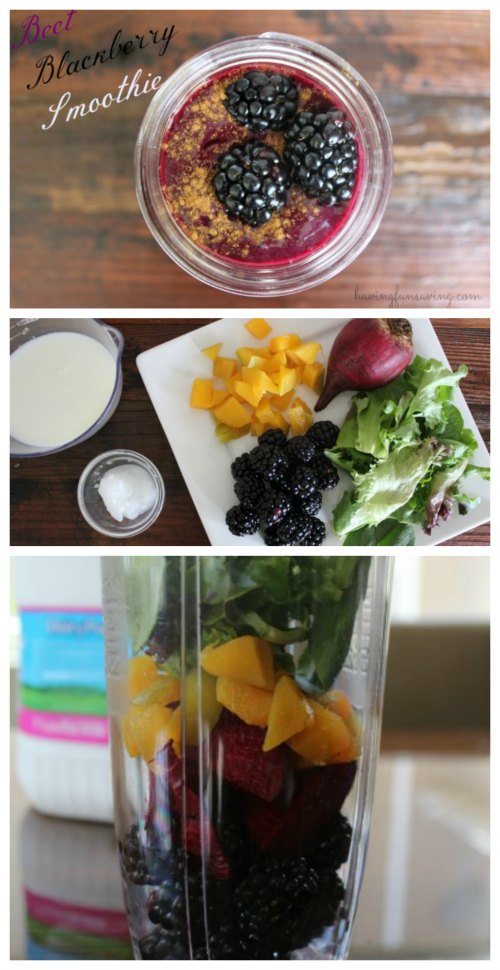 For recipes, local retailers, the full line of products and to learn more about DairyPure's exclusive Five-Point Purity Promise, visit DairyPure.com, and find DairyPure on Facebook and Pinterest.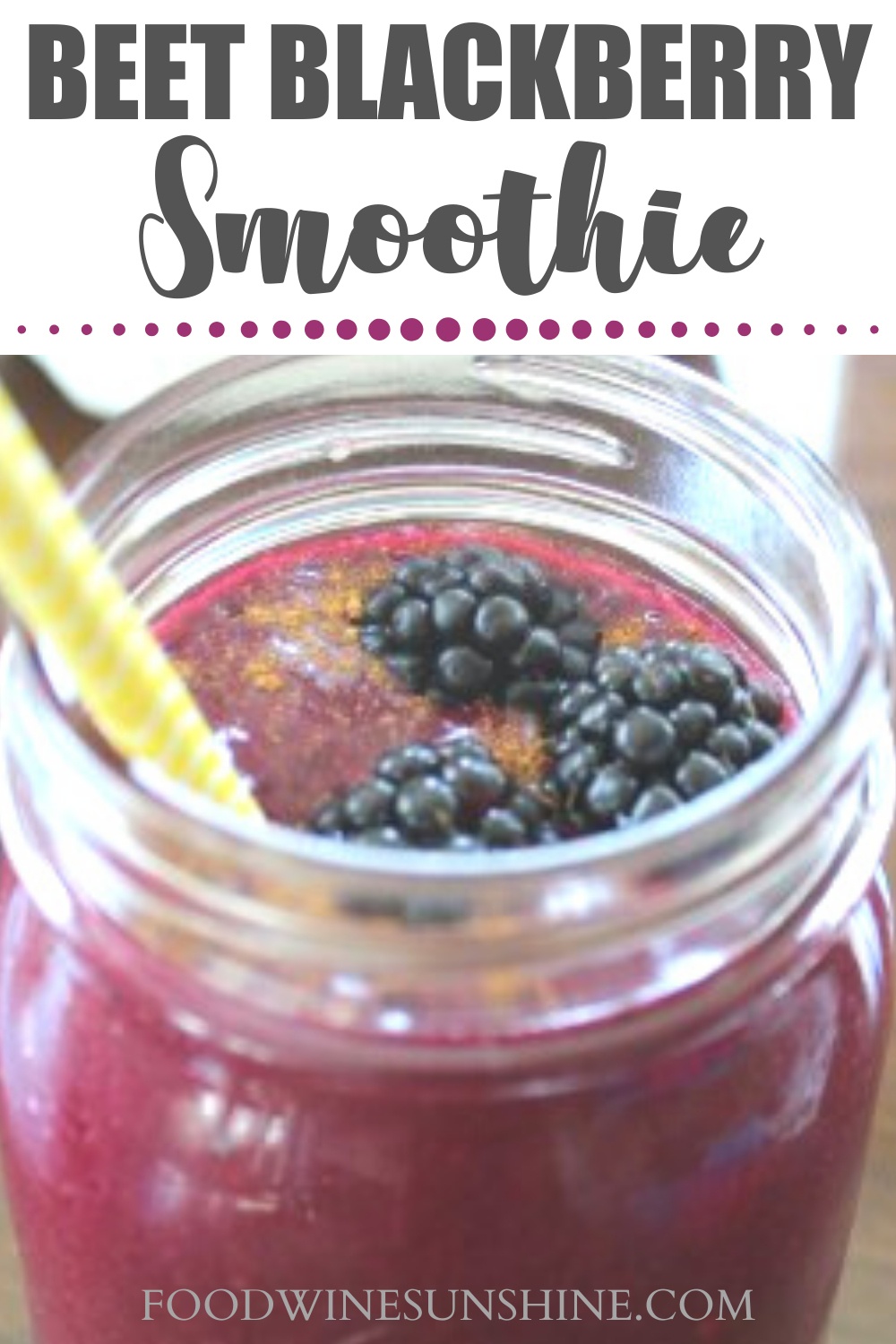 Want 50 delicious smoothie recipes now? Check out my Smoothie Recipe eBook on Amazon.
Looking for more smoothie recipes? Check out my Chocolate Strawberry Banana Smoothie…it even has greens!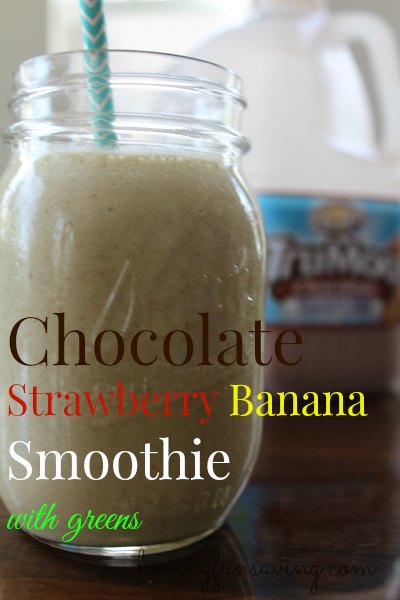 In fact, check out all the delicious recipes on Food Wine Sunshine and follow me on Facebook, Twitter, Pinterest, and Instagram.
What are some of your favorite smoothie recipes?