(Last Updated On: June 12, 2019)
With the holiday coming, I thought you guys would enjoy this easy dessert idea. Patriotic Mini Pies! Get your favorite canned fruits and get cooking!
Disclosure: This post is sponsored by Cans Get You Cooking. All opinions and this recipe are 100% my own.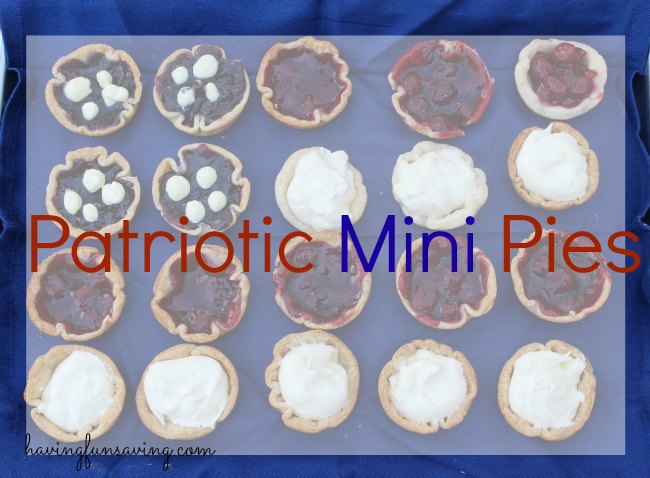 Patriotic Mini Pies Recipes
With the holiday weekend right around the corner I thought we would all enjoy a fun little dessert idea! I RARELY make pies, in fact, if I am being honest I don't think I have ever made a fruit pie…And with my husband and I the only one that would eat it, it would probably go bad before we got the chance to eat it all. So I decided Mini Pies were perfect idea. The perfect serving size, perfect to share, and you can make an many or as little different varieties as you would like 🙂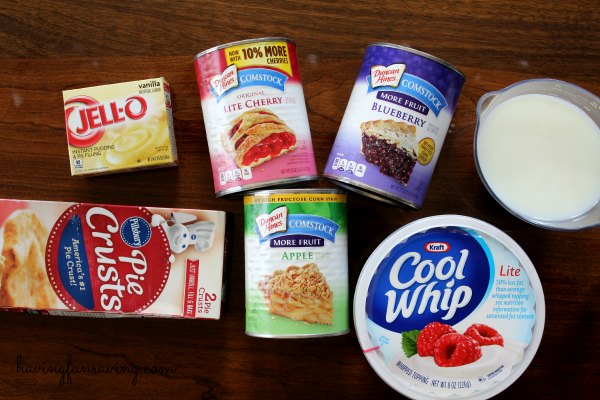 I went with cherry, blueberry, apple, and a vanilla mousse. My husband's almost favorite pie is apple, so I made apple for him. I wanted the cherry and blueberry because they were well…RED and BLUE 🙂
The vanilla mousse is delicious and the only one my kids will eat…and it's WHITE 🙂
See a theme here? 😉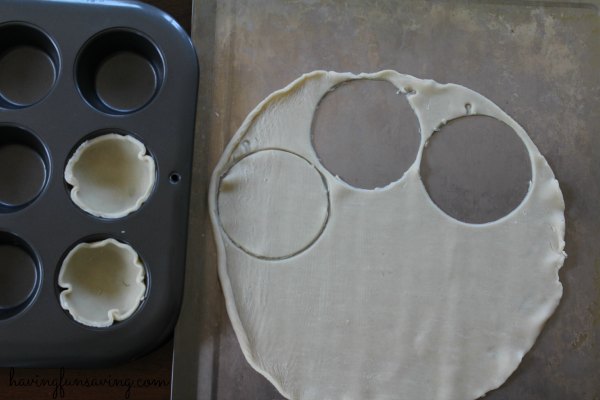 To make the pie crusts, you just buy the ready-made pie crusts and use a cookie cutter, pancake mold, biscuit cutter etc. to get a perfect circle.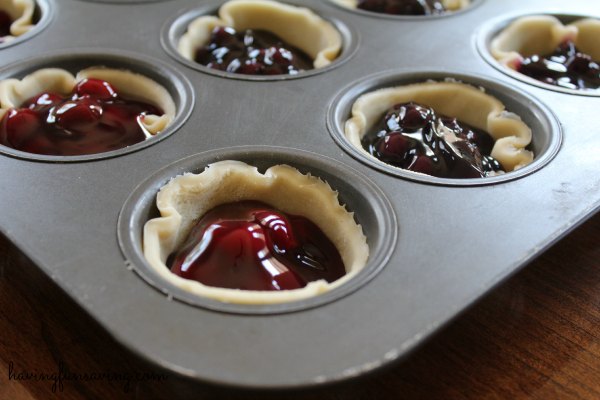 Once you have your mini pie crusts you gently push them into an ungreased muffin/cupcake tin.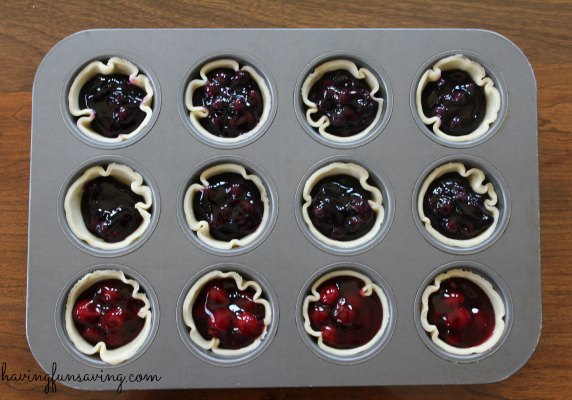 For the fruit pies, you load each pie crust up with your favorite filling.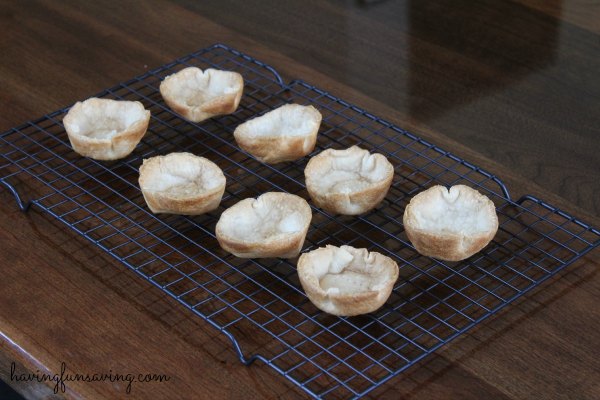 For the vanilla mousse ones, you actually bake the shell empty and add the filling later, so be sure to watch that in the directions.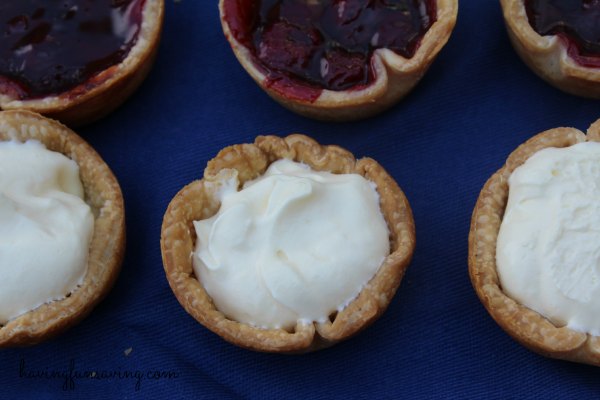 As you can see, I used canned pie filling in these. I'm sure I could have spent all day (and a small fortune) getting the fruit and making it into a homemade pie filling, but my life and my budget doesn't allow for that. Using canned pie filling definitely makes this recipe a bit easier, which I know many of us appreciate!
Now, here is the recipe for my Mini Pies, be sure to Print It and Pin It so that you can make it again and again.
Patriotic Mini Pies
Author:
Prep time:
Cook time:
Total time:
Ingredients
1 Can Cherry Pie Filling
1 Can Blueberry Pie Filling
2 Packages of Ready Pie Crust
8 oz Lite Cool Whip
1 Package Vanilla Instant Pudding
1 1/2 cups milk
Instructions
Preheat oven to 400 degrees
Unroll each pie crust and use a circle cutter – such as a pancake mold or cookie cutter – to make small circles
Gently push each mini pie crust into ungreased muffin tin
For the Fruit Pies
Fill each mini crust with desired pie filling
Bake for 20 mins until golden brown
For the Vanilla Mousse
Bake empty pie crusts at 400 degrees for 10-12 mins or until golden brown
While they are baking, mix pudding mix, cool whip, and milk until well blended
Refrigerate for 20 – 30 mins – it will get firm
Once mini pie crusts are cool and mousse it firm, fill each pie crust with the vanilla mousse
Arrangement
Feel free to arrange your pies into a flag!
Enjoy!
I hope you enjoy this

Patriotic

Mini

Pie

Dessert

with your family and friends this holiday!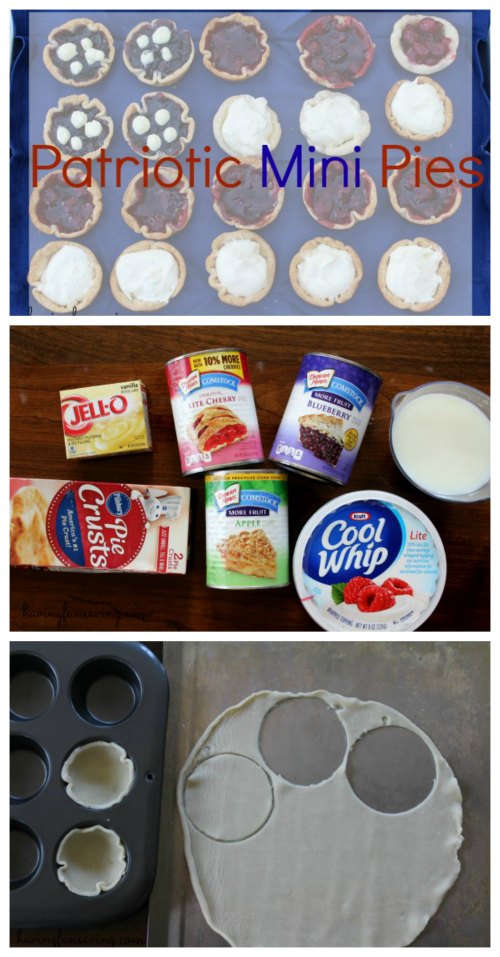 Be sure to check out all the delicious recipes on Food Wine Sunshine and follow me on Facebook, Twitter, Pinterest, Google + and Instagram.
Visit CansGetYouCooking.com and be sure to follow on Facebook, Twitter, Pinterest, and YouTube to get even more delicious recipe ideas!