(Last Updated On: February 1, 2023)
This healthy Mahi Mahi recipe is ready in under 30 minutes. Baked Mahi Mahi is lightly seasoned then baked with lemons, olives a homemade honey and parsley sauce.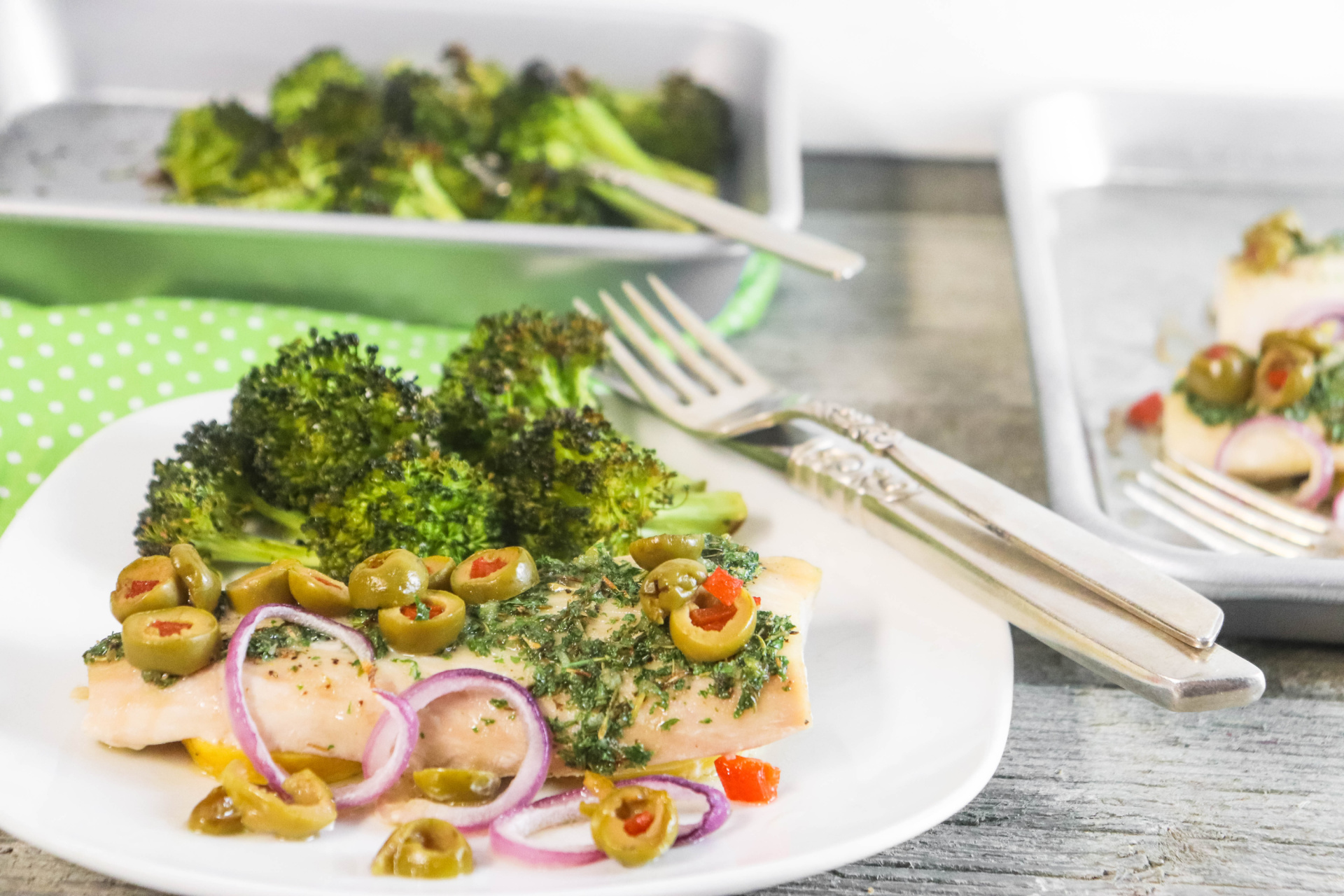 It's the start of a new year…are you looking for new healthy recipes to try? Well, I basically always am. Two years ago I lost 20 pounds thanks to Weight Watchers and over the last 6 months, about half of that has creeped back on. Annoying. I know it happens. And trust me, I don't regret one glass of wine, snifter of bourbon, or cookie…okay, maybe I regret a few of the cookies…But life happens, right??
I was talking to my friend the other day and I said I actually needed a reminder that healthy food is easy to make and delicious. We have been at parties, traveling and at restaurants for so long I feel like I forgot how to cook! Thankfully, I didn't 😉
I was also pleasantly reminded with this baked Mahi recipe that healthy can indeed be flavorful and easy. Living in Florida, we love seafood…all seafood. Especially fish. Mahi Mahi is one of the those fish that is thick, yet when cooked right is perfect light and flaky. Mahi Mahi actually has a mild flavor, so adding your favorite toppings like this honey parsley sauce, lemons and olives, is an easy way to spice up this fish.
Did you know that another name for Mahi Mahi is dolphin? Now, don't worry…Mahi is NOT the dolphin you are thinking of….I am 100% sure that would be illegal…and who could possibly eat flipper?? Ok, that thought process is not a good one…so, let's go back to this yummy Baked Mahi Mahi recipe shall we?
One of my favorite things about cooking fish (all seafood for that matter) is that it's ready pretty quick. This Baked Mahi Mahi recipe is ready in about 30 minutes…and 20 minutes of that is the baking time! Easy enough.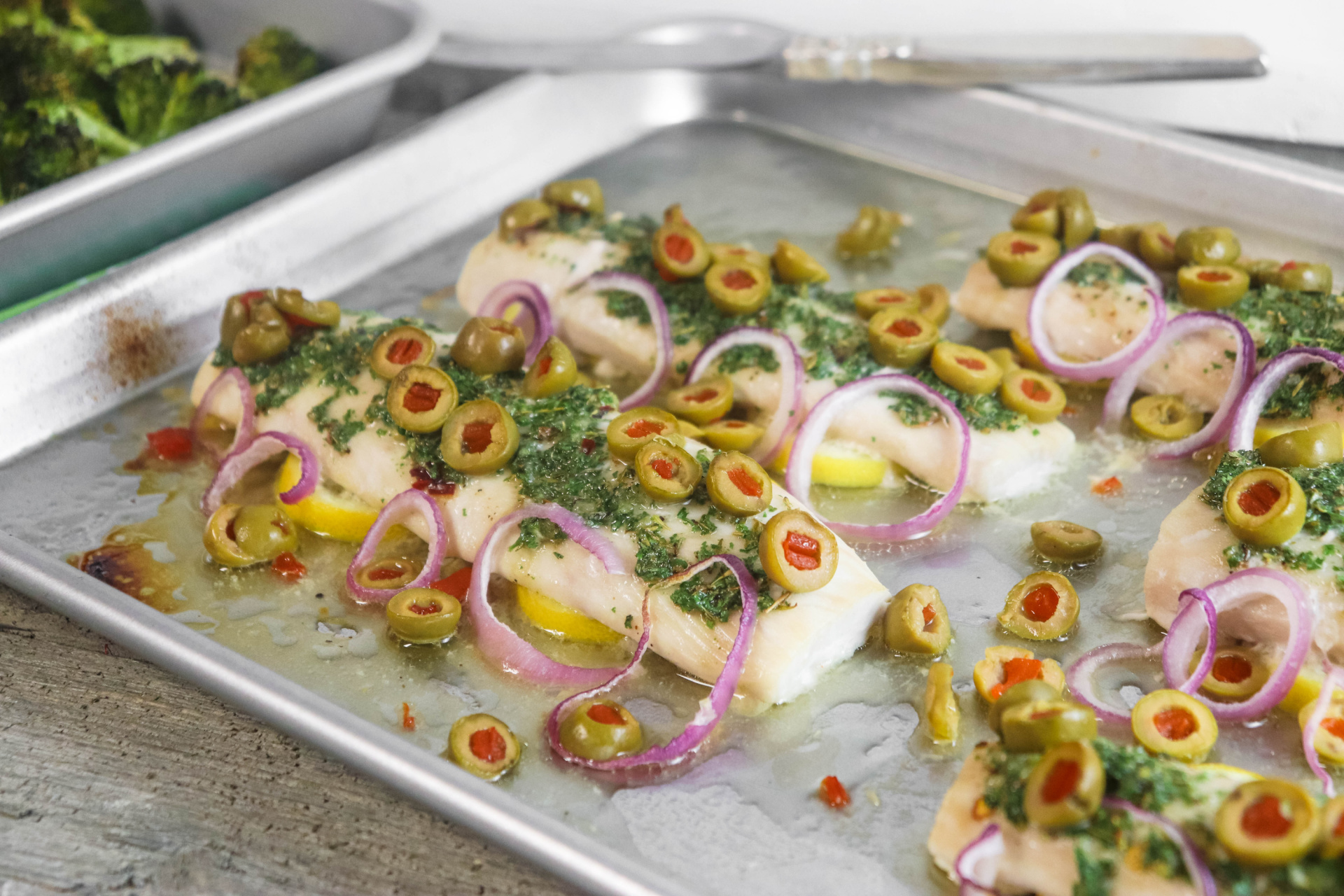 How does it take to bake Mahi Mahi?
It depends on the thickness of the filet, but your mahi mahi should be ready to enjoy when baked at 375 degrees in about 15 – 20 minutes.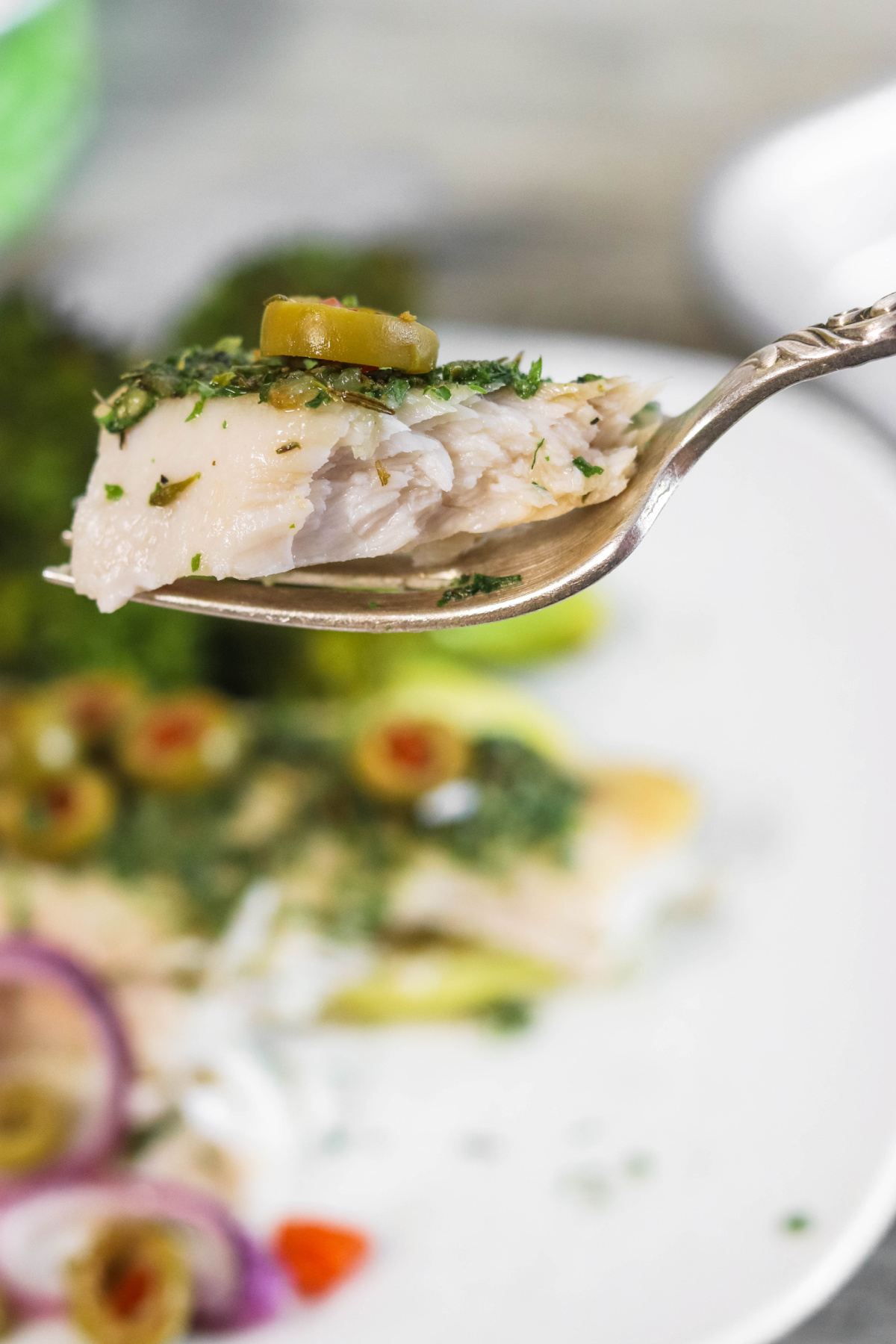 How do you know when Mahi Mahi is done?
The fish will be easily "cut" into with a fork, it will flake and no longer look translucent. Not sure if it's done? A good rule of thumb is to cook the fish to an internal temperature of 140-145 degrees.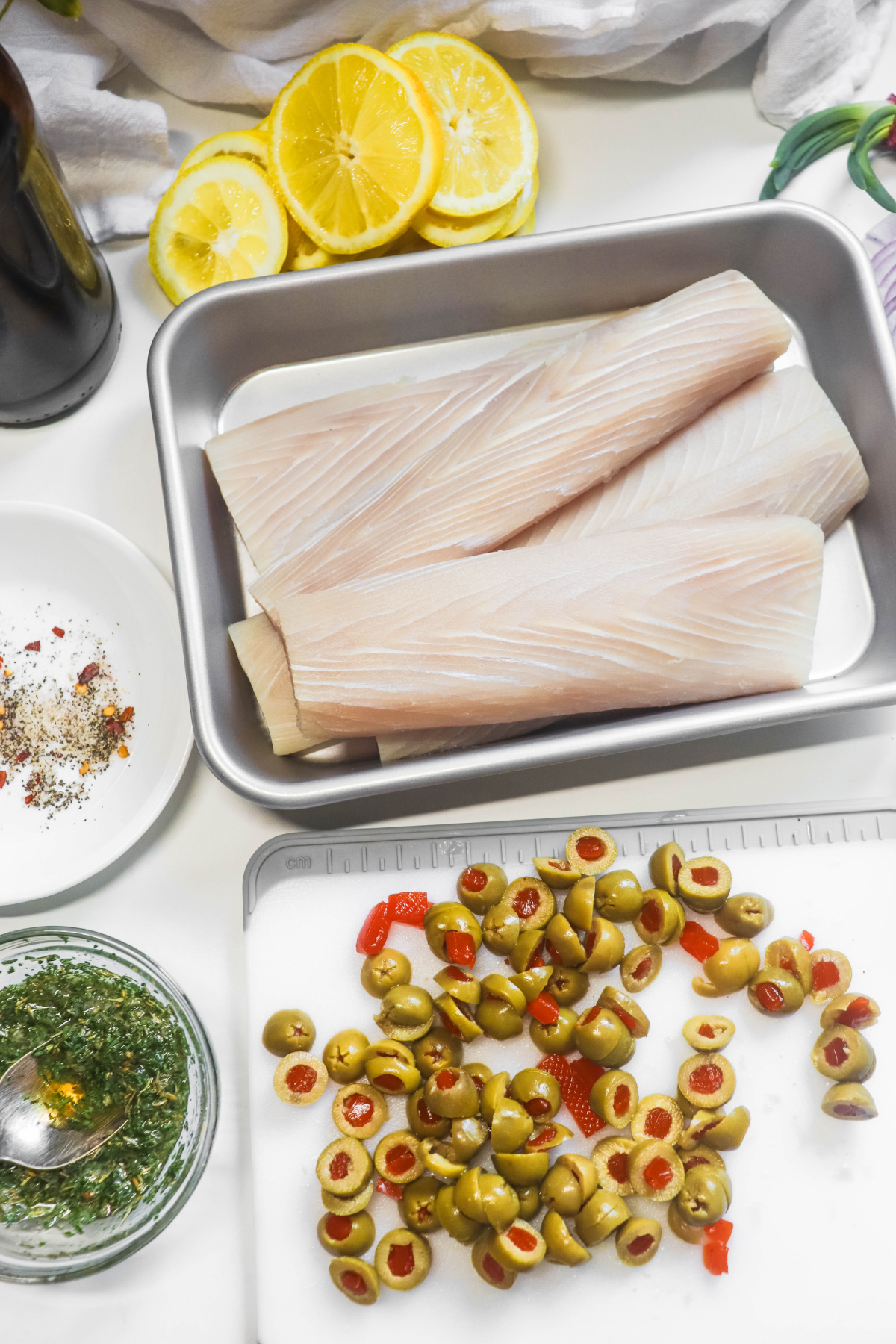 What toppings are good on Mahi Mahi?
Feel free to experiment! I went a little Greek with this recipe with the addition of olives, I love the salty dimension it adds to the acidity of the lemon and the sweetness of the honey.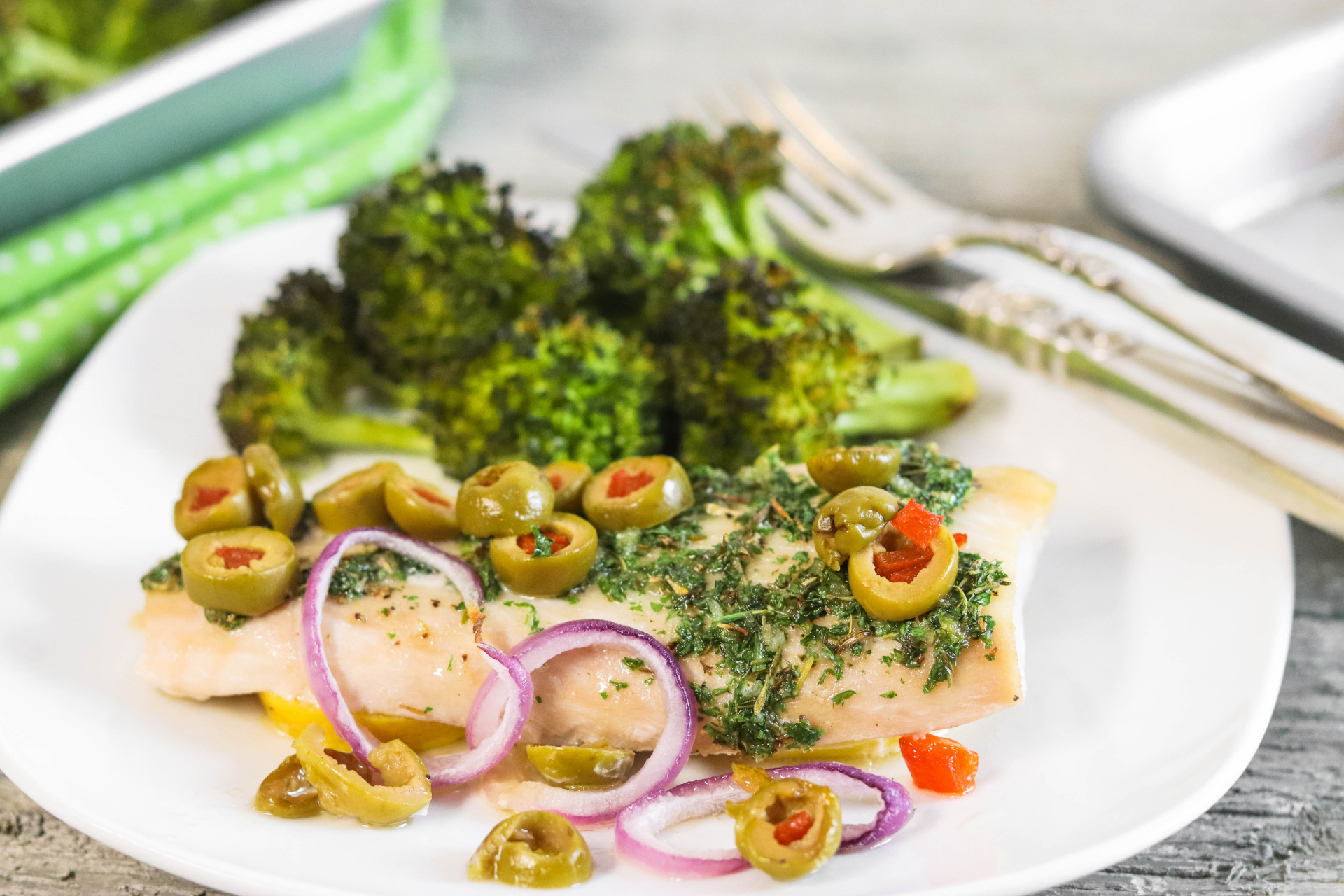 What should you serve with baked fish?
Fish is actually pretty versatile when it comes to side dish pairings, rice is always a good option, but as I mentioned above I am trying to up my healthy food consumption so I went with roasted broccoli. And I actually really like roasted broccoli, so it was a win-win.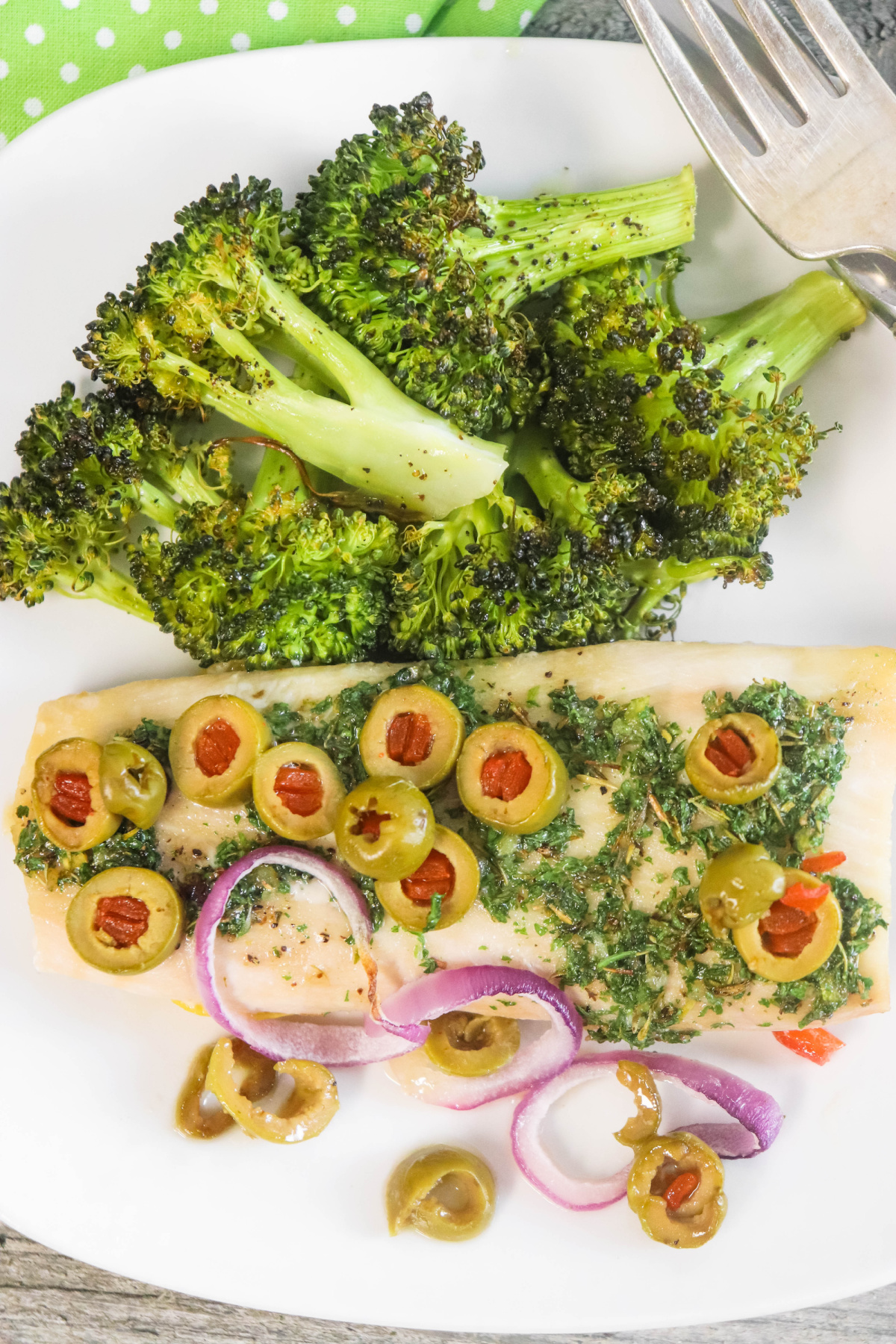 What other dishes is Mahi good in?
As I mentioned, we love seafood and fish! Here are a few of my other favorite mahi recipes: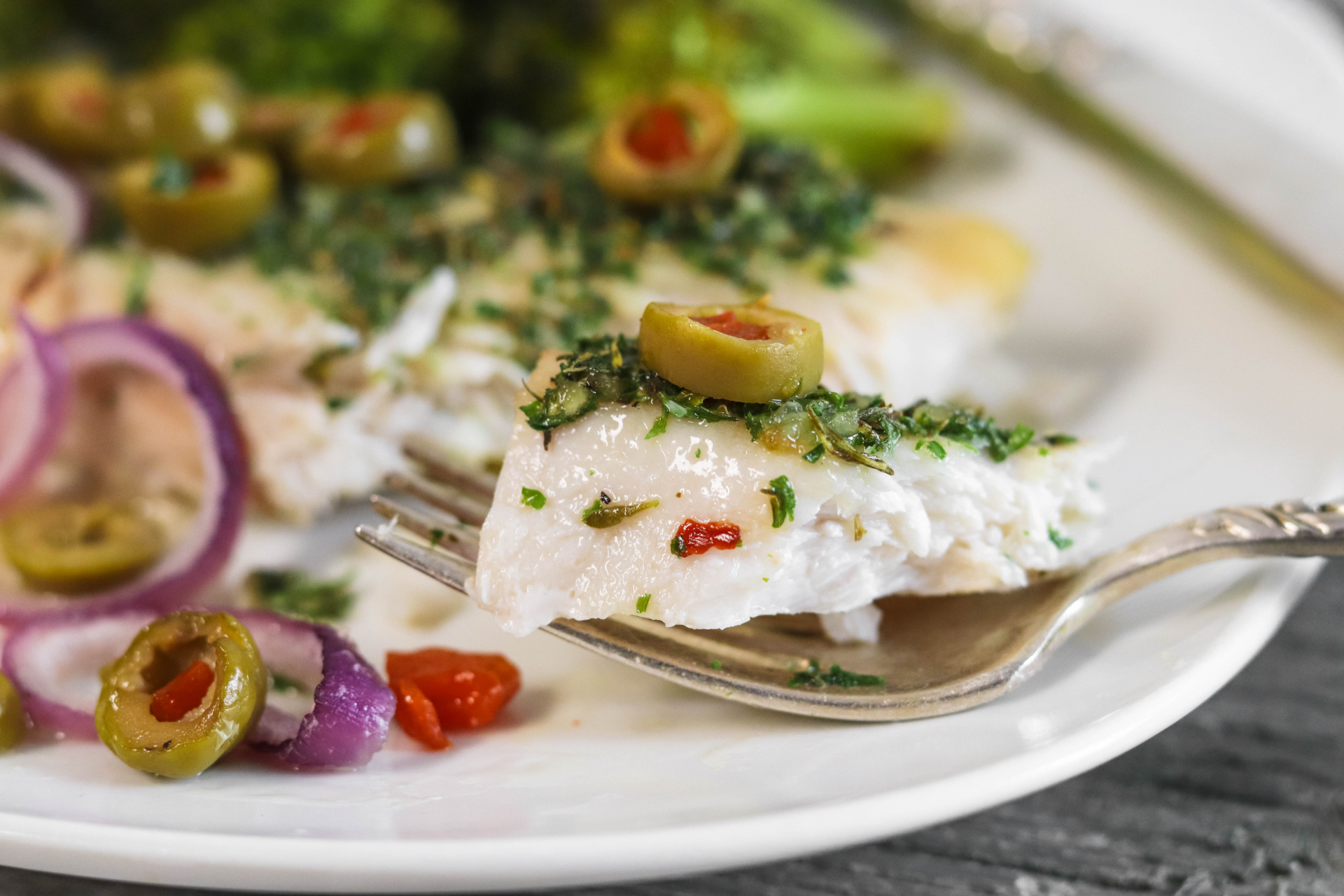 Ok, so let's bake some Mahi Mahi shall we? Here is my Baked Olive Mahi Mahi recipe. Be sure to print it and pin it so that you can make it again and again!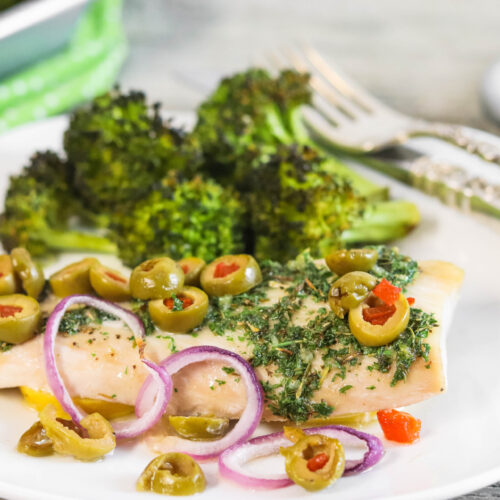 Baked Olive Mahi Mahi Recipe
Light, delicious and full of flavor, you have to try this Mediterranean twist on mahi mahi!
Print
Pin
Rate
Ingredients
5

Mahi Mahi fillets

2

lemons

1

small red onion

½

cup

green olives

1

tbsp

parsley

2

tbsp

honey

olive oil for pan

pinch

black pepper

pinch

salt

pinch

chili flakes *optional

2

garlic cloves

1

tsp

thyme

3

tbsp

butter
Instructions
Lightly oil pan or spray with olive oil. Set aside.

Use paper towel to pat fish dry.

In a small bowl, mix together honey, minced garlic, thyme, and parsley. Set aside.

Slice lemons. 2 per fillet. Set aside.

Thinly slice red onion into rings. Set aside.

Slice olives in half or thirds. Set aside.

Lay lemons on baking pan.

Place fish on top of lemon slices, with each fish fillet having 2 slices underneath.

Top each fillet with a pinch of the salt, pepper, and chili flakes (if using).

Spread the honey/parsley mixture on top of the fillets.

Top each fillet with two thinly sliced pieces of butter.

Layer the sliced olives and sliced onions on the fillets.

Bake at 375°F for 15-20 minutes or until the center of the fillet is flaky and cooked thoroughly with an opaque color.

Serve with your favorite vegetable.
Notes
Serves: 5
Prep time:10 minutes
Bake time: 20 minutes
Nutrition
Calories:
219
kcal
|
Carbohydrates:
15
g
|
Protein:
33
g
|
Fat:
4
g
|
Saturated Fat:
1
g
|
Polyunsaturated Fat:
1
g
|
Monounsaturated Fat:
2
g
|
Cholesterol:
125
mg
|
Sodium:
372
mg
|
Potassium:
833
mg
|
Fiber:
2
g
|
Sugar:
9
g
|
Vitamin A:
470
IU
|
Vitamin C:
27
mg
|
Calcium:
65
mg
|
Iron:
2
mg