(Last Updated On: October 20, 2021)
Celebrate fall with these Apple Cider Gingerbread Cookie Sticks! Perfect for snacking, dessert, or a delicious gift idea to share with friends and family. Prepped in under 30 minutes, you will be making these Apple Cider Gingerbread Cookie Sticks all season long!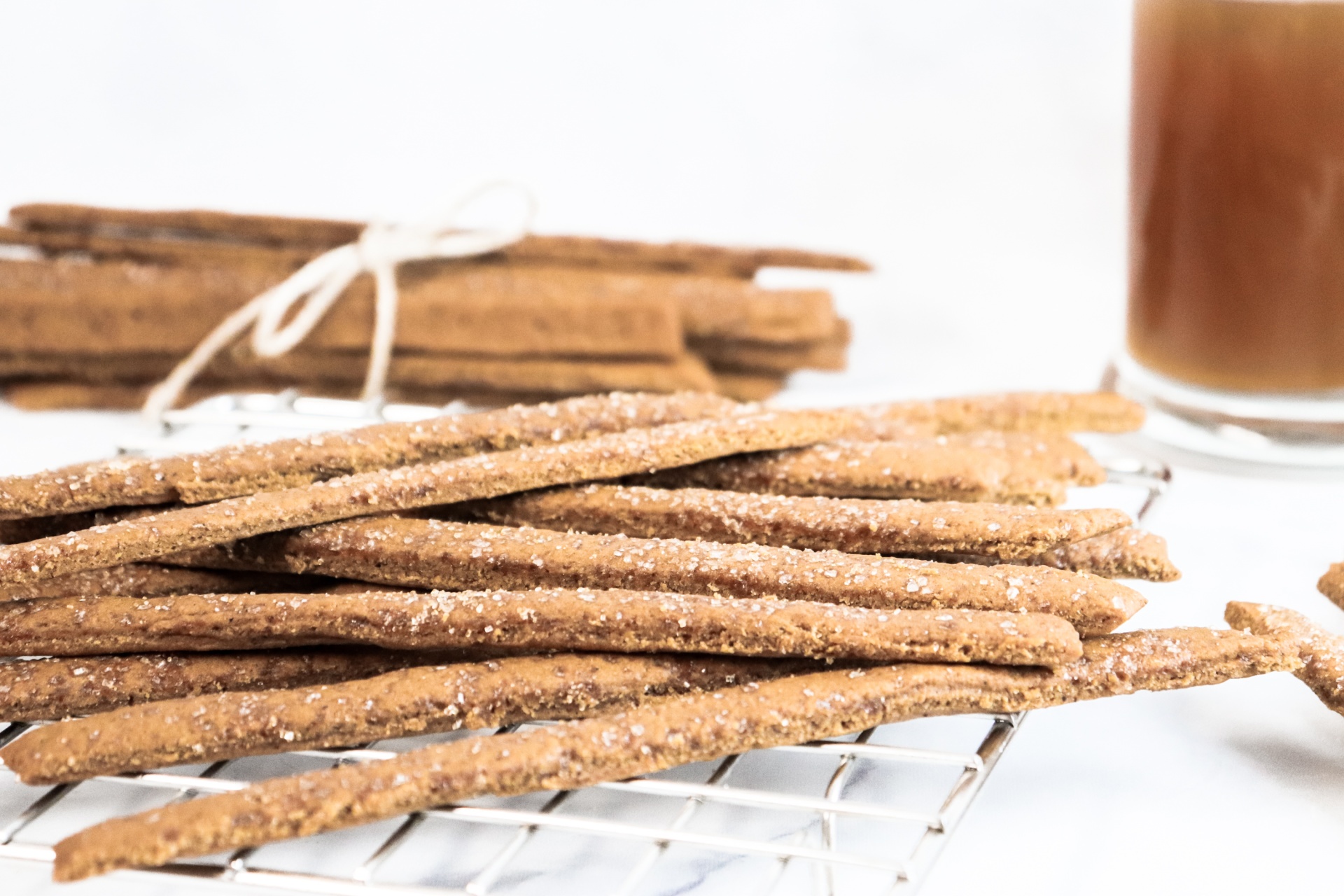 How to Make Apple Cider Gingerbread Cookie Sticks
Fall is here, and with it comes all the flavors we know and love. Apples, pumpkin spice, and gingerbread?
Stay with me, because after you taste these Apple Cider Gingerbread Cookies, I can assure you they will become a fall staple in your house. And, because they are gingerbread, they are also perfect for the Christmas season too!
You all know that I am not a master baker, so for me to turn the oven on and bust out a rolling pin (with my daughter's help, of course) you know these have to be good.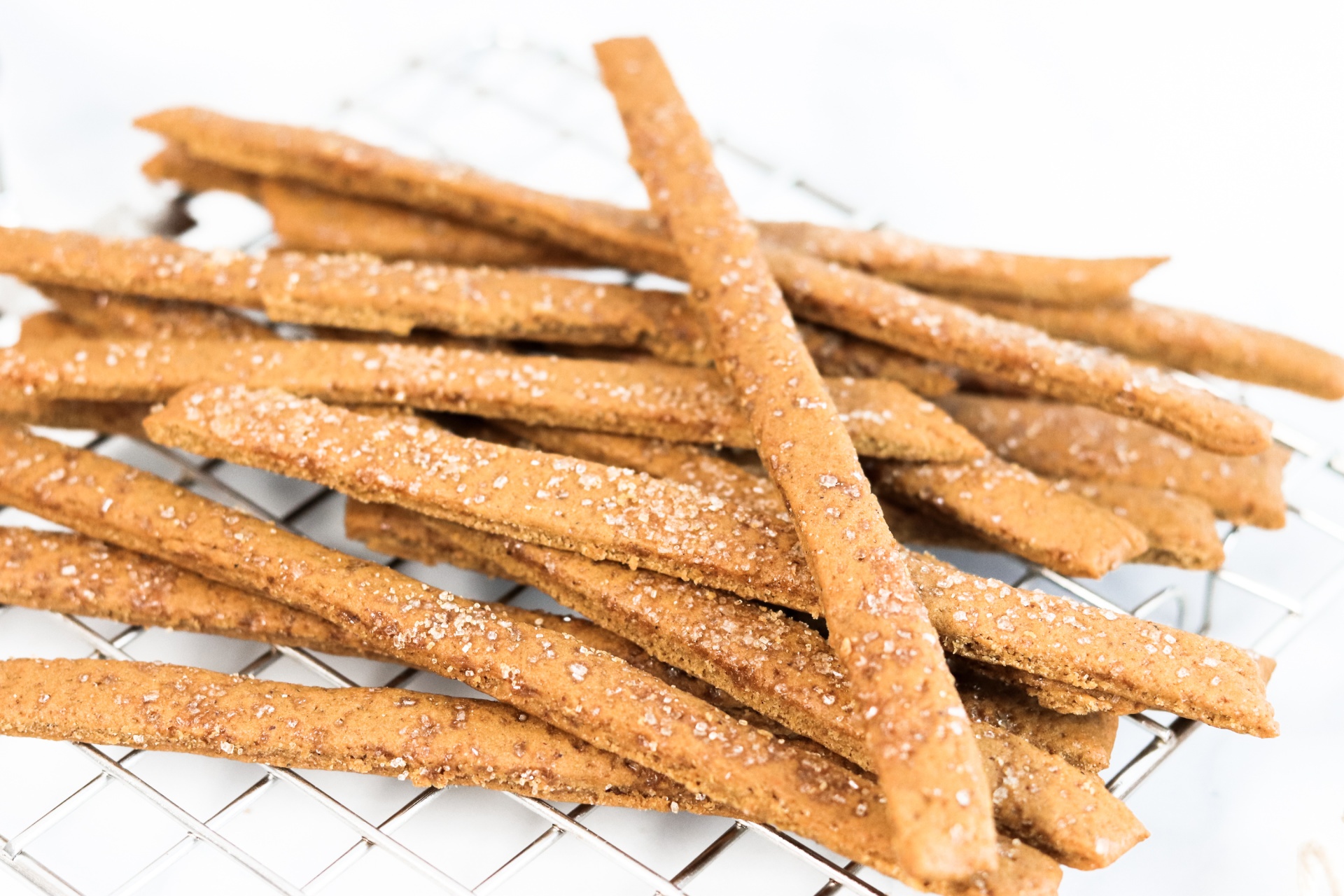 Is Gingerbread More Appropriate for Thanksgiving or Christmas?
Both! According to The Post Gazette, gingerbread is perfect for any time of year. In fact, it's a year-round thing!
You've heard the old nursery diddy I'm sure.
Run, run, fast as you can,
You can't catch me, I'm the gingerbread man!
If that doesn't take you back, I don't know what will!
Speaking of going back in time, let's do a quick history lesson on ginger.
First cultivated in ancient China, ginger root was regularly used for medicinal purposes. I even mentioned ginger in my post "Foods That Boost The Immune System." Soon, ginger spread to Europe and was favored as a spice in preserved meat during the Middle Ages because it could actually disguise the flavor of the meat itself. Has your meat gone bad? With a little ginger spice added, you may never know. Yikes!
Fast forward to our time, and some people use ginger these days for upset stomachs and nausea. However, many people also use it in cooking, and baking. For example, I use it in a lot of my Asian inspired recipes like my Korean Beef.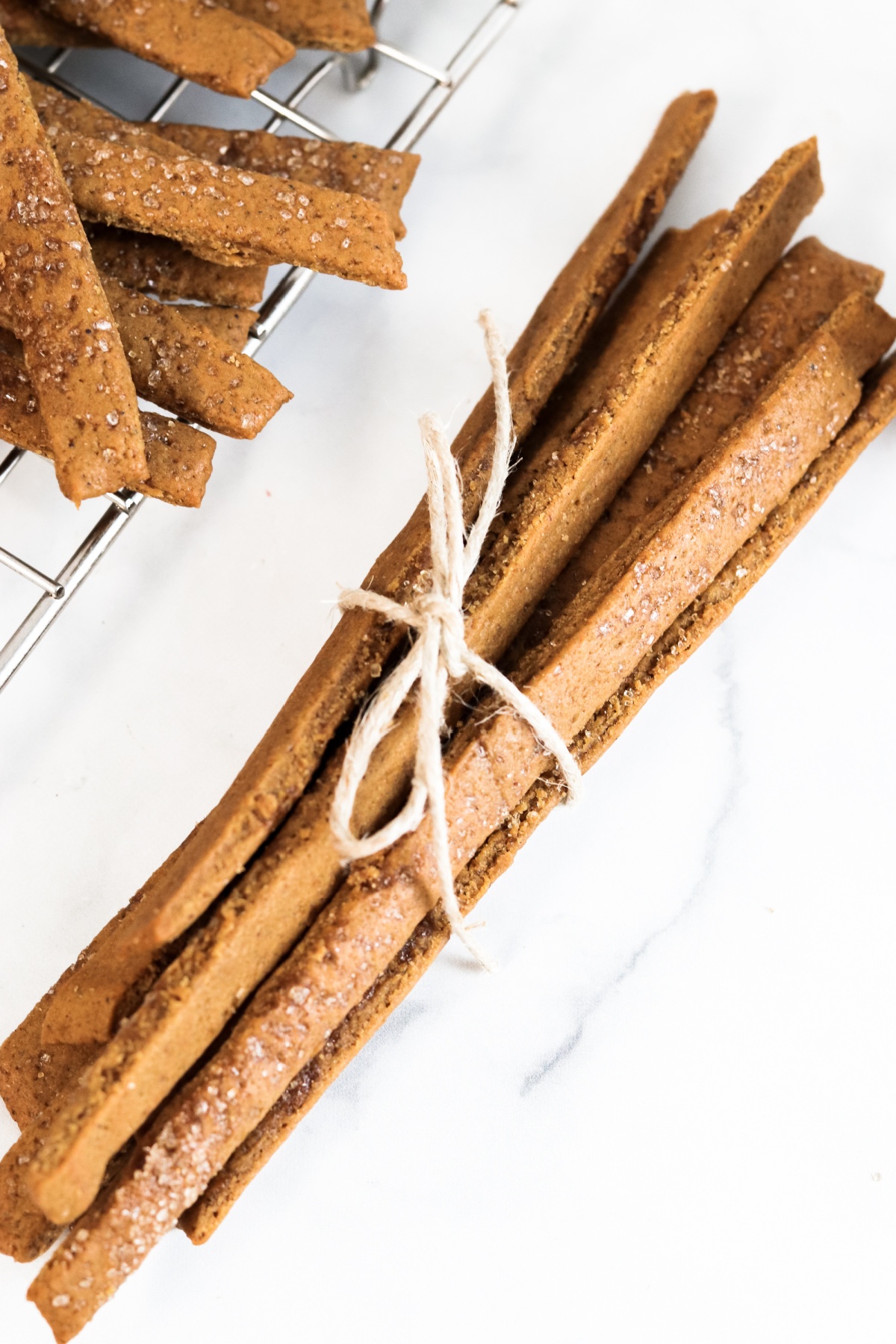 What about gingerbread cookies though?
Interestingly enough, the first recipe for gingerbread has been traced back to Greece in 2400 BC. It wasn't until the 10th century that a recipe for gingerbread was developed in China. And, by the late Middle Ages, gingerbread recipes were being modified by Europeans to make into hard cookies. Only instead of icing, they would use gold leafing to decorate them.
In other countries, including Germany, France, and Holland, gingerbread cookies are sold all year long. The flavors of gingerbread are so bold, and yet so comforting too. Since other countries use gingerbread year round, and simply change the shapes to fit the season, why shouldn't we be able to have it at Thanksgiving? I think we should!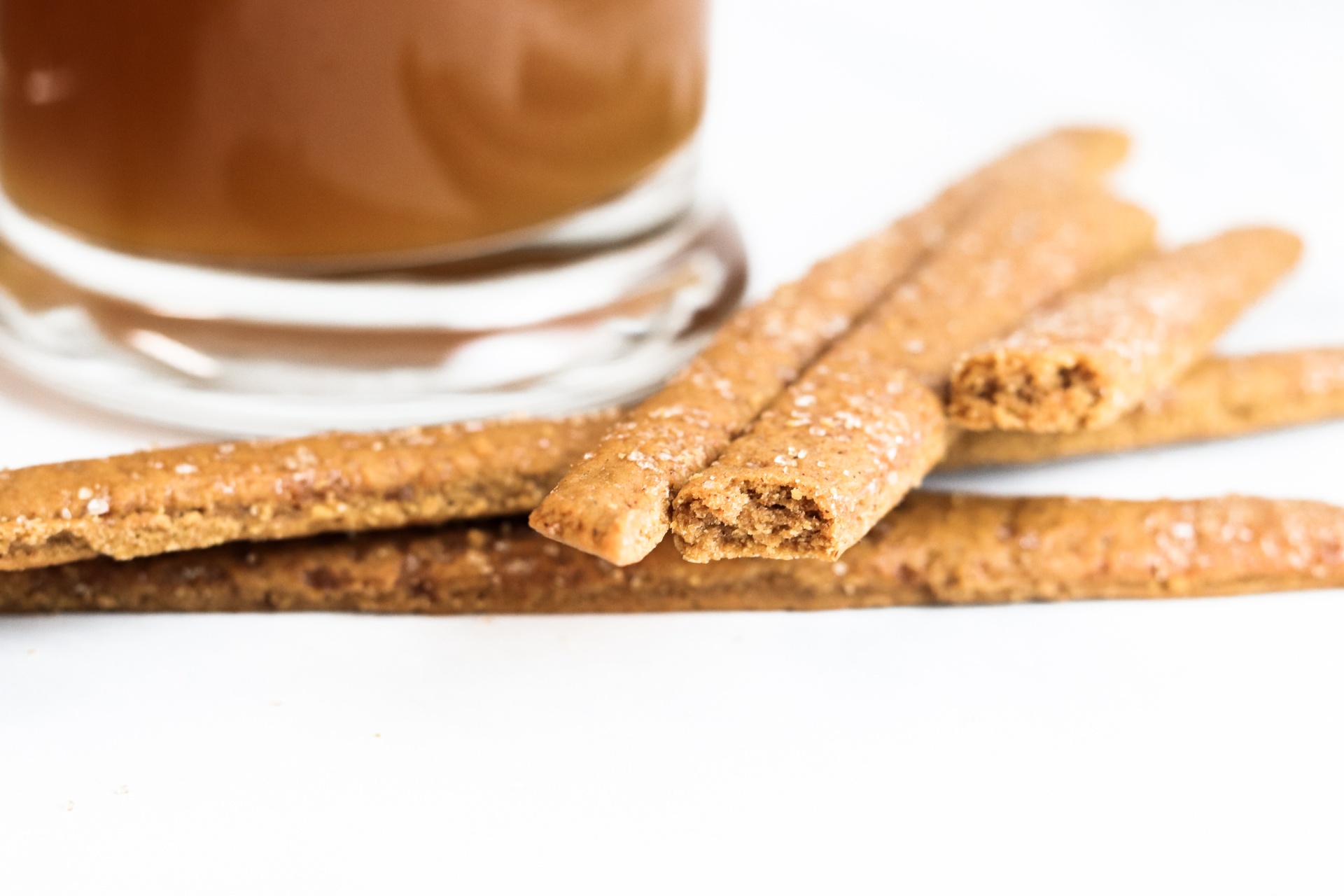 How Much Ginger is in a Gingerbread Cookie?
Believe it or not, many recipes, including the one below call for a mere two teaspoons of ginger. Some call for even less! The main ingredient that gives them their warm brown color is molasses. Why do you need so little ginger? Because it's so strong! The more you add the spicier your cookie will taste, and for some people that bold flavor can be too overpowering.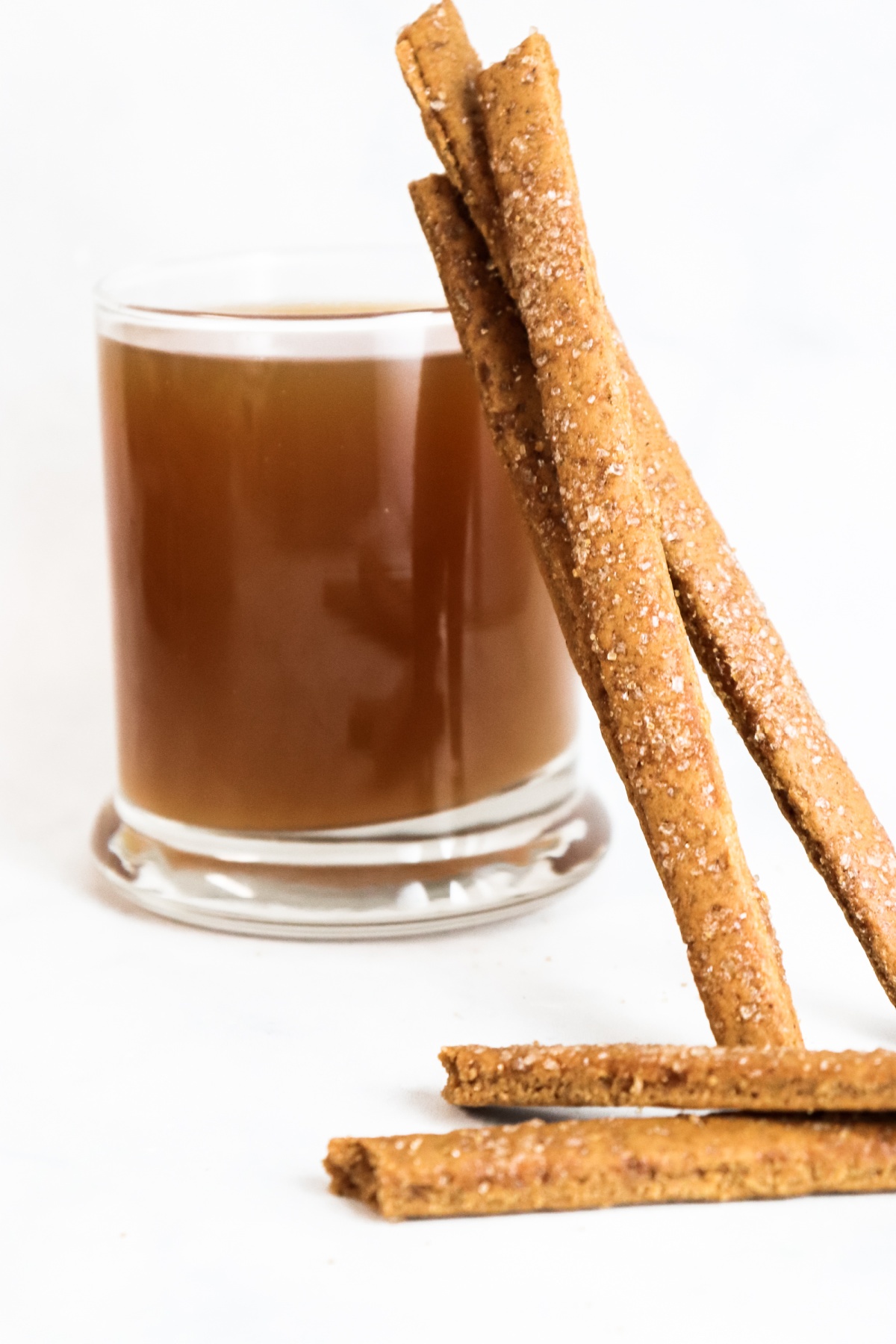 What Should You Pair With Apple Cider Gingerbread Cookie Sticks?
Apple Cider of course! And, might I suggest my Spiked Hot Apple Cider? Dip the cookie stick into the warm drink for an extra special flavor explosion that will have you declaring team apple cider over team pumpkin spice any day. Although, truth be told, I love my pumpkin spice too.
Actually, I like all the flavors of fall and Christmas! Don't you? Let's get cozy, shall we? Scroll down to the bottom for the cookie sticks recipe. It will take some time and patience, but the final product is totally worth it.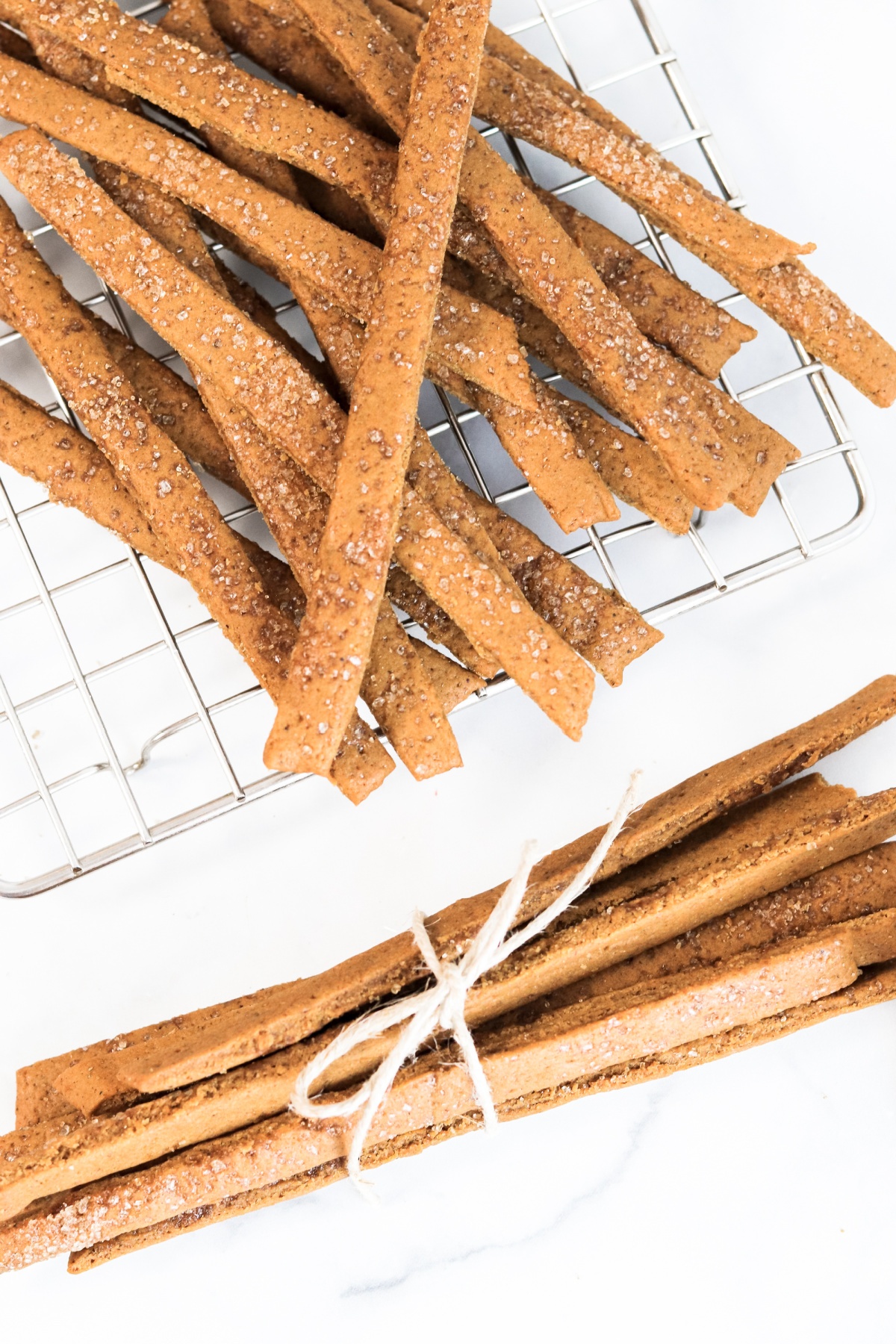 Key Ingredients In Apple Cider Gingerbread Cookie Sticks
Flour
Brown Sugar
Molasses
Apple cider
Sugar
Spices – cinnamon, nutmeg, ginger, ground cloves, allspice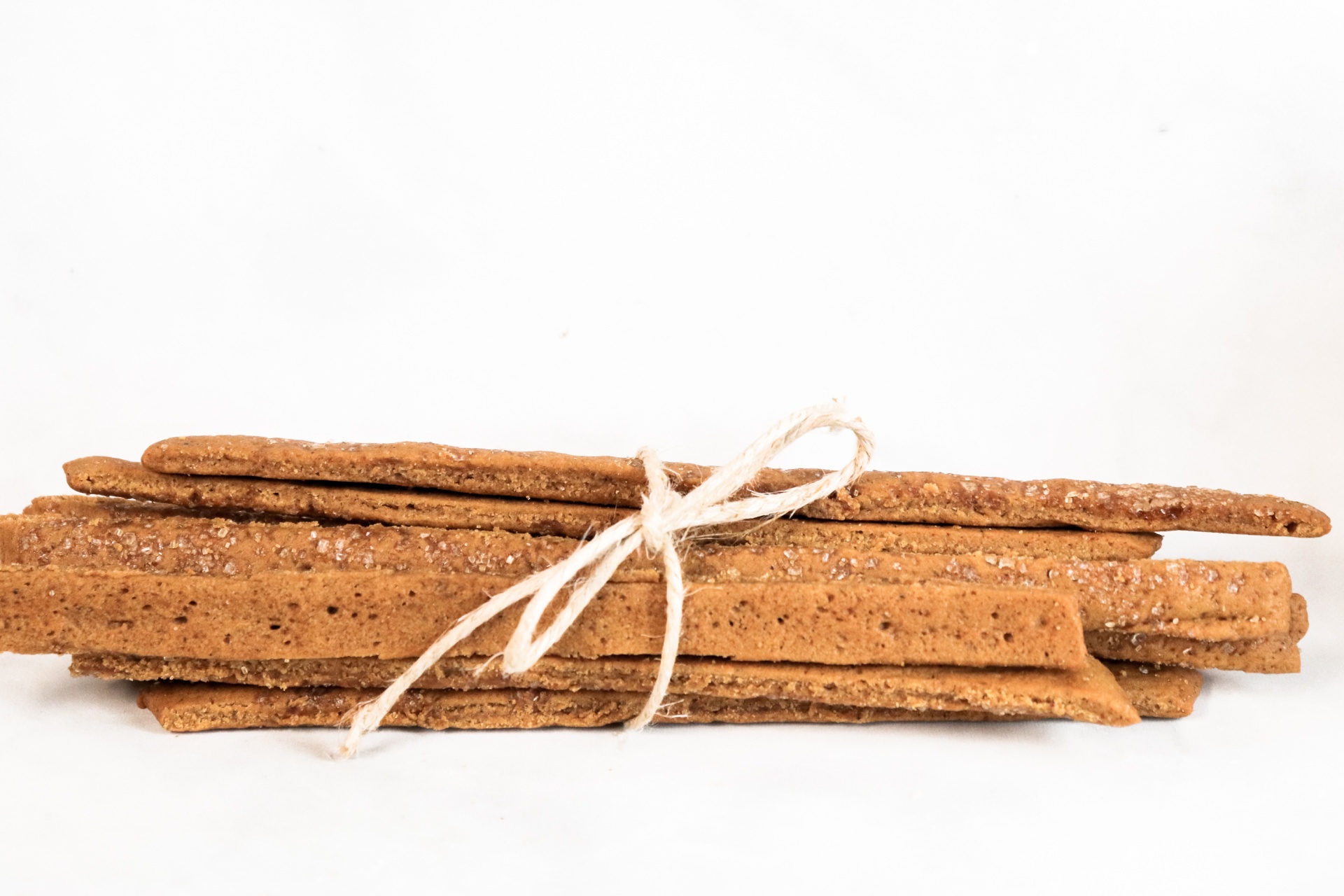 Since it is fall after all, you may have everything you need to make these yummy apple cider gingerbread cookies in the house right now! Go ahead…you can look…I'll be here when you get back 😉
Ready? Ok, let's get baking! Don't forget to make that cup of spiked hot apple cider for sipping while you are prepping!
Here is my Apple Cider Gingerbread Cookie recipe, be sure to print it and pin it so that you can make it again and again.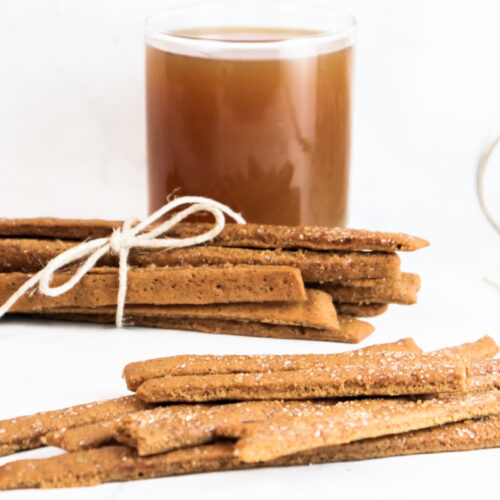 Equipment
Oven

large bowl

Rolling Pin

knife or pizza cutter

ruler

large cutting board
Ingredients
2

cups

all-purpose flour

1/3

cup

packed brown sugar

1/3

cup

mild molasses

not blackstrap

¼

cup

apple cider

1/3

cup

coarse sugar

1/3

cup

unsalted butter

1

Tbsp

cinnamon

2

tsp

ginger

½

tsp

nutmeg

½

tsp

salt

½

tsp

ground cloves

½

tsp

allspice
Instructions
Heat oven to 350°

In a small bowl, whisk together melted butter, molasses, and apple cider and add to flour mixture

Place dough on lightly floured surface. Knead for 30 seconds to make it smooth. If too much flour is used, the dough will crumble. If this happens add a few drops of water and work in

Divide dough in half and roll each half between two pieces of parchment paper into an approximate 6"x12" rectangle

Remove top piece of parchment and sprinkle turbinado or other course sugar all over the dough (3-4 Tbsp)

Lay parchment on top of the rectangle and gently press sugar into dough with your hands

Using a pizza cutter or knife, and a ruler, cut each rectangle into 1/4" or 1/3" strips. Edges of the strips can be uneven, it adds more character to the final product. Do not separate

Slide parchment paper with strips onto a baking sheet, and bake for 12-15 minutes

Reduce heat to 200° and immediately slide parchment onto a cutting board and use a knife to cut through strips before they become brittle

Return parchment to the baking sheet and sprinkle with additional turbinado or other coarse sugar (Try sprinkling with colored sugar for the holidays!)

Bake for 10 minutes

Slide parchment with baked cookie sticks onto wire rack to cool completely

Serve or wrap with baker's twine to place in a gift basket - Baked cookie sticks can be stored in a covered container for up to 2 weeks and can be frozen for 6 weeks
Nutrition
Calories:
59
kcal
|
Carbohydrates:
11
g
|
Protein:
1
g
|
Fat:
2
g
|
Saturated Fat:
1
g
|
Polyunsaturated Fat:
1
g
|
Monounsaturated Fat:
1
g
|
Trans Fat:
1
g
|
Cholesterol:
4
mg
|
Sodium:
31
mg
|
Potassium:
54
mg
|
Fiber:
1
g
|
Sugar:
6
g
|
Vitamin A:
48
IU
|
Vitamin C:
1
mg
|
Calcium:
11
mg
|
Iron:
1
mg
I hope you enjoy these Celebrate fall with these Apple Cider Gingerbread Cookie Sticks as much as we do!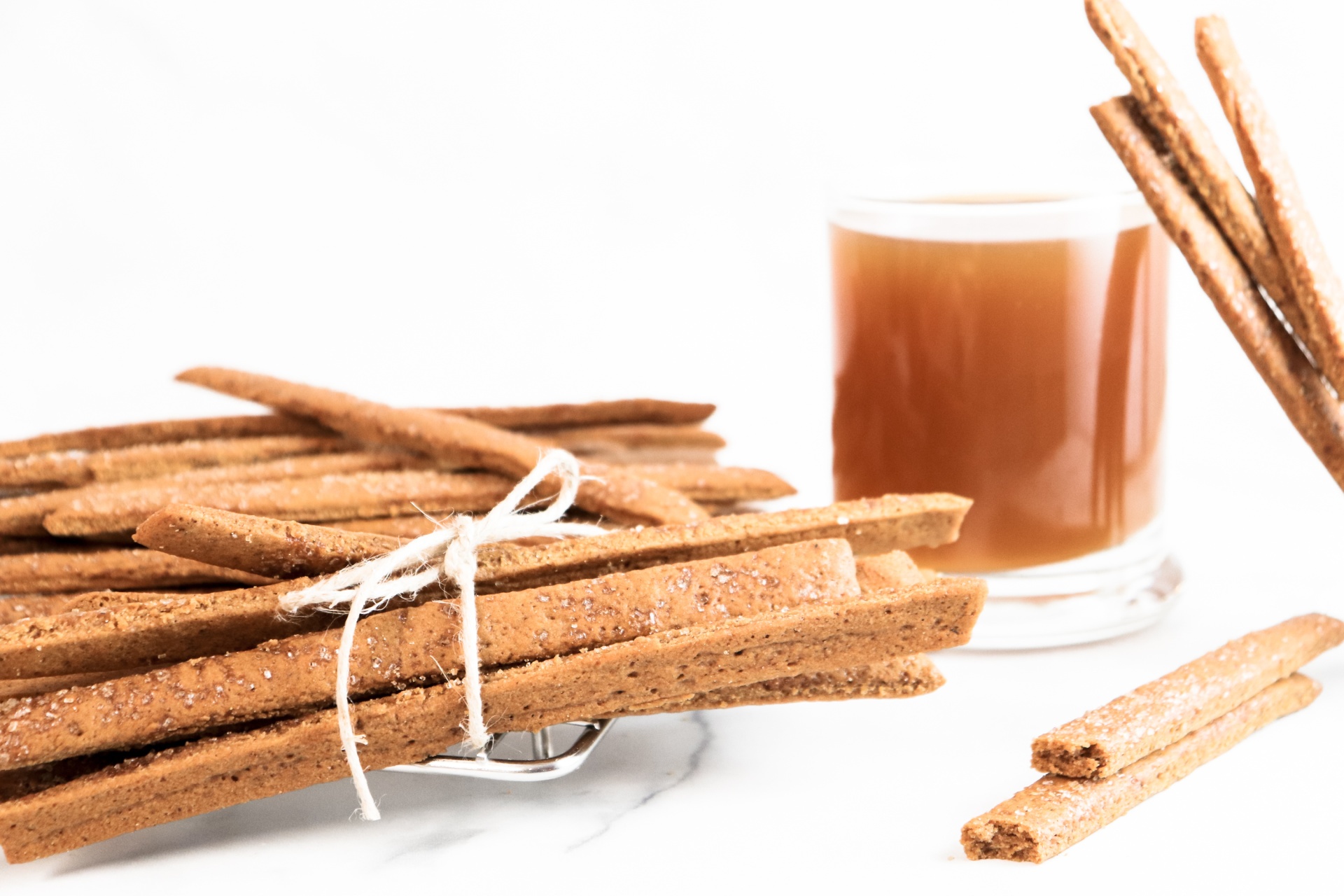 So, what do you think…Is gingerbread just for Christmas?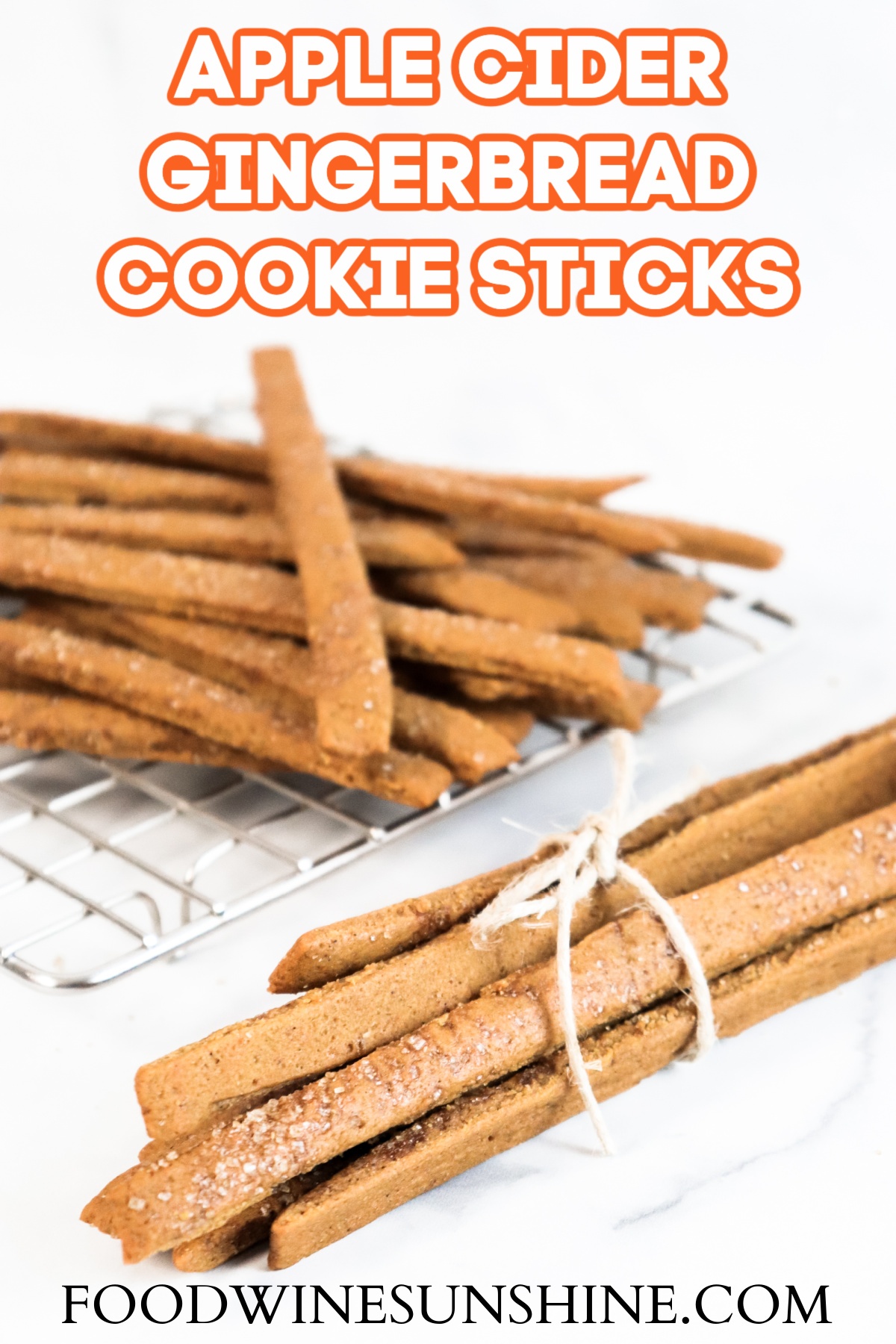 Be sure to check out all the recipes on Food Wine Sunshine and follow on me Facebook, Twitter, Pinterest and Instagram for more FOOD WINE AND SUNSHINE.