(Last Updated On: August 9, 2019)

Welcome Studio 10 Viewers – Budget Friendly Meal Idea for Mother's Day
Good morning and WELCOME Studio 10 viewers! Mother's Day is this weekend and maybe you have fun plans or maybe you have some cooking to do…or maybe you need a hint for an easy recipe idea to give to your hubby or kids 😉
Well, I have a delicious and easy meal and you can have it be ready in under 35 minutes with less than 10 minutes prep time. Add in some flowers and a card, and you have yourself a beautiful dinner!
Look at those Smothered Pork Chop Cups!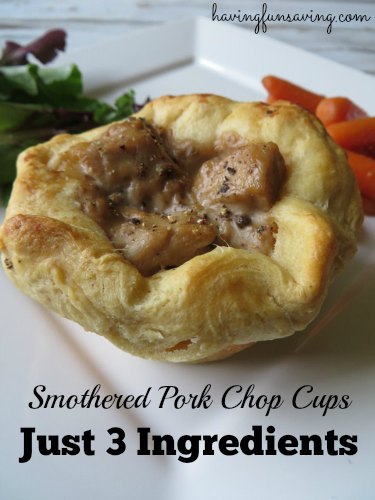 Head HERE to get the recipe – you can get a printable version too! What to watch me cook it LIVE on live – Check out the Studio 10 Segment
If you are looking for some fun Mother's Day gift ideas that won't break the bank – check out the article from my sister-in-law – she has 10 fabulous ideas!
I hope you all have a fabulous Mother's Day – maybe get some relaxing in and lots of extra hugs 🙂
Don't forget to make sure to stay up to date with me! Sign up for my FREE Daily Newsletter and find Food Wine Sunshine on Facebook, Twitter, Pinterest, and Google +.
Looking to learn more about Couponing? Visit all my tips for Getting Started with Coupons