(Last Updated On: September 5, 2019)
Disclosure: I got this product as part of an advertorial.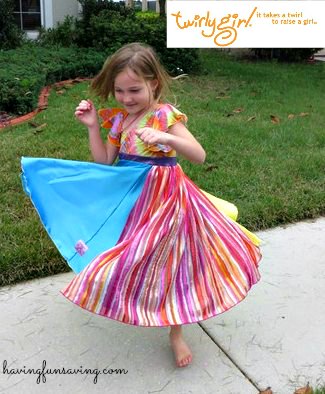 TwirlyGirl Dress Review + Coupon Code
Do you have a little girl in your life? I have a beautiful daughter and it amazing me daily what an adorable girly, girl she can be sometimes! I had my son first, so when Sadie was born I didn't run out and get a bunch of girly toys or anything – I figured she could play with all the goodies we always had. Plus, I was a tomboy – so I really didn't see the need for all things pink and purple. But now, my daughter really adores pretty dresses for girls like these!
Princesses and pink was all she wanted! All on her own! She wanted the pretty and pink and fun and girly. I was so surprised, it just seemed like she was "wired" that way. And of course, I found it adorable! What mom doesn't like to doll up her little lady now and then?
Now Sadie is 6 and she still loves to be girly, have fun, and wear pretty little girl dresses so when I got the opportunity to review a fun dress from the Twirly Girl Shop – I was pretty excited!
These dresses are made to TWIRL. And I means TWIRL! I have never seem a dress twirl so perfectly before…but I guess that's why they are named Twirly Girl 😉 They make pretty dresses for girls. Girls that love to TWIRL.
Check out Sadie in her dress: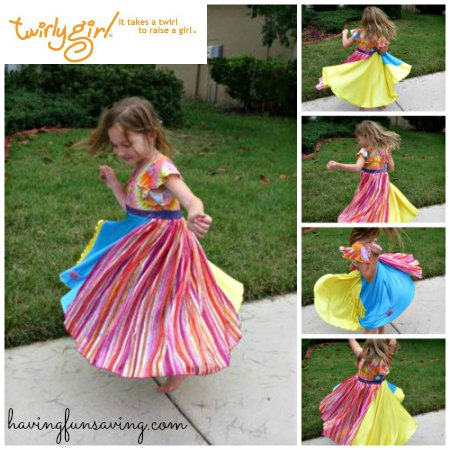 That is the Day Dreaming Dress! Looks fun, doesn't it?! Sadie sure thinks so – and that's the important part to me. In fact, I have to wash hers today because she wants to wear it to school tomorrow 🙂
TwirlyGirl was started by a mom of two little girls that wanted dresses that were fun, comfortable, reversible, and would twirl! So, Cynthia Jamin made them! The girls loved them and wore them all thetime, they hated taking them off! Soon Cynthia was being asked by other parents how to get those pretty girls dresses, and then TwirlyGirl was born!

I will agree that one of the first things Sadie said about the dress was that it wasn't itchy like some other dresses and that it was super comfy.
Where do you get these pretty girls dresses? Shop here! Plus if you use coupon code TGFun (case sensitive) you will receive 10% off your order. Make sure to input the code into the Coupon Code box at checkout, it does expire on 5/15/14 so make sure to get your extra savings soon!
The coupon code does not apply to sale items, gift certificates or Design your Own Dress feature.
You will be happy to know too that each dress comes adorably wrapped and ready to give to that special little day! Dresses are some popular products of Target Ad and Black Friday Ads. Actually, Sadie loves what the dress was wrapped it – it is the super soft material that the dress is made of. She uses it as a hair tie, to play with, and to cuddle with while watching TV.
So, if you have a little lady in your life that loves to have FUN too, I suggest checking out the fun dresses at TwirlyGirl!
Have fun Twirling 😉
Oh, make sure to follow TwirlyGirl on Facebook, Pinterest, Twitter, Google +, and Instagram
While you are at it, find Food Wine Sunshine on Facebook, Twitter, Pinterest, and Google + for more reviews, recipes, and FUN!
I received one or more of the products mentioned above for free using Tomoson.com. Regardless, I only recommend products or services I use personally and believe will be good for my readers.
I received no compensation for this publication. Food Wine Sunshine did receive products from review from The Company TwirtlyGirl. My opinions are my own and may differ from those of your own.