(Last Updated On: September 25, 2023)
Ready in just a few minutes, this Mint Chocolate Protein Smoothie is nutritious, delicious and will remind you of a milkshake…but it doesn't have all the fat and calories! While this post is sponsored by Naked Nutrition, my love for smoothies and healthy living are my own.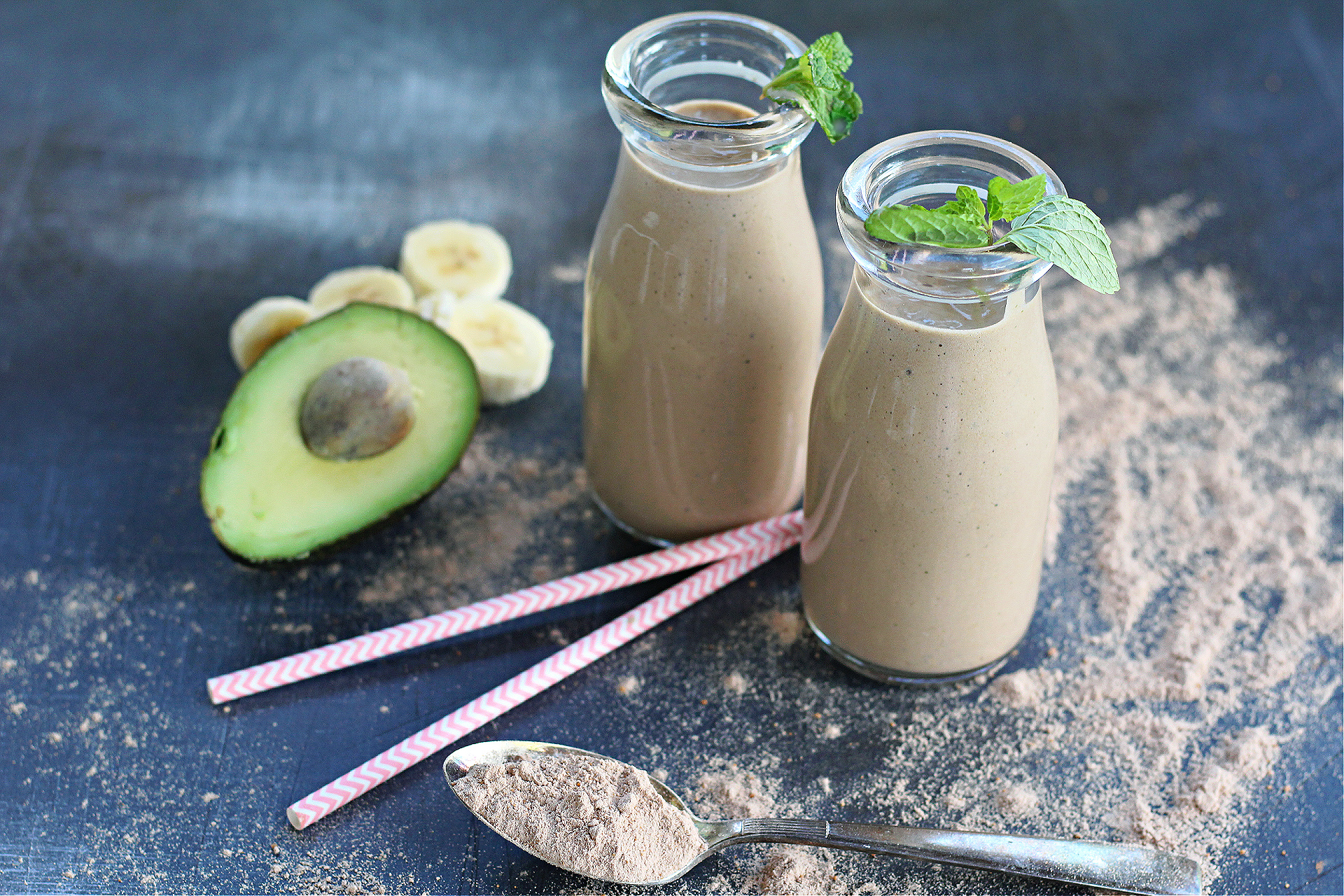 You all know I love a good smoothie. Well, my kiddos are officially on the smoothie bandwagon now too! My daughter is in track and cross country, then most days she goes to the gym too. My son is constantly working outside and goes to the gym a few times a week too.
And as soon as they both get home from the gym, they both want a protein shake. Now, I will admit that they both love the ease of the blender ball thingies, but at least once a week, they want a little more to their protein shakes. This is where an easy smoothie recipe comes in 😉
I am all about adding in some extra nutrients to my smoothies, but to make one that the kids would make again and again, I needed to make sure it was thick, creamy and a little sweet…almost like a milkshake.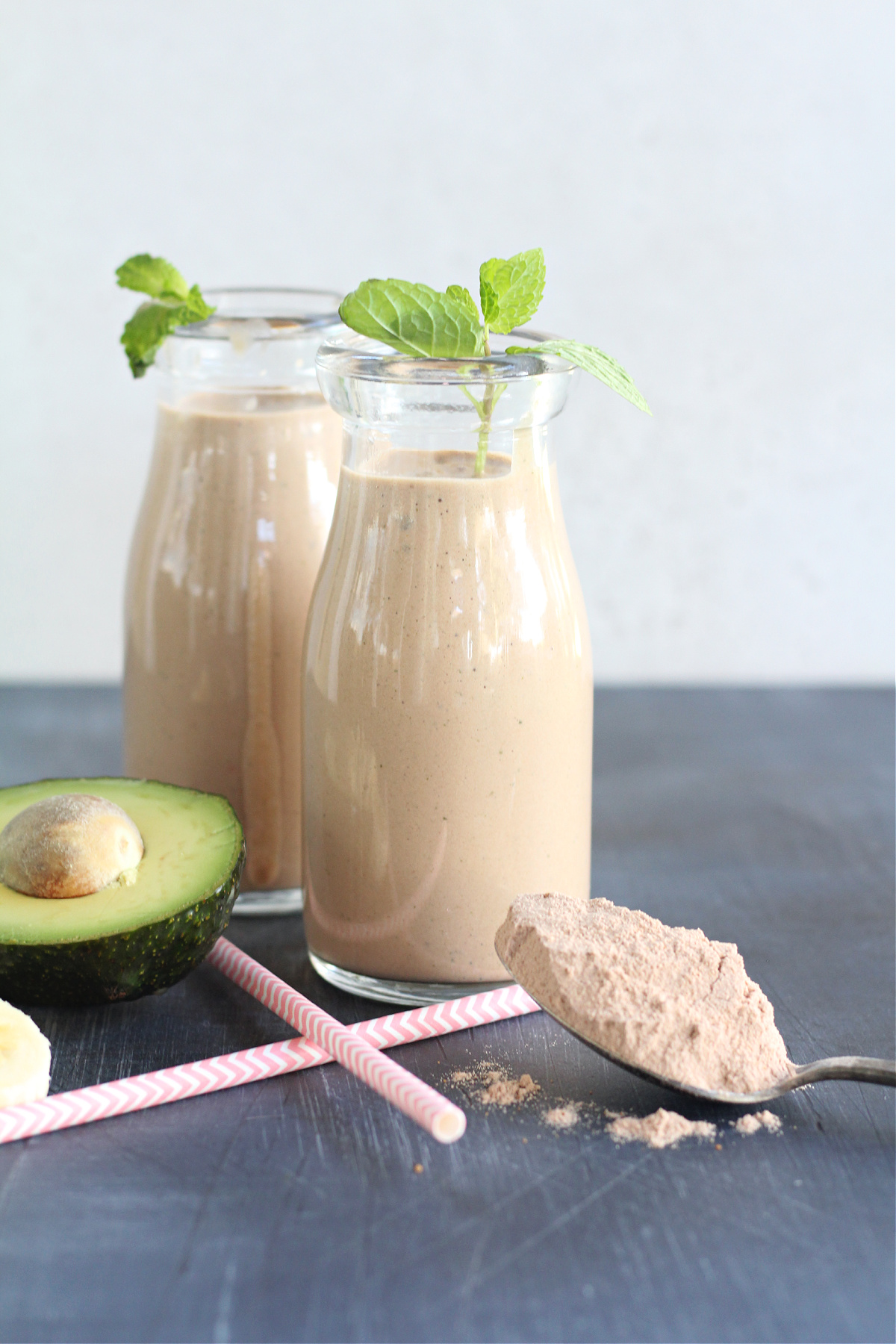 Well, avocados make your smoothies super creamy and add little to no flavor to your blended deliciousness. What avocados do add to your smoothie is vitamins C, E, K, and B6, as well as riboflavin, niacin, folate, pantothenic acid, magnesium, and potassium. Avocados also provide lutein, beta carotene, and omega-3 fatty acids…you know, the healthy fats that are good for us.
Bananas add that touch of sweetness to your smoothie, but they also make it creamy. Bananas are a good source of potassium, and they also have fiber and several antioxidants.
It's mint to be aware of the benefits of fresh mint! This leafy herb is more than a delicious garnish or flavor enhancer. Mint is an excellent source of antioxidants like vitamin A, which can help protect cells from oxidative damage. It also contains a decent amount of iron, which helps transport oxygen throughout the body and keep energy levels up. Mint leaves are also high in fiber, which promotes digestion and regularity. Plus, mint is good source of calcium and magnesium, minerals that help keep bones strong. So, not only do fresh mint leaves make this protein smoothie extra tasty…it's a healthy ingredient to add!
I used milk (Florida Milk to be exact!) in this mint chocolate smoothie not only because milk is loaded with vitamins and nutrients, it also lends to making your protein shake extra creamy and delicious.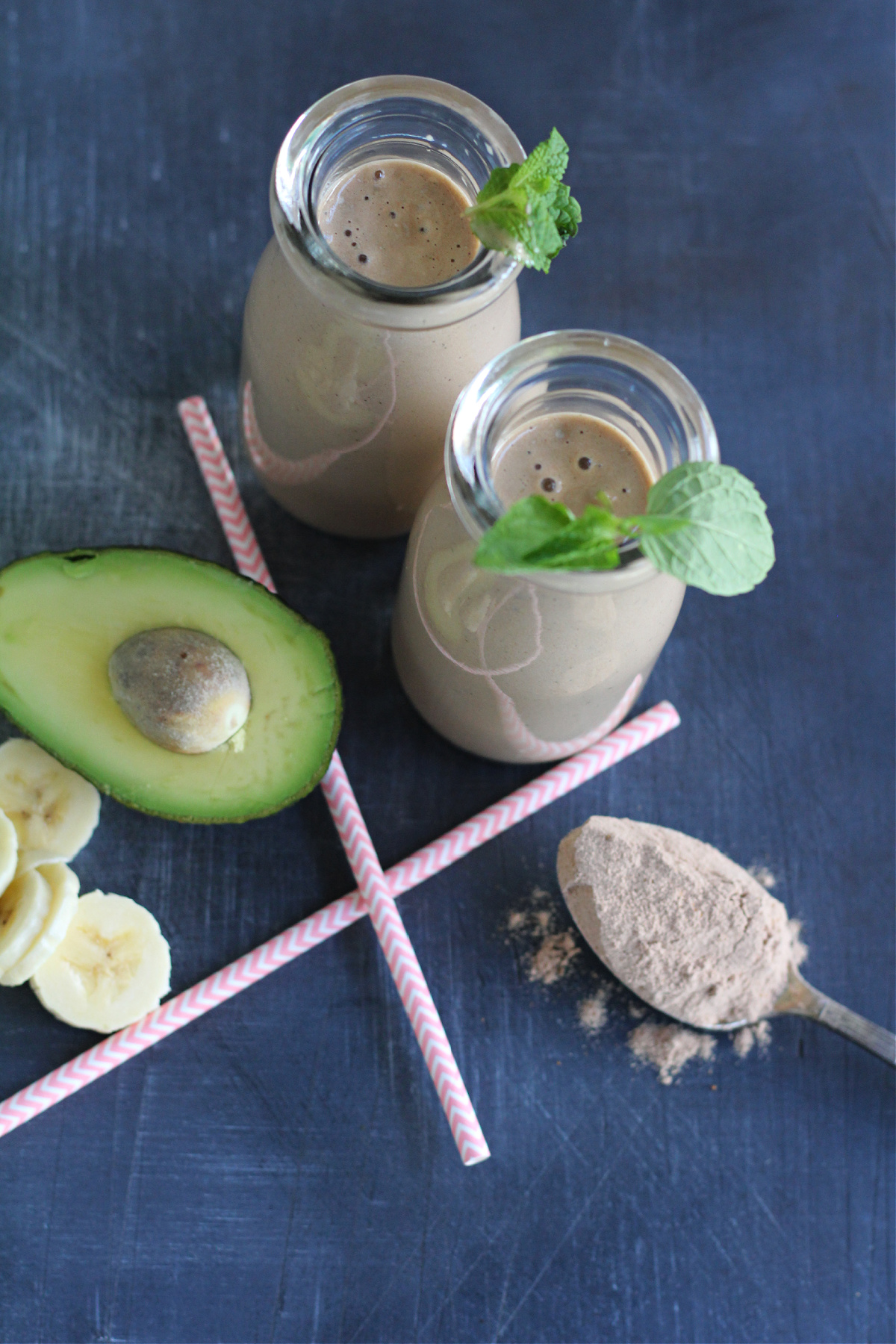 Now, why are my kids dedicated to having a protein shake or a protein smoothie after each workout? Protein is an essential macronutrient that helps repair tissue, build muscle, and make enzymes. So, making it a pretty good option to have after a good workout…a protein shake is also a great idea if your daily diet doesn't consistent of a good amount of protein.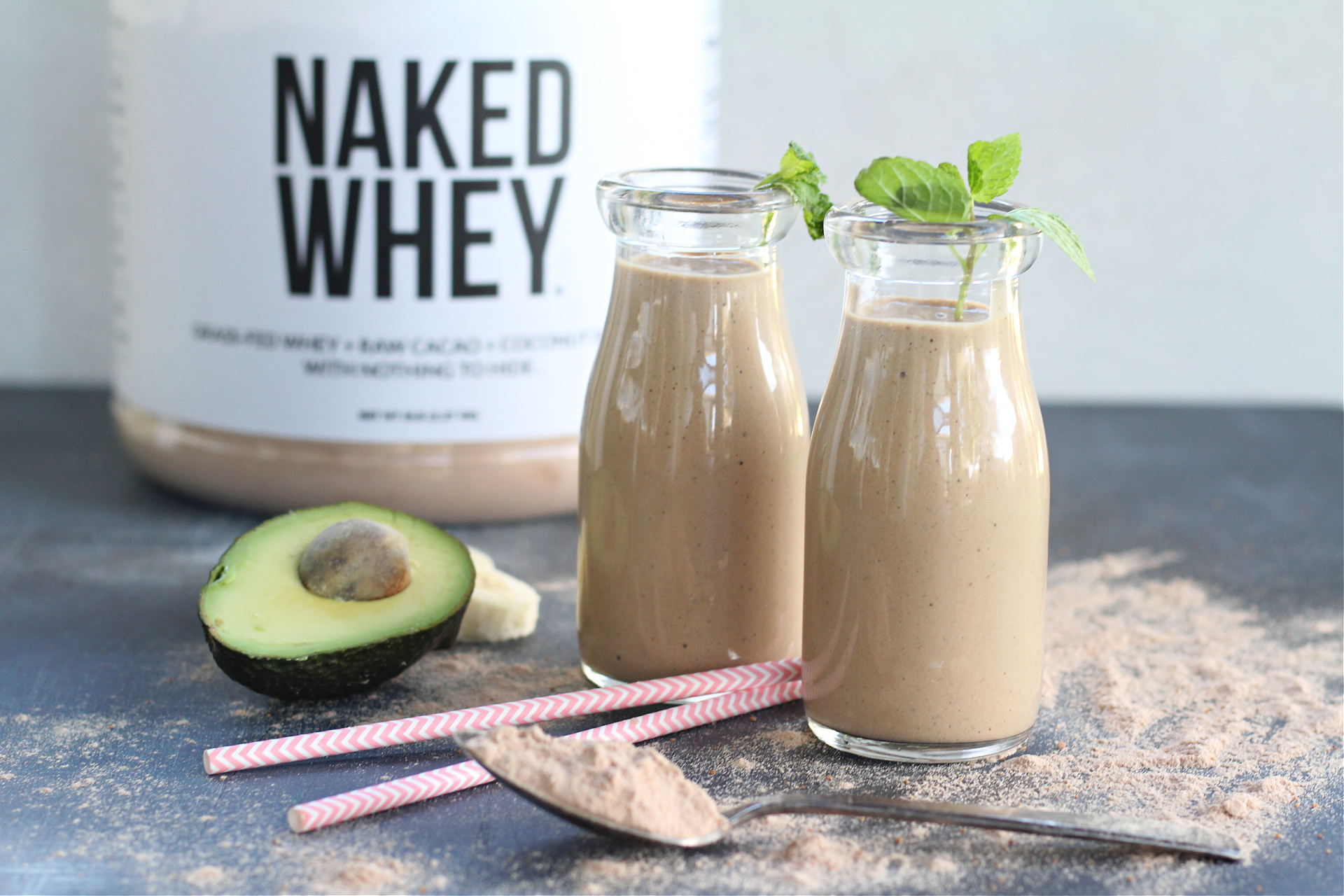 Why do I love having Naked Whey Protein Powder available for the kids (and me!) to make their protein shakes and protein smoothies?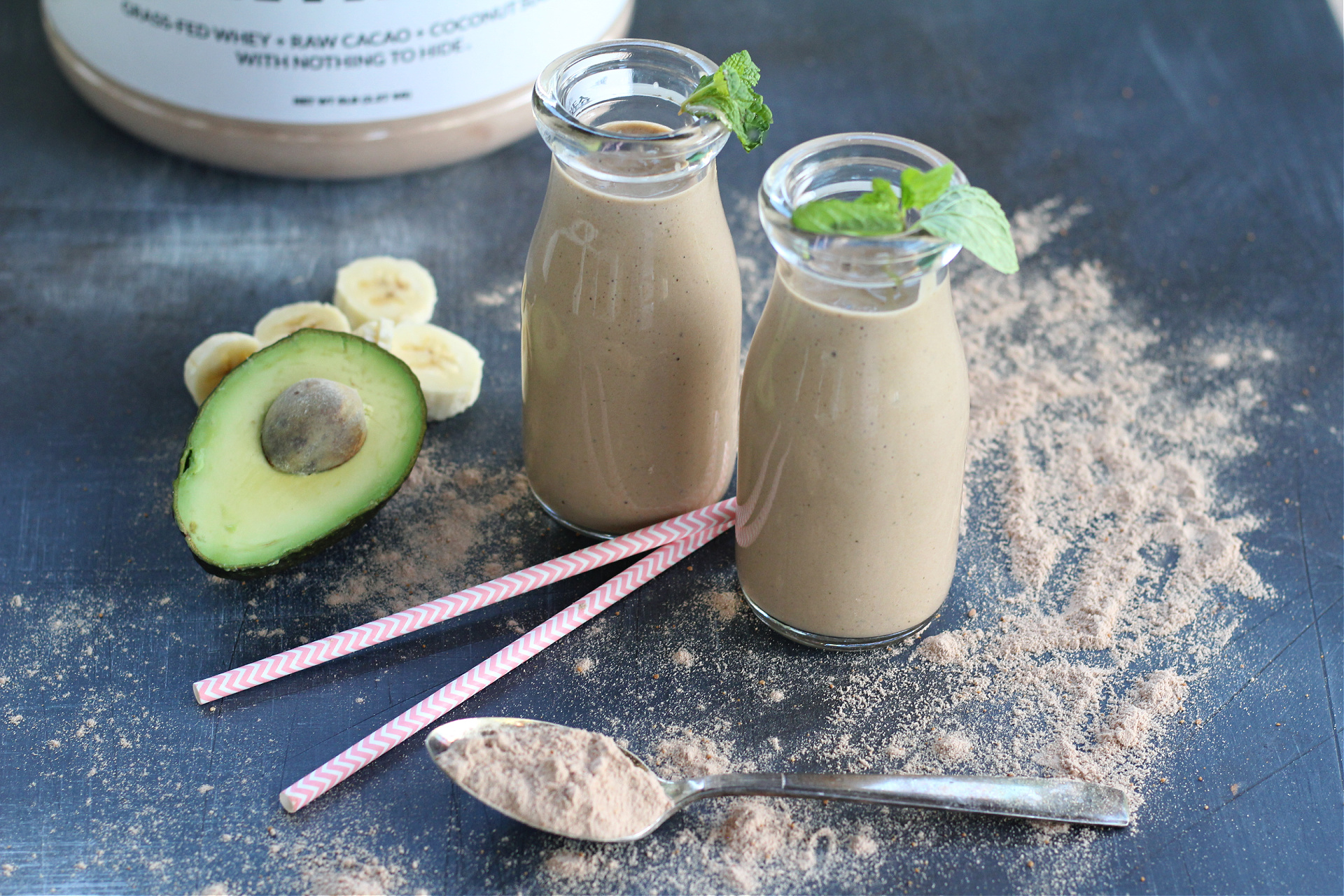 Chocolate Naked Whey is sourced from small Northern California and Idaho dairy farms. Their cows are grass-fed, free roaming, and raised without growth hormones like rBGH or rBST. Each serving of Naked Whey Protein Powder includes 25 grams of protein and 5.9 grams of branched-chain amino acids (BCAAs).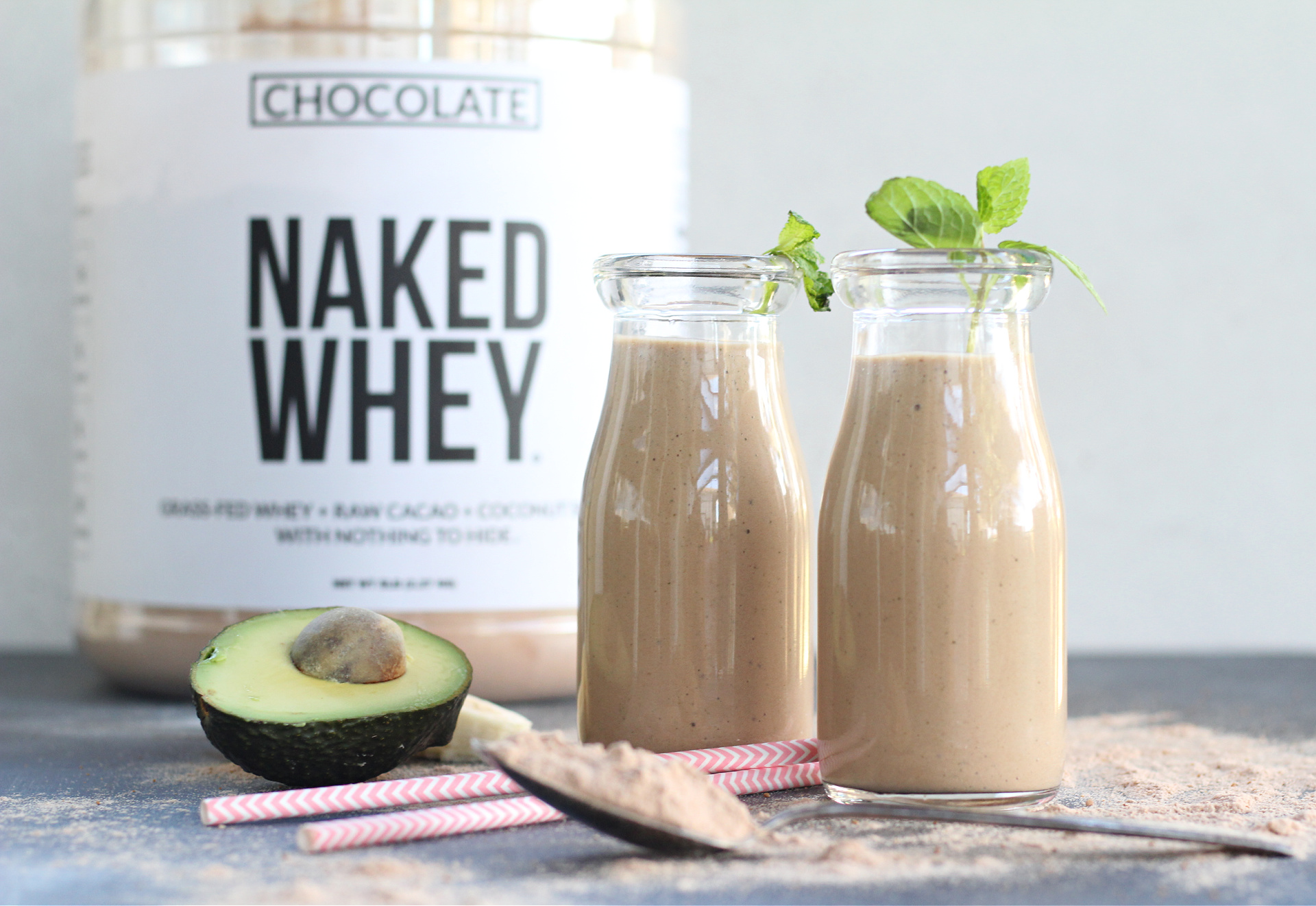 I also love that Chocolate Naked Whey is completely free of additives and artificial sweeteners. Naked Nutrition is proud of the fact that they are committed to shortening the steps between their farms and us.
And I absolutely love supporting any company that supporters our farmers. Farmers are absolutely amazing people that go to work EVERY SINGLE DAY just to make sure we can eat. They haven't met all of us, but yet, they work for us. To provide for us. Farmers are amazing. Thank a farmer. Support the companies that support farmers.
Alright, you all ready to make that Mint Chocolate Protein Smoothie? Let's do it! Oh, you will notice I used fresh mint, but if you have mint oil, you can totally use that, I'm just not positive of the conversion of fresh herbs to oil…but if you use mint oil, you probably do 😉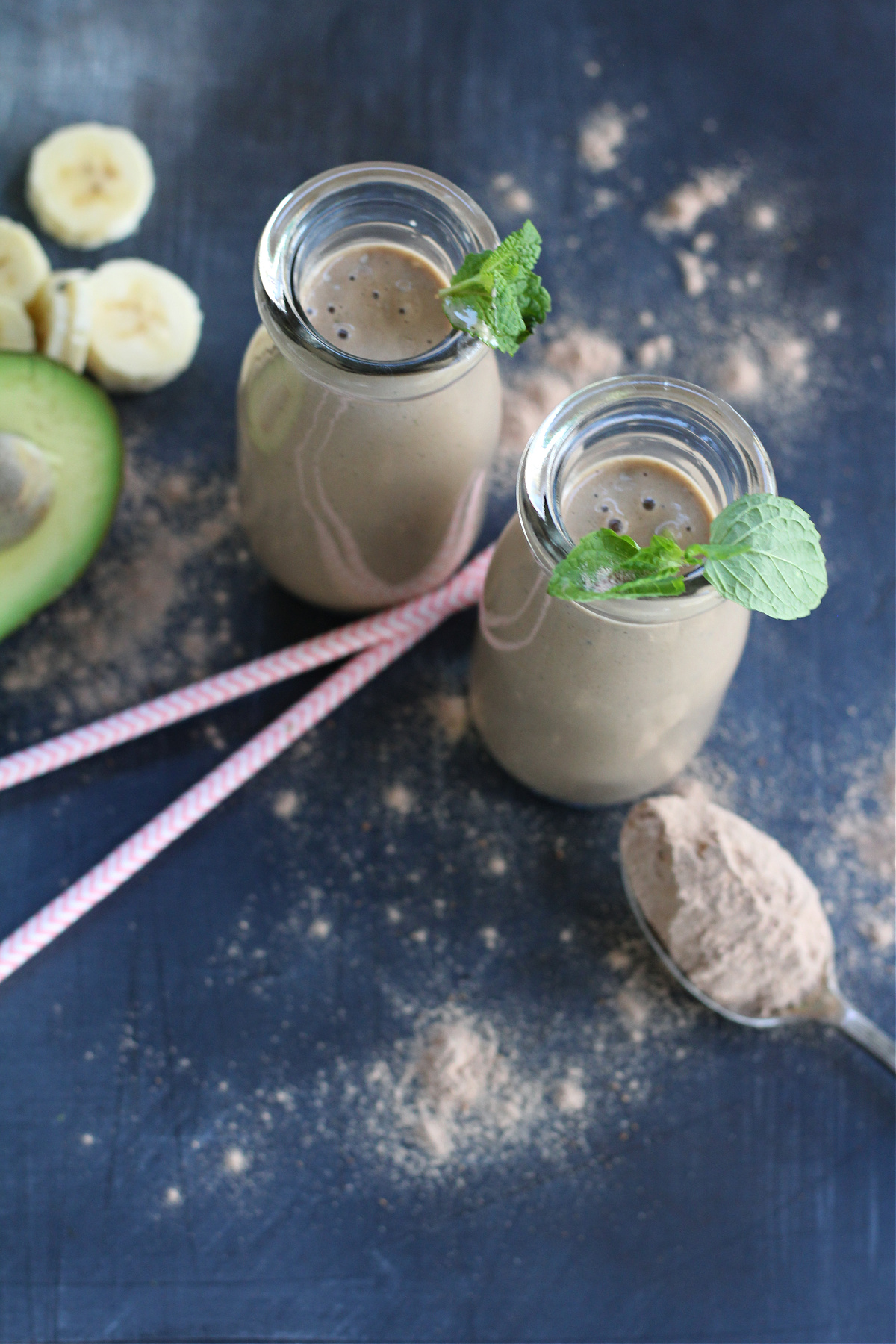 Wait…one more thing, I wanted to let you know that neither of my kiddos would eat an avocado on it's own and my son won't even eat a banana, but both loved this smoothie!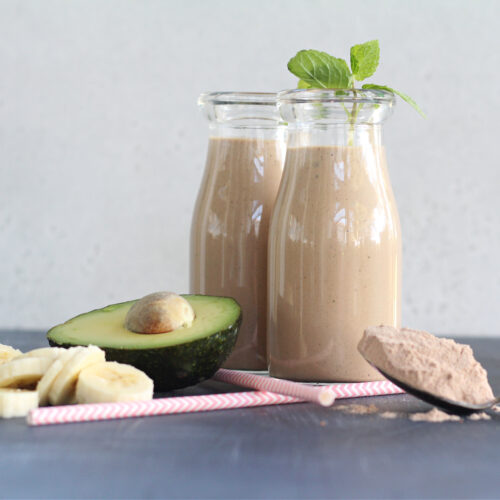 Mint Chocolate Protein Shake
Ready in just a few minutes, this protein shake tastes just like a mint chocolate milkshake but it's much better for you!
Print
Pin
Rate
Ingredients
1

cup

milk

I used 2%

½

avocado

skin and seed removed

½

banana

peeled

2

scoops

chocolate protein powder

Naked Nutrition

20

mint leaves
Instructions
Place all the ingredients into your favorite blending device.
Nutrition
Calories:
568
kcal
|
Carbohydrates:
50
g
|
Protein:
47
g
|
Fat:
26
g
|
Saturated Fat:
9
g
|
Polyunsaturated Fat:
2
g
|
Monounsaturated Fat:
12
g
|
Cholesterol:
100
mg
|
Sodium:
354
mg
|
Potassium:
1637
mg
|
Fiber:
19
g
|
Sugar:
21
g
|
Vitamin A:
1429
IU
|
Vitamin C:
22
mg
|
Calcium:
770
mg
|
Iron:
2
mg
Do you like to make smoothies? What is one of your favorite smoothie recipes?
Be sure to check out all the recipes on Food Wine Sunshine and follow on me Facebook, Twitter, Pinterest and Instagram for more FOOD WINE AND SUNSHINE.