(Last Updated On: February 1, 2023)
This healthy salmon recipe is ready in about 30 minutes. Easy to make, a little sweet and a little spicy, this Tangerine and Jalapeno Salmon the perfect weeknight meal that is sure to impress. While this post is sponsored by Noble Citrus, the recipe and my love for supporting farmers is my own.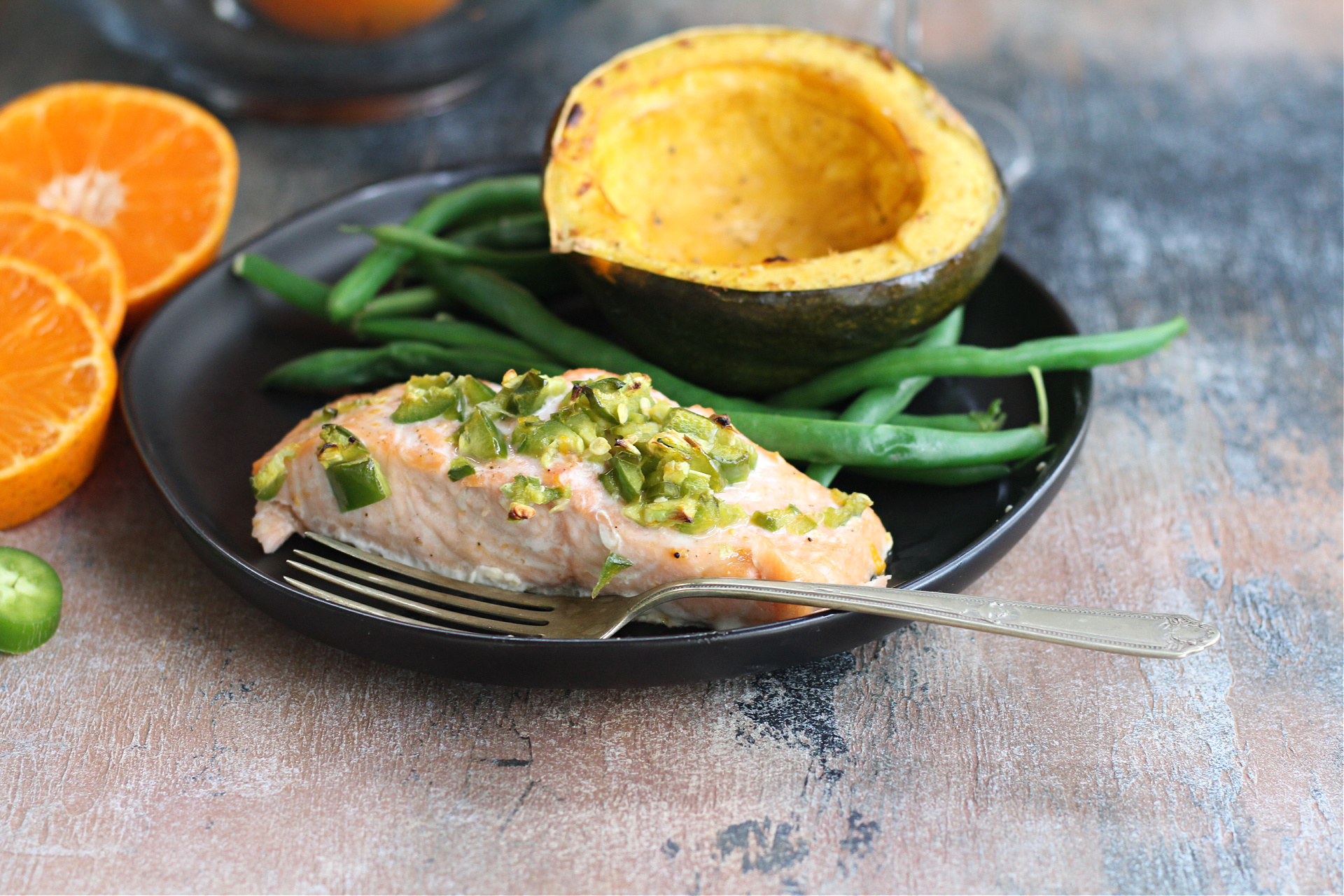 Florida Juicy Crunch tangerines are in season right now, so I am not only enjoying them as a healthy and easy snack, I am loving cooking with them! My husband and I love salmon and just about anything spicy, so I got a little creative with dinner last night and combined tangerines, jalapenos and made an amazing salmon dish. This easy salmon recipe combines sweet and spicy flavors to create an amazing flavor combination that will quickly become a family favorite. The spicy jalapenos are balanced perfectly with the sweet Juicy Crunch tangerines, making it an unique and flavorful healthy weeknight meal.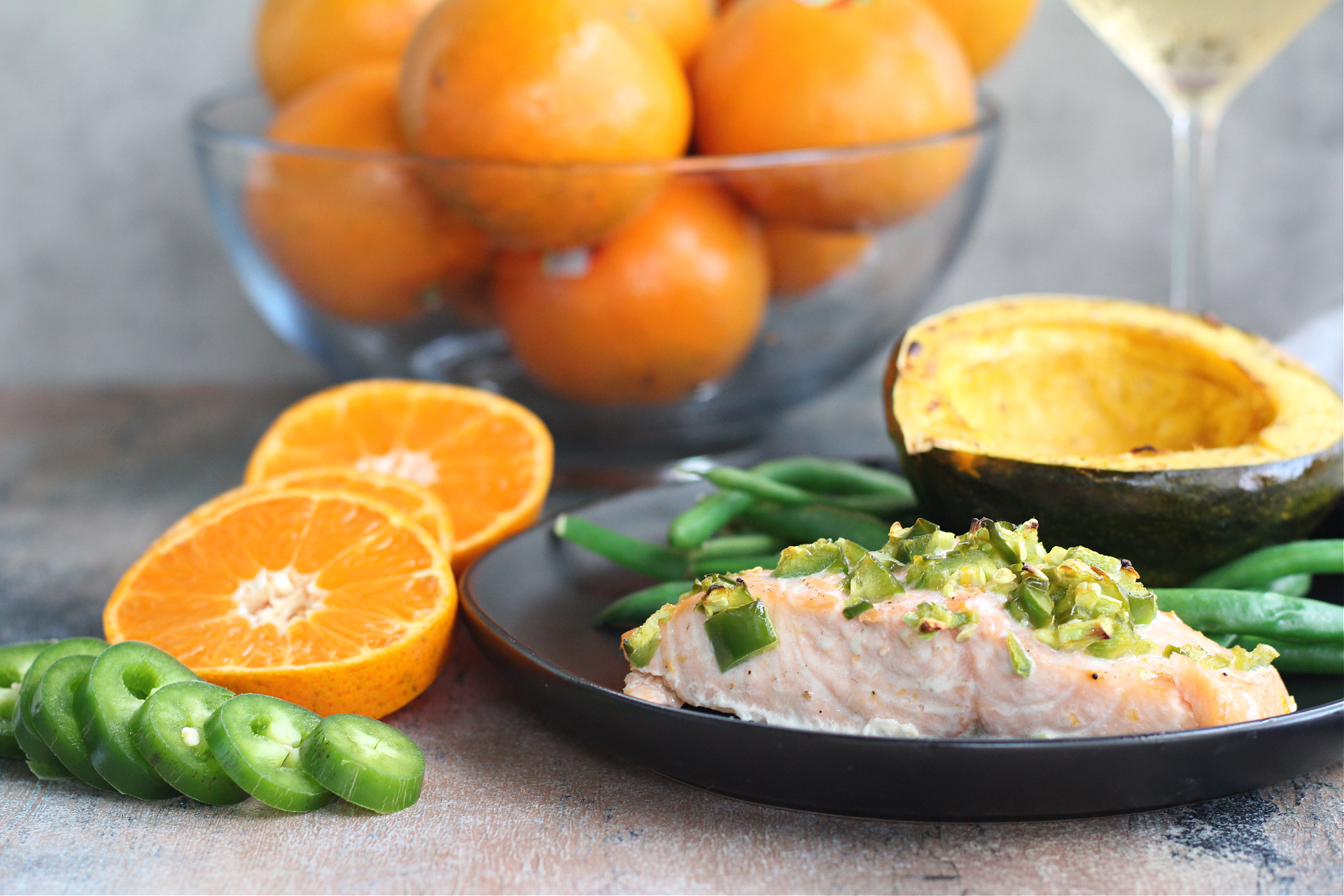 Why is salmon considered healthy?

Salmon is a fatty fish that contains high levels of omega-3 fatty acids – an essential nutrient for both physical and mental health. Omega-3s have been shown to reduce inflammation and the risk of heart disease, among other benefits.
Salmon is also a good source of protein and vitamin D, which can help strengthen your bones and immune system. It also contains selenium and B vitamins, two key nutrients for maintaining energy levels and a healthy metabolism. Additionally, studies suggest that eating salmon may even improve brain function over time! All in all, salmon packs quite the nutritional punch – no wonder it's considered one of the healthiest foods out there!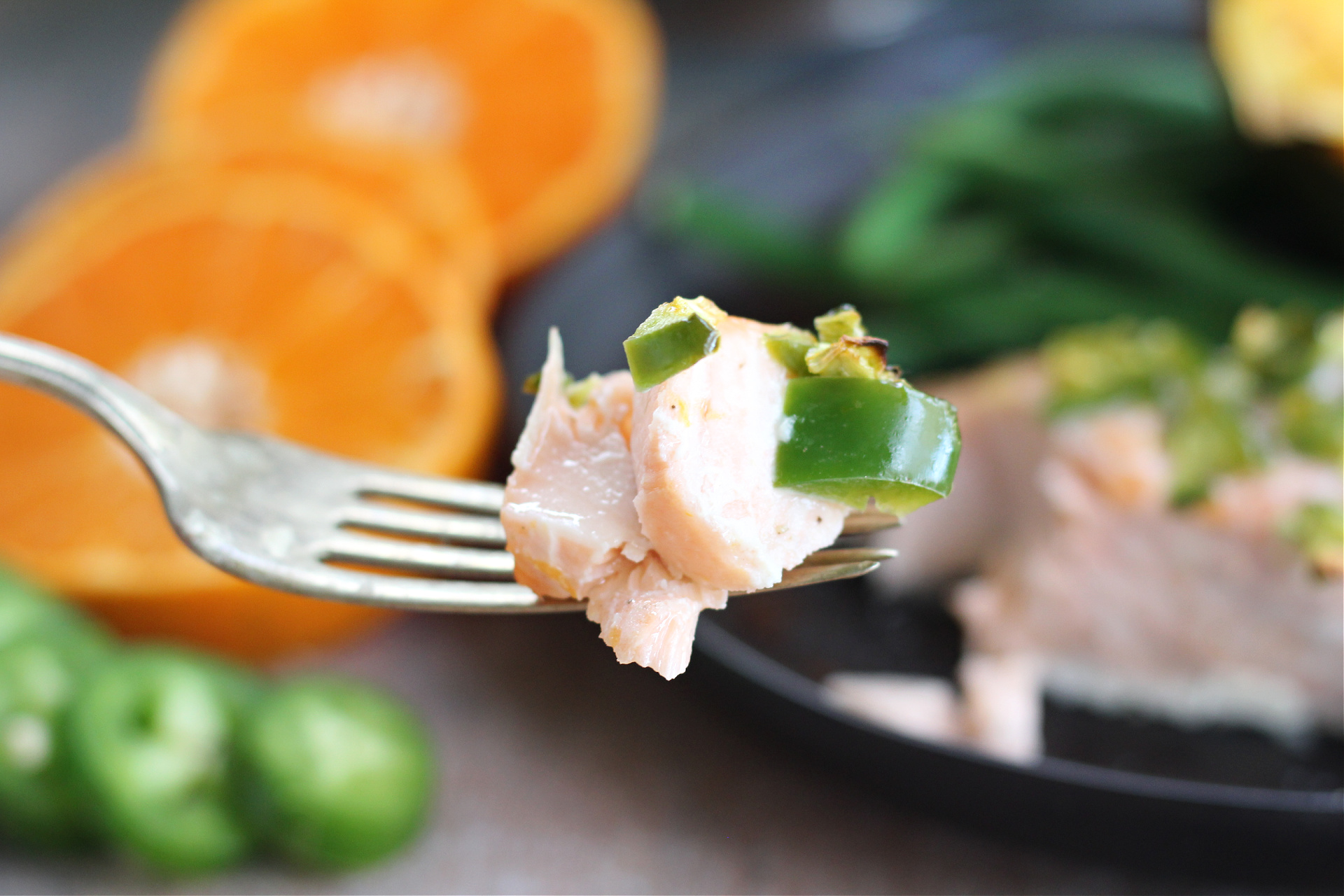 How do you know if salmon is good?

Fresh salmon is one of the most delicious and nutritious meals you can enjoy. When selecting salmon at the store, it's important to know what to look for in order to make sure your purchase is fresh and flavorful. Here are some tips that will help you determine if what you're buying is good quality salmon:
First and foremost, take a look at the color of the flesh, which should be an even pink or orange color with no signs of discoloration or gray hues. The flesh should also feel firm to the touch and not slimy or sticky – this indicates that it was just recently caught but has been stored properly. Additionally, smell is key: If it smells overly fishy or like ammonia, steer clear!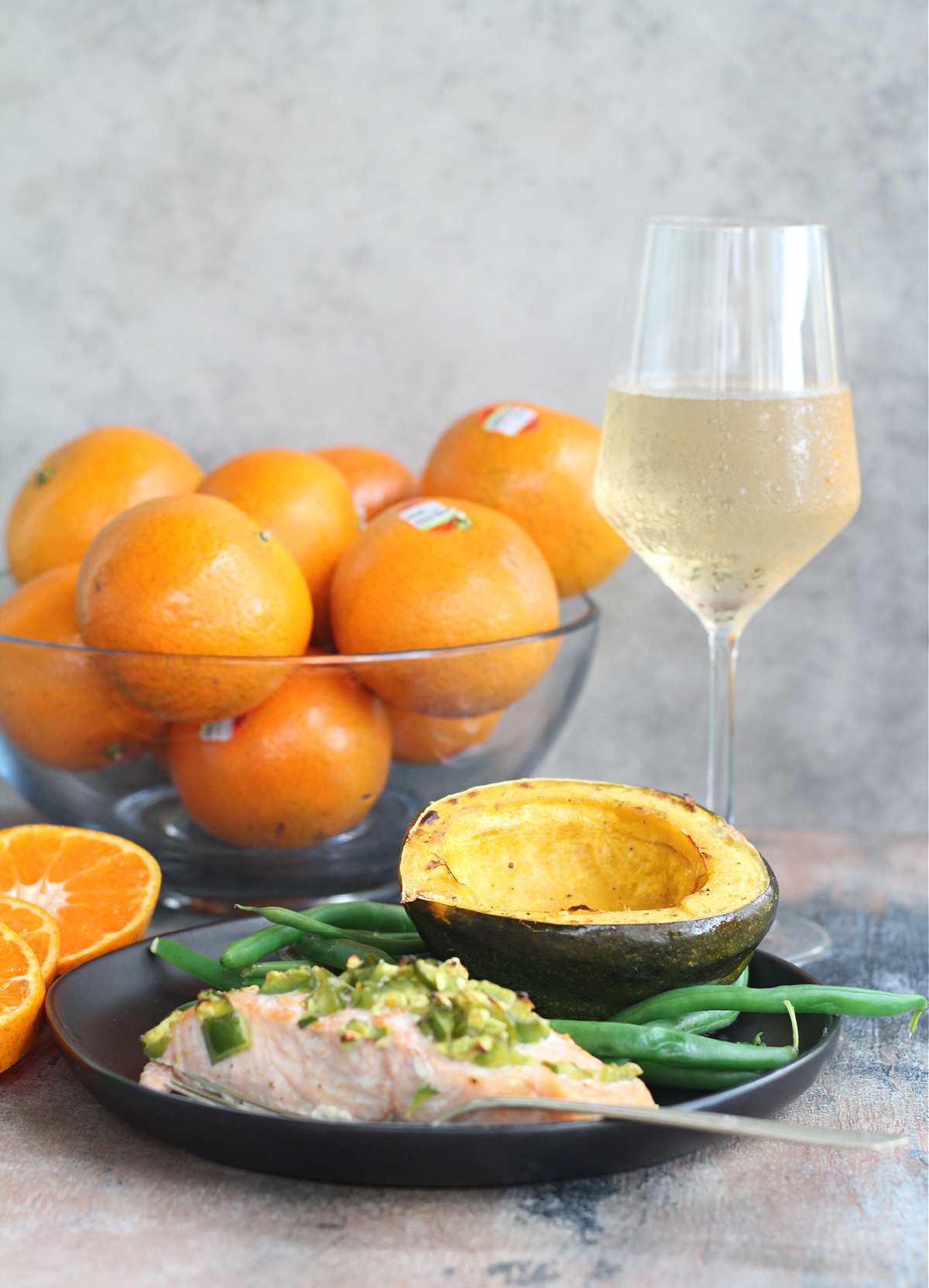 When are Florida tangerines in season?

Florida tangerines are a popular and delicious citrus fruit that I know I would love to enjoy all year long, but Florida tangerines aren't available all year!
The peak season begins in September and runs typically through April. Find out more when tangerines are in season.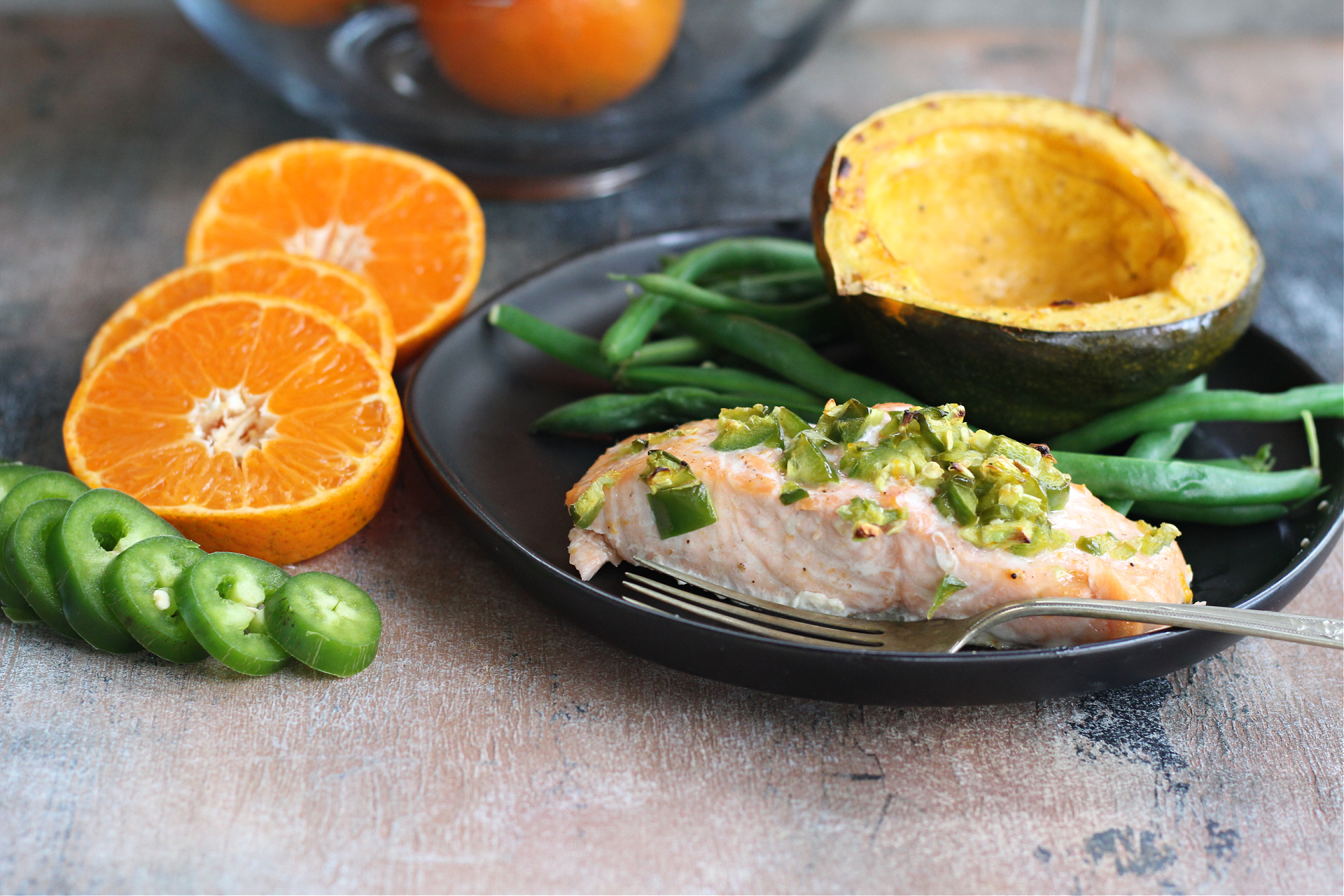 Why do citrus and spicy flavors taste good together?

When it comes to tasty combinations, citrus and spicy flavors are a match made in heaven. This dynamic duo creates an explosion of flavor that tantalizes the taste buds, making for an unforgettable culinary experience. I used Juicy Crunch tangerines in this recipe because they are a sweetest and juiciest tangerines you will ever find.
It turns out there is science behind it! Citrusy flavors like lemon, lime and orange bring a tartness that helps to cut through the heat of spicy ingredients such as chili peppers or even spices like cumin and paprika. The two components work together to create a balance of sweet, sour and heat that can't be achieved with either flavor alone. Plus, the combination makes food more interesting by adding layers of complexity to dishes.
Citrus-spice pairings are also incredibly versatile – they can be used in everything from Mexican cuisine to Asian-inspired dishes, desserts or even cocktails!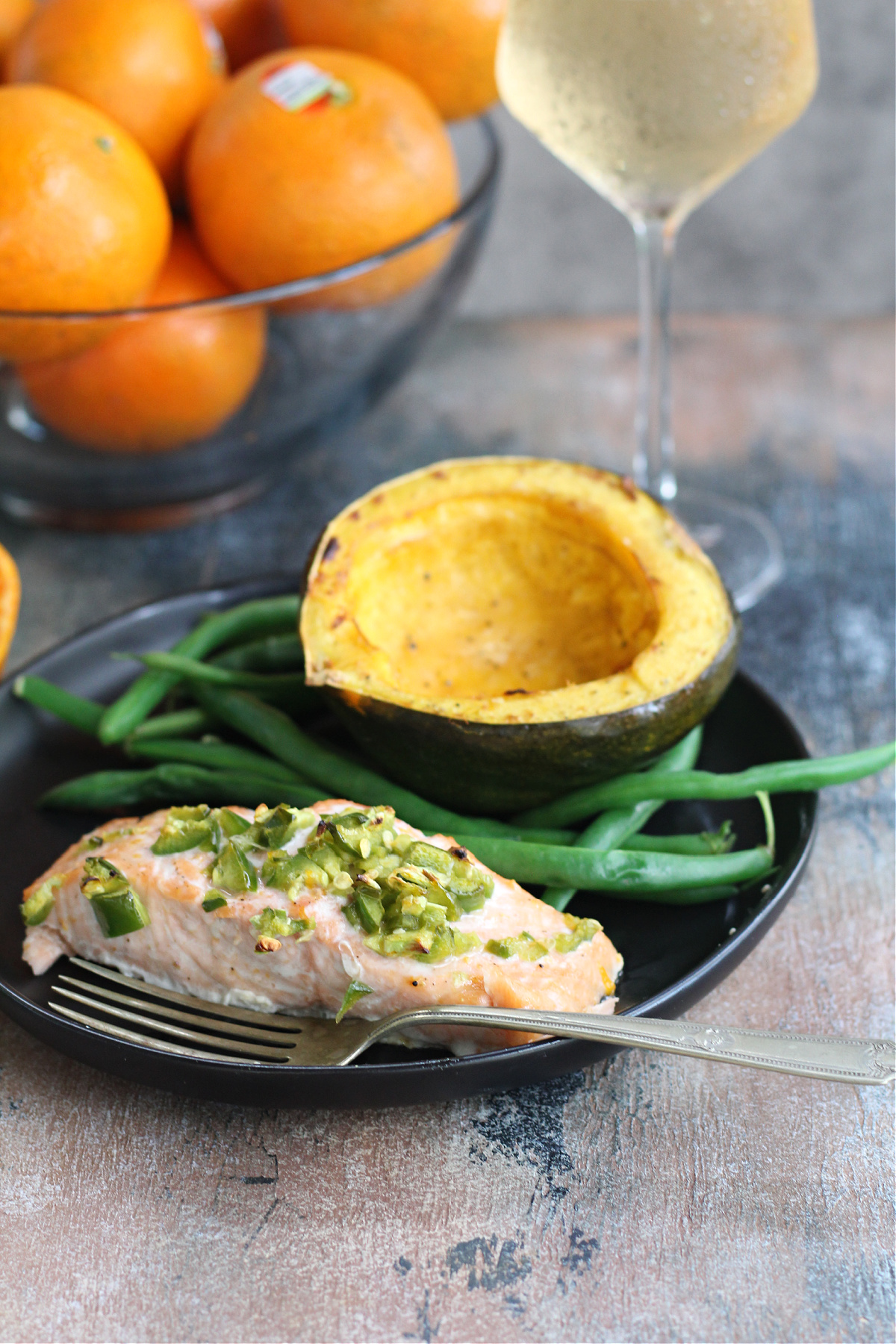 What sides to serve with salmon?

Making dinner is a balancing act, am I right?! On one hand, you want to make sure your main dish is packed with flavor and nutrients so that everyone can enjoy it but we also don't want to spend a ton of time in the kitchen.
If you're looking for some delicious side dishes to pair with your salmon dinner that are super easy to make, consider steamed vegetables like broccoli or green beans. Roasted veggies are also delicious! I did green beans and roasted acorn squash for my sides and they were AMAZING.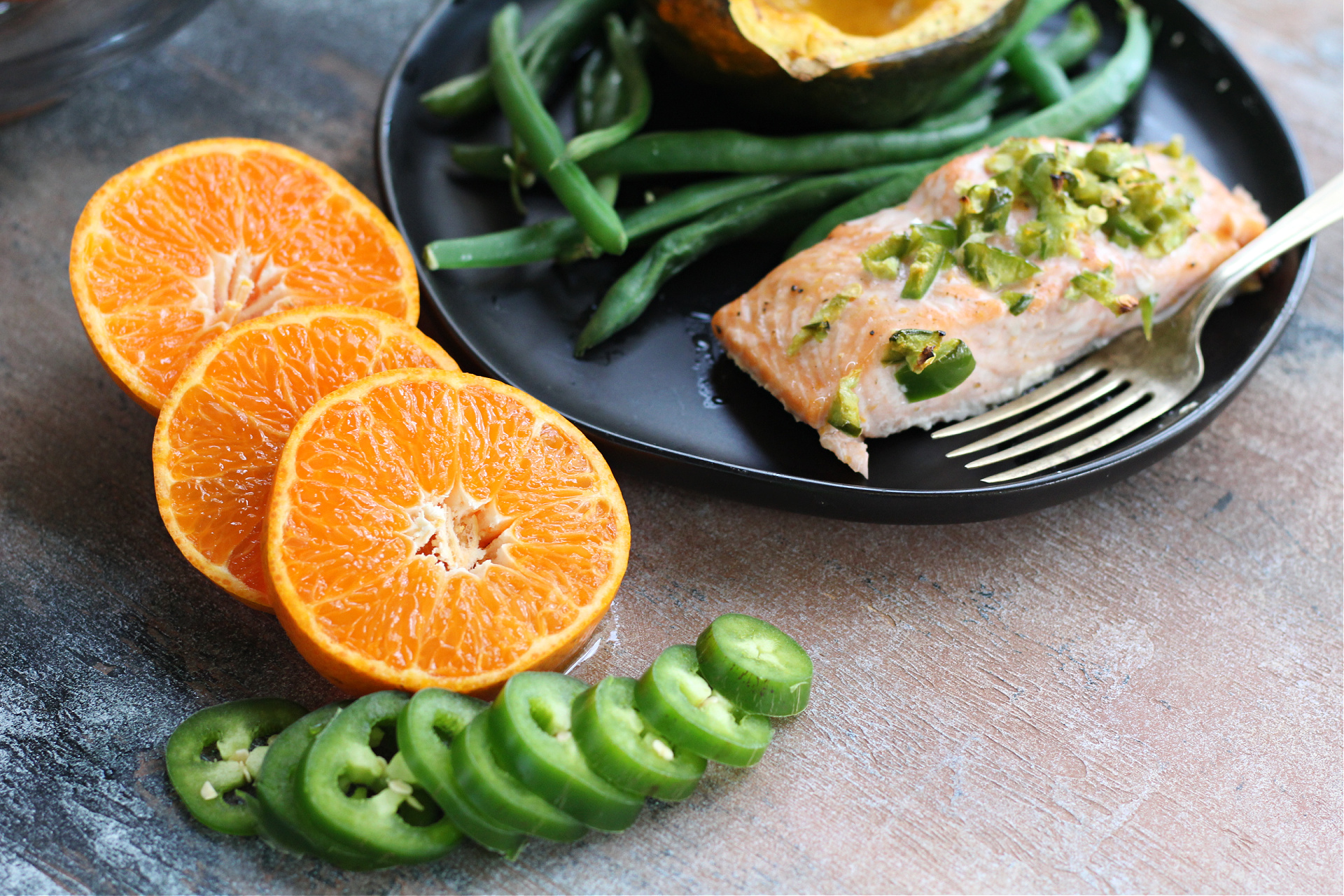 What wines pair best with citrus and spicy dishes?

A glass of wine is always a good idea in my opinion, but if you are serving something spicy and with citrus, the pairing may have you guessing which will be best. A great option is Sauvignon Blanc or Chenin Blanc – both of which offer subtle floral flavors that enhance the zesty tang of citrus. If you're looking for something red, try Pinot Noir or Beaujolais – both have delicate fruit notes that balance out the spiciness. But, honestly, at the end of the day – the best wine is the one you will enjoy.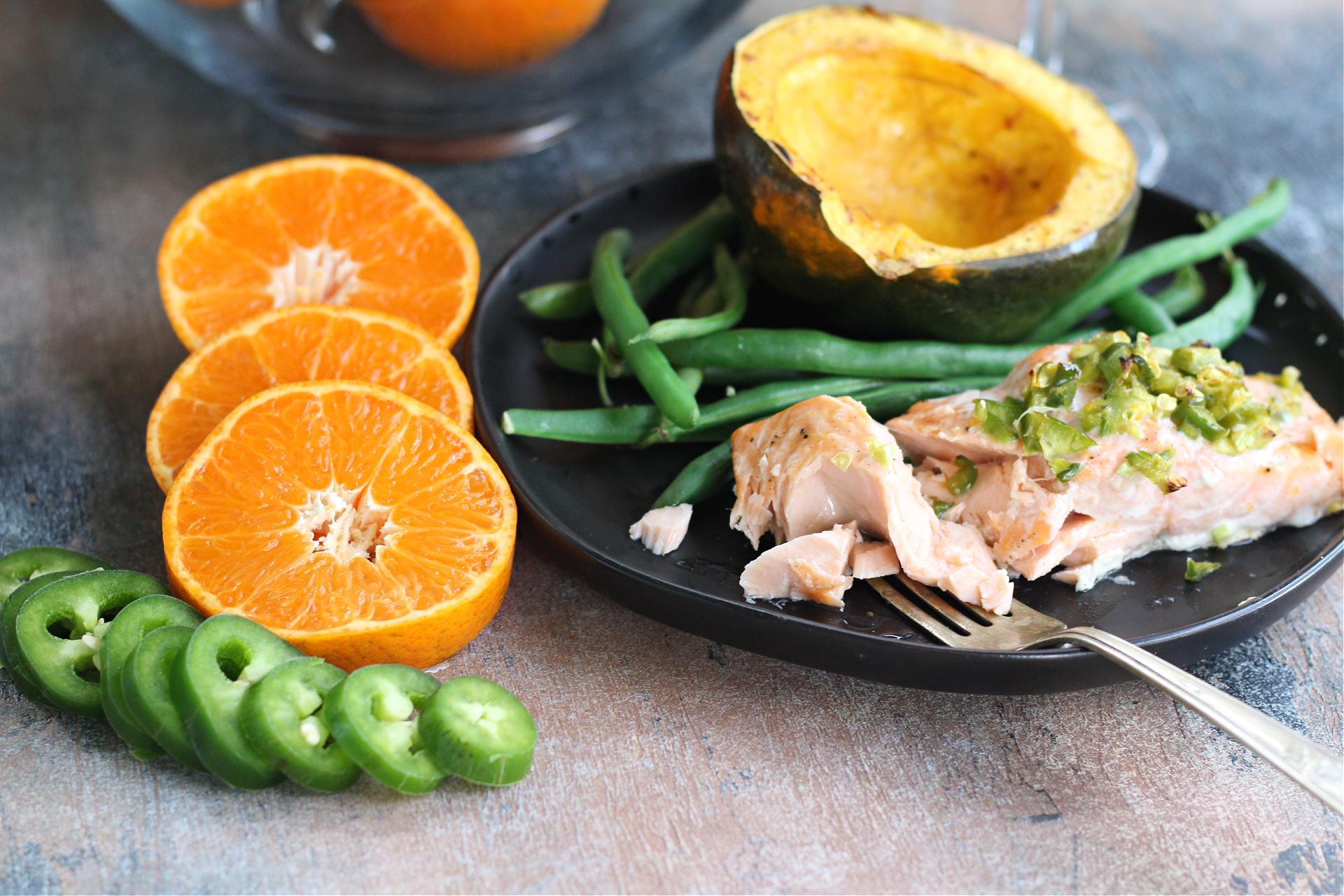 Ok, let's make some baked salmon shall we?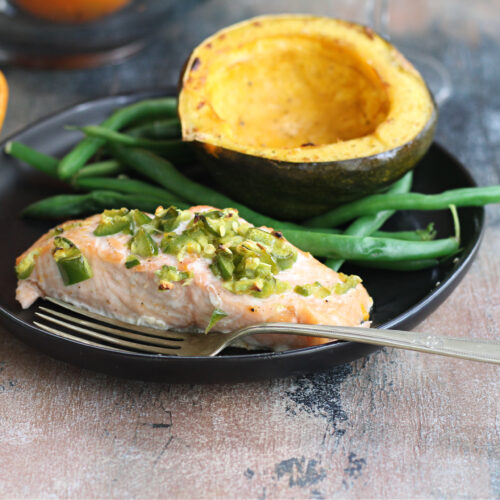 Healthy Tangerine and Jalapeno Salmon
A little sweet, a little spicy and the perfect blend of healthy, this Tangerine and Jalapeno Salmon is ready in under 30 minutes and is absolutely delicious!
Print
Pin
Rate
Ingredients
2

Juicy Crunch tangerines

1 sliced, 1 for juice

2

limes

1 sliced, 1 for juice

1

lb.

salmon

1

tbsp.

honey

1

jalapeño

chopped

Salt and pepper
Instructions
Spray a baking pan with olive oil spray.

Lay lime and tangerine slices in an even layer and place salmon on top.

Season salmon with salt and pepper.

In a small bowl or glass measuring cup, combine juices,, honey, and jalapeño. Pour over salmon.

Bake salmon until center reaches 140° and flakes easily with a fork, about 20-30 minutes depending on thickness of salmon.

Enjoy with roasted/steamed veggies and a nice glass of wine.
Nutrition
Calories:
439
kcal
|
Carbohydrates:
32
g
|
Protein:
46
g
|
Fat:
15
g
|
Saturated Fat:
2
g
|
Polyunsaturated Fat:
6
g
|
Monounsaturated Fat:
5
g
|
Cholesterol:
125
mg
|
Sodium:
104
mg
|
Potassium:
1360
mg
|
Fiber:
4
g
|
Sugar:
23
g
|
Vitamin A:
801
IU
|
Vitamin C:
53
mg
|
Calcium:
87
mg
|
Iron:
2
mg
Whats one of your favorite salmon recipes?
Learn more about Juicy Crunch online and be sure to follow on Facebook, Instagram and Twitter to stay up to date with all things Noble Tangerines.
Make sure to check out Food Wine Sunshine on Facebook, Twitter, Pinterest, and Instagram for more healthy living tips, healthy recipes, things to do and more.