(Last Updated On: February 13, 2023)
Looking for the perfect wines to serve with your perfect charcuterie board? Here is how to pair wine with charcuterie, along with tips for building the perfect charcuterie board. While this post is sponsored by Noble Citrus, my love for charcuterie and fantastic wine is my own.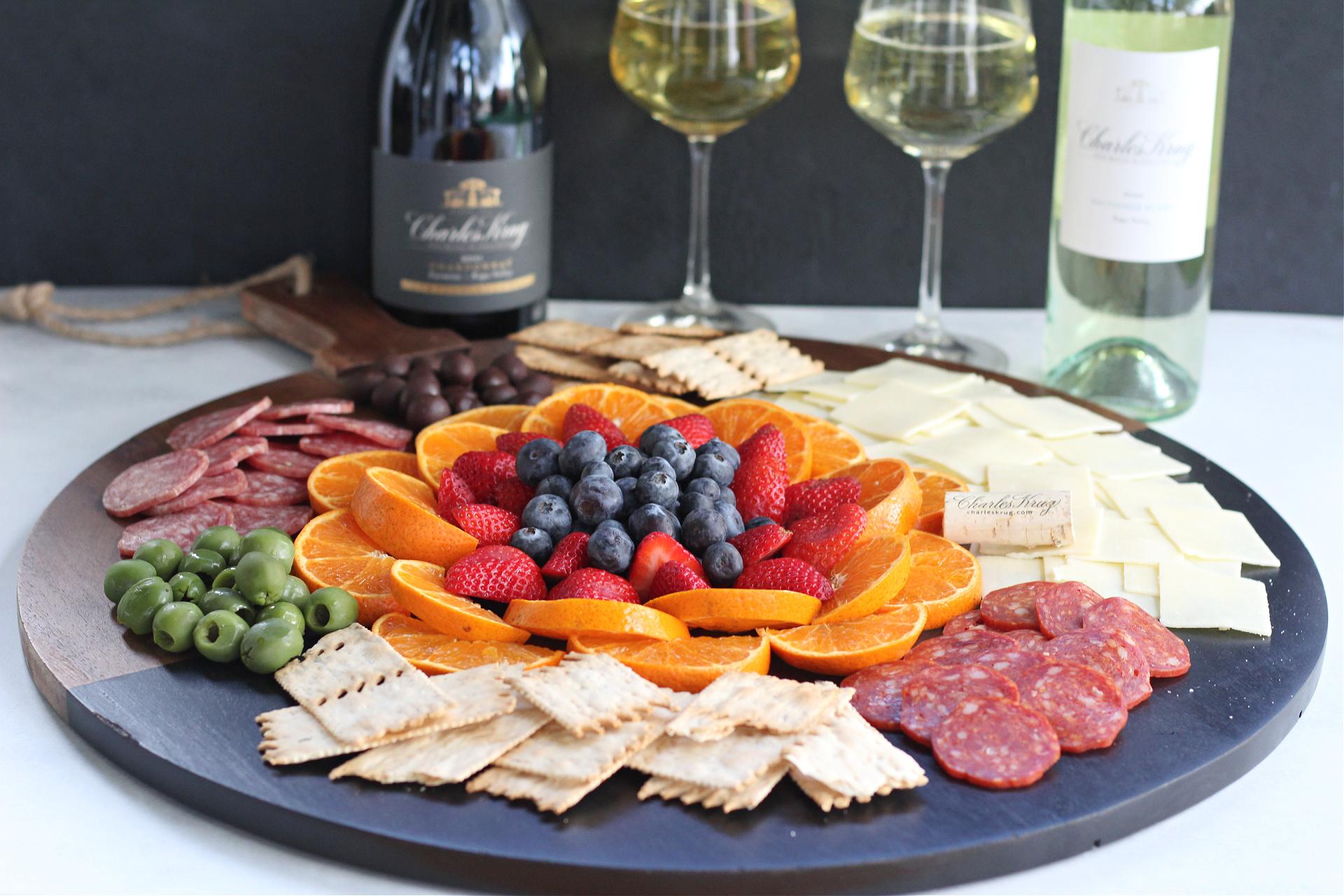 There's just something special about putting some of your favorite foods on a board. So simple, right? But oh so perfect! The best part about making a charcuterie board is that you can put just about whatever you want on it; from fresh fruit, vegetables, meats, cheeses, chocolates, seriously, the sky is the limit! And, of course, the perfect beverage to go with your charcuterie board is wine. Let's be honest, wine is the perfect accompaniment to most meals and snacks in my opinion 😉
Charcuterie boards have become a staple at gatherings and events, providing a variety of delicious snacks and treats to mingle over while sipping on your favorite wines. Not only are snack boards visually appealing, but they offer a variety of flavors and textures that make them the perfect pairing with wine. Whether you're hosting a small get-together or a large party, a charcuterie board is a great way to add some sophistication and amazing snacks to your event.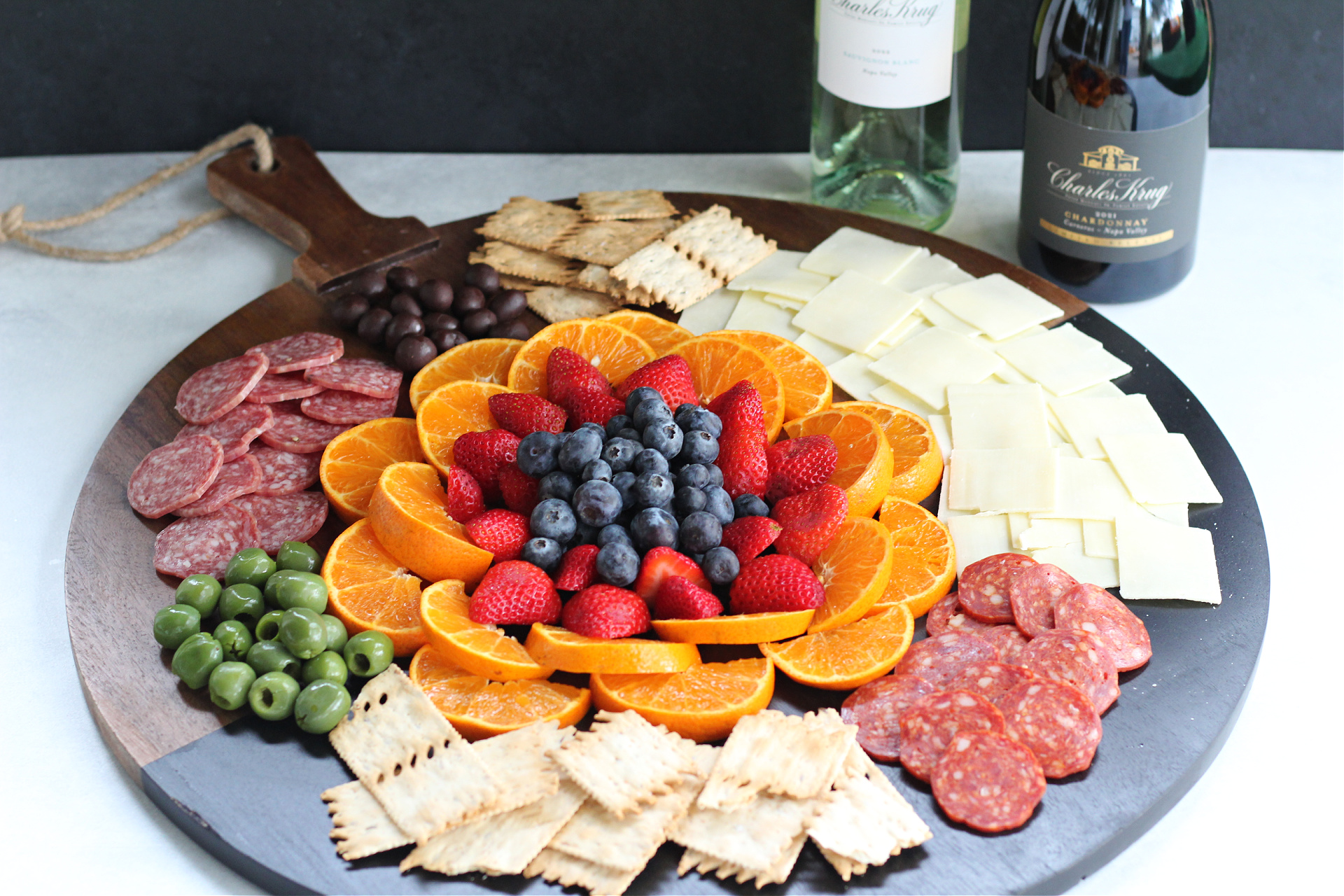 How to make a charcuterie board

Making a charcuterie board is simple and can be done with just a few ingredients. Start by selecting a variety of meats, cheeses, crackers, fruits, and nuts. Arrange them on a wooden board or platter in an attractive manner. Make sure to include a variety of textures and flavors, such as soft and creamy cheeses, crunchy crackers, and juicy fruits. You can add some greenery, such as basil or rosemary, to the board to add color and texture. Finally, arrange the items in an attractive and visually pleasing manner, leaving space between each item so they are easily accessible.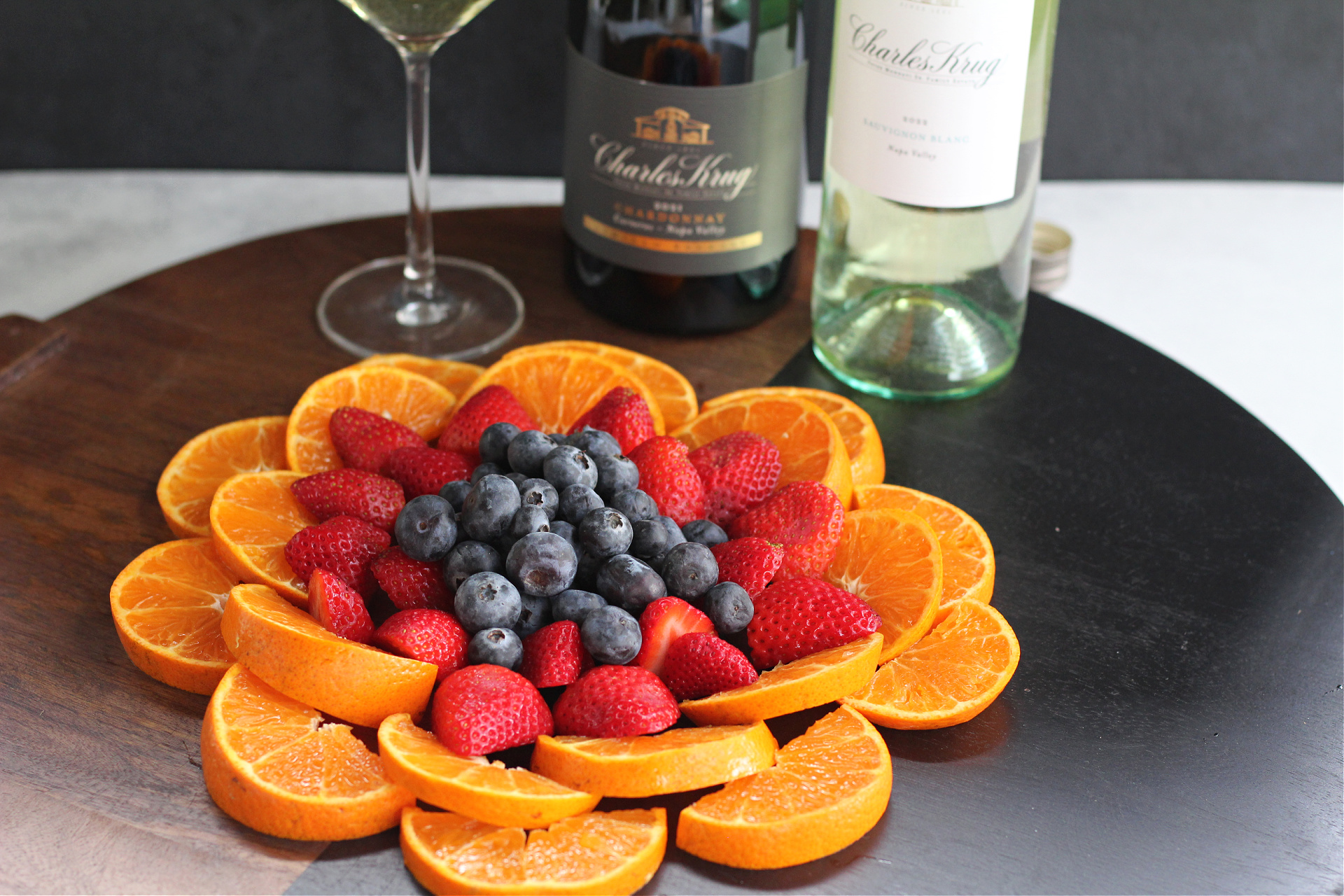 For this one, I arranged the fresh fruit (Juicy Crunch tangerines, Florida strawberries, and blueberries) to make a flower-type shape, it was super simple and just a matter of arranging them in a circle. You can watch me assemble it here on Instagram. After the fresh fruit was laid out, I added in the meats, cheeses, crackers, olives and chocolates. There was actually a pre-made charcuterie kit in the deli section at my local grocer that was on sale, so I grabbed that and just arranged it on my board in the way I thought was prettiest!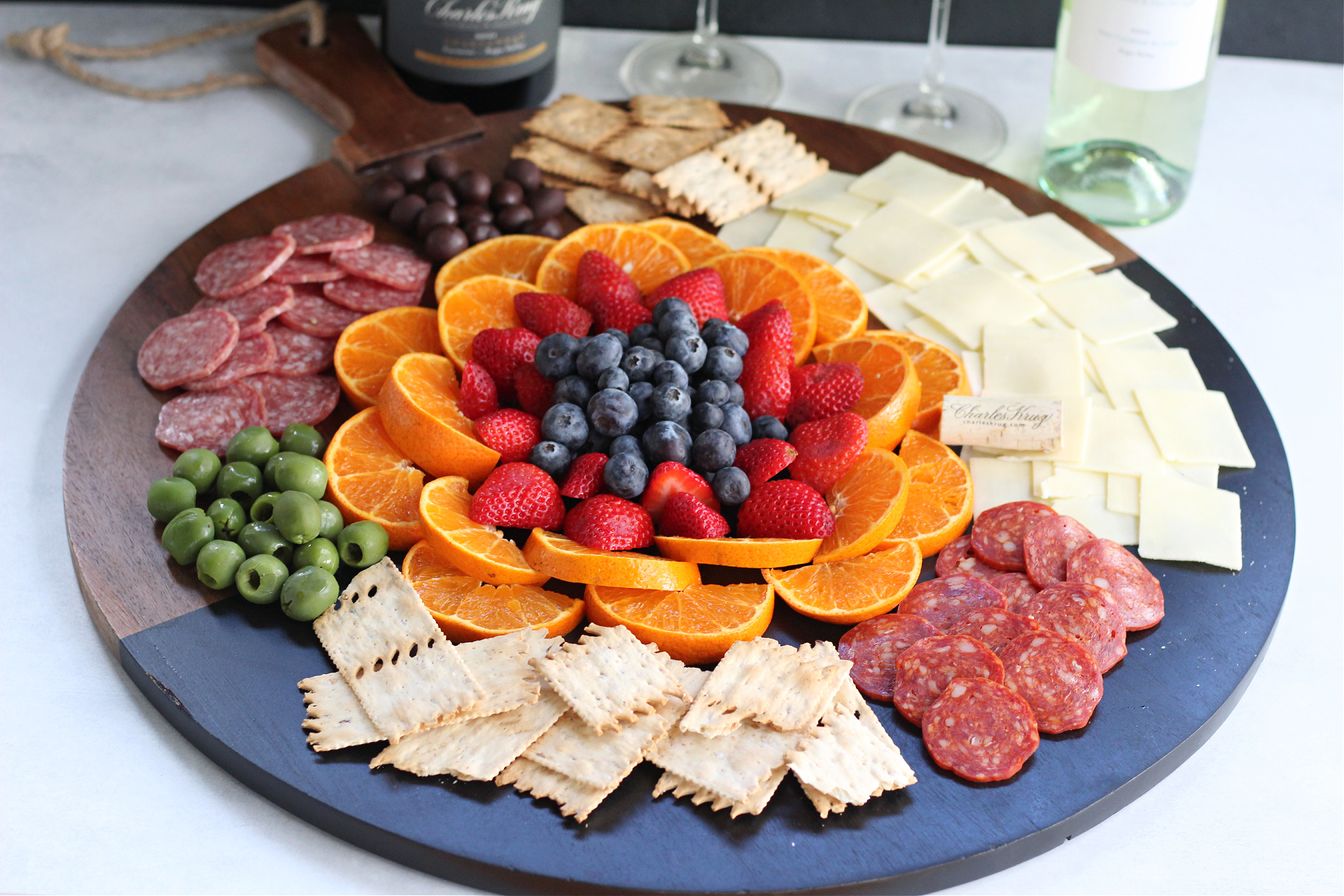 How to pair with charcuterie

Wine and charcuterie boards are a match made in heaven. When you have a variety of options on your charcuterie board, it can be hard to decide which wine to pair with your charcuterie board. Since the beautiful fresh fruit are the star of my snack board, I served Charles Krug Limited Release Chardonnay and Charles Krug Sauvignon Blanc.
I love Sauvignon Blanc, and I especially love it paired with this charcuterie board because the light to medium-bodied wine displays vibrant, finely balanced acidity with notes of lime and grapefruit on the nose and flavors of citrus and passionfruit on the palate. The wine was cold fermented slowly in stainless steel tanks to further its wonderfully aromatic bouquet and delicate flavor profile. Making it perfect to sip on while snacking on the tangerines and nibbling on the mild cheeses.
The Limited Release Chardonnay is crafted from pristine fruit, night-picked by hand, whole-cluster pressed, and aged in French oak. It displays a bright bouquet of lime and citrus blossom. Sur lies aging adds structure, a toasty creaminess and hints of minerality married with peach, lime and citrus notes preceding a long supple finish.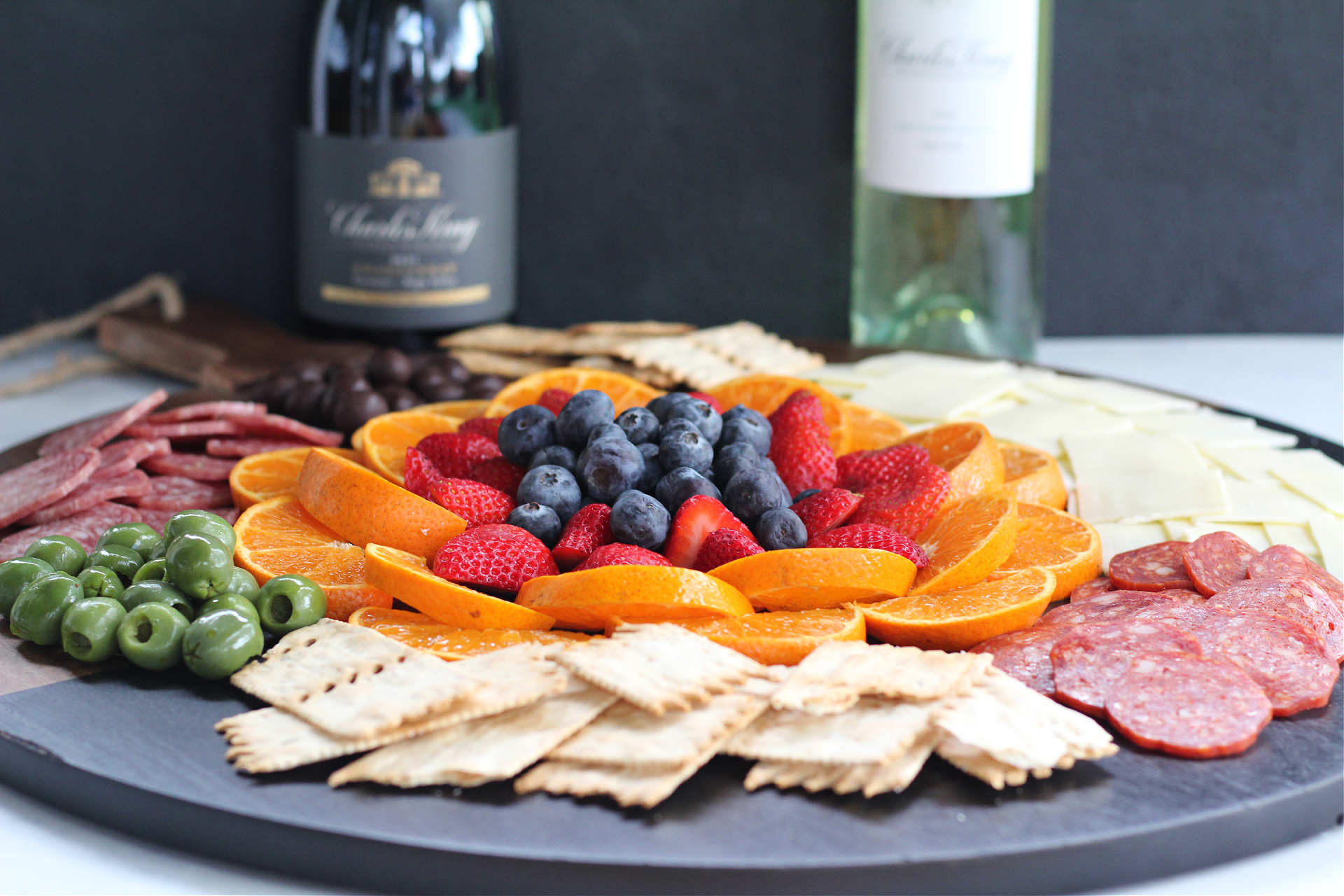 When selecting wine to pair with your board, consider the flavors and textures of the meats, cheeses, and accompaniments. A good rule of thumb is to pair wine with the strongest flavor on the board. For example, a bold red wine, such as a Cabernet Sauvignon, would pair well with strong-flavored meats. Sparkling wines, such as Champagne or Prosecco, are also a great option for charcuterie boards, as they offer a light and crisp taste that complements the flavors on the board.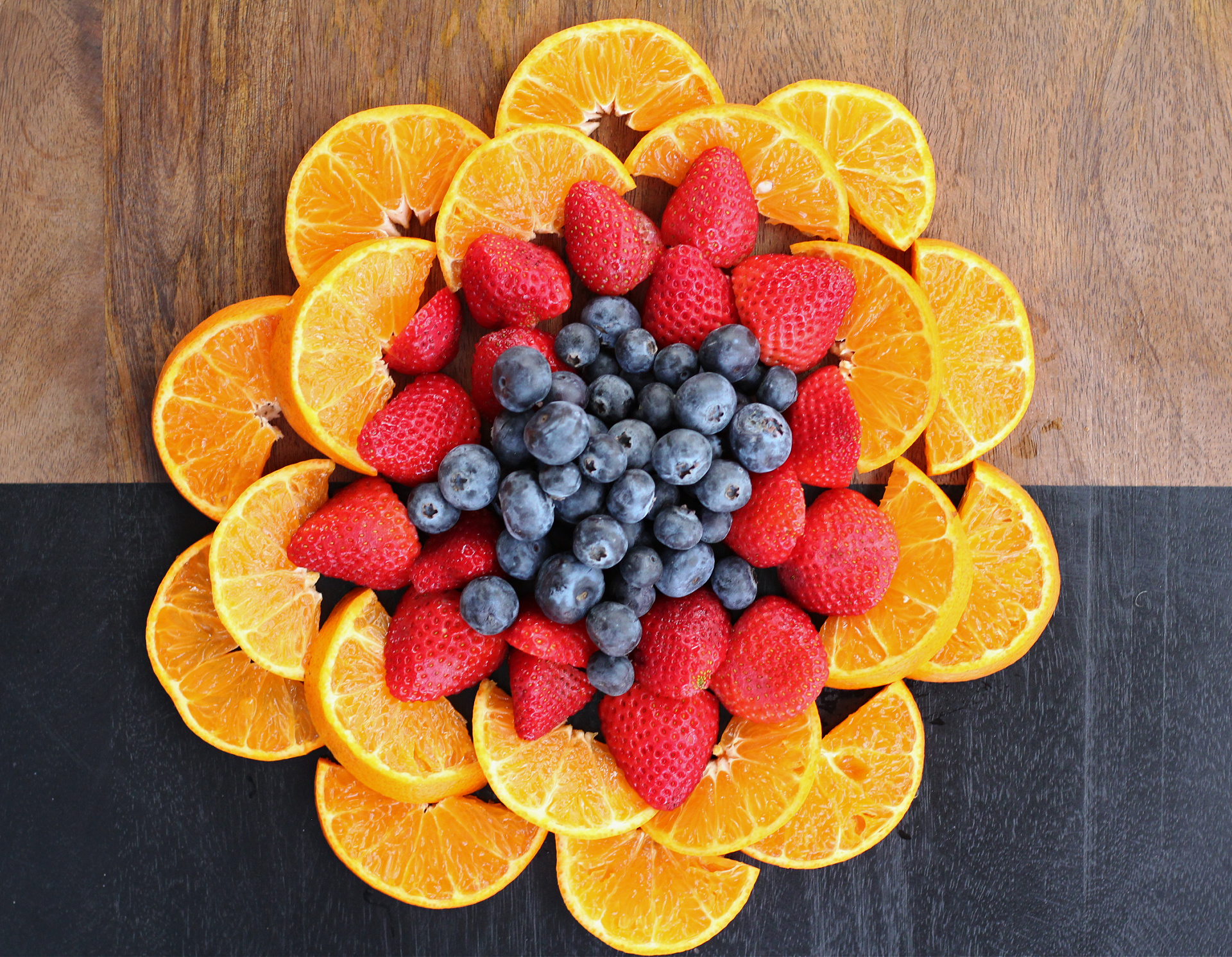 Why I love adding tangerines to charcuterie boards

Tangerines are a great addition to charcuterie boards for several reasons. First, they add a pop of color and brightness to the board, making it look even more pretty. Second, they offer a sweet and tangy flavor that balances out the saltiness of the meats and cheeses. Third, they are a great source of vitamin C, which makes them a healthy addition to the board. Finally, Juicy Crunch tangerines are easy to peel and eat, making them a convenient snack for guests to enjoy.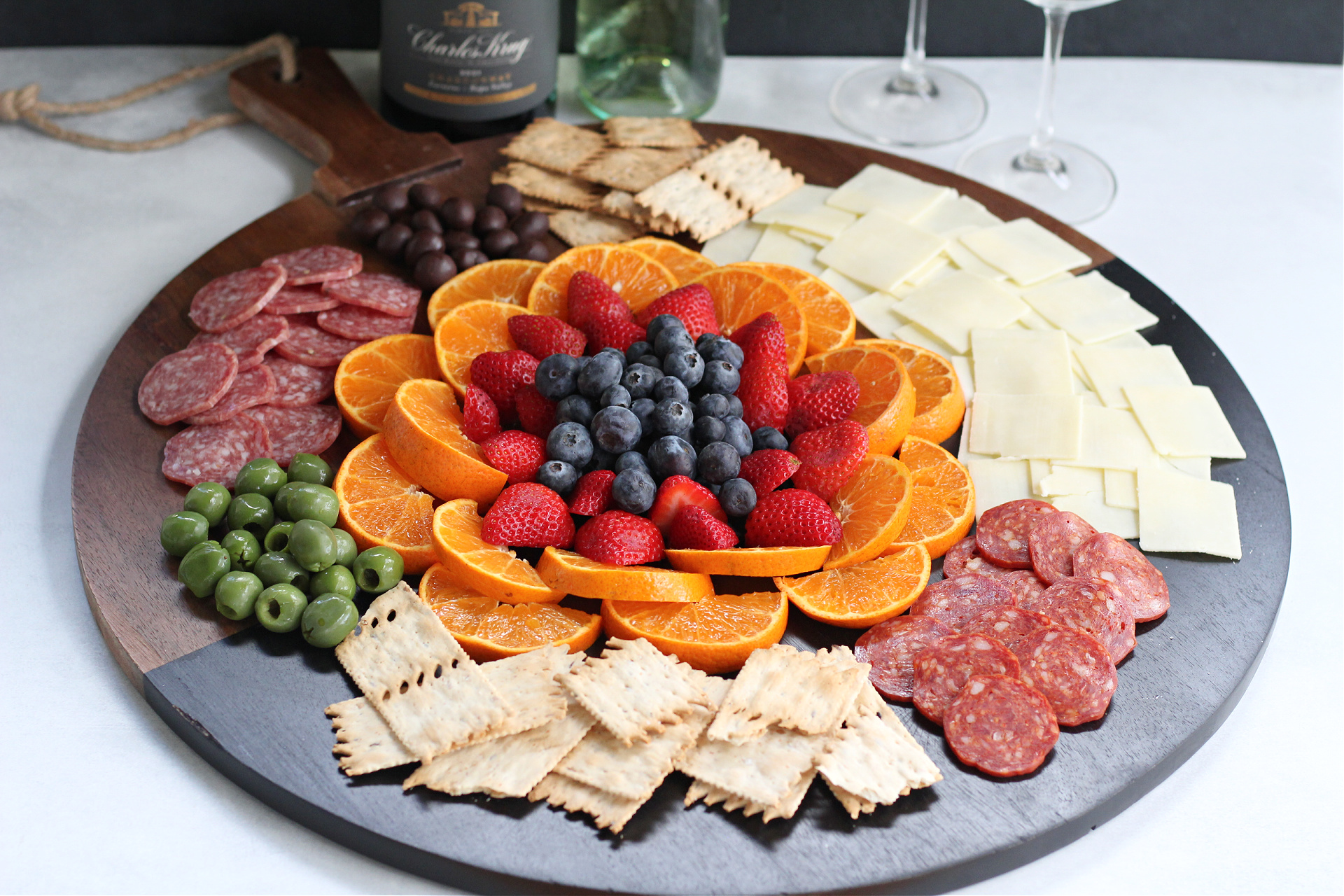 Charcuterie boards are a great addition to any gathering. When selecting wine to pair with your board, consider the flavors and textures of the meats, cheeses, and accompaniments. When making a charcuterie board, don't forget to include Juicy Crunch tangerines, as they add a pop of color, flavor, and health benefits to the board. And don't forget the wine!
What is one of your favorite wine parings?
Learn more about Juicy Crunch online and be sure to follow on Facebook, Instagram and Twitter to stay up to date with all things Noble Tangerines.
Make sure to check out Food Wine Sunshine on Facebook, Twitter, Pinterest, and Instagram for more healthy living tips, healthy recipes, things to do and more.