(Last Updated On: February 14, 2020)
Any way you cook it, bacon is amazing. But baking bacon is easier and less messy that cooking it on your cooktop. Check out how to bake bacon and never look back.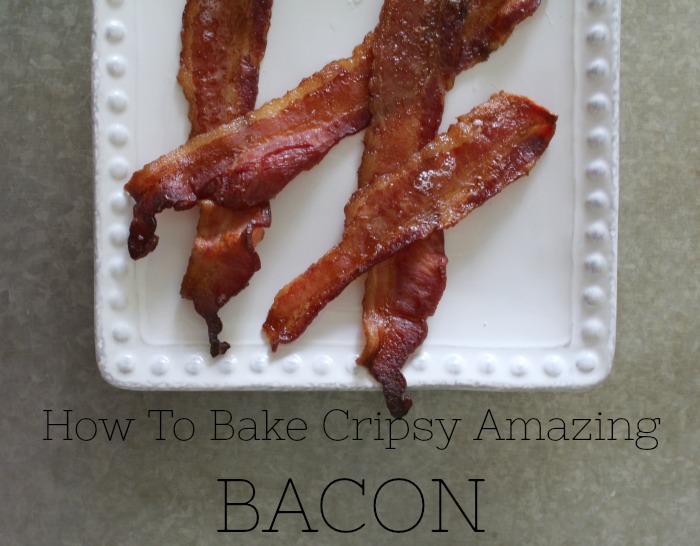 How To Bake Bacon to Crispy Perfection
Bacon. Is there anyone that doesn't love bacon? Crispy awesomeness. Bacon is perfect just about anytime of the day – with breakfast, lunch, dinner and even dessert! But do you love cooking it? No matter if it's on a skillet or on a griddle, we manage to get grease splatters all over the cooktop and kitchen counter. And if I am cooking it on Sunday, when we have friends and neighbors over for Pancake Sunday, I have to wake up early to make sure I can get it all done in time.
Then this past weekend my son unplugged the deep freezer in the garage and forgot to plug it back in, so when we realized it, I had a lot of bacon that was now just about thawed. Since there was no way I was wasting it, I needed a way to cook all that bacon all at once. I turned on the oven, grabbed a few cookie sheets and baking racks and started baking some serious bacon. And cleaning out my deep freezer.
I used the baking racks, because I didn't want the bacon sitting in the grease and I figured it would get crispier this way. I was right. After about 25 minutes, I had crispy amazing BACON.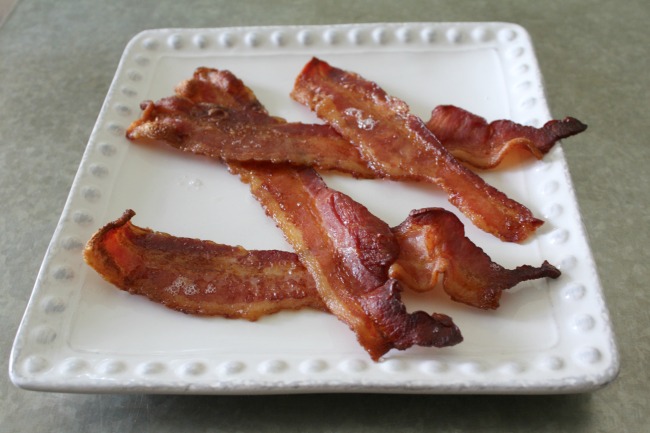 My husband and I decided that baking bacon was definitely our new favorite way to cook bacon, I mean it takes less effort, the bacon isn't sitting in the grease, there are no grease splatters all over the place and it cooks up perfectly. And trust me, we are pretty particular when it comes to bacon-crispiness and this passed the test.
So, how do you bake bacon? Here ya go!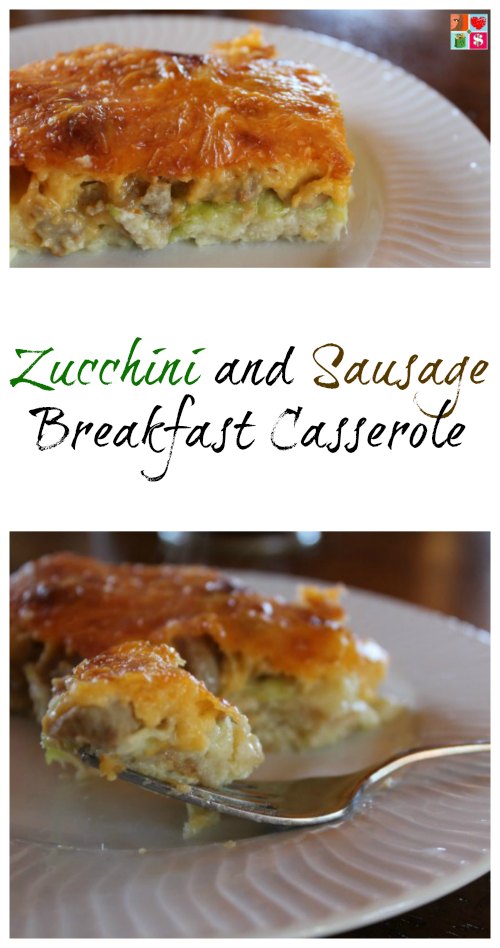 How To Bake Bacon
Everyone loves bacon, but did you know how to bake bacon in the oven? Baking bacon is less messy and still cooks up to crispy-bacony-awesomeness.
Print
Pin
Rate
Instructions
Preheat the oven to 400 degrees

Place the baking rack on the cookie/baking sheets

Place the bacon on the racks

Put the bacon into the oven for 20 - 25 minutes until bacon has reached desired crispiness

Allow to cool

Enjoy!
Notes
Bacon will continue to "cook" once you take it out of the oven for a few minutes.
Depending on the thickness of your bacon, you may be able to reduce the time, be sure to check your bacon starting at the 15 minute mark.
I hope you enjoy baked bacon as much as we do! But, it's bacon…so of course you will!


Did you know how to bake bacon? What's your favorite way to eat bacon?
Be sure to check out all the recipes on Food Wine Sunshine and follow me on Facebook, Twitter, Pinterest, Google + and Instagram.
Looking for more deliciousness?