(Last Updated On: September 4, 2020)
This Low Calorie Blended Vanilla Cupcake Coffee Recipe is the perfect way to celebrate the small moments in life. Make one for yourself today!
This post was sponsored by Dunkin' Donuts as part of a Influencer Activation for Influence Central. I received complimentary products to facilitate my review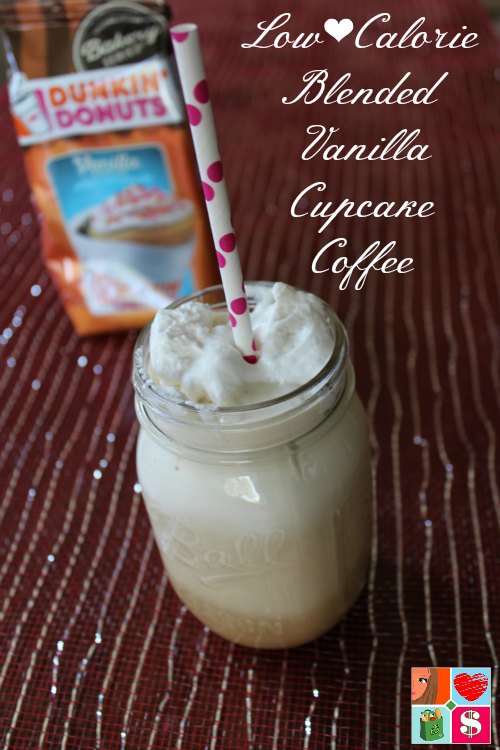 Blended Vanilla Cupcake Coffee Recipe – Low Calorie
Are you looking for a way to celebrate the new year? How about the day? How about a way to celebrate your friends? How about an amazing blended coffee and cupcakes?
Ummm….hello? No need for all those calories!
Well, I just recently celebrated the new year, my friends, and whatever else we wanted to enjoy all without the guilt of a million calories thanks to Dunkin Donuts and Hungry Girl 🙂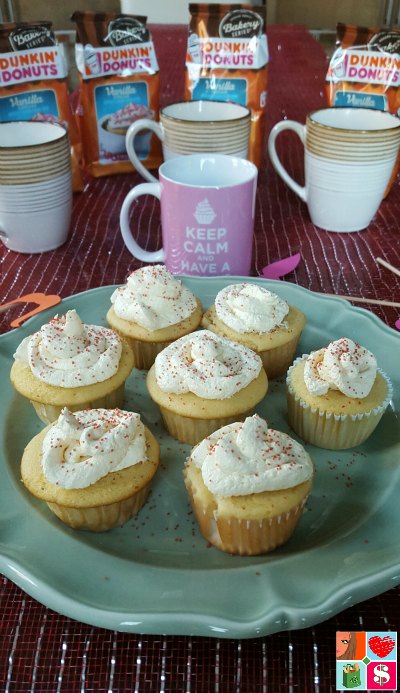 My husband and I invited some friends over, Just because, and we indulged in Vanilla Cupcake Coffee, Vanilla Cupcakes, and Blended Vanilla Cupcake Coffee! Lots of vanilla, lots of fun, but not a lot of calories!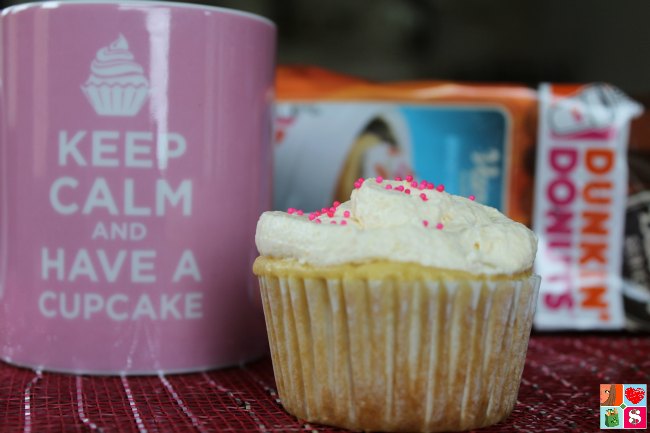 Dunkin' Donuts has come out with an amazing coffee, and we all loved it! The NEW Vanilla Cupcake Flavored Coffee packaged coffee lets you have your "cup"cake and drink it too! Basically, all that bakery goodness is dunked right in!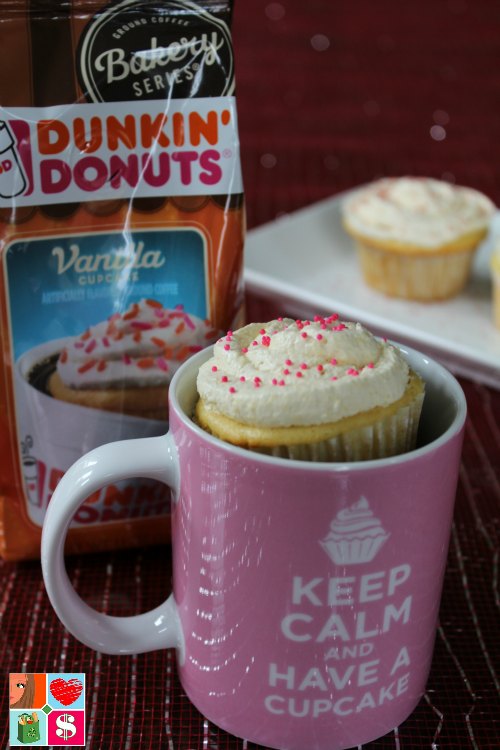 Now available in supermarket aisles nationwide, Vanilla Cupcake Flavored Coffee is the perfect treat for any guilt-free occasion. And it's fabulous hot and blended! We started our gathering with friends with the hot coffee and cupcakes, then we sampled the Low-Calorie Blended Vanilla Cupcake Coffee from Hungry Girl.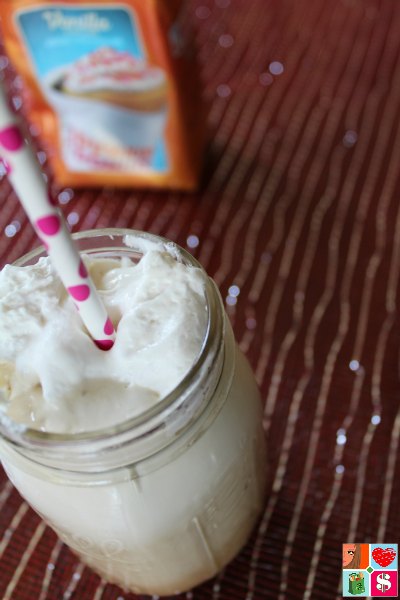 It is SO good! And it's ready in just moments. In fact, here is the Blended Vanilla Cupcake Coffee Recipe created by Lisa Lillien (a.k.a. Hungry Girl). Be sure to Print It and Pin It so that you can make it again and again.
Blended Vanilla Cupcake Coffee Recipe – Low Calorie
Author:
Prep time:
Total time:
Ingredients
1 cup light vanilla soymilk*
8 oz. strong-brewed Dunkin' Donuts® Bakery Series® Vanilla Cupcake Flavored Coffee, chilled
2 no-calorie sweetener packets
1/2 tsp. vanilla extract
1/4 tsp. cinnamon
20 ice cubes
Instructions
Place all ingredients in a blender, and blend on high speed until smooth.
Enjoy!
Notes
Instead of soymilk, I used Fat Free Milk and a splash of vanilla coffee creamer and just one sugar packet. Results were still FANTASTIC!
I hope you enjoy this Blended Vanilla Cupcake Coffee Recipe as much as we do!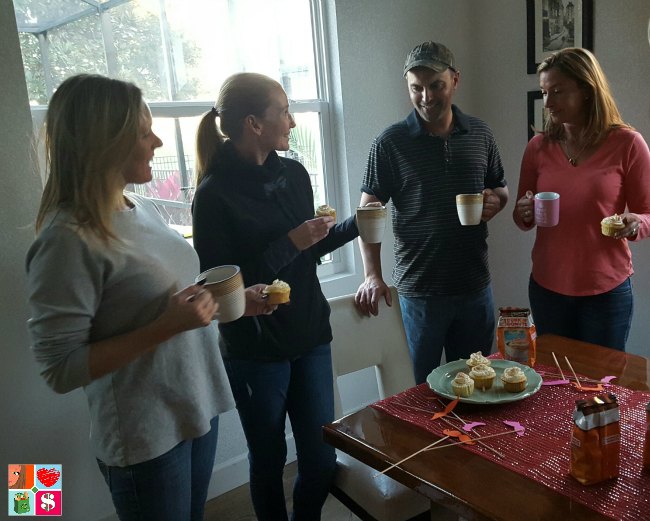 Life is full of moments to celebrate, so the next time you are at the grocery store, grab a bag of Dunkin' Donuts Vanilla Cupcake Coffee from the Bakery Series line and celebrate them! We plan on celebrating again soon, the coffee so full of flavor, whenever I have a cup I feel like I am celebrating a small moment. A moment for me and Dunkin' Donuts Vanilla Flavored Cupcake Coffee.

And don't forget to grab the recipe for the Low Calorie Vanilla Cupcakes.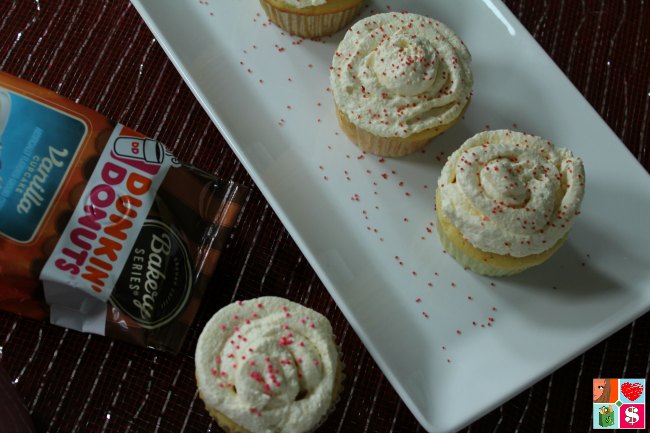 Be check out all my delicious recipes on Food Wine Sunshine and follow me on Facebook, Twitter, Pinterest, Instagram.