Jalapeno poppers are one of our favorite appetizers, so I came up with a deliciously baked version with bacon added in! Enjoy this Baked Jalapeno Bacon and Cream Cheese Poppers recipe.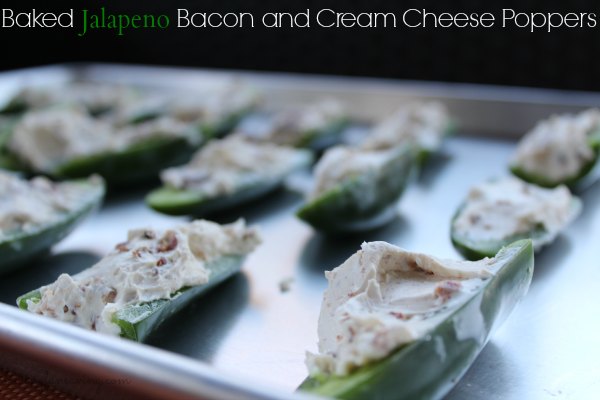 Baked Jalapeno Bacon and Cream Cheese Poppers
I love Jalapeno Poppers. My favorite ones are always the ones with the Cream Cheese…add in some bacon and YUM! I don't know about you, but whenever I wrap anything in bacon, the bacon never crisps up as much as I want it too. So, with my Jalapeno Poppers, I decided to add the bacon right in with the cream cheese!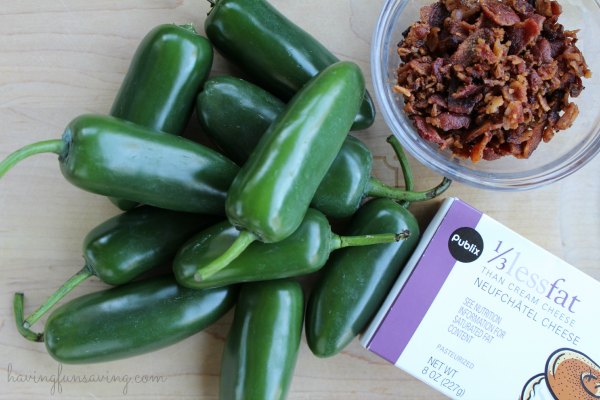 If you are a poppers fan too, you have to try out this recipe. It's easy, it's only THREE ingredients and you bake them! No deep-frying here 🙂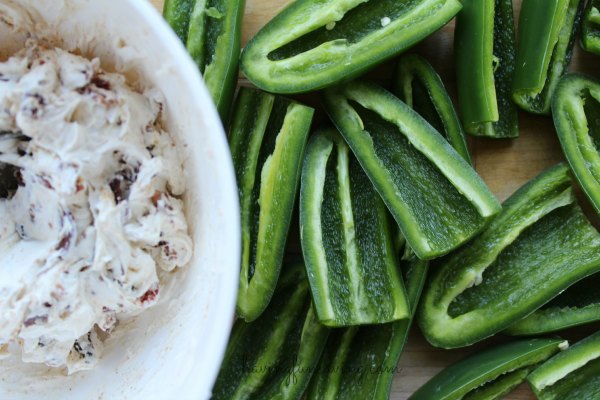 I used 5 slices of bacon, after they are cooked nice and crispy (and cooled down!), I just used my fingers to crumbled up the pieces. Once the bacon is crumbled, I mixed the pieces directly in with the cream cheese. Set that aside and get started on getting the seeds out of those peppers. You can also work on your peppers while you bacon is cooking, but be careful not to burn it 😉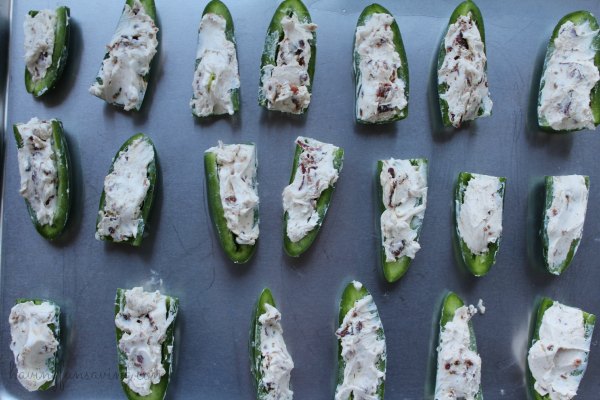 The seeds are the hot part of the jalapeno, so make sure to remove them, especially if you don't like super spicy. I left a few miscellaneous seeds in a few of mine and WOW those bites made me break out in a sweat!
Make sure to not touch your face, eyes, nose etc. while you are cutting and stuffing the peppers – that "spicyness" will sting your eyes and everything else – so wash those hands good! I also don't recommend liking your fingers after you have stuffed the peppers either 😉
The actual "baking" of the peppers does take out some of the "heat" as well, so I definitely recommend baking them for the full time.
Now, here's the recipe, make sure to Print It and Pin It so that you can make these poppers again and again.
Baked Jalapeno Bacon and Cream Cheese Poppers
Author:
Prep time:
Cook time:
Total time:
Ingredients
8 oz 1/3 less fat cream cheese
5 slices of cooked bacon
10 jalapeno peppers
Ranch Dressing for dipping if desired
Instructions
Cook the bacon so that it is nice and crisp
Crumble the bacon into small pieces once it is cooled
Mix the bacon and cream cheese in a small bowl
Cut the jalapenos in half and remove all the seeds
Take equal amounts of the bacon/cream cheese mixture and stuff your pepper halves
Bake at 350 degrees for 20 mins
Enjoy!
I hope you enjoy this Baked Jalapeno Bacon and Cream Cheese Stuffed Poppers Recipe as much as we do!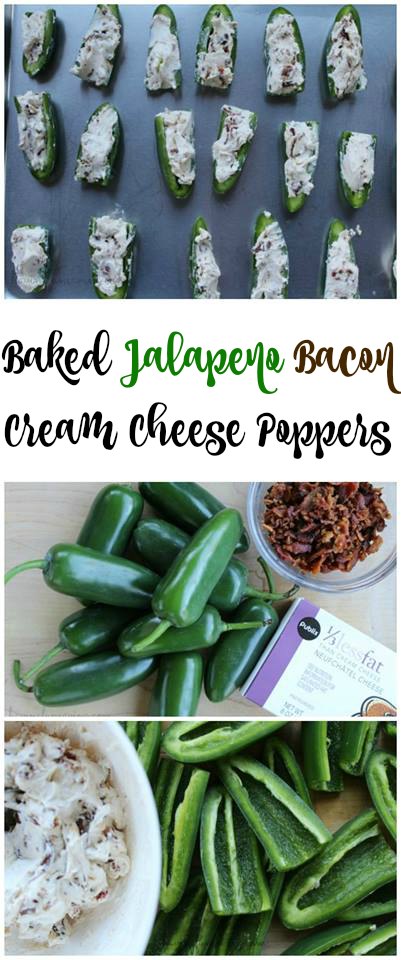 Looking for another easy appetizer recipe? Check out my Grape Jelly Meatballs! They are a family favorite 🙂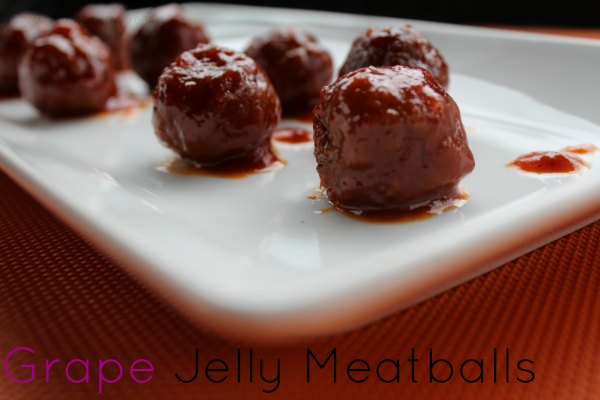 Be sure to check out all the delicious recipes on Food Wine Sunshine and follow me on Facebook, Twitter, Pinterest, Google + and Instagram.