(Last Updated On: June 12, 2019)
Huevos Rancheros is one of our favorite breakfast recipes. This recipe is easy to make and filled with phenomenal flavors.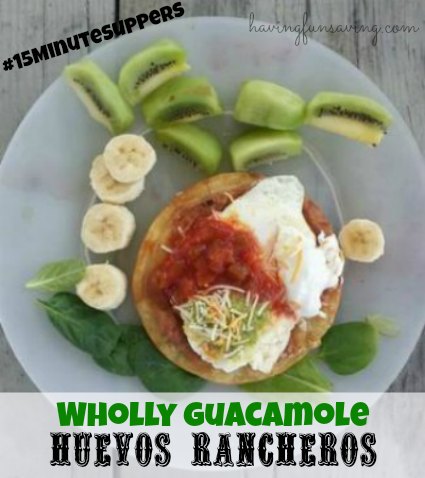 Wholly Guacamole Huevos Rancheros

I have a delicious recipe for you guys this morning, and it is ready in less than 15 minutes! I am so excited to be a part of this amazing group of bloggers where we share recipes that you can make for your family in just 15 minutes! AND, this week we are showcasing recipes that are made with one of my favorite ingredients…Wholly Guacamole.
All you need for this breakfast recipe is your favorite guacamole (you can make your own as well!), refried beans, eggs, shredded cheese, salsa, and sour cream…and tortillas. If you don't want to lightly fry up the tortillas, you can leave them as they are, or try baking them like I did in this veggie tortilla crisp.
Now, here is my 15 Minute Huevos Rancheros Recipe, be sure to Print It and Pin It so that you can make it again and again:
Huevos Rancheros
Author:
Prep time:
Cook time:
Total time:
This Huevos Rancheros recipe is not only easy to make, but is absolutely delicious! Enjoy this easy breakfast recipe.
Ingredients
1 package of Wholly Guacamole – I like the Spicy one on this dish
1 can of refried beans
Eggs – one for each shell (I can easily eat 2…)
Corn Tortillas
Salsa
Sour Cream
Instructions
Warm the refried beans on the stove
Warm Vegetable Oil in a pan and lightly fry the Corn Tortillas – about 30 – 40 seconds per tortilla
In a separate pan Cook the eggs over-easy/medium
Place the Tortilla on a plate
Top the Tortilla with the warmed refried beans
Place the egg on top of the beans
Top with Wholly Guacamole, sour cream, and salsa
Need more quick 15 minute recipe ideas? Check out these other great recipes.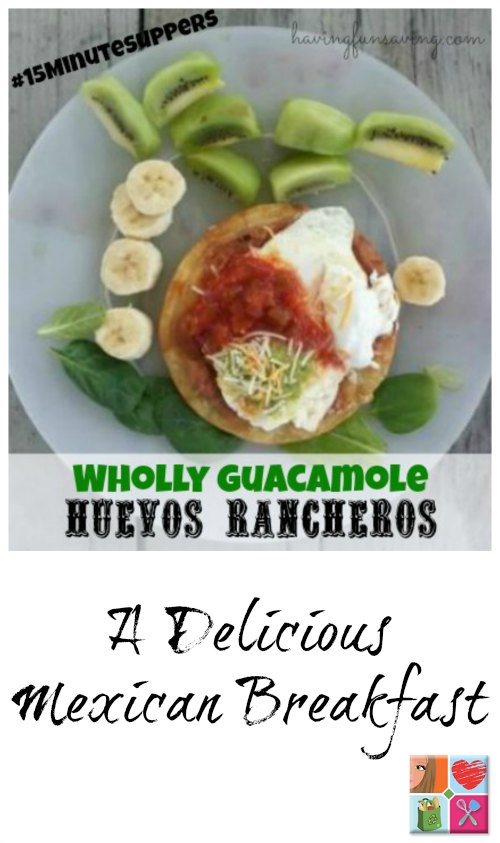 Find Food Wine Sunshine on Facebook, Twitter, Pinterest, and Google + and check out all my delicious recipes.
Looking for more delicious breakfast recipes?