(Last Updated On: April 4, 2023)
There are so many things to do and see in Savannah Georgia. Whether you are planning a stayaction, solo adventure or family vacation to this historic Southern City, be sure to add these affordable things to do in Savannah to your travel agenda.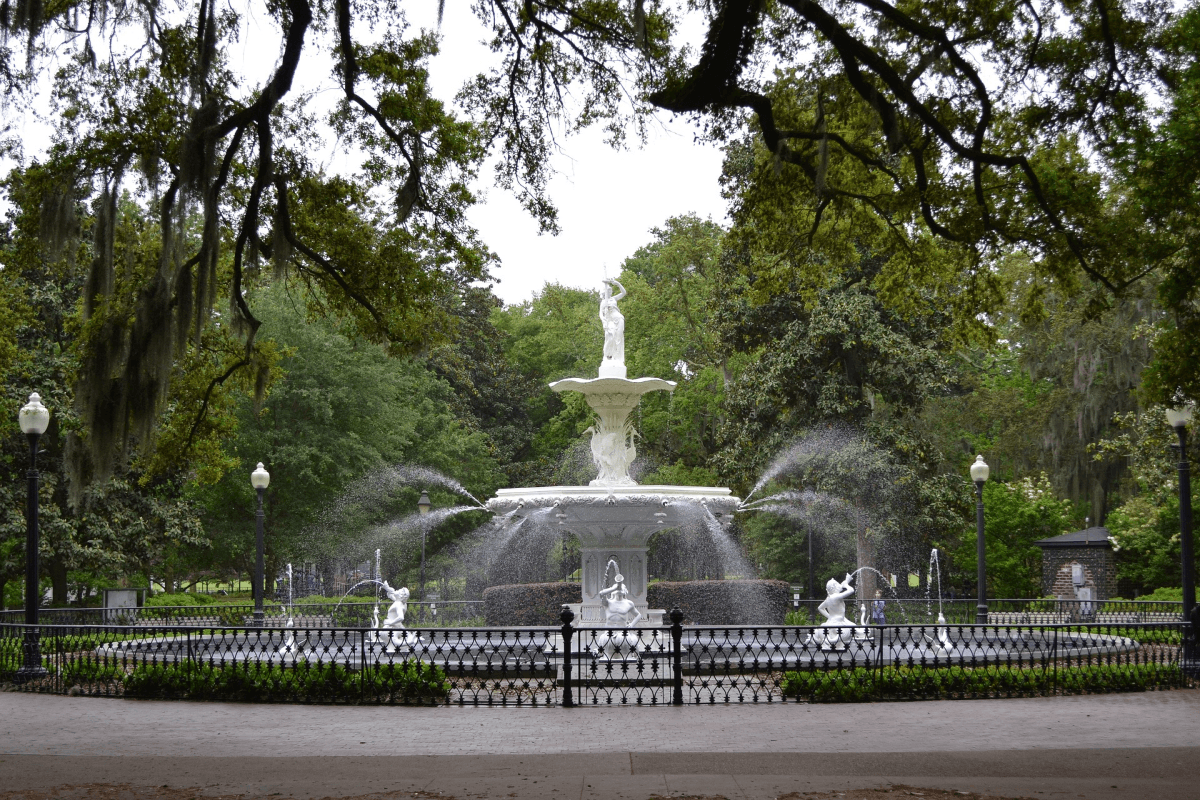 Top Things to do in Savannah for Under $10
Vacationers looking for a charming city to visit should strongly consider Savannah, Georgia. Savannah's attractions are calmer than what you'd find in New Orleans, but less expensive than what Charleston has to offer. The coastal city is known for its beautiful public parks and antebellum architecture, making this a relaxing destination for all who visit. It's also home to the birthplace of Juliette Gordon Low, who founded the Girl Scouts organization. Low's birthplace drives Girl Scouts from across the country to Savannah, so there are many attractions geared towards youth. Savannah is about 5 hours from Tampa, making it a fun road trip destination for us that live in Florida.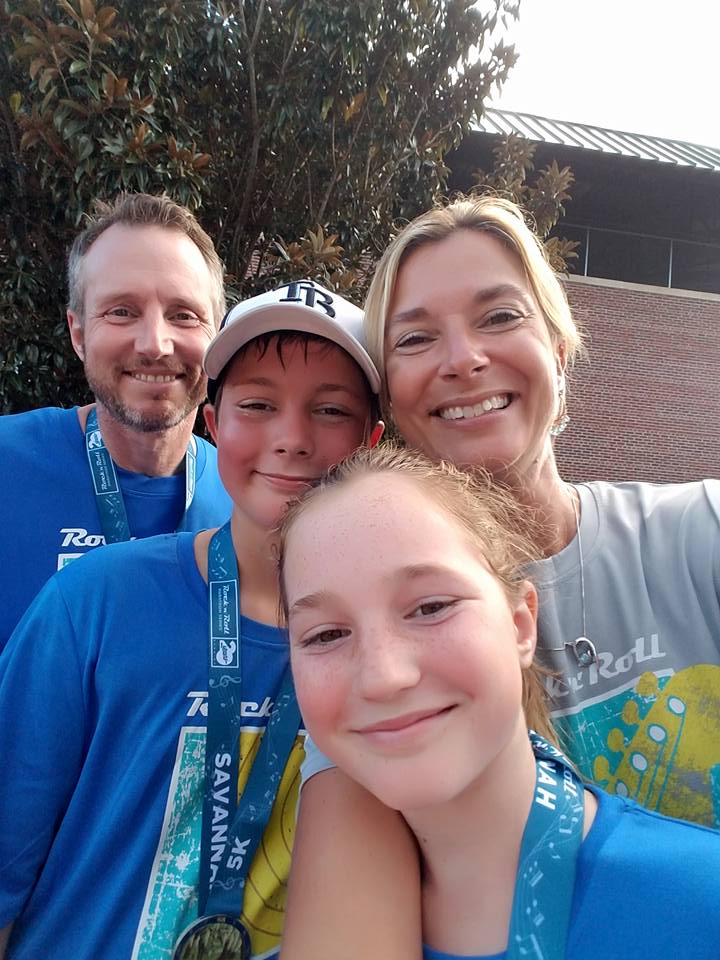 The first time I was in Savannah was a few years ago, I ran the Rock n Roll Half Marathon and the rest of my family did the 5k thanks to the Southeast Toyota family. Talk about an incredible way to see the city! Running through the historic streets of Savannah was absolutely beautiful. Actually the whole race was pretty darn incredible, from the people to the music to the concert series. We saw Fitz and the Tantrums…they really made our hands clap 😉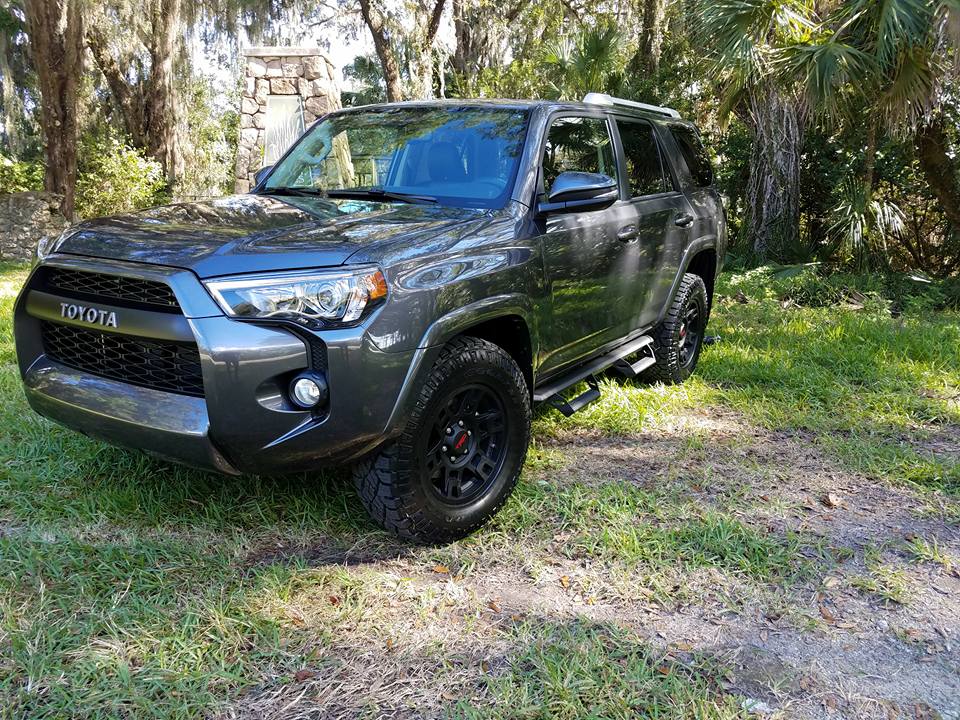 Here are things to do in Savannah for under $10, they offer an authentic Savannah experience without sending you over your vacation budget. Save your hard-earned money for the hotel and all that delicious food while you enjoy this Southern city on a budget!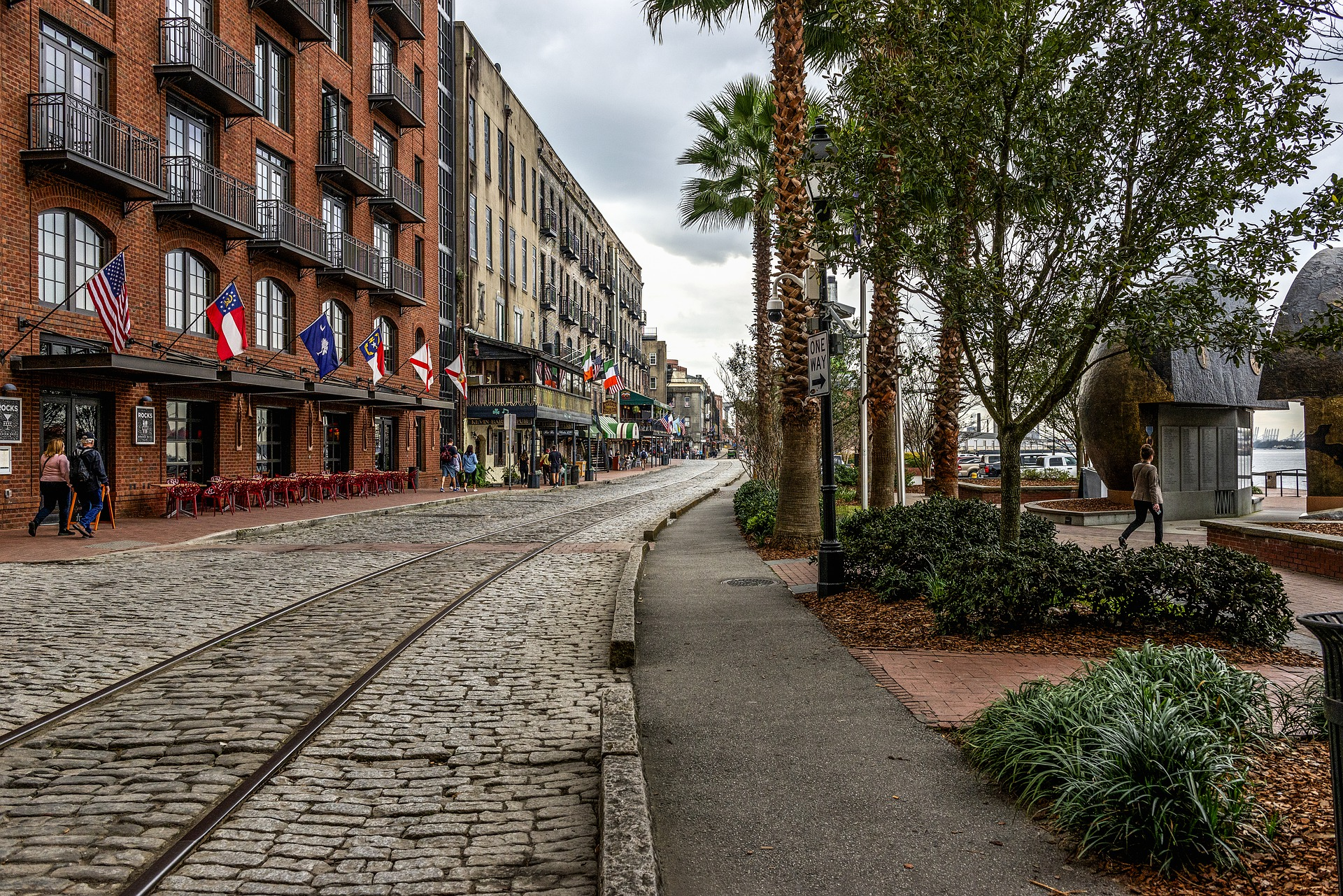 The galleries and boutiques that line River Street used to house cotton warehouses. A scenic stroll on the cobblestone road will reveal historically significant structures, like the World War II monument and the Olympic Cauldron. Once you've browsed the shops and galleries, watch the ship sail by on the Savannah River!
River Street hosts festivals throughout the year, like the Savannah Bacon Festival and Christmas on the River. If you'll be in town for an event, stop by and grab some food samples!
Forsyth Park is Savannah's hotspot for events, recreation, and sightseeing. Within the park, you'll find the Forsyth fountain, one of Savannah's most recognizable landmarks. The 150-year-old fountain is a great spot for photos, which is why it's often used as a backdrop for engagement photoshoots. If you're lucky, you might catch a free movie or concert in the park. Even if no events are taking place in Forsyth Park, it's an ideal place to relax or walk around.
If you'll be in Savannah on a Saturday, check out the weekly farmer's market that's held in the park. This event only showcases local food, unlike other markets that also feature retail vendors. If you use EBT/SNAP benefits to purchase food, they'll double your money!
Head to this coffee shop/Tex-Mex restaurant hybrid for live music every Tuesday night, or join them on a Saturday for a fire pit. All of Foxy Loxy's eat-in items cost under $10, including their cheese boards for just $6. Happy hour is from 5:00pm-8:00pm on weekdays. During that timeframe, lattes and Lone Stars are just $2 each!
Foxy Loxy Café hosts clubs and events regularly. Many of their events, such as their "Stich and Bitch" craft meetups are free.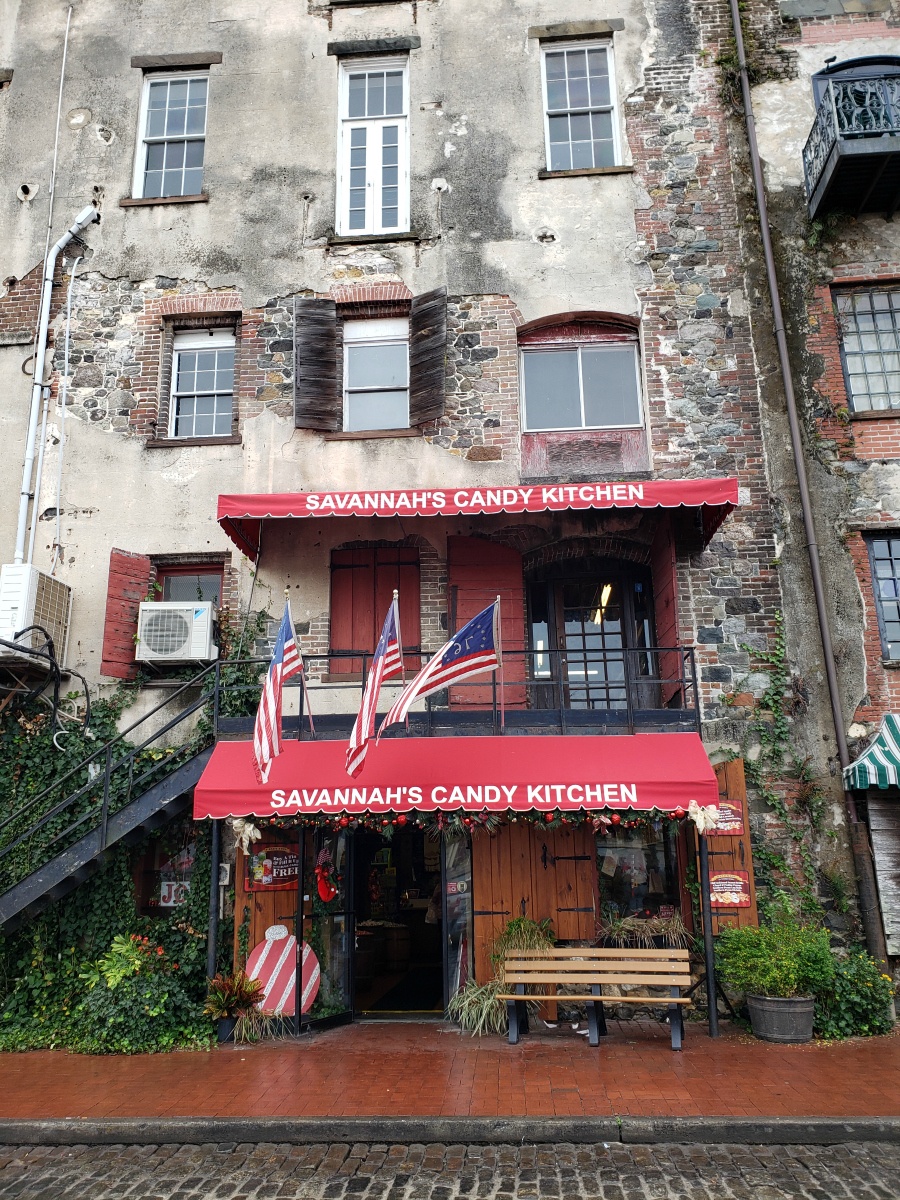 Located on Historic River Street this candy store has everything from pecans to pralines to taffy and much more. Feel free to ask for free samples of caramel corn, pralines and even nuts as you walk through this four-room candy-lovers paradise.
Cathedral of St. John the Baptist
Savannah's iconic cathedral is visible from the city skyline. Its 81 stained glass windows make the Cathedral of St. John the Baptist incredibly photogenic, which is why the staff offers donation-based tours of the building. For a suggested $3 per adult, you can see the active church's artworks and learn about its history. There's a reason why this cathedral has been dubbed the "Sistine of the South!"
Tours are not given on holidays or during religious services, including mass.
This ice cream shop in Savannah has been a treasured dessert hotspot since 1919. Their rich flavors include classics and more unique creations, with tributes to local businesses and landmarks. While some of Leopold's flavors are always available, others are seasonal exclusives. If you're travelling with a Girl Scout in March or April, stop in for a scoop of Thin Mints & Cream!
A single scoop of ice cream costs $4.50. A child's size is available for $2.95, as well as a hand-packed pint for $9.25.
Bonaventure Cemetery is a beautiful place to visit on a sunny afternoon. The 100-acre property is filled with flowers and greenery, along with monuments for many interesting people. Confederate soldiers, United States veterans, and those killed in the Spanish-American War are buried throughout the site.
The Bonaventure Historical Society provides free guided tours of the burial grounds at designated times. You can also download an app to guide you through the cemetery.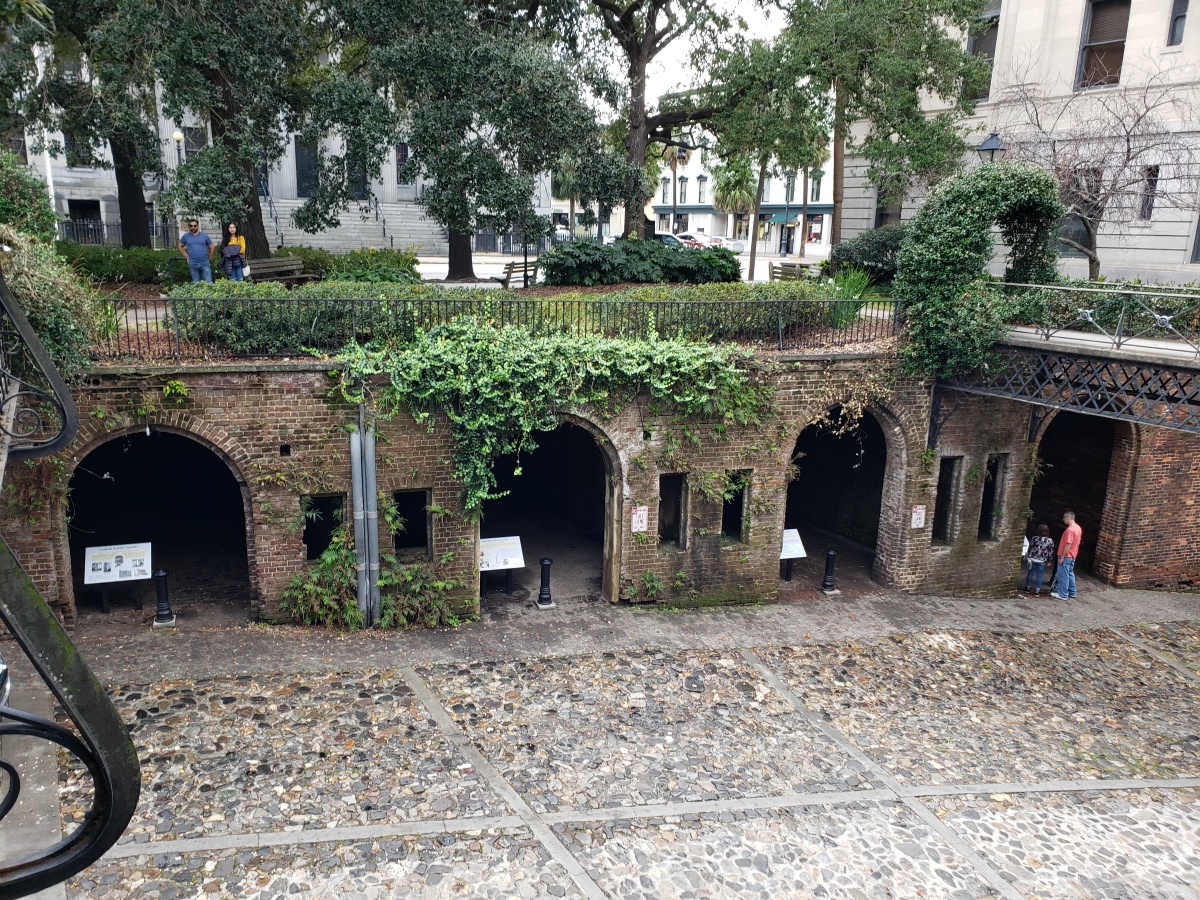 You will find these brick vaults on Factors Walk, right off of River Street. They have been there since 1842 and are said to have been used for stores, tombs and storage locations. You are able to walk through them and imagine what it was used for over 150 years ago. Some stay that they were used to hold slaves, but that has never been proven. Until recently, they were actually used for parking! The Cluskey Embankment Stores are one of the oldest historical structures still owned by the City of Savannah, predating City Hall, Police Headquarters, and the Thomas Gamble Building.
Take a free guided tour of a vodka distillery in Savannah. The 40-minute experience is family friendly, and includes a video presentation. Learn about Savannah's alcohol history while discovering how Ghost Coast makes their drinks. Guests above the legal drinking age can sample some cocktails in the taproom, too!
If you like the drinks on tap, you can purchase bottles at the distillery. Take a taste of Savannah home with you!
Oak trees and Spanish moss surround this colonial estate that is used as a historical reenactment site. A museum on site displays artifacts from before the American Revolution, including some information on Georgia's history. Walk along the interpretive trail to find the Colonial Life Area, where costumed actors sometimes partake in roleplay-type events.
Admission fees for the Wormsloe Historic Site are $10 per adult, $9 for seniors, $4.50 for youth ages 6-17, and $2 for children under 6.
This historical site will take you back to the early 1800's, when the brick fort was used for military purposes. You'll learn about what life was like for soldiers at that time, military communication, and drills. Make sure you visit while they're firing the cannon!
Admission to Old Fort Jackson is $9 for adults and $5 for children ages 2-12.
Ships of the Sea Maritime Museum
Check out the antique ships and paintings depicting maritime life from centuries ago. Each replica tells a unique story about Savannah's maritime history, with all models built to the same scale to give guests an idea of how large each ship was compared to the others. The museum has private gardens on site – they're among the largest in Savannah!
Adults can visit the Ships of the Sea Maritime Museum for $9. Students, military, and seniors enter for $7, while children under 5 enter for free.
If you are visiting over the holidays, be sure to check out the Boat Parade of Lights. There are over 40 boats that are all decorated for the holidays with lights and more to help bring in holiday cheer! The boats go up and down the river and you will notice all sorts of decorations along each side of the river. There isn't a bad spot to view the Boat Parade of Lights…as long as you are by the water, and it's completely free to watch!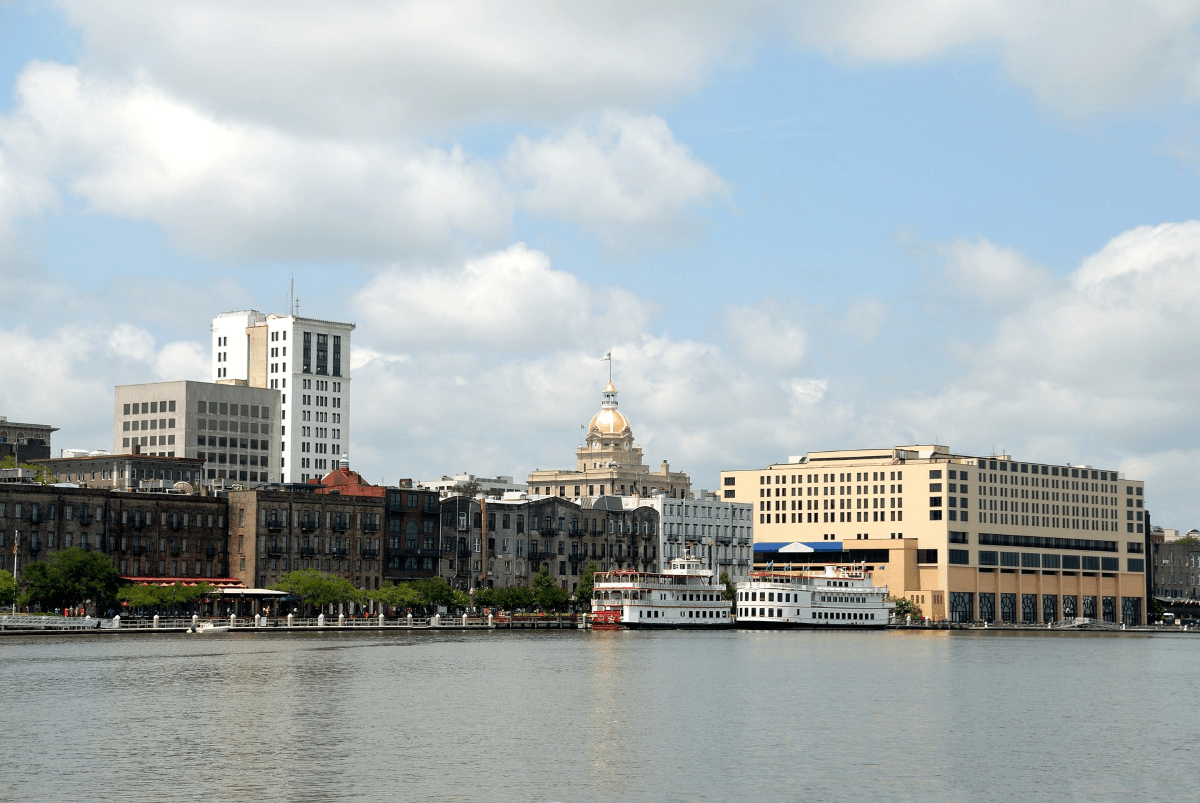 We did one of the Haunted Ghost Tours while we are in Savannah, while it wasn't under $10 is was definitely an unique way to learn more about this historic town.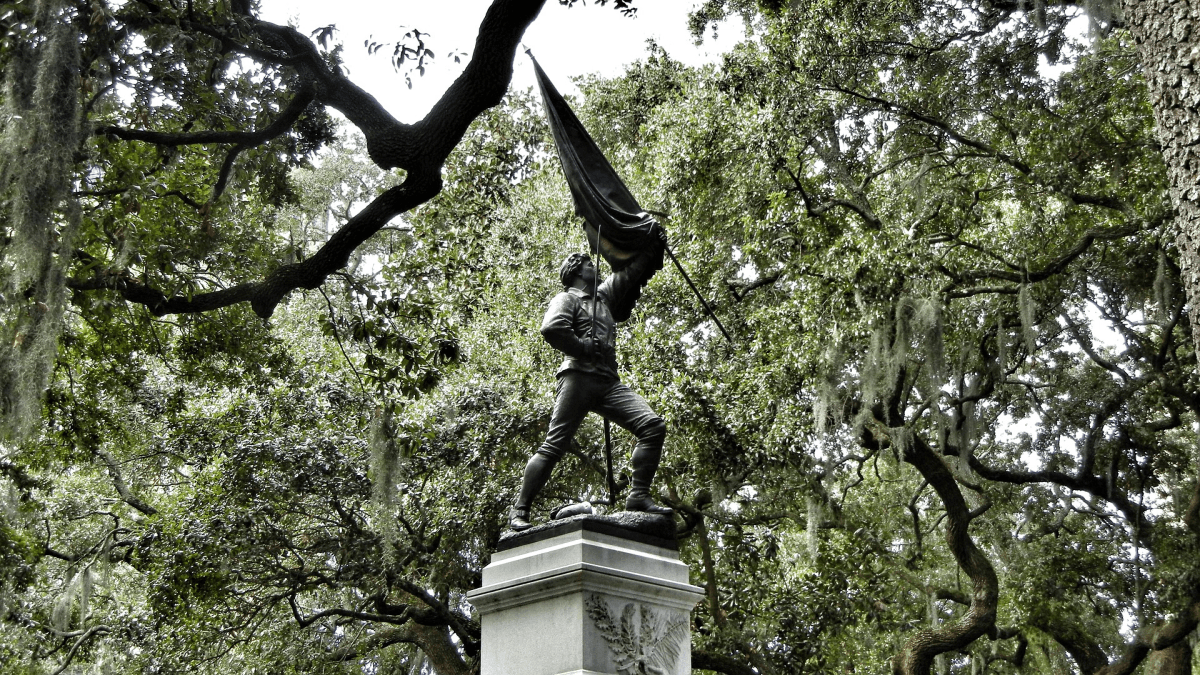 Savannah is filled with beauty and history that's waiting to be explored. Spending a few days in this quintessential city will give you a taste of Southern life. Whether you're intrigued by the classy lifestyles or Confederate military history, Savannah has affordable attractions that'll keep you coming back to Georgia for more!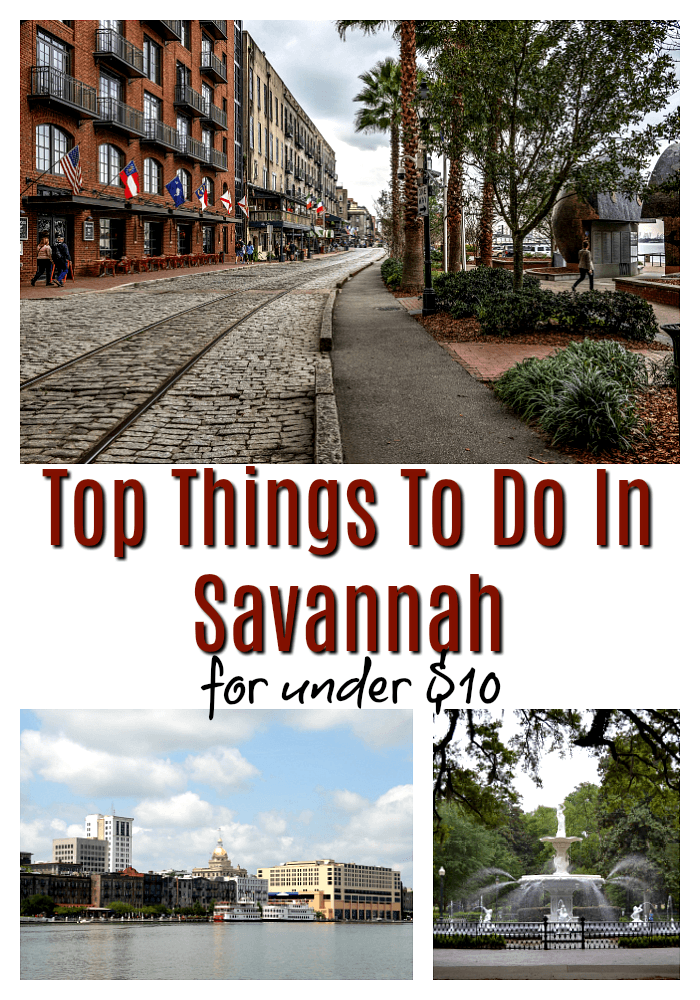 Have you been to Savannah? What are your favorite things to do in Savannah?
Looking to do some more traveling in Georgia?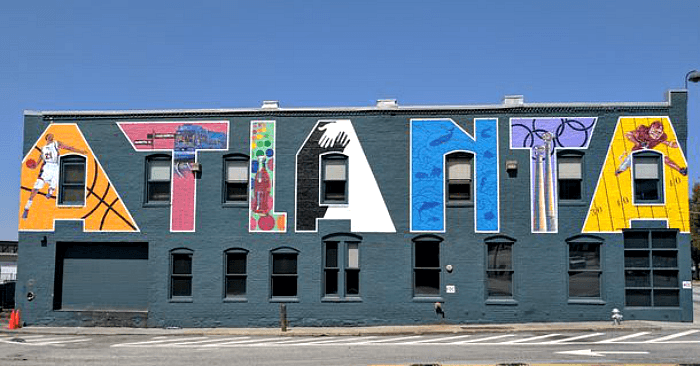 Best Free Things To Do In Atlanta
Looking to travel a outside of Georgia?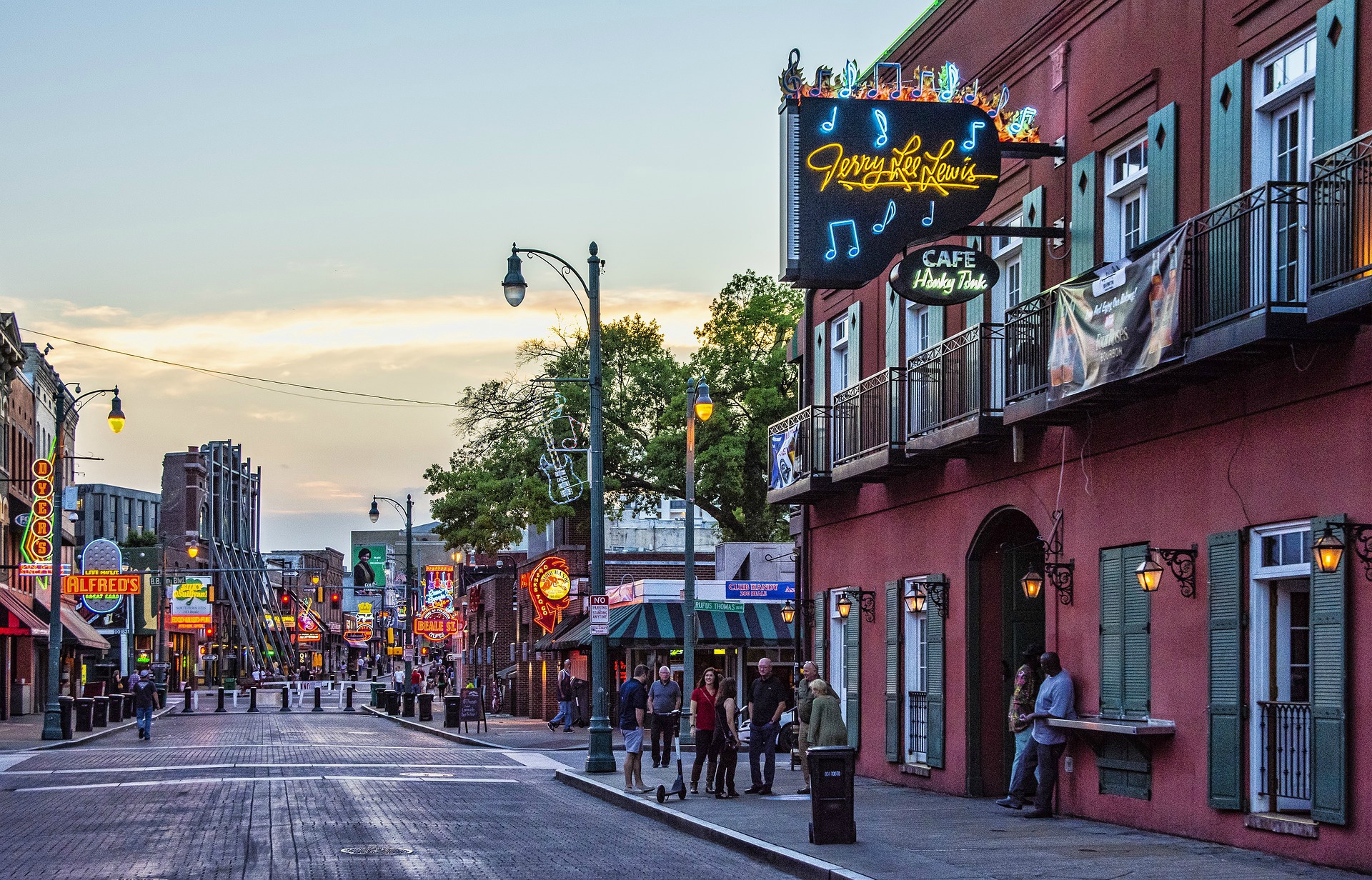 Be sure to check out Food Wine Sunshine on Facebook, Twitter, Pinterest, and Instagram for fun things to do, healthy recipes, and more.