(Last Updated On: July 1, 2019)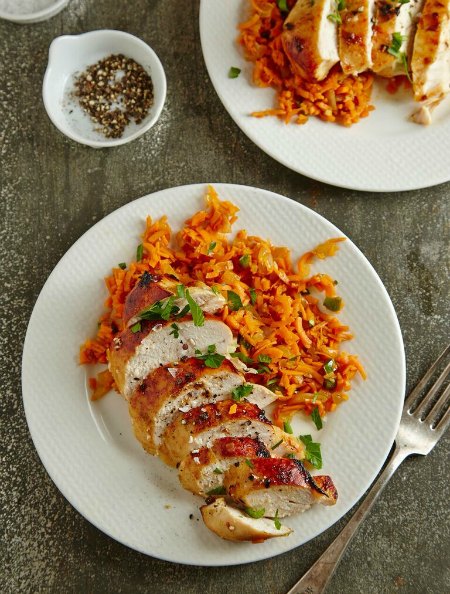 Spanish Sweet Potato Rice with Honey Lime Chicken Recipe
I have an amazing recipe to share with you guys today that is from celebrity chef, Jamie Geller! This Honey Lime Chicken and Spanish Sweet Potato Rice recipe looks absolutely amazing.
Great traditions start with great food, that is why Winn-Dixie has teamed-up with Jamie Geller to develop easy-to-follow, gluten-free "Passover" and year-round recipes that you will love. You can spend more time with family and less time worrying about cooking with a little help from Winn-Dixie.
In honor of Passover, which begins on April 22, 2016, and ends on April 30, 2016, I am excited to share some unique, gluten-free recipes, tips and ideas to help prepare you for Passover.
Now here is the Spanish Sweet Potato Rice with Honey Lime Chicken Recipe, be sure to Print It and Pin It so that you can make it again and again. I know I will be 😉
Spanish Sweet Potato Rice with Honey Lime Chicken Recipe
Cuisine:
Great for Passover or anytime
Author:
This amazing recipe is from celebrity chef, Jamie Geller! This Honey Lime Chicken and Spanish Sweet Potato Rice recipe looks absolutely DELISH!
Ingredients
Spanish Sweet Potato Rice Ingredients
2 large sweet potatoes, peeled
1 small onion, finely diced
2 cloves garlic, minced
1/2 green pepper, finely diced
3 tablespoons olive oil
1 teaspoon chili powder
1 teaspoon paprika
1/2 teaspoon cumin
1 cup chicken or vegetable stock
Salt and pepper, to taste
Honey-lime marinated chicken (recipe follows)
Fried or poached egg, optional
Cilantro, for garnish
HONEY-LIME MARINATED CHICKEN INGREDIENTS
1 2-lb. package chicken breasts (not thin)
1/4 cup olive oil
3 tablespoons lime juice
1 teaspoon lime zest
2 tablespoons honey
3 cloves garlic
Salt and pepper, to taste
Instructions
Spanish Sweet Potato Rice Instructions
Cut off each end of the sweet potatoes so they are flat on each side, and spiralize using the 3MM noodle blade or use a Julienne peeler.
Working in batches, pulse the sweet potato noodles in the food processor or until they resemble the texture of rice. You should have a scant 3 cups of sweet potato rice.
Pepper and bring to a boil. Cover the pan and cook over medium heat for 5 minutes.
Uncover and cook over high heat until all the liquid is absorbed and the sweet potato is tender, about another 5 minutes.
Place a portion of sweet potato rice on a plate and top with a fried egg (optional).
Garnish with cilantro. Serve with honey-lime marinated chicken.
Instructions for Honey Lime Chicken
Add all the ingredients to a Ziploc bag and marinate for a few hours.
Remove the chicken from the marinade (discard the marinade)
Grill or broil on high for approximately 6 minutes per side, or until internal temperature reaches 165 degrees.
Notes
VARIATION: Try using plantain or butternut squash rice instead of sweet potatoes. If you eat kitniyot on Passover, feel free to add a can of rinsed and drained black beans and/or corn.
I hope you enjoy this Spanish Sweet Potato Rice with Honey Lime Chicken Recipe for Passover…or any day!

While this post is sponsored, all opinions are my own
You can find more delicious recipes in Winn-Dixie's Joy of Kosher Passover eBook like these:
Potato and Cheddar Frittata
Cauliflower "Mac" and Cheese
Steak Roll Ups with Creamy Mashed Potatoes
Fresh Basil Salad
Check out the Joy of Kosher Recipes HERE
Discover all the Kosher Meals and Tips from Winn-Dixie
NORTH FLORIDA REGION
CENTRAL FLORIDA REGION
Fern Park, Fla.
Orlando, Fla.
Ormond Beach, Fla.
SOUTH FLORIDA REGION
Aventura, Fla.
Boca Raton, Fla.
Cooper City, Fla.
Davie, Fla.
Delray Beach, Fla.
Ft. Lauderdale, Fla.
Hallandale Beach, Fla.
Hollywood, Fla.
Key Biscayne, Fla.
Lake Worth, Fla.
North Miami Beach, Fla.
Plantation, Fla.
Tamarac, Fla.
Be sure to stay up to date with Winn Dixie on Twitter and Facebook for fabulous savings, recipe ideas and more!
While you are at it, be sure to follow Food Wine Sunshine on Facebook, Twitter, Pinterest, Google + and Instagram for more family fun!
Geller is the best-selling author behind the "Quick & Kosher" and "Joy of Kosher" cookbooks, the founder of Kosher Media Network (KMN), which includes award-winning magazine "Joy of Kosher" with Jamie Geller and Website www.joyofkosher.com. Geller, coined by The Miami Herald as the kosher Rachael Ray, is ready to whip up fast, fresh family recipes for your viewers just in time for Rosh Hashanah.