(Last Updated On: October 22, 2020)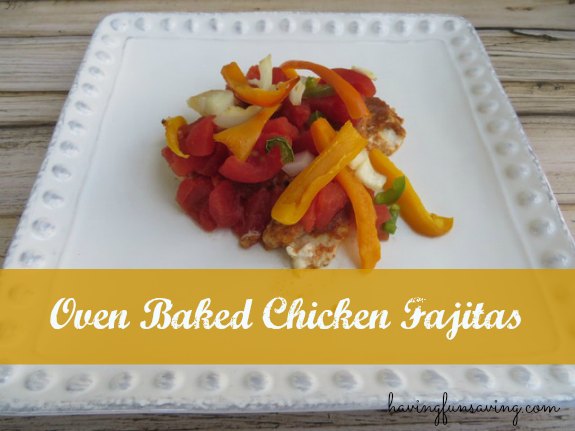 Oven Baked Chicken Fajita Recipe – Low Calorie & Full of Flavor
I know I have told you guys a few times that I had the opportunity to head to Bailey Farms down in Ft. Myers a few weeks ago. My trip was filled with wonderful information and beautiful vegetables. Today, I have a recipe that showcases the BellaFina Pepper. It is a mini-sweet bell pepper and they are BEAUTIFUL and delicious. I can honestly say that for the first time in my life I ate a pepper right off the vine.
BellaFina Peppers are one third the size of full size bell peppers and equally less expensive, BellaFina™ peppers are an affordable way to include colored bell peppers in a wide variety of recipes. And they are not just more affordable…they are FULL of flavor.
Today's recipe is for an Oven Baked Chicken Fajita. If you follow Weight Watchers – this recipe would be part of the Simple Start Program. Both my mom and reader Michelle sent me a version of this recipe and I switched it up a tad and added in those amazing Bella Fina Peppers…
Here is my Oven Baked Chicken Fajita Recipe, be sure to Print It and Pin It so that you can make it again and again.
Oven Baked Chicken Fajita Recipe – Low Calorie
Author:
Prep time:
Cook time:
Total time:
Ingredients
1 pound boneless, skinless chicken breasts, cut into strips
1/2 package of taco seasoning – I used Mrs. Dash
1/2 can (or 8 oz) of diced tomatoes
1/4 medium onion, sliced
4 Bella Fina sweet peppers sliced
1/2 Jalapeno Pepper
Instructions
Preheat the oven to 400 degrees.
Place chicken strips in a greased 8×8 baking dish.
Sprinkle the taco seasoning over the chicken
Add the tomatoes, peppers, and onions to the dish
Bake uncovered for 20-25 minutes or until chicken is cooked thoroughly
Notes
My husband had his on a tortilla and I ate mine as is. This dish is full of flavor, delicious, and easy to make!
Look for Bella Fina Peppers at your local grocery store – I have seen them at both Publix and Walmart. They are carried up north as well…and if you don't see them – make sure to ask at Customer Service to start carrying them!
Learn more about BellaFina Peppers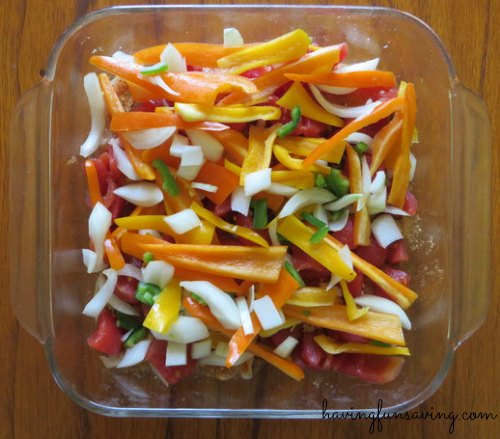 Make sure to let me know if you try this Oven Baked Chicken Fajita Recipe!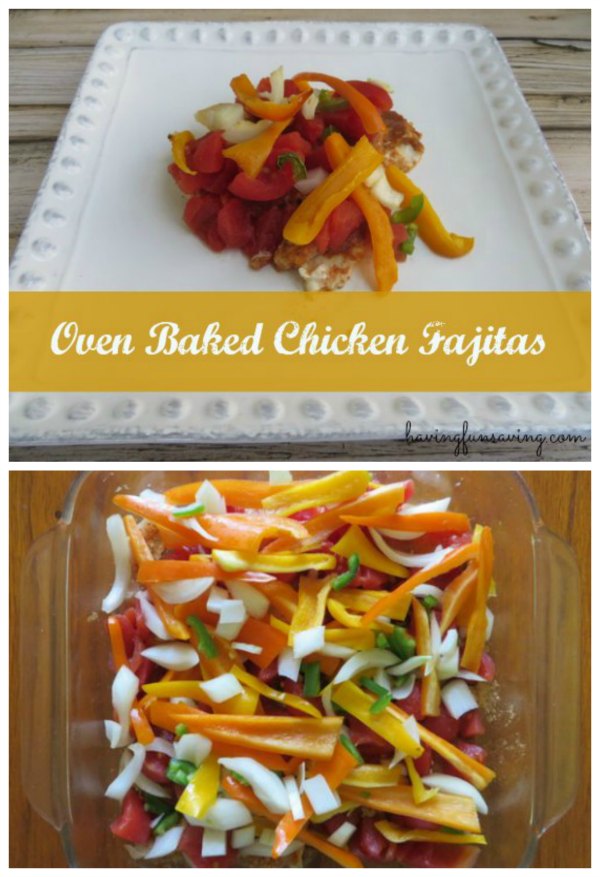 What are some other pepper recipes you guys would like to see?
Find out more about Bailey Farms
Recipe Disclaimer – I was provided a complimentary gift card by Monsanto to offset the ingredient costs for this recipe. No other compensation was received. All opinions expressed are my own.
Bailey Farms Event Disclaimer – I was provided a travel stipend by Monsanto to offset transportation costs to and from Bailey Farms. No other compensation was received. All opinions expressed are my own.