(Last Updated On: August 27, 2019)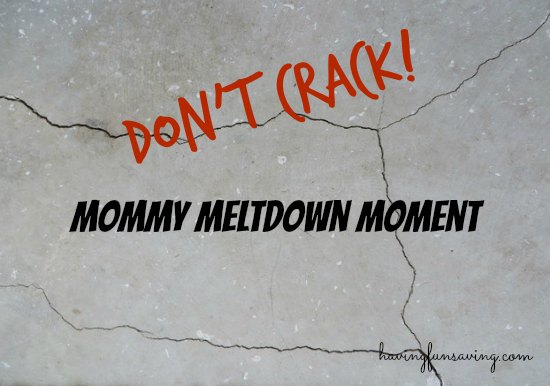 Ok, I am having a mommy meltdown moment…maybe it is just a meltdown moment in general I am not sure, but I am definitely having a moment of sorts.
I woke up tired, which is normal for me and my son told me his belly hurts and my husband told me that I should take him to the doctor's. Not that I don't love my son – but my first thought was – "ok, how am I going to handle that and get all my work done today. " BAD mommy thought, I know. And to tell the truth, I really don't think my son is sick…again BAD mommy thought I know. For a little background information, 2 days ago my son was sitting with his buddy at lunch, his buddy gave him a piece of the fruit from his lunch…my son ate it….then his buddy told him it would make him sick. He quickly followed it up with that he was kidding though.
My son has anxiety, so telling him such things makes it happen. He got home from school, threw up two times and took a nap. The only thing my son knew that was it looked it an orange, but that it wasn't an orange. I then proceeded to email his teacher, email the principal and googled every term I could think of that would be a fruit that you could drink the juice from (that's what his friend told him) but you could not eat. I found nothing. Surprised? I called Poison Control even – they thought I was crazy. Finally, my mom suggested that I google the friends name and see if I could locate the phone number – so I could ask what my son could have possibly eaten.
Surprisingly enough, that worked! I called the mom and she told me it was a Tangerine. It was bought at Walmart and her son ate the rest of it at lunch, she had one today, and so did her other son. A tangerine folks. I spent 4 hours freaking out over a tangerine. Don't get me wrong, I am insanely thankful that there is no such fruit out there that you can drink the juice out of and not eat…and that it is not at my son's school. But, really. I know…BAD mommy thought. I don't have anxiety, so I won't claim that I understand it, but I do understand that it can be a very hard thing to deal with. So, I hugged him and told him all was well. Today, I am taking him to the doctor because he still thinks there may be an issue. I pray that there isn't. In fact, I am pretty darn sure that there isn't, but I am going. And my first thought was, I don't wanna.
Know what else I don't wanna do? I don't wanna look at the CEMENT floor in my living room anymore. The one that is filled with cracks and looks horrible. About 6 weeks ago I made the mistake of saying that I would like new carpeting…we pulled it up and there was a TON of cracks. And because my dear husband has a background in construction and engineering we are having a million tests done, having 4 million inspectors out to look at them…and for WHAT?! In hopes that someone will magically make it all better? It's NOT going to happen! We have been here for 7 years – no one cares if I have cracks in my floor – and if they are bad…well, then folks expect us to PAY more to fix them.
And to top it off…my parents are here in a week. Not that they care that I have a cement floor in my living room…but I DO! I don't want a CEMENT floor anymore! Is that to much to ask?!
I have a ton of dishes in the sink and part of me doesn't even want to load the dishwasher because that means in an hour I will have to empty it. I have clothes that have been sitting on my couch for days waiting to be folded…and dare I mention that I have had a load sitting in the dryer for days too? They will be a wrinkled mess, but I am not caring today.
So, maybe I will get up and go for a ride and enjoy this beautiful Florida sunshine…but wait…I can't…my truck is OUT OF GAS!
Maybe a walk?
Well, that's my Mommy meltdown for the day…I am off to find some chocolate. And I know that a workout to blow off steam would be much better for me. But, let's be honest…that's not happening today.
Oh wait…to top it all off, the UPS guy just came and my dog peed. I have a German Shepherd that pees every time he barks. Yes, every time. And he barks at just about everything. So, I think I will enjoy my chocolate before cleaning up dog pee. Yes, I think I will…..