(Last Updated On: January 12, 2021)
Get restaurant-style clam chowder at home with this deliciously easy Instant Pot Clam Chowder Recipe. Ready in just 30 minutes your whole family will love this comfort food Instant Pot Soup recipe.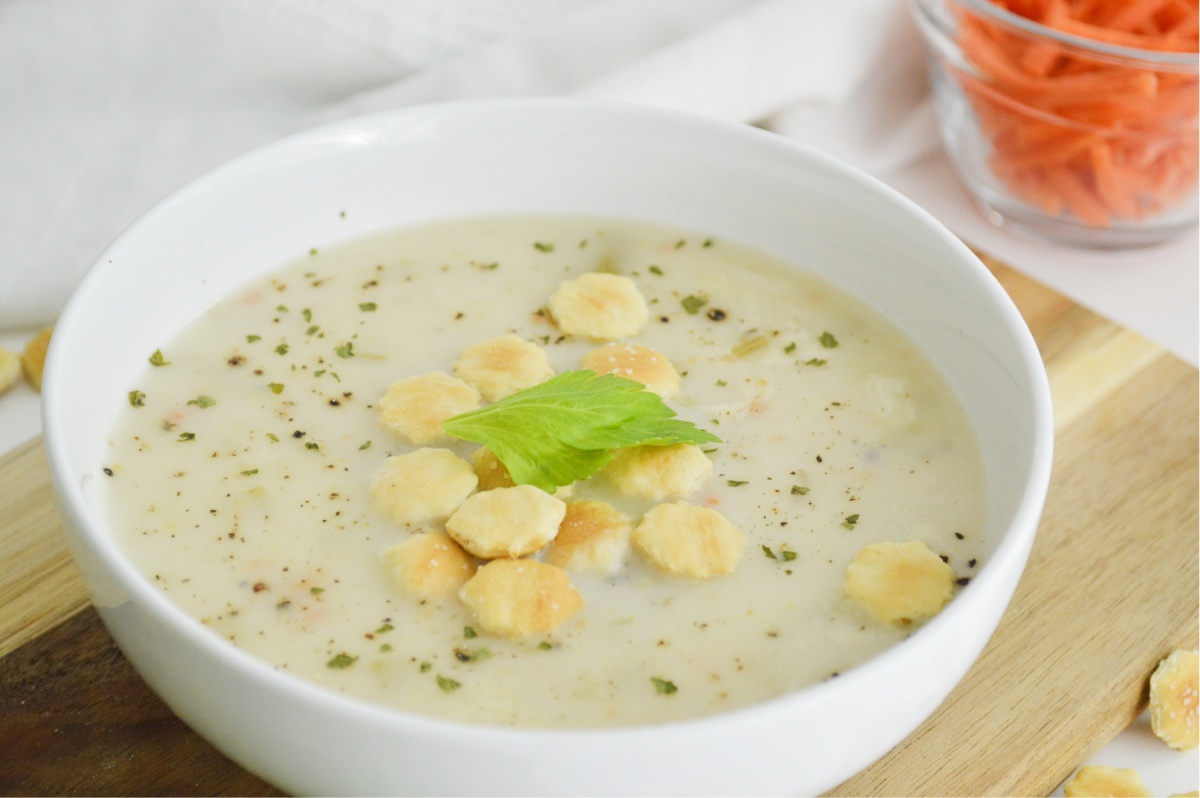 Easy Instant Pot Clam Chowder
There is something about a nice bowl of soup that warms the soul. Soup is one of those comfort foods that automatically makes you feel better. The weather doesn't need to be cool to enjoy a nice bowl of soup, in fact, this easy clam chowder recipe is inspired by our favorite seafood chowder that we get every summer at The Cove in Leland, Michigan.
This is an Instant Pot Soup recipe. I don't own an Instant Pot. But my friend does and she promised me it was easy to use, especially for making this Instant Pot Clam Chowder recipe. I was craving clam chowder for dinner but it was already after lunch so it was too late to start it in the slow cooker. So, my friend let me borrow hers and I made my first ever Instant Pot Soup recipe.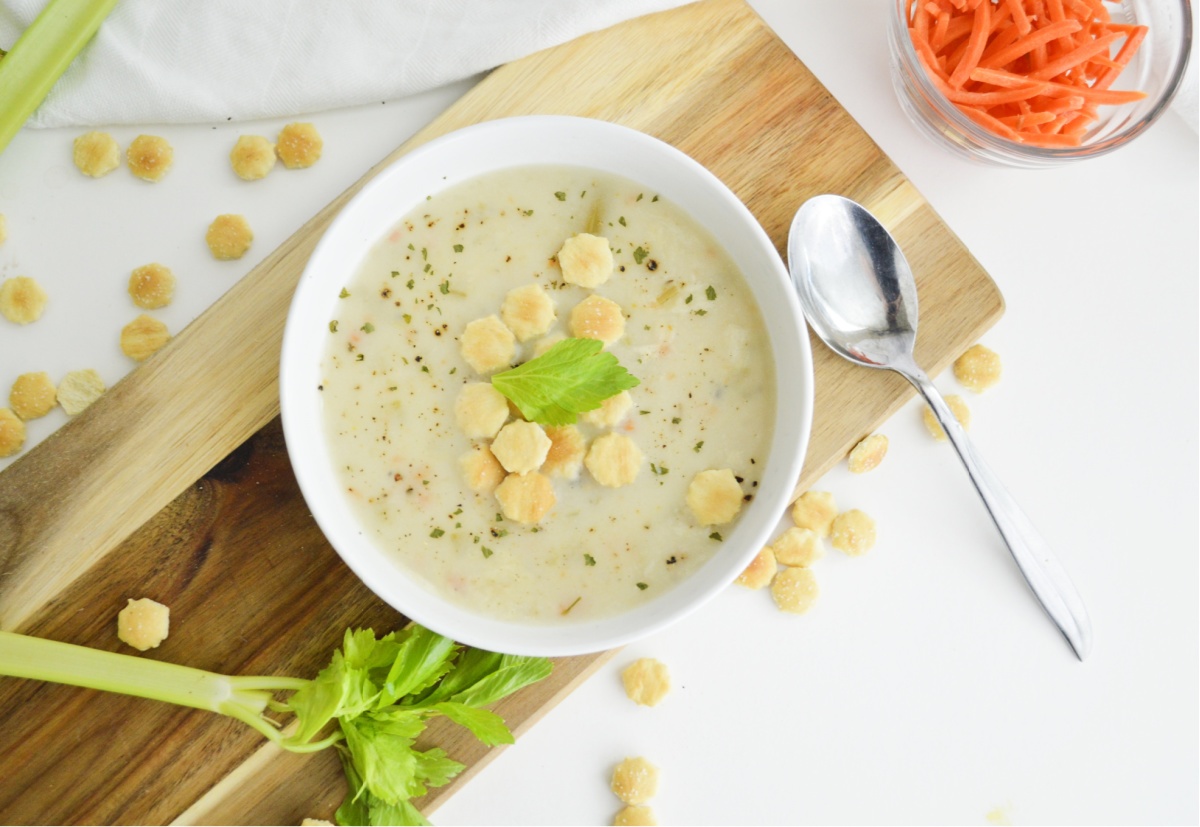 I figured if I was going to experiment with an Instant Pot, I might as well make something that I really wanted. Instant Pot Clam Chowder.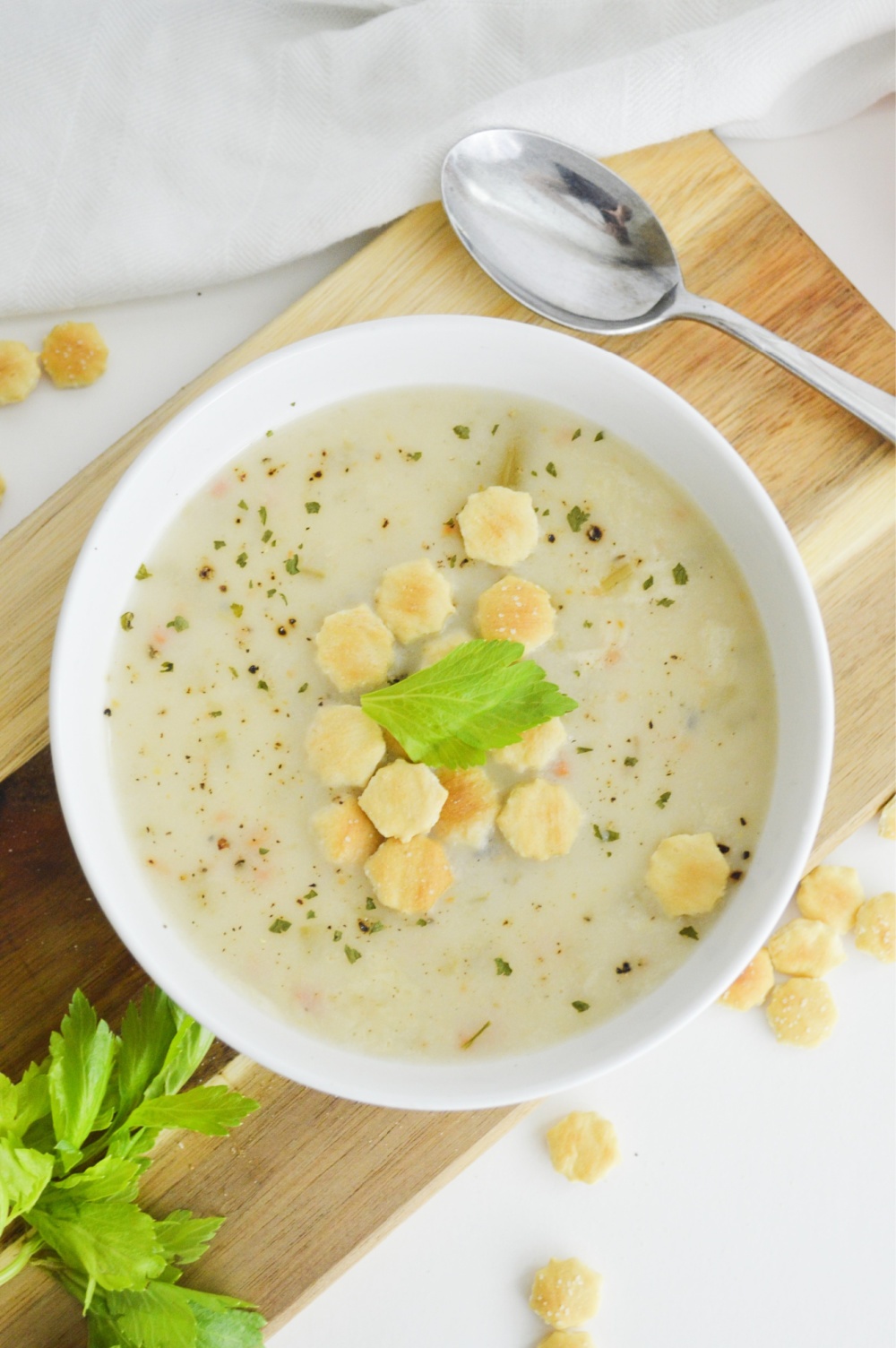 I added baby shrimp to my clam chowder recipe, because that's the way it's served when I order up in Michigan. If you don't want to add the baby shrimp, you don't have to, but you may want to increase the amount of clams.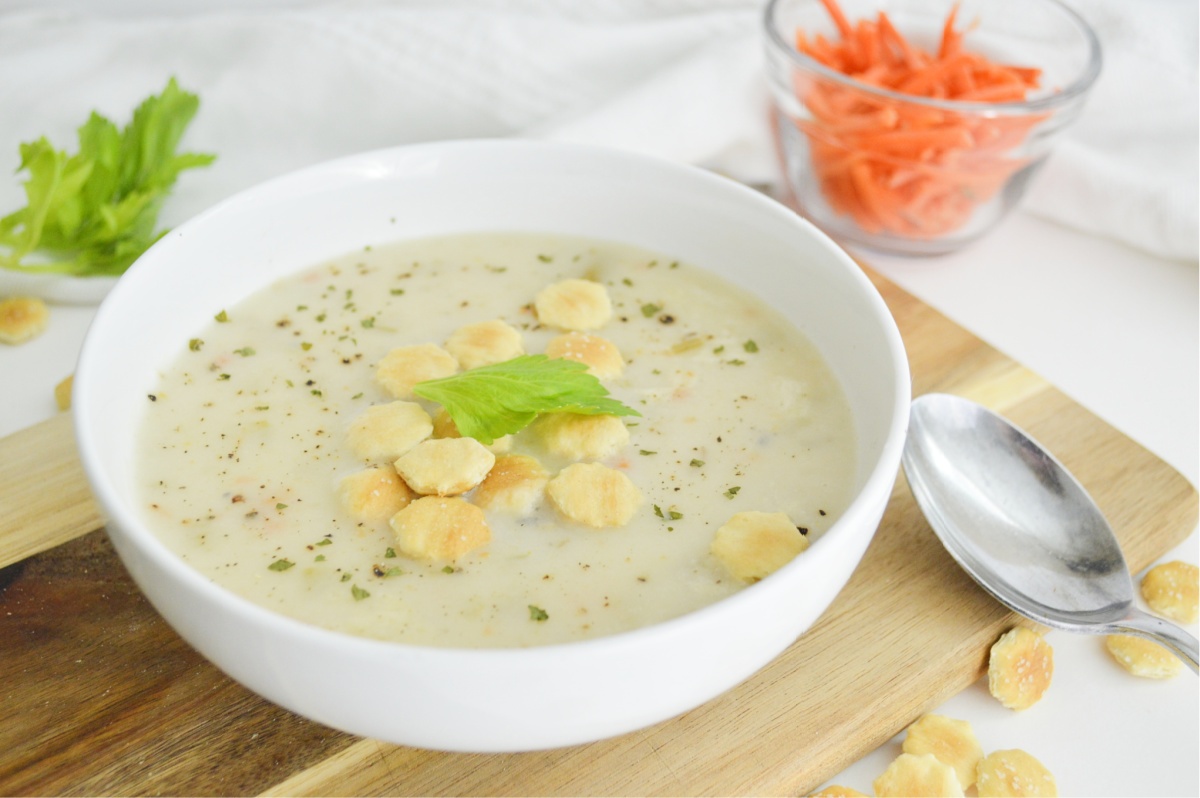 I will say that I was pretty amazed that I could saute the vegetables, add in the soup ingredients and have a deliciously prepared soup in under 30 minutes. I guess that's why folks love Instant Pots. Impressive meals made in minutes.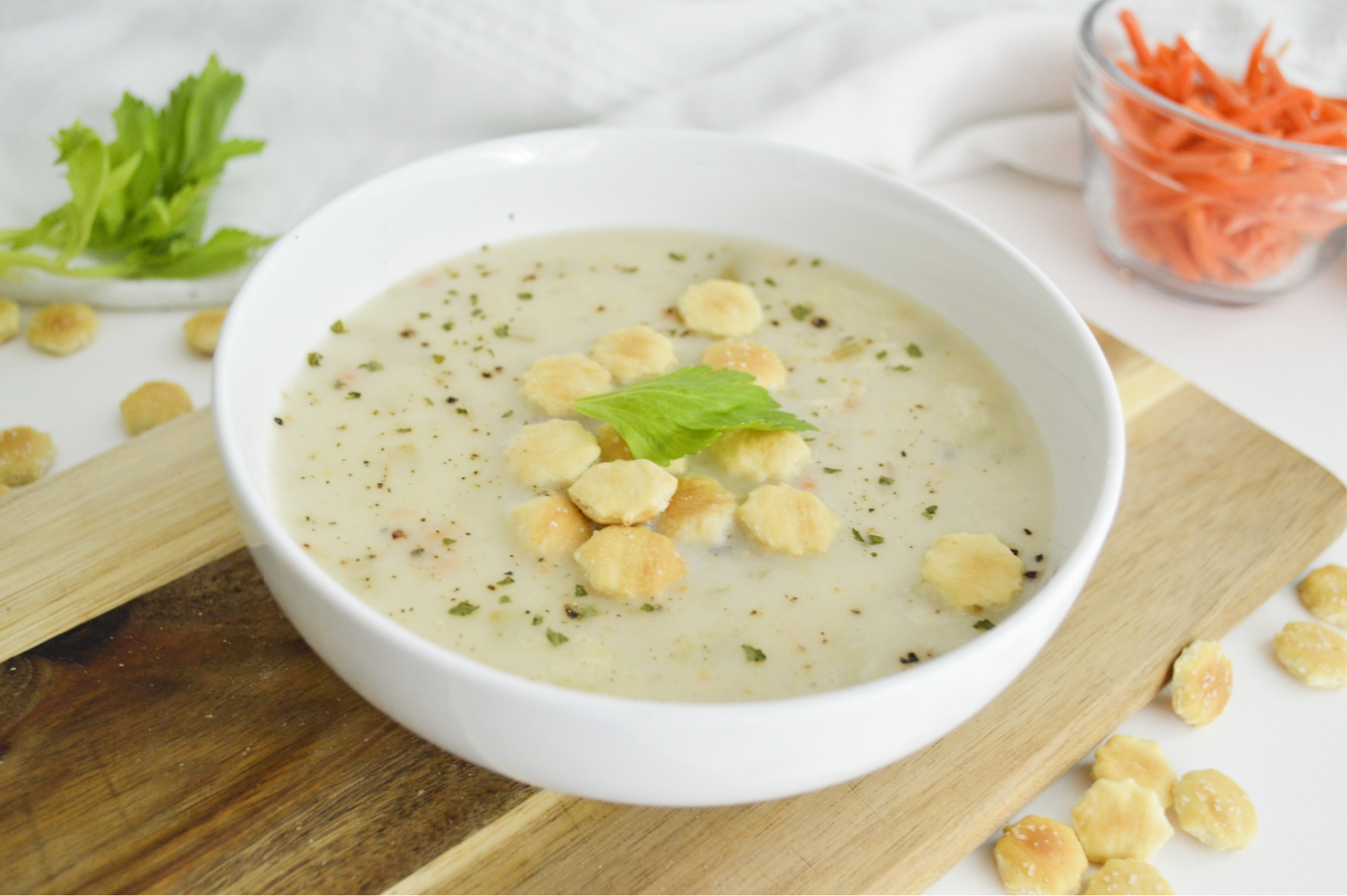 Speaking of impressive meals, are you ready for my Instant Pot Clam Chowder recipe? Of course you are. Be sure to Print It and Pin It so that you can make it again and again. Remember, soup isn't just for cool weather.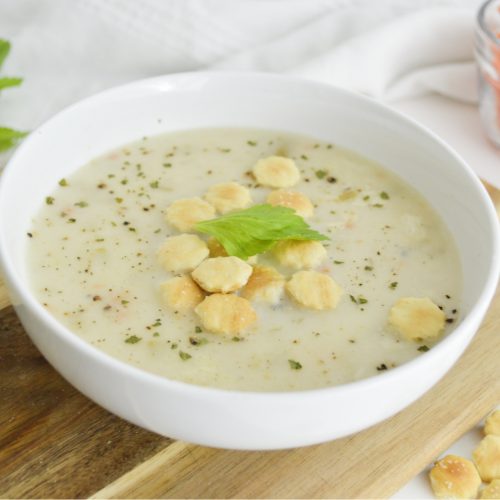 Instant Pot Clam Chowder
This restaurant-style Instant Pot Clam Chowder is ready in less than 30 minutes. Warm up your belly with this comfort food instant pot soup recipe.
Print
Pin
Rate
Ingredients
2

tbsp

butter

1

white onion

chopped

3

stalks celery

chopped

1/2

cup

shredded carrots

3

cloves

garlic

minced

10

small-medium honey gold potatoes

quartered and chopped

8

oz

frozen baby salad shrimp

or similar

1/4

tsp

thyme

1/2

tbsp

Salt

Pepper to taste

1

Bay Leaf

8

cups

water

13

oz

clams

2 6.5 oz cans (drained and juices reserved about 1 cup)

2

cups

whole milk

2/3

cup

flour
Instructions
Set Instant Pot to "Saute" function.

Add butter, onion, celery, carrots, and garlic.

Saute for a few minutes until vegetables are soft and fragrant.

Then add potatoes, shrimp, thyme, bay leaf,salt and pepper.

Then add reserved clam juice and water.

Seal and lock the lid of the Instant Pot and switch function to "Soup" or "High Pressure Cook" and set time for 15 minutes.

Once finished cooking, manual release the steam and carefully unlock the lid.

Switch back to the "Saute Function".

Add in drained clams and milk.

Then slowly whisk in the flour.

Whisk and simmer until thickened.

Taste and add more salt and pepper to taste.

Serve hot and enjoy.
Notes
You can add more flour for a thicker chowder.
Nutrition
Calories:
254
kcal
|
Carbohydrates:
45
g
|
Protein:
13
g
|
Fat:
3
g
|
Saturated Fat:
1
g
|
Cholesterol:
71
mg
|
Sodium:
676
mg
|
Potassium:
946
mg
|
Fiber:
5
g
|
Sugar:
5
g
|
Vitamin A:
1300
IU
|
Vitamin C:
40
mg
|
Calcium:
141
mg
|
Iron:
3
mg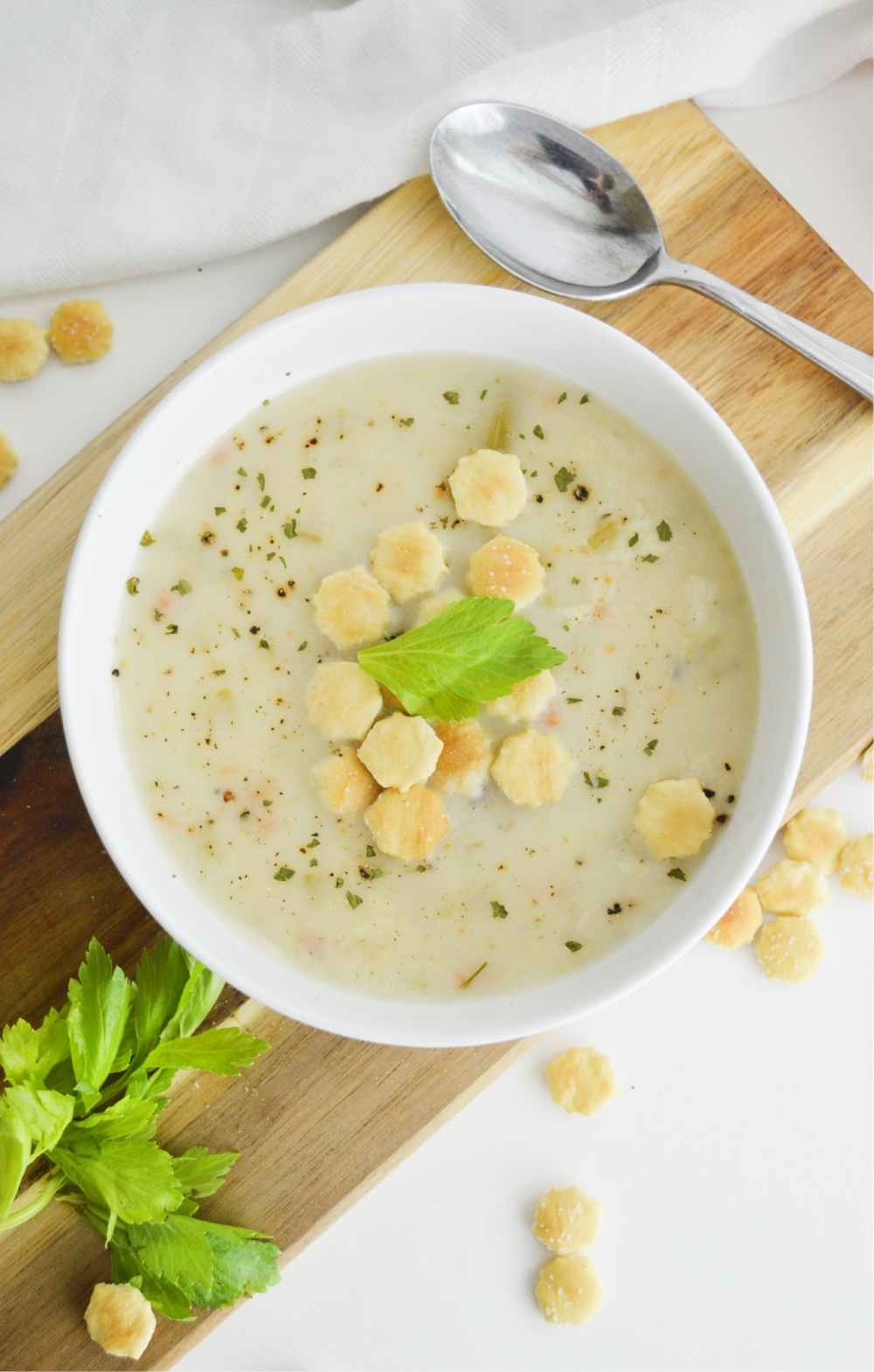 I hope you enjoy this Instant Pot Seafood Chowder as much as we do!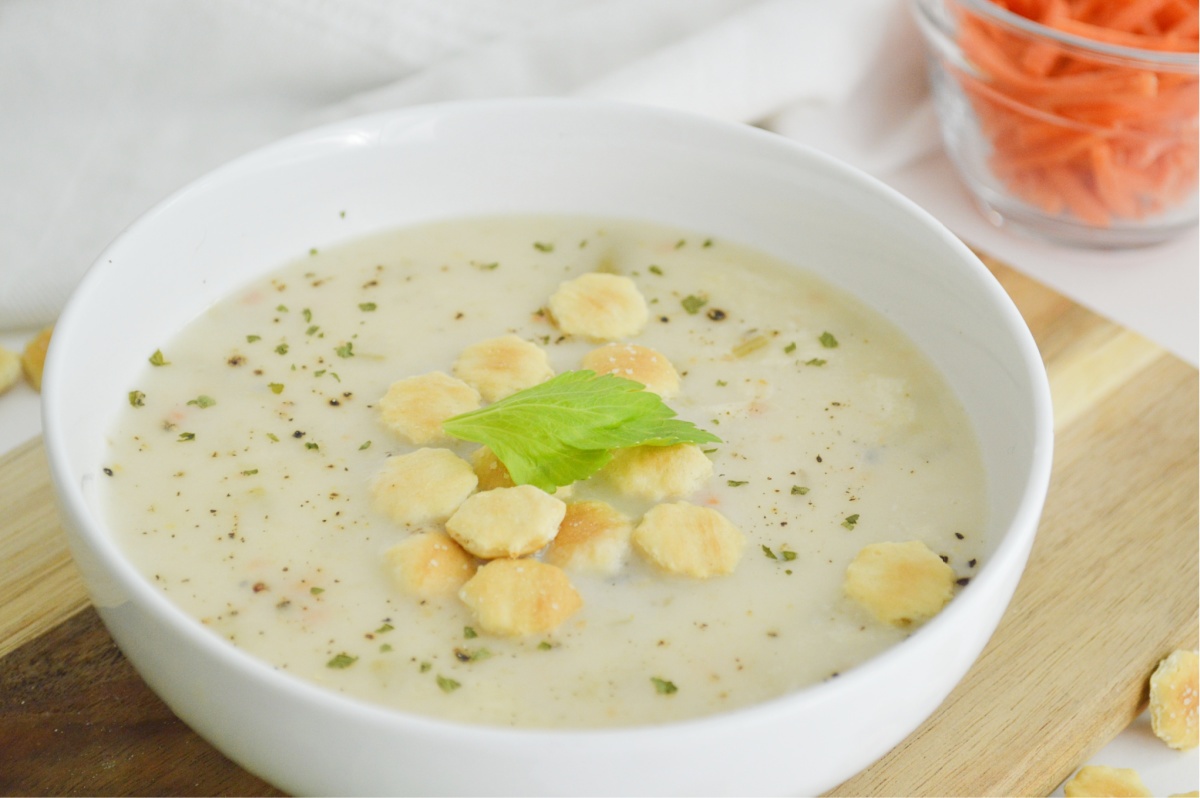 This Instant Pot Clam Chowder recipe makes about 8-10 servings, so if you have leftovers, you can store then in an airtight container in the refrigerator for about 3-4 days.
Now, the big question is whether or not I invest in an Instant Pot myself. Obviously I was so impressed with the results on my Instant Pot Clam Chowder I needed to share it with you all. So, maybe just maybe I will end up on Amazon here one day soon getting one of my own.
I did some research on Instant Pots and here are a few of the things I found…You may already know all this, since you came here for an Instant Pot recipe, but I figured I would share anyway…just in case 😉
Reasons To Buy An Instant Pot:
An Instant Pot is a true multicooker, it sears, browns and sautes food like a stove-top skillet. That's why it was so easy to saute my vegetables in my seafood chowder. Instant Pots can also steam items such as fish, eggs and vegetables and even replace your rice cooker.
You can make bread, sweets, desserts and yogurt in an Instant Pot. I did try to make yogurt in an Instant Pot and decided the Dutch Oven was easier, but that may be just me.
The Instant Pot uses high pressure and heat. Which means that meals you would nornally let simmer all day so they can be flavorful and tender, you can get the same results in a third of the time.
Instant Pots operate within preset safety limits. So, you don't have to worry about anything exploding from too much pressure.
There are sensors also detect whether the lid is locked or not. In fact, if you don't have it closed correctly, the Instant Pot won't take on pressure. And, once the cooker's interior becomes pressurized, the lid automatically locks in place.
The Instant Pot also promises easy clean up. And I can attest to that. Since you just have to clean one pot and it's dishwasher safe, clean up is a breeze. The inner pot is also pretty easy to wash by hand. The cooker's various parts are also dishwasher-safe.
There are thousands of delicious Instant Pot recipes out there. Like my Instant Pot Clam Chowder. So, if you are ever at a loss for what to make for breakfast, lunch, dinner or dessert just google it! There are countless amazing recipes out there to make sure that you are getting use out of your Instant Pot.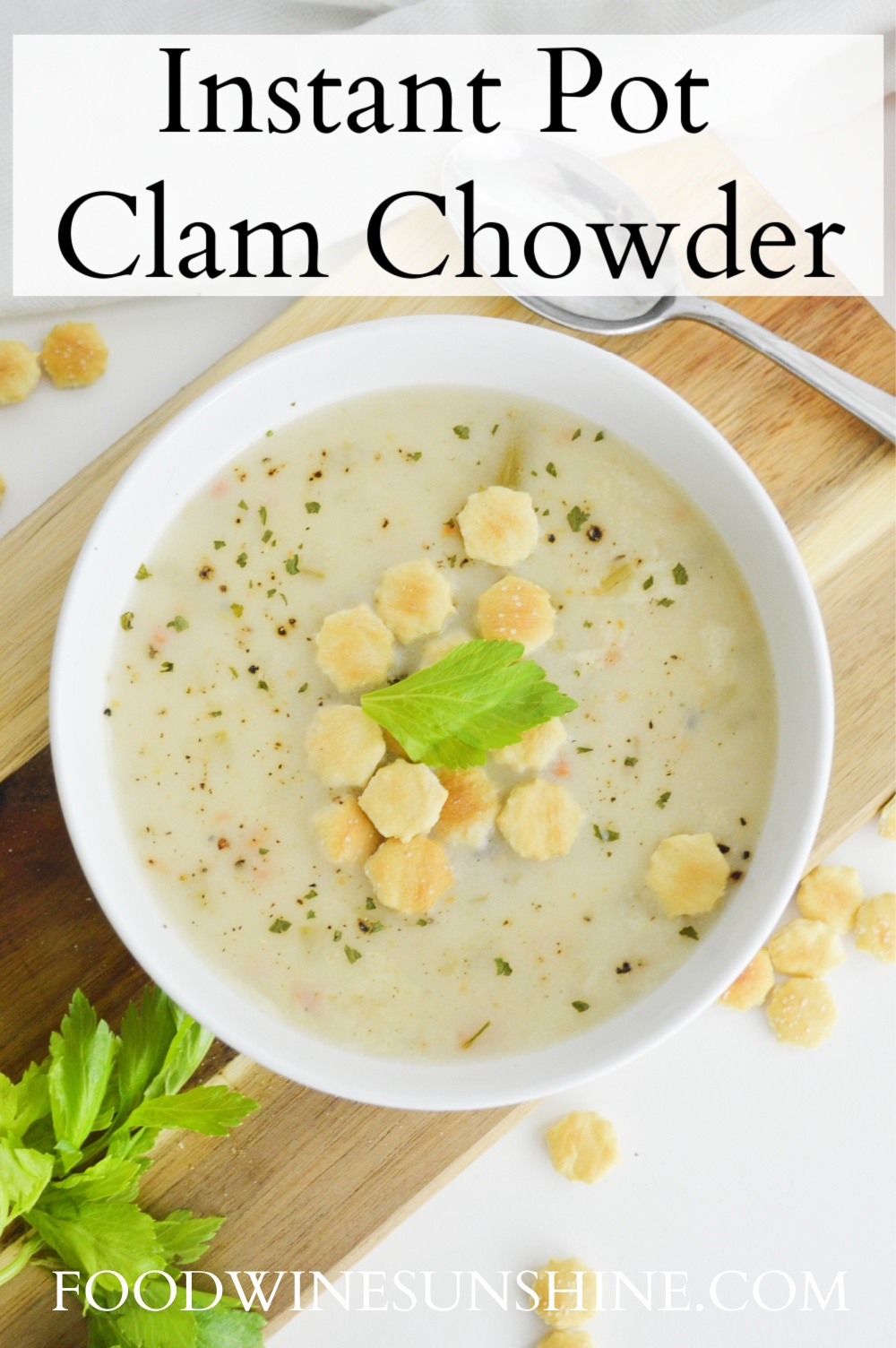 What is your favorite thing to cook in an Instant Pot?
Check out all the delicious recipes on Food Wine Sunshine and follow on me Facebook, Twitter, Pinterest and Instagram.