(Last Updated On: December 12, 2022)
Santa is coming! Santa is coming! And what does Santa want? Milk and cookies of course! And if you are looking for the same, these Hot Cocoa Marshmallow Cookie cups are not only adorable, but they are yummy! While this post is sponsored by Florida Milk, my love of Christmas and cookies and this recipe are my own.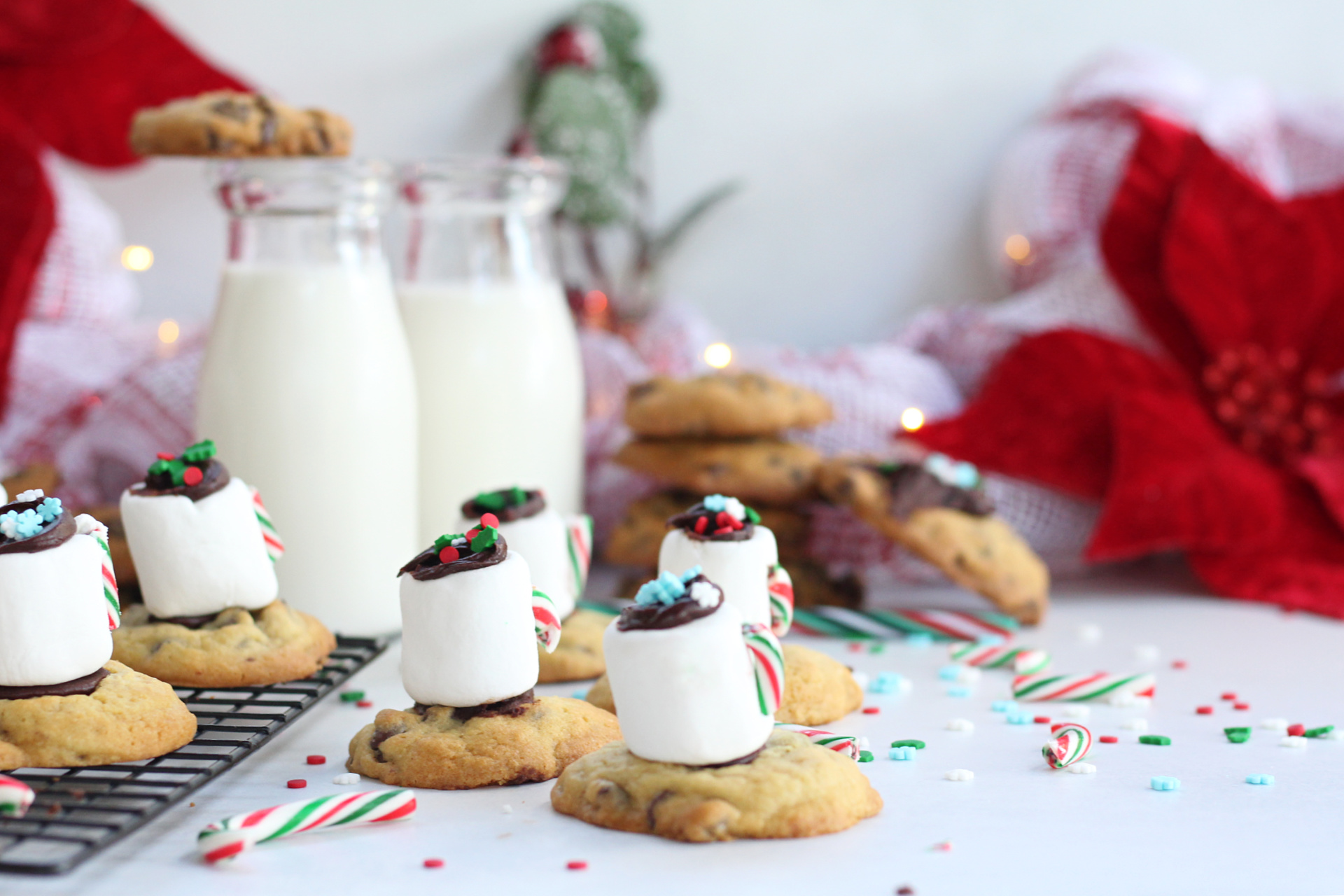 When I think of the holidays I think of all the food and desserts that are shared with family and friends. Cookies are the perfect example. Have you started your baking yet? Cookie swaps are on our Holiday To-Do List and we always bake dozens and dozens of cookies to share with the neighbors. It's a tradition we have been doing for at least 10 years now. I used to do all the baking, but as of last year, the kids did it! We make at least 10 dozen cookies, plate them all pretty and then the kids put on their Santa hats, grab their favorite portable speaker to play Christmas tunes, then they walk the subdivision to spread holiday cheer. The rule is that they must always choose at least one house that isn't someone they know well so that they are spreading that holiday cheer to new and old friends. I absolutely love this tradition 🙂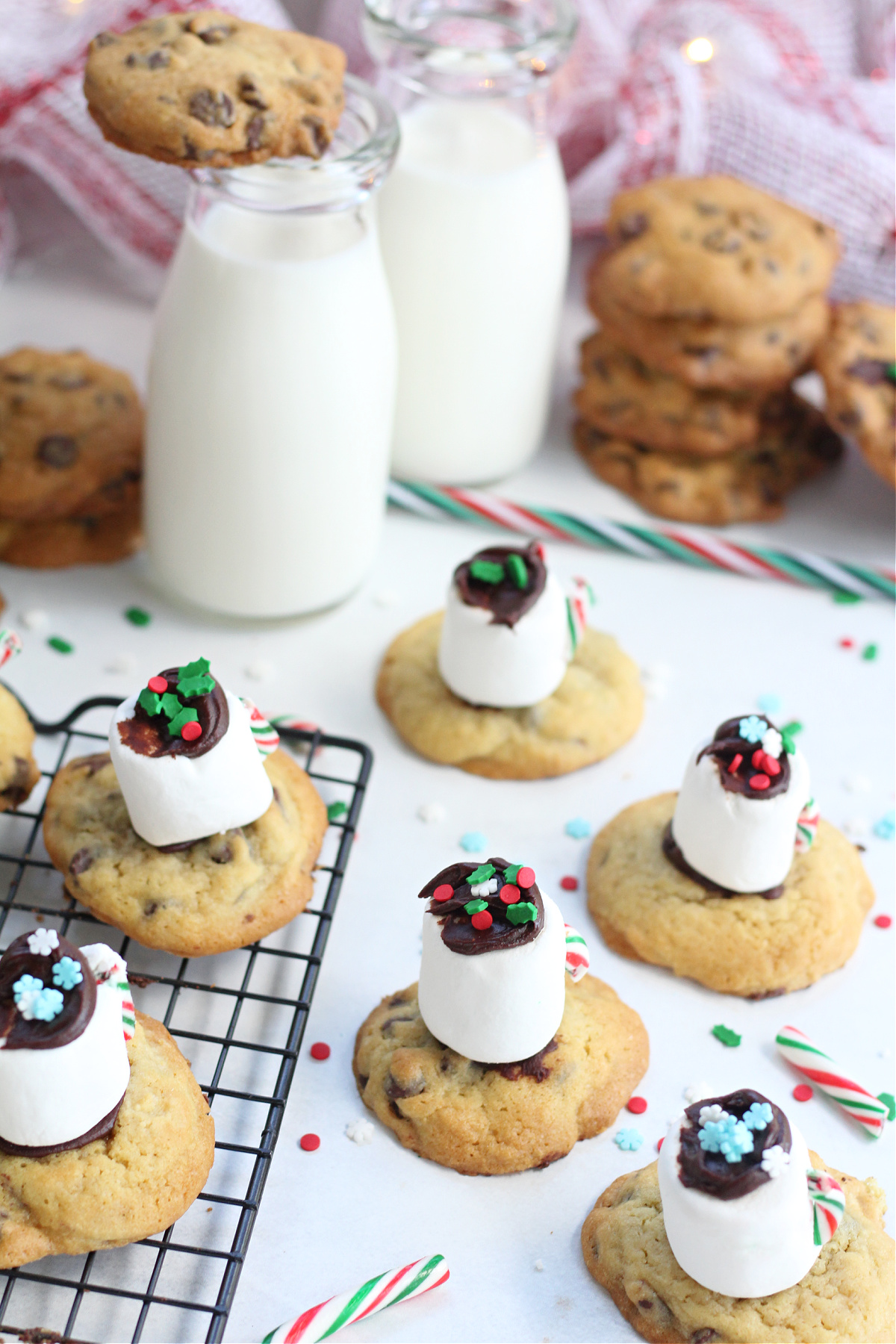 And this year, I am excited that we will have these fun Hot Cocoa Marshmallow Cups to share. Seriously, how adorable are they?!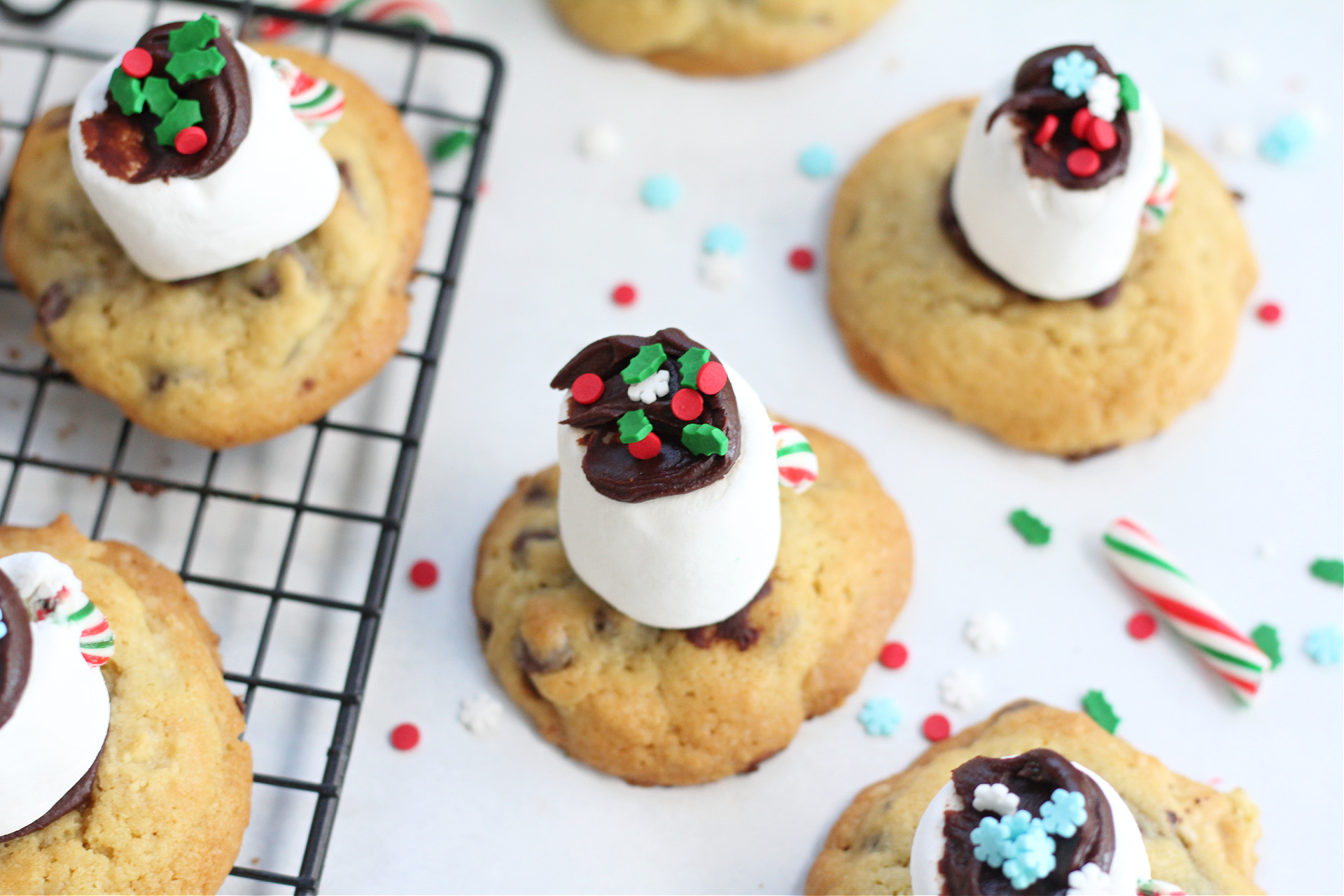 We always make our Peppermint Chocolate Chip Cookies, so this year we just switched up the peppermint frosting for a chocolate peppermint frosting and added our marshmallow hot cocoa cups.
As you can tell, we absolutely love the chocolate and peppermint combination, if you don't (WHAT?! How is that possible??), it's okay, just leave the peppermint extract out of the recipe. But seriously…how could you not like peppermint?!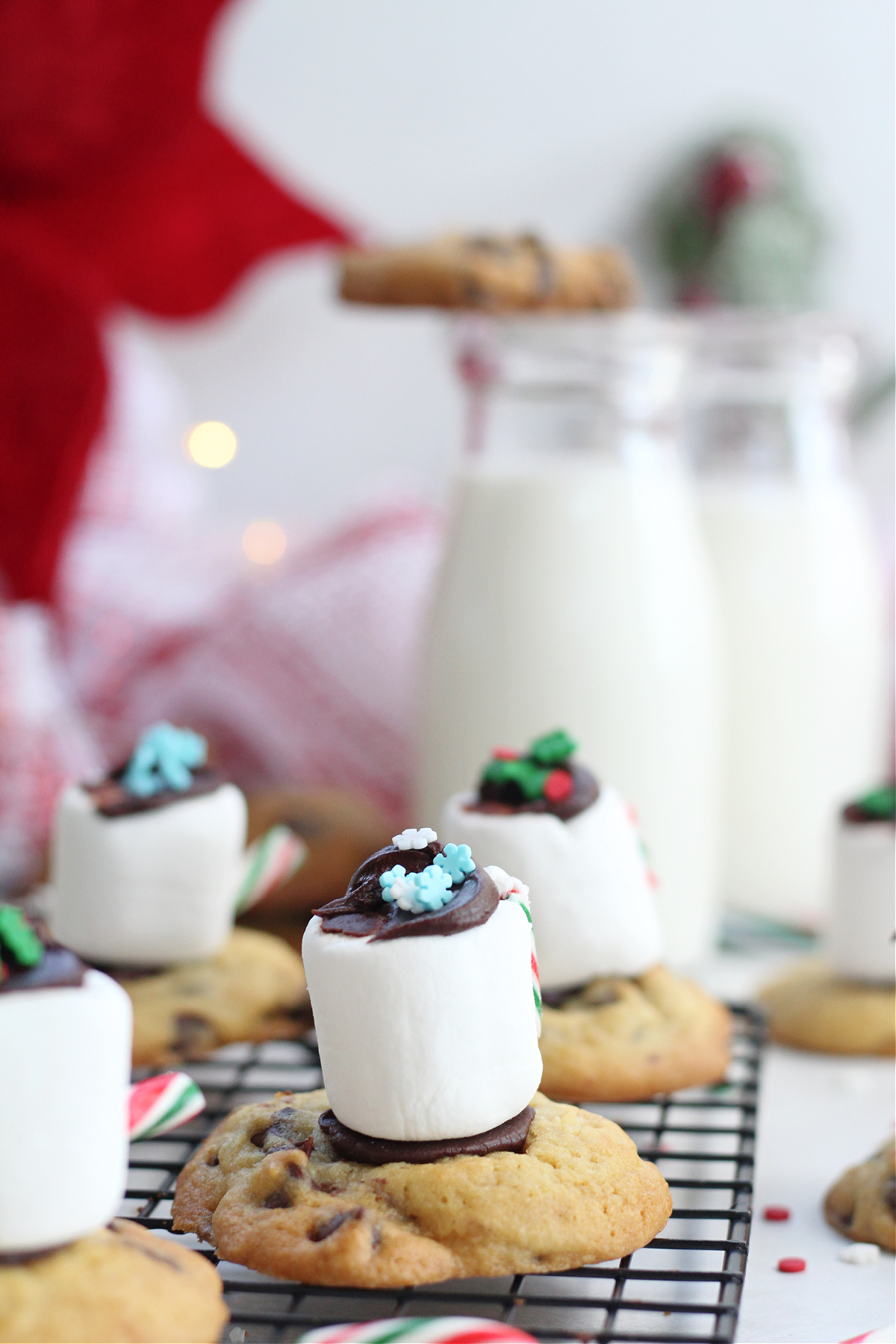 The Peppermint Chocolate Chip Cookie recipe and the Chocolate Peppermint Frosting recipe are made with pantry and household staples, so you probably already the ingredients on hand! I did have to go to the store for the marshmallows…it's s'mores season here apparently and my kids are enjoying marshmallows and chocolate on the regular for a snack. Can't say I blame em though.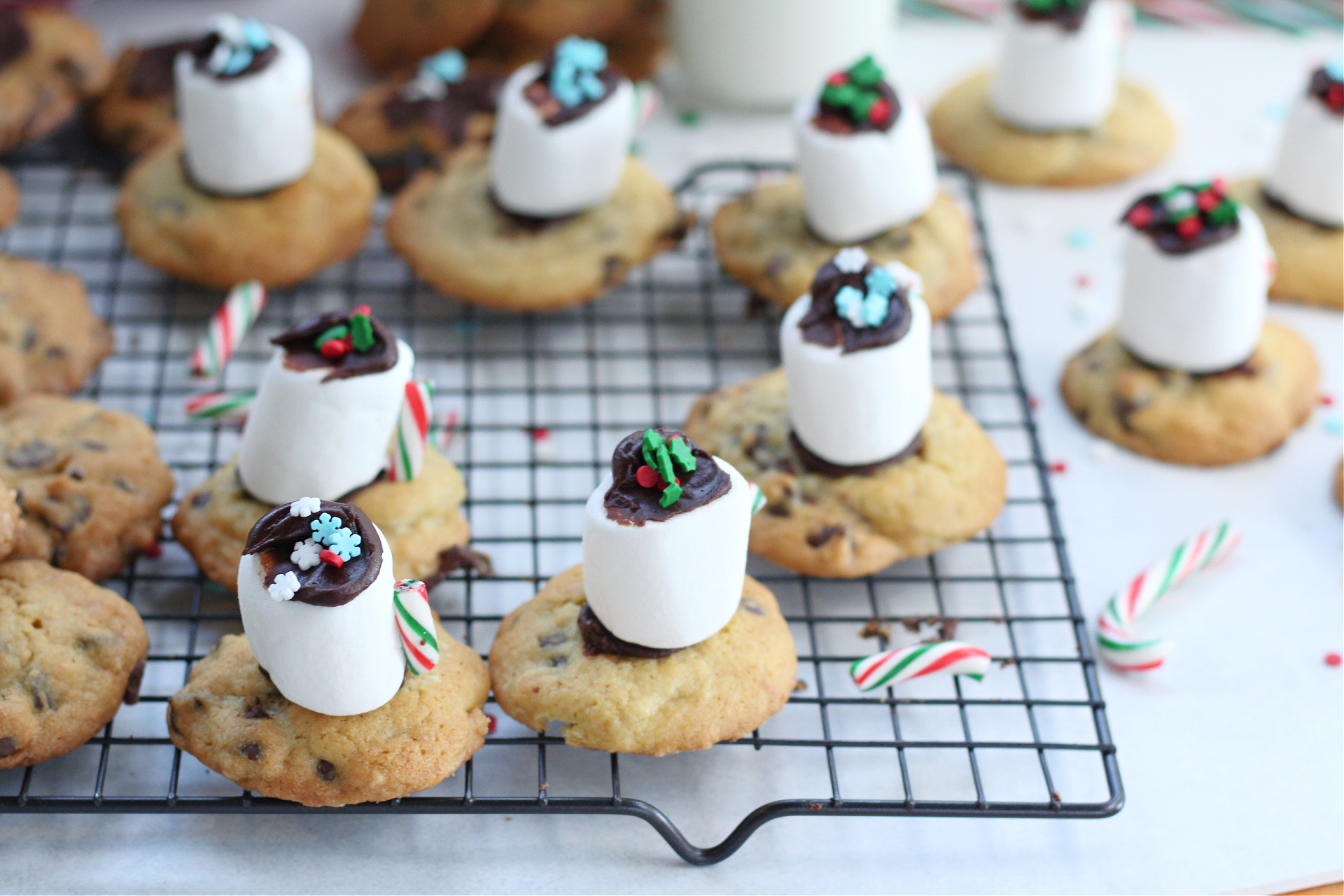 The hardest part about making these Hot Cocoa Marshmallow Cookies is not eating them all before they are decorated 😉 In all seriousness, grab the kiddos for the decoration part! One can put the frosting on the cookie, one can handle putting the frosting on the marshmallow and everyone can join in putting sprinkles everywhere. You can never have too many sprinkles…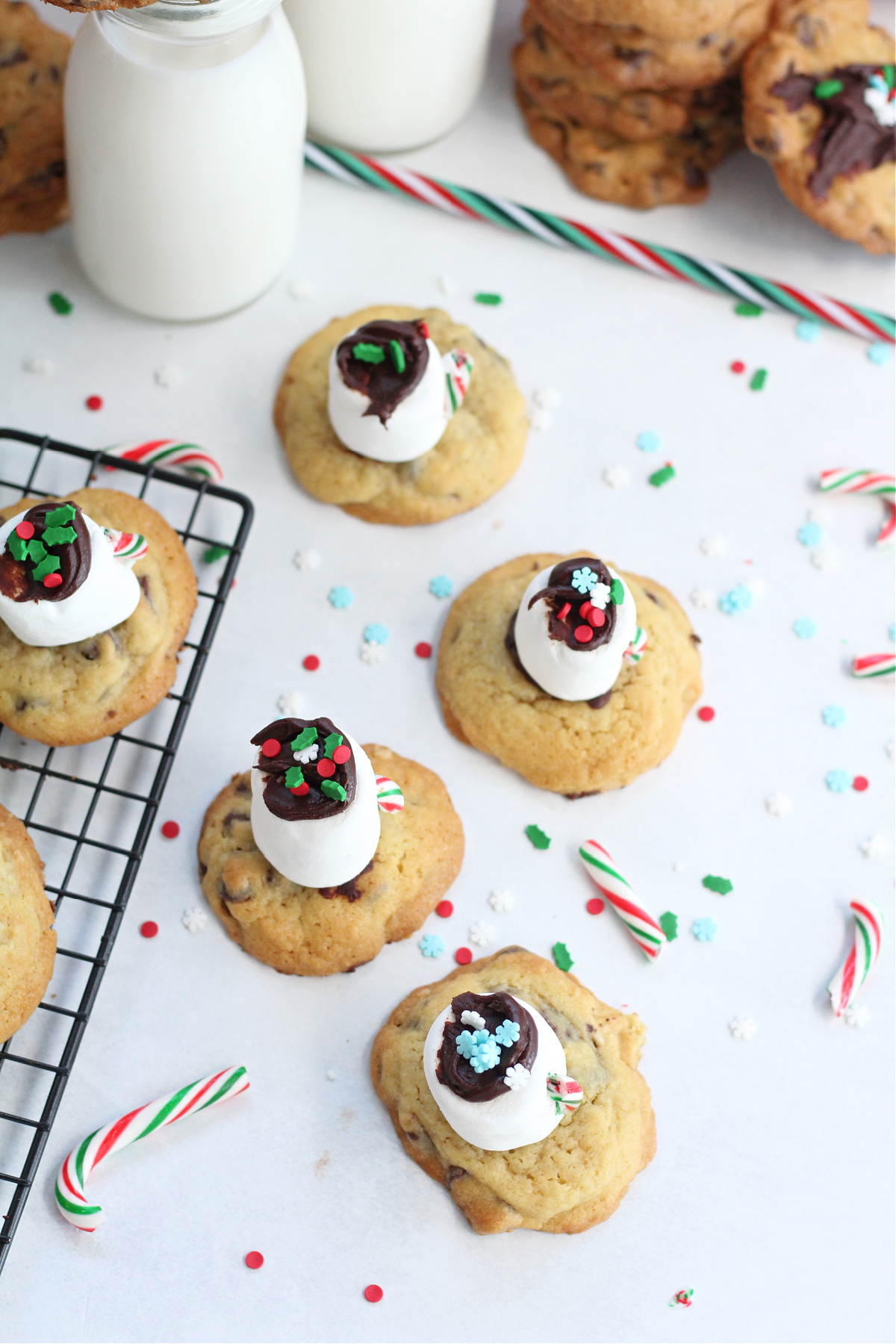 Have you ever wondered why Santa loves milk and cookies? Come to find out, there is a deep-rooted history behind this snack. But, which legend do you believe? One is that during the 19th century in England, children would leave cakes or biscuits for Father Christmas as a reward for delivering their presents. Some believe it started in the Netherlands with Saint Nicholas who was known to give treats to children, while others say that it can be traced back to Germanic folklore. There are even tales of Scandinavian hard-working housewives leaving out mince pies and whisky for the jolly old man! Whatever the origin, one thing is certain – this delightful festive ritual has been bringing smiles to generations around the world. Let's face it – who doesn't love a sweet treat? After all this hard work delivering gifts around the world in one night, Santa deserves something special.
Alright, let's make some cookies shall we?! And don't forget the milk!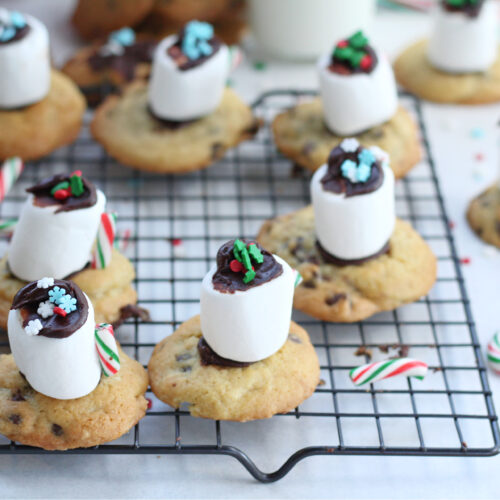 Ingredients
Peppermint Chocolate Chip Cookie Ingredients
2 ¼

cups

Flour

1

tsp

Baking Soda

2

Sticks Softened Butter

¾

cup

Sugar

¾

cup

Brown Sugar

1

tsp

Vanilla Extract

1

tsp

Peppermint Extract

1

tbsp

Florida Milk – I used 2%

2

Eggs

2

cups

Chocolate Chips
Chocolate Peppermint Frosting Ingredients
2

tbsp

butter

1/3

cup

cocoa powder

1 1/3

cup

powdered sugar

1

tsp

vanilla extract

1

tsp

peppermint extract

2

tbsp

Florida milk – more if needed
Hot Cocoa Marshmallow Cookie Cups Additional Ingredients
Jumbo marshmallows

Mini candy canes

Holiday sprinkles
Instructions
Peppermint Chocolate Chip Cookie Instructions
Preheat the oven to 375 degrees.

In a large mixing bowl, combine butter, sugar, brown sugar, baking soda, milk, vanilla and peppermint extract using mixer.

Beat in the eggs one at a time.

Slowly add the flour 1/4 a cup at time.

Mix in the chocolate chips.

Prepare baking sheets with cooking spray or parchment paper.

Make small cookie dough balls, approximately 1 inch.

Place the cookie dough balls onto the baking sheet and bake for 10-12 minutes or until golden brown. Allow the cookies to cool completely before decorating.
Chocolate Peppermint Frosting Instructions
In a medium saucepan, melt the butter on low.

Add the cocoa powder and stir well.

Allow to cool slightly.

Add the milk, extracts and powdered sugar.

Stir well.
Hot Cocoa Marshmallow Cookie Cups Assembly Instructions
Break your mini candy canes into smaller pieces and squeeze then into the side of the marshmallow. If you are having a hard time getting it to stay, push it in further or use vanilla/white frosting to get it to stay. We were able to just push it in further.

Once the frosting is cool, put it into a ziploc bag and push it to a corner, then clip the tip of the corner. This will make it easier to use the frosting.

Once the cookies are cooled, pipe a small amount of frosting onto each cookie.

Place a marshmallow on top of the frosting.

Pipe a small amount of frosting onto the top of the marshmallow.

Add sprinkles to the top of the frosting on the marshmallow.

Serve your Hot Cocoa Marshmallow Cups with a cold glass of Florida Milk…and be sure to save some for Santa!
Nutrition
Calories:
124
kcal
|
Carbohydrates:
23
g
|
Protein:
1
g
|
Fat:
3
g
|
Saturated Fat:
2
g
|
Polyunsaturated Fat:
0.1
g
|
Monounsaturated Fat:
0.1
g
|
Trans Fat:
0.003
g
|
Cholesterol:
8
mg
|
Sodium:
34
mg
|
Potassium:
56
mg
|
Fiber:
0.5
g
|
Sugar:
17
g
|
Vitamin A:
16
IU
|
Vitamin C:
0.001
mg
|
Calcium:
15
mg
|
Iron:
0.5
mg
What is one of your favorite Christmas cookie recipes?
Be sure to check out Florida Milk for more dairy-licious recipes and follow on Instagram, Facebook and Pinterest.
And while you are at it, check out all the recipes on Food Wine Sunshine and follow me on Facebook, Twitter, Pinterest and Instagram for more FOOD WINE AND SUNSHINE.