(Last Updated On: May 24, 2021)
These homemade blueberry muffins are sweet, delicious and easy to make. This healthy blueberry muffin recipe makes 12 muffins and are prepped in just 15 minutes.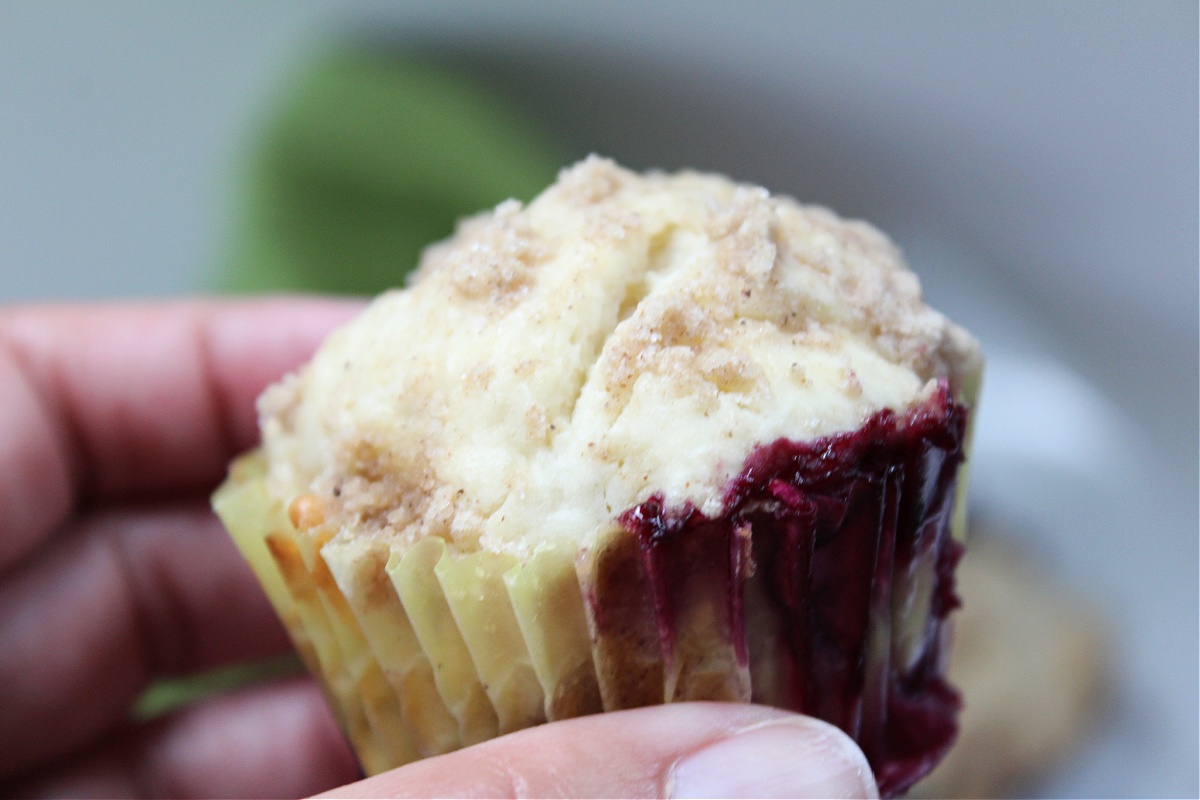 Easy Homemade Blueberry Muffins
Florida Blueberry season is just around the corner so I figured I would get you all excited about stocking up on blueberries with my easy homemade blueberry muffins. In fact, they are so easy the kids actually made them! I was so proud I took pictures and promised to post them. You can find some Florida blueberries in stores now, but the Florida blueberry season will be in full swing here starting April.
This blueberry muffin recipe is actually a tad healthier than the others you will find out there, you all know that I like trying to make recipes lower in fat and calories when I can. These lower-fat blueberry muffins are also loaded with vitamins and nutrients thanks to the blueberries.
Blueberries actually have quite a few health benefits, besides being the king of antioxidants.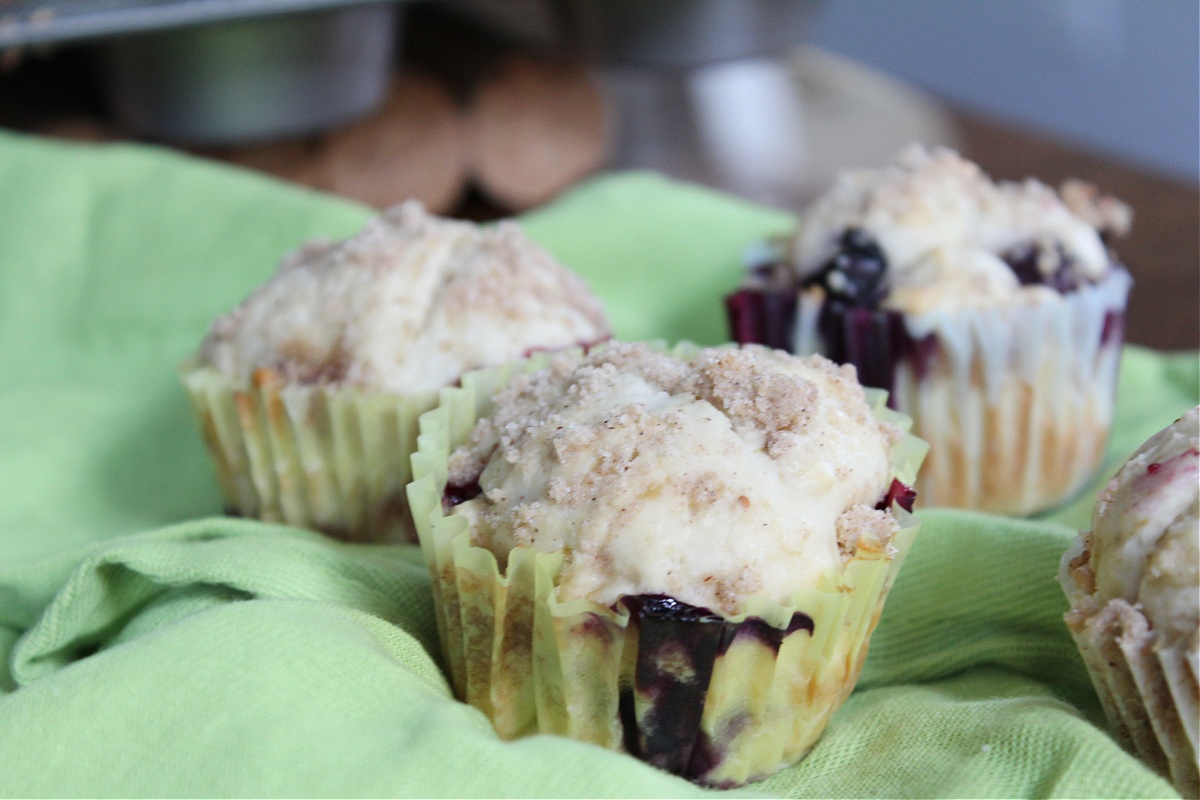 Here are some of the health benefits of blueberries:
Blueberries are high in Vitamin C, just one serving of blueberries provide 25% of our daily Vitamin C requirements.
These beautiful blue berries are low in fat, a whole cup of blueberries is only 80 calories.
Blueberries are high in fiber, which will help keep you fuller longer.
Blueberries are a great source of manganese.
They can help fight urinary tract infections.
Improves heart health and reduces cancer risk.
It is estimated that the blueberries have been in North America for more than 13,000 years, where the history of blueberries starts in Florida in the late 1800s. Then over 60 years ago, Professor Ralph Sharpe began a low-chill blueberry breeding program at the University of Florida. Then by the 1980s, blueberries really started to gain popularity with hundreds of blueberry farms opening across the state.
Michigan (my home state!) is actually the industry leader in producing blueberries, Florida only produces a fraction of the blueberries that Michigan does. The biggest competition to Florida blueberries is actually berries that come from overseas, so I encourage you to check your labels and buy local and support local.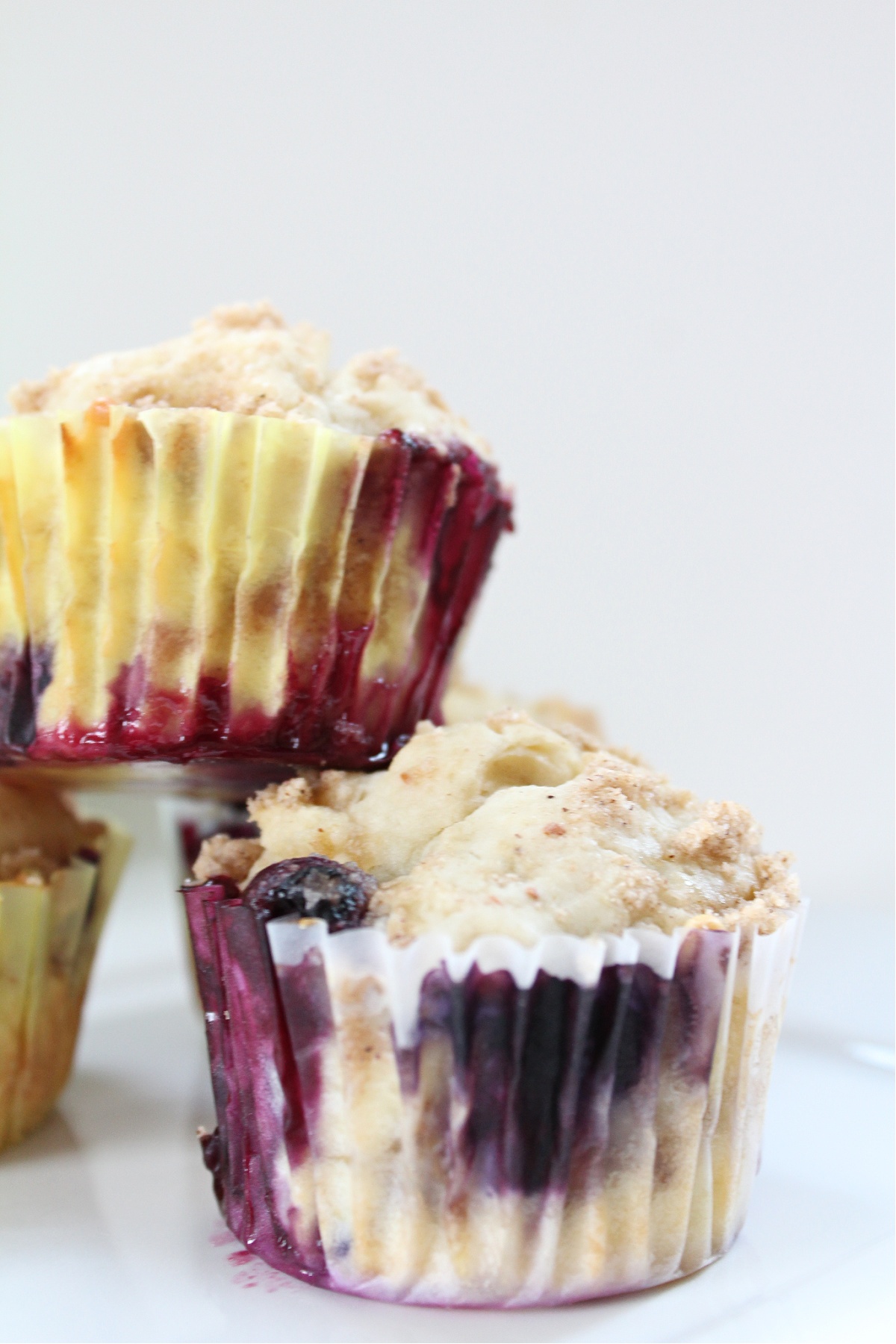 How to pick the best blueberries:
Blueberries are best when they are firm, dry, plump, smooth-skinned, and a deep purple-blue to blue-black color. Blueberries should not look wrinkly, soft or have mold. Blueberries will have a silvery surface which actually protects them. Blueberries do not continue to ripen after harvesting like other berries, so be sure you are getting the best blueberries for your homemade blueberry muffins and you other favorite blueberry recipes. Like homemade blueberry pancakes, blueberry BBQ sauce, blueberry balsamic dressing, your favorite cocktails…oh my!
How to store blueberries
It is best to refrigerate fresh blueberries after purchase, but don't wash them until you are ready to eat them. Blueberries should be enjoyed within 10 days of purchase.
Can you freeze blueberries?
Absolutely! I do it all the time! Frozen berries are excellent for baking, snacking, and in smoothies.
When is blueberry season?
The North American blueberry season runs from April to late September. Florida blueberry season is April and May.
Now that you got your lesson in blueberries, let's get to baking these homemade blueberry muffins.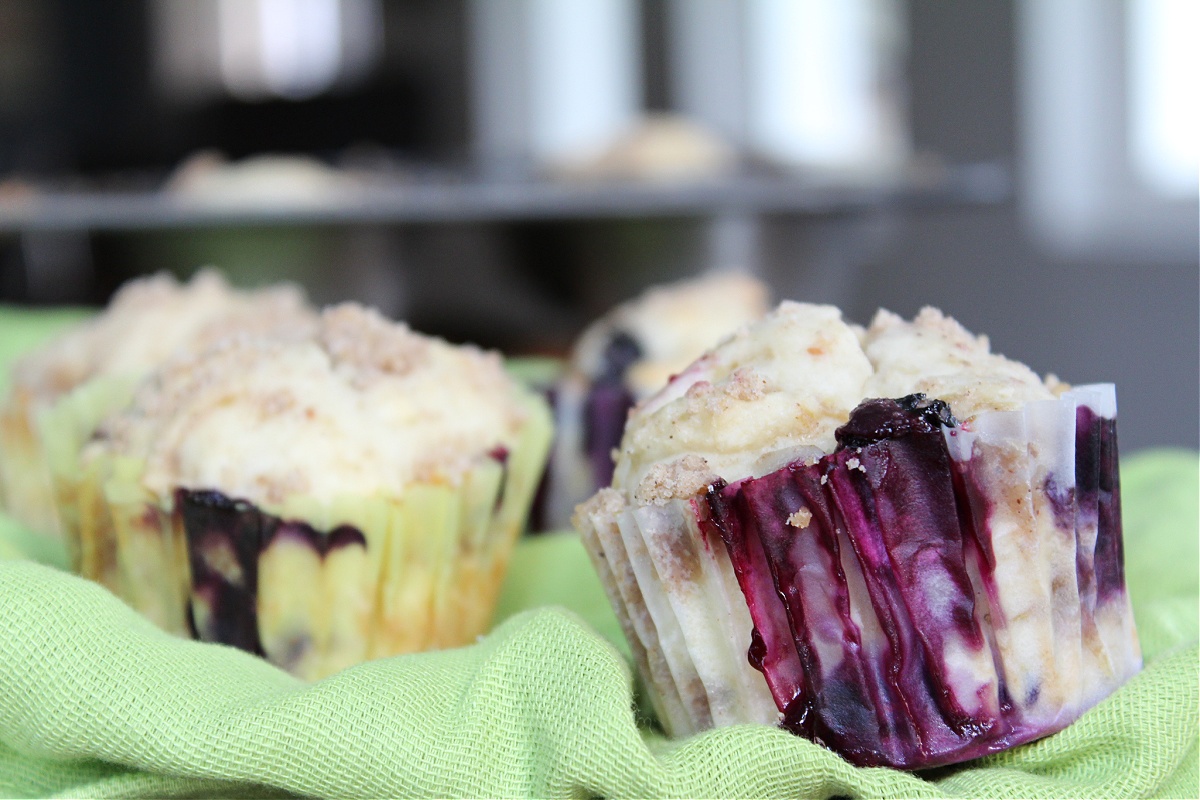 To make these easy blueberry muffins with streusel topping you will need:
Blueberries
Brown Sugar
Sugar
Butter
Flour
Egg
Vanilla Extract
Greek Yogurt
Baking Powder
Salt
Cinnamon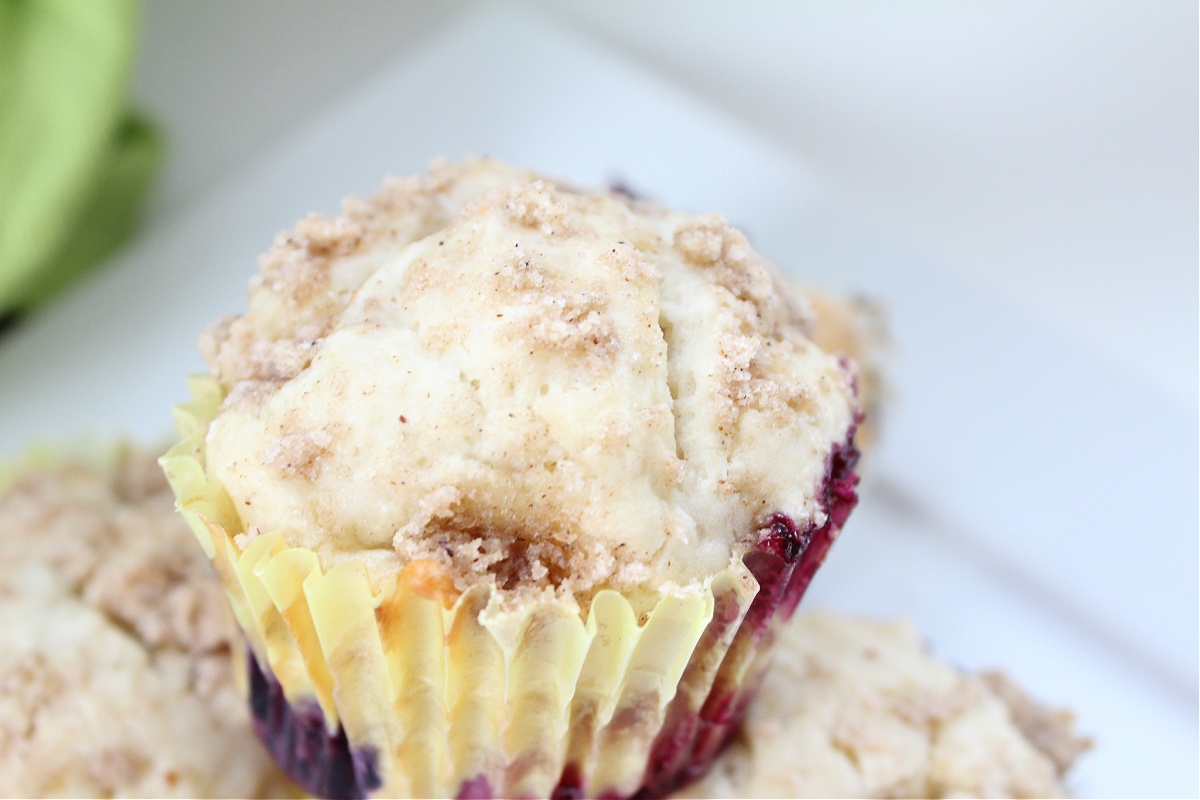 As you can see, our muffins weren't heavy on the topping, the kids did have some left but didn't realize they should use it all. Which was fine because these homemade muffins are deliciously sweet all on their own! But feel free to add more streusel topping to yours.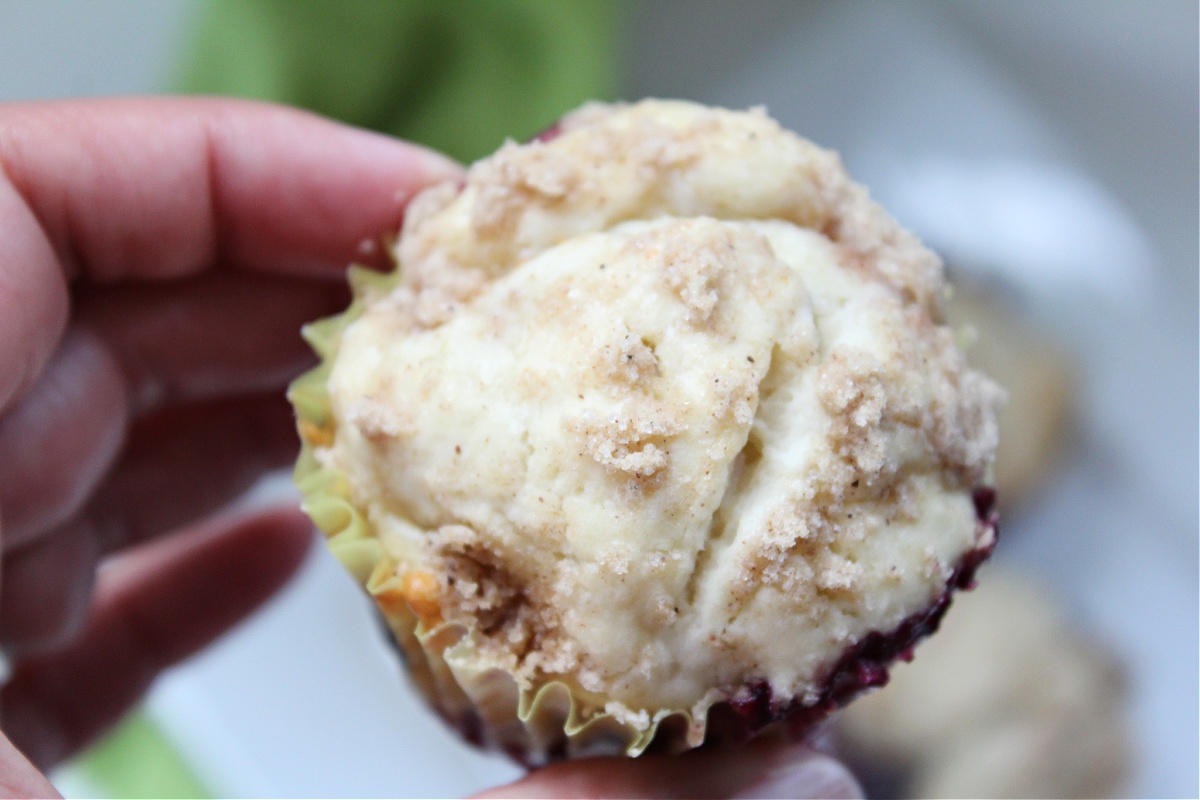 Now, here is my Homemade Blueberry Muffins recipe, be sure to Print It and Pin It so that can make them again and again.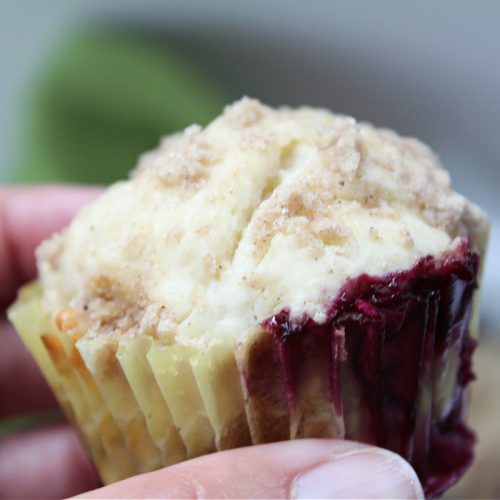 Homemade Blueberry Muffins
These blueberry muffins are easy to make, so grab the kids and getting cooking! Sweet, delicious and a perfect breakfast or idea these blueberry muffins are also healthier than other recipes out there.
Print
Pin
Rate
Ingredients
Ingredients for Muffins
2

cups

fresh blueberries

be sure to buy local!

½

cup

sugar

¼

cup

butter softened

1

egg

1

teaspoon

vanilla extract

½

cup

non fat vanilla Greek yogurt

1½

cups

all-purpose flour

2

teaspoons

baking powder

Pinch

of salt
Ingredients for Streusel Topping
1/4

cup

sugar

1/4

cup

brown sugar

1/3

cup

all-purpose flour

1/2

teaspoon

ground cinnamon

1/4

cup

cold butter cubed
Instructions
Instructions for streusel topping
In a medium bowl, combine sugar, brown sugar, cinnamon, flour and chilled cubed butter

Stir with a fork or pastry blender until the mixture is crumbly

Set in the fridge until ready to use
Instructions for muffins
Preheat oven to 350 degrees

Line a 12 cup standard muffin tin with paper liners or coat with nonstick spray, set aside

In a large mixing bowl mix the butter and granulated sugar until light and fluffy

Add egg, vanilla extract and yogurt, beat until well combined

Sift in the flour, baking powder and pinch of salt, beat on low speed until just mixed

Gently fold in about half of the blueberries

Fill muffin liners ¾ full with batter, top with remaining blueberries and then sprinkle streusel crumble on the top

Bake for 20-25 minutes, until the muffins are lightly browned on top and a toothpick inserted in the center comes out clean.

Enjoy!
Nutrition
Calories:
232
kcal
|
Carbohydrates:
37
g
|
Protein:
3
g
|
Fat:
8
g
|
Saturated Fat:
5
g
|
Trans Fat:
1
g
|
Cholesterol:
34
mg
|
Sodium:
148
mg
|
Potassium:
63
mg
|
Fiber:
1
g
|
Sugar:
21
g
|
Vitamin A:
270
IU
|
Vitamin C:
2
mg
|
Calcium:
53
mg
|
Iron:
1
mg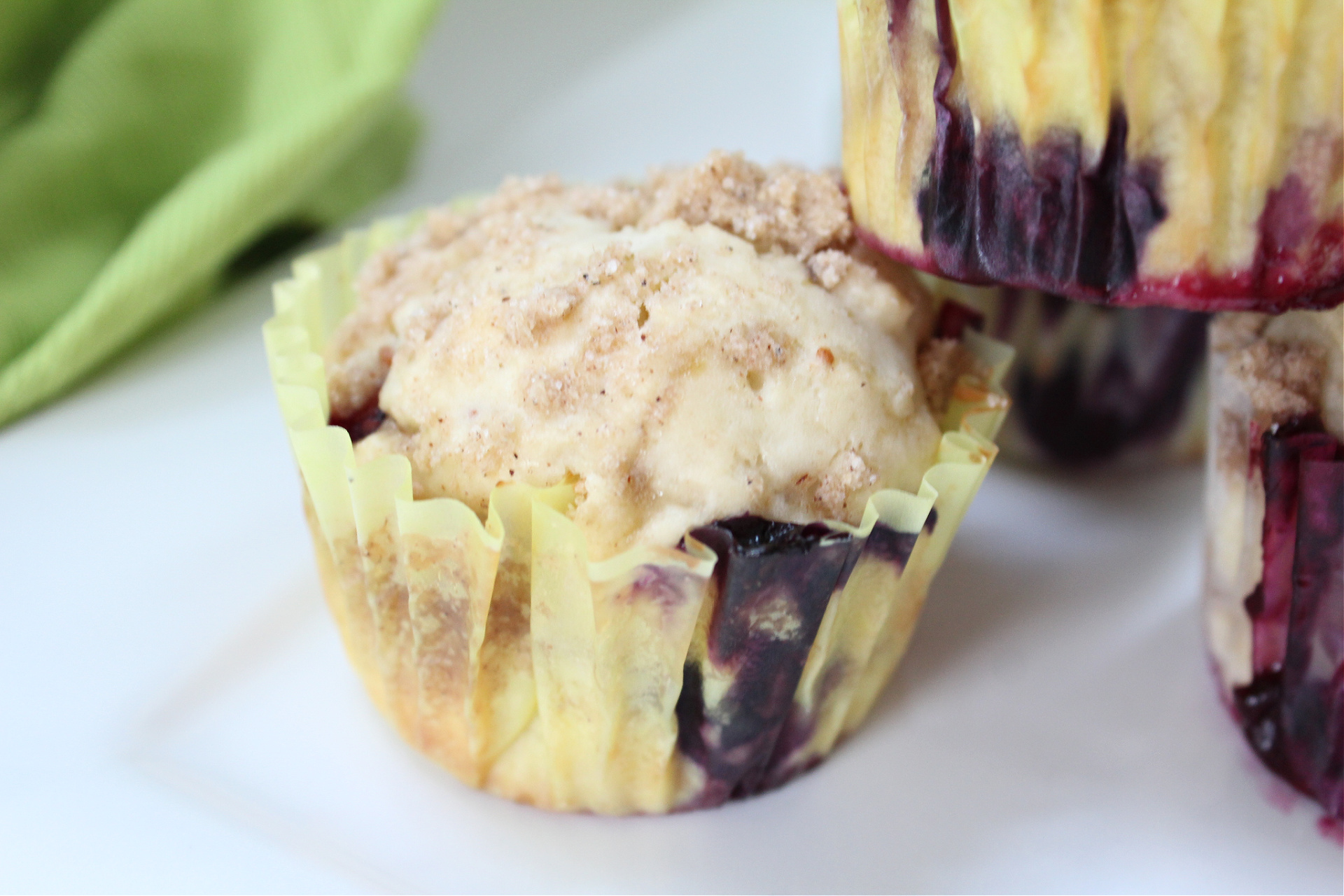 I hope you enjoy these Easy Homemade Blueberry muffins as much as we do!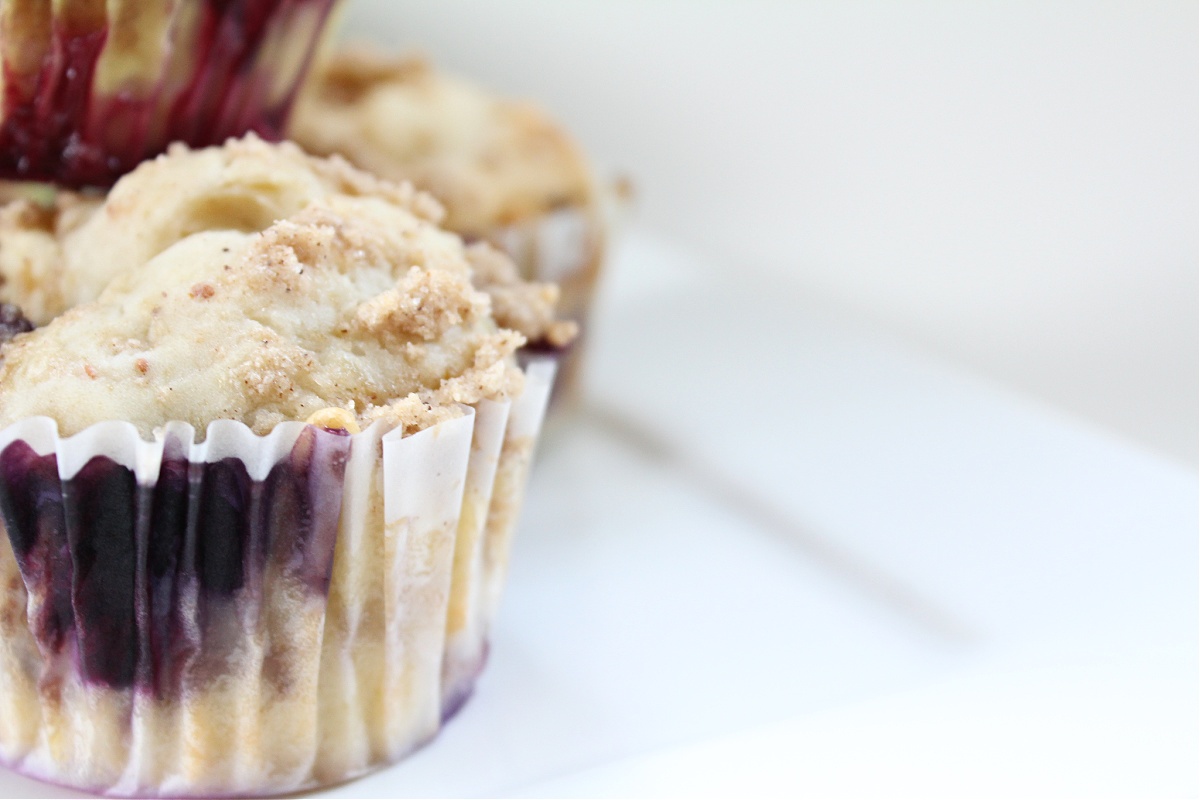 How to store your homemade blueberry muffins
Your freshly baked blueberry muffins will last for 1 to 2 days on the kitchen counter at normal room temperature.
Freshly baked blueberry muffins will keep in the refrigerator in an airtight container for approximately 1 week.
You can freeze homemade muffins. I usually wrap them individually in Press and Seal and then toss them in a freezer bag.
Have you made homemade blueberry muffins before? Do your kids like to get involved in the kitchen?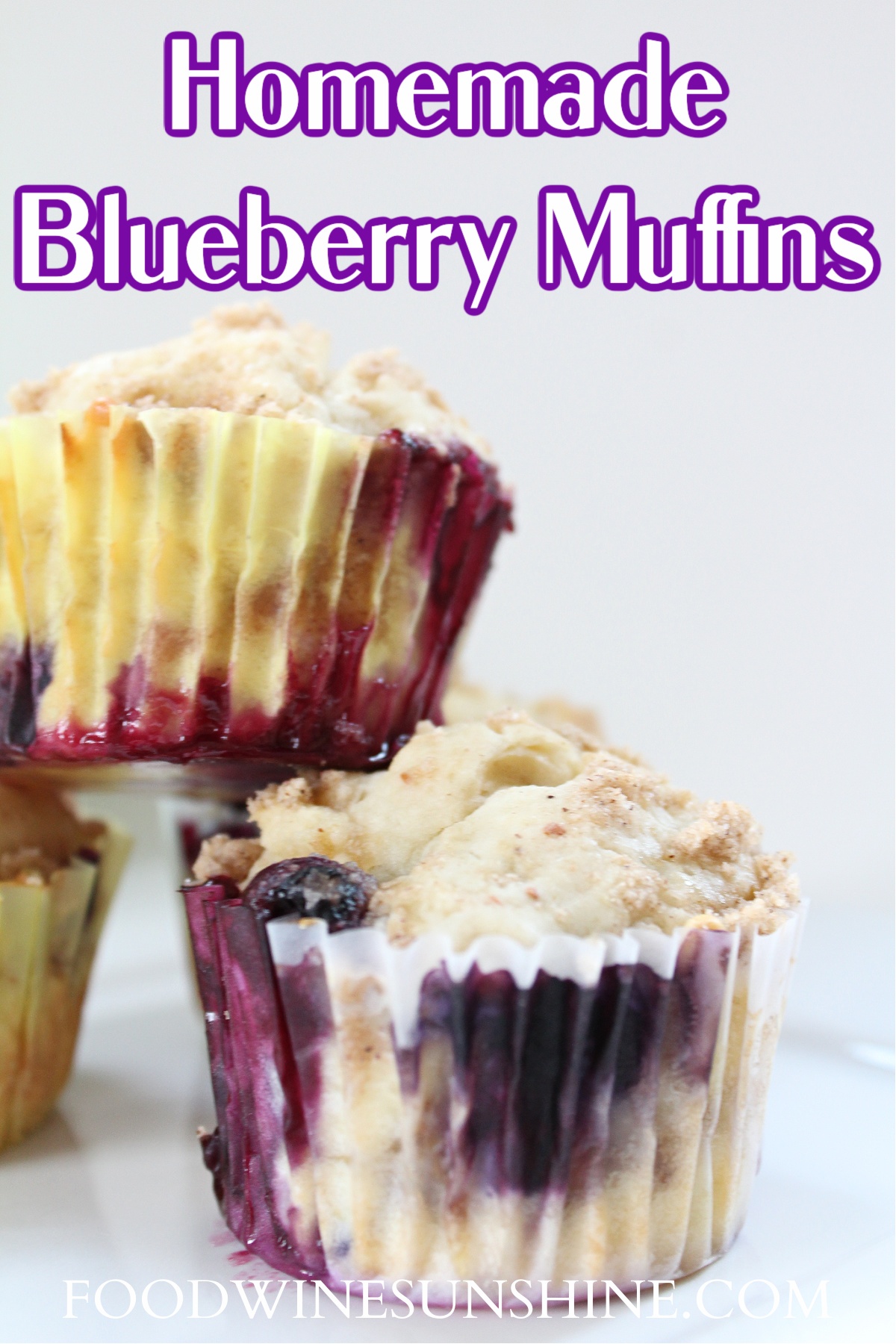 Check out all the delicious recipes on Food Wine Sunshine and follow on me Facebook, Twitter, Pinterest and Instagram for more FOOD WINE AND SUNSHINE.