(Last Updated On: August 9, 2019)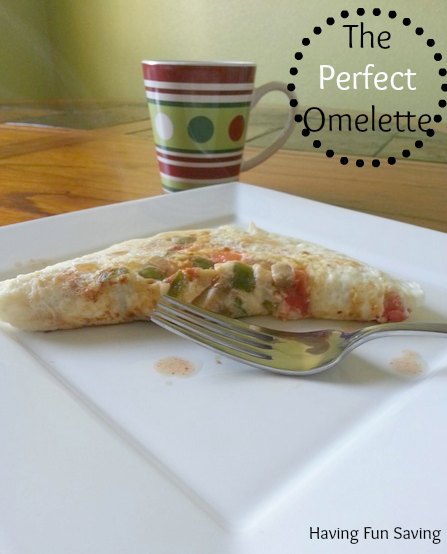 Vegetable Omelette Recipe
Do you like breakfast? There have been times I have made breakfast for dinner 🙂 I have an easy and delicious veggie omelette recipe for you guys today – what ingredients do you like in yours?
Vegetable Omelette Recipe
Author:
Prep time:
Cook time:
Total time:
Ingredients
Fresh Mushrooms – cut into bit size pieces
Fresh tomatoes – cut into bit size pieces
Green Pepper – cut into bit size pieces
Egg Beaters or Eggs
Cheese – I used cheddar on my hubby's and Gorgonzola in mine
Instructions
Saute your veggies in the pan until for 2-4 minutes (I still like my peppers a little crunchy)
Add in egg whites (or whole eggs beaten if you prefer) – make sure there is enough egg to cover the bottom of the pan
Use a spatula to gently pull back one side of the omelette while it cooks so that the uncooked egg can reach the bottom of the pan
Once the bottom is cooked well, add in cheese
Gently fold over half of the omelette
Using your spatula gently press down to ensure that there is no raw egg left
Gently slide the omelette onto plate
Enjoy
Let me know if you try it! I love that it's low-cal and full of protein!