(Last Updated On: February 14, 2022)
The Broadmoor in Colorado Springs is a luxury resort that has specialized in quality for over 100 years. The Broadmoor is a five-star hotel with world-class amenities that the whole family will love. While we were hosted for part of our stay, our love for Colorado Springs and The Broadmoor are our own.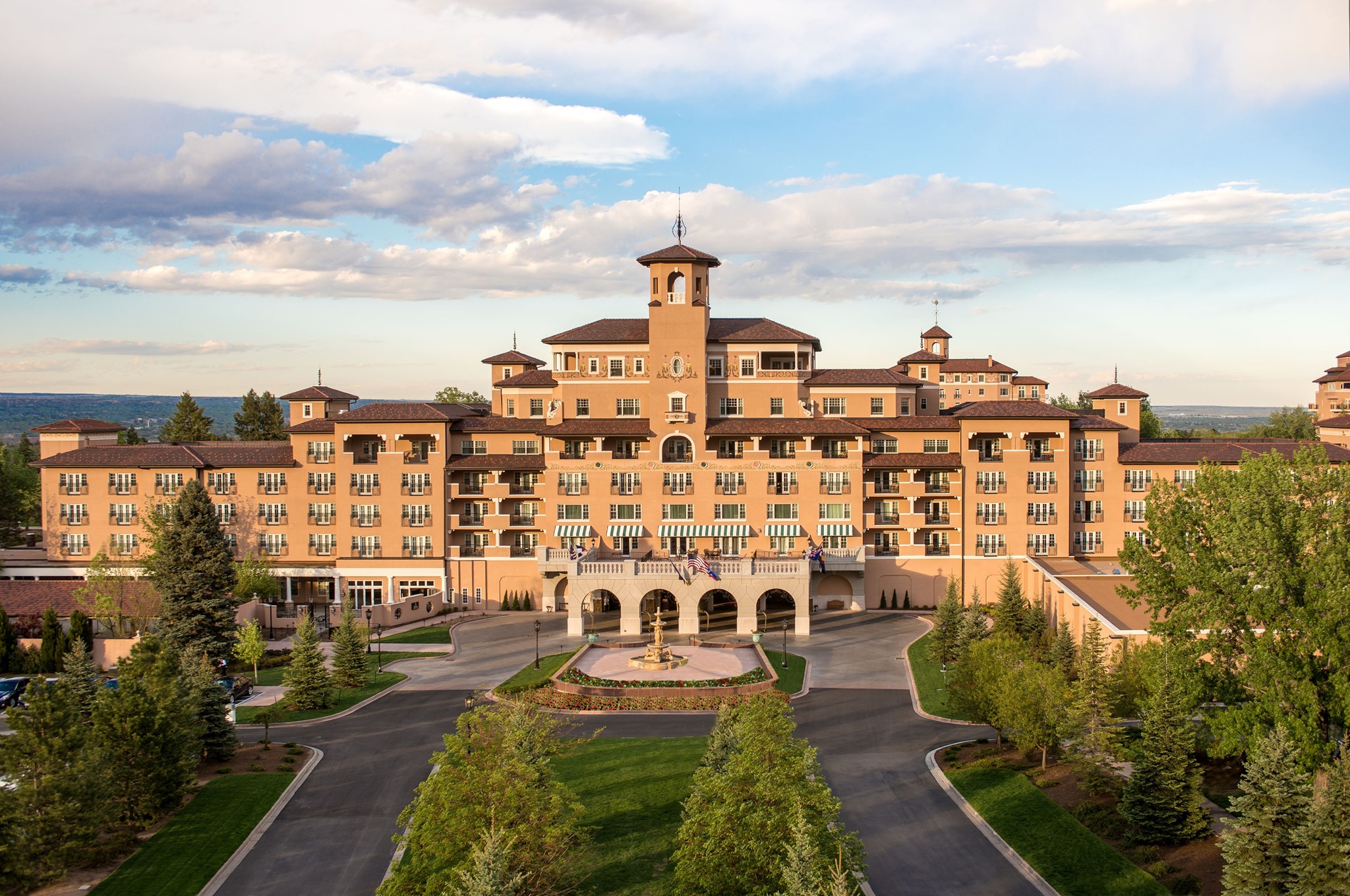 Why You Should Stay At The Broadmoor In Colorado Springs
Colorado Springs is about a 1.5 hour from Denver. Whether you are planning a weekend visit or a longer stay, The Broadmoor is the perfect place to stay in Colorado Springs.
The Broadmoor rests at the foot of the Rockies on 5,000 break-taking acres on the Cheyenne Lake.
My parents honeymooned at The Broadmoor. I love listening to them talk about it, back then, they paid $40 per night. And that was expensive! This was back when the Motel 6 charged $6 per night…my dad loves to tell that part of the story 🙂 The Broadmoor was their splurge and they loved every minute of it. They visited Pike's Peak, they drove the windy roads, they fell in love with the beauty of Colorado Springs.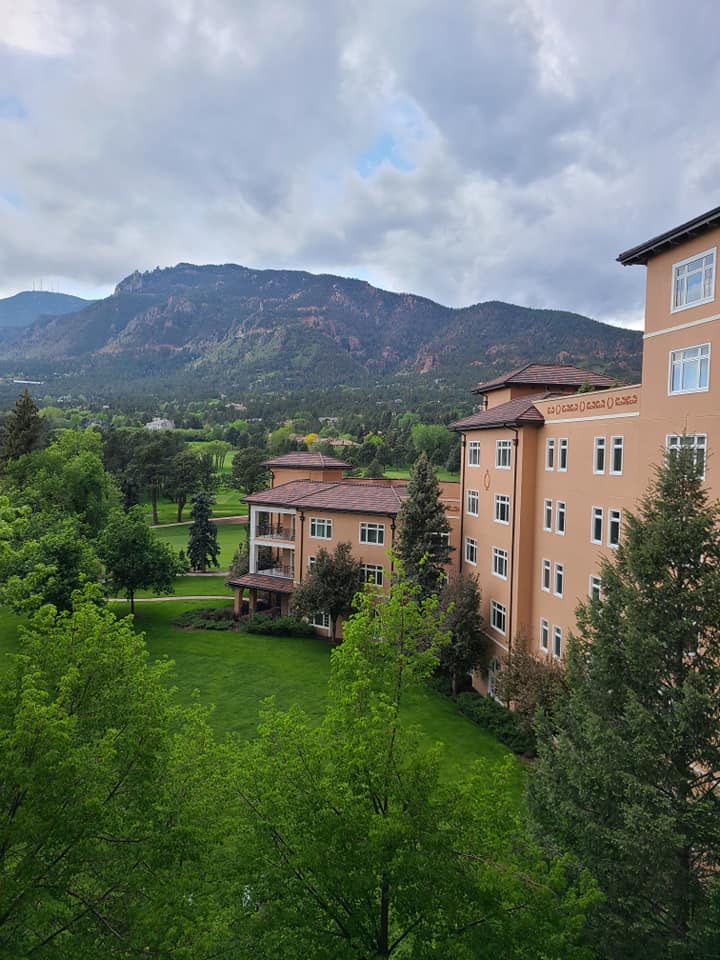 For my parents 45th Wedding Anniversary, my brother and I sent them back to The Broadmoor. I called the resort and spoke with the Special Services Concierge (Hannah) and she did absolutely everything possible to make sure their anniversary was one they would never forget. When I spoke with her on the phone and when she answered every single one of my emails, she couldn't have been more helpful. She told me that The Broadmoor loves special occasions and that my parents would be given the Red Carpet treatment their entire stay.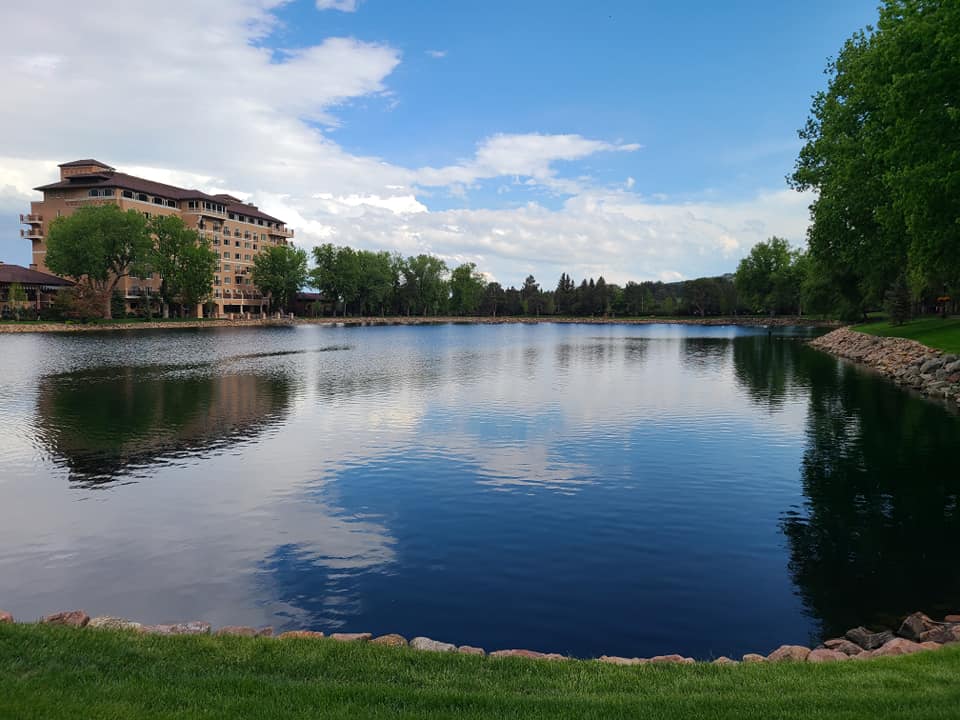 When my parents walked into their room, my mom cried. Tears of joy. They were given a complimentary room upgrade with a view that would simply take your breathe away, on the table as they walked in was their wedding picture and by that was chocolate treats and a bottle of champagne. They were simply in awe. I will never forget when my mom called me from the room…it still makes me tear up.
Every time they dined out, the waitstaff told them Happy Anniversary.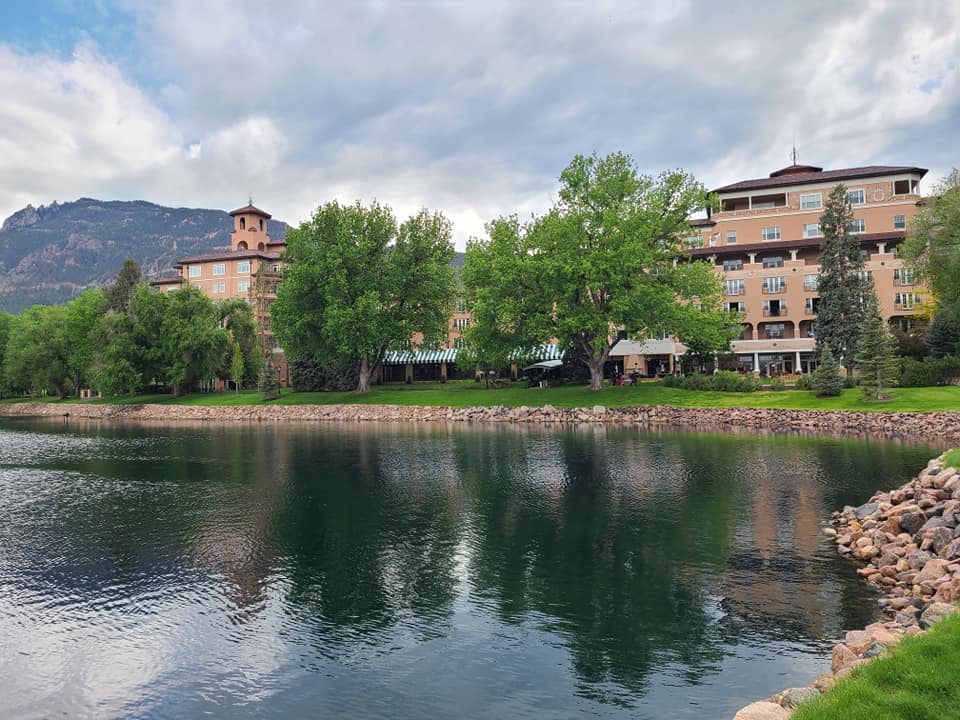 3 years later, my parents will still tell you that that trip, that The Broadmoor, made their anniversary one that they will never forget. My dad loves to talk about the buffet at Lakeside Terrace and how the waiter covered his coffee for him when he walked away so it would stay warm. And how the bartender at The Hotel Bar talked to him for 30 minutes about the history of the bar, how wonderful that the staff would take their time to chat with him like that! It's the little things. Those personal touches that make a hotel so much more than just a hotel. The Broadmoor is so much more than just a hotel in Colorado Springs. It's a destination in Colorado. It's a luxury resort that you and your family can relax and have fun at. It's the place you want to stay when traveling to Colorado Springs.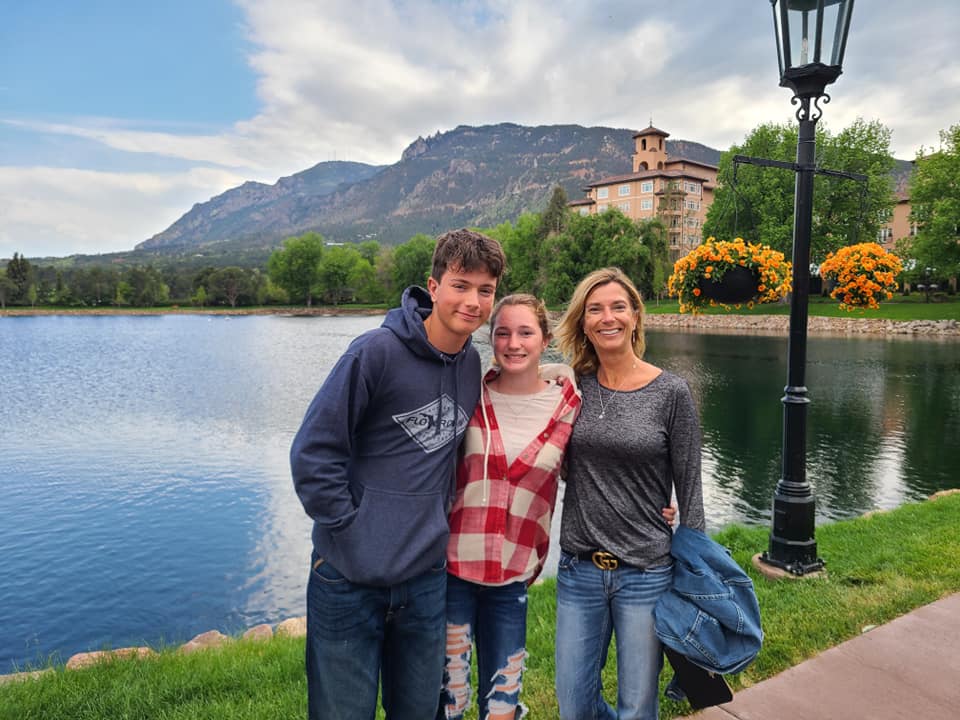 My family and I took our first trip to Colorado Springs this summer. The kids had just got out of school and we wanted to go somewhere special and new to kick-off the start of summer. We wanted to have a Colorado family vacation in Colorado Springs. And we wanted to experience The Broadmoor. I wanted to walk through the same doors my parents did, I wanted to personally thank Hannah for all she did for my mom and dad, I wanted to see what my parents saw, I wanted to eat where they ate, I wanted to fall in love with Colorado Springs and The Broadmoor just like they did. And fall in love I did.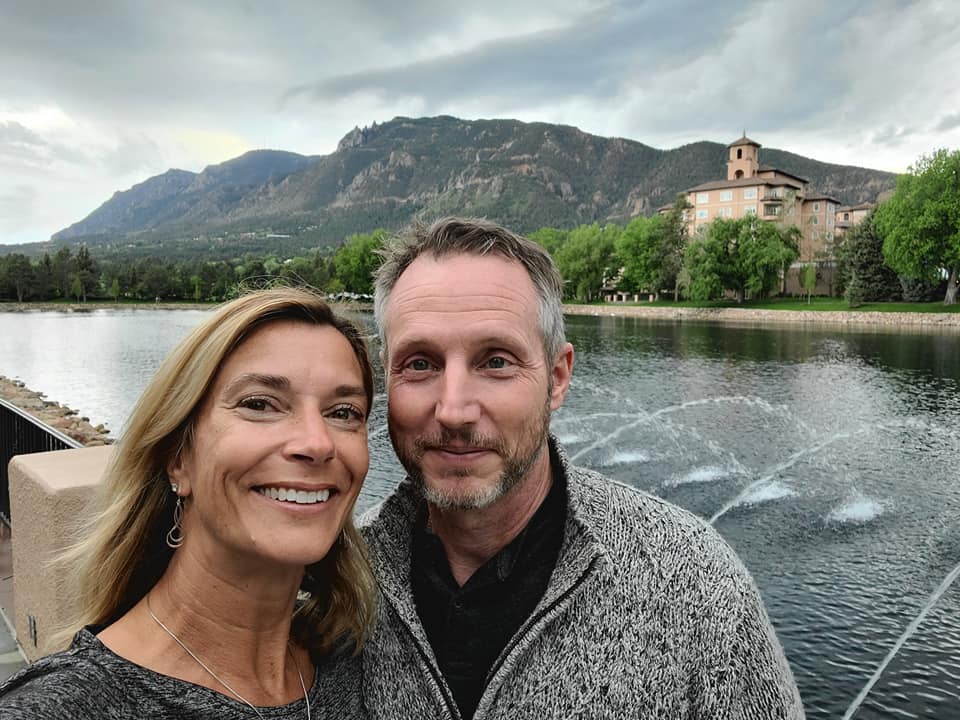 The Broadmoor is a destination resort, meaning it's just not a resort, there is plenty to do right on property. Everything you could possibly need is right there. That alone makes The Broadmoor special, but what really sets them apart is the people. You are always greeted with a smile, everyone goes above and beyond to make sure your stay is the best.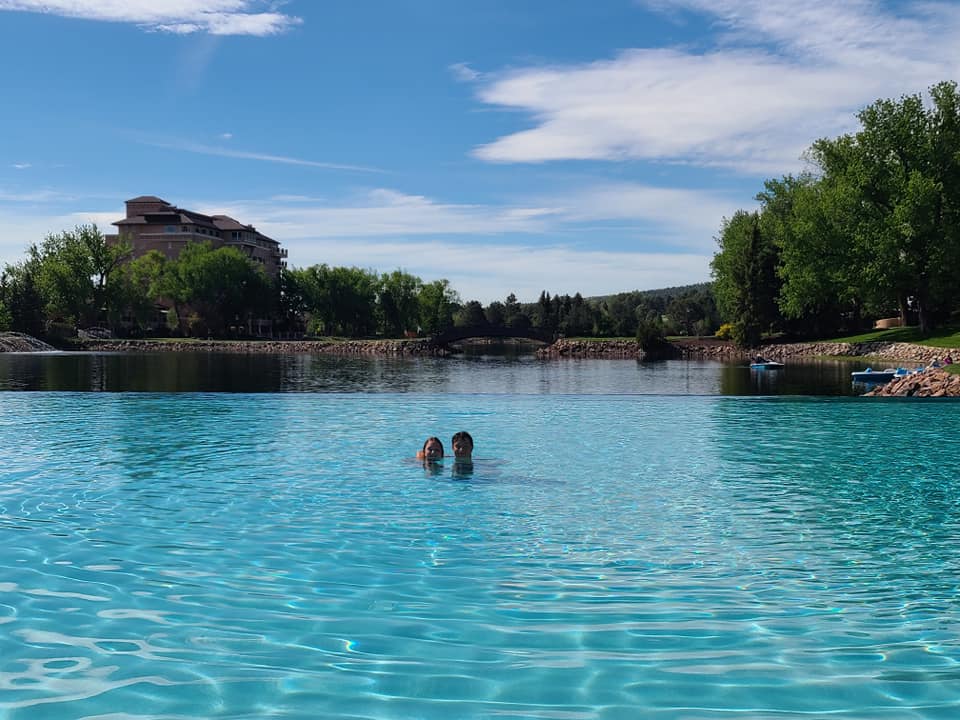 What amenities are available at The Broadmoor?
Oh, there are many! To name a few there are just about 20 retail shops, a movie theater, a spa, two championship golf courses, five tennis courts, three outdoor pickleball courts, three swimming pools, three outdoor hot tubs, waterslides, children's wading pool, collection of Western art, fitness center, resort and activity shuttle service to Cheyenne Mountain Zoo, Starsmore Visitor and Nature Center, The Broadmoor World Arena, and The Broadmoor Seven Falls, a museum, and a bowling alley. Again, that's just to name a FEW of the amenities at The Broadmoor.
You can see the list of all the amenities at The Broadmoor here.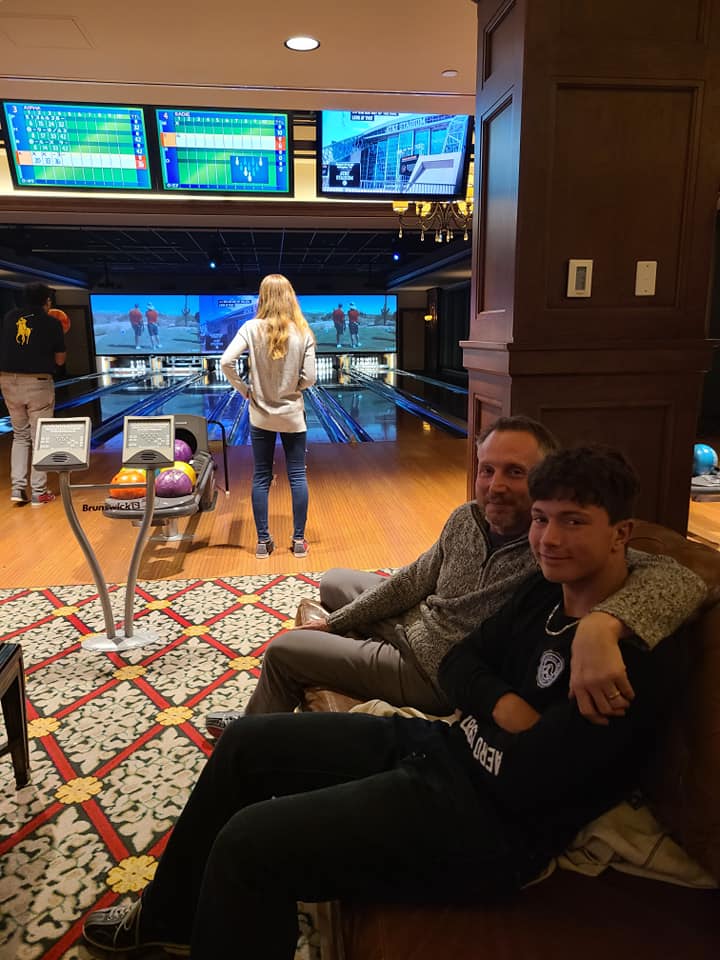 What exactly makes The Broadmoor a destination resort?
All the things to do once you are there!
From horseback riding to bowling, you can do it at The Broadmoor. You can enjoy endless adventures and activities in any season, along with unmatched service.
We hiked Seven Falls, road the Cog Railway, visited the museum, enjoyed the hot tub, lounged at the pool, worked out in the state of the art fitness centers and simply walked the expertly manicured grounds and enjoyed the views daily. And there was so much more still to do! Looks like we will be planning a trip back soon 😉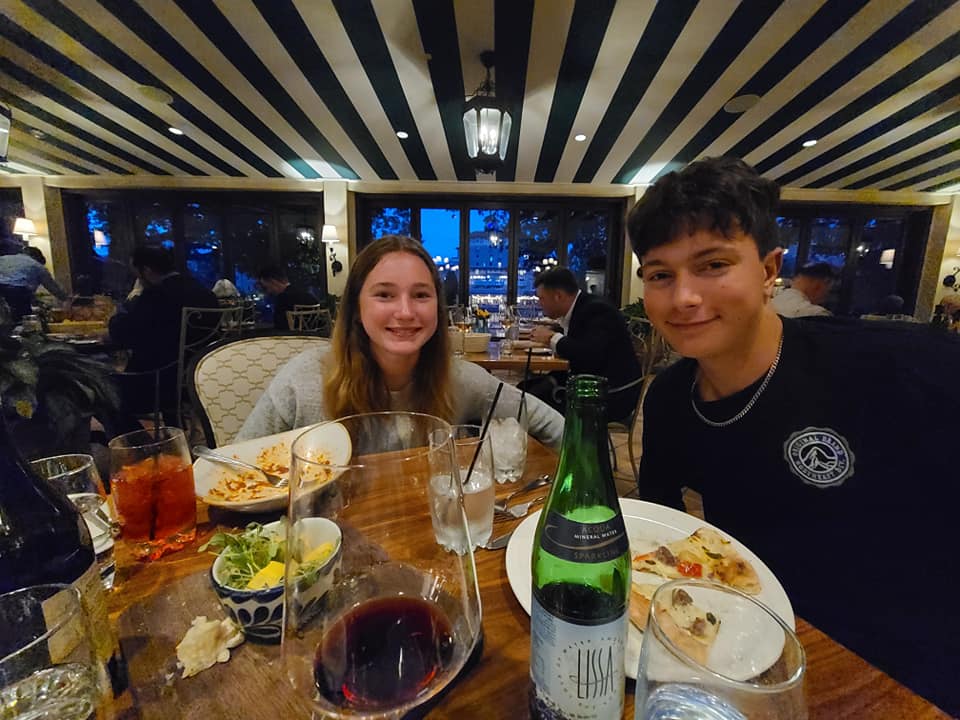 What restaurants are at The Broadmoor?
There are 17 restaurants, cafes and lounges on The Broadmoor property! Here are a few of them, but you can view the entire list of dining options at The Broadmoor here.
Ristorante del Lago offers authentic al fresco Italian dining. We had dinner here and loved it so much we got take-out the next night! We had the grilled octopus for an appetizer and for dinner, I had the sweet corn ravioli, my husband and daughter had the house-made pappardelle bolognese and my son had one of their authentic wood fired pizzas. Every single bite was absolutely delicious. And the wine list was incredible, they actually had their sommelier come to the table to make recommendations based on what we ordered and our preferred tastes.
The restaurant's design makes you think of the luxurious villas of Lake Como, with exposed wood beams, terra cotta tile, custom walnut millwork, leather banquettes and an indoor/outdoor fireplace.
Ristorante del Lago is also open for breakfast seasonally, offering a variety of items from Brioche French Toast, to Buttermilk Pancakes and other Rocky Mountain Classics.
Summit showcases the regional cuisines of the America with a classic twist, complemented by an innovative wine and cocktail program in a modern atmosphere. The restaurant features a visually striking glass enclosed wine turret that stores over 500 bottles.
Summit has been named one of America's 10 Best Hotel Restaurants by Frommer's, Wine Spectator's Award of Excellence winner and was previously honored in the Robb Report "Best of the Best", and Esquire's "Best New Restaurants" and "Best New Restaurant Design."
La Taverne is The Broadmoor's Legendary Steakhouse. Here you will see rich woods and traditional décor, and savor the finest selection of hand-cut prime steaks, chops, and prime rib, along with an array of options from their raw seafood bar. The airy Le Jardin room brings the outdoors in and allows to you to dine among lush florals and a stunning 16-foot chandelier.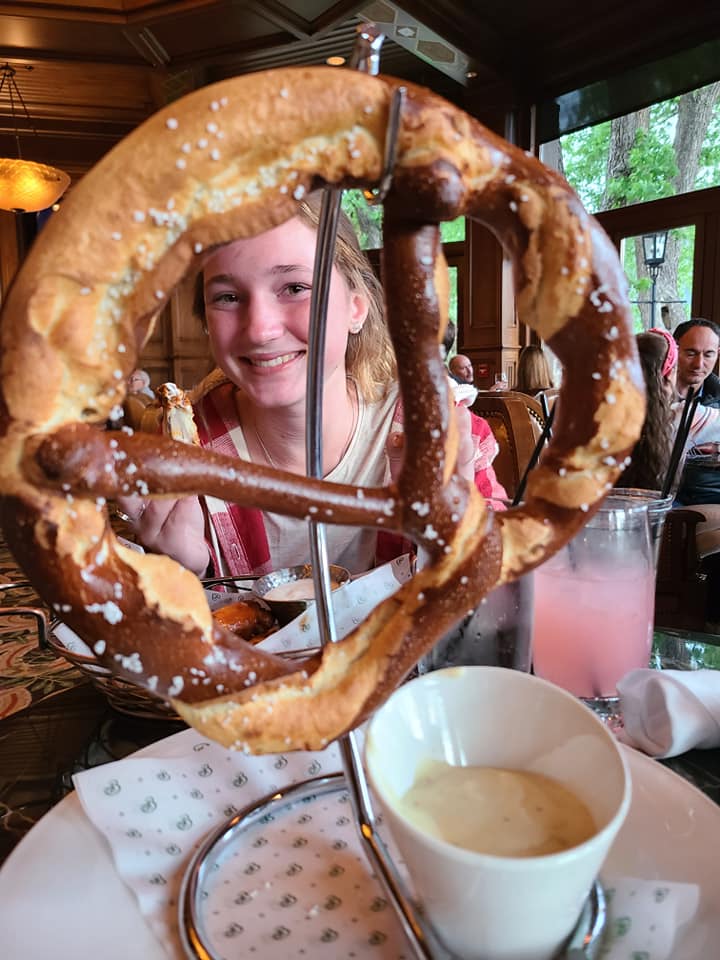 We ate here on our first night at The Broadmoor. It offered a casual and relaxing atmosphere that was perfect after our long day of traveling. We loved looking at the murals, photographs and original letters illustrate Spencer Penrose and the Hundred Million Dollar Hotel Clubs' 1920 visit to Colorado Springs. We sat in the overstuffed chairs and snacked on various appetizers, sipped on wine and enjoyed the view of the lake and the glow of the fireplace.
The Lake Terrace Dining Room is the place for breakfast. Here you can order from a classic breakfast menu or take advantage of the buffet. We opted for the buffet the morning we went as we simply couldn't decide what one thing to order. We wanted to sample it all! From the brioche french toast, made-to-order omelettes, fresh fruit, freshly squeezed juices, crisp bacon, a variety of breakfast sausages and so much more!
We actually got breakfast here 3 out of the 4 morning we were at The Broadmoor's. Don't walk in too hungry, as everything looks absolutely mouthwatering! This is The Broadmoor's Parisian Patisserie featuring a Luxury Valrhona Chocolate Collection, house made gelato, and Lavazza specialty coffees. Enjoy soups, salads and sandwiches to go, artisan breads, cakes and other culinary delights. The kids got the chocolate croissant and my husband and I enjoyed the raisin danish and the croissant breakfast sandwich.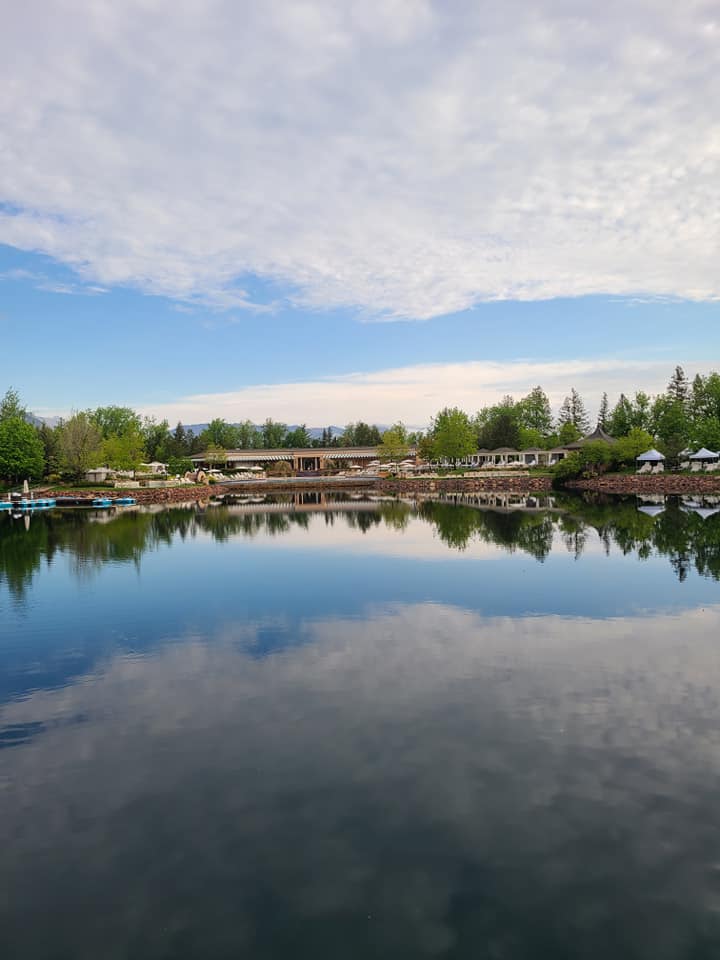 As you can see, there is everything you need right on property at The Broadmoor. From dining, to activities, to adventures, to relaxing, The Broadmoor is your destination luxury resort in Colorado Springs.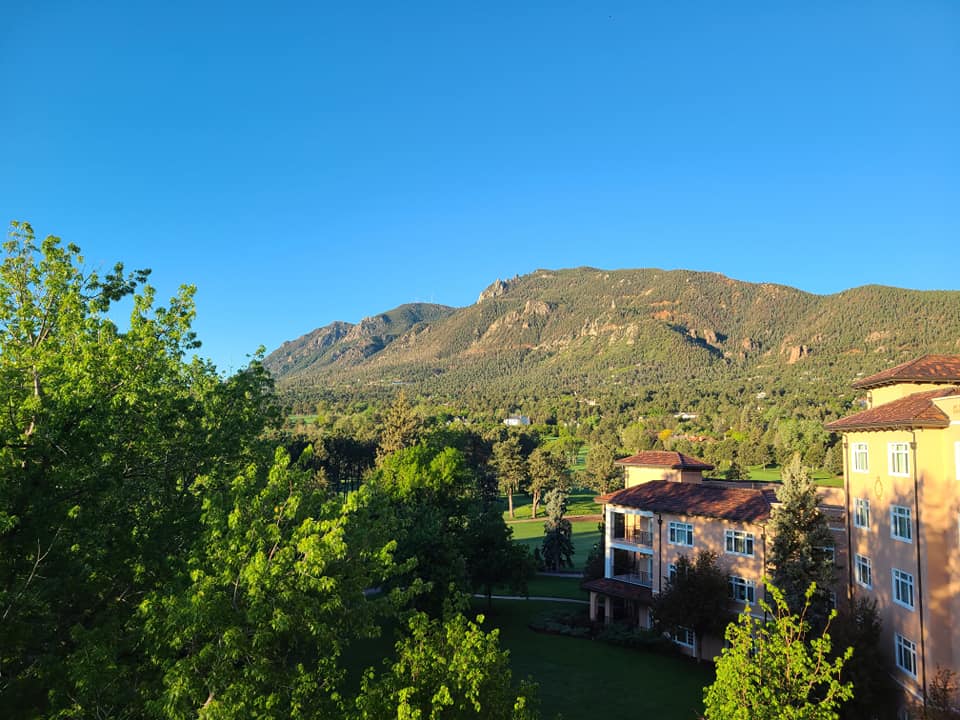 The Broadmoor is located at 1 Lake Avenue, Colorado Springs, CO 80906. You can call The Broadmoor to make hotel reservations at (844) 602-3343.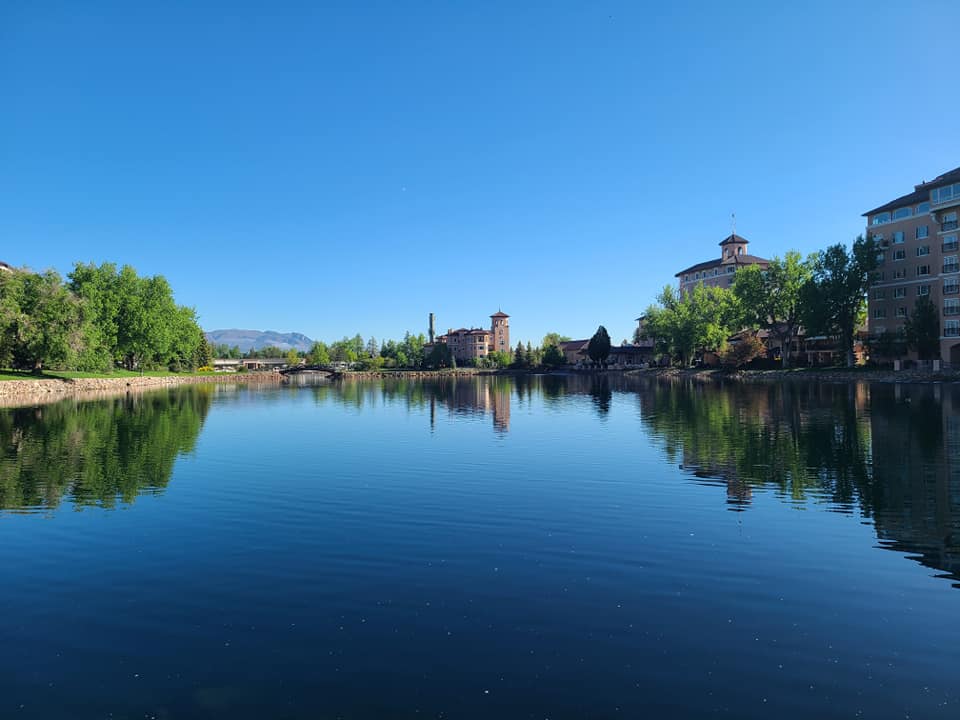 Have you been to Colorado Springs? What is your favorite place to stay in Colorado Springs?
Follow The Broadmoor on Instagram, Twitter and Facebook to stay up to date with all the happenings at this luxury destination resort. You can also view the most recent reviews on TripAdvisor.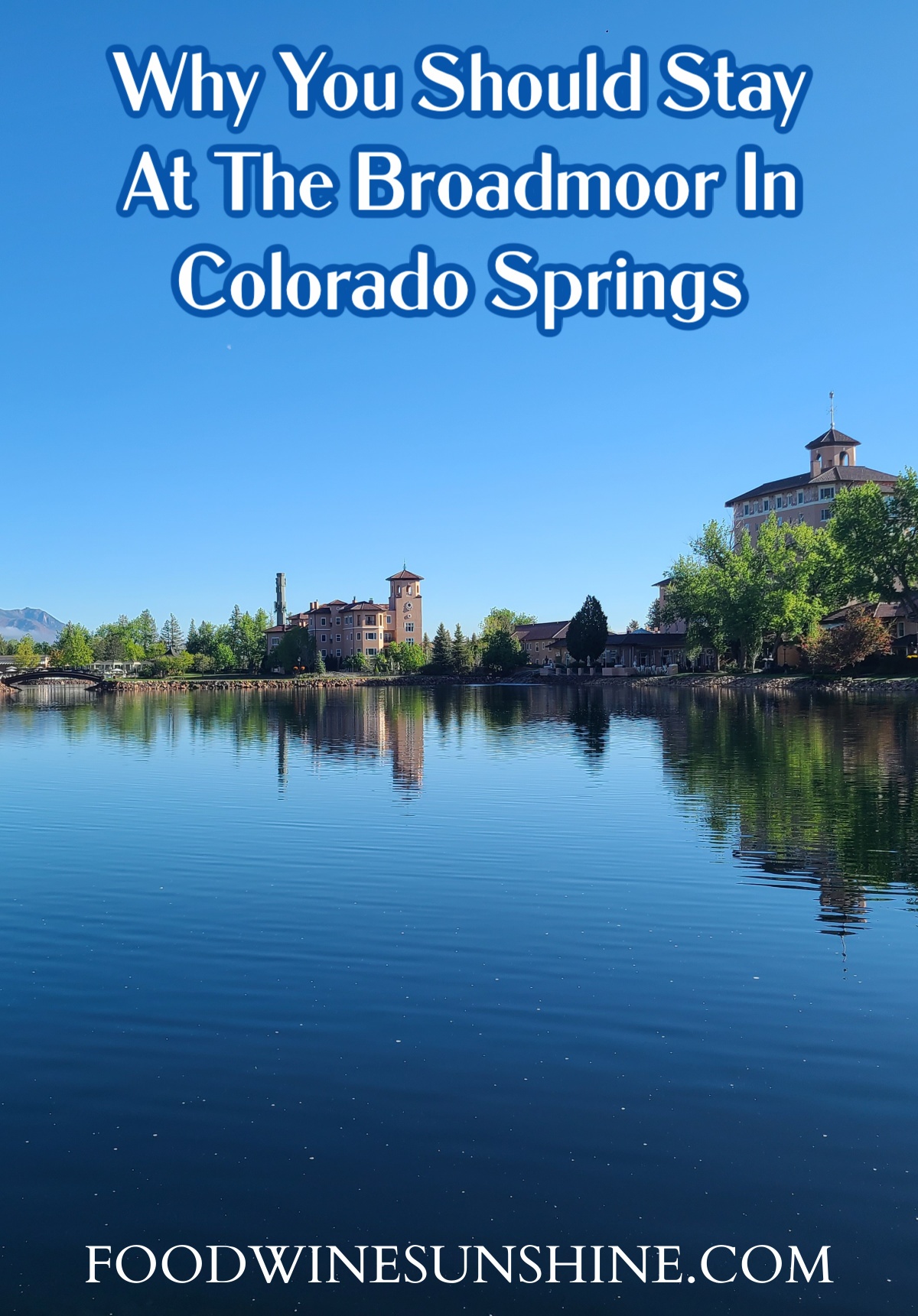 Be sure to check out Food Wine Sunshine on Facebook, Twitter, Pinterest and Instagram for more travel tips, healthy recipes, and more.