(Last Updated On: February 13, 2023)
If you are planning a vacation to Colorado Springs, be sure to check out these top things to do in Colorado Springs. You will want to add some (if not all!) of these best things to do on Colorado Springs to your travel itinerary.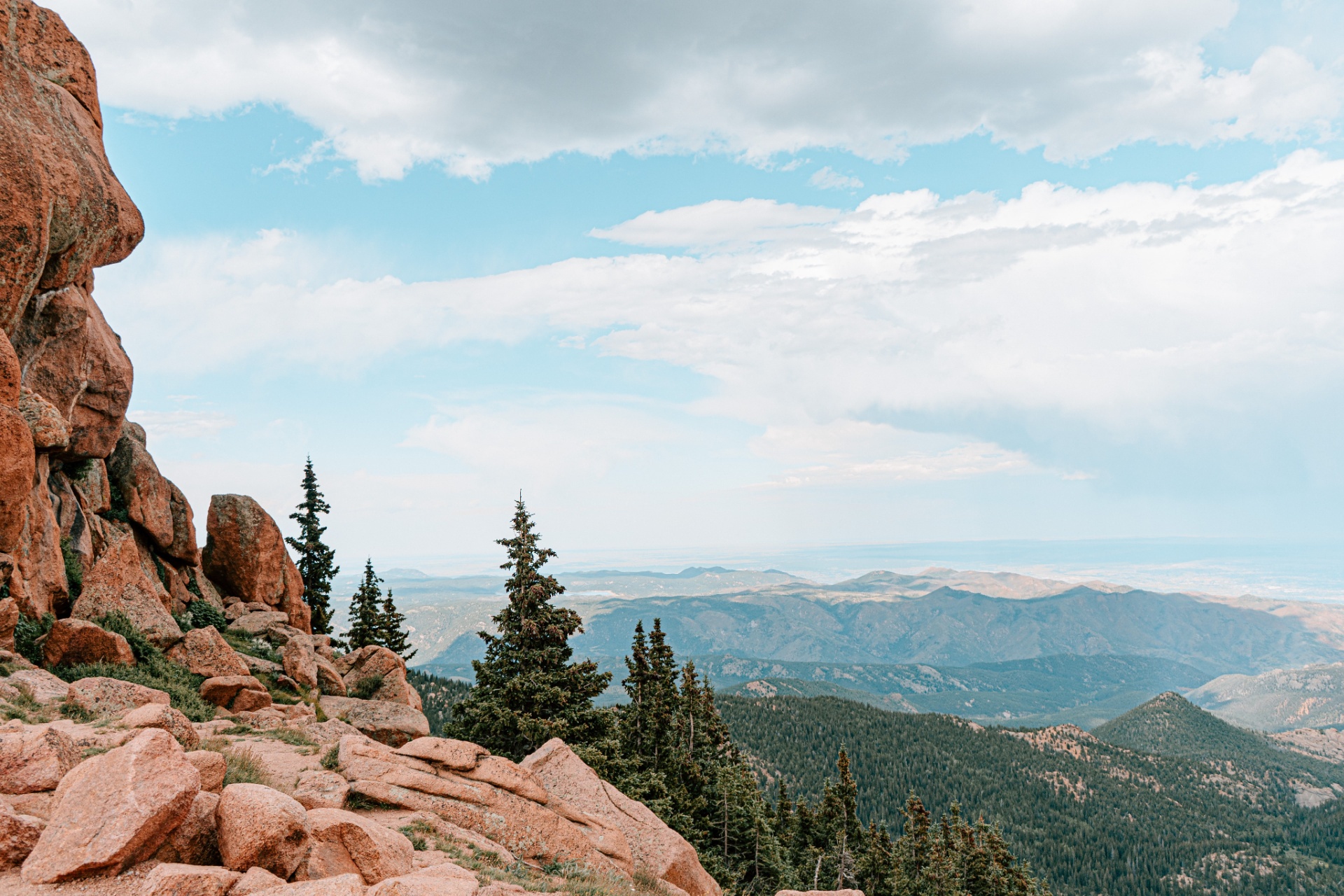 Top 17 Things To Do In Colorado Springs
Colorado Springs, Colorado, sitting at more than 6,000 feet in altitude, draws thousands of tourists every year who come to enjoy the natural beauty and things to do and see in the area. Colorado Springs is one of the best towns in Colorado. It is about an hour or so south of Denver and a great place to visit. Here you will find top-notch attractions like the Garden of the Gods and Pikes Peak, as well as Old West Attractions, religious attractions, and great cultural attractions. While visiting Colorado Springs, be sure to stop by some of the top attractions offered by this city. And don't forget to have a glass of Colorado wine.
There are national monuments to see, parks to hike in, mountains to climb, the Air Force Academy to visit, wildlife areas to explore, museums to see, shops and restaurants to enjoy, and much more. Some of the most interesting attractions in the state of Colorado are situated in and surrounding the Colorado Springs area.
Best Things To Do In Colorado Springs
Situated in the Front Range of the Rocky Mountains of Colorado is the famous mountain known as Pikes Peak. Topping out at just over 14,000 feet, Pikes Peak has the distinction of being the easternmost "fourteener" in the United States. There are several ways to reach the top of Pikes Peak; it all just depends on what kind of adventure you are looking for. If driving is your thing, you can take the Pikes Peak Highway, the site of the Pikes Peak International Hill Climb.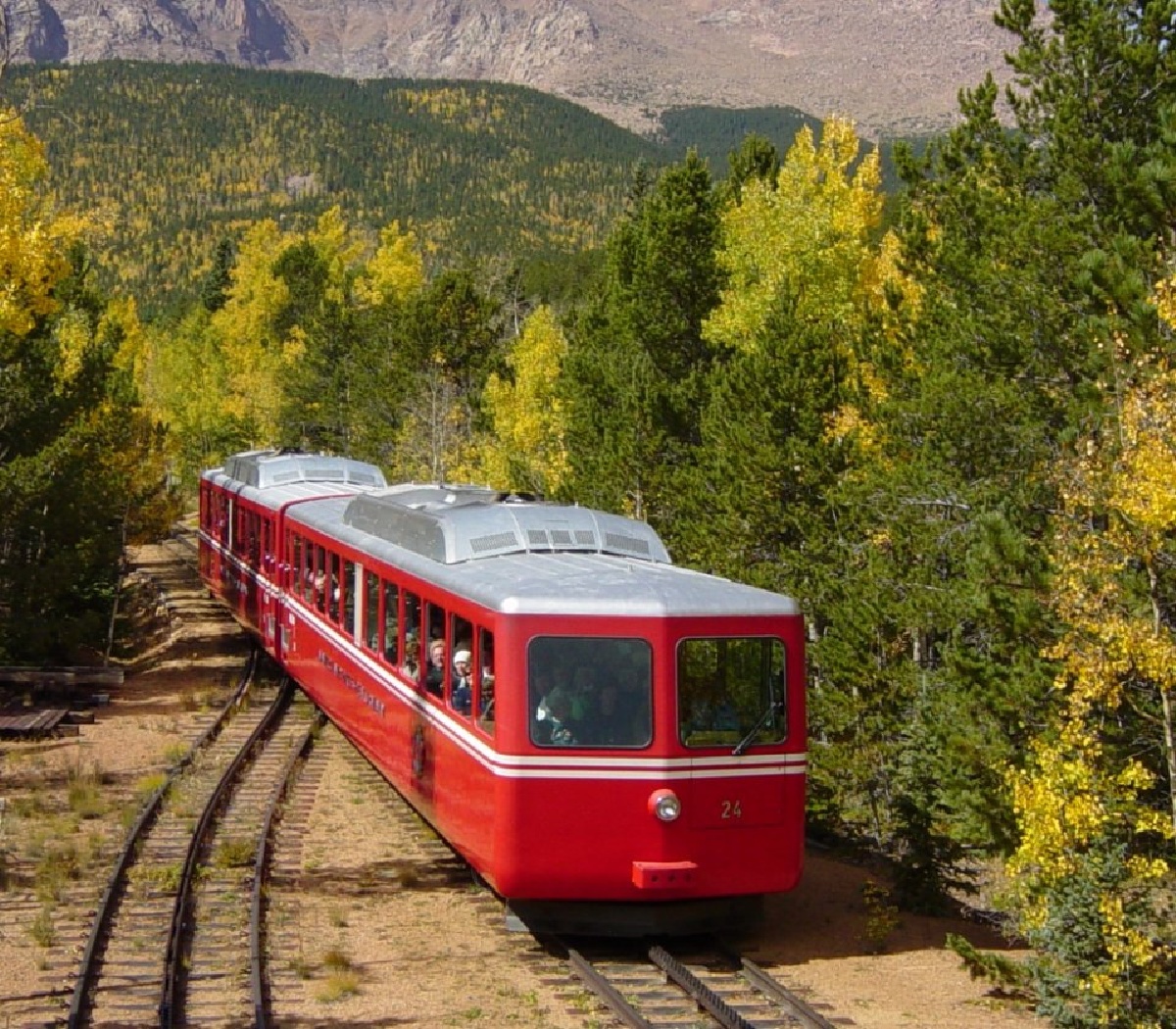 With over 156 switchbacks, the highway is also a favorite of motorcyclists. If you prefer to take the slow, scenic route, the Cog Railway will take you to the summit while you relax and take in the majestic views. The Broadmoor Manitou and Pike's Peak Cog railway is open year-round, although service is largely dependent on the weather during the winter months. We took the Cog Railway and we absolutely loved it! It was a bit chilly still when we visited in May, so we encountered rain, hail, and then SNOW. The kids were THRILLED when the train opened the windows and a blizzard filled the train car!
Or, if you prefer, you can hike to the top on Barr Trail, a popular hiking trail that begins just beyond the railway depot.
This picturesque mountain sits just west of the downtown area of Colorado Springs, offering a variety of things to do and see. During the visit to this mountain, it is not uncommon to view glimpses of animals in their natural habitat that reside there. Species include bears, yellow-bellied marmots, bighorn sheep, and a variety of birds.
Pike's Peak Summit House
The most famous attraction in Colorado Springs is Pikes Peak. Pikes Peak is one of the tallest summits in the U.S., and it is commonly used in science textbooks when describing vapor lock. Each year over half a million tourists visit the summit of Pikes Peak. Here you will find the Summit House, which is free to tour. It is a place to rest and take in the views. While it is free to enjoy the Summit House, the road up Pikes Peak is a toll road and the Cog Railway does have a fee.
The Summit House is currently being renovated (June, 2021), head HERE for the latest updates.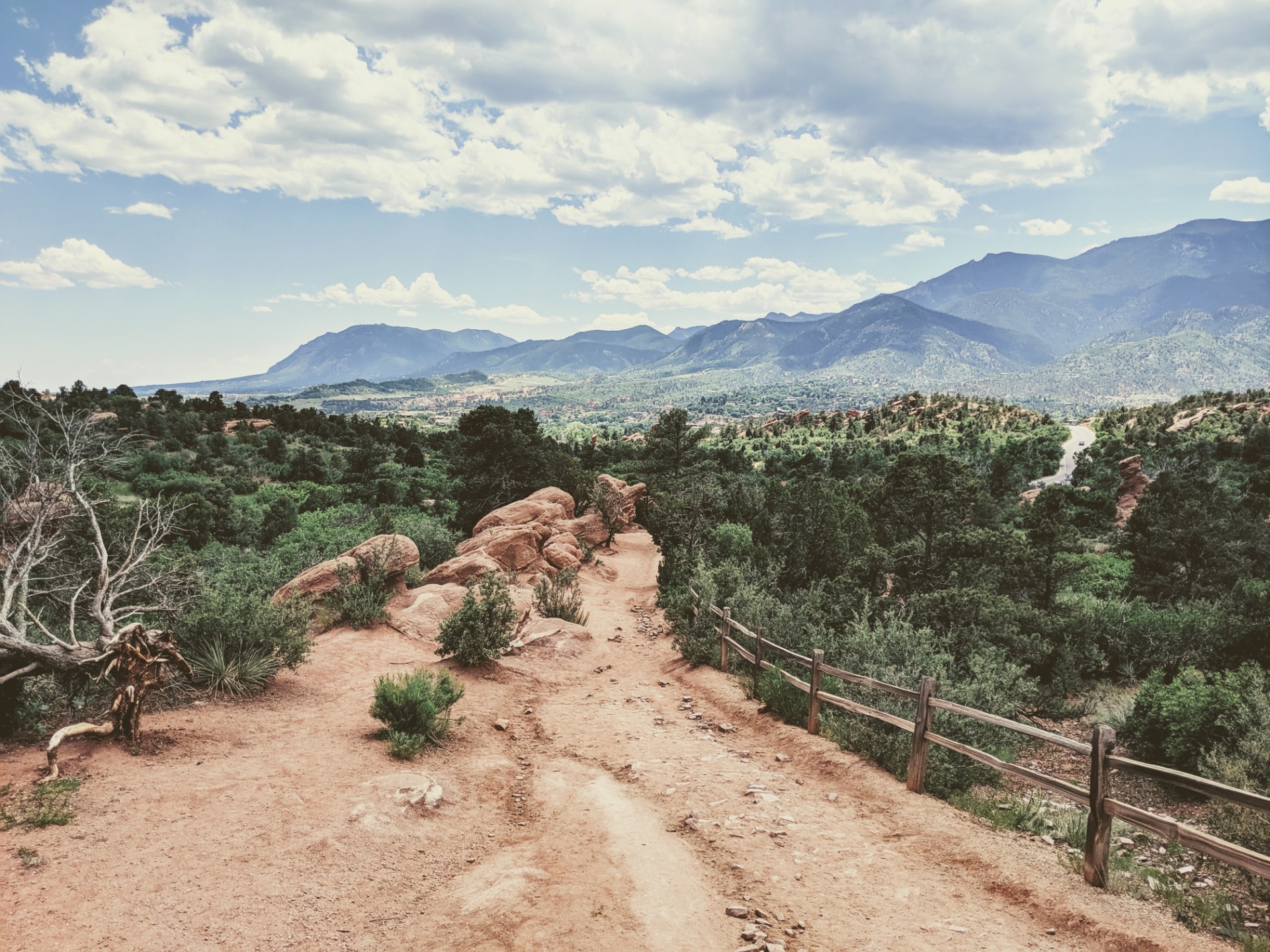 Garden of the Gods Park is a registered National Natural Landmark. Garden of the Gods is a geological area with hiking trails available. A dramatic geological wonder of 300-foot sandstone rock formations including Balanced Rock and Kissing Camels. The trails are surrounded by ancient beds of sediment with various colored sandstones, limestone, and conglomerates. Pikes Peak greatly impacted the formation of these rocks thousands of years ago by their mere size, mass, and location within such close proximity of the park.
The rocks are formed in breathtaking sculptures with spectacular views and picture-worthy areas.
Admission is free for you to take a self-guided tour on the roads which wind around and through the formation with many parking areas to stop and marvel at the photo opportunities. For the more active, there are fifteen miles of hiking trails and designated rock climbing areas.
For lunch and souvenir shopping, check out the Visitor & Nature Center at the north end of the park and the Trading Post at the south, Manitou Springs, entrance. These shops have been voted "The Best of Colorado Springs." There is also a museum within the park, as well as guided tours offered to the public.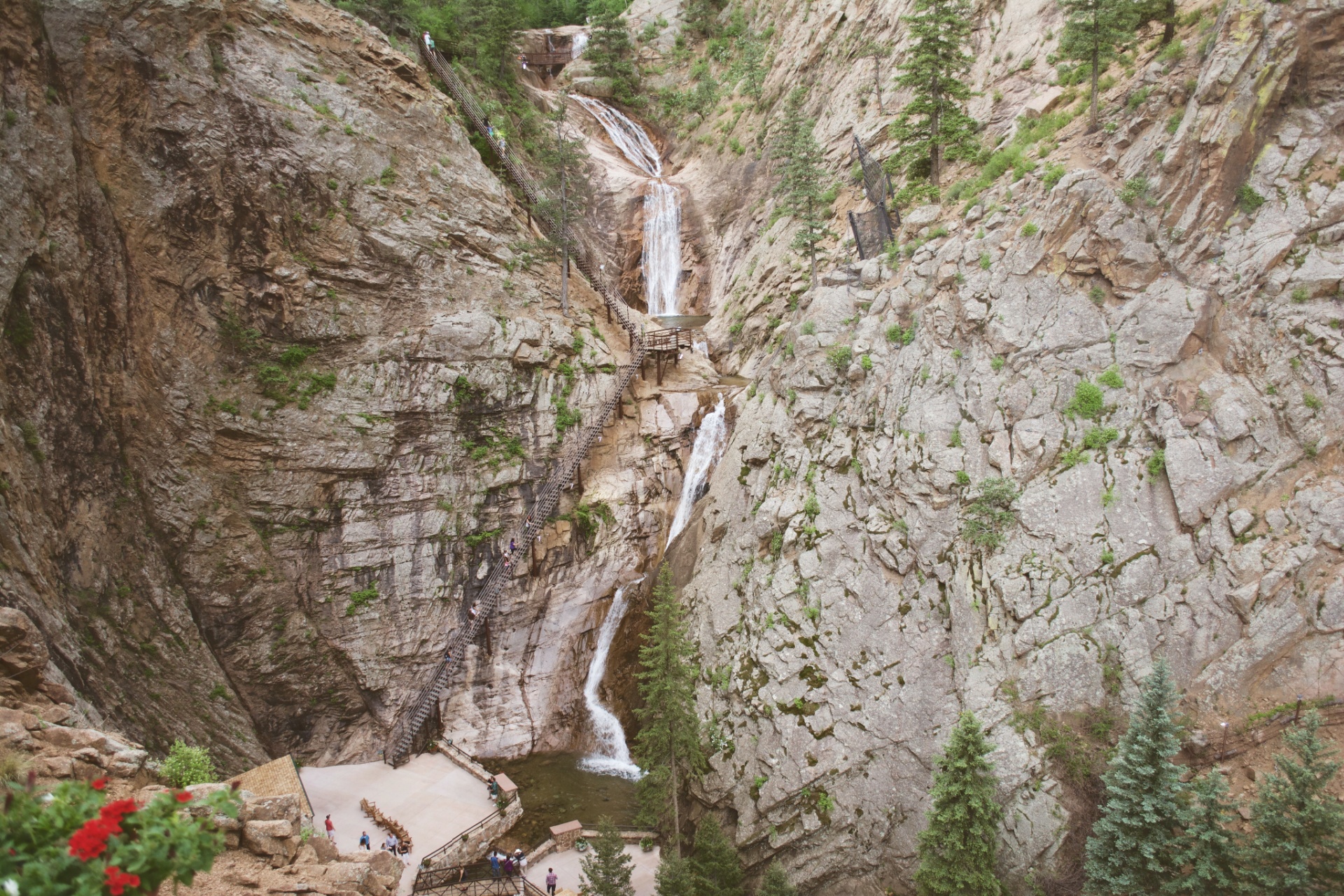 Seven Falls is a park that is open to the public, located in a natural box canyon. It offers breathtaking views of its seven cascading waterfalls within the park, which fall cumulatively 181 feet in total from its top to the bottom. The park features two trails for hiking which give good access for viewing the falls. Picnic areas are located throughout the park as well. We, apparently, took the trail that claimed it was a tad harder than the other…and it was. For us Florida people, the hike up was a bit more than what we are used to, but it was worth every single step up and every break we needed to take. The views of Colorado Springs from the top were just incredible, no pictures can really do them justice, but I did try to post some of my favorites on Instagram, so head over and check them out.
Parking for Seven Falls is at 1045 Lower Gold Camp Rd. If you staying at The Broadmoor, you can take a free shuttle over (that's what we did!).
Seven Falls days of operation vary slightly, you can view the hours here.
Seven Falls Admission Fees are as follows:
Adults: Ages 13+ years – $16.50
Seniors and Military (with ID) – $13.75
Children: Ages 2 – 12 years – $10.50
Children under 2 years of age are FREE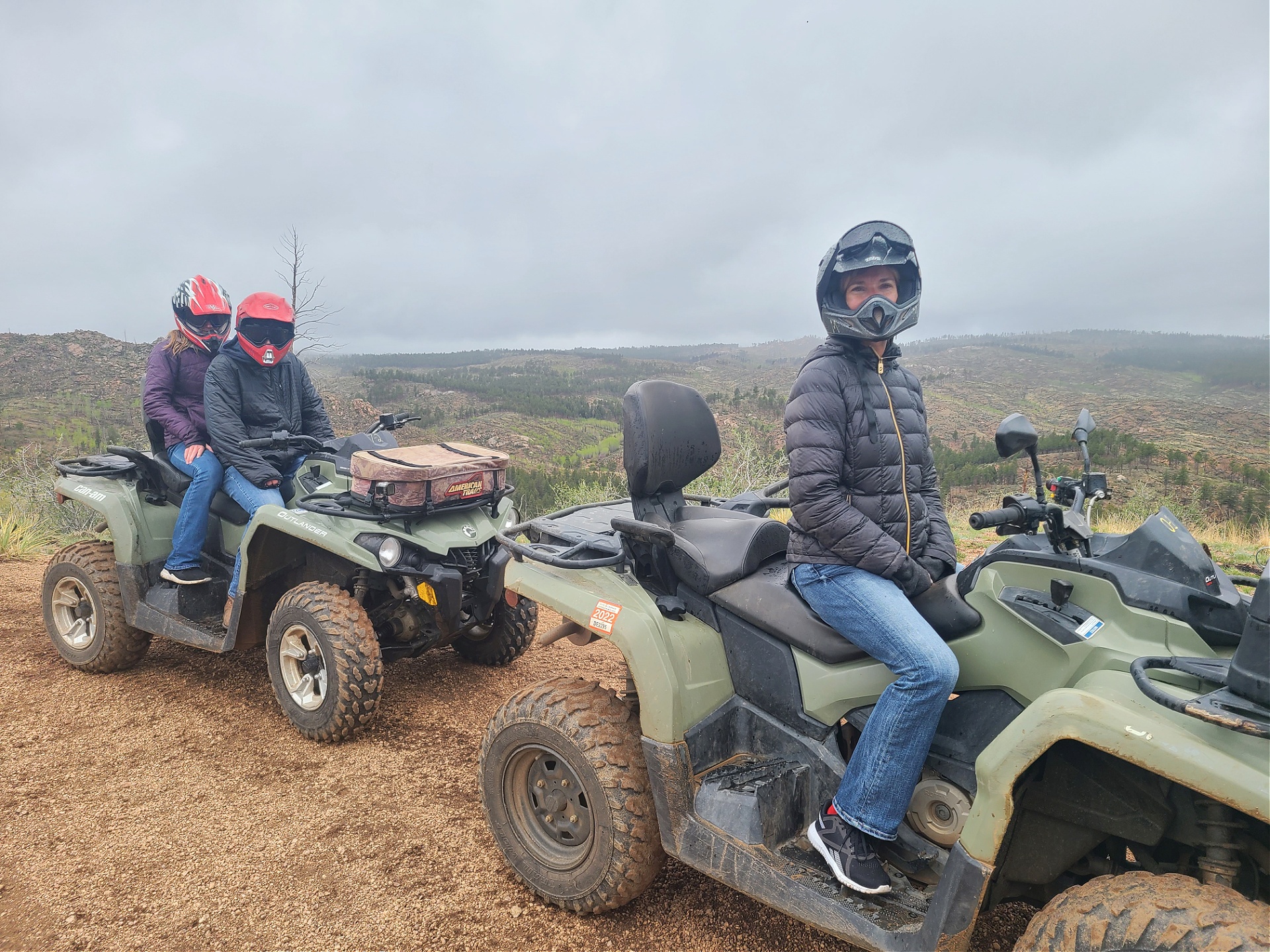 We did this and absolutely LOVED it. It was cold, and it was rainy, but it didn't matter! If you have the opportunity, this was definitely an incredibly unique way to see the Pike's Peak National Forest. Now, it may not be cold and rainy when you go, so you may have better views than we did, but the EXPERIENCE, well, that was worth every single penny. We booked our ATV Tour with Rockhound ATV. They took us an adventure in the Pikes Peak region to experience views of Pikes Peak and the Rampart Range. Plus, you get to operate a rugged ATV and ride into the Pike National Forest as the guided tours give you an exclusive look into the Pikes Peak Region's history along our backcountry trails.
The Cheyenne Mountain Zoo is a zoo that is located on the side of a mountain, housing a variety of species in a faux natural habitat. An antique carousel sits atop the mountain, offering rides for kids of all ages. Species that can be seen in this unique zoo include giraffes, grizzly bears, a variety of birds, primates, and mammals such as tigers, prairie dogs, orangutans, and much more.
Cheyenne Mountain Zoo is located at 4250 Cheyenne Mountain Zoo Rd. Colorado Springs, CO 80906. Cheyenne Mountain Zoo is open Monday – Friday 9AM – 5PM. Get your tickets and reservations for Cheyenne Mountain Zoo here.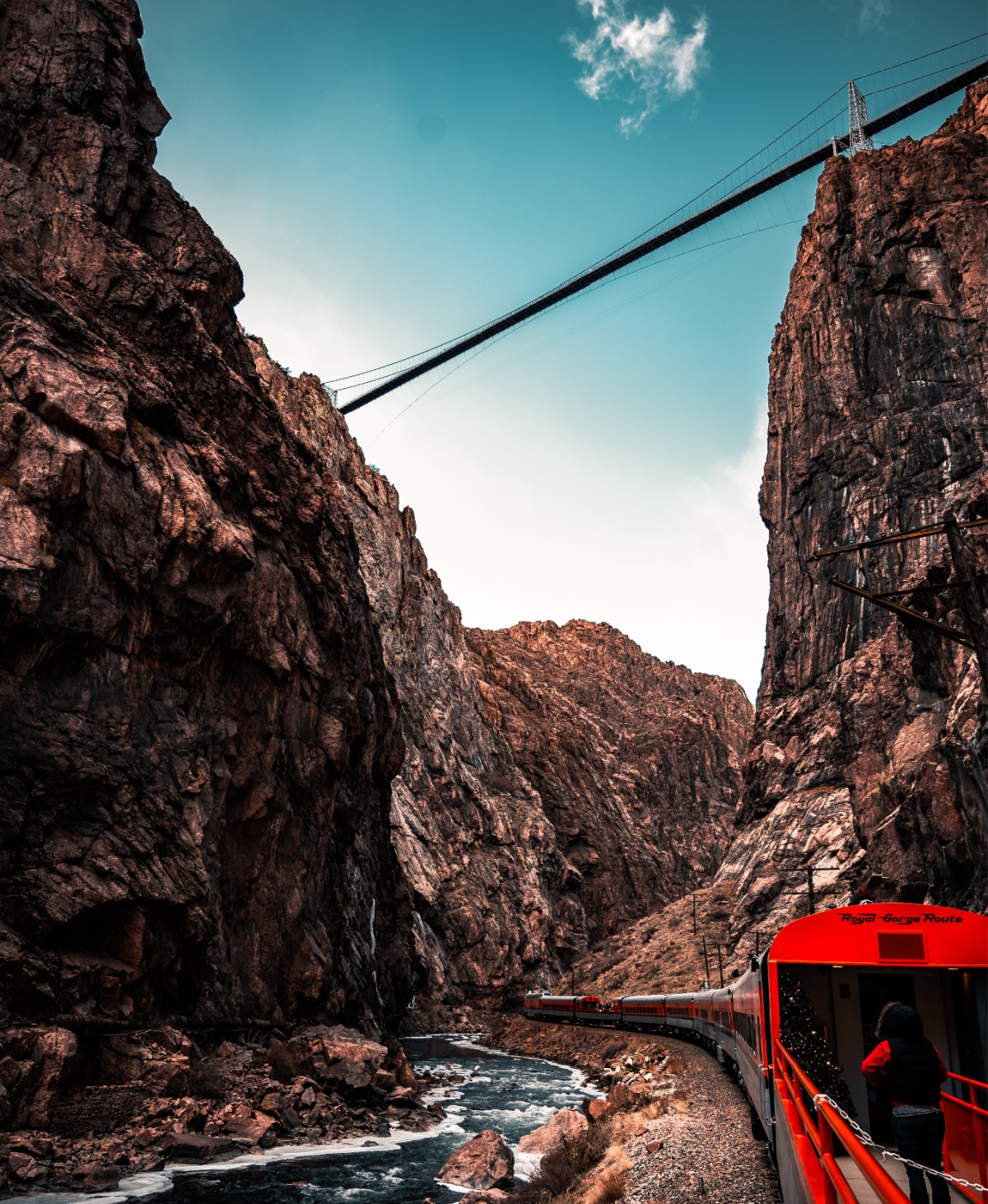 Royal Gorge
Located on the Arkansas River just outside of Canon City lies Royal Gorge, a 10-mile canyon that is home to the highest suspension bridge over water in the world. We went to the Royal Gorge Park and Bridge. While we didn't walk across the bridge (there is a fee for that and the gondola ride) we did enjoy the view from the lookout.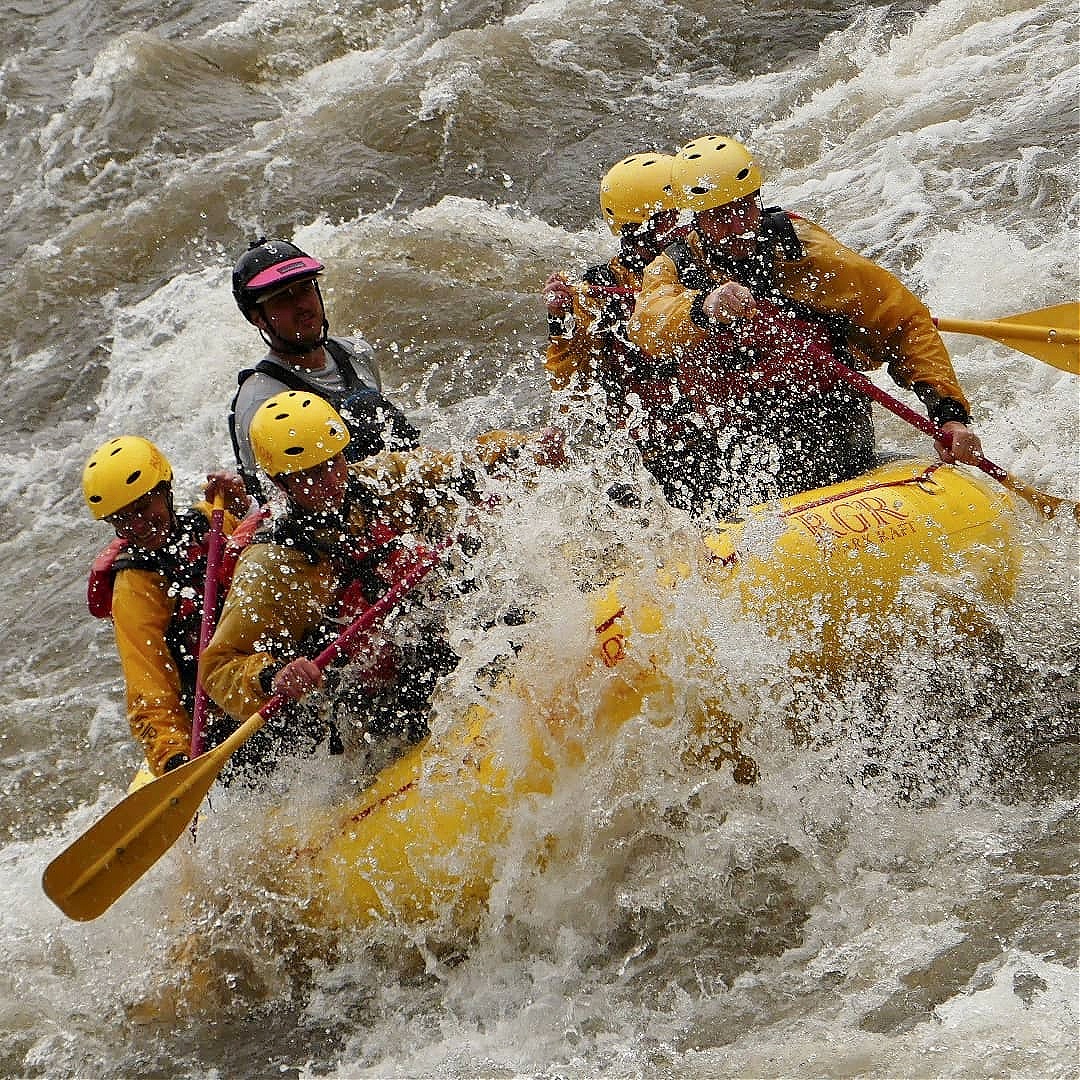 If you are an adrenaline junkie, there is some of the best whitewater rafting in the world. Well, I would say that you don't necessarily have to be an adrenaline junkie, you just have to be willing to give it a try! We did! We did the Bighorn Canon, which is considered the "family-friendly" route and that was plenty for my daughter and I. My husband and son are already looking forward to the more adventurous route on our next visit. We booked our trip through Royal Gorge Rafting and had an excellent experience.
The Academy is easily accessed via either the North or South gate, both of which are just off Interstate 25 north of downtown Colorado Springs. Be aware, this is a military installation, proper ID is required, and all vehicles are subject to search. Access may be restricted at times based on current Alert Levels. Access is always free.
The Visitors Center provides information on the Academy's history and cadet life as well as souvenirs and gifts.
The Chapel is an amazing, inspiring structure serving all faiths. Catholic and Protestant services are open to the public. Take a self-guided tour, or guided tours are provided periodically, Monday through Friday.
There are several historic aircraft mounted on pedestals about the Academy grounds.
The United States Air Force Academy is open to the public 8 AM – 6 PM daily. The Barry Goldwater Visitors Center and Cadet Chapel are open 9 AM – 5 PM.
Towering twenty feet above the park, the centerpiece of the memorial is a bronze likeness of a firefighter descending a ladder cradling an infant. Behind this are granite walls bearing the names of every IAFF firefighter who has given his life in the line of duty protecting our homes and families. The names date back to 1976, the first year the Federal Government began tracking these line-of-duty deaths. The IAFF has plans to add the names of all members who have given their life since 1918, the year the organization was founded.
Each year in September, a nationally recognized ceremony is held to pay tribute to the new names added to the wall, as well as the sacrifice of past firefighters.
The IAFF Fallen Fire Fighter Memorial is located in Memorial Park on Pikes Peak Ave.
Located at the base of Pikes Peak, Manitou Springs is a beautiful historic mountain community that has changed little over the decades. Quaint little artisan shops, nationally famous restaurants, art galleries, and Victorian-style homes and businesses provide plenty to see and do as you stroll through the parks and shops. The local inhabitants also provide eclectic and eccentric views on how to go about your daily life.
Manitou gets its name (which means spirit) from the ten natural mineral springs scattered about town. These springs come from deep within the mountain, and each has its own signature qualities. Some are naturally carbonated; all are loaded with healthy minerals and flavors ranging from sweet to salty.
While some of the springs are privately owned, all are free to the public. Many locals and tourists come to fill up a healthy cup or bring their recycled gallon jugs to fill up and take home. Some are touted to be the perfect water for lemonade or make a carbonated Kool-Aid or just a completely natural alternative to bottled mineral water.
Also, don't miss the historic Penny-Arcade. This open-air arcade provides a mix of classic, vintage arcade games, and new games. Seriously, this is so cool to walk through! We were just in awe that anything like this even existed!
Art on the Streets
Take a downtown walking tour of Colorado Springs and be amazed by the many traditional and eclectic sculptures scattered about the street corners. Constructed from materials ranging from bronze to iron to steel, limestone to concrete, recycled wood and glass; you name it, it has probably been used.
You may come face-to-face with Humpty Dumpty or characters from Alice in Wonderland. Marvel at free-flowing forms open to interpretation or simply giant paper clips.
New artwork is displayed every summer during the Art on the Streets festival, typically June through July. All new work is for sale to the serious collector. Some of the pieces are owned by the city. Since Art on the Streets was started in 1999, more than 150 pieces have adorned the downtown streets.
Located in Acacia Park, corner of Bijou and Tejon Streets in downtown Colorado Springs. At first sight, you only see a giant blue bubble.
But then, the water starts to pulse, and the bubble begins to open. Outcomes Uncle Wilbur, perched on a stool, playing the silly Sousaphone. The water dances to the music for a 6-8 minute performance every half hour daily, May through August.
One of the most popular tourist attractions in Colorado Springs, Colorado, is the U.S. Olympic Training Center and Olympic Plaza. Here you will find where the U.S. Olympic Team trains and where the heart of American athletics is found.
You can find the U.S.O.C. at 1 Olympic Plaza, which is nearly in the center of Colorado Springs.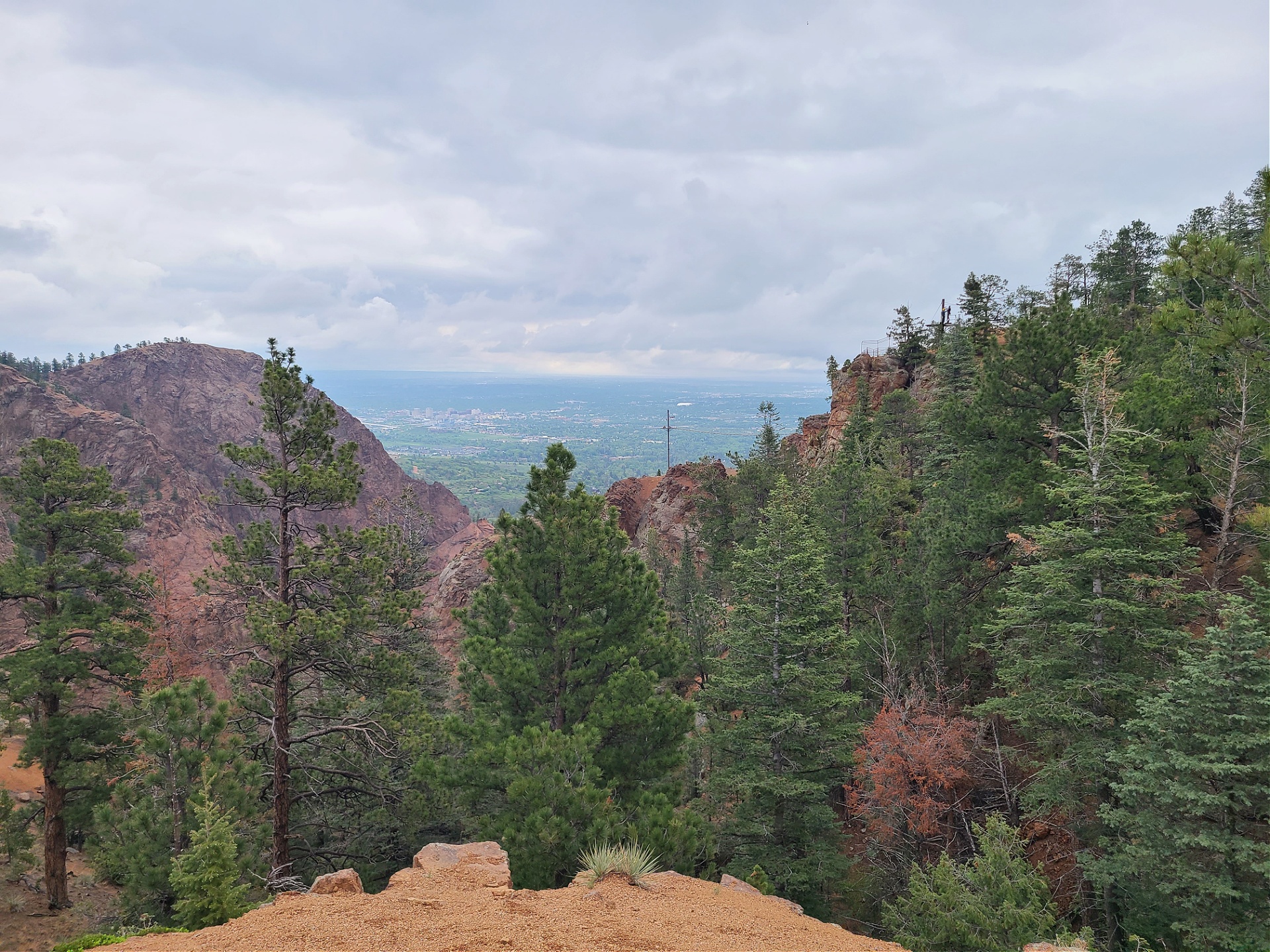 If you are interested in the Wild West, then you need to visit the area of town known as Old Colorado City. This region of town is found on the west end of Colorado Avenue. Here you will find a collection of stores and businesses that have restored their building storefronts to their original 1859 aesthetics.
Palmer Park is found by taking Academy Blvd to Maizeland and turning West. At this park, you will find great picnic areas, nature trails, a ballpark, and plenty of room to stretch out and relax, stretch your legs or play a game of soccer, baseball or softball. This is a great place for a photo opportunity, as it has one of the best views of the cityscape.
If you enjoy astronomy or space exploration, then the U.S. Space Foundation is a great stop. Located at 1525 Vapor Trail, this museum offers an amazing collection of Apollo 15 Mission artifacts, photographs, and information. This is a fabulous stop if you have kids, if you have a love of space or if you are a teacher.
Inside the Bear Creek nature center are great exhibits about the local ecology, and outside, you will find a fun collection of nature trails and wildlife viewing areas.
The Bear Creek Nature Center is found at 245 Bear Creek Road. The nature center is open Monday through Friday from 9:00 until 2:00 and on the weekends from 9:00 until 4:00.
No matter what kind of adventure you are looking for, Colorado Springs has something for everyone!
If you are looking for the perfect place to stay in Colorado Springs, visit The Broadmoor. It has been around for over 100 years for a reason! My parents actually honeymooned here, then celebrated there 45th wedding anniversary here, and just this past month, my family and I stayed here. It's incredible! I'll have more on the resort soon. Stay tuned 🙂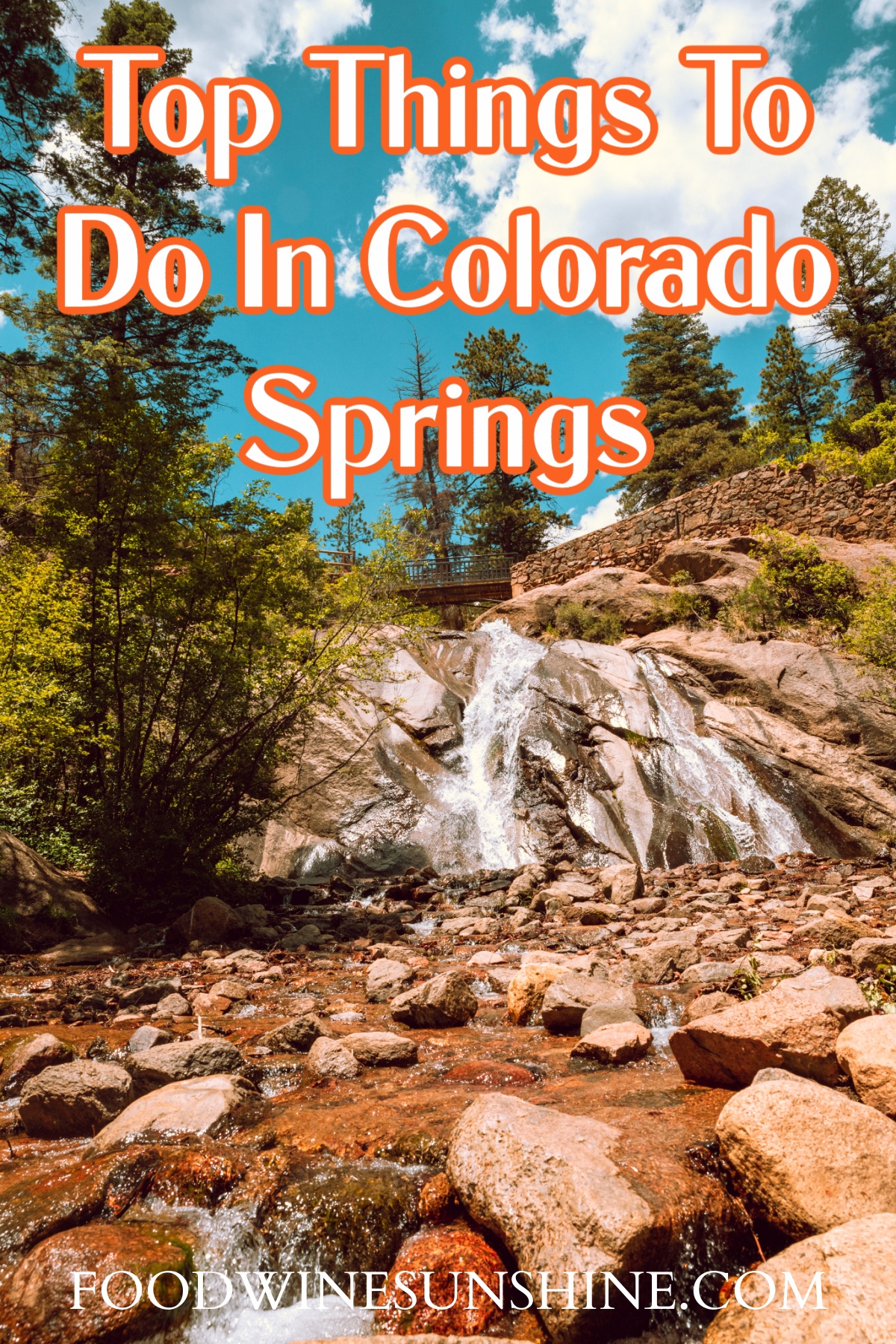 Have you ever been to Colorado Springs? What is one of your favorite things to do in Colorado Springs?
Be sure to check out Food Wine Sunshine on Facebook, Twitter, Pinterest and Instagram for more travel tips, healthy recipes, and more.