(Last Updated On: January 26, 2021)
The best cocktails are made with natural and simple ingredients. Like this Tequila Spritzer Cocktail. Serve this Tequila Spritzer with infused ice cubes for a whole other layer of flavors. While this post is sponsored, my love for cocktails and the cocktail recipe are my own.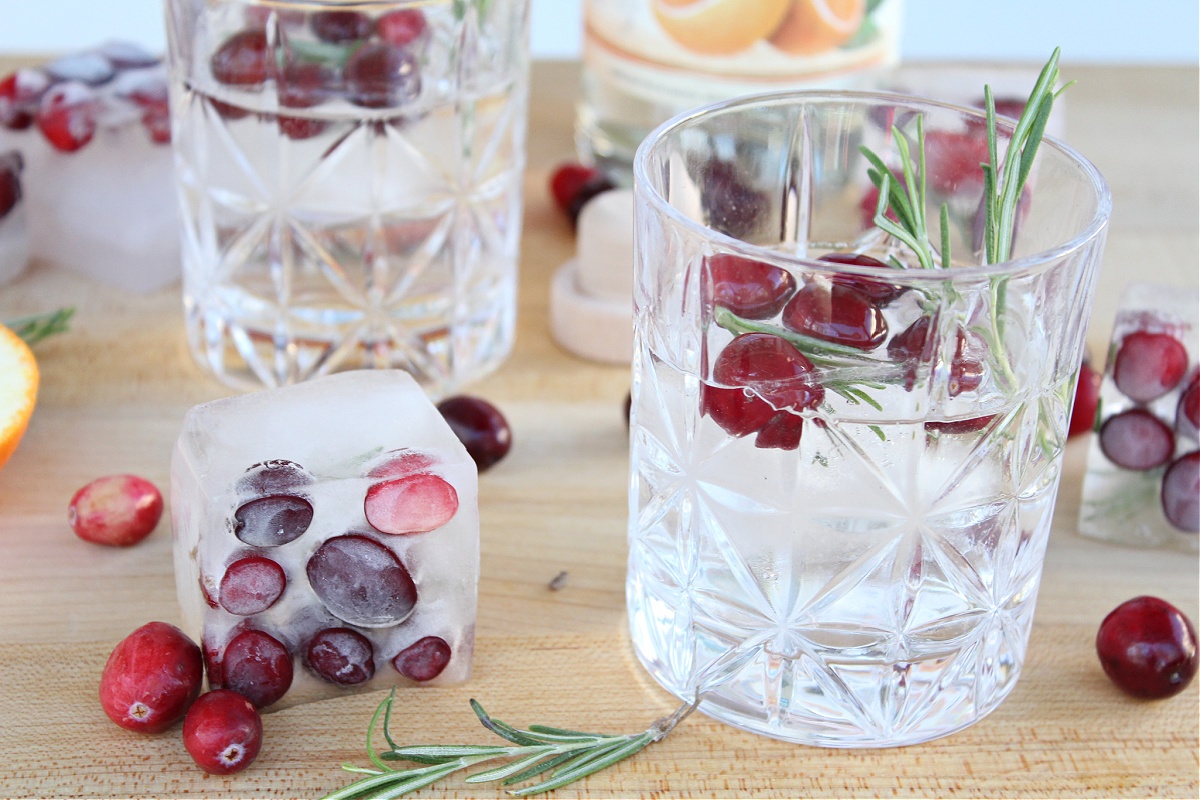 The Best Tequila Spritzer + Infused Ice Cube Creations
My husband and I went to Mexico a few months ago for a little rest and relaxation. We spent the weekend sitting on the beach and sipping the world's best margaritas. And since both of us are usually wine drinkers, ordering margaritas was actually a little nerve-racking for us. But, when in Mexico…
These margaritas were so good you guys! Nothing like the ones I have ordered back here at some of the local restaurants. There were no heavy syrups, they were light, refreshing and so easy to sip and enjoy.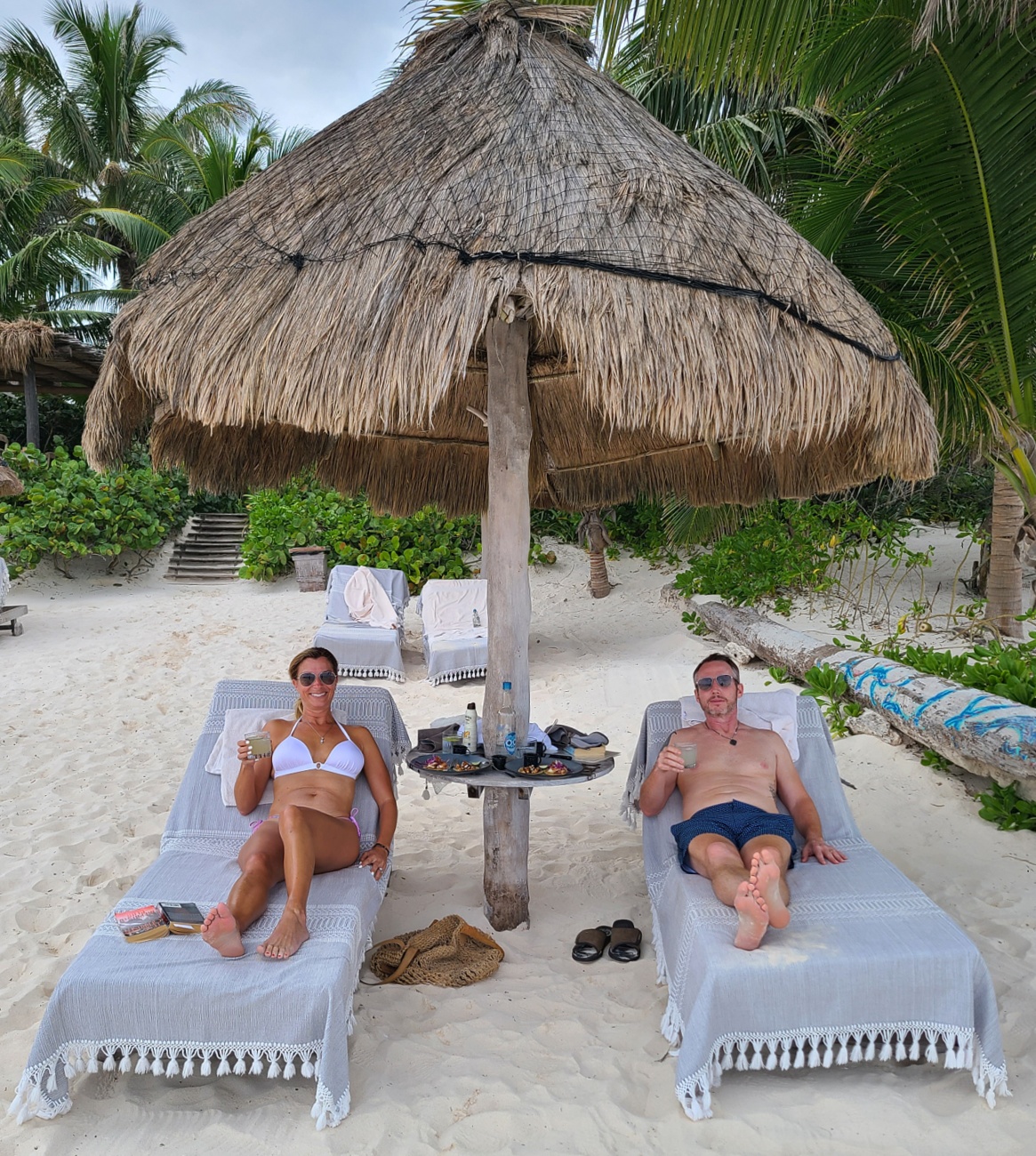 We had to ask how they made these amazing margaritas, we would have to try to recreate them at home. And we were stunned by the answer. The most amazing margaritas were simply good tequila and lime juice. Mixed well, served over ice with a slice of lime.
We honestly didn't believe it.
No magical mixer, just good tequila and fresh lime juice.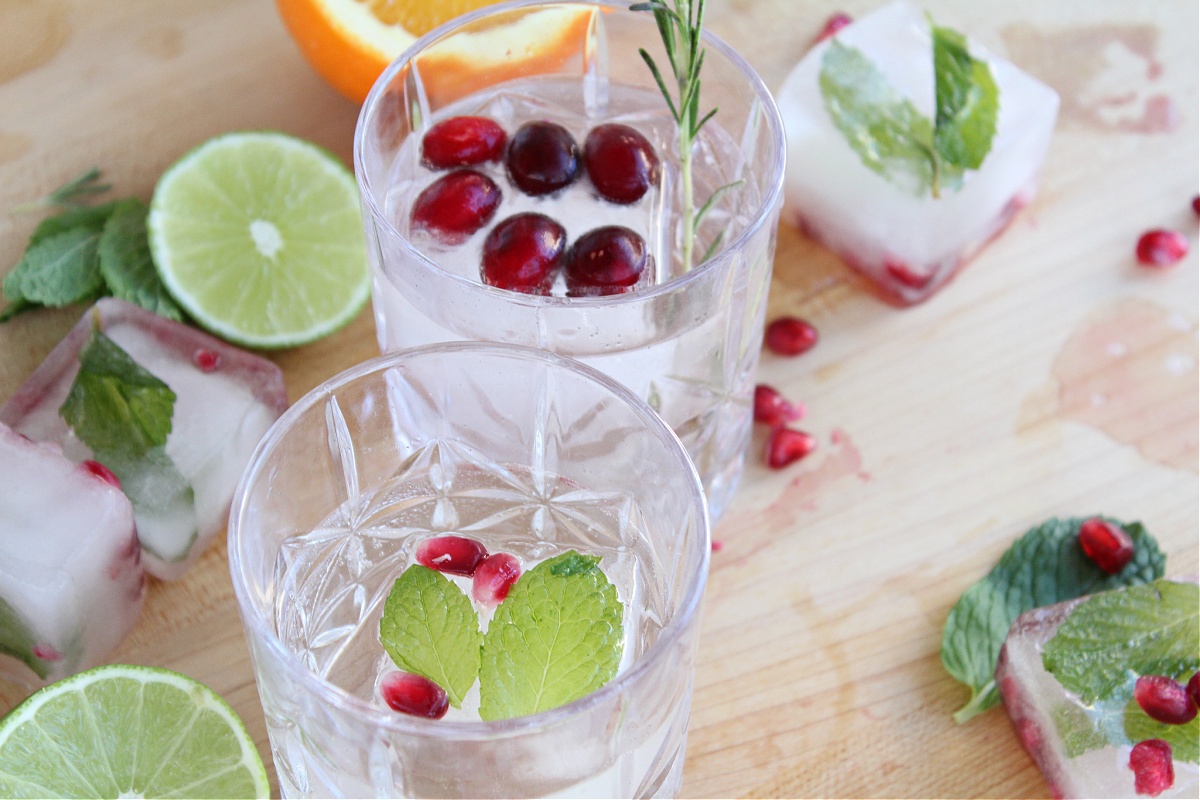 So, when we got home I set out to find a good tequila that would make simple, yet delicious cocktails.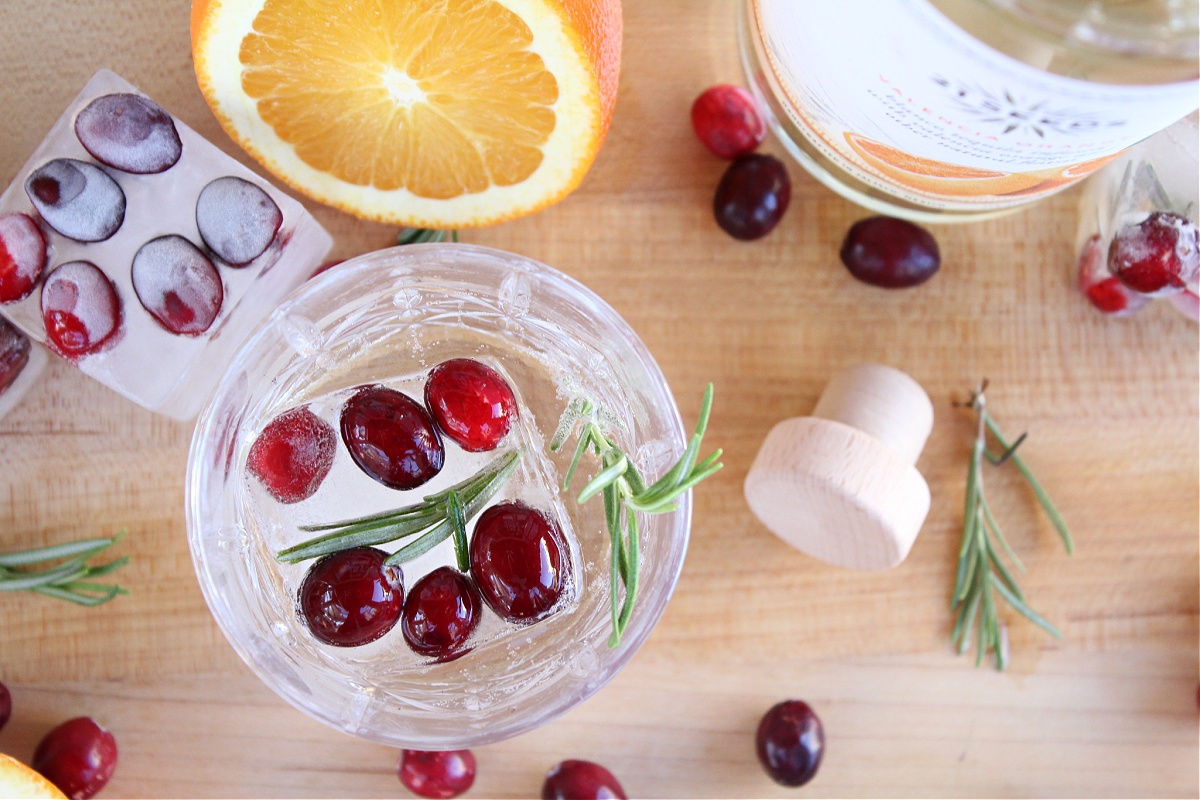 Because sometimes you just need a cocktail. A simple cocktail. A pretty cocktail. A cocktail that is not filled with mixers. A cocktail that is lower in calories, but still tastes good.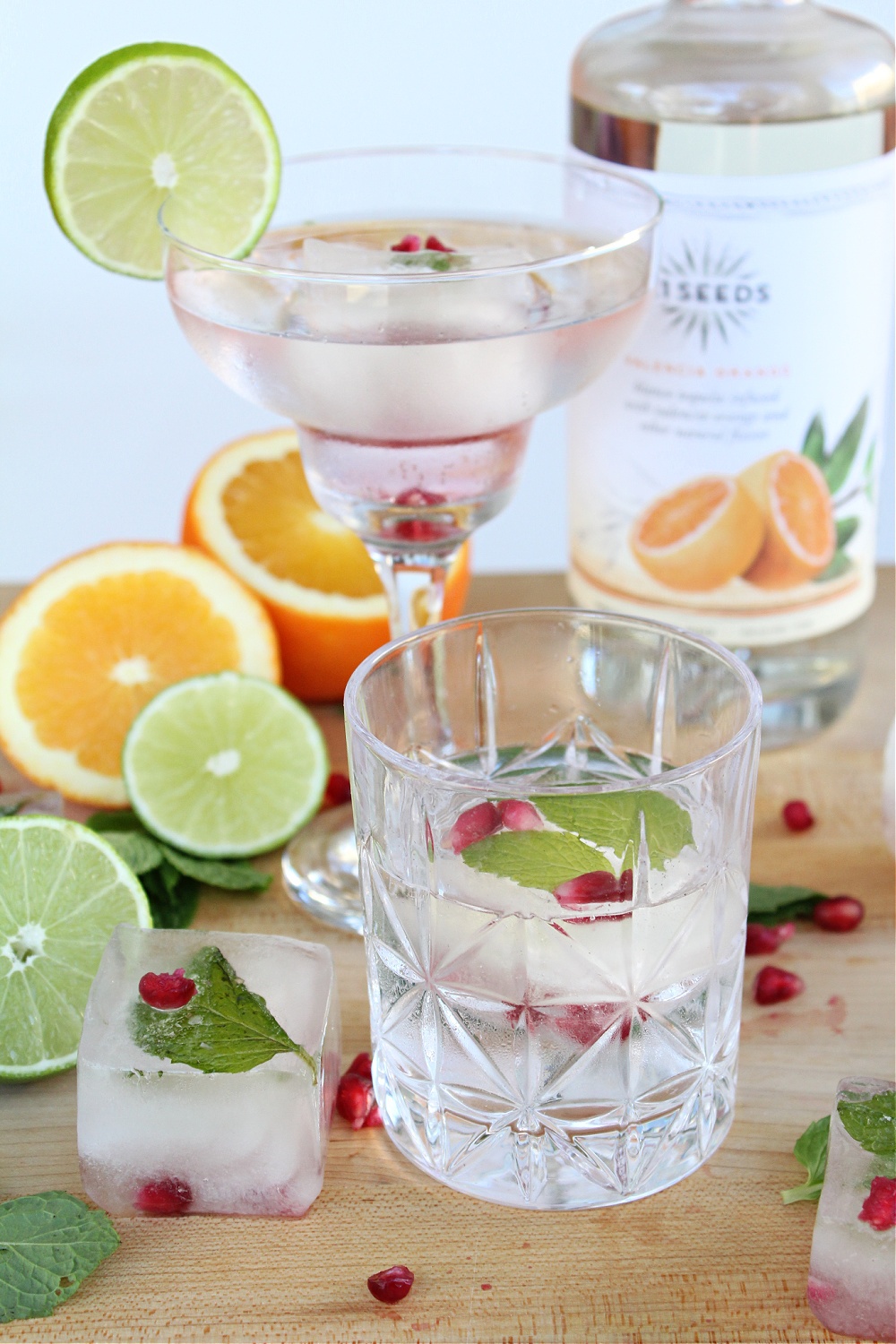 Heavy mixers are usually used to hide the flavor of the alcohol. But since the liquor is the most expensive part of our cocktail, why buy a bunch of other cocktail ingredients to mask the flavor?
I got a tequila that will enhance my simple cocktails. I got 21Seeds Tequila.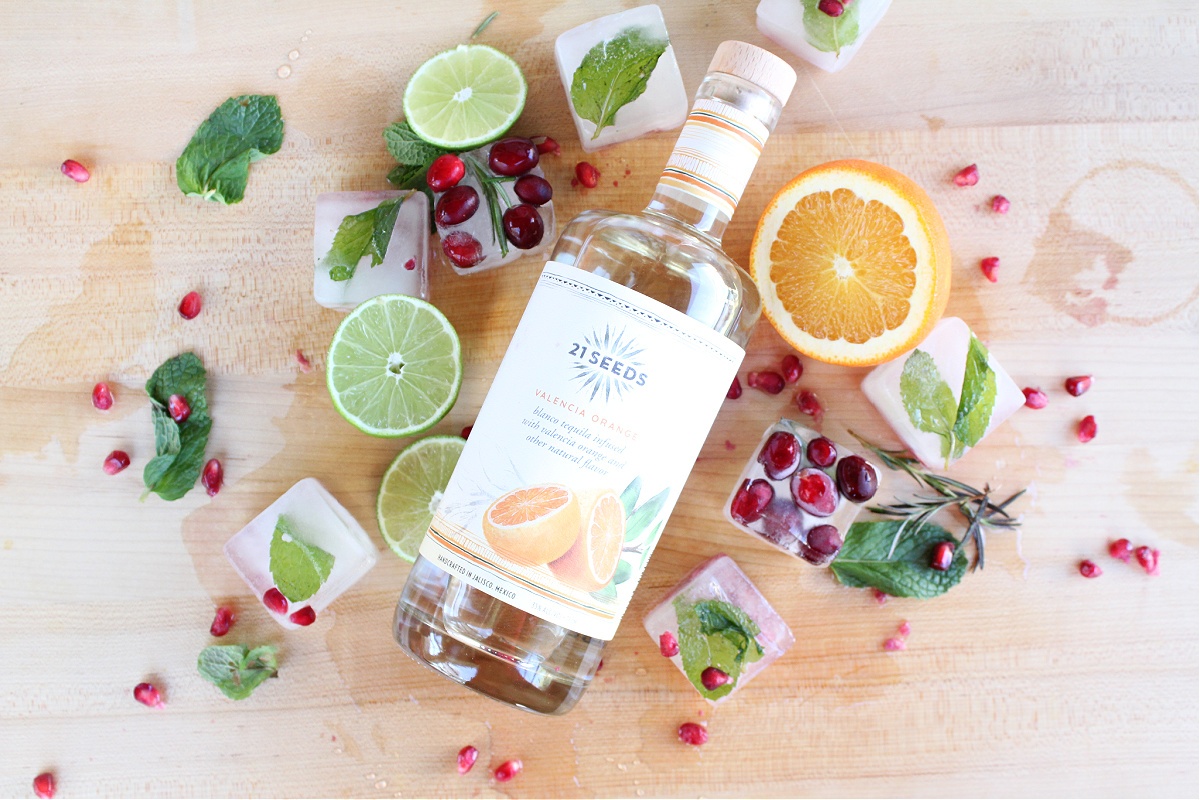 21Seeds is an all natural, craft infused tequila made with real fruit in three flavors: Cucumber Jalapeno, Grapefruit Hibiscus, and Valencia Orange.
I love orange, so Valencia Orange was first one I grabbed from the local wine and liquor store.
Orange pairs well with basil, berries, cherry, cilantro, cranberry, ginger, grapefruit, lemon, mint, pineapple, pomegranate, rosemary, vanilla, and many other natural flavors, so my cocktail creations were going to be simple and delicious. The sky is the limit!
21Seeds tequila allows me to better-for-me cocktails without sacrificing taste.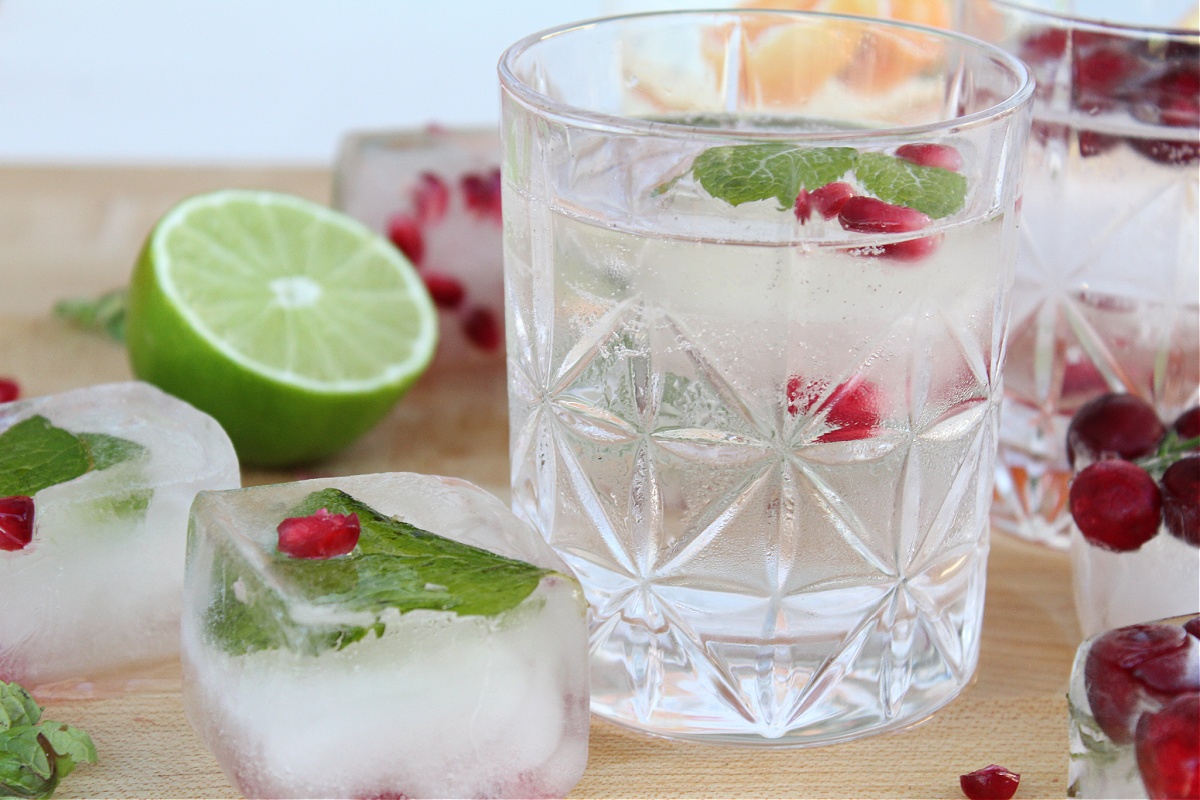 In fact, 21Seeds Valencia Orange tequila makes for the simplest spritzer, which is currently my favorite way to enjoy it.
This is all you need to make the best tequila spritzer:
21Seeds Valencia Orange
Infused Ice Cubes
Sparkling Water
Squeeze of lime if desired
It doesn't get much easier than that.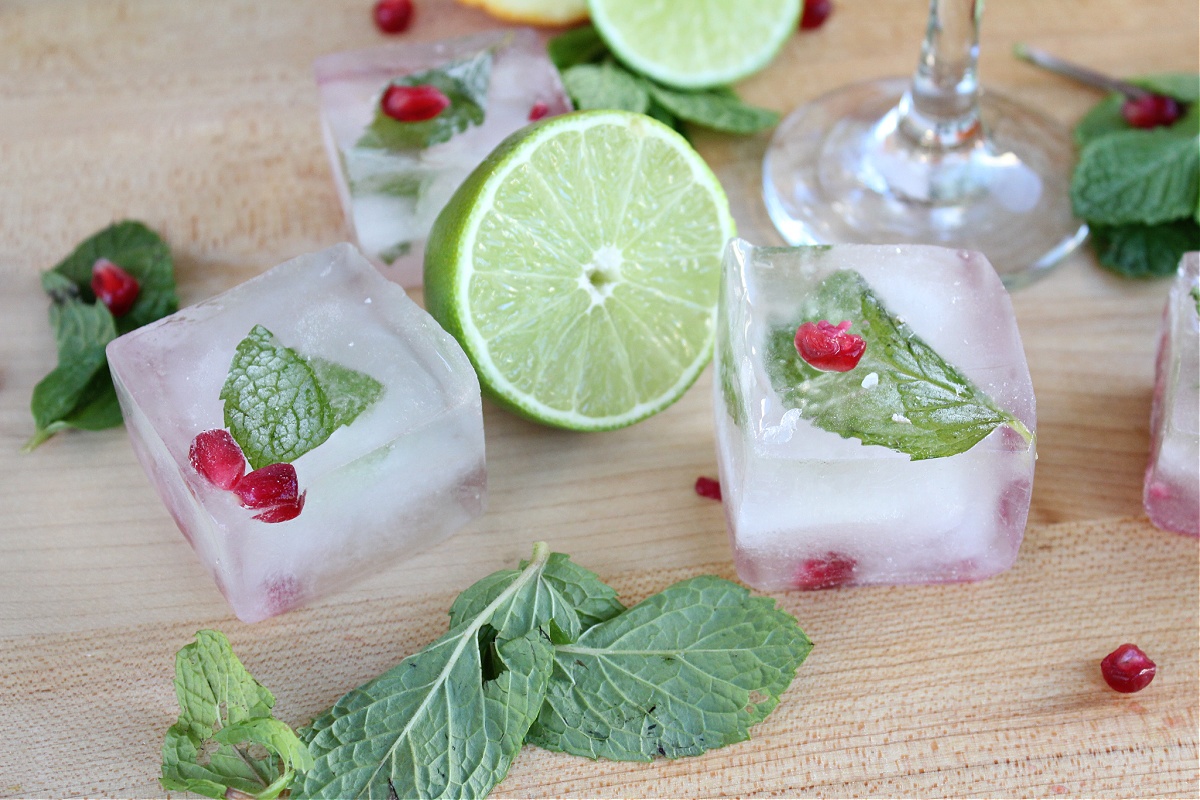 How do you make infused ice cubes?
It's so easy! Just take the flavors that you would like your cocktail to be infused with and add then to your ice cube tray, fill with water or sparkling water, freeze and serve when ready.
Why make infused ice cubes for cocktails?
Making flavor infused ice cubes is not only pretty, but will add flavor to your cocktail without watering it down too much. Making them the perfect addition to sipping 21Seeds all-natural Valencia Orange fruit-infused tequila.
Since orange pairs so well with a variety of flavors, your infused ice cube options are pretty open, so feel free to get creative.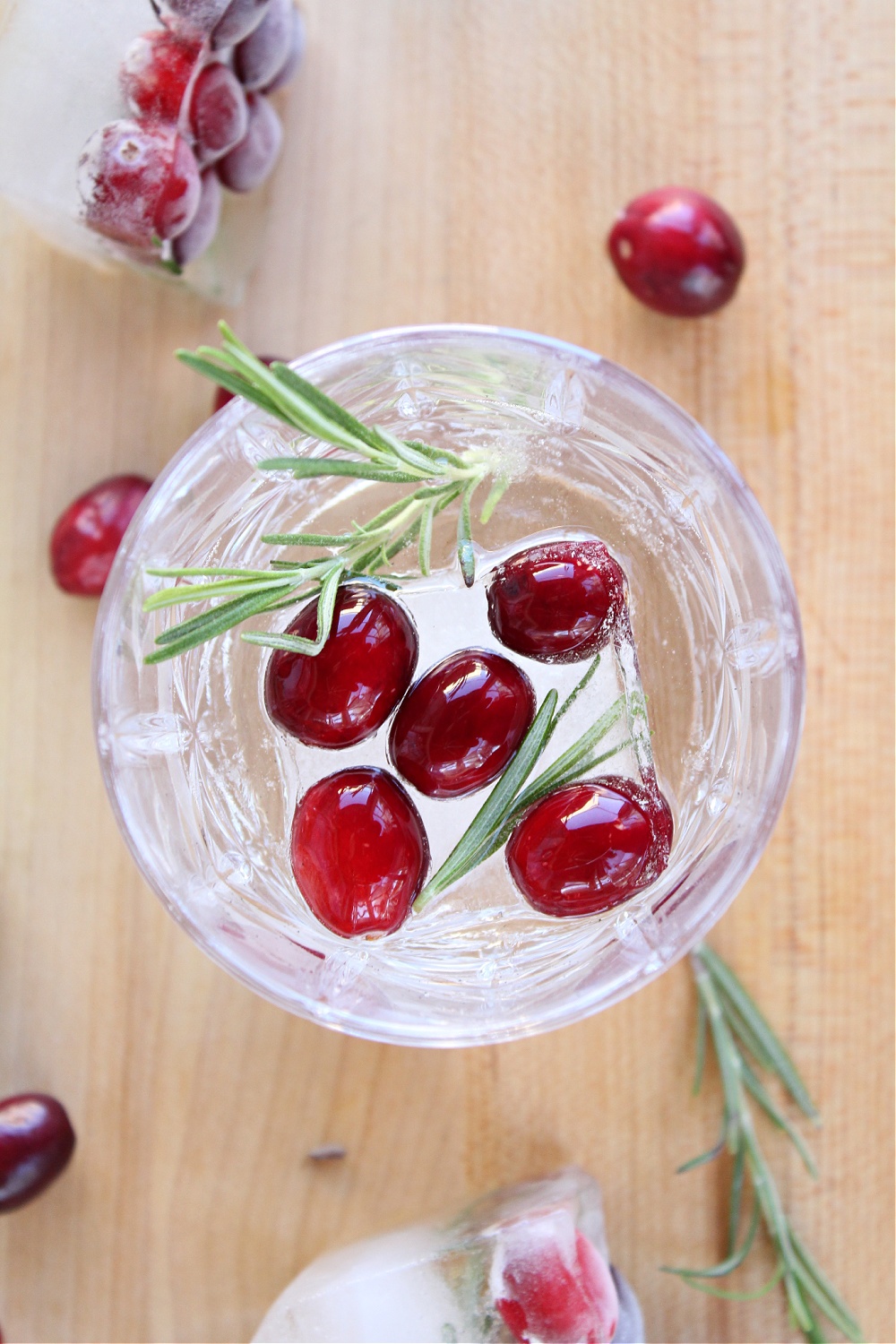 I went with rosemary and cranberry infused ice cubes for one tequila cocktail.
Then I created pomegranate and mint infused ice cubes for my other tequila spritzer.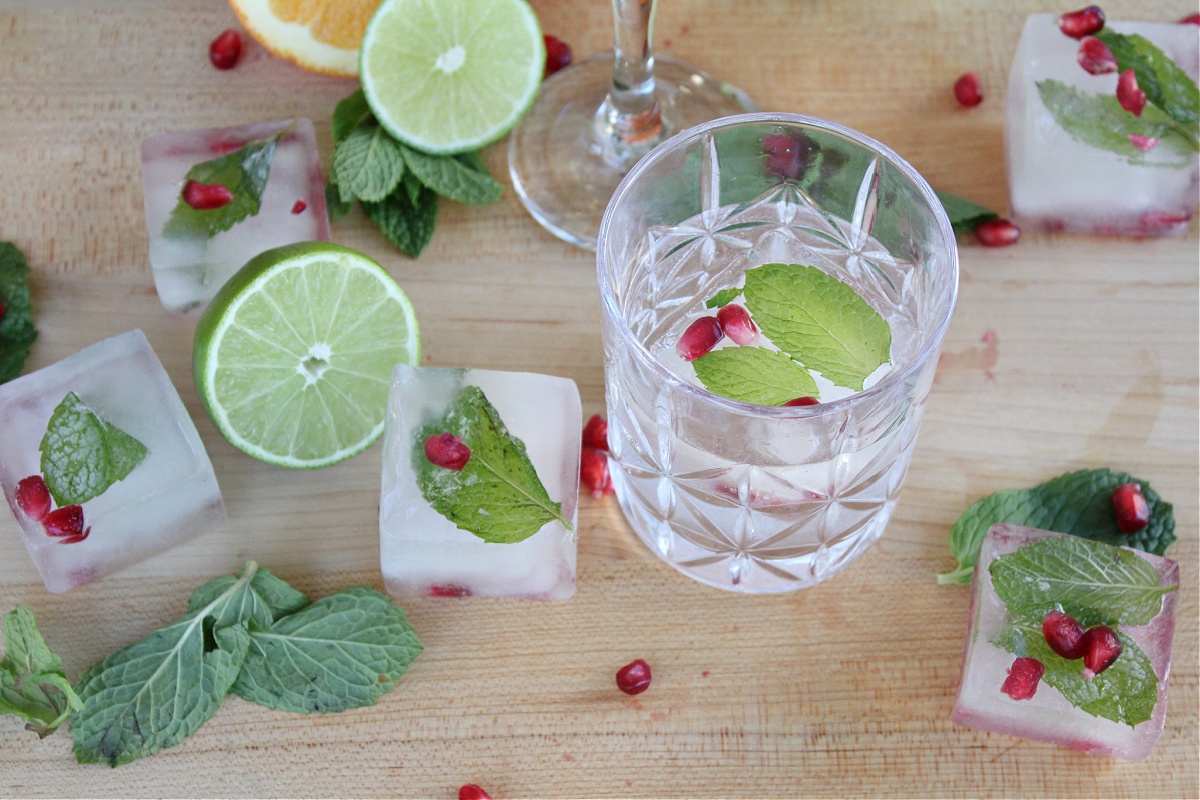 Both were equally amazing.
The infused cubes are all-natural, just like 21Seeds. So, I can feel good sipping my cocktail and when I am serving it to my friends.
Speaking of serving cocktails, here is my version of the Seeds and Soda Cocktail. Be sure to print it and pin it so that you can make it again and again.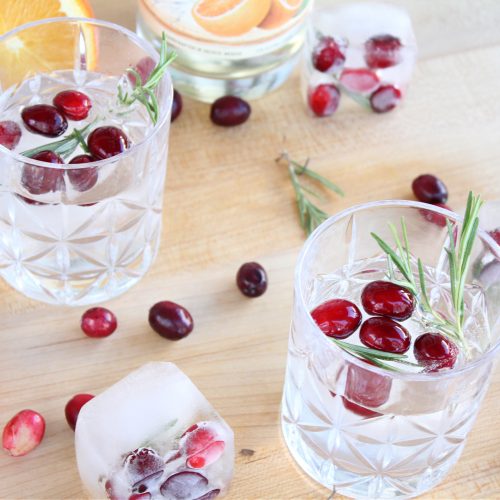 Simple Tequila Spritzer with Infused Ice Cubes
This will soon be your favorite way to enjoy tequila. Simple, refreshing, natural and delicious. Cheers!
Print
Pin
Rate
Ingredients
2

oz

21seeds Valencia Orange Tequila

2

oz

sparkling water

I used lime
Infused Ice Cubes
Fresh Mint

Pomegrante Seeds

Fresh Rosemary

Cranberries

Water or sparkling water
Instructions
Make your infused ice cubes by combining your favorite herbs and fruit with water and freeze overnight in your favorite ice cube tray. I used a whiskey ice cube tray for bigger ice cubes.

When your ice cubes are ready, place 1-2 in your favorite cocktail glass

Pour 2oz chilled 21Seeds Tequila in the glass

Top with 2 oz of sparkling water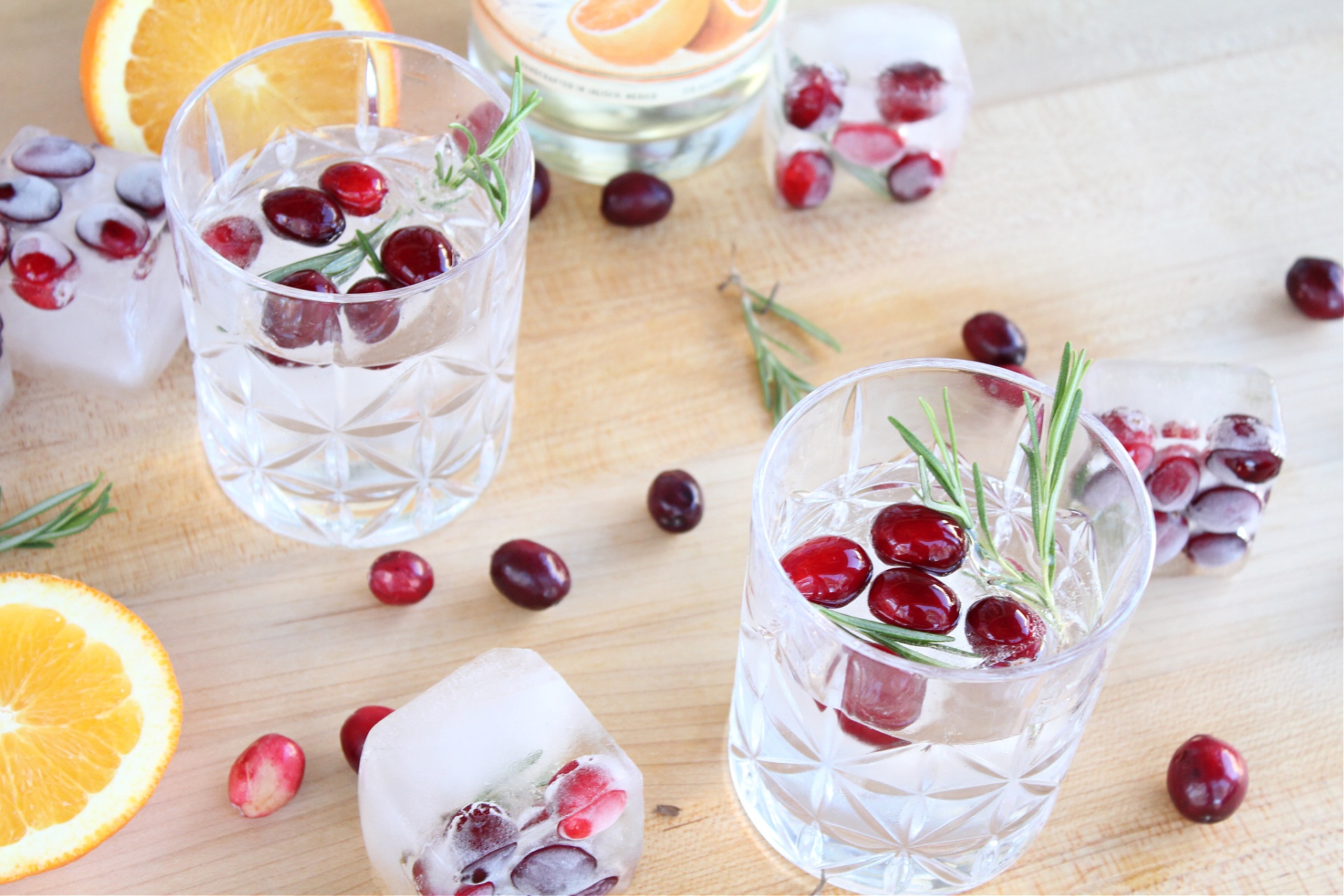 Cheers my friends!
21Seeds all-natural, real fruit-infused tequila is also gluten-free, keto-friendly, non-GMO, lower-ABV (35% vs 40% for most tequilas).
21Seeds was founded by Kat Hantas, whose doctor recommended a switch from fermented spirits (like wine and beer) to distilled spirits (like tequila), for health reasons. She wanted to create a tequila that was as easy to drink and approachable as a glass of wine! She partnered with her sister and best friend to bring 21Seeds to life.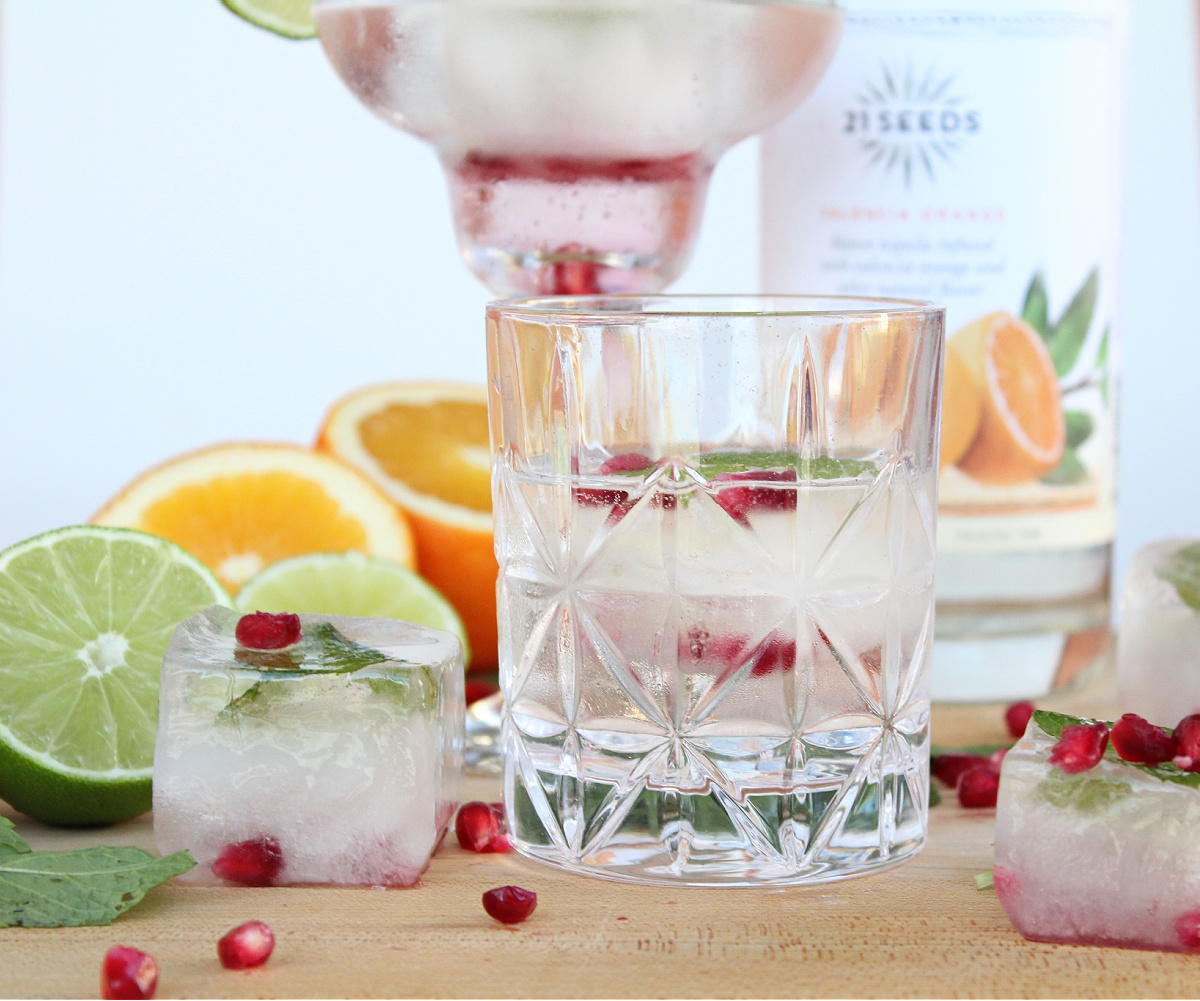 Looking for more simple cocktail recipes?
21seeds Tequila Cocktail Recipes
Ready to start creating simply delicious cocktails at home?
Do you like tequila? What is one of your favorite tequila cocktails?
21Seeds is WBENC certified (female-owned and female-run!), and you can follow along on social media at #GirlsCallTheShots – they are made by women, for women, and the men who support them. That's a vision I know I can get behind and support!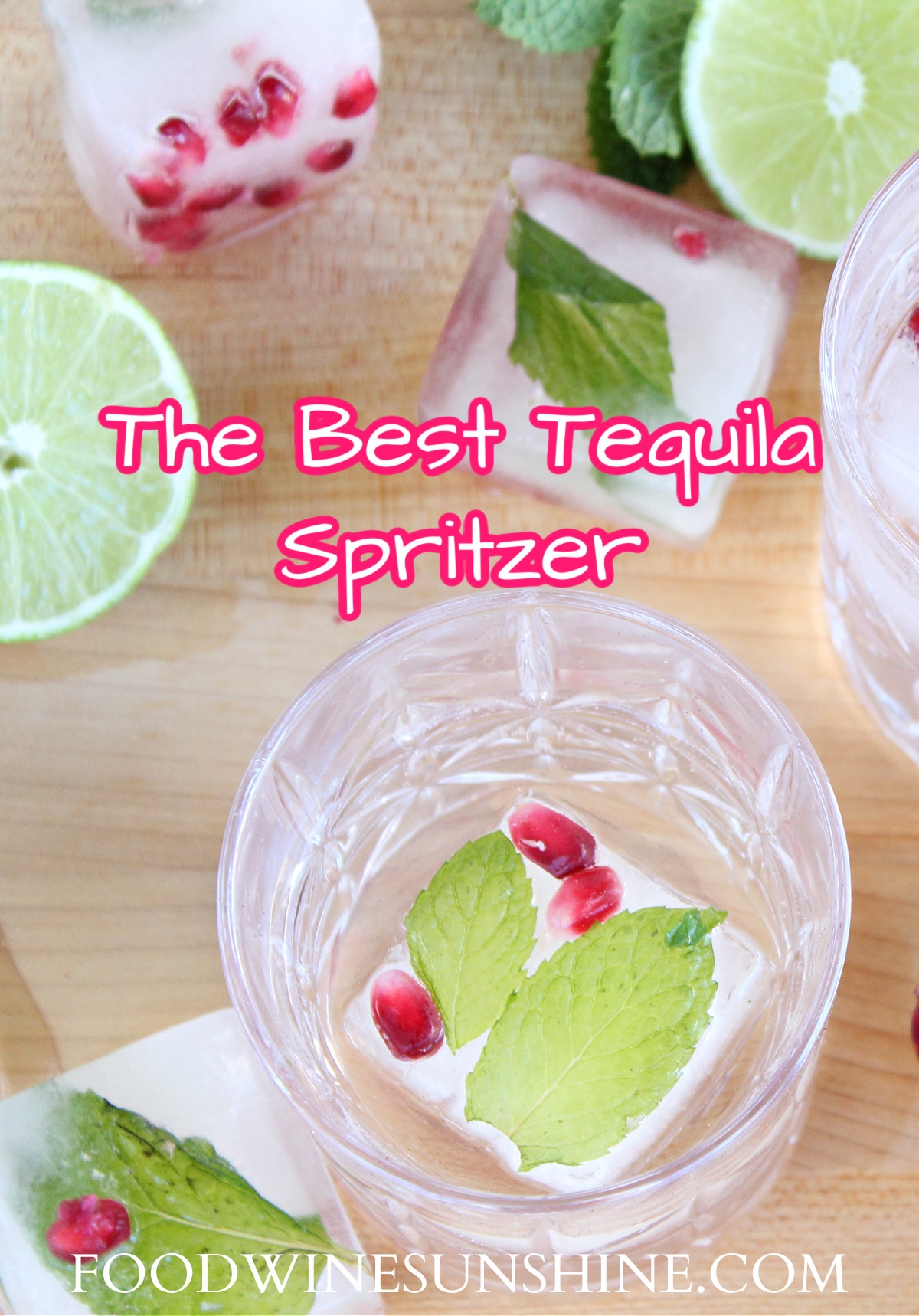 And while you are at it, check out all the cocktail recipes on Food Wine Sunshine and follow on me Facebook, Twitter, Pinterest and Instagram for more FOOD WINE AND SUNSHINE.