(Last Updated On: June 20, 2022)
This is no ordinary pizza! Fall in love with pizza night again with this Raspberry and Prosciutto Pizza with Arugula and Goat Cheese recipe. Ready in under 20 minutes, this easy pizza recipe is a delicious weeknight meal or lunch option. While this post is sponsored by Healthy Family Project, all opinions, the recipe and my love for supporting local food banks are my own!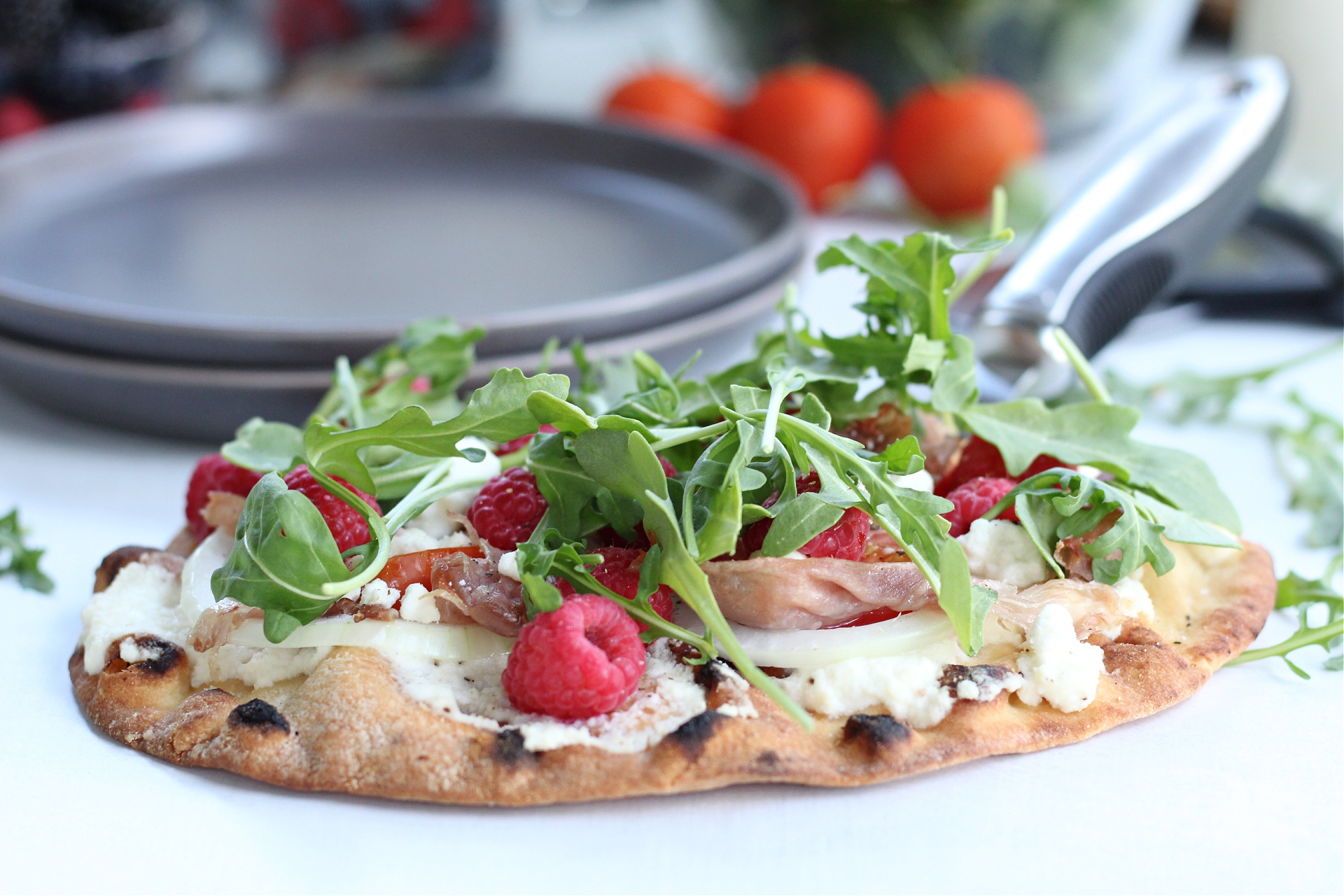 Raspberry and Prosciutto Pizza with Arugula and Goat Cheese
Yep. You read that right. I put raspberries on my pizza. And it was darn delicious. You all know I love a funky pizza, remember my Sweet and Spicy Chicken and Tangerine Pizza? YUM! Well, here's another one you gotta try.
I love pizza, obviously…but one of the reasons I love it is because it's so easy to make. And customize! With the kids home for lunch thanks to summer break, lunch time can get a little hectic in my house. No one wants to eat at the same time, and heaven forbid we all actually eat the same thing.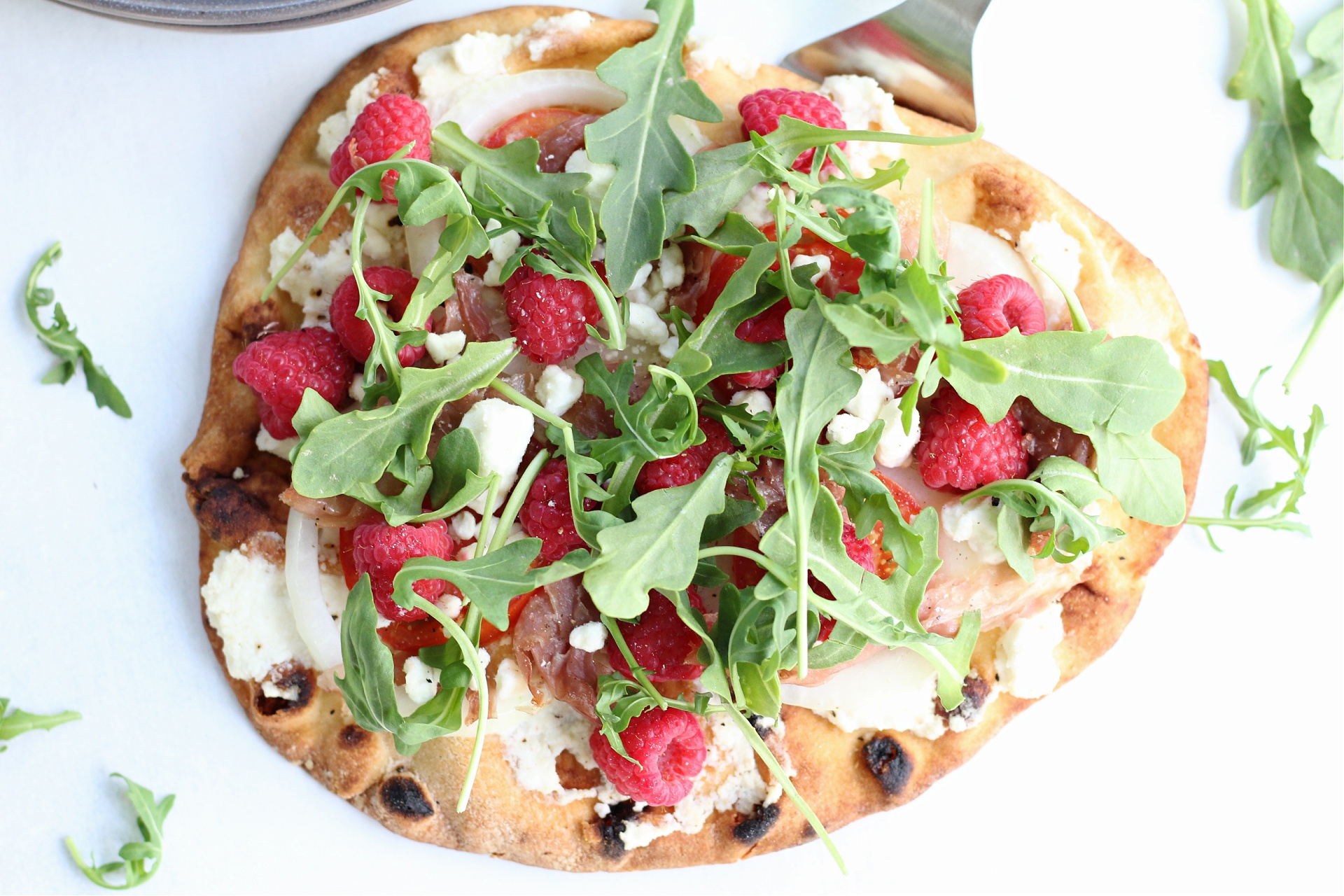 Hello Make Your Own Pizza For Lunch days. How I love those days….and one of those days was actually yesterday. It was Monday, which is typically my busy day with team meetings and planning at Healthy Family Project, so when the kids had absolutely ZERO plans with friends and were bored after moments of waking up, I was thrilled to make a quick Publix run to get some fun ingredients and let them plan their afternoon around pizza. They are 17 and 14 (almost 15!) years old, so they can have a little extra responsibility in the kitchen…especially over the summer, right?! Come on moms, I know you're with me 🙂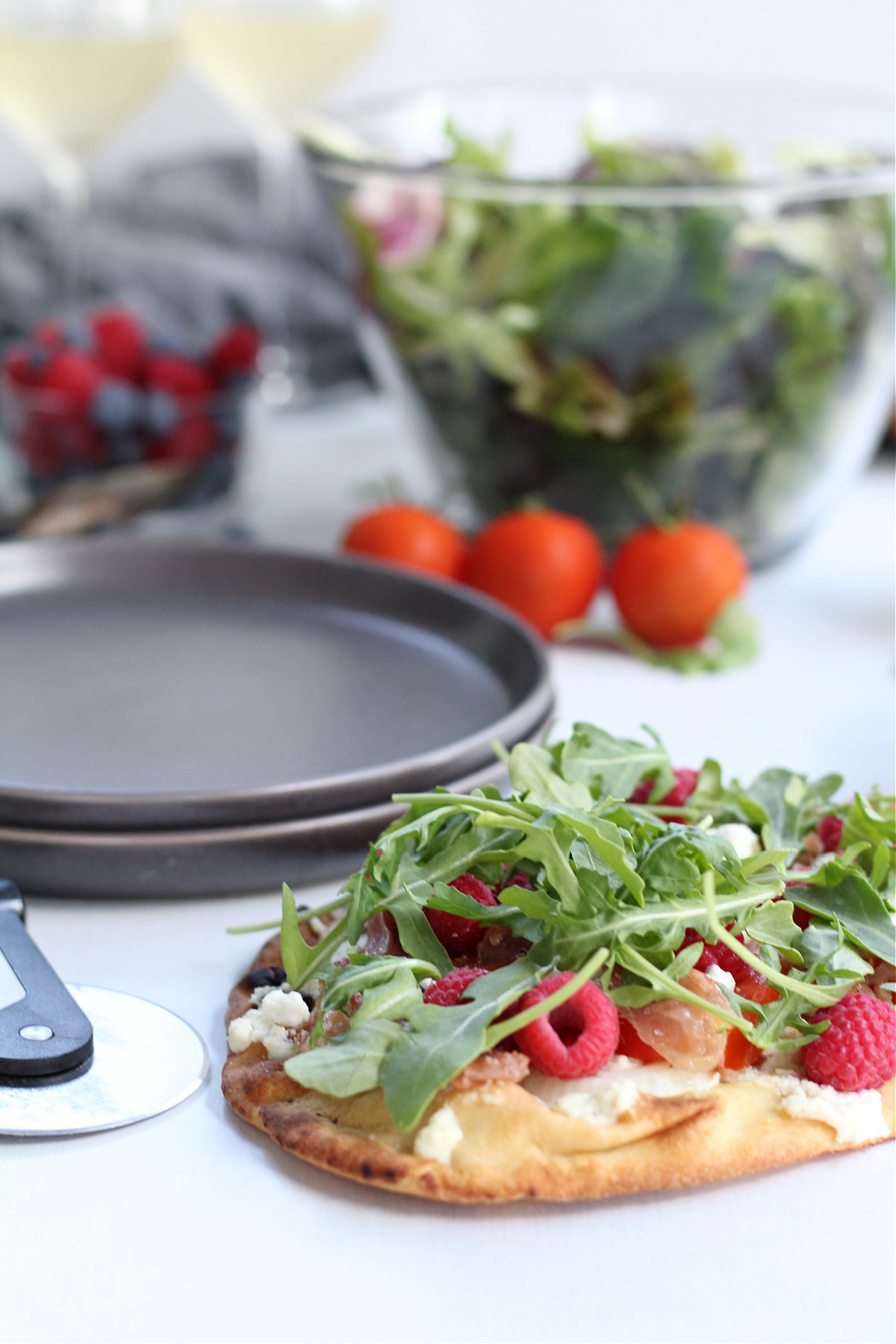 Here are the pizza ingredients I put out for our Make Your Own Pizza lunch day
Driscoll's Blackberries
Driscoll's Blueberries
Driscoll's Raspberries
Village Farms Campari Tomatoes
Shuman Farms Vidalia Onion Slices
Fresh Express Salad Spring Mix
Marie's Cream Ranch Dressing
Prosciutto and Pepperoni
Arugula
Goat Cheese, ricotta and mozzarella cheeses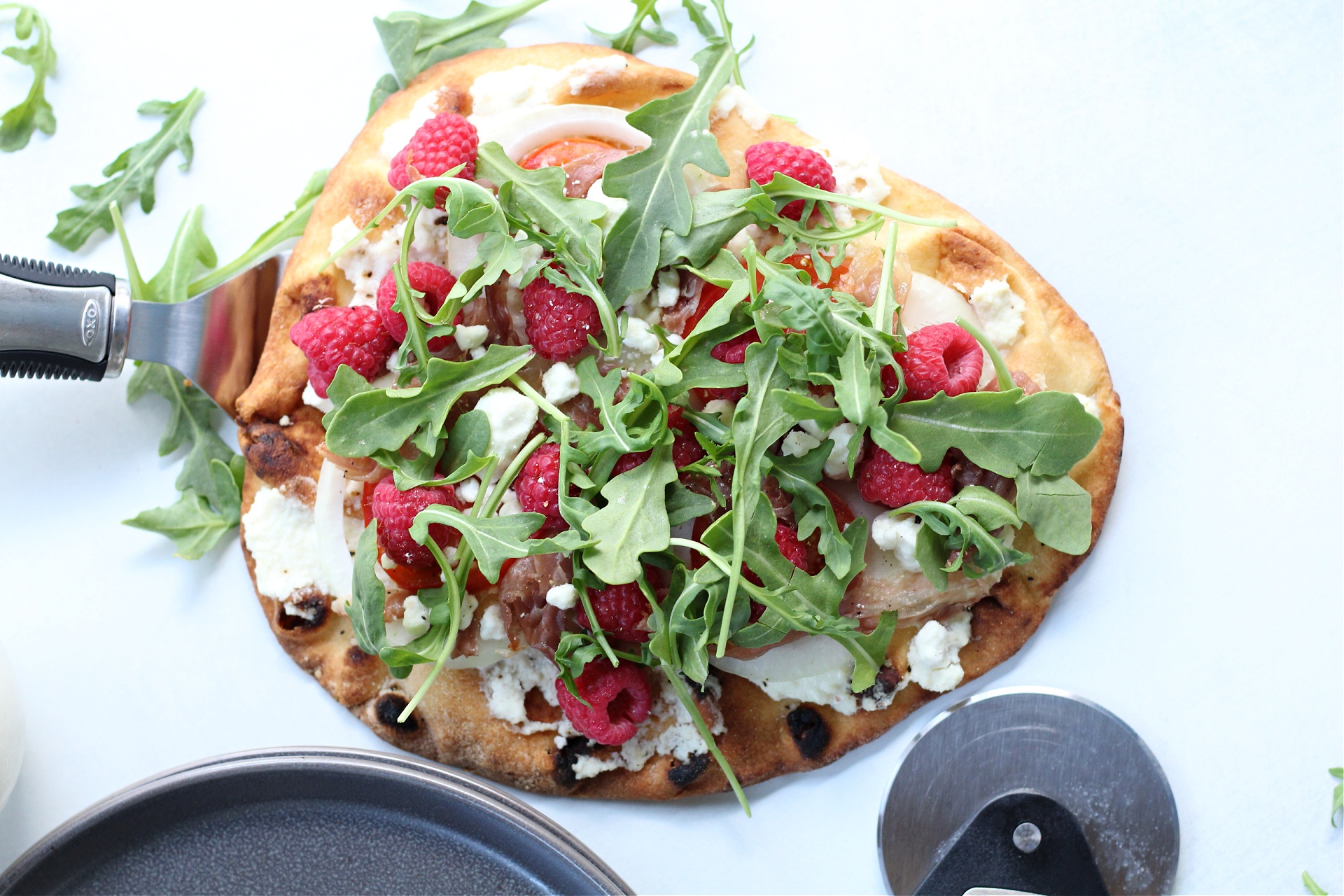 I started the lunch inspiration with making my pizza, which, if I do say so myself was AMAZING. I love adding a little sweetness to my pizzas as long as there is savory to balance it out.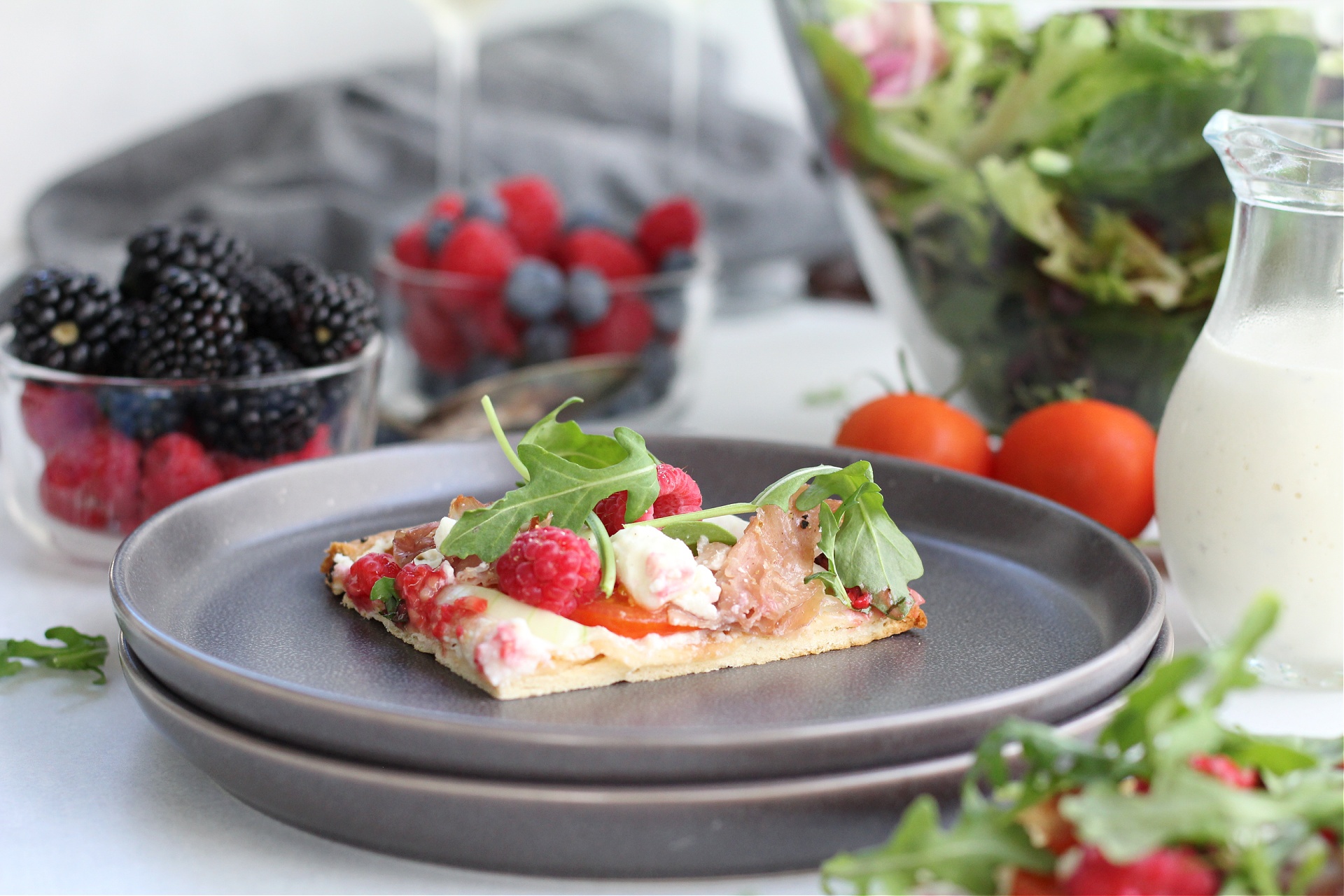 Raspberry and Prosciutto Pizza Key Ingredients
Raspberries – shocker, I know
Campari Tomato slices
Vidalia onion slices
Prosciutto – I know, another surprising ingredient given the name of the recipe 😉
Arugula
Ricotta and Goat Cheese
Pizza Dough – I almost always use store-bought naan because it's the easiest.
Then, I made myself a side salad with ranch dressing and topped it with more fresh berries. Healthy, complete meal ready in about 15 minutes. YES PLEASE.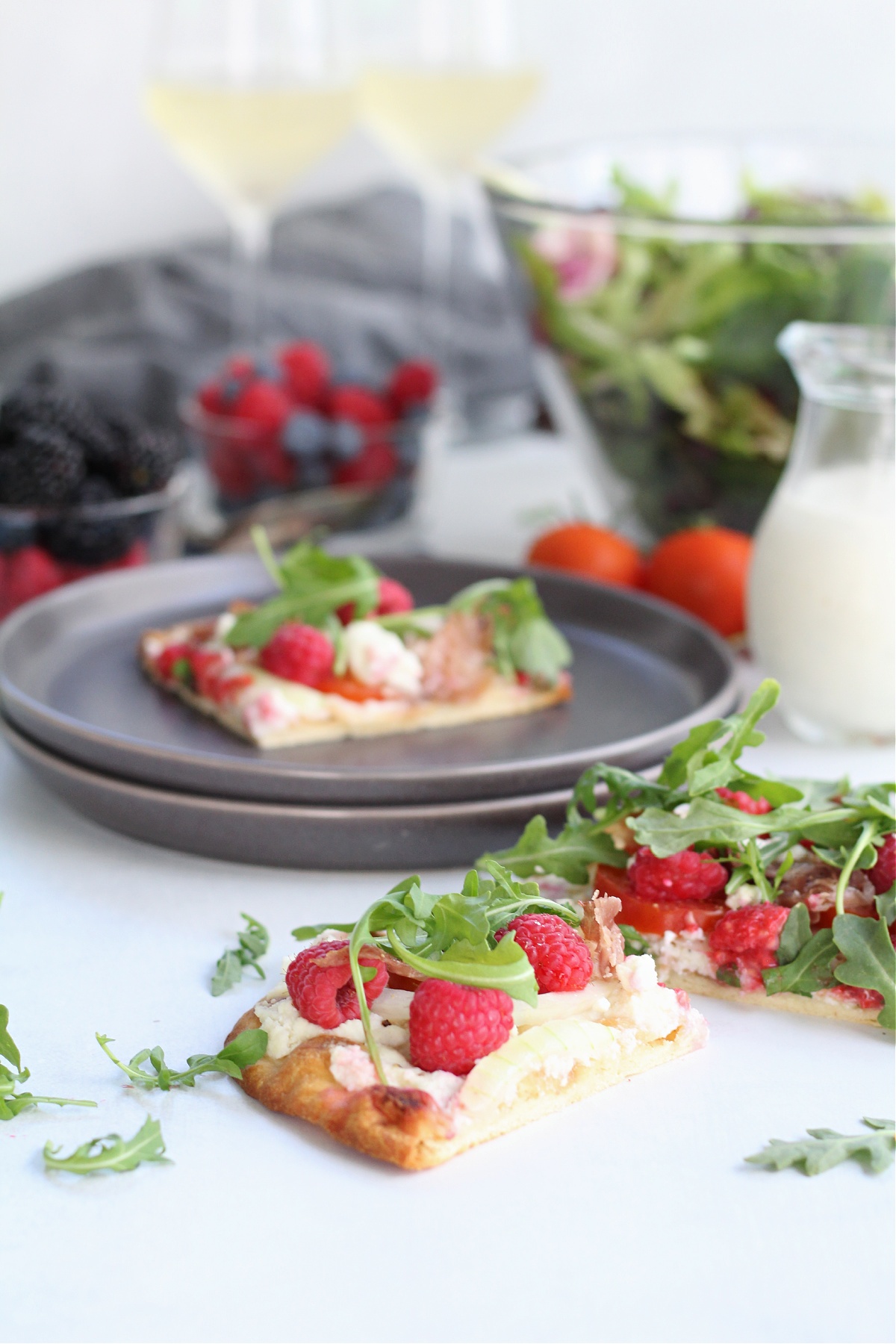 Now, not only are the ingredients of my incredibly delicious pizza important, but where I bought them and the brands that I purchased are also very important. Why does it matter where I did my shopping? Well, by heading to my local Publix and supporting Driscoll's, Village Farms, Shuman Farms, Fresh Express and Marie's Dressings, I am also supporting my local food banks.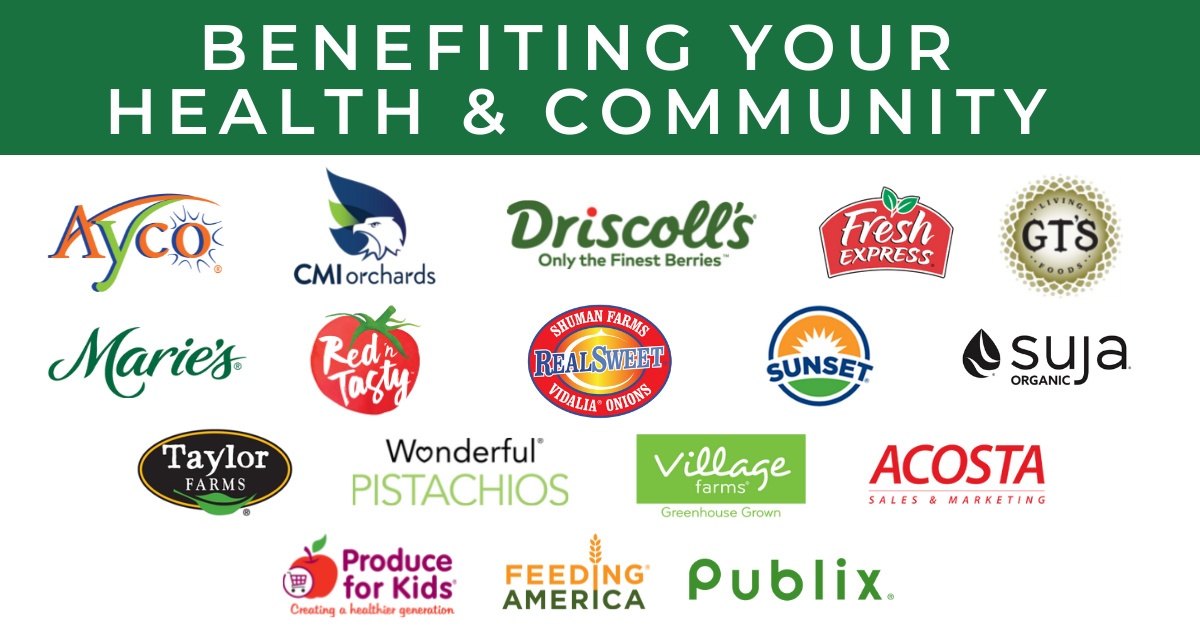 And you can do the same. Now through June 28th look for these brands while shopping at Publix and you will be helping supporting your local food banks too!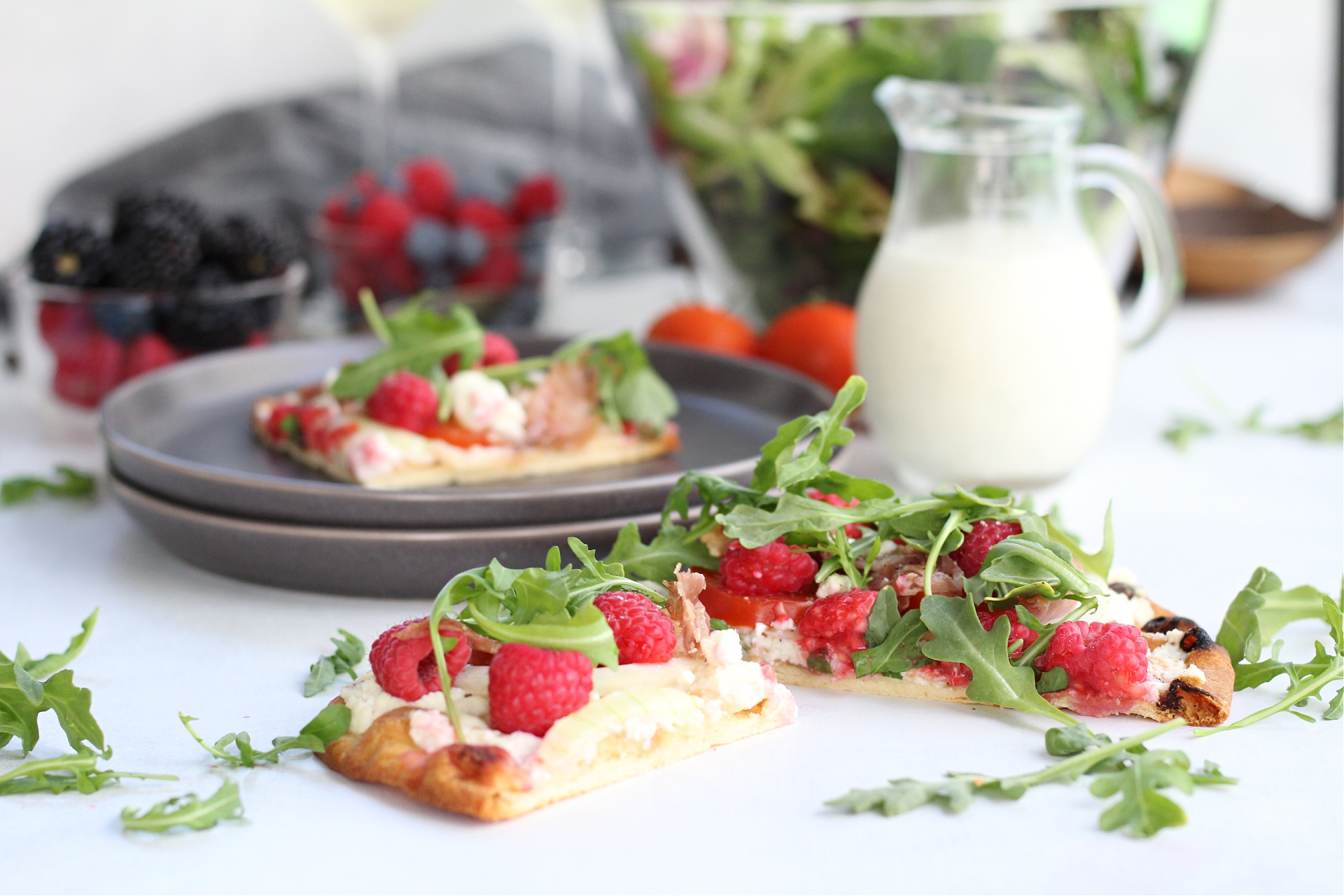 You can also look for signs throughout the produce department at Publix. On those signs will also be a QR code that you can scan for healthy and delicious recipes. You can also click HERE to get the Summer Favorite Cookbook or click the image below.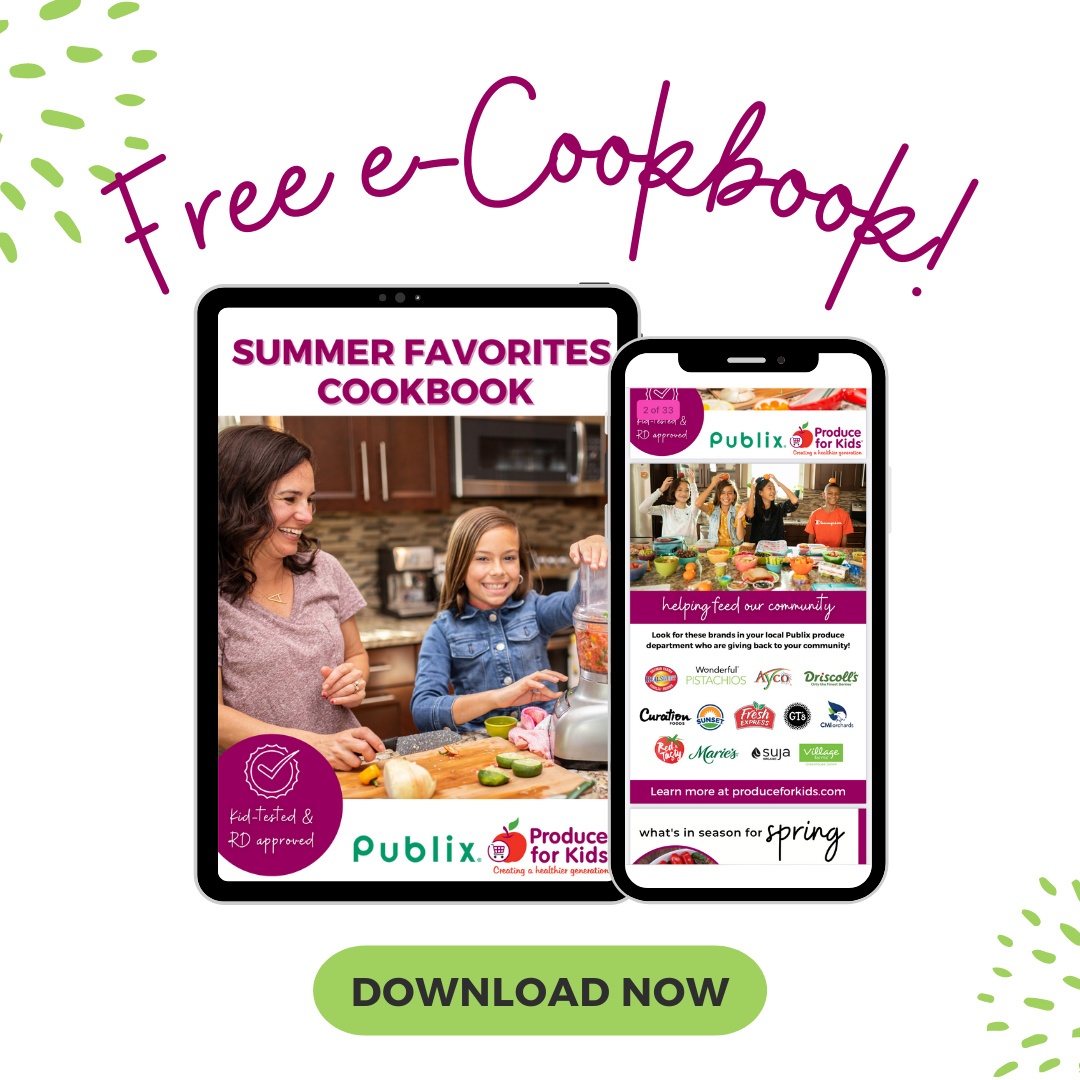 Alright, you all ready for my Raspberry and Prosciutto Pizza with Arugula and Goat Cheese recipe? I thought so. Now, be sure to Print It and Pin It so that you can make it again and again.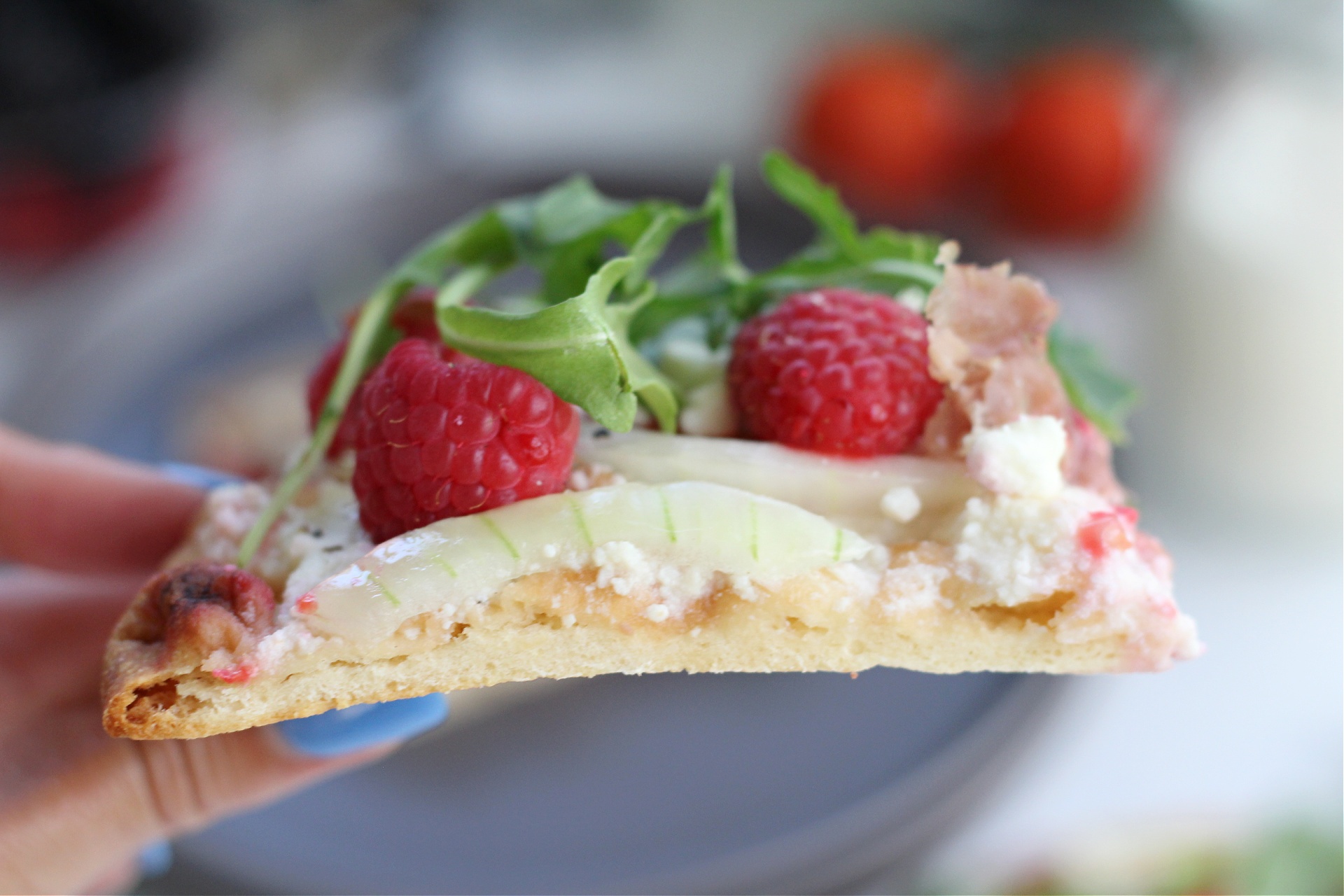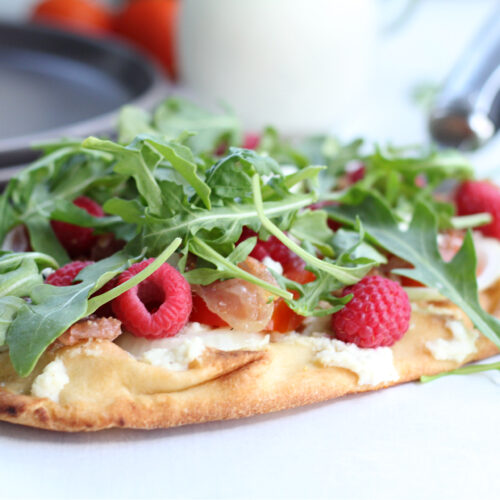 Raspberry and Prosciutto Pizza with Arugula and Goat Cheese
Spice up pizza night with this sweet and savory flatbread pizza. Loaded with fruits and vegetables, this pizza is not only delicious but it's nutritious.
Print
Pin
Rate
Ingredients
1

naan flatbread

Olive Oil Spray

2

tbsp

part skim ricotta

2

tbsp

crumbled goat cheese

divided

Vidalia Onion slices

I used 5

campari tomato slices

I used 5

fresh raspberries

I used a handful - about 12 - 15

2

slices

Thinly sliced prosciutto

Arugula

to taste

salt and pepper to taste
Instructions
Spray baking sheet and naan flatbread with olive oil spray

Bake the flatbread for about 5 minutes, it will be warm and the edges will just start to brown

In a small bowl, mix the ricotta and 1 tablespoon of goat cheese

Remove the naan from the oven

Being careful not to touch the hot pan, spread the cheese mixture oven the naan

Layer on the onion slices, tomato slices, sprinkle on the raspberries, and tear pieces of the prosciutto and place that on the pizza as well

Bake for 8-10 minutes, watching the edges so they don't burn, but that all the toppings are nice and warm

Remove from the oven, top with arugula and a tablespoon of goat cheese.

Serve with fresh berries and a side salad.
Notes
Feel free to get creative with your berry and protein toppings! I loved this combo, so be sure to give it a try, then come back and try new variations and let me know your thoughts.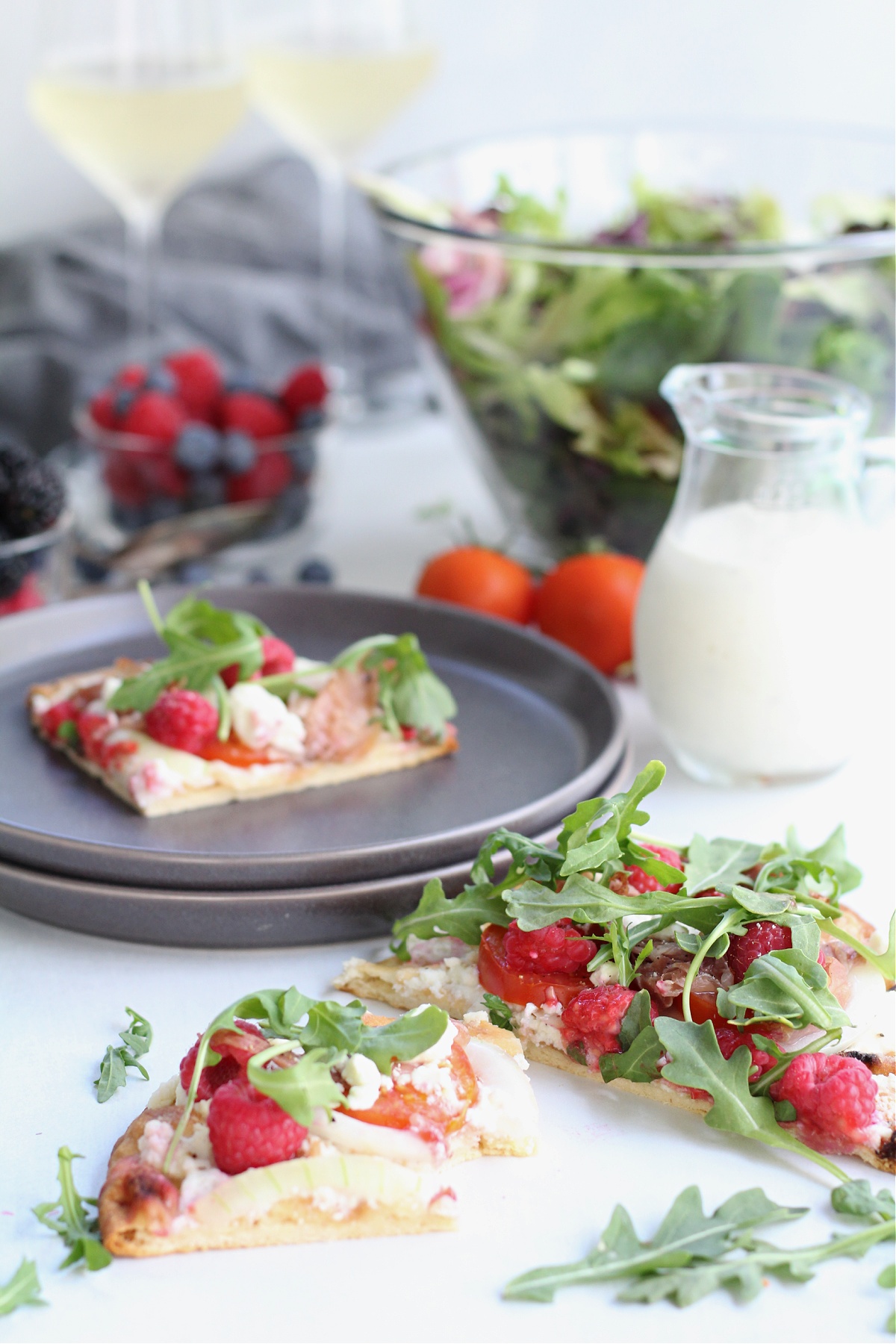 I hope you enjoy this raspberry prosciutto pizza as much as we do!
Be sure to check out HealthyFamilyProject.com for more than 500 registered dietitian-approved and family-tested recipes, meal planning tools, grocery store specific campaign details, and healthy tips from real parents and on Instagram, Facebook and Pinterest for even more!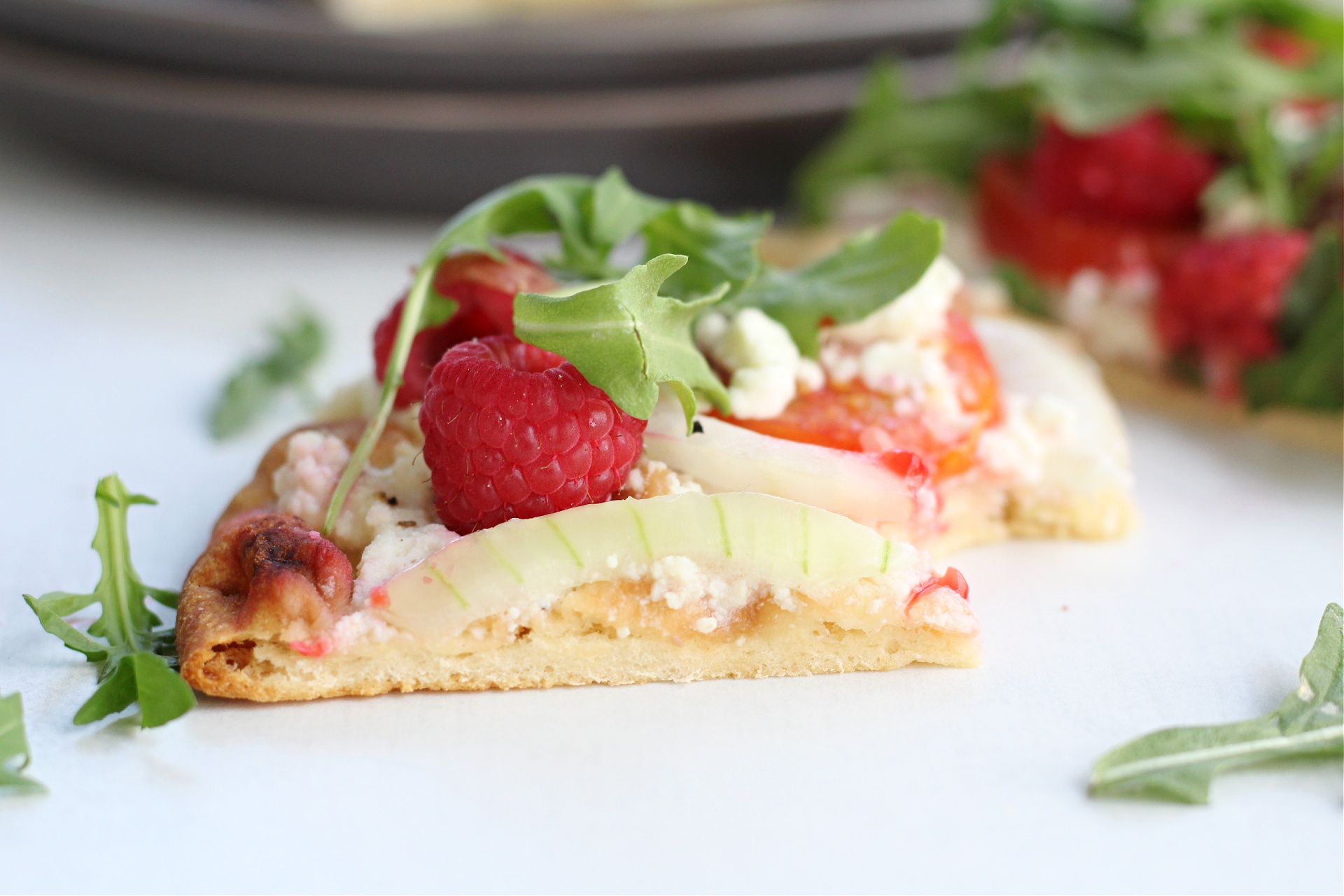 Be sure to look out for those sponsors I mentioned above, YOU can be a part of the reason why 852,000 meals were donated! Do good, feel good, eat good.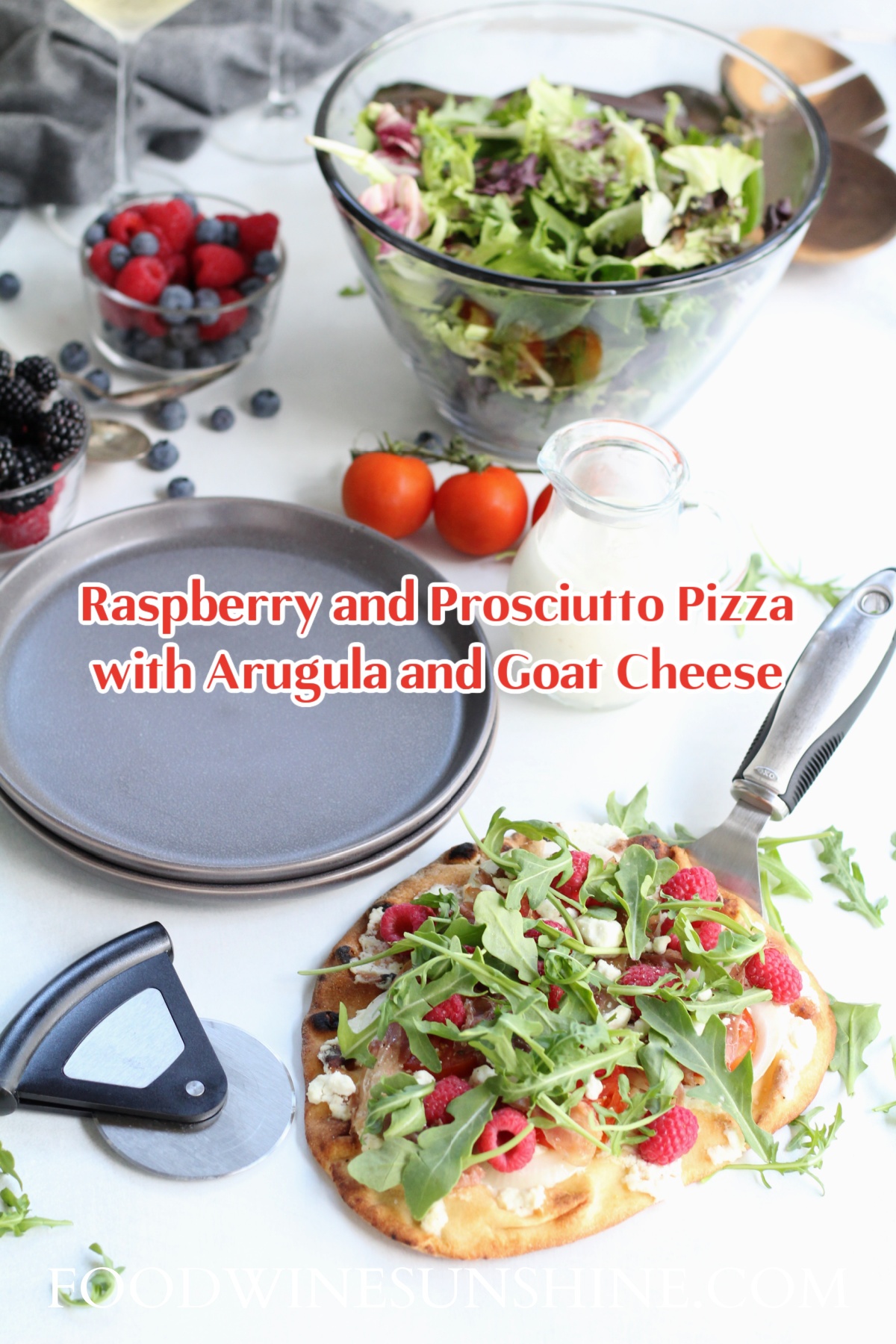 And don't forget to check out all the delicious recipes on Food Wine Sunshine and follow on me Facebook, Twitter, Pinterest and Instagram.