(Last Updated On: August 9, 2019)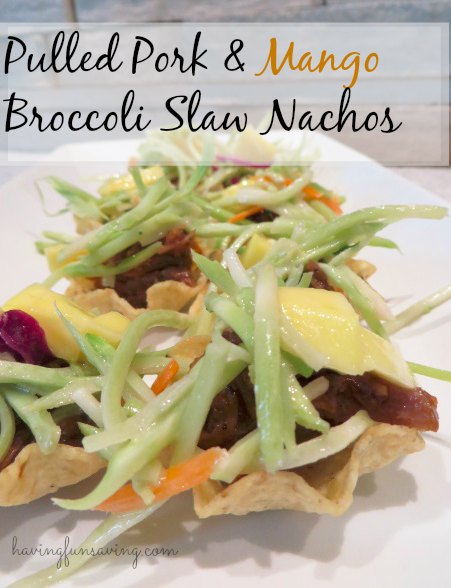 Pulled Pork & Mango Broccoli Slaw Nachos
I don't know about you, but when I think game time, I think nachos. This past weekend I spent some time in the kitchen making some of our favorite foods and loading them onto the ultimate nachos!
We love Pulled Pork in my house, and no Pulled Pork sandwich is complete without my famous Mango Broccoli Slaw.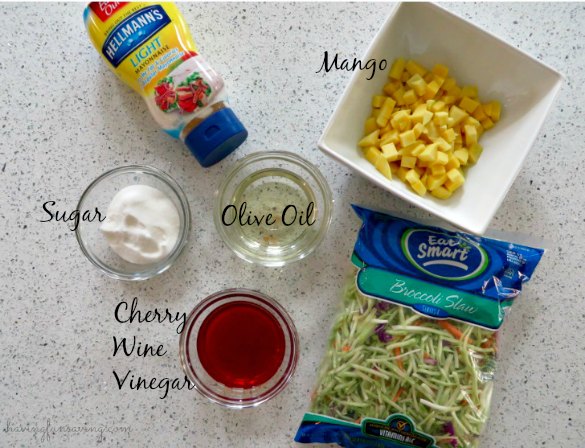 In honor of football season and our favorite snack…nachos…we ditched the buns and enjoyed our Pulled Pork and Mango Broccoli Slaw on Tostitos Scoops. Now, I know what you may be thinking, "Guys don't like broccoli slaw and mango on their nachos!" But you would be wrong, this recipe is definitely sure to please the toughest crowd.
Pulled Pork & Mango Broccoli Slaw Nachos
Author:
Prep time:
Cook time:
Total time:
Ingredients
1/4 cup water
Salt and pepper to taste
1-2 lb Pork tenderloin – You will be shredding this, I have found that tenderloins are the most tender
1 cup of your favorite BBQ sauce
Tostitos Scoops
1 bag of Broccoli Slaw
½ mango peeled and diced
¼ cup sugar
¼ cup Extra Virgin Olive Oil
¼ cup of white vinegar – I prefer Cherry Wine Vinegar, but I know not everyone has that 🙂
¼ cup of mayo – I use low-fat or fat free
Instructions
Gently rub salt and pepper on the pork and place in slow cooker with 1/4 cup water
Cook pork on low for 6 hours
While the pork is cooking, prep your Mango Broccoli Slaw by adding the sugar, oil, vinegar, and mayo into a medium size bowl and mixing well
Add in the broccoli slaw to the same bowl and mix
Add in the mango
Refrigerate the broccoli slaw until the pork is ready
When the pork is done, remove it from the slow cooker and use two forks to shred it
Top the shredded pork with your favorite BBQ sauce and mix well
Line a serving platter with Tostitos Scoops and fill each one with the pulled pork
Then top each one with the mango broccoli slaw
Serve immediately
Enjoy!
The next time your favorite NFL team (or any team!) is on TV, make sure to serve up these Pulled Pork & Mango Broccoli Slaw Nachos to your fans! They are surprisingly easy to make and are soooo good!
I hope you guys enjoy this Pulled Pork & Mango Broccoli Slaw Nachos recipe as much as we did!