(Last Updated On: April 3, 2020)

Loaded Cowboy Baked Potatoes
I recently had the amazing opportunity to spend some time out in Gainesville, FL with the Florida Beef Council learning all about….you guessed it….BEEF. I learned about everything from how cattle is raised to what the different cuts of beef are and how they are priced. I even had the opportunity to get to know some of the amazing Florida Ranchers. It was definitely an experience I will never forget!
In the midst of all my learning, I also had the opportunity to do some cooking! My Sunday Supper family was divided into teams, sent to Winn Dixie to get ingredients, then sent to a kitchen at University of Florida to get cooking! Each team was responsible for coming up with something delicious and fun with beef. My team and I were inspired by all the cowboys that we had met and came up with a Loaded Cowboy Baked Potato.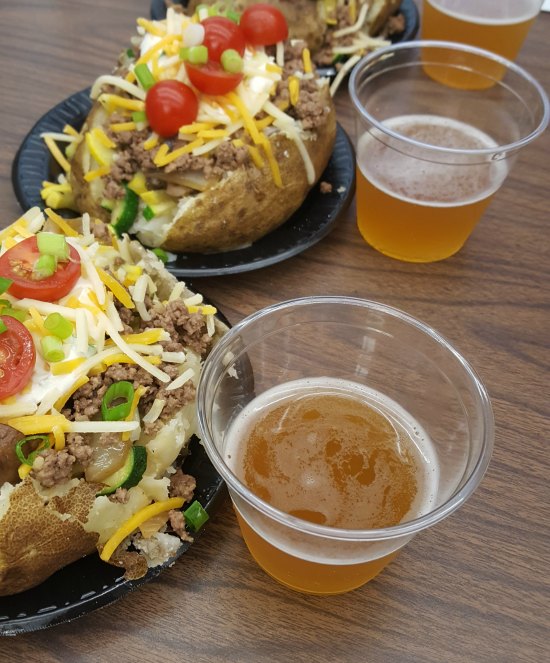 What I love about our Loaded Cowboy Baked Potatoes is that they are LOADED with delicious vegetables, lots of flavor, and of course….beef. The Loaded Cowboy Baked Potato is a meal by itself, in fact, I would be impressed if you could eat a whole one 🙂 I will be re-creating these at home for my family soon, we all love a good baked potato!
Now, here is my team's Loaded Cowboy Baked Potato Recipe, be sure to Print It and Pin It so that you can make it again and again.
Loaded Cowboy Baked Potatoes
Prep time:
Cook time:
Total time:
Ingredients
4 medium – large Idaho potatoes, washed and dried
1 lb lean ground beef
1 yellow squash – sliced thin
1 zucchini sliced thin
8 ounces sliced baby Portobello mushrooms
1 medium onion – sliced
1 bottle Sam Adams Summer Ale – you can choose a different variety if you prefer
2 teaspoons garlic powder
1 teaspoon red pepper flakes
Salt and Pepper, to taste
Cherry tomatoes, halved (as garnish)
Green onions, sliced (as garnish)
Four cheese shredded cheese blend (as garnish)
2 tablespoons Green Onions – diced
Butter
1 cup sour cream
Instructions
Preheat oven to 450 degrees F.
Bake potatoes for 1 hour – until knife inserted in center releases easily.
While the potatoes are baking you will get all the toppings ready.
In a small bowl combine the sour cream with 1/8 cup sliced green onions. Refrigerate until ready to use.
Add the ground beef to a skillet and season with garlic powder, salt and pepper.
Once the beef is fully cooked, drain and discard any fat drippings and set aside.
Heat 2 tablespoons butter in the same skillet and add the mushrooms and sliced onions.
Pour in 1/2 cup Sam Adams Summer Ale to the skillet along with sauté until soft and liquid has evaporated.
While the mushrooms and onions are cooking, heat another pan and add 1 tablespoons butter and the red pepper flakes – sauté squash and zucchini until softened.
Add the beef to the skillet with the onions, and mushrooms so that it is heated through.
Remove potatoes from oven and slice as you would if you were serving a baked potato. Squeeze potato open and break up potato inside, being careful not to crack the potato shell.
Add butter and mix it into the potato.
Add a layer of the sauteed zucchini and squash.
Add a layer of the beef/mushroom mixture.
Add a dollop or two of the sour cream and green onion mixture.
Top with shredded cheese, halved cherry tomatoes and sliced green onions.
Serve hot.
Enjoy!
I hope you enjoy these Loaded Cowboy Baked Potatoes as much as the judges did in our cooking competition!
Now, at first glance I know that this recipe means to have a bit more steps that I usually post – you all know that I like an easy and delicious meal, BUT these potatoes are actually very easy to prepare. And trust me, it's worth the effort 🙂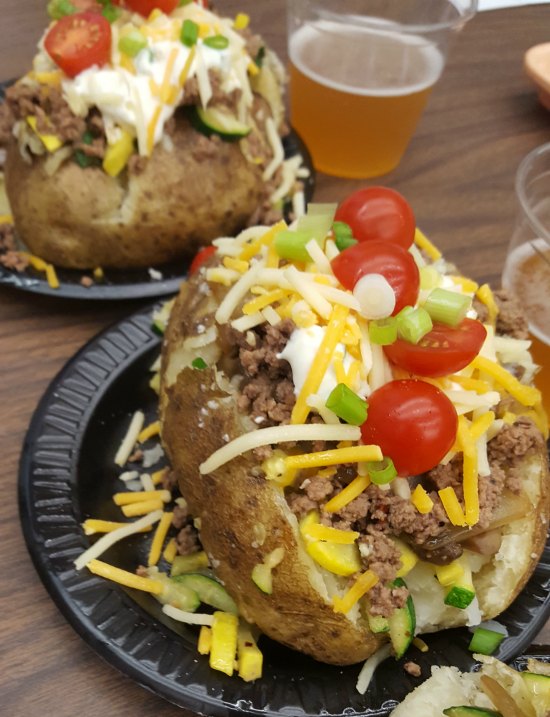 Of course, you can get creative with your potatoes and toss in different vegetables to your liking or to what is in season. Not matter what you do, I bet it will be delicious!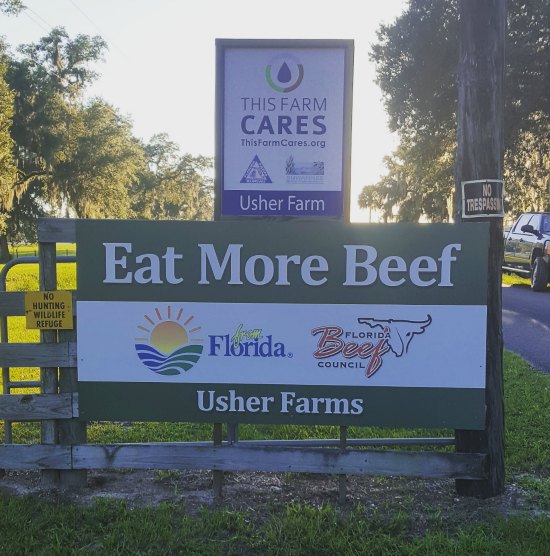 Looking for more recipes with beef? Check out these recipes: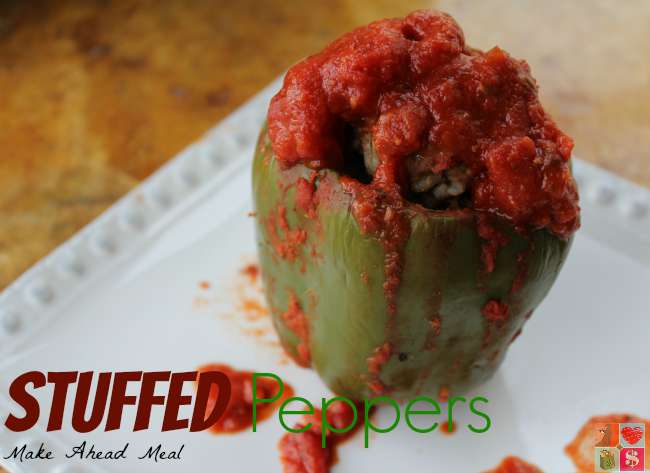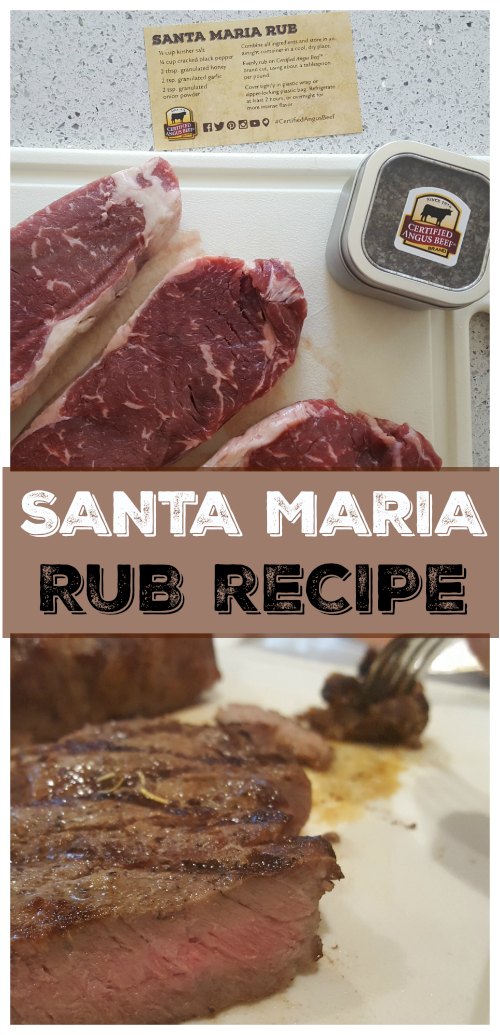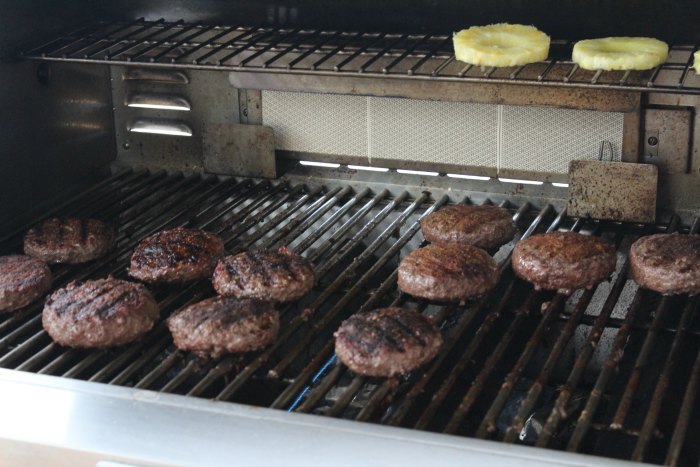 How to Plan the Ultimate Burger Bar Party
Be sure to check out all my delicious recipes and follow me on Facebook, Twitter, Pinterest and Instagram.