(Last Updated On: August 9, 2019)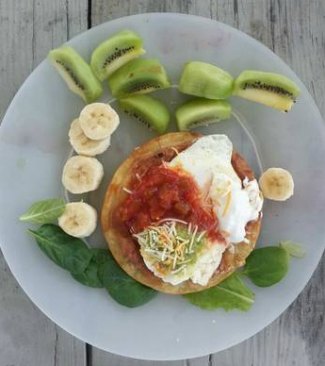 Huevos Rancheros Recipe
Huevos Rancheros is a yummy Mexican breakfast.
This is one of my absolute favorite recipes and I am happy to say that my hubby made it for us twice while we were away for Spring Break! I love Mexican food – so I am pretty happy that I can now have it for breakfast too 🙂 There are LOTS of variations of this one on-line but this is how my hubby makes it.
What You Need:
1 can of refried beans
Eggs – one for each shell (I can easily eat 2…)
Corn Tortillas
Salsa
Sour Cream
Guacamole (if you like it)
What You Do:
Warm the refried beans on the stove
Warm Vegetable Oil in a pan and lightly fry the Corn Tortillas
Cook the eggs over-easy
Cover the bottom of a plate with the refried beans (amount the size of the Tortilla)
Place the Tortilla on top of the refried beans
Place the egg on top of the Tortilla
Top with sour cream, salsa, and guac
Enjoy this Huevos Rancheros Recipe!