(Last Updated On: August 9, 2019)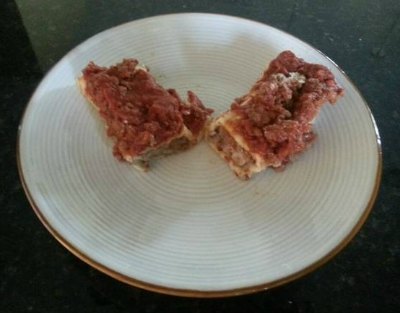 Cannelloni Recipe
This is one of my favorite recipes and my husband just made it for us over the weekend, so I thought I would share this yummy Cannelloni Recipe with you guys again.
It is NOT a quick OR easy one though – so be aware. It IS a great one to print out and have available when you want to treat you and your family to some amazing Italian Cannelloni.
What You Need:
For the filling….
1/2 cup olive oil
1lb lean ground beef
1 onion
1/4 teaspoon dried sage
1/4 teaspoon dried rosemary
salt to taste
1/2 cup white wine (we like dry – cook with a wine you also like to drink…)
12 oz of mozzarella cubed
2 egg yolks
4 tablespoons of butter
4 tablespoons of all-purpose flour
2 cups of milk
For the sauce….
2 cans of stewed tomatoes
1 onion
2 tablespoons of butter
1/2 cup white wine (we like dry – cook with a wine you also like to drink…)
salt & pepper to taste
12 cannelloni shells
What You Do:
FOR THE FILLING (in one pan):
Warm oil in large skillet over medium heat
Saute beef, onion, sage, and rosemary – cook until meat is brown
Add salt and 1/2 cup white wine – Cook until wine evaporates
PREPARE THE BECHAMEL SAUCE (in another pan):
Melt 4 tablespoons of butter
Add flour and stir while mixed well
Stir in milk and bring to a slow boil until thickens
Stir the sauce INTO the meat mixture
Mix in mozzarella, egg yolks
SET ASIDE
In ANOTHER sauce pan:
Melt 2 tablespoons of butter
Saute 1 onion
Add 1/2 cup wine
Cook down to evaporate some of the wine
add stewed tomatoes and salt & pepper to taste
Simmer for 15 minutes
Cook cannelloni shells according to package instructions
Preheat oven to 400 degrees
Spoon filling into shells (we have found that using a baby spoon works best) – CAUTION – noodles will be HOT at first
Cover with tomato sauce
Bake for 15 minutes
Let set 5 minutes before serving
I hope you enjoy this amazing Cannelloni Recipe!