(Last Updated On: September 4, 2019)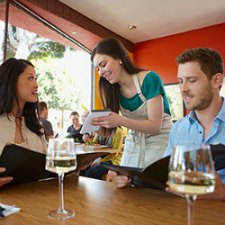 Frugal Family Fun – Saving While Eating Out
Do you have a Eating Out Budget? We do, but it's very small and I work really hard to make it work 🙂
I know that we all appreciate a night out of the kitchen every now and then and there are ways to save while eating out.
Here are some of my favorites:
Happy Hour – Eat during "Happy Hour" most restaurants have discounted appetizers, drinks, and even meal specials before 6 or 7 p.m. We have saved over 50% on our bill by doing this.
Kids Eat Free – Call ahead to your favorite spot and see if there are certain nights where they offer "Kids Eat Free" specials. Chili's does that almost weekly and many of my local restaurants do that on Tuesdays. Actually you can grab your Chilis FREE Kids Meals coupon (valid thru 4/28). There is also a Olive Garden Coupon that is valid for today 4/25 for Kids Eat Free.
Kids Meals vs. Adult Meals – Do your kids actually eat a whole meal? Mine never do – they fill up on the bread or chips that come out first and by the time their dinner comes they don't eat it all. So, about 99% of the time, I have them split one. Also, look at the adult meals your child(ren) may like, it may be cheaper to have them split an adult meal than get two kids meals.
Getting An Appetizer? – If you are planning on ordering an appetizer – watch what you order for dinner! If we get an appetizer, I can almost never finish my whole meal. So, Steve and I will split something or I just order a salad or get a bowl of soup 🙂
Remember your leftovers! – I know that sounds silly, but how many times have you left the restaurant with that white box still on the table? I know I can't be the only one. Leftovers make for a great lunch the next day 😉
ALWAYS, look at Restaurant.com and some of your daily deal sites for local restaurant deals. I know that sometimes all the e-mails can be overwhelming, so use a separate e-mail address when you sign up, but those daily deals can lead to 50-90% off at some of your favorite places.
My favorite daily deal sites for restaurant deals are LivingSocial.com and Groupon.
If you have some ideas – please share them in the comments so that we can all read them.
Have Fun Saving While Eating Out!