(Last Updated On: September 6, 2023)
Got peppers? Make this hot green pepper jelly! It takes about 1.5 hours to make, but it's worth it, I promise! This green pepper jelly recipe is a great way to preserve peppers from your garden while they are in season!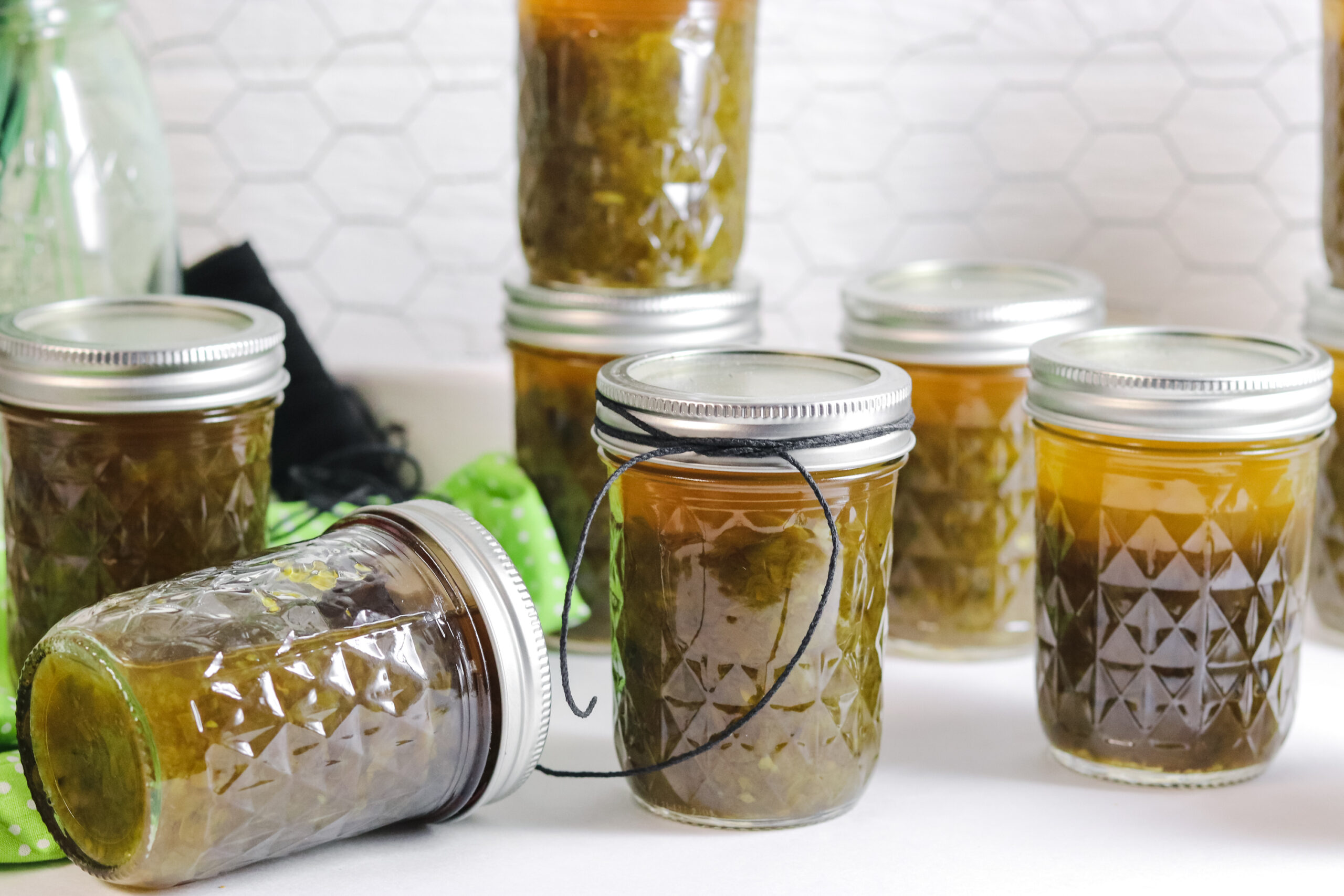 Is your garden bursting with fresh vegetables? We love planting peppers, well, I'm sure you all know by now my whole family likes everything a bit spicy, so peppers never go to waste in my house. If you have a lot of peppers in your garden and you are trying to figure out how to use some, make this green pepper jelly!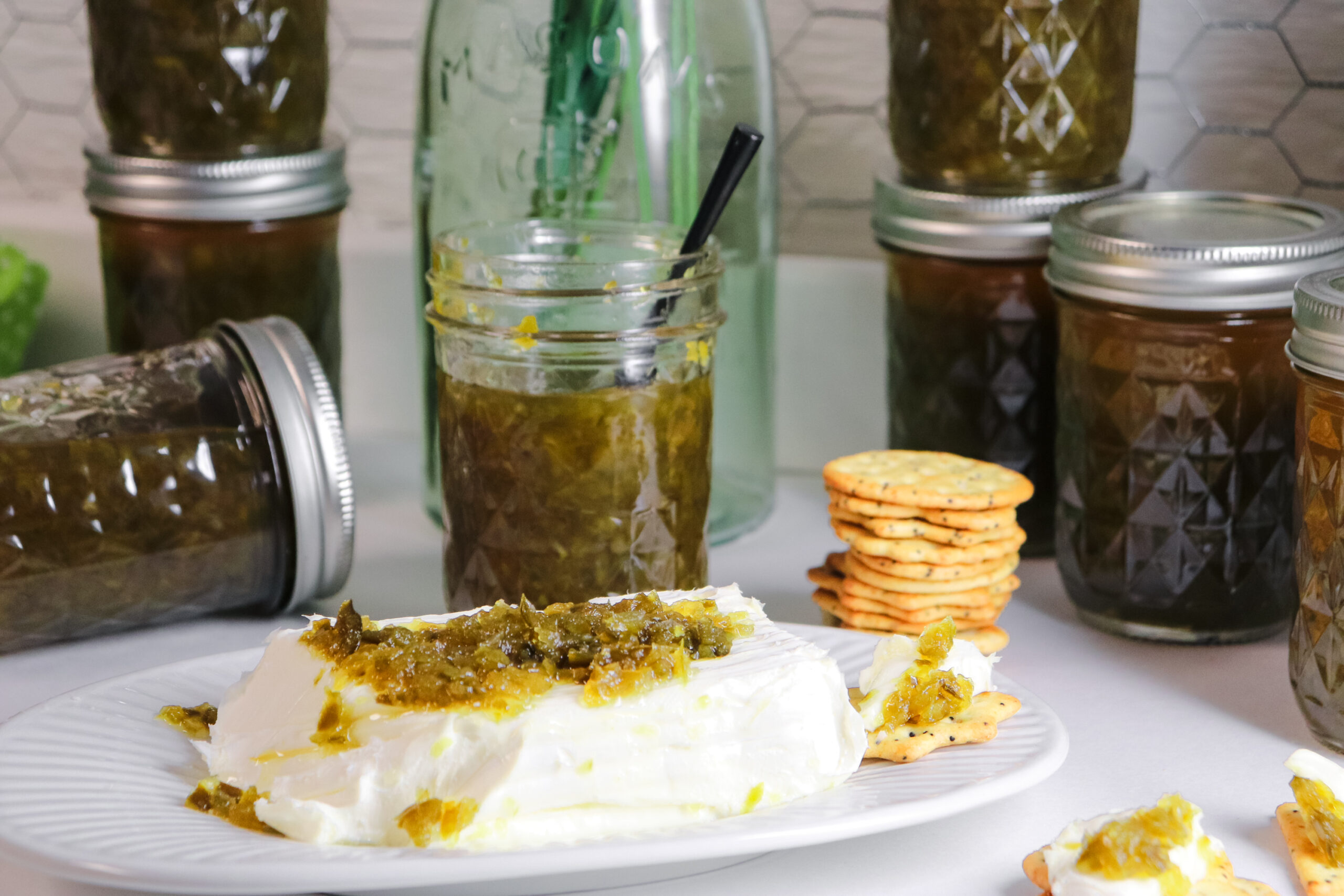 One of the easiest appetizers you'll ever make is grabbing a brick of cream cheese, putting it on a plate, then adding a flavorful jelly on top. Serve with fresh veggies, crackers or pita chips. YUM!
Green peppers are typically in season during the late summer and early fall months. The exact timing may vary depending on your location and climate. In general, the peak season for green peppers is from July to October.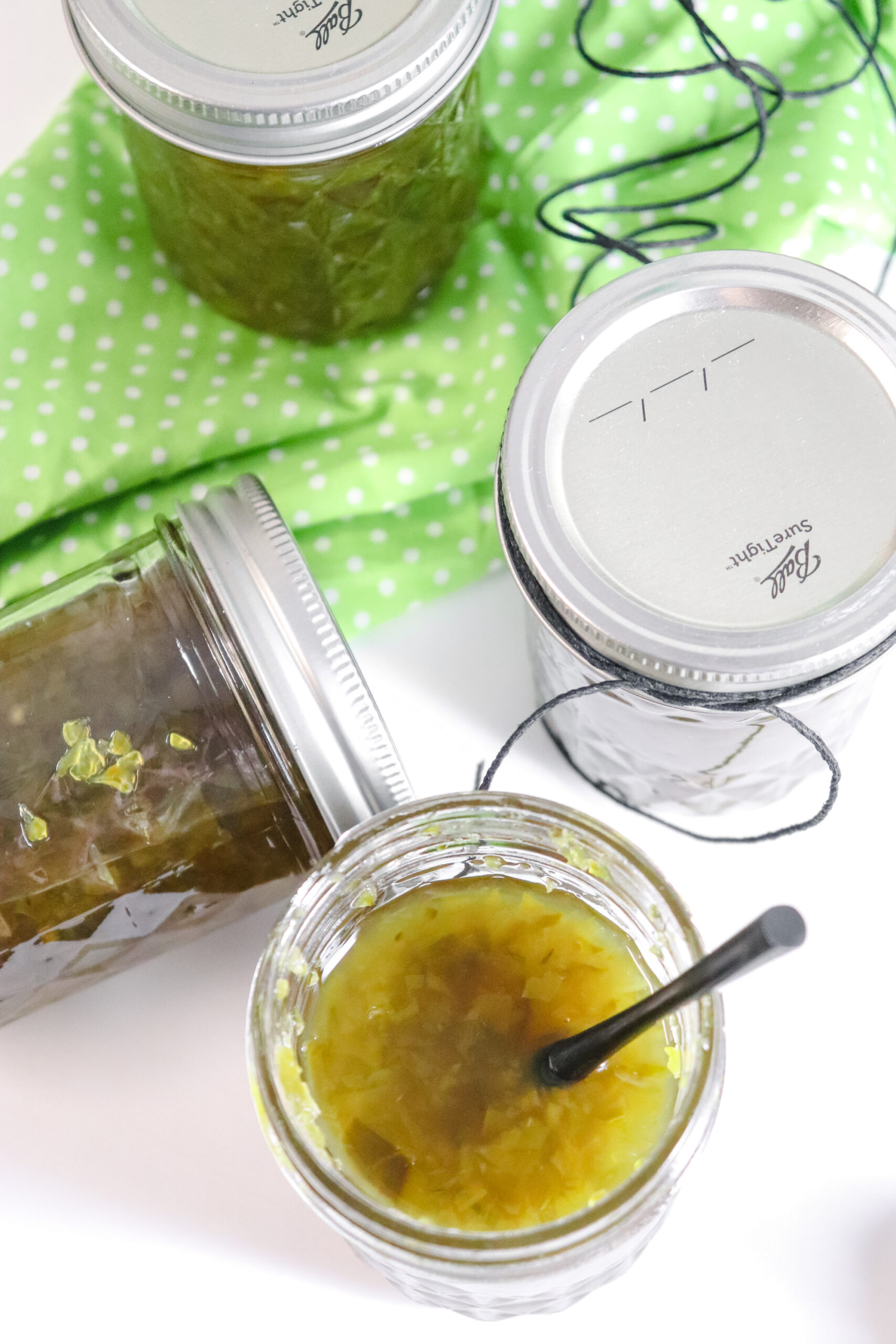 What type of peppers do you use to make Hot Green Pepper Jelly?
To make green pepper jelly, you typically use green bell peppers, also known as sweet peppers. However, like I mentioned, we like it spicy, so we added in a variety of hot peppers too. Feel free to experiment with other types of peppers to add different levels of heat and flavor to the jelly.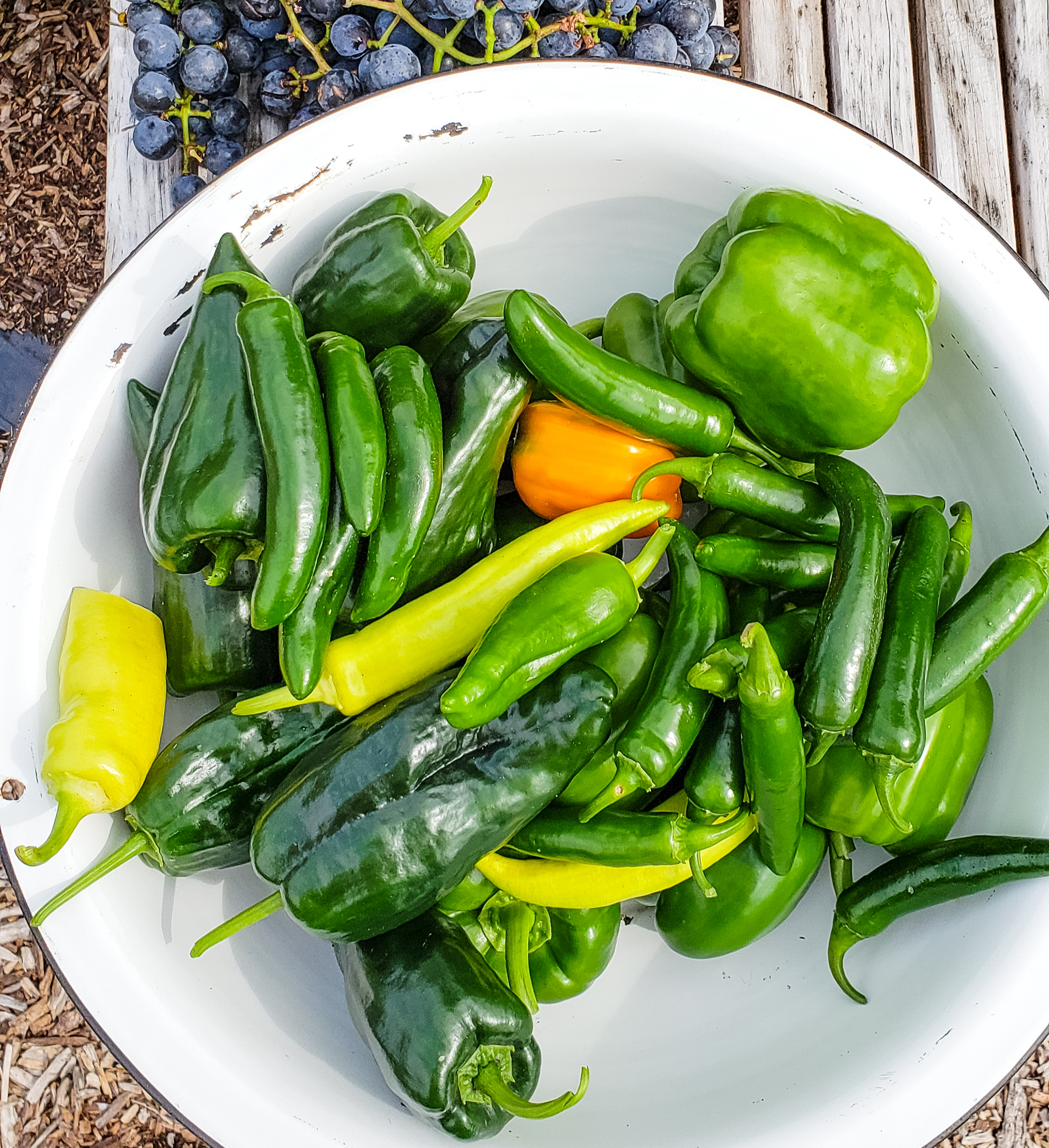 Here are a few green pepper varieties you can consider using:
Green Bell Peppers: These are the most common peppers used for green pepper jelly. They have a mild and sweet flavor, adding a pleasant taste to the jelly without much heat.
Anaheim Peppers: Anaheim peppers are slightly hotter than green bell peppers but still relatively mild. They have a tangy and slightly spicy flavor, which can give your jelly a subtle kick.
Poblano Peppers: Poblano peppers are mildly spicy and have a rich, earthy flavor. Using them in your jelly will add a deeper, smoky taste to the final product.
Jalapeño Peppers: If you prefer a spicier jelly, you can incorporate jalapeño peppers. They have a moderate heat level and provide a bright and zesty flavor to the jelly.
Serrano Peppers: Serrano peppers are hotter than jalapeños, offering a more intense heat. They have a vibrant flavor that can add some complexity to your jelly.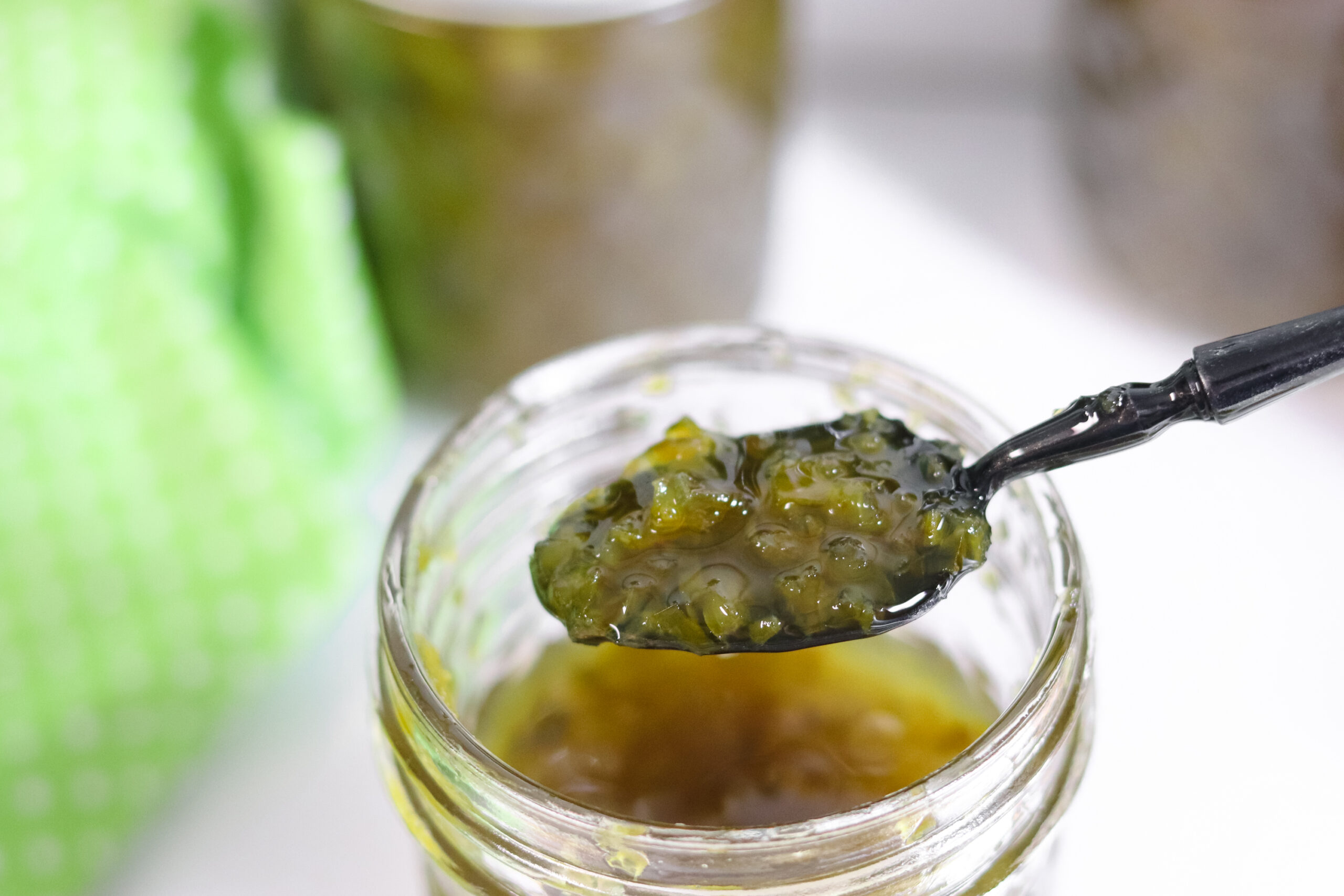 When using spicier peppers like jalapeños, serranos, or even habaneros, keep in mind that the heat level of the jelly will increase significantly. Adjust the quantity of peppers to suit your taste preferences and the desired level of spiciness.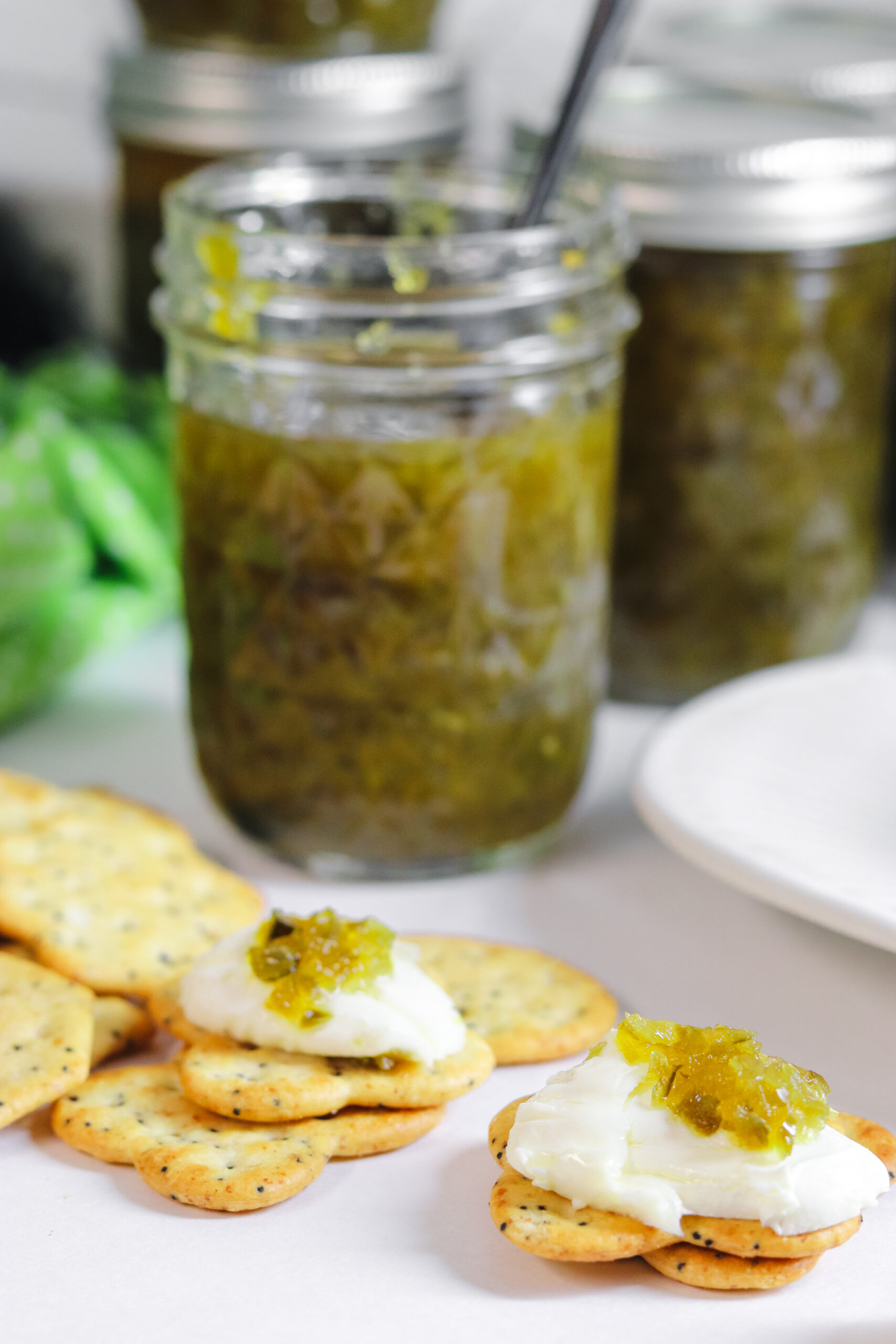 Experimenting with different pepper varieties can help you tailor the flavor profile of your green pepper jelly to your liking. You can also mix and match different peppers like I did in my recipe below to create a unique blend of flavors. Just remember to handle hot peppers with caution and take appropriate safety measures, such as wearing gloves and avoiding contact with your eyes or sensitive skin.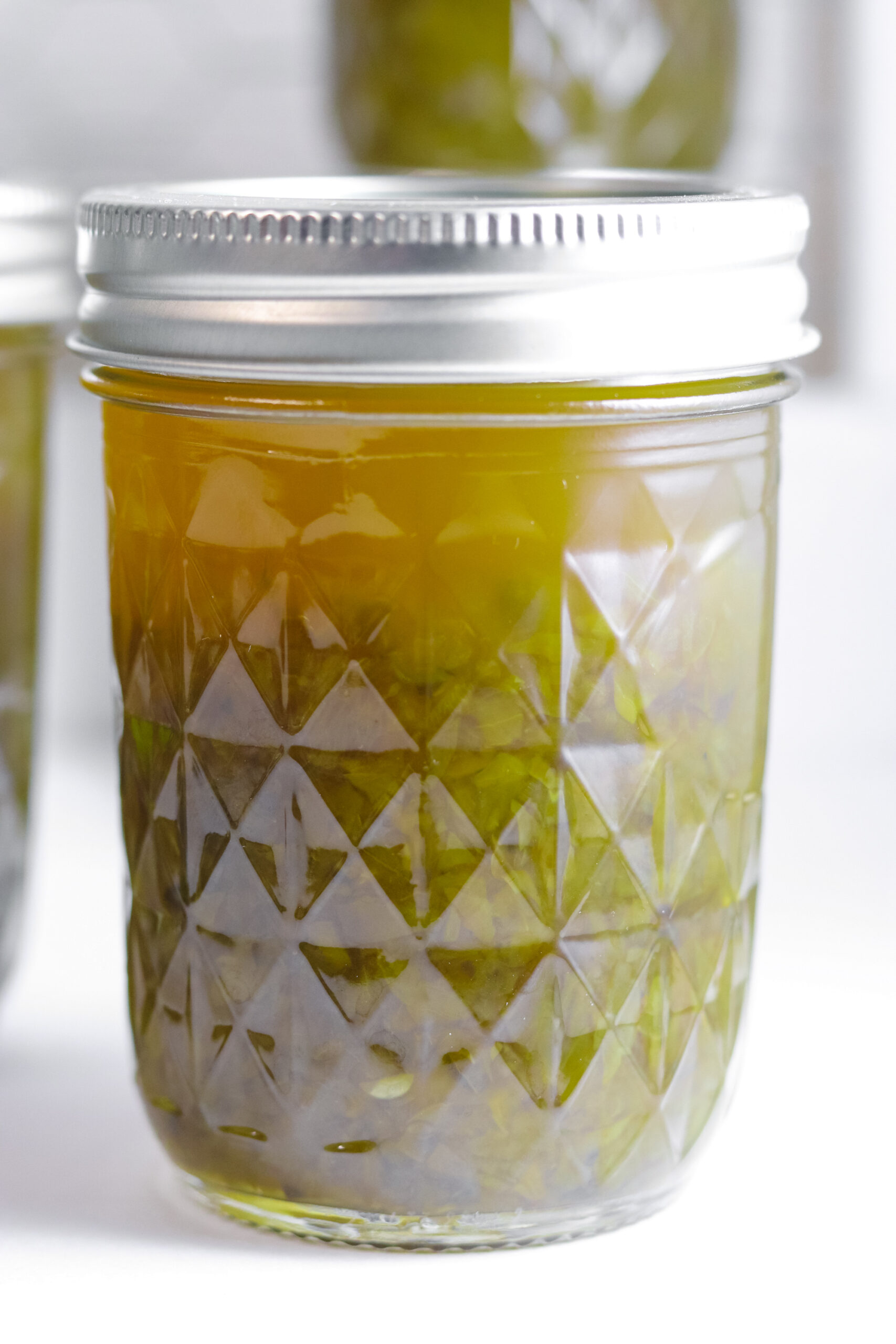 Now, that you made Hot Green Pepper Jelly, what do you do with it?
Green pepper jelly can be used in various ways, adding a unique sweet and savory flavor to both sweet and savory dishes.
Glaze for meat: Use green pepper jelly as a glaze for grilled or roasted meats. Brush it onto chicken, pork, or beef during the last few minutes of cooking to create a flavorful and caramelized glaze.
Dip or spread: Mix green pepper jelly with cream cheese, sour cream, or Greek yogurt to create a tangy and creamy dip. It's great for dipping vegetables, pretzels, or even chicken nuggets.
Sandwich condiment: Spread green pepper jelly on sandwiches for a burst of flavor. It pairs well with both cold cuts and grilled sandwiches, adding a touch of sweetness and tanginess.
Salad dressing: Combine green pepper jelly with vinegar, oil, and seasonings to create a unique salad dressing. It works well with mixed greens, goat cheese, and nuts, providing a sweet and savory twist to your salads.
Glazed vegetables: Toss cooked vegetables like carrots, Brussels sprouts, or green beans with a little melted green pepper jelly. The jelly will coat the vegetables and give them a glossy glaze.
Marinade: Use green pepper jelly as part of a marinade for chicken, fish, or tofu. Combine it with other ingredients like soy sauce, garlic, and ginger for a flavorful and slightly sweet marinade.
Glazed fruit: Brush green pepper jelly onto grilled or broiled fruit like peaches, pineapple, or plums for a caramelized and flavorful glaze.
Add to your burgers: We do this ALL-THE-TIME! It's an easy way to add flavor to your burgers.
Unique gifts: Homemade green pepper jelly can make a thoughtful and unique gift. It's a homemade condiment that showcases your culinary skills and creativity, making it a great option for sharing with friends, family, or as a host/hostess gift.
Preserving seasonal produce: If you have an abundance of green bell peppers or other peppers in your garden or local market, making green pepper jelly is a wonderful way to preserve and enjoy the flavors of the harvest year-round. It allows you to enjoy the taste of fresh peppers even when they are out of season.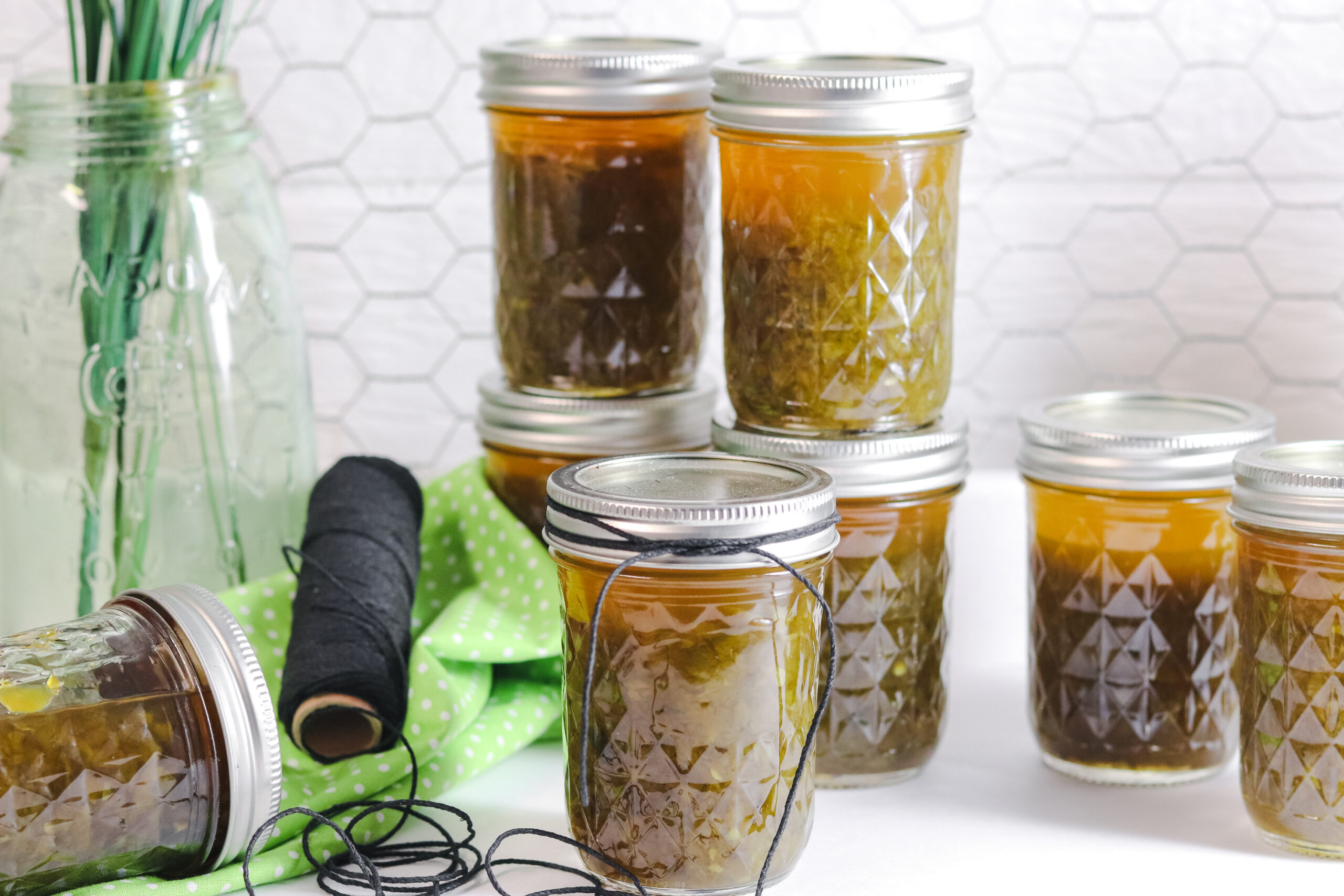 These are just a few ideas to get you started. Feel free to experiment and get creative with how you use hot green pepper jelly in your favorite recipes.
Remember, making green pepper jelly at home allows you to customize the recipe to your preferences, adjusting the level of sweetness or spiciness according to your taste. Are you ready to make a batch or two of hot green pepper jelly? Let's do it!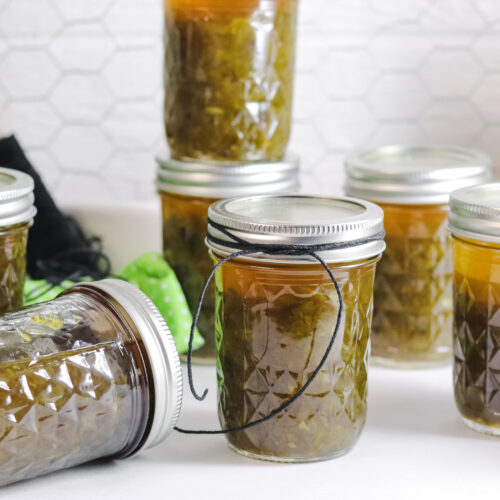 Hot Green Pepper Jelly
Looking for a way to preserve peppers from your garden? Make this hot green pepper jelly!
Print
Pin
Rate
Equipment
Large soup pot – for jelly

Large sauce pan – to heat jars and lids

Canning jars with new lids

8 oz jar

Canning equipment

◦ Canner

◦ Tongs

◦ Funnel

Candy thermometer

*Optional – vinyl gloves for de-seeding peppers
Ingredients
10

large assorted mild to hot peppers

jalapeno, banana, anaheim, serrano, thai chili

2

poblano peppers

2

green bell peppers

1

cup

apple cider vinegar

5

cups

sugar

3

tsp

salt

1

box pectin

1.75 oz
Instructions
Fill canner with water, turn heat to high and allow this to heat up while prepping peppers. When it starts to boil, cover, and reduce heat until ready to add sealed jars.

Wash canning jars and lids.

Remove seeds from peppers.

Roughly chop peppers and place half in blender.

Add half of apple cider vinegar and puree peppers.

Pour pepper puree into soup pot.

Repeat blending with remaining peppers and vinegar and add to pot.

Add salt and sugar to pot, stir to combine. Boil until sugar dissolves, approximately 5 minutes.

Reduce heat until candy thermometer shows 220°F. Sprinkle pectin in pepper mixture. Stir continuously so it doesn't clump. Stir for 1-2 minutes. Turn off heat.

In large saucepan, filled halfway with water, heat clean jelly jars, upside down, and lids for 5 minutes. Make sure lids are in the water. Watch the jars as water can get sucked up inside, just use tongs to tip jars and release the water.

Carefully place hot jars and lids on paper towel to dry. Place canning funnel over jelly jars. Fill jars with pepper jelly mixture, leaving 1/2" space.

Wipe rim of canning jar to remove any liquid or debris. Secure lids, but do not over tighten.

Place jars in canner with tongs and make sure jars are completely covered with water. Bring water to boil again, cover and boil jars 10 minutes.

Use canner tongs to remove jars and place on cooling rack. Let sit overnight until cooled.

Listen for the pings that the jars have sealed. Gently press on the lids if you are unsure if they sealed, there shouldn't be any bounce or give. Sometimes pressing will actually seal them.

Typically jars seal just fine when directions are followed.

Remove outer rims from jars as a precaution. This allows any contents to spill out if they did not seal properly and alert you to toss the contents in the garbage.

Write dates on jars and place in cool dry storage area.

Serve with cream cheese and crackers or use as a dip with tortilla chips
Have you ever made homemade jelly or jam before? What is one of your favorite recipes?