(Last Updated On: July 6, 2019)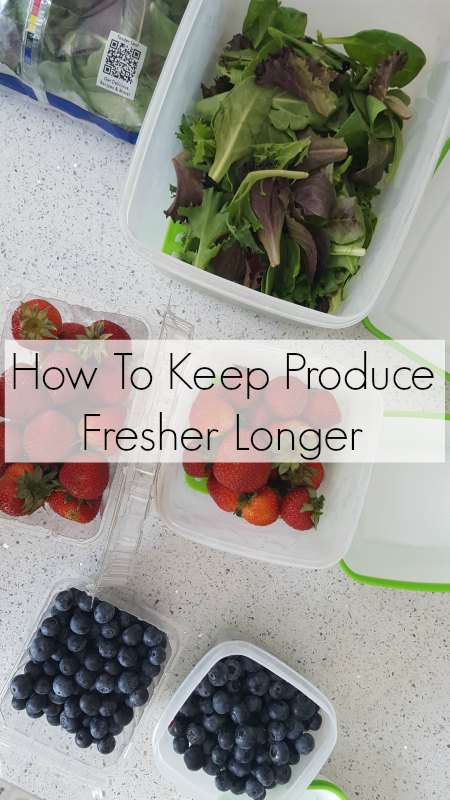 How To Keep Produce Fresher Longer
I use fresh fruits, vegetables and greens in my smoothies every day. I have a salad just about every day with dinner. I love serving up fresh sauteed vegetables as a side. However, my husband and kids do not share my love of a daily smoothie, and my son refuses most fruits and vegetables, and my daughter can also be particular. So, that means I either have to eat a LOT of fruit and vegetables daily, or only buy a few produce items for my smoothies (which gets BORING!), or I end up throwing out some produce that I just don't get the chance to eat.
Taking those once beautiful strawberries and putting them in the trash or garage disposal is heart breaking, not only am I throwing out fresh produce, but I am throwing out money.
So, how do we fix this problem? I would like to say, eat more fruit and vegetables, but we all know that sometimes that's just not possible. We go away for a weekend, we just can't make another strawberry smoothie, you already made a ton of fresh salsa and you still have tomatoes and peppers in the garden. You need a way to make your produce last longer, stay fresher.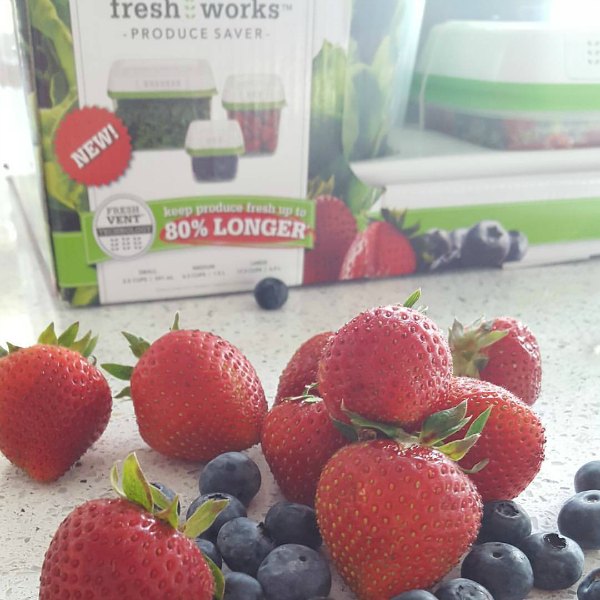 You need Rubbermaid FreshWorks.
I was asked by Rubbermaid to do a Long Live Produce challenge and I gladly accepted. If they found something that would make my fruits and veggies last longer and save me money, I am in!
So, what is FreshWorks?
It is storage for your produce that utilizes a revolutionary technology that creates the optimal environment to keep your produce fresh up to 80% longer than using traditional packaging.
How does FreshWorks keep your produce fresher longer?
The storage containers have a FreshVent™ Lid that contains revolutionary membrane that naturally regulates the flow of Oxygen and Carbon Dioxide to create the optimal environment so your produce stays farm fresh.
Produce container sized to optimally fit and keep produce fresher, longer.
CrispTray™ elevates produce away from moisture and promotes proper airflow to help prevent spoilage.
What produce can fit into FreshWorks containers?
Everything from berries to leafy greens! There are three different sizes to fit your produce needs.
Small (2.5 Cups): Ideal for small berries
Medium (6.3 Cups): Perfect for strawberries
Large (17.3 Cups): Optimal for leafy greens
How did my Long Live Produce Challenge go?
I bought organic strawberries and blueberries from the store and put one package in my new Rubbermaid FreshWorks containers and left the others in the store bought packaging.
**Store packaging on the left, FreshWorks Container on the right in all images.**
After a few days, I noticed that the store packaged berries were ripening faster.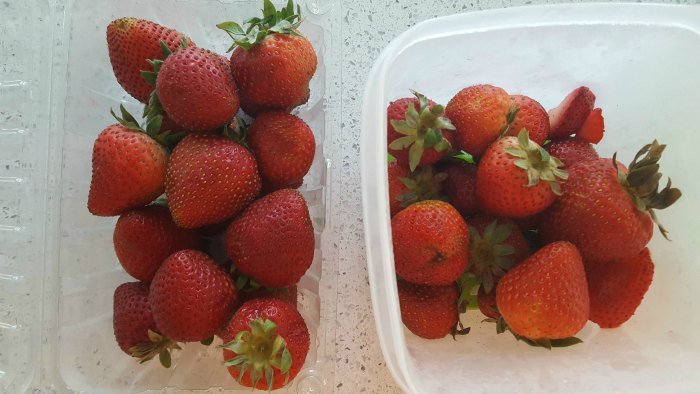 After a week, there were a few berries in the store packaging that I definitely wouldn't consider eating.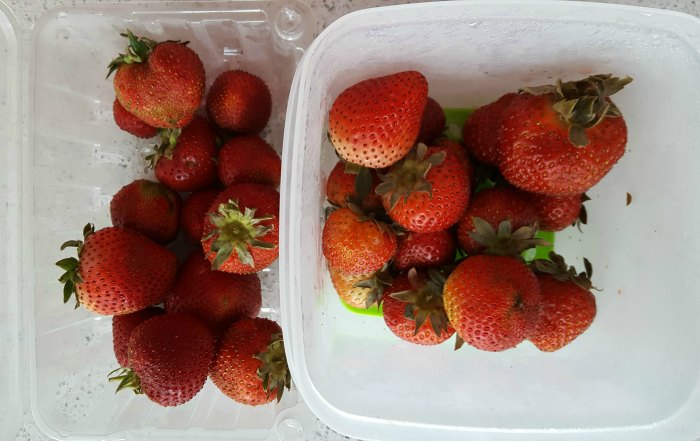 After 11 days, my store packaged berries had signs of mold, rot, and were tossed in the disposal.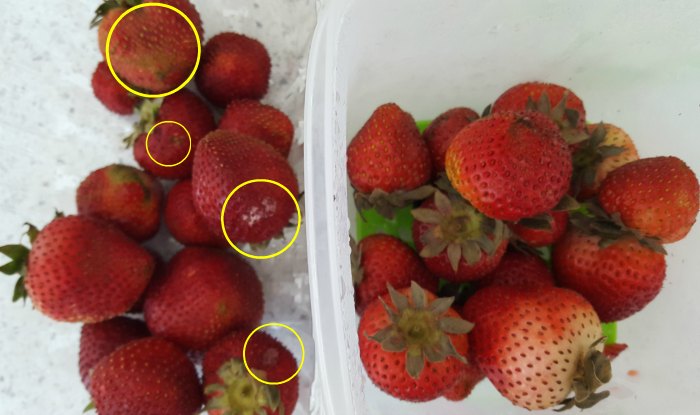 And my daughter and her friend gladly ate the berries that were in the FreshWorks Container 🙂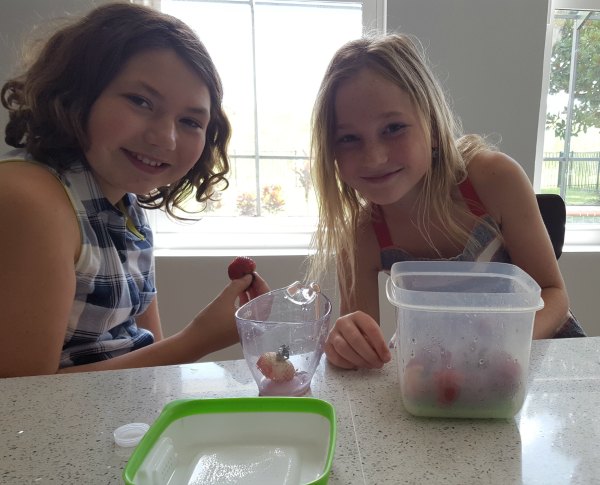 And I used my still-fresh blueberries to make my Blueberry Delight Breakfast Casserole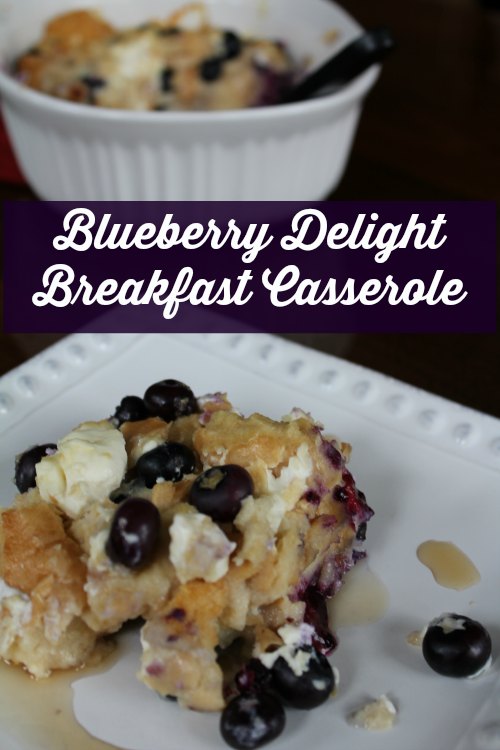 Was my Long Live Produce Challenge a success?
Definitely, the Rubbermaid FreshWorks containers did indeed keep my produce fresher longer. I will definitely be using them from now on for all my produce! LONG LIVE PRODUCE!
Did you know?
Americans waste 23 billion pounds and $24 billion worth of fresh produce each year because it spoils before we can eat it. That's 187 pounds and $192 per household that can be saved by using FreshWorks .
Where to buy:
Keep a look out for FreshWorks at your favorite retailers like: Walmart, Target, Bed, Bath & Beyond and more
Stay up to date with Rubbermaid and all their amazing storage solutions by following on Facebook, Twitter and Pinterest
Be sure to follow me on Facebook, Twitter, Pinterest, Google + and Instagram for more helpful tips and family fun!
Please note – it is recommended that you do not cut or wash your produce before adding them to your FreshWorks containers.