(Last Updated On: August 29, 2020)
This shop has been compensated by Collective Bias, Inc. and its advertiser. All opinions are mine alone. #LEMLoveToProcess #CollectiveBias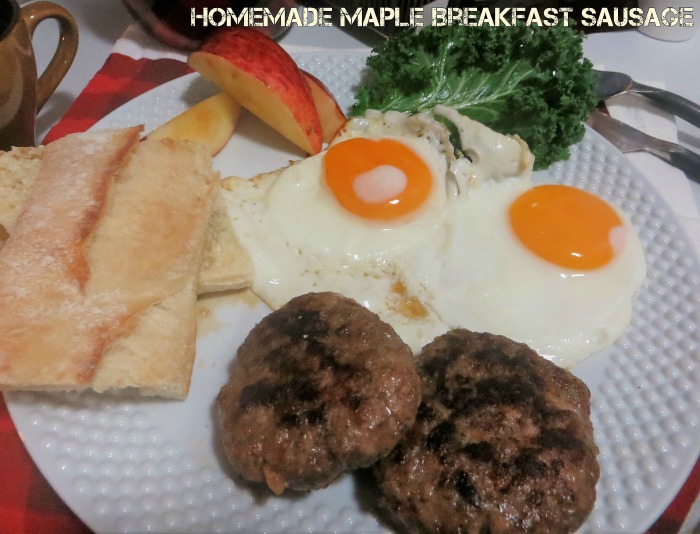 How To Make Homemade Breakfast Sausage
There is nothing more delicious than food grown, caught, hunted, or prepared by your own hands! As you all know our family loves to cook and share the recipes with you so that you can enjoy these little joys of life right in your own kitchen. Growing up in Michigan my family has always loved to grow their own crops, fish on one of the many lakes, hunt out on the acres of open land, and then enjoy the benefits of fresh food from nature right on to the table in your kitchen.
My husband has hunted alligator, quail, deer, and we enjoy fishing often. The one thing he always says afterwards is how peaceful his day was enjoying nature as he walked through the woods, waded in the water while fishing, or sat quietly in a deer blind. I love being able to take his hard day of work out in nature and turning it into something delicious and healthy!
There are so many benefits to preparing your own food and meats at home. First and most important is the health and quality aspect. When you buy prepared meats from the store, we have no idea what type of preservatives or other ingredients are in them. When you do it yourself, you know exactly what you are eating and can choose what to put into your recipe. Another great benefit, especially when you are raising a family, is the cost. The cost of fish or meat can range greatly according to the time of year, where you live, and what kind of sale the grocery store has to offer. When you hunt or fish, the only "cost" is your time. What better way to spend your time than enjoying nature? Our favorite benefit of preparing our own food at home is that it is a great way to spend time with the family! Of course creating recipes and making food at home takes time, but everyone can contribute and we have fun doing it.
Today I am going to share with you how easy it is to process your own meats into something you can eat for breakfast every morning!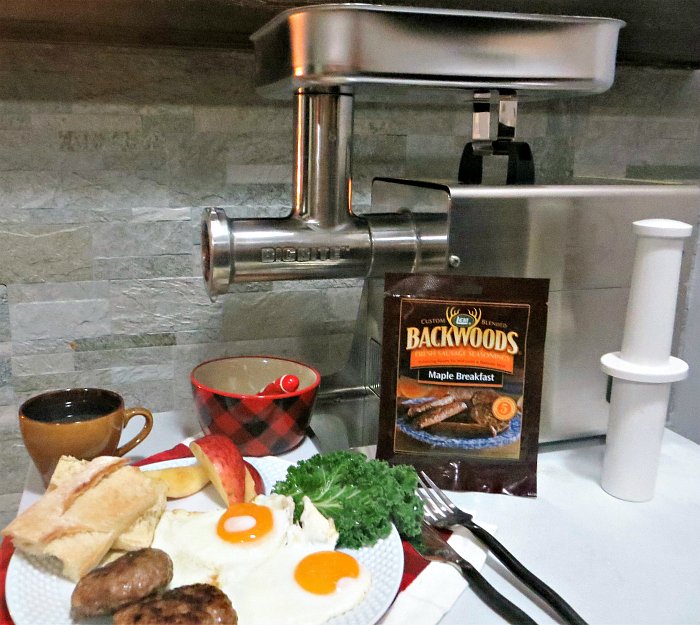 Ready to make homemade breakfast sausage too? Hover over the photo to click through to LEMProducts.com and the products to get you started!
Using the LEM Big Bite® Grinder – 0.5 HP, we made some awesome maple breakfast sausage patties with Backwoods Sausage Seasoning. The LEM Big Bite® Grinder is so easy to use you will be whipping up homemade sausages, burgers, and grinding meat all of the time!
The LEM Big Bite® Grinder comes with all stainless steel accessories including:
1 Meat Pan/Hopper
1 Stuffing Plate, 1 Course Plate
1 Fine Plate
1 Knife
3 Stuffing Tubes to make sausages/hot dogs
1 Meat Stomper
Compared to other meat grinders we have used in the past, the LEM Big Bite® Grinder was so much more efficient. It was very quiet, very fast, and never clogged. Due to the Big Bite Technology the augur that grinds the meat is spaced out and pushes the meat through faster and effortlessly. We grounded up 5 pounds of meat in less than one minute!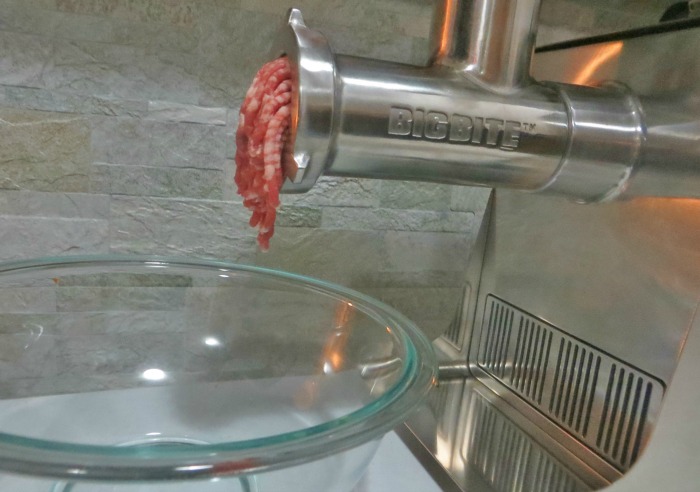 The only thing you need to do to get started once your grinder is assembled is to decide how coarse you would like the ground meat. Select the plate you would like to use, attach it, and the screw on the collar and you are good to go. Considering all of the stainless steel parts and accessories that the LEM Big Bite® Grinder comes with, clean up was a breeze. You can either wash by hand or toss all of the parts right into the dishwasher.
What you will need to make your own homemade breakfast sausage:
LEM Big Bite® Grinder
5lbs Meat of Choice (pork, venison, beef, or combination)
Sharp Knife
1 packet of LEM Sausage Seasonings, we used the Backwoods Maple Sausage Seasoning
How to make Homemade Breakfast Sausage:
Step 1: Trim meat and cut meat into strips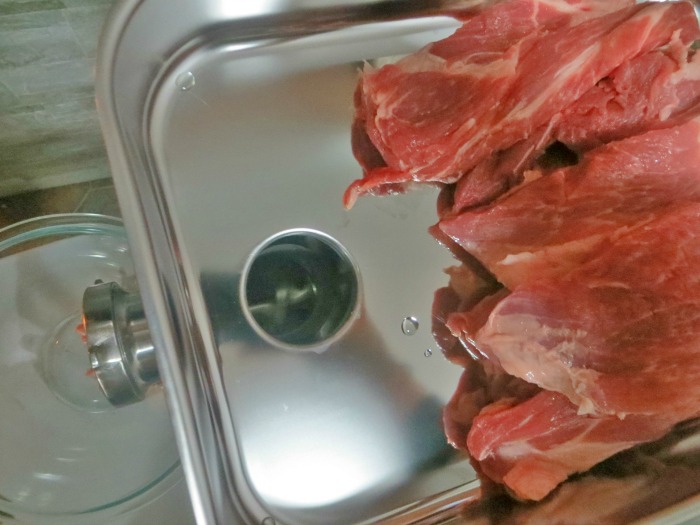 Step 2: Load the meat on to the Meat Pan/Hopper on the LEM Big Bite® Grinder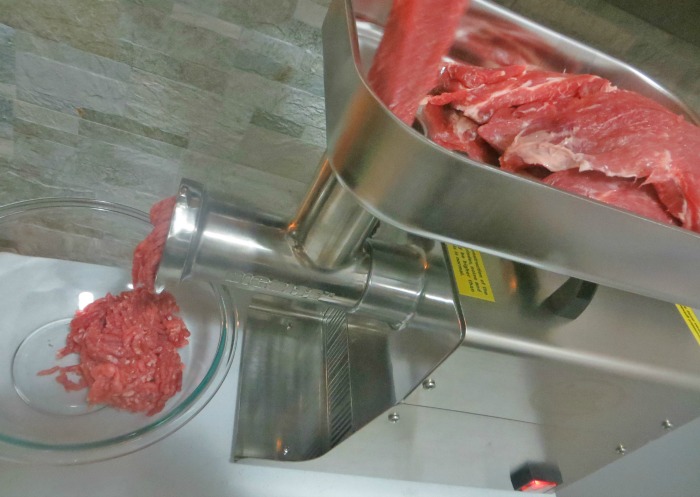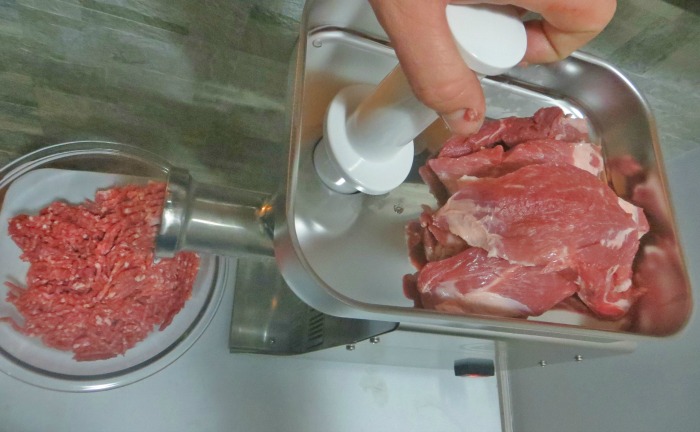 Step 3: Feed the grinder with the meat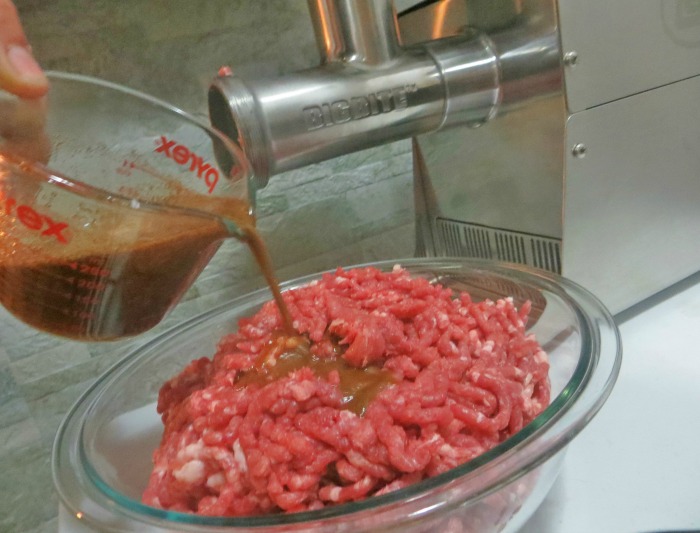 Step 4: Season meat with the Backwoods Sausage Seasoning according to package.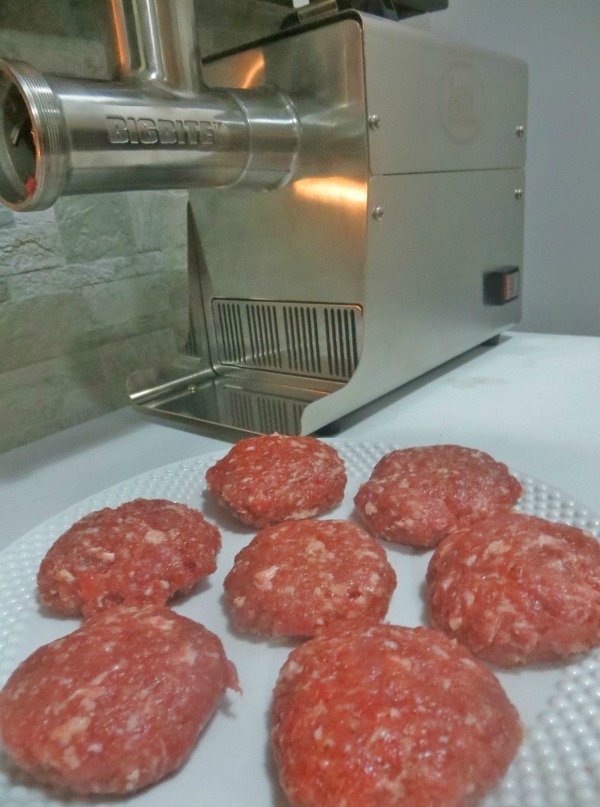 Step 5: Shape meat into patties
Step 6: Freeze or cook from fresh!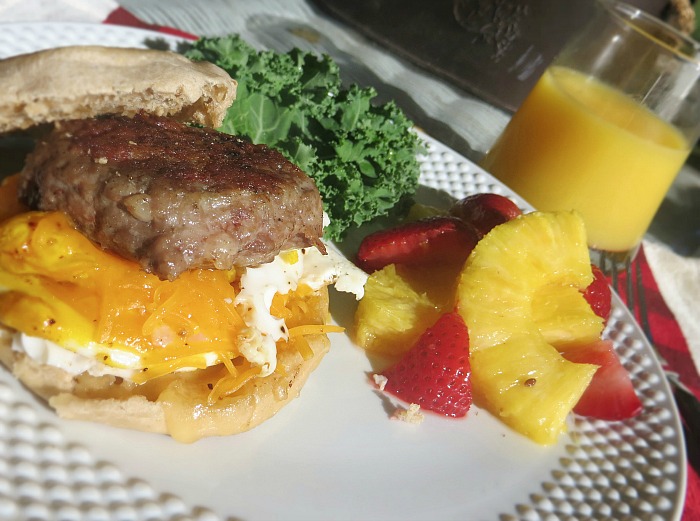 We made about 30 breakfast patties.
Learn more about the Big Bite® Grinder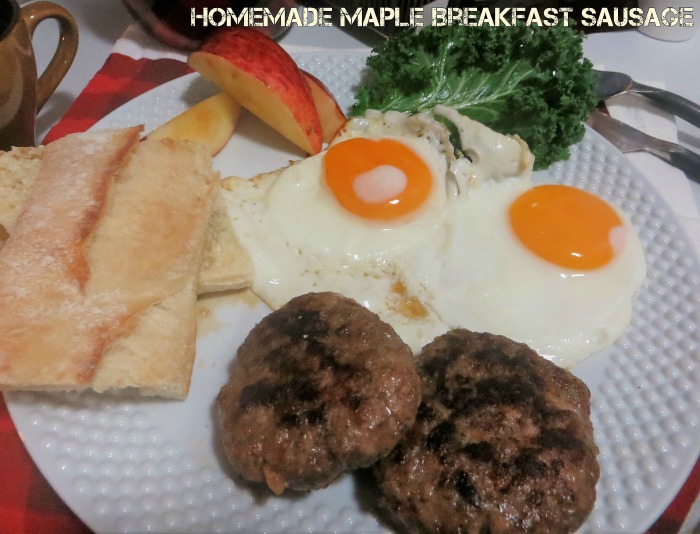 How To Make Homemade Breakfast Sausage
Make your own homemade breakfast sausage using the LEM grinder and LEM sausage seasoning. We used the Maple Backwoods Sausage Seasoning.
Print
Pin
Rate
Ingredients
5

lbs

Meat of Choice

pork, venison, beef, or combination

1

packet of LEM Backwoods Sausage Seasoning

we used Maple Breakfast Fresh Sausage Seasoning
Instructions
Trim meat and cut meat into strips

Load the meat on to the Meat Pan/Hopper on the LEM Big Bite® Grinder

Feed the grinder with the meat

Season meat according to package instructions

Shape meat into patties - we just used our hands

Freeze or cook from fresh

Enjoy!
Notes
When cooking your sausages be sure that they are cooked thoroughly before enjoying.
Are you ready to start meat processing at home too? Visit LEMProducts.com and check out the extensive line of LEM meat processing products such as: The Big Bite® Grinder, Sausage Stuffer, Dehydrator, or Vacuum Sealer.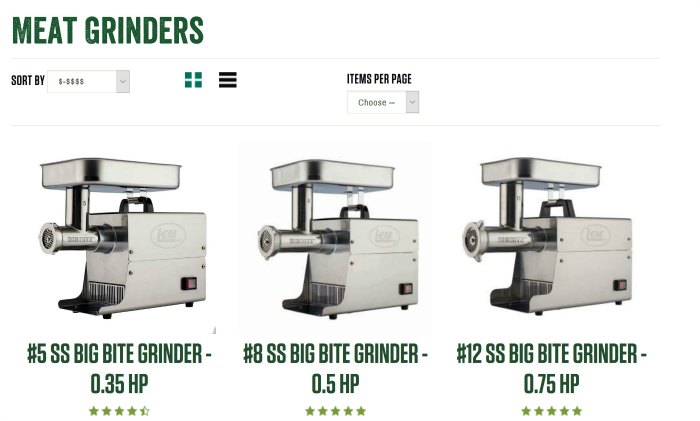 Why choose LEM™ Products?
Simply because they are the best. We actually own the Sausage Stuffer as well, and we love it. LEM is a family owned company, passionate about bringing innovation to game processing. They believe in this grinder so much that they extended the warranty to 5 years.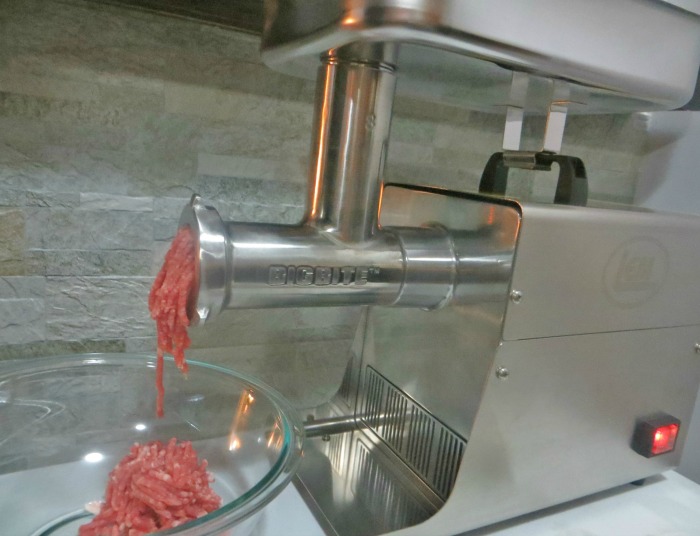 Be sure to check out LEM Products on Instagram, Pinterest, Youtube, and on Facebook to stay up to date with everything you need in your kitchen to make it homemade.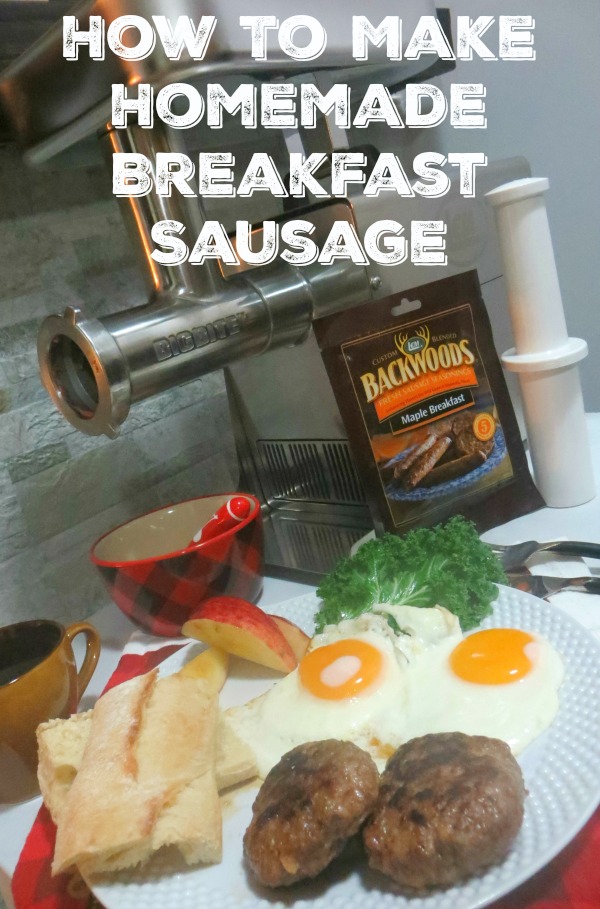 Looking for some more homemade deliciousness? These Pickled Peppers and this Cherry Habanero Jelly would be amazing on homemade sausage, in freshly made burgers and more!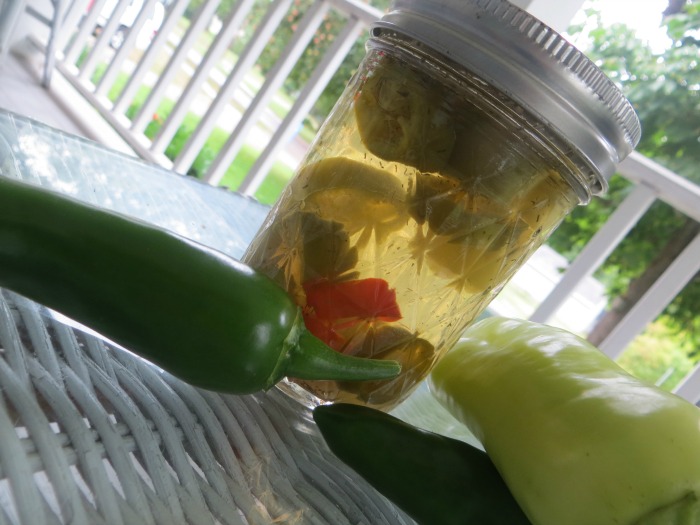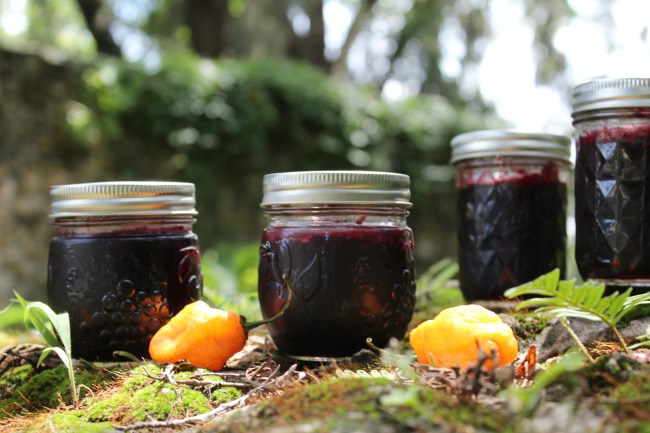 How To Make Cherry Habanero Jelly
Find Food Wine Sunshine on Facebook, Twitter, Pinterest, and Google + and check out all my delicious recipes.