(Last Updated On: July 3, 2019)
Grab your favorite essential oils and a few other all natural ingredients and you are on your way to making your own homemade body butter. DIY Body Butter is better and less expensive than store bought.

Homemade Body Butter With Shea Butter and Coconut Oil
Shea Butter, REAL Shea Butter is some the best lotion I have ever found. Coconut Oil also has amazing benefits and a bunch of uses, in fact, when I was writing up my 34 Uses of Coconut Oil, I pointed out Coconut Oil is a great ingredient in making your own lotion.
I usually buy amazing Shea Butter concoctions from a small store in St. Augustine, but when we visited this year, I learned that they closed. You can still order online, but it's harder to do in the summer months since natural ingredients have a tendency to melt. And since we live in Florida and the temps are over 80 already, I like to do my ordering in winter. Long story short, I made my own!
WHAT? Now, for some of you – you are saying "Yeah, I do that all the time…" But this was a big deal for me, I have never made my own lotions! But, it is so easy and you only need three ingredients and about 10 minutes. Who knew? Now we all do 😉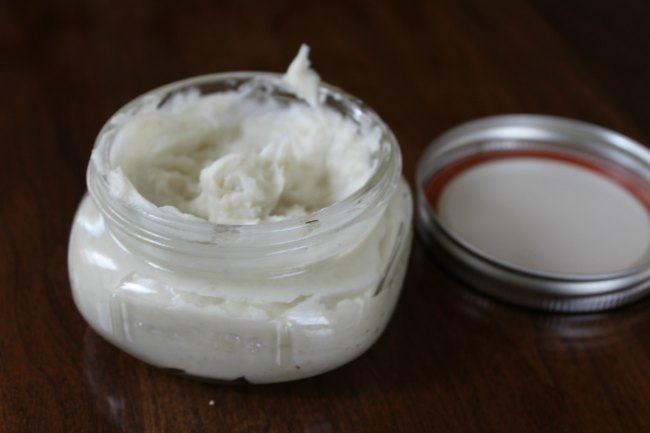 Here is how you make your Homemade Body Butter. You can use no essential oils, or any that you like! The scent is entirely up to you and your preference. I used a citrus blend of lemon, lime, orange and grapefruit…I love it, it's light and perfect for Spring and Summer.
Homemade Body Butter With Shea Butter and Coconut Oil
Author:
Prep time:
Total time:
Homemade Body Butter is actually very easy and inexpensive to make. Plus, you know exactly what the ingredients are! Grab this Homemade Body Butter recipe!
Ingredients
3/4 cup raw shea butter
1/4 cup organic coconut oil
10-15 drops your favorite essential oil if desired
*You don't have to use the exact measurements above, I like using 3 parts shea, 1 part coconut oil
Instructions
Warm coconut oil in the microwave in a glass bowl until hot
Put the shea butter in a plastic bowl (or easier clean up) and pour the coconut oil in
Mix well with spoon or fork
Add in your essential oils if desired
Transfer to a jar or air tight container
Enjoy!
Notes
You can whip your lotion for a lighter mixture, but honestly, the idea of the extra clean up of my hand mixer and extra bowls deterred me for making it that way. I am just as happy with it this way!
This Homemade Body Butter would also make for a great gift idea, I store mine in the Half Pint Mason Jars and it's perfect!
Where to buy the ingredients:
Raw Shea Butter – Amazon
Organic Coconut Oil – Amazon
Essential Oils
Half Pint Jars – any retail store or on Amazon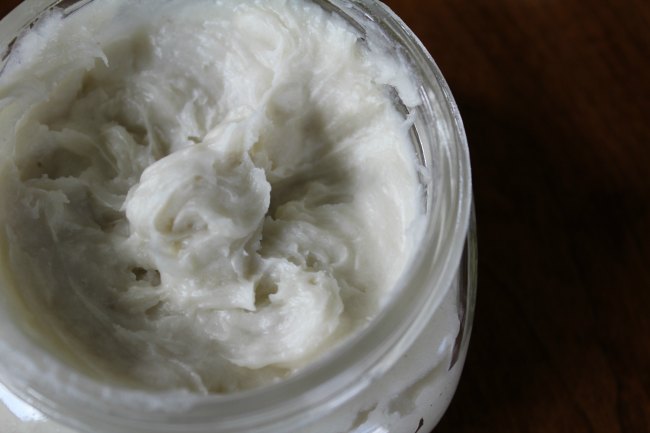 Have you ever made Homemade Body Butter before? What were your favorite ingredients?
Be sure to check out Food Wine Sunshine on Facebook, Twitter, Pinterest, Google + and Instagram for more helpful tips, healthy recipes, and more.