(Last Updated On: February 14, 2020)
Make this Easy & Healthy Eggplant Parmesan Recipe for dinner tonight! This Baked Eggplant Parmesan is delicious and the whole family will be asking for seconds.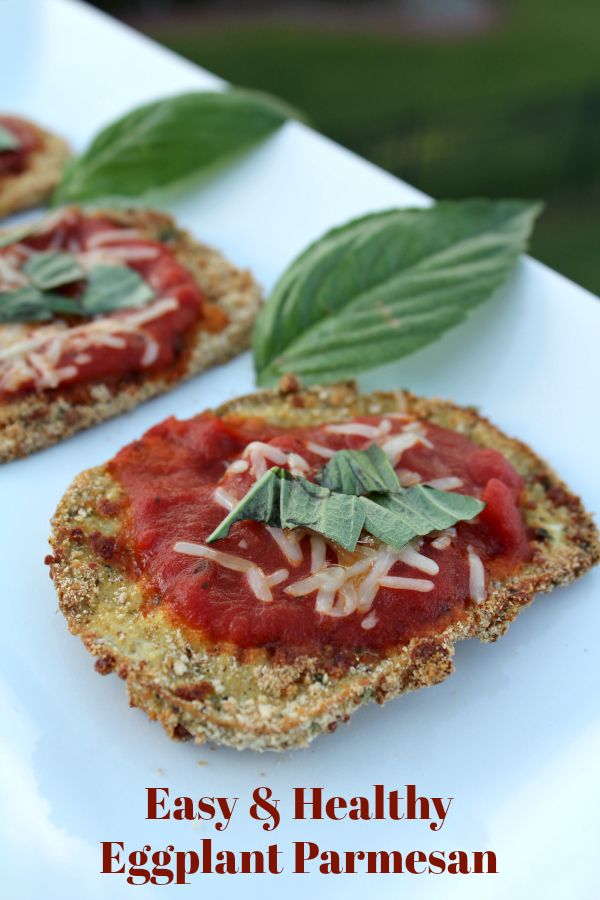 Easy & Healthy Baked Eggplant Parmesan
A few months ago I had the amazing opportunity to have dinner with Janice Mondavi of CK Mondavi and Family and we shared an eggplant appetizer. It was my first time having eggplant. Can you believe that? It was delicious. In fact, I even thought that my kids would enjoy it. As we chatted, Janice shared with me a baked eggplant recipe that she makes for her family regularly. At that moment I decided I would make eggplant for my family and see what they thought. Before I tackled Janice's Eggplant Parmesan Rolls, I wanted to start with a simpler recipe for eggplant.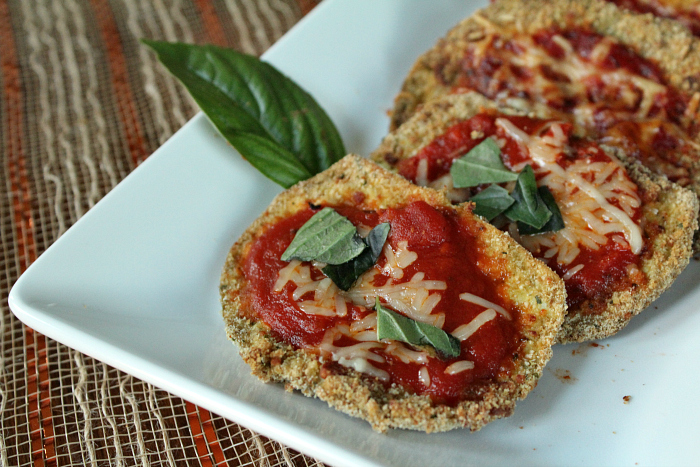 So, I made a healthy version of Eggplant Parmesan. I call them Eggplant Crisps and the kids call them Eggplant Pizza. But, no matter how you slice it (or say it 😉 ) this baked eggplant recipe is a keeper. In fact, I have already made it several times. You can serve these baked eggplant slices with pasta or with just a simple salad, eggplant is actually a heartier vegetable (did you know that technically eggplant is a fruit?), so you will find that you don't need a lot of extras to serve with this.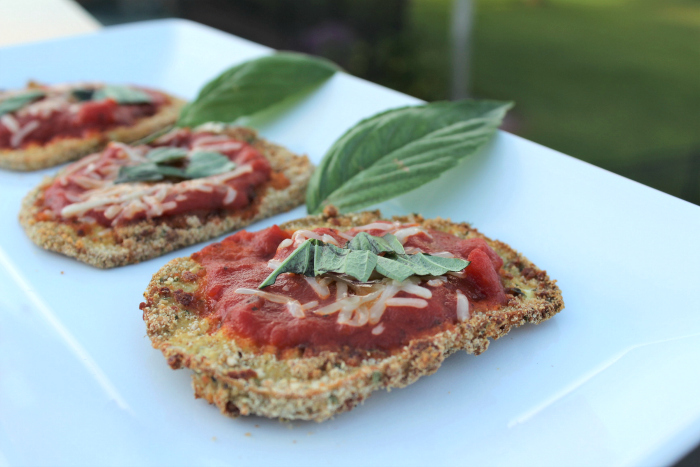 For this Easy & Healthy Baked Eggplant Parm Recipe, you only need a few ingredients and you may just have them in your house. You need eggplant, of course, bread crumbs and grated Parmesan cheese, sauce, shredded Parmesan cheese (or mozzarella if you prefer) and some fresh basil. Easy enough, right? Ok, then let's get cooking!
Here is my Easy Eggplant Parmesan Recipe. Be sure to Print It and Pin It so that you can make it again and again.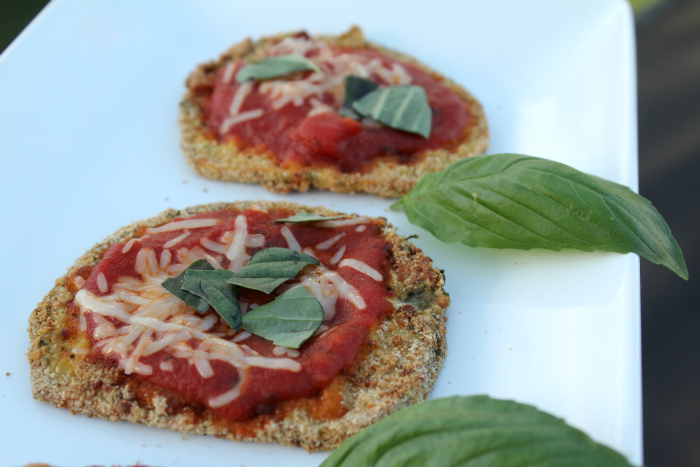 Healthy Baked Eggplant Parmesan
You will love this Healthy Eggplant Parmesan recipe. It's easy to make and your whole family will ask for seconds! Enjoy this easy Eggplant Parmesan today!
Print
Pin
Rate
Ingredients
1

medium eggplant

2

eggs

1

cup

bread crumbs with Italian Seasoning

2

tablespoons

grated Parmesan cheese

1/2

cup

Pasta sauce - I used a spicy marinara

1/2

cup

shredded Parmesan cheese - or mozzarella if you prefer

Fresh basil
Instructions
Preheat oven to 375 degrees.

Spray baking sheet with cooking spray and set aside, you may need two baking sheets.

Break both eggs into a bowl and beat.

In a separate bowl add the bread crumbs and grated Parmesan cheese and mix well.

Peel the skin from the eggplant, I just used a potato peeler.

Cut the eggplant into 1/4 inch slices.

Dip each eggplant slice into the egg and then into the bread crumb mixture, making sure to coat it well.

Place the coated eggplant slice onto the prepared baking sheets.

Continue to bread each eggplant slice until complete. Your hands will get messy.

Place the baking sheets into the preheated oven and bake for 15 minutes.

After 15 minutes remove the eggplant and flip the slices.

Place the baking sheets back into the oven and bake for an additional 15 minutes.

Remove for the oven and top each slice with approximately one tablespoon of sauce and a pinch of the shredded cheese.

Place the eggplant back into the oven for an additional 10 - 15 minutes to warm the sauce and melt the cheese.

Remove from oven, top with fresh basil if desired.

Enjoy!
Notes
Serve with a nice salad or pasta.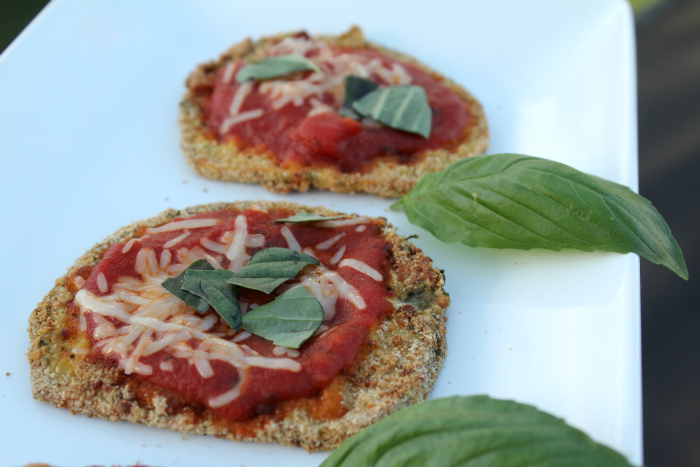 I hope you enjoy this Easy & Healthy Eggplant Parmesan Recipe as much as we do!
As you can see, this recipe isn't loaded with lots of cheese, so this is a healthier version of other Eggplant Parmesan recipes you may have seen before. And since they are topped with a little sauce and cheese, I kinda see why my kids think they are crispy eggplant pizzas 🙂
We actually enjoy this eggplant parm recipe so much we plant eggplant in the garden this season! It purposed a least 10 eggplants so far and we have had enough eggplant for us to make several recipes with eggplant and had enough to share with friends!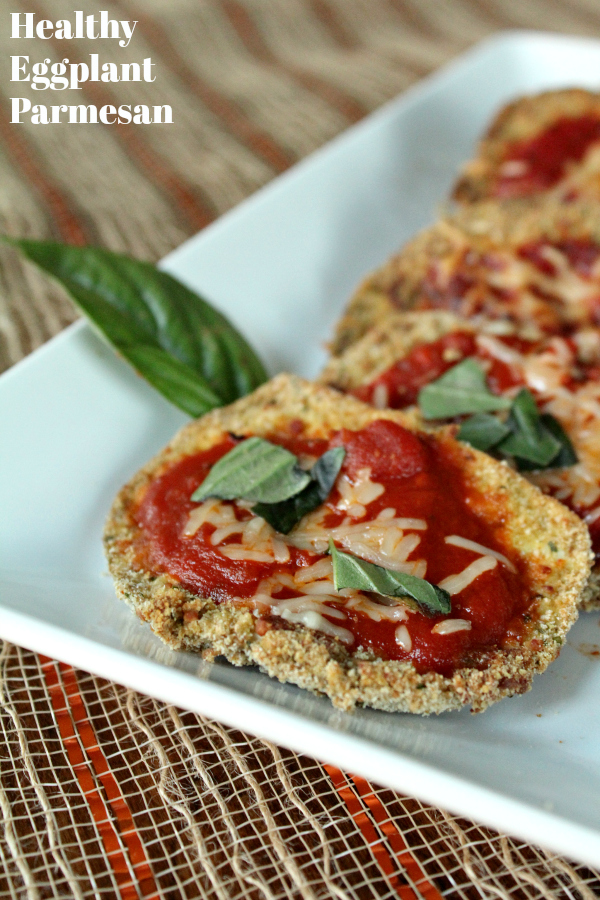 What is your favorite way to cook eggplant? Have you made Baked Eggplant Parmesan before?
Next on my list are those Eggplant Parmesan Rolls!
Looking for more delicious recipes?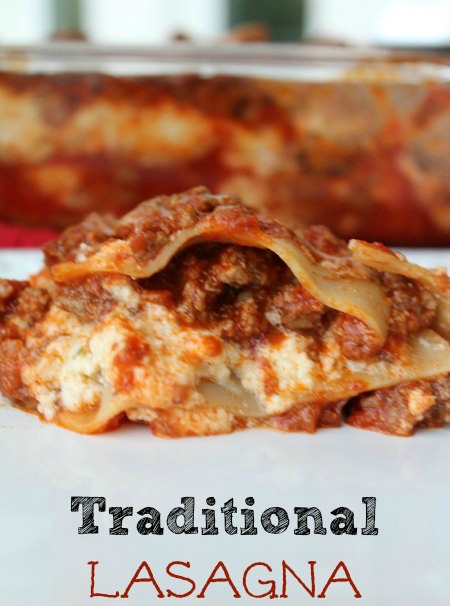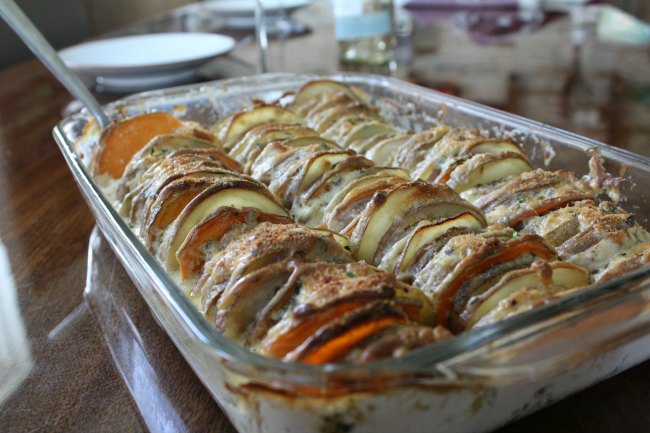 Scalloped Potato Casserole With Root Vegetables
Find Food Wine Sunshine on Facebook, Twitter, Pinterest, and Instagram and check out all my delicious recipes.