(Last Updated On: March 8, 2022)
If you love sweets, but not all the calories this Easy & Healthy Dessert Pizza recipe is for you! Kid-approved and absolutely delicious, this dessert pizza recipe will have you asking for another slice. While this post was created in sponsorship with Produce For Kids, all opinions and the easy dessert recipe are my own.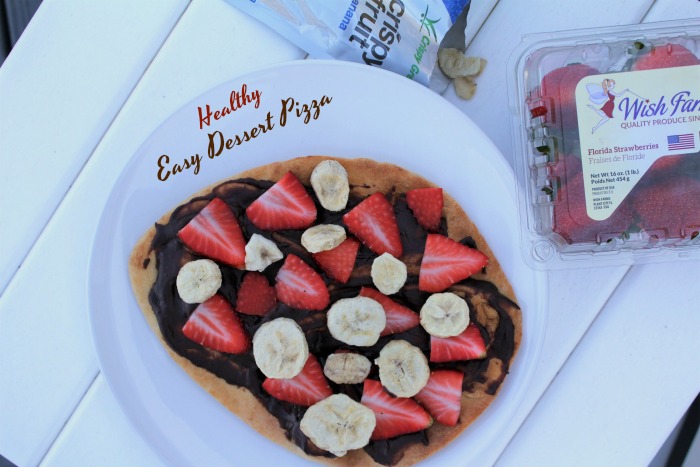 Easy & Healthy Dessert Pizza
Dessert and pizza. Two of my favorite things. Two things that I don't always indulge in because….well, someone discovered that eating chocolate and/or pizza for three meals a day was a bad thing. Who knew?! My kiddos have inherited my sweet tooth and that means I try really hard to satisfy all our cravings in a healthy way. Healthy food can be delicious. Healthy options can be easy.
And that's exactly what this Recipe for Dessert Pizza is…Easy. Healthy. Delicious. Dessert.
I was at Publix the other day and I saw DESSERT HUMMUS. I may be slow to this discovery, but I am now a HUGE fan! I also found Wish Farms Strawberries on sale and I decided a dessert pizza was in order. My family and I went to a Publix Aprons Cooking Class over the holidays and made a dessert pizza with fruit, and while it was absolutely amazing, the kids added about 55 million chocolate chips and the base was a sugar cookie 😉 So, I wanted to create that deliciousness, without all the guilt. And I succeeded.
Strawberries are juicy and sweet, making them a perfect dessert pizza topping. Strawberries also have many health benefits, making them a healthy dessert pizza topping 😉 Strawberries are an excellent source of vitamin C, manganese and vitamin B9. Strawberries are also rich in antioxidants. That's just a few of the reasons I use them in many of my smoothies recipes and add them to our favorite salmon salad.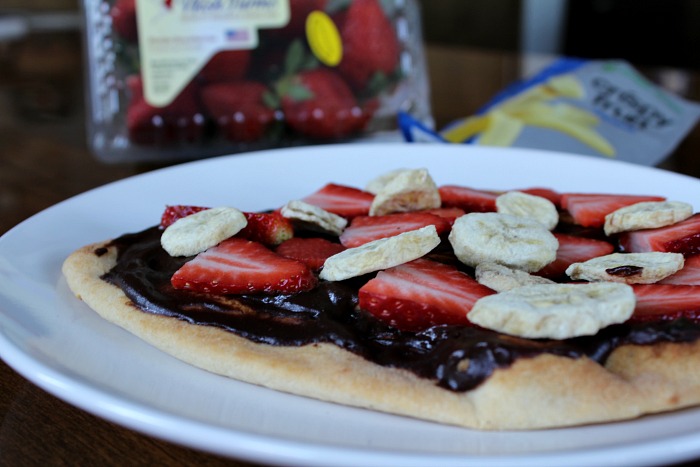 I grabbed a naan for the dessert pizza crust, the dessert hummus, my beautiful berries, and Crispy Green Freeze Dried bananas for a little crunch. Freeze dried fruits have light and crispy texture, and Crispy Green adds no artificial flavors, preservatives, and they definitely don't add any sugar. Why would you need sugar when fruit is naturally sweet on it's own?! You may wonder if you lose any nutrients when eating freeze dried fruit, don't worry, you don't really! If any vitamins are lost in the freeze drying process, it's very minimal, so you can feel good about eating freeze-dried fruit and adding it your homemade dessert pizza. You are still getting a healthy dose of potassium when you eat bananas, and they also give you a little boost of energy. Score!
Keep in mind that this is just one dessert pizza idea, feel free to add on other fresh and freeze dried fruits too.
The result of this dessert pizza recipe was nothing less than AH-MAZING.
Hungry yet? Good. Here is my Healthy Dessert Pizza Recipe, be sure to Print It and Pin It so that you can make it again and again. Trust me, you will want to. My kids ask for it just about daily. The good news is that since this dessert pizza recipe with fruit is so easy to make, they can make it by themselves!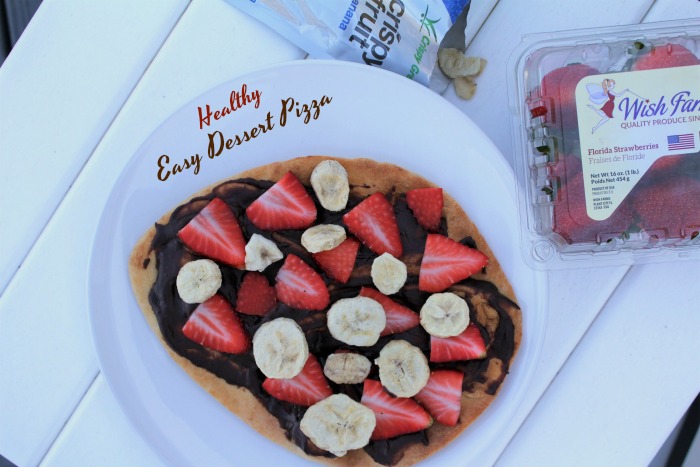 Easy Dessert Pizza
If you love sweets, but not all the calories this Healthy Dessert Pizza recipe is for you!  Kid-approved and absolutely delicious, this healthy dessert pizza will have you asking for another slice.
Print
Pin
Rate
Ingredients
1

piece

of naan bread

3

tablespoons

of dark chocolate dessert hummus

4

strawberries - sliced thin

1

package of Crispy Green Freeze Dried Bananas
Instructions
Preheat oven to 350 degrees

Bake naan for 10 minutes or until slightly brown

Remove naan from oven

Spread on the dessert hummus

Top with strawberry slices and freeze-dried bananas

Enjoy!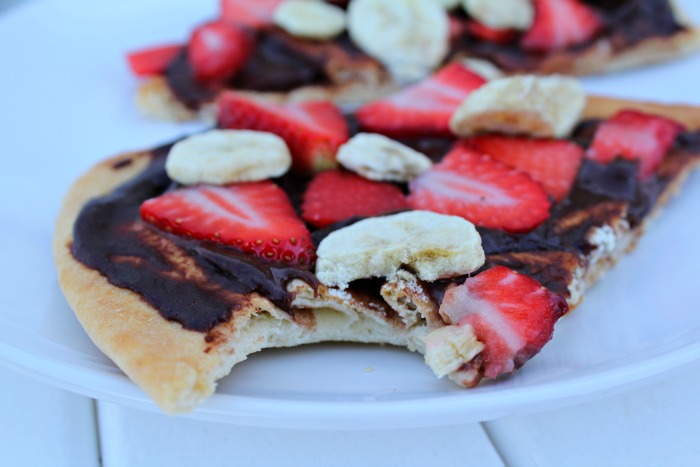 I hope you and your family enjoy Easy & Healthy Dessert Pizza as much as we do!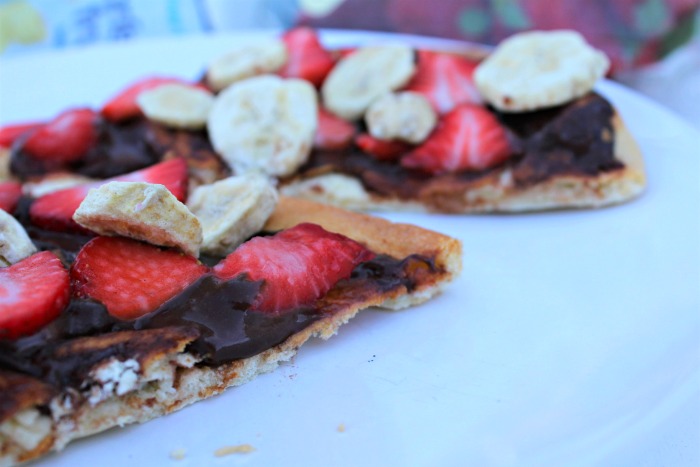 Wish Farms and Crispy Green are both partners of the Power Your Lunchbox Promise by Produce for Kids®. The Power Your Lunchbox Promise encourages families and schools across the U.S. to promise to eat more nutritious lunches and make healthy choices. I have been talking about this awesome campaign for years now, so what are you waiting for, make the promise!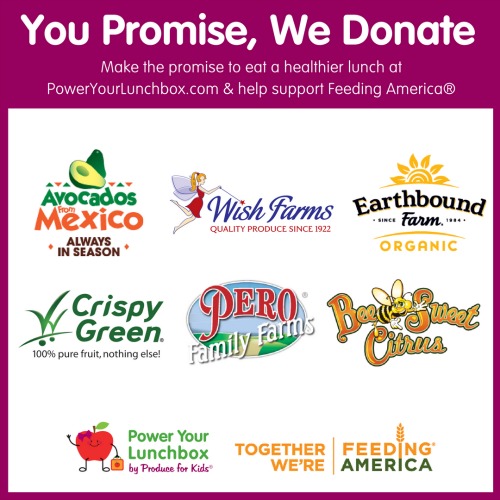 Power Your Lunchbox Promise partners collectively donate $1 for every promise taken to Feeding America® programs that impact children and families, adding to the nearly 1 million meals* provided to Feeding America in previous Power Your Lunchbox programs. Once families make the promise, they'll be entered to win an Instant Pot, one of the most popular kitchen products of that last two years.
Make The Power Your Lunchbox Promise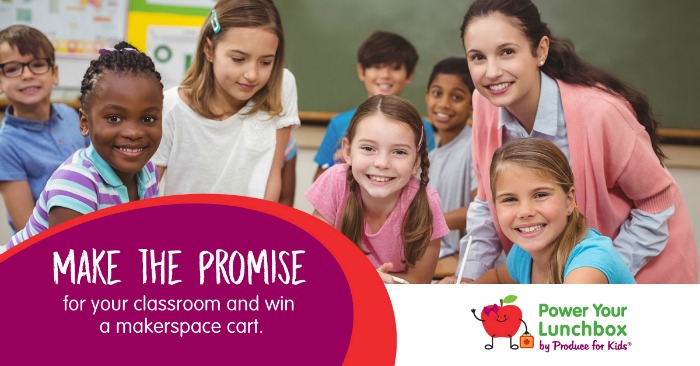 Be sure to check out ProduceForKids.com for more than 250 registered dietitian-approved and family-tested recipes, meal planning tools, grocery store specific campaign details, and healthy tips from real parents and on Facebook and Pinterest for even more!
Make The Power Your Lunchbox Promise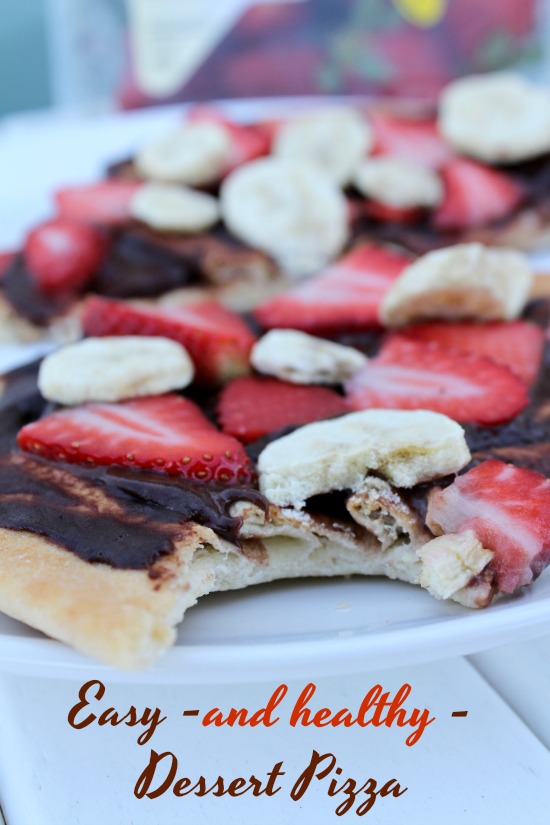 Be sure to follow Food Wine Sunshine on Facebook, Twitter, Pinterest and Instagram for more tips, fabulous recipes and more!
What is one of your favorite healthy dessert pizza recipes?