(Last Updated On: March 14, 2013)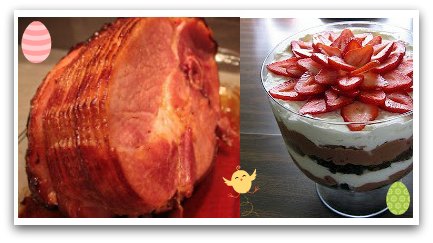 Easter Recipe Ideas
I have a few ideas for you guys for your Easter Meals. Can you believe that Easter is just about 2 weeks away? Wasn't it just Christmas?! I know that ham is a common Easter dinner meal, and I make mine in the Crock Pot and it is so easy!
What You Need:
Ham
Orange Juice
Honey
You can also use Coke!
What You Do:
Put everything in the crock pot!
You want enough liquid to cover about 1/4 of the ham
Baste the ham throughout the day to insure the whole ham gets the yummy flavors
For dessert – how about a Strawberry Chocolate Truffle?? Sounds good to me 🙂
What You Need:
2 small boxes instant chocolate pudding mix, prepared (using 1 1/2 cups milk, instead of two)
chocolate cake, cut into 1-inch pieces
1 quart strawberries, washed and cut in fourths
1 container of strawberry glaze
16 oz. Cool Whip
What You Do:
Put a half of the chocolate cake in the bottom of a trifle bowl or a large see-through bowl.
Next, spread a third of the pudding on top of cake, followed by half of the strawberries. (Remember to save a few strawberries out for garnish.)
Now spread half of the strawberry glaze on top of strawberries in the bowl, followed by a third of Cool Whip.
Next, repeat layers in the same order- cake, 1/3 of pudding, strawberries, strawberry glaze, 1/3 of Cool Whip.
On top of that, add the remaining 1/3 of chocolate pudding, followed by the remaining 1/3 of Cool Whip.
Garnish with strawberries and chocolate shavings, if desired.
Refrigerate for at least 2 hours.
Enjoy!