(Last Updated On: July 8, 2019)
Disclosure: This post is sponsored by the folks at S.O.S. Clorox. All opinions and dirty pans are my own!

Best Way To Clean Teflon Pans
I love my Teflon pans. I have a set in red and a set in gold. I won't cook in anything else. They are the only pans that I have found that are non-stick, cook evenly, and are relatively easy to clean. You guys have seen all my recipes, I put my pans through a LOT. From anything to Pumpkin Grilled Cheese to Mahi Fish Tacos and everything in-between!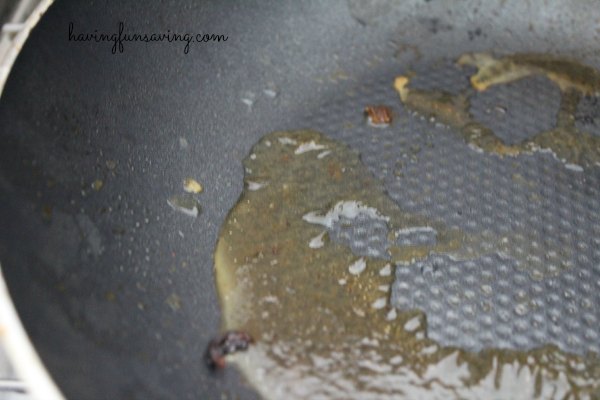 Did I mention that I love my Teflon pans? Well, even though my pans are non-stick and are actually pretty easy to clean, there have been times where the pans have sat in the sink over night (like last night…). So, there have been caked on leftovers from dinner just got a bit harder to clean. I won't use a steel pad on them, even though you can use metal utensils on them I won't chance scratching up my beloved pans.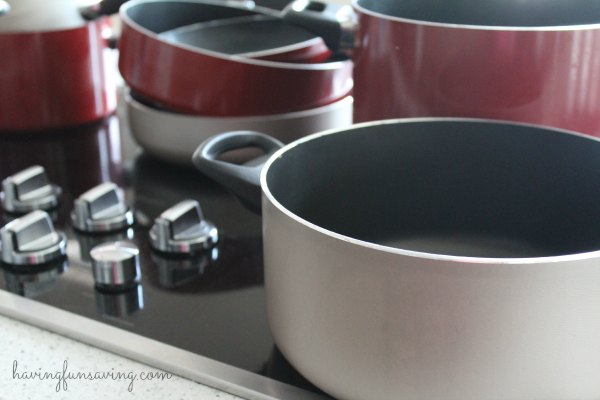 Then I heard about S.O.S Non-Scratch Scrubbers. Have you seen these in stores yet? These new S.O.S Non-Scratch Scrubbers are disposable scouring pads made from synthetic scrubbing fibers that are safe to use on non-stick coatings (like my Teflon Pans) and other cherished surfaces (like my stainless steel cookie sheets).
Then I got the opportunity to review these Non-Scratch Scrubbers.
I was nervous to try them on my beloved Teflon pans.
I used them right away on my casserole dish, and they conquered my baked on Ziti with ease.
I even used them on my kitchen counters…we have quartz and sometimes when you are cooking stuff gets…stuck 😉 They worked great on my counters.
I got daring enough to try them on my stainless cookie sheets. THEY DIDN'T SCRATCH.
Gaining confidence in the promise of NON-SCRATCH, I used them on my stainless sink. They worked great on getting stuck food and grease off the bottom of the sink. Another point scored for S.O.S.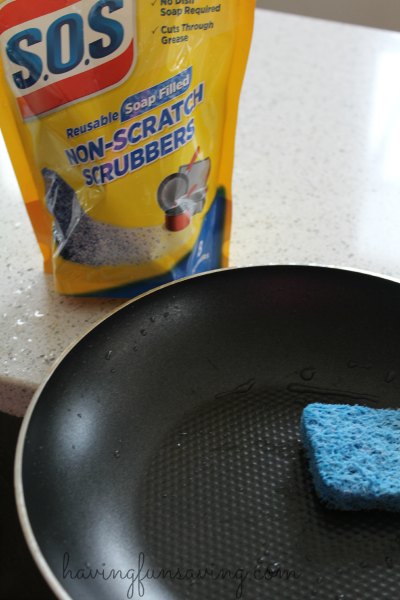 Then came my pans. My Teflon pans that are always there for me, cook all my favorite meals. I very gently cleaned a small corner of my pan and guess what?
THEY DIDN'T SCRATCH.
I now happily use my S.O.S Non-Scratch Scrubbers to clean my all my favorite Teflon pans. You know when food just scorches itself right to your pan and you are wondering how the heck you are going to get it off? Well, now you have your answer…and it's not to just throw out the pan 🙂
S.O.S Non-Scratch Scrubbers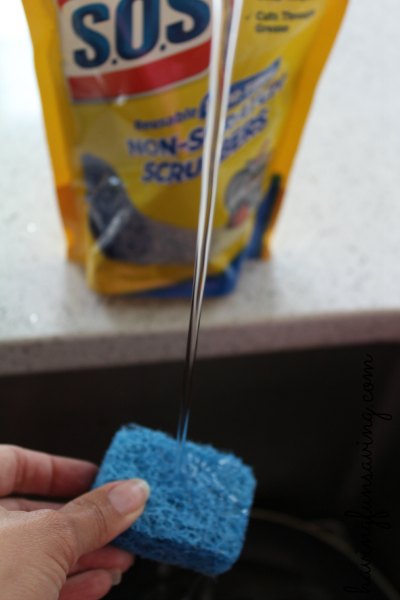 Did I mention that these fabulous little scrubbers even have soap built right in? Yep, can't get much easier than this! Just wet the pad and get scrubbing.
Not only do the Non-Scratch Scrubbers work great on my Teflon pans and crusty casserole dishes, you can also trust them on your fine china and delicate stemware…the list goes on and on!
What will you use the S.O.S Non-Scratch Scrubbers on first?
Be sure to follow S.O.S. Clorox on Twitter, Facebook, YouTube, and Pinterest to stay up to date with the safest and best way to clean everything you love!
In fact, make sure to follow me on Facebook, Twitter, Pinterest, Google + and Instagram too!